Summary
Many reasons would result in hard drive showing partial capacity, like a half. Read this page, so you can get answers to how to restore hard drive full capacity. EaseUS Data Recovery Wizard comes handy when you want to recover data from the unseen hard drive space.
Why is hard drive showing partial capacity?
Hard Drive, like HDD/SSD, plays an essential role in reading and writing data. The bigger the hard drive, the better. So we don't need to worry that there is low disk space warning when keep installing programs, games or saving huge documents, movies, music and whatever we want in daily computer use.
What a pity. Many people invest in a large hard drive of 1TB, 2TB, 4TB, but only seeing half capacity, or even less. Though they didn't use that much. What's the problem? Why is the hard drive showing its correct size?
In general, the hard drive showing wrong size issue happens to a lot of users, and the following reasons may account for the problem:
Virus or malware does damage
The hard drive is with MBR style
Partition deleted or lost, showing unallocated
How to reclaim the other half hard drive capacity
After knowing the reasons, you can feel released for a while because we're going to share corresponding solutions with you.
Method 1. Scan and remove virus
To check virus or malware infection, if you have anti-virus software installed, run the anti-virus software for the first time.
For people who don't have the software, read the linked page of how to use cmd to remove virus in Windows 10/8.1/8/7.
Method 2. Convert MBR to GPT
This is particularly for a large-capacity hard drive over 2TB but initialized to MBR style. As we know, MBR only works with disks up to 2TB in size, at the same time, allows for creating 4 partitions in total. To make full use of the rest space you don't see, you need to convert MBR to GPT.
EaseUS Partition Master is a perfect choice to convert hard disk between MBR and GPT, it's super easy and guaranteed with zero data loss during the conversion.
Step 1: Download and launch EaseUS Partition Master on your Windows computer.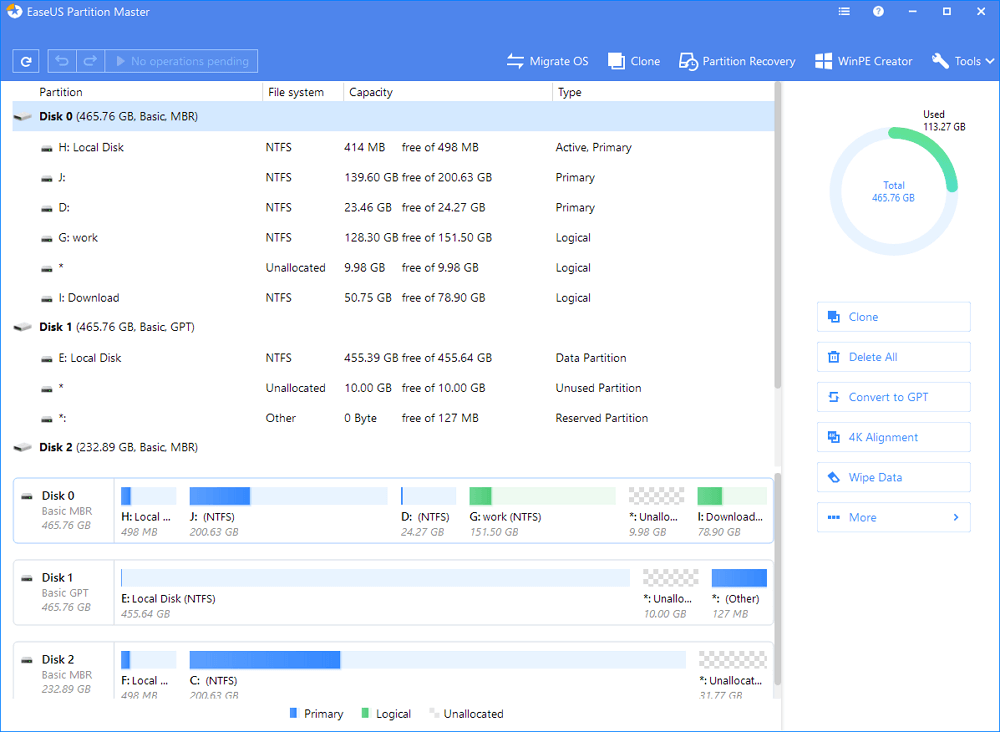 Step 2: Right-click the MBR disk that you want to convert and choose "Convert to GPT".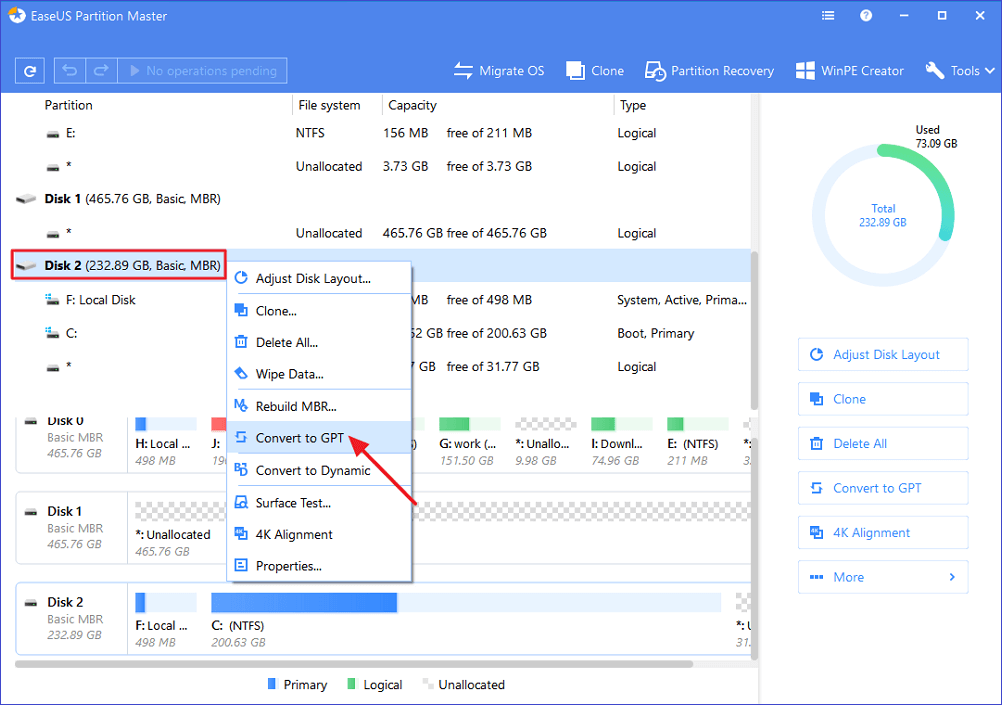 Step 3: After that, find and click the "Execute 1 Operation" button on the toolbar and choose "Apply" to start the conversion. You need to restart your device to enable this change.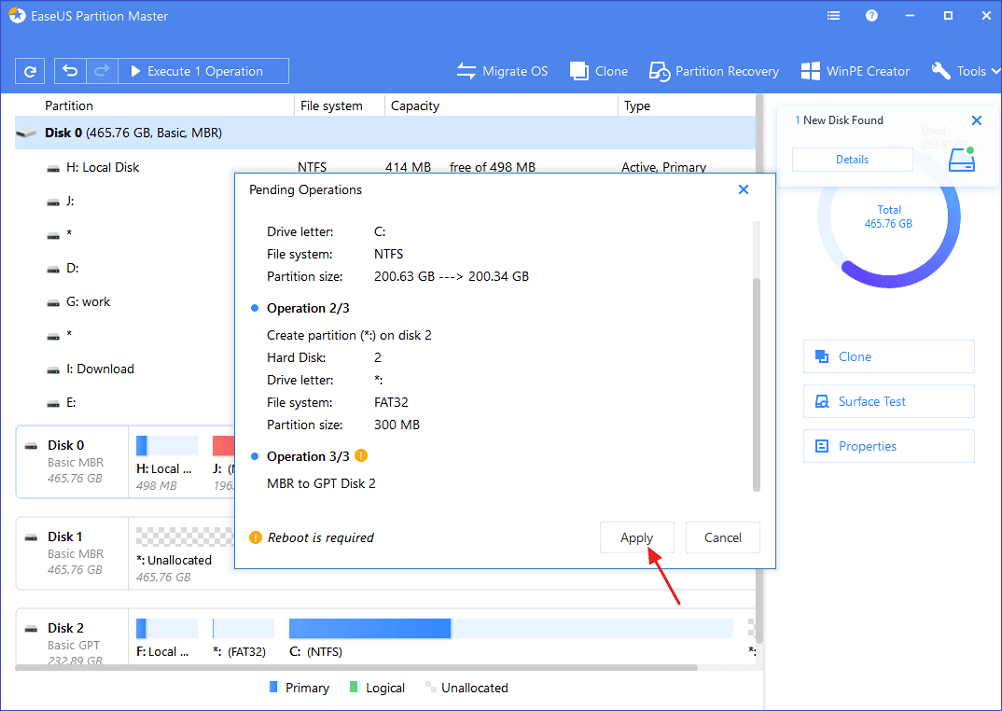 Method 3. Recover unallocated space
Sometimes, the hard drive showing half capacity only because the other half is hidden somewhere, or merely because you deleted the whole partition by mistake.
This happens when you check the hard drive's property, only find that it's not showing the correct used space and free space. This time, go to Windows Disk Management and check the hard drive partitions status.
Step 1: In Windows 10/8.1/8/7, press Windows + R hotkeys to bring up the Run box, type diskmgmt.msc and hit Enter.
Step 2: On the disk map, check if the hard drive partition displays as Unallocated.
If yes, you need to convert the unallocated space to a standard partition with a file system. There are three options to make it happen:
Create a new simple volume on the unallocated space
Add the unallocated space to a neighboring partition
Perform partition recovery with data loss
The effect of the option [1] and option [2] is easy to realize, by applying again the EaseUS Partition Master.
Follow the tutorial: Make full use of unallocated space by creating a new one or adding to an existing one.
But both troubleshooting would erase data on the present space. If you have files to recover, download and install EaseUS Data Recovery Wizard. It's hard disk data recovery software that specializes to recover data after deleting, formatting or virus infection.
Step 1. Select the partition to start finding data.
Launch EaseUS Data Recovery Wizard.
Please select a partition where you lose your data and start to scan, like C drive, D drive or E drive. Just the very one that you want to find lost partition data.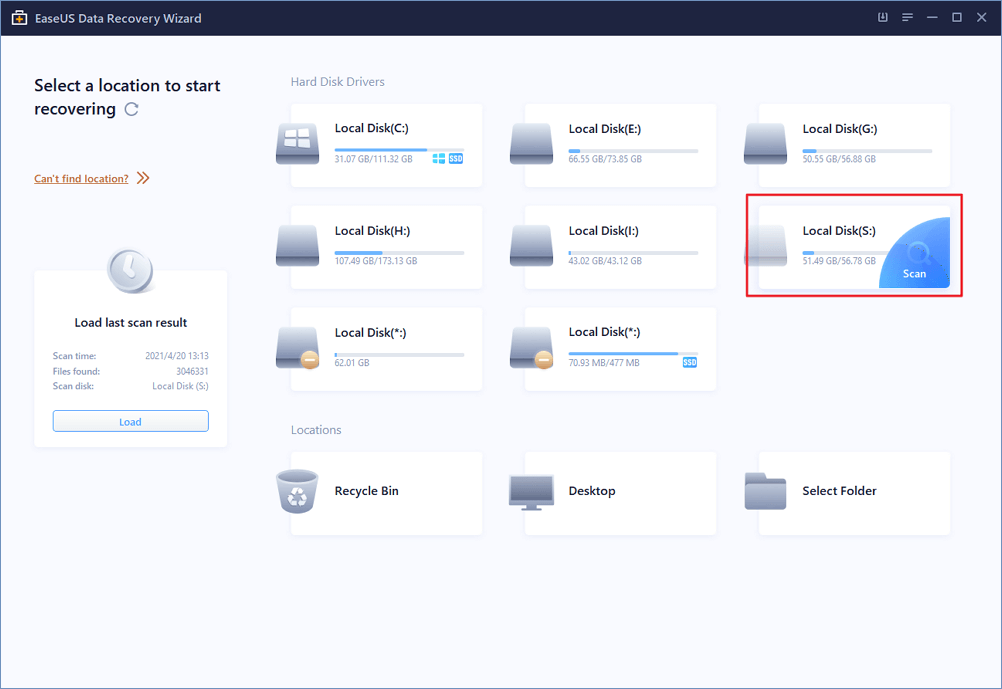 Step 2. Scan your partition to find lost data.
After you click the "Scan" button, the software will scan the data on the partition.
It lists all searched files that are simply deleted or all of the files exist on the partition.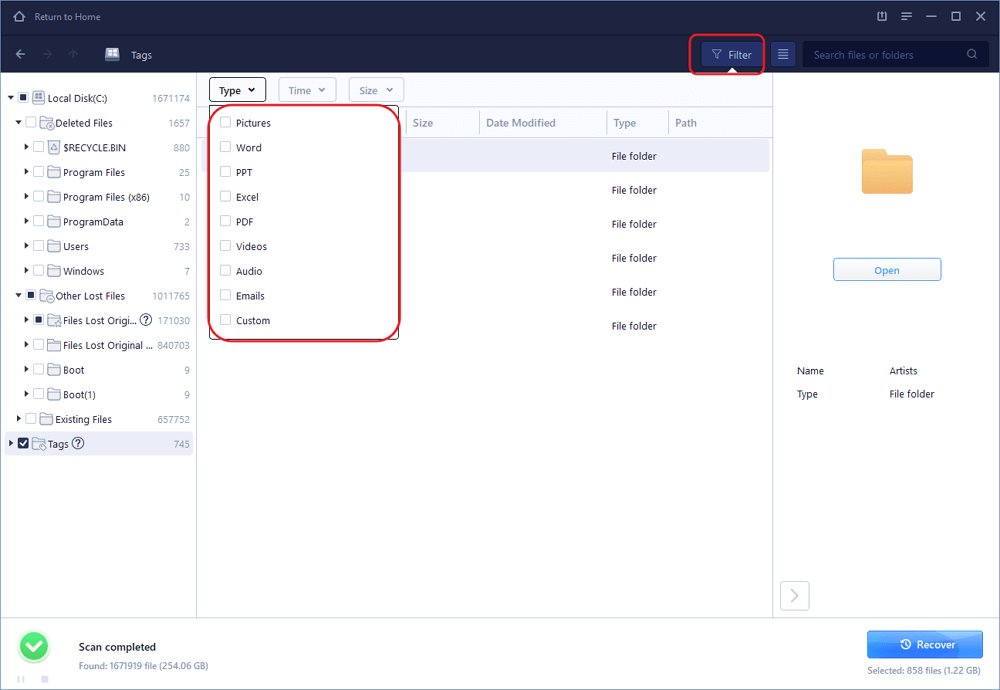 Step 3. Preview and recover lost partition data.
EaseUS Data Recovery Wizard allows you to preview specific recoverable files.
After the preview or file filtering, you can target lost files and press the "Recover" button to get everything back.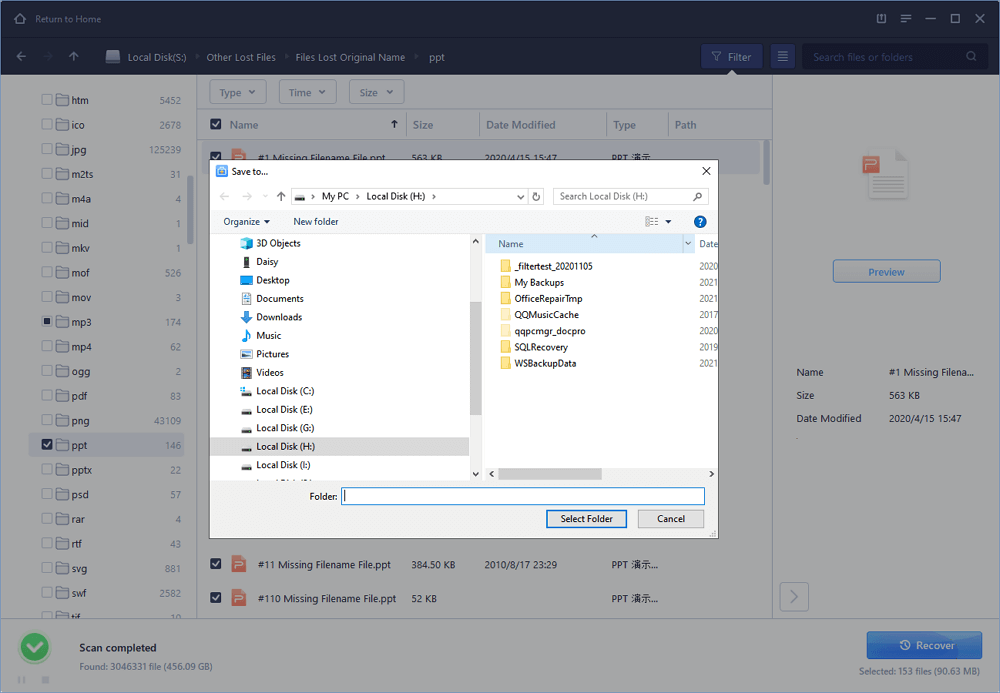 The option [3] is different, it only takes effect by using EaseUS Partition Recovery. It's designed to recover a whole lost, deleted or hidden partition along with data on it. It looks like you never lost the partition at all.
Step 1: Run EaseUS Partition Recovery on your PC.
Step 2: Wait for the scanning process to complete.
Step 3: Preview and restore lost partition(s).
Step 4: Click "Recover Now" to finish the partition recovery process.
100% of people found this article helpful.
Frequently Asked Questions
1. Why cannot I recover 2GB data for free?

It is recommended to check the version installed is Free or Trial because they are different versions.

Trial has data preview function but cannot save any files, while the Free version enables to recover 2 GB files. The default free space is 500 MB and you may share the product on social media to get another 1.5 GB.
2. Why cannot the recovered files be opened?

A file is saved as 2 parts on the storage device: directory info (which is comprised by file name, time stamp and size info, etc.) and data content.

If the files with original file names and folder structures cannot be opened, one possible reason is the corrupted directory info. There is still a chance to recover the data content with the RAW Recovery method in our software.
3. Why isn't it suggested to recover the files back to the original drive?

The storage structure of the lost files would be altered or damaged by any changes on the drive. If you save the recovered files back to the same drive, the original data structures and data content would be corrupted or overwritten, which causes permanent data loss. So you should prepare another disk to save the files.
4. How can I check whether my data is recoverable or not before purchase?

The Free version helps you save 2GB files to better verify the recovery quality of our product before purchase.
5. How long does it take to scan the drive?

It strongly depends on the capacity of your hard drive and the performance of your computer. As reference,most drive recoveries can be completed in around 10 to 12 hours for a 1-TB healthy hard drive in general conditions.
About Data Recovery Wizard
It's super easy to recover 250+ types of files after deletion, disk formatting and virus infection. Click the links and compare the difference of each version.