Summary
This article describes what to do if a hard drive has overheated, by viewing symptoms, analyzing causes and working out fixes. Hard drive overheating is a serious issue that needs prompt handling. Use data recovery software in case hard drive corruption results in data inaccessibility.
In case you sensed an apparently high temperature on your computer host or laptop, you're now stuck on the issue of the hard drive getting overheated.
As statistics show, most hard drives like Seagate and Western Digital have a maximum temperature threshold of around 140 degrees Fahrenheit (140°F), the same as 60 degrees Celsius (60°C), and electrical components begin to degrade past this point. The opposite ambient temperature of a hard drive is presumed to be 25 °C to 40°C, also temperature anywhere around 41 °C to 50 °C is considered acceptable.
Quick navigation to fixing overheated hard drive.
| Workable Solutions | Step-by-step Troubleshooting |
| --- | --- |
| Fix 1. Lighten Loading Burden | Press Ctrl + Al + Del keys to open Windows Task Manager. Click "Processes" ...Full steps |
| Fix 2. Remove Malware | Go immediately to remove a virus from computer, laptop...Full steps |
| Fix 3. Check bad sectors | Press Windows + X and invoke Command Prompt option...Full steps |
| Fix 4. Do HDD Cleaning | Use a small piece of cotton rag and a dip of alcohol to clean it yourself...Full steps |
Hard Drive Overheating Symptoms
Unusual heat to touch.
Running fans are louder.
Files cannot open, corrupted.
Computer high (100%) disk usage.
Hard drive very slow suddenly to access or open files.
Computer/laptop suddenly shut down, displaying a completely blue screen.
Constantly bad sector error messages appear when trying to open the drive.
The hard drive is making unusual noises, mostly a clicking sound or occasionally whirring.
So, when you're seeing any one of the symptoms, especially when the hard drive is accompanying with a sense of heat, there is an imminent hard drive failure that would probably cause an abrupt PC or laptop overheating and shutting down. As a result, hard drive won't boot and data becomes inaccessible.
Hard Drive Overheating Causes
Uncover the fans with anything that's blocking the air flow
Clean fans generate stronger wind. Do you clean the fans every 3-6 months? If not, start from now on.
Dust could block air flow, preventing fast cooling down effect, it also insulates components that need to be cooled by the fans. Lighter dust environment, better hard drive performance.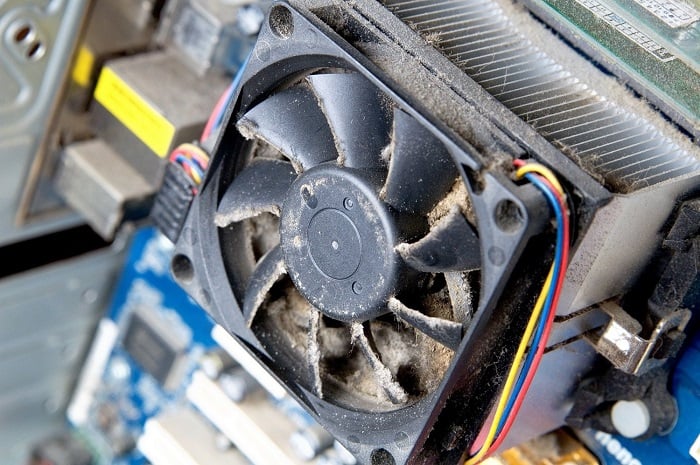 Fix Hard Drive Overheating
There are four easy troubleshooting ways to fix an overheated hard drive that is lingering on corruption, dying and eventual failure.
1. Lighten the loading burden
Maximumly reduce the number of large-size applications that assume high CPU resources and disk memory in Task Manager.
Press Ctrl + Al + Del keys to open Windows Task Manager;
click Processes tab, select the targets which occupy the most CPU resource and click End Process.
Further reading: How to fix 100% disk usage
2. Check and remove malware and virus
At times the task manager shows 100% disk usage but you will find nothing eating the CPU up. Be cautious then, the victim might be computer viruses that drains your computer memory up.
Go immediately to remove a virus from computer/laptop.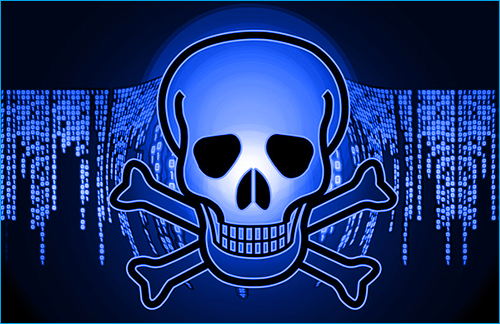 3. Check bad sectors and prepare for the worse
Too many bad sectors will largely cause hard drive malfunctioning, making it feel strenuous to load computer files so it generates more heat than ever.
This is how you can check bad sectors using chkdsk commands.
Press Windows + X and invoke Command Prompt option.
Right-click the Command Prompt and choose Run as administrator.
On the Command Prompt window, type chkdsk f: /f /r and press enter. f should be replaced by the correct hard drive's drive letter.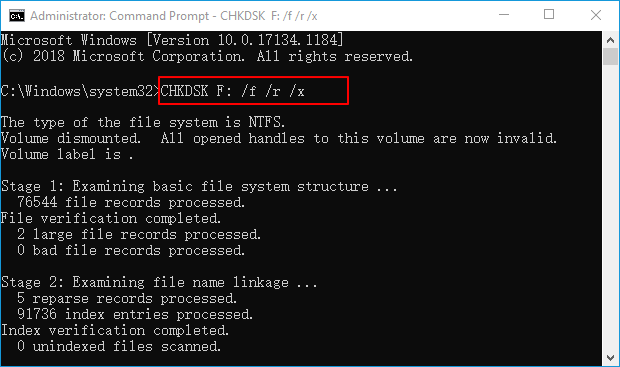 If you don't have any technical know-how and want to minimize data risks, using third-party software could be a better choice. The Command line is suitable for computer professionals since wrong commands can cause severe problems. Therefore, we strongly recommend you to try an automatic command line alternative.
EaseUS Tools M is a practical computer fixing tool that is safe and light-weighted. It's a perfect alternative to CHKDSK command. Use this one-click tool to solve your computer issues.
To fix file system error or disk error:
Step 1:  DOWNLOAD EaseUS Tools M for Free and install it.
Step 2: Open the software and select "File Fixing" on the left pane.
On the right pane, choose the drive and check off the box at the bottom - "Check and fix file system error". Then, click "Fix" to start repairing the error.
Step 3: Wait until the operation completes. Wait until the operation completes. After the operation completes, click the "View" button to check the drive.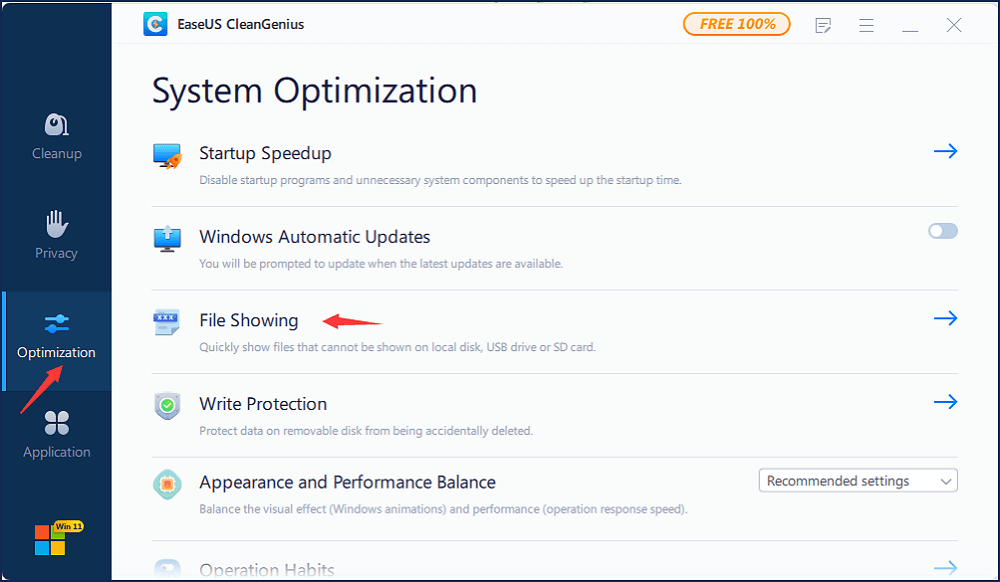 Chkdsk won't repair the bad sectors it found, so you can refer to how to repair bad sectors with software's help.
4. Regularly do some hard drive cleaning
The longer you use the machine in a settled location, the more dust and debris in the air will accumulate and cause hard drive overheating. To a simple cleaning, you may use a small piece of cotton rag and a dip of alcohol to clean it yourself, and a cotton bud is also a good choice for the inside areas. For thorough cleaning, you might consider sending it to a professional repair center.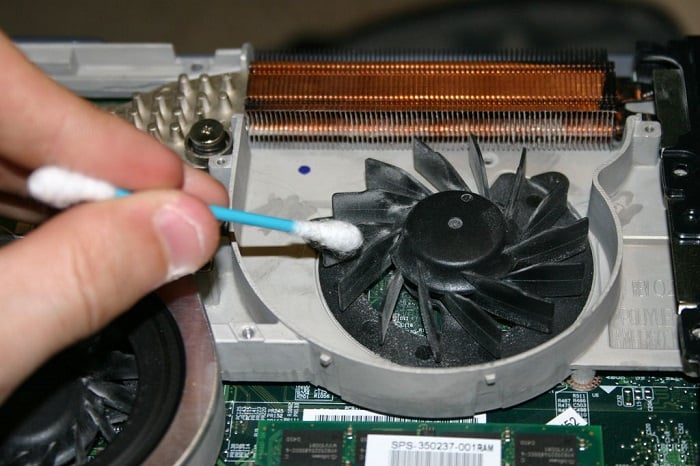 Still Overheating? Take Care of Data!
In any case, the prior thing is definitely data rescue on an increasingly overheating hard drive that automatically deletes files or corrupts data inside. You can simply copy the intact hard drive contents and paste them all into a backup drive before the overheated hard drive failed too badly.
Choice 1. EaseUS Data Recovery Wizard Professional
Early likelihood of data loss on an overheated hard drive is accused of hard drive not responding, slow to open files or cannot open itself at all. At this moment, you'll need a data recovery program to recover files from an inaccessible, unreadable or not responsive hard drive. EaseUS hard disk data recovery software is the second-to-none choice regarding its capability, speed, safety, and efficiency.
Choice 2. EaseUS Data Recovery Wizard with Bootable Media
However, to take care of data on an overheated hard drive that can no longer boot, you can only take the last resort to recover through a bootable USB drive. Download EaseUS Data Recovery Wizard Pro with Bootable Media to export inaccessible data from the bootable data recovery disk, without investing a huge amount of money sending the drive to a repair center.
Choice 3. EaseUS Advanced Manual Data Recovery Service
If your overheating hard drive is not handled promptly as the fixes suggested, bad sectors would increase day by day, at last, it's dying. The data recovery on a dying hard drive is beyond a software's capacity. With a severely damaged hard drive, you would encounter many other errors we didn't mention here, in this case, don't hesitate to hire professional manual data recovery service to tackle this problem.
100% of people found this article helpful.
Frequently Asked Questions
1. Why choose EaseUS Data Recovery Wizard?

"EaseUS Data Recovery Wizard is the best we've seen. It's far from perfect, partly because today's advanced disk technology makes data-recovery more difficult than it was with the simpler technology of the past, but it's fast and efficient..." —PCMag

"The first thing you'll notice about EaseUS Data Recovery Wizard Pro is that its interface is very clear and uncluttered, with only a small collection of self-explanatory controls. You won't find lots of extra options hidden in a system of hidden menus, either; what you see really is what you get." —techradar

"Recover lost files, even after deleting a partition or formatting your drive." —Macworld
2. Why cannot I recover 2GB data for free?

It is recommended to check the version installed is Free or Trial because they are different versions.

Trial has data preview function but cannot save any files, while the Free version enables to recover 2 GB files. The default free space is 500 MB and you may share the product on social media to get another 1.5 GB.
3. Why cannot the recovered files be opened?

A file is saved as 2 parts on the storage device: directory info (which is comprised by file name, time stamp and size info, etc.) and data content.

If the files with original file names and folder structures cannot be opened, one possible reason is the corrupted directory info. There is still a chance to recover the data content with the RAW Recovery method in our software.
4. Why isn't it suggested to recover the files back to the original drive?

The storage structure of the lost files would be altered or damaged by any changes on the drive. If you save the recovered files back to the same drive, the original data structures and data content would be corrupted or overwritten, which causes permanent data loss. So you should prepare another disk to save the files.
5. How can I check whether my data is recoverable or not before purchase?

The Free version helps you save 2GB files to better verify the recovery quality of our product before purchase.
6. How long does it take to scan the drive?

It strongly depends on the capacity of your hard drive and the performance of your computer. As reference,most drive recoveries can be completed in around 10 to 12 hours for a 1-TB healthy hard drive in general conditions.
About Data Recovery Wizard
It's super easy to recover 250+ types of files after deletion, disk formatting and virus infection. Click the links and compare the difference of each version.