What Makes A Hard Drive Slow?
"Is it normal to see my LaCie external hard drive becoming very slow suddenly? Especially this afternoon when I tried to copy some large files to it, I noticed that the speed of the transfer was almost 0.5MB/s...I am so sure it's not about the slow internet. Perhaps it's because the hard drive is too old to function well. Do I have to replace the hard drive? But I'm still looking for some better advice to prolong the lifespan of this slow external hard drive."
Are you confused by a hard drive slows down in file transfer speed, read/write or response? This can start to happen to everyone with an aging PC, but sometimes it happens in just a short period of time, like a few months. To fix a slow hard drive, you must clearly know that there are basically two culprits: software and hard drive corruption. Once hard drive and software lack in good health, it begins to develop bad sectors, viruses, fragmentation, and many serious issues and finally leads to a very slow speed that affects your life and work.
PAGE QUICK NAVIGATION:
| Workable Solutions | Step-by-step Troubleshooting |
| --- | --- |
| Fix 1. Check and remove the virus | Use antivirus software; Or use attrib cmd...Full steps |
| Fix 2. Switch the SATA data cable | Change the slow, dusty or loose SATA port...Full steps |
| Fix 3. Check hard drive errors | Scan and remove too many bad sectors...Full steps |
| Fix 4. Clean up and optimize hard drive | Clean up junk files, large files, optimize disk...Full steps |
How to Fix A Slow Hard Drive
Applies to: fix a slow hard drive on Windows Desktop or Laptop
For your information, factors of viruses, bad sectors, bad track and corrupted master boot record on an HDD or USB external hard drive would result in its decreasing performance. There are many ways to determine which way your hard drive becomes slow down. Here on this page, we provided the most helpful hard drive test and repair solutions for you, which are divided into two parts: quick fixes and advanced fixes.
The quick fixes we put in the beginning do not require much time and skills, so we suggest you take a glance and give a try if you haven't tried any of the methods yet.
Fix 1. Check and Remove The Virus from The Hard Drive
You can ask help from the built-in Windows Defender or some reputable third-party antivirus software (i.e., McAfee, Symantec, Kaspersky, Avast...) to scan hard drive viruses, or try to remove virus without using antivirus software, instead, using cmd.
Run the Windows Command Prompt with the Admin privilege.
Type the command: attrib g:*.* /d /s -h -r -s and hit Enter. (Replace the drive letter g with your own external hard drive's drive letter.)
Fix 2. Switch the SATA Data Cable
The other quick solution to fix a slow hard drive, especially for the hard drive that fails in a fast file transfer speed, is to disconnect the SATA data cable from the first SATA port on the motherboard (where it was always connected) and then connect that same cable into the last SATA port. Sometimes, it's a problem of a dusty or loose SATA cable that slows down your SATA HDD without warning.
For some serious hard drive issues that might cause a hard drive overloaded and sluggish, you need the advanced help of professional hard drive diagnostic toolkits! Here, EaseUS Partition Master Free is recommended. This free partition manager comes with three useful features that happen to solve the problem of a slow hard drive correctly, which are called Disk Cleanup and Optimization, Check Partition and Format Partition.
Fix 3. Check Hard Drive Errors
Step 1: Open EaseUS Partition Master on your computer. Then locate the disk, right-click the partition you want to check, and choose "Check File System".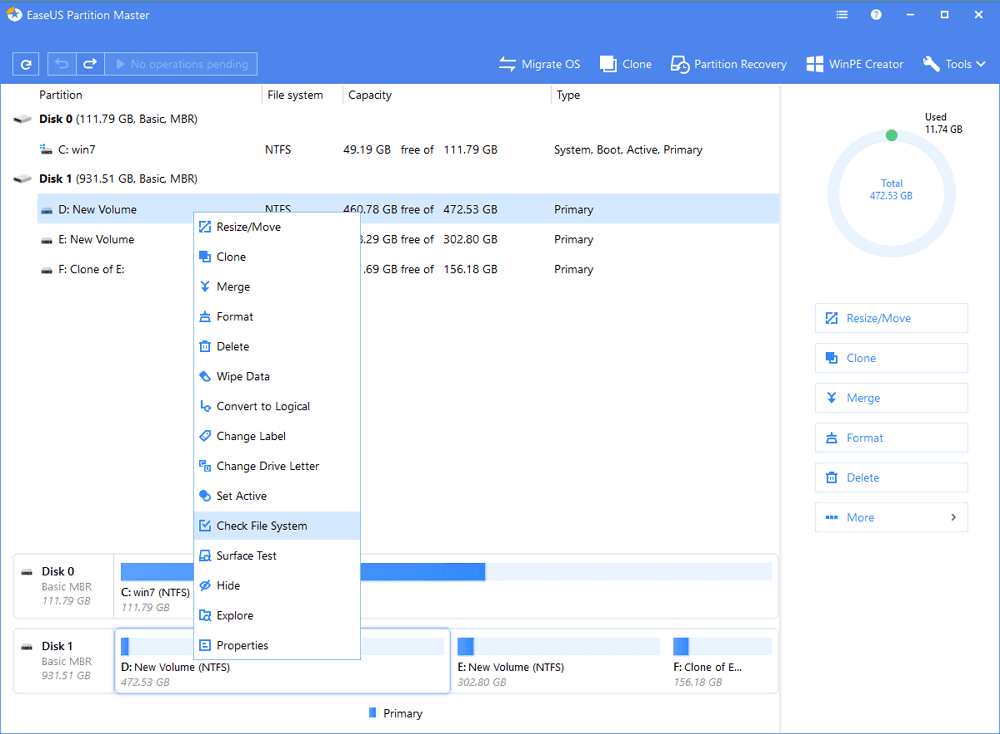 Step 2: In the Check File System window, keep the "Try to fix errors if found" option selected and click "Start".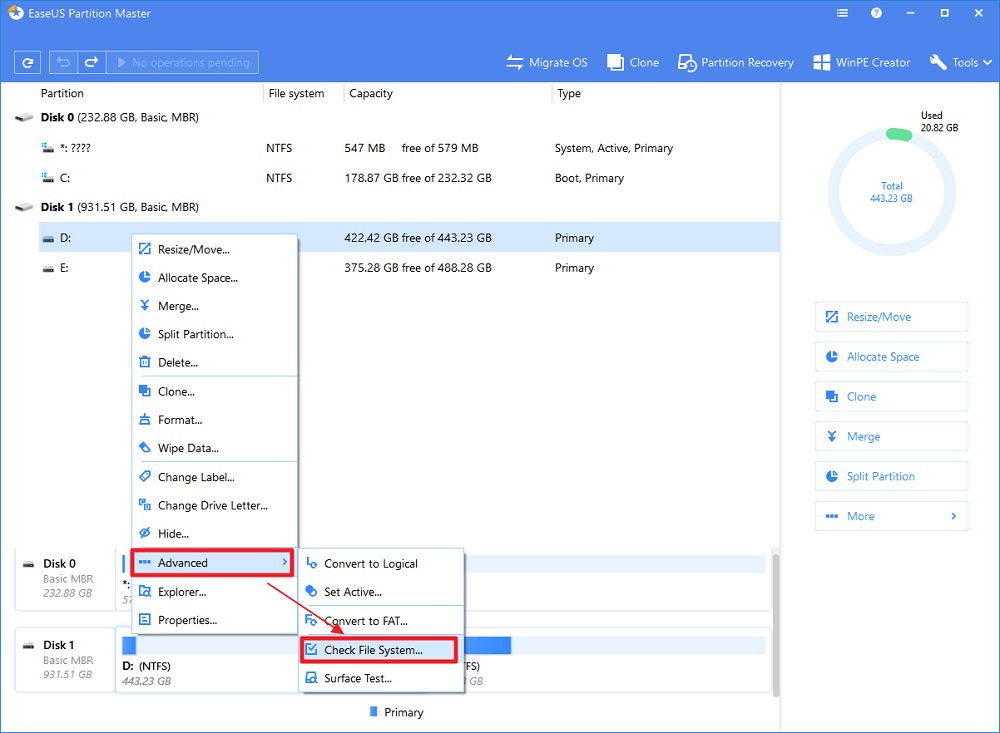 Step 3: The software will begin checking your partition file system on your disk. When it has completed, click "Finish".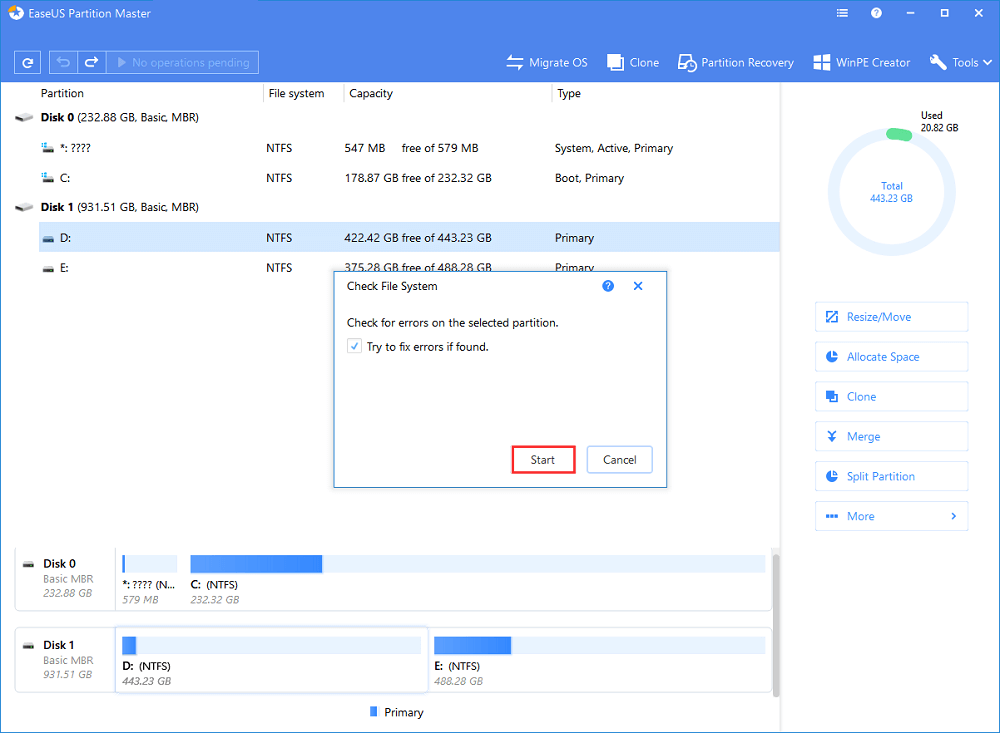 Fix 4. Cleanup and Optimize Hard Drive
Step 1: Install and launch EaseUS Partition Master. Select "Tools" and click "System Optimization".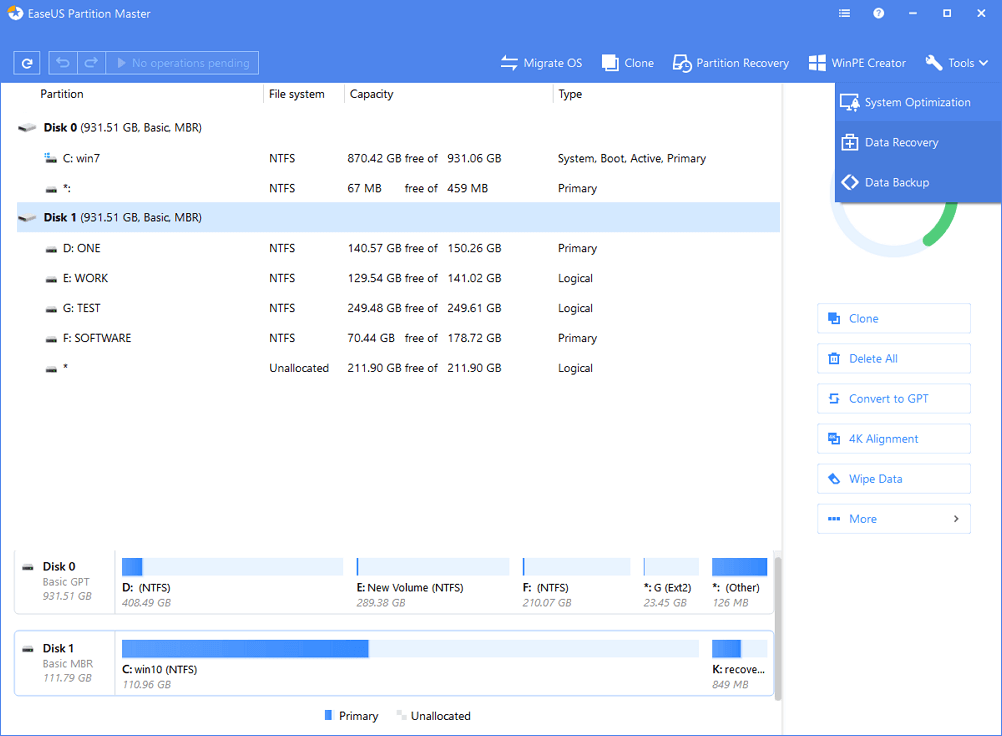 Step 2: Choose "Disk Optimization" to optimize your hard disk and improve the disk performance.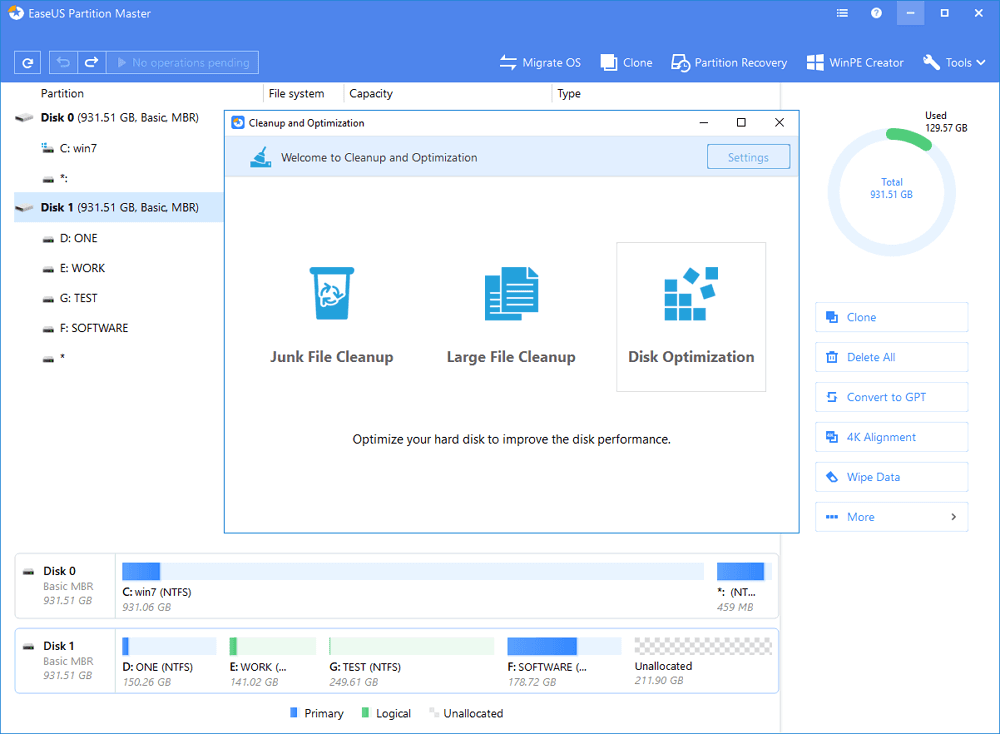 Step 3: Select the partition that you want to optimize and click "Optimize". After a while, the defragment is completed. The time depends on the amount of the fragments on this partition.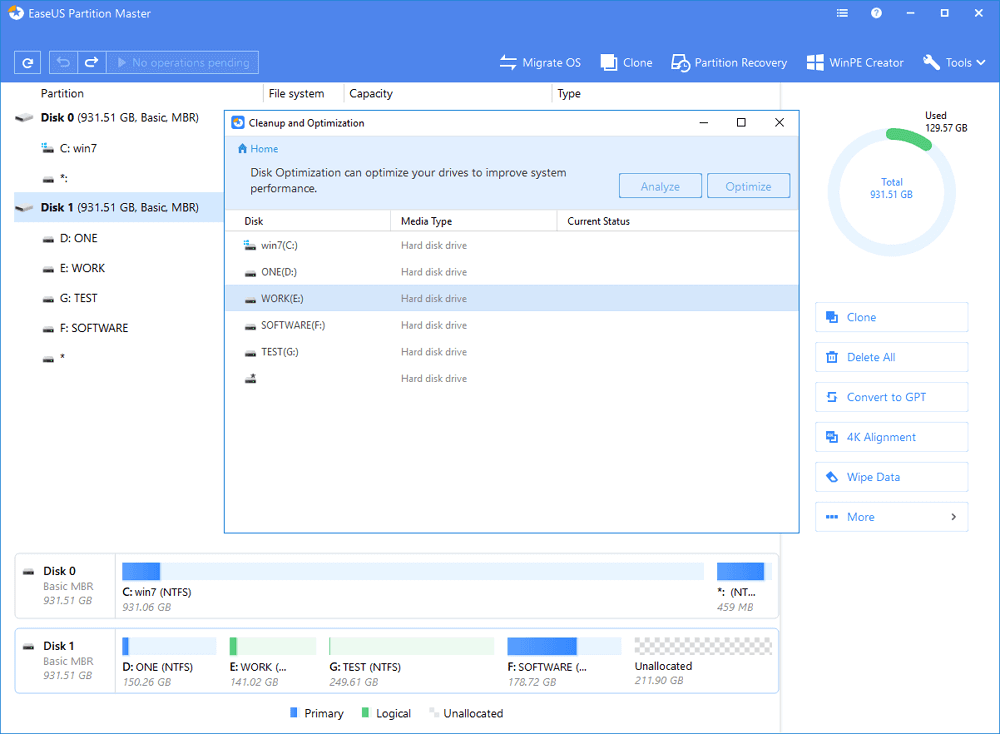 FAQs - How to Fix Hard Drive Becomes Slow Suddenly
Basically, by removing hard drive bad sectors and optimizing the hard drive should revive the failing hard drive that becomes incredibly slow and slow. Otherwise, you have to apply a quick format with the software's format partition features, or even a low-level format to make a final effort. Have you noticed a certain speed improvement in your hard drive on your computer? There are several other concerned questions and solutions that might give you a clue of increasing the hard drive speed.
1. Hard drive very slow to read
Check for programs making frequent read/write requests to the hard disk in Task Manager. Make sure no unwanted programs are tying up your disk in the background. Full solutions to how to fix hard drive slow to read.
2. External hard drive slow and unresponsive
Connect your external hard drive to a new USB port to a new computer to check whether it's really not responding. Sometimes a damaged USB port will disallow your drive to show up and respond properly on the PC. Full solutions to how to fix external hard drive not responding.
3. Fix slow external hard drive on Mac
Many factors would affect the performance of an external hard drive on macOS/Mac OS X and decrease its speed in file transfer or hard drive loading. Here are some Mac external hard drive speedup tips for you, including activity monitor lookup, proper startup items management, visual effects turning off, etc. Full solutions to how to fix slow external hard drive on Mac.
4. The External hard drive takes forever to load
Hard drive not showing up or recognized is taken as one of the direct consequences of infinite loading. To overcome the endless loading problem and prolong the lifespan of an old hard drive that has the loading problem, you can update outdated disk driver, format the disk, etc. Full solutions to how to fix an external hard drive take a long time to load.
100% of people found this article helpful.
Frequently Asked Questions
Why Choose EaseUS Partition Master?

"I've used Partition Master Professional many times to create, delete, format, move, rename, and resize partitions." —PCWorld

"Partitioning tools have come a very long since the days of complicated command line utilities and EASEUS Partition Master is one of the most advanced programs available." —TECH ADVISOR

"I love that the changes you make with EaseUS Partition Master Free aren't immediately applied to the disks. It makes it way easier to play out what will happen after you've made all the changes." —Lifewire
Will the "Migrate OS" feature transfer the Windows system files only or the whole C drive?

To ensure that the migrated system will boot normally, the Migrate OS feature will transfer all the files in the system and the boot partitions. Generally, the boot partition is the C drive so the transfer will include all the files in C.
Does EaseUS Partition Master license apply to multiple computers?

The license of Partition Master Professional and Server editions can be used on 1 computer only, while that for for the Technician and Unlimited editions can be used on multiple machines.
What is the difference between EaseUS Partition Master Trial version and the Free version?

Free is for home users only, with most basic functions available such as partition resize and clone. While trial can help you understand how this product works and test what a full license can do on a business or server OS machine.
Will it cause any data loss after resizing the partition in EaseUS Partition Master?

Generally, it will not cause any data loss or boot issue by resizing a partition. However, in order to protect your data, we suggest that you backup the partition before resizing, in case of any unexpected situations such as power outages, computer hardware failures, etc. You can use EaseUS Todo Backup to backup the partition and its trial version is fully functioned for 30 days.
What should I prepare before resizing the partition?

On the partition that is going to be operated, there might be some files being occupied by other programs. To ensure a successful operation, we suggest that you close all the unnecessary software before resizing that partition. Otherwise, EaseUS Partition Master will detect the partition being locked by the other software and require a reboot to resize the partition under boot mode.
About EaseUS Partition Master
All-round disk & partition management software for personal and commercial use. Let it manage your storage drive: resize, format, delete, clone, convert, etc.