Can I increase the C drive space without formatting or deleting other drive/partition?
"Does anyone know how to increase a partition in Windows 10 without deleting or formatting a second drive/partition?
I have 150GB allotted to my C drive, but now it's almost full. If I can add more space to it, things will be perfect. But my problem is that I don't have free space on my computer anymore. All space has been divided into partitions.
So I want to know whether I can still extend the C drive partition without deleting or formatting the second partition or not? I have saved files and data on all the partitions in my computer. How can I move those unused free space from my drive D:, E: or even F: to my C: drive without deleting or formatting them?"
According to Windows forum and the Google searching result, it seems that quite a lot of users are feeling reluctant to format or delete their second or third partition to free up space for extending system C drive.
So if there is a way to help to extend C drive without formatting or deleting in Windows 10/8/7, things will be perfect. Here in the below, we'll show you how to increase and extend C drive in Windows 10/8/7 without formatting.
Increase and Extend C Drive in Windows 10/8/7 without Formatting/Deleting
Step 1. Download Partition Manager Software for Help
As we all know, Disk Management and even CMD command line all require to format and delete partition so to add space to the system C drive. If this is not what you want, don't worry. Professional partition manager software - EaseUS Partition Master will help.
It allows you to effortlessly extend C drive without deleting or formatting other partitions. You can even apply it to extend system reserved partition for Windows 10 Fall Creators update or fix other more partition problems. Just download this software, install it and apply it with guidelines in Step 2 to start extending your C drive now:
Step 2. Extend, Increase C drive in Windows 10/8/7 without Formatting/Deleting Partition
Step 1. Launch EaseUS Partition Master, right-click the partition which has free space, and select "Resize/move partition" and drag the left partition handle rightward to shrink space or set unallocated space size that you need.
Note: By doing so, your data on partition won't be deleted or removed. And free space will be left for C drive extending.
Step 2. Drag your partitions rightward so to leave the unallocated space right behind the system C: drive which you need to extend.
Step 3. Right-click on the C: drive and select Resize/move partition.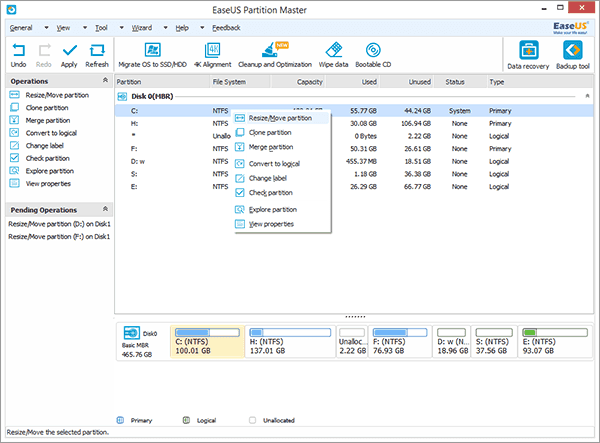 Drag the right handle of system C: drive rightward to add free space to your C drive.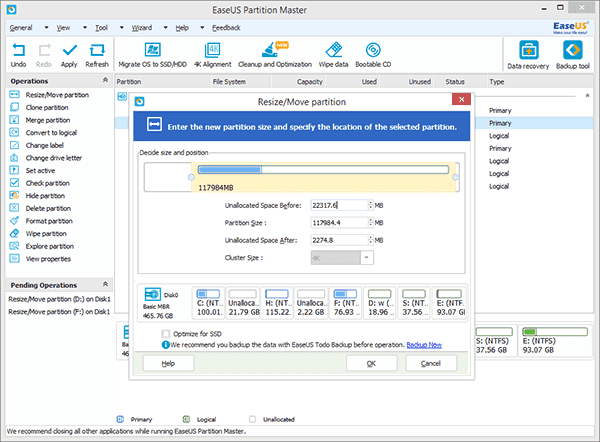 Step 4. Click Apply to keep all changes.
After this, you can reboot your computer to keep all changes on your Windows 10, 8 or 7 PC. Now that, you've successfully increased C drive and gotten more free space added to your system drive.