How to Format a Hard Drive Partition for Free
What Does It Mean to Format a Partition
When you format a partition, hard drive, USB flash drive, memory card, or another storage device, you prepare it for data storage by deleting all the existing data on the device and setting up a new file system, like NTFS and FAT32, for the partition, disk, or removable storage device. For your information, the file system controls how data on the partition is stored and retrieved and serves the function of a bridge between your hard drive data and the Windows operating system.
When Do You Need to Format a Hard Drive Partition
Given that formatting a partition will remove data and assign a file system to prepare the chosen partition to be used by Windows, you will need to format a hard drive partition in the following situations:
When you create a partition on a disk, formatting the selected space is an automatic process of partitioning the hard drive. Why? By creating a partition, you change the chunk from unusable to usable, which indicates setting up a file system is needed. As you know now, that's what format can do. Therefore, formatting the drive is necessary while partitioning a hard disk.
If you attempt to partition and format a hard drive, you don't need to format the hard drive separately, because creating a partition contains the process of format. Learn how to partition a hard drive here.
You may have the confusion "What is RAW partition format" like many other users. You will be clear after reading the explanation.
Every partition in use has a file system and you can check it by right-clicking the partition and choose "Properties". When the file system of the partition becomes corrupted, missing, or is not recognized by the current operating system, it will show up as RAW under File Explorer or Disk Management. To Fix the RAW partition, you will need to convert RAW to NTFS, FAT32, or another Windows-compatible file system to make it usable again by formating. It's worth mentioning that you should recover data from the RAW partition first before formatting the drive.
Erase Data on the Partition or Disk
Since format will remove all existing data on the selected partition or device, you may use it as a way to clean up the partition, disk, or storage medium. However, formatted data is recoverable with the help of professional hard drive recovery software. If you want to erase the files completely, you can securely erase the hard drive instead.
In addition to the main reason above, some users may choose to format a partition to remove a virus or malware. No matter what the cause is, you can apply the methods below to format a hard drive partition.
How Do You Format a Hard Drive Partition
Format a hard drive partition can be easily done via two ways: free EaseUS Format tool or Disk Management. You can format a hard drive/disk via one of two methods. However, given that useful features, the EaseUS Partition Master is the better partition tool that is worth trying. See the difference between free partition manager and Windows built-in tool.
Comparison Between the Free Edition EaseUS Partition Master and Disk Management
Here is a comparison between EaseUS Partition Master and Windows Disk Management which may help you quickly decide which tool to apply:
Comparison
Disk Management
EaseUS Partition Master Free
Partition a Hard Drive
Yes
Yes
Format a Hard Drive

Yes

(Format to NTFS only)

Yes

(Format to FAT, FAT32, NTFS, ReFS)

Other Features

Initialize Disk, Convert Disk, Extend Volume, Shrink Volume 

Initialize Disk, Convert Disk, Extend Volume, Shrink Volume, Clone Disks/Partitions, Wipe Data
If you upgrade EaseUS Partition Master to the professional version, there are many more advanced features you can use: OS migration, Partition Recovery, WinPE Bootable Disk Creation, Dynamic Disk Management, etc. In a word, it not only helps to partition and format a hard drive but also works in many other situations related to disk/partition management.
Method 1. Format a Partition with EaseUS Format Tool for Free
The free partition manager - EaseUS Partition Master enables you to format any hard drive with ease. It's a versatile disk management tool that also helps to create, resize, move, merge, and clone partitions.
The following cases may match what you need in formatting an existing partition or a chunk to several parts.
Case 1: How to format an existing partition
Case 2: How to format a new partition
Case 1: How to format an existing partition
Step 1: Run EaseUS Partition Master, right-click the hard drive partition you intend to format and choose "Format".
Step 2: In the new window, set the Partition label, File system (NTFS/FAT32/EXT2/EXT3), and Cluster size for the partition to be formatted, then click "OK".
Step 3: Then you will see a warning window, click "OK" in it to continue.
Step 4: Click the "Execute Operation" button in the top-left corner to review the changes, then click "Apply" to start formatting the partition on your hard drive.
Case 2: How to format a new partition
If your disk has not been partitioned or formatted, then it does not appear on the file explorer. The below tutorial will teach you to initialize the partition, create a new partition, and format it.
Step 1:

Download the software

Download EaseUS Partition Master. Connect the hard drive or SSD to PC.
Step 2: 

Initialize your HDD/SSD

Right-click the target HDD or SSD and select "Initialize to MBR" or "Initialize to GPT" accordingly.

Fig 1. Initialize to MBR: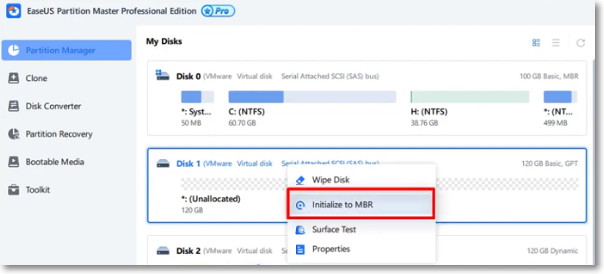 Fig 2. Initialize to GPT: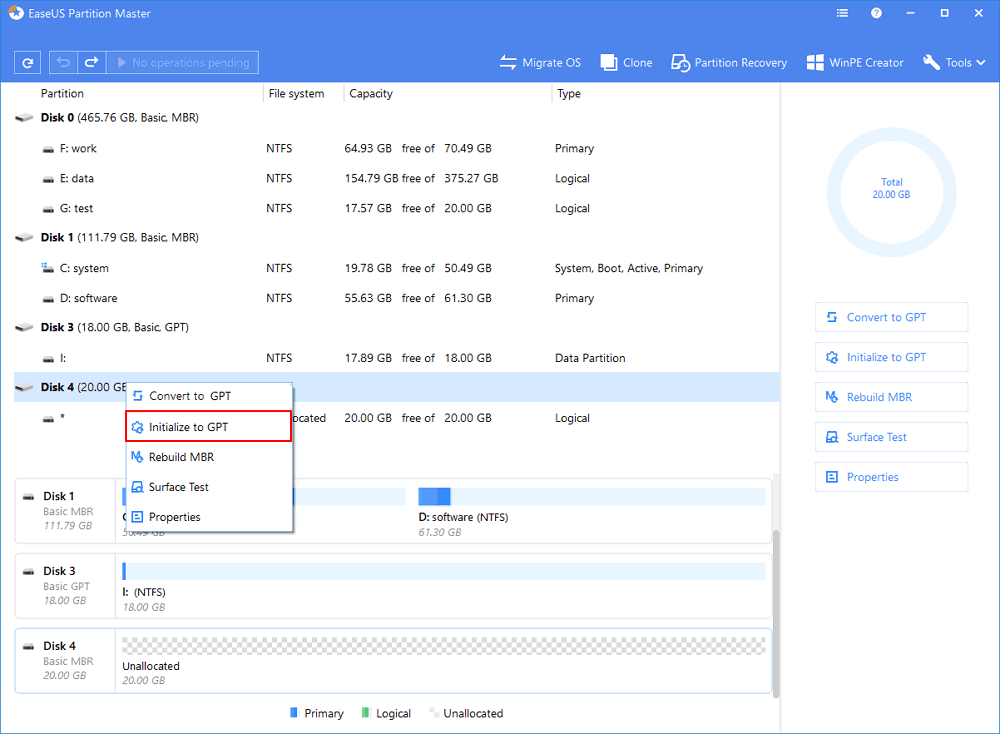 Step 3: 

Apply the operation

A pending operation of initializing disk to MBR or GPT disk will be added. Execute the operation and click "Apply".

Then click "Resize/Move" to create a new partition, and repeat the formatting steps in case 1.

You can almost format almost any drive on your computer or any Windows-compatible storage device using the EaseUS format tool except for C drive (the system drive). If you want to format a C drive, learn how to get it done from the article about how to format the C drive in Windows 10. 

Furthermore, in some rare cases, you may encounter a situation in which storage devices like SD cards won't format. Learn how to repair it if you need to.
Method 2. Format a Hard Drive Partition with Disk Management
Disk Management is a built-in tool in Windows that can be used to manage internal/external disks. It also allows you to create and format a partition.
Format A New Partition:
Step 1. Right-click "This PC" and choose "Manage".
Step 2. Go to "Disk Management".
Step 3. Right-click the unallocated space on your hard disk and choose "New Simple Volume".
Step 4. Follow the guide of the New Simple Volume Wizard.
Step 5. Enter the size of the partition you want to create or accept the maximum default size, and then select Next.
Step 6. Accept the default drive letter or choose a different one to identify the partition, and then select Next.
Step 7. In the Format Partition dialog box, do one of the following:
If you don't want to format the volume right now, select "Do not format this volume" and click Next.
To format the volume with the default settings, click Next.
Format An Existing Partition:
Step 1. Right-click "This PC" and choose "Manage".
Step 2. Go to "Disk Management".
Step 3. Right-click the target hard drive partition and choose "Format".
Step 4. Set the volume label, file system and click "OK" to start formatting the drive.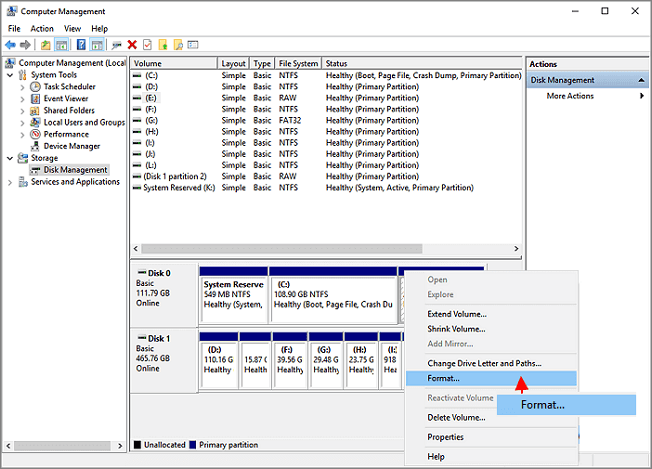 The Bottom Line
The format is a frequently used feature that is necessary when creating a partition, fixing a RAW partition, and erasing data from a drive. You can format a hard drive partition with simple steps using the EaseUS format tool or Windows Disk Management. Since format will cause data loss, you should back up the data on the select drive before the operation, either by manually copying files or using data recovery software when the partition or device is inaccessible.
People Also Ask 
1. What does it mean to format a partition?
To format a partition means to choose the selected partition on the hard drive to be set by the file system, and to delete or erase all data and setting on it. For Windows, formatting a partition is being tacked by EaseUS Partition Master and Disk Management tool.
2. Can you format partitions differently?
Yes. For the formatting tool, we recommend EaseUS Partition Master to format partition when you need to set a formatting process. And the Disk Management tool is the common solution we also mentioned.
3. What is better exFAT or NTFS?
Generally speaking, NTFS is faster in reading and writing speed. More and more devices support exFAT than NTFS. NTFS is the perfect suit for the internal drives, while exFAT is the better choice for flash drives. How to choose a file system may depend on your device type.
4. What happens if I format a partition?
If you have the necessary data on it, the formatting partition will erase all data and you will lose it permanently. The safe method is to back up the important part and move on.
Gemma is member of EaseUS team and has been committed to creating valuable content in fields about file recovery, partition management, and data backup etc for many years. She loves to help users solve various types of computer related issues.

Brithny is a technology enthusiast, aiming to make readers' tech life easy and enjoyable. She loves exploring new technologies and writing technical how-to tips. On her spare time, she loves sharing things about her favorite singer - Taylor Swift on her Facebook or Twitter.
I love that the changes you make with EaseUS Partition Master Free aren't immediately applied to the disks. It makes it way easier to play out what will happen after you've made all the changes. I also think the overall look and feel of EaseUS Partition Master Free makes whatever you're doing with your computer's partitions easy.

 Read More

Partition Master Free can Resize, Move, Merge, Migrate, and Copy disks or partitions; convert to local, change label, defragment, check and explore partition; and much more. A premium upgrade adds free tech support and the ability to resize dynamic volumes.

 Read More

It won't hot image your drives or align them, but since it's coupled with a partition manager, it allows you do perform many tasks at once, instead of just cloning drives. You can move partitions around, resize them, defragment, and more, along with the other tools you'd expect from a cloning tool.

 Read More
About EaseUS Partition Master
All-round disk & partition management software for personal and commercial use. Let it manage your storage drive: resize, format, delete, clone, convert, etc.
Video Tutorial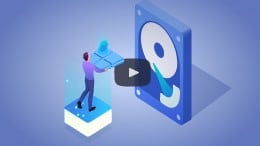 How to Partititon a Hard Drive on Windows 10/8/7
Was This Page Helpful
How Can We Help You
Find answers to common questions below.