Knowledge About Low Level Format (LLF)
Low-level formatting is recognized as one of the three disk formatting processes, the rest of which are partitioning and high-level formatting.
By wiki's explanation, low-level formatting marks the surfaces of the disks with markers indicating the start of a recording block and other information like block CRC to be used later, in normal operations, by the disk controller to read or write data. This is intended to be the permanent foundation of the disk and is often completed at the factory.
Low-level formatting is extremely helpful and significant when hard disk drive or some removable storage devices developed bad tracks, such as track 0 bad, or Windows was unable to complete the format due to write protection. Besides, severe computer virus infection.
Low-level formatting does damage to the hard drive and accelerates its death. What's more, it's incredibly time-consuming. It is estimated that low level format a hard drive of 320GB takes about 20 hours or even longer.
Do you know how many ways of low-level formatting a hard drive? In conclusion, there are three typical approaches, including DOS command, inbuilt disk utility of disc or USB drive, and third-party low level format tool.
Best Low Level Format Tool
Here comes to the crucial part, what's the best low level format tool that facilitates a low-level formatting manner? Regardless of 5-star reviews from CNet download site, HDD Low Level Format Tool from HDDGURU receives positive feedbacks from personal/home users as well as commercial/professional users, which both promote it as the best low level format software for the most popular hard drive brands, like Seagate, Samsung, Western Digital, Toshiba, Maxtor, etc.
By means of HDD Low Level Format tool, the low level formatting shall become easier and faster, even a computer novice could make full use of it. It can erase and low-level format a SATA, IDE, SAS, SCSI or SSD hard disk drive, and will also work with any USB and firmware external drive enclosures as well as SD, MMC, MemoryStick and CompactFlash media.
Simply follow the guide to low level format an entire drive:
Step 1. Google "HDD Low Level Format", pick up an official site or cnet download site to download and install it on PC.
Step 2. Plug your HDD or USB drive into the computer and launch the low level format tool.
Step 3. Select the desired drive and click Continue. Confirm the option by clicking Yes.
Step 4. Select "Low-Level Format" in Tab to start the low level formatting process.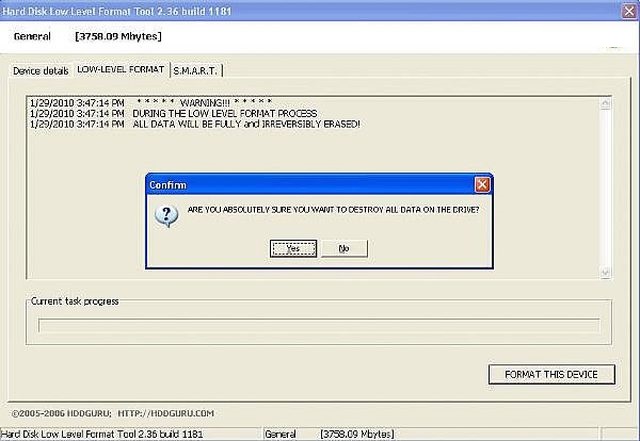 How to Use HDD, USB Drive or Memory Card After Low-Level Formatting?
The purpose of a complete low-level formatting of a hard drive is to zero filling it so that erased data can never be restored. So, behave cautiously while choosing this type of formatting process.
It didn't finish yet after low level format your hard drive as long as you decide to put it in normal use. For your information, low level format is the previous action before a high level format. In other words, only by a high level formatting, you can use the drive for data storage after performing a low level format.
Hence, take one more step after using the best low level format tool to bring your troublesome hard drive back to its life. You need EaseUS free partition manager to format your hard drive with a file system, such as NTFS or FAT32, to make it usable on a specific device.
Step 1. Download and install EaseUS Partition Manager on your PC.
Step 2. Plug your HDD or USB drive into the computer and start the program.
Step 3. Right-click the desired drive and choose Format partition.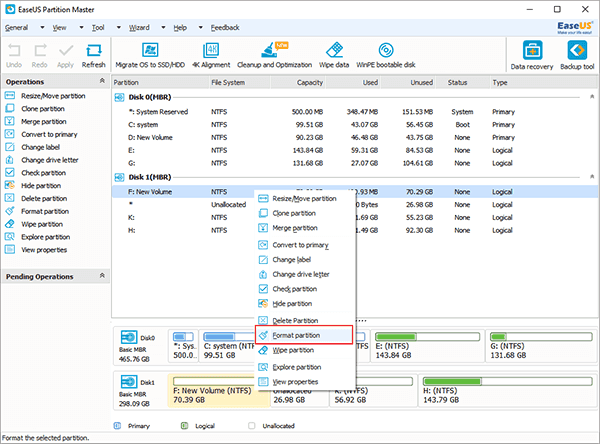 Step 4. On the format partition window, edit the partition label and choose a file system. Click OK.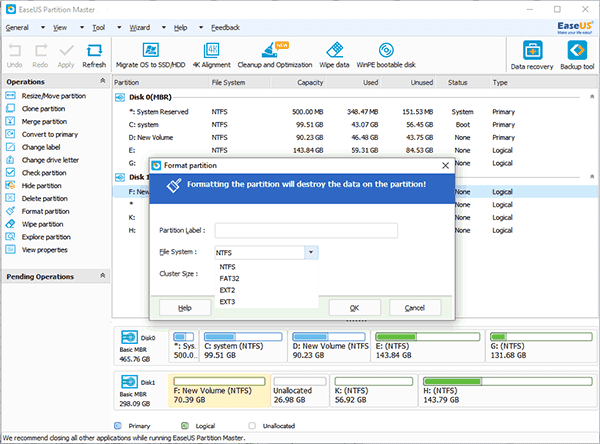 Step 5. Click Apply to confirm the format operation.
By combining both low level format and high level format, your hard drive can be perfectly put in use even after experiencing a dead moment. By the way, apart from disk formatting, EaseUS Partition Master offers more hard drive management solutions, such as disk partitioning, disk wipe, etc.