On this page, we collected best 4 free hard drive format tools for you to pick up and apply to format your storage devices to re-usable again. Quick navigate and pick the most suitable one to format your hard drive, SSD, external hard drive, etc. with ease now:
| Rank | Free Hard Drive Format Tools | Supported File System | Suitable Users |
| --- | --- | --- | --- |
| 1 | EaseUS Partition Master Free - Check | NTFS, FAT32, EXT2, EXT3 | All users: beginners, amateurs, professionals |
| 2 | File Explorer - Check | NTFS | Beginners |
| 3 | Disk Management - Check | NTFS, FAT32, exFAT | Amateurs |
| 4 | DiskPart CMD - Check | NTFS, FAT32 | Professionals |
How do I format a hard drive?
"I'm recently considering to clean one of my hard drives on my computer to save all my movies and videos. However, the whole hard drive is almost full, and I don't how to clean a hard drive at one time. Some friends suggested me to format the hard drive with a hard drive format tool.
But some of them suggested not. Formatting a hard drive may take a long time and any false operation may cause a worse result. That's why I need to find an efficient, secure and free secure hard drive format tool. If you have any suggestions, please let me know. Thank you. "
To assist you formatting hard drive without losing valuable data, please follow through below process with awareness:
# 1. Back up valuable data
# 2. Download the best free hard drive format tool and format hard drive
Part 1. Back-Up Valuable Hard Drive Before Formatting
Most users don't have a habit of classifying data, files on their hard drives. As a result, many of you may have valuable data saved in the hard drive which you tend to format.
To avoid unnecessarily file loss due to formatting, we suggest you check the target device and back up valuable hard drive data to another secure location in advance.
To do so, you have two options:
1. Open the target hard drive and manually copy useful files and documents to another device.
2. Use file backup software to back up all valuable files to another device at one time.
For an all-in-one solution, follow the file backup tutorial here to back up all valuable files on your hard drive before formatting:
 Tip

You'd better create the backup file on an external disk or on the cloud in case the local backup gets corrupted or destroyed.
Step 1: Launch EaseUS Todo Backup software and then choose "File Backup", "Disk/partition Backup" or "System Backup" for different backup purpose.
Step 2: Choose the system, disk partition, files or apps that you want to back up. Then select a destination where you want to store the backup file.
Step 3: Click "Proceed" to start the data backup process.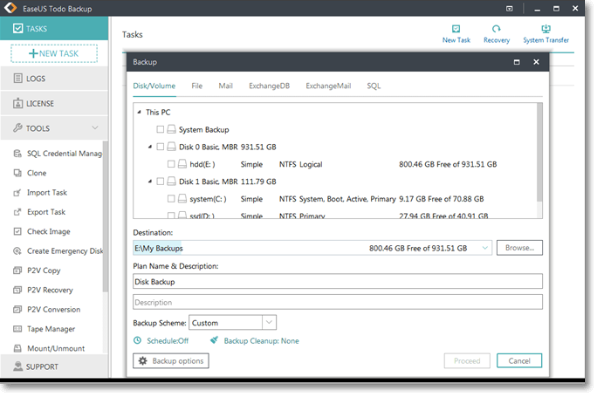 Part 2. Download Best Free Hard Drive Format Tool to Format Hard Drive
You may wonder how to find and download such a free hard drive format tool and use it to format computer hard drive? As we've mentioned at the beginning of this article, we have collected 4 free hard drive format tools for you to pick up to format your device.
Follow guidelines here to pick up your favored one and make your device work now:
# 1. Format Hard Drive with EaseUS Partition Master Free
01
Pros:
Free
Support all Windows systems
Applies to all levels of users
Support 4 step formatting
Offers more advanced features besides formatting
Besides formatting, you can enjoy more advanced features such as shrinking, extending, merging hard drive partition, clone hard drive, etc. If you only need to format a hard drive securely, free partition manager - EaseUS Partition Master Free can be your best choice. It supports to format hard drive in computers without any technical skill. No obstacles nor troubles will happen.
Download:
You may directly download and install this freeware on your PC to format your hard drive now.
Tutorial - 4-step Formatting Hard Drive using EaseUS Partition Master
Step 1: Run EaseUS Partition Master, right-click the hard drive partition you intend to format and choose "Format".
Step 2: In the new window, set the Partition label, File system (NTFS/FAT32/EXT2/EXT3), and Cluster size for the partition to be formatted, then click "OK".
Step 3: Then you will see a warning window, click "OK" in it to continue.
Step 4: Click the "Execute Operation" button in the top-left corner to review the changes, then click "Apply" to start formatting the partition on your hard drive.
To format a hard drive safely is no longer a complex task with the help of Ease Partition Master Free. Do not hesitate anymore and let this tool help solve more partition troubles now.
# 2. Format Hard Drive with File Explorer
01
Pros:
Free
Works on all Windows computers
Applies to Windows beginners
3-step formatting
02
Cons:
Doesn't work when hard drive is dying, write-protected, or unrecognized.
Download: There is no need to download the File Explorer as its a built-in tool on Windows computer.
Tutorial - 3-step Formatting Hard Drive in File Explorer
Step 1. Open Windows File Explorer, locate and right-click on the target hard drive which you need to format, select "Format".
Step 2. Rename the hard drive, reset its file system to NTFS or other formats.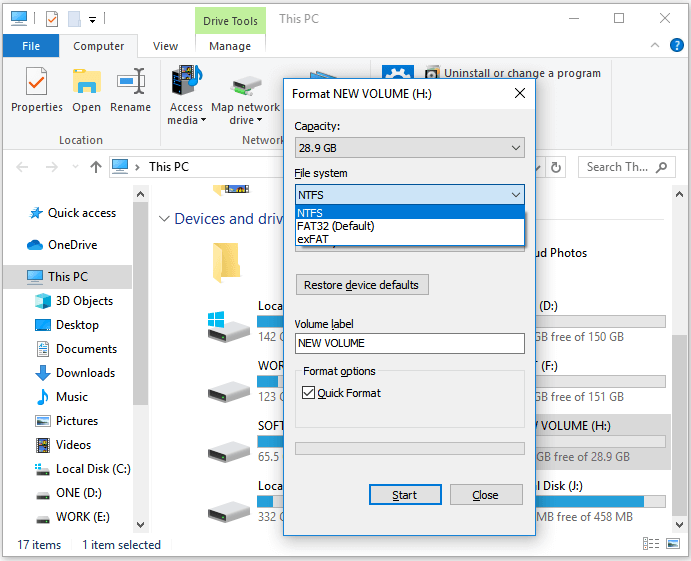 Step 3. Click "Start" to begin the formatting.
# 3. Format Hard Drive with Disk Management
01
Pros:
Free
Works on all Windows OS based computers
Applies to Amateurs
4-step formatting
02
Cons:
Doesn't work when device is dying, access denied, or not recognized.
Download: Disk Management is a free Windows built-in tool, which means you can easily open it on your computer without downloading.
Tutorial - 4 Steps to Format Hard Drive Partition in Disk Management
Be careful if you are an inexperienced in formatting hard drive with below steps on your computer:
Step 1. Right-click "This PC" and choose "Manage".
Step 2. Go to "Disk Management".
Step 3. Right-click the target hard drive partition and choose "Format".
Step 4. Set the volume label, file system and click "OK" to start formatting the drive.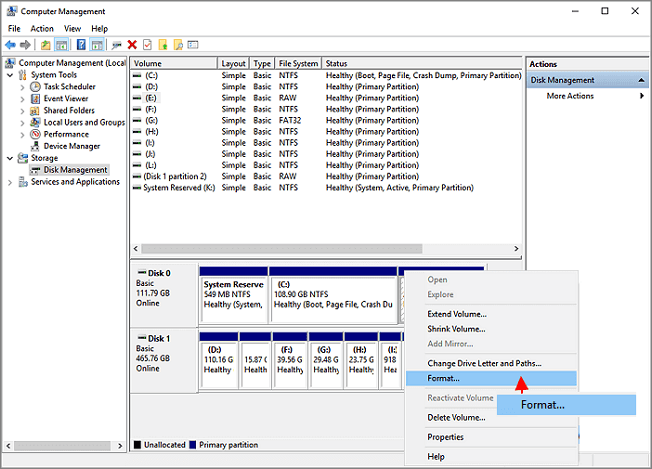 # 4. Format Hard Disk via DiskPart CMD
01
Pros:
Free
Applies to experienced Windows users
4-step formatting via DiskPart cmd
02
Cons:
False operation may cause a serious result.
Download: DiskPart CMD is also a free Windows built-in tool that you don't need to download it.
Tutorial - 4-step to Format Hard Drive with DiskPart
Step 1. Open Command Prompt by right-clicking on Windows icon, select "Search" and type: command prompt.
Right-click on Command Prompt and select "Run as administrator".
Step 2. Type diskpart in Command Prompt and hit Enter.
Step 3. Hit Enter each time when you type below command lines in DiskPart to quick format hard drive:
list disk
select disk 2 (Replace 2 with your disk number)
list volume
select volume 10 (Replace 10 with the volume number of the partition that you want to format)
format fs=ntfs quick (If you need to format a hard drive partition to FAT32 or other file systems, replace ntfs with fat32, exfat, etc.)
 Warning

If you accidentally input format without fs=ntfs quick or fs=fat32 quick in DiskPart command prompt, it will execute a full format on your selected hard drive partition.
This command will erase all saved data sector by sector. In other words, you'll permanently lose all erased data on the drive with no recovery chance.
Step 4. Type exit and hit Enter to close the program when DiskPart reports it has successfully formatted the volume.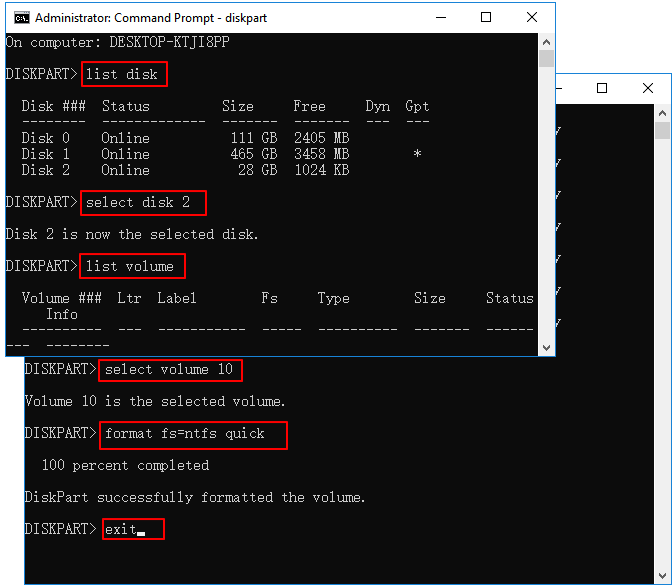 Conclusion: What To Do with Hard Drive After Formatting
Some of you may have the same question about what to do after formatting the hard drive. Here is a list that you can follow to make full use of your formatted hard drive:
# 1. Re-partition hard drive to make full use of space on your hard drive.
To do so, you may need a reliable partition management tool like EaseUS Partition Master Free to partition hard drive on your computer for free. You may also use this tool to merge partitions or extend hard drive partition based on your needs.
# 2. Save files to the formatted hard drive.
# 3. Recover lost files due to formatting.
If you didn't back up data before formatting and lost valuable files, you may apply professional data recovery software to recover data after formatting.
100% of people found this article helpful.
Frequently Asked Questions
Why Choose EaseUS Partition Master?

"I've used Partition Master Professional many times to create, delete, format, move, rename, and resize partitions." —PCWorld

"Partitioning tools have come a very long since the days of complicated command line utilities and EASEUS Partition Master is one of the most advanced programs available." —TECH ADVISOR

"I love that the changes you make with EaseUS Partition Master Free aren't immediately applied to the disks. It makes it way easier to play out what will happen after you've made all the changes." —Lifewire
Will the "Migrate OS" feature transfer the Windows system files only or the whole C drive?

To ensure that the migrated system will boot normally, the Migrate OS feature will transfer all the files in the system and the boot partitions. Generally, the boot partition is the C drive so the transfer will include all the files in C.
Does EaseUS Partition Master license apply to multiple computers?

The license of Partition Master Professional and Server editions can be used on 1 computer only, while that for for the Technician and Unlimited editions can be used on multiple machines.
What is the difference between EaseUS Partition Master Trial version and the Free version?

Free is for home users only, with most basic functions available such as partition resize and clone. While trial can help you understand how this product works and test what a full license can do on a business or server OS machine.
Will it cause any data loss after resizing the partition in EaseUS Partition Master?

Generally, it will not cause any data loss or boot issue by resizing a partition. However, in order to protect your data, we suggest that you backup the partition before resizing, in case of any unexpected situations such as power outages, computer hardware failures, etc. You can use EaseUS Todo Backup to backup the partition and its trial version is fully functioned for 30 days.
What should I prepare before resizing the partition?

On the partition that is going to be operated, there might be some files being occupied by other programs. To ensure a successful operation, we suggest that you close all the unnecessary software before resizing that partition. Otherwise, EaseUS Partition Master will detect the partition being locked by the other software and require a reboot to resize the partition under boot mode.
About EaseUS Partition Master
All-round disk & partition management software for personal and commercial use. Let it manage your storage drive: resize, format, delete, clone, convert, etc.