6 Best Hard Drive Disk Format Tool | HDD Format Tools
The best disk format tool in 2021 comes out. They are third-party EaseUS HDD format tool, HP USB Disk Storage Format Tool, HDD Low Level Format Tool, and the built-in HDD formatter like File Explorer, Disk Management, and CMD in Windows 10/8/7. Choose one of the six to format a disk, HDD, SSD, USB flash, pen drive, and SD card with ease.
6 Best Hard Drive Disk Format Tools in 2021
Each hard disk format tool in the list can be used to format any drive in Windows 10/8/7/XP/Vista and Windows Server operating system. Some of them are free to use, while some are for commercial use. Next, you'll learn the details of the product description, advantages and disadvantages. 
IMPORTANT: Back Up Data Before Formatting Disk
In general terms, we format a disk using the quick format, which erases data completely but the data is recoverable by some third-party data recovery software. The other disk formatting manner is called low-level format, which erases the whole disk surface and makes data restoration impossible!
No matter which way you'll need to format a disk, to protect important data from completely erasing, always create a backup in advance. 
Method 1. Open the target hard drive and manually copy useful files and documents to another device. 
Method 2. Use Windows backup software to automatically back up the whole disk/partition or target files and folders to another device at one time.
#1. EaseUS Partition Master - Best Hard Disk Format Tool Free Download for PC
Supported file system: NTFS, FAT16, FAT32, EXT2, EXT3, and EXT4
User interface: simple, graphical, clean, and user-friendly to beginners
EaseUS Partition Master Free is an all-around disk & partition management tool that includes but not limited to a disk formatting feature. It's placed on the top position of the best hard drive format tool due to the facts of the following:
Pros:
Free to download and format disk
Support all Windows operating systems and servers
Format a drive that is RAW, not showing up or not recognized by Windows
Format a disk even when the Windows was unable to complete the format
Allow you to create a bootable hard drive format tool
Format 64/128/256GB USB hard drive to the FAT32 file system
Convert FAT32 to NTFS without formatting or losing data
Build with other powerful features: resize, move, create, merge, delete, wipe, or recover lost partition
Cons:
Guide - How to Format Disk - HDD/SSD, USB, etc., with EaseUS Format Tool:
Step 1. Right-click the hard drive partition and choose the "Format" option.
Step 2. In the new window, set the Partition label, File system, and Cluster size for the partition, then click "OK".
Step 3. You can see a warning window, click "OK" to continue.
Step 4. Click the "Execute Operation" button in the top-left corner, then click "Apply" to start formatting the hard drive partition.
Supported file system: FAT, FAT32, and NTFS
User interface: kind of outdated but relatively easy-to-use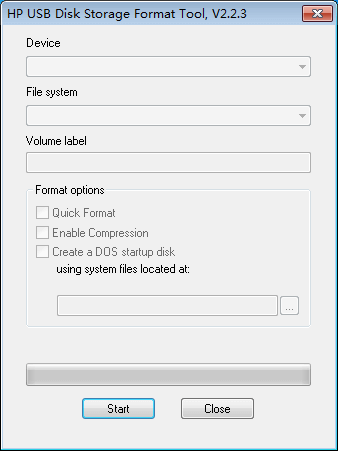 HP USB Disk Storage Format Tool is a Windows-based disk format utility to format any drive. It should work on all the older and newer Windows OS versions, but viewing from the formatting speed and performance, it stands out on usually the Windows XP operating system. With HP USB Disk Storage Format Tool, you can format any USB Flash drive, hard drive, or memory card in FAT, FAT32, and NTFS file systems. Moreover, create DOS startup disks that can help boot a PC after it dies.
Pros:
It is best used on USB drives and it strips and re-formats your drives
The GUI is very familiar because it looks just like the Windows XP formatting tool
Cons:
It may cause crashes on modern computers with newer operating systems
It needs you to run it under Administrator
Guide - How to Format Hard Drive with HP Disk Storage Format Tool
Step 1. Connect the USB drive to your Windows XP computer, click Devices and select the USB drive you want to format.
Step 2. From the File System menu, select a file system and enter a name for the reformatted disk in the Volume Label input box.
Step 3. Click the Quick Format option to enable a quick format. If you leave this option unchecked, a slower, low-level format will be performed.
Step 4. Click Start to begin the USB formatting.
Supported operating system: Windows XP, Vista, 7, 8, and Windows Server 2003, 2008, 2008R2
User interface: kind of outdated and complex to use
HDD Low Level Format Tool is a utility exclusively designed for low-level hard disk drive formatting. After running this low level format tool, the whole disk surface will be erased. As a result, data restoration is impossible after using this utility! This HDD Low Level Format utility is free for personal/home use, but the speed is restricted at 80GB per hour, which is 50 MB/s.
Pros:
The only disk format tool for a low level format
Cons:
Almost paid software. Personal license without speed limit is $3.30 while the commercial license is $27.00 per seat (PC)
Guide - How to Format Disk with HDD Low Level Format Tool:
Step 1. Download and run HDD LLF Low Level Format Tool on your computer.
Step 2. Plug your HDD or USB drive into the computer and launch the low-level format tool.
Step 3. Select the desired drive and click Continue. Confirm the option by clicking Yes.
Step 4. Select Low-Level Format in the tab to start the low-level formatting process.
#4. Windows File Explorer - Easiest Disk Format Tool in Windows 10/8/7
Supported operating system: NTFS, exFAT and FAT32
User interface: Simple design and operation throughout the formatting procedure
It's the first native Windows disk formatting choice we'll introduce. Press Windows + E keys so we can easily evoke the File Explorer. The local disk drives and the externally connected drives will appear there. As long as the drive you tend to format is visible, you can use the Format option to start a quick format with a few simple steps.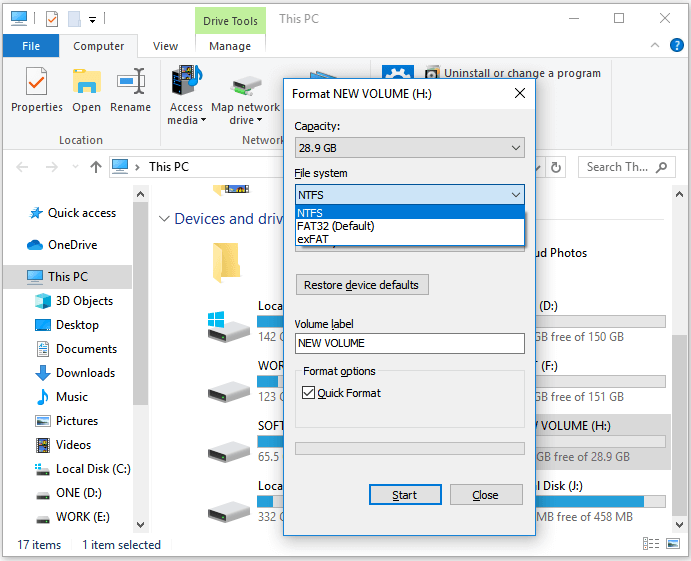 Pros:
Free
Works on all Windows computers
Applies to Windows beginners
3-step formatting
Cons:
Doesn't work when the hard drive is not showing up
FAT32 is not available for a storage drive over 32GB
Guide - How to Format HDD/SSD or Storage Device in File Explorer
Step 1. Open Windows File Explorer, locate and right-click on the target hard drive which you need to format, select "Format".
Step 2. Rename the hard drive, reset its file system to NTFS or other formats. 
Step 3. Click "Start" to begin the formatting.
#5. Windows Disk Management - Free Built-in Disk Formatter for Advanced Use
Supported operating system: NTFS, exFAT and FAT32 
User interface: Designed with a couple of useful disk management features in the clean organization
Windows Disk Management is a free Windows built-in tool, which means you can easily open it on your computer without downloading. It comes to use when you're trying to format a drive that is not showing up in the File Explorer. It's good at formatting some storage devices that have something wrong, like file system corruption, not formatted error, not accessible, etc.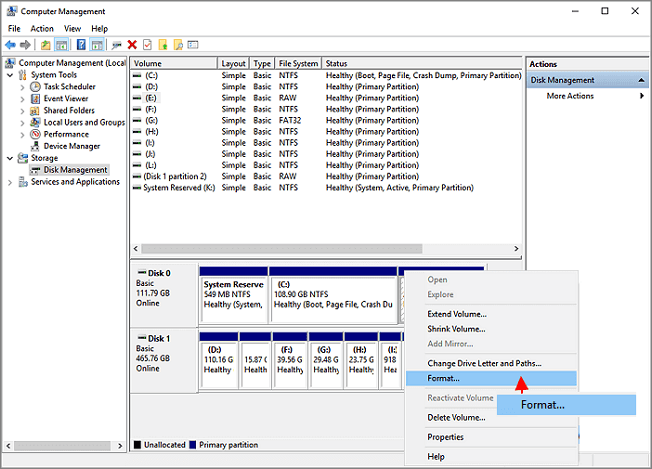 Pros:
Free
Available to all Windows operating system
Be able to format a RAW drive
Cons
Doesn't support to format a Linux drive
FAT32 is not available for a storage drive over 32GB
Guide - How to Format Hard Drive Partition in Disk Management
Step 1. Right-click "This PC" and choose "Manage".
Step 2. Go to "Disk Management".
Step 3. Right-click the target hard drive partition and choose "Format".
Step 4. Set the volume label, file system and click "OK" to start formatting the drive.
#6. CMD (Command Prompt) - Powerful Disk Formatting Tool for Professionals
Supported file system: NTFS, FAT16, FAT32, EXT2, EXT3, and EXT4
User interface: Very unfamiliar to beginners
Windows Command Prompt, for average computer users, is a hidden but powerful computer troubleshooting program that is able to solve most of the computer and hard drive problems. You can apply a variety of command lines to examine, check or repair computer issues. For example, to format a disk drive, you'll use the diskpart command lines.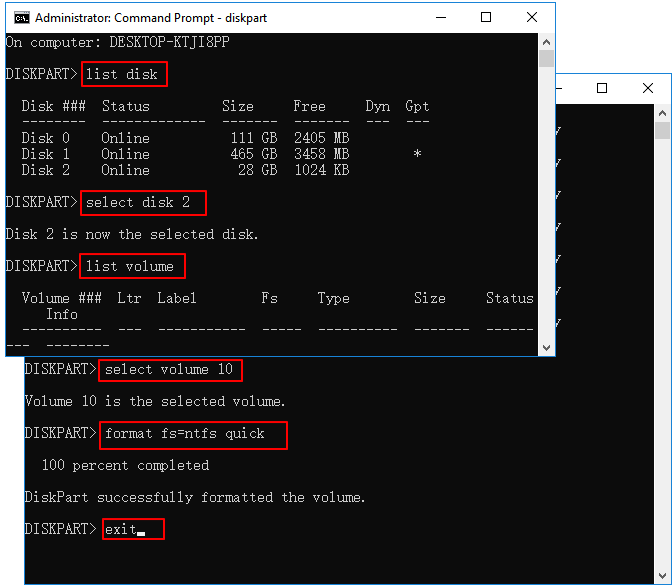 Pros:
Free
Format any drive to every file system that is available to use on Windows, macOS or Linux
Cons:
Applies to experienced users only
Any false operation will cause serious computer problems
Guide - How to Format Disk with DiskPart Command
Step 1. Open Command Prompt by right-clicking on Windows icon, select "Search" and type: command prompt.
Right-click on Command Prompt and select "Run as administrator".
Step 2. Typediskpart in Command Prompt and hit Enter.
Step 3. Hit Enter each time when you type below command lines in DiskPart to quick format hard drive:
list disk
select disk 2 (Replace 2 with your disk number)
list volume
select volume 10 (Replace 10 with the volume number of the partition that you want to format)
format fs=ntfs quick (If you need to format a hard drive partition to FAT32 or other file systems, replace with fat32, exfat, etc.)
Warning

If you accidentally input format without fs=ntfs quick or fs=fat32 quick in DiskPart command prompt, it will execute a full format on your selected hard drive partition.
Step 4. Type exit and hit Enter to close the program when DiskPart reports it has successfully formatted the volume.
Conclusion: What To Do with Hard Drive After Formatting
Some of you may have the same question about what to do after formatting the hard drive. Here is a list that you can follow to make full use of your formatted hard drive:
# 1. Re-partition hard drive to make full use of space on your hard drive.
To do so, you may need a reliable partition management tool like EaseUS Partition Master Free to partition hard drive on your computer for free. You may also use this tool to merge partitions or extend hard drive partition based on your needs.
# 2. Save files to the formatted hard drive.
# 3. Recover lost files due to formatting.
If you didn't back up data before formatting and lost valuable files, you may apply professional data recovery software to recover data after formatting.

Brithny is a technology enthusiast, aiming to make readers' tech life easy and enjoyable. She loves exploring new technologies and writing technical how-to tips. On her spare time, she loves sharing things about her favorite singer - Taylor Swift on her Facebook or Twitter.
Written by Tracy King 
Tracy joined in EaseUS in 2013 and has been working with EaseUS content team for over 7 years. Being enthusiastic in computing and technology, she writes tech how-to articles and share technical solutions about Windows & Mac data recovery, file/system backup and recovery, partition management and iOS/Android data recovery.
I love that the changes you make with EaseUS Partition Master Free aren't immediately applied to the disks. It makes it way easier to play out what will happen after you've made all the changes. I also think the overall look and feel of EaseUS Partition Master Free makes whatever you're doing with your computer's partitions easy.

 Read More

Partition Master Free can Resize, Move, Merge, Migrate, and Copy disks or partitions; convert to local, change label, defragment, check and explore partition; and much more. A premium upgrade adds free tech support and the ability to resize dynamic volumes.

 Read More

It won't hot image your drives or align them, but since it's coupled with a partition manager, it allows you do perform many tasks at once, instead of just cloning drives. You can move partitions around, resize them, defragment, and more, along with the other tools you'd expect from a cloning tool.

 Read More
About EaseUS Partition Master
All-round disk & partition management software for personal and commercial use. Let it manage your storage drive: resize, format, delete, clone, convert, etc.
Video Tutorial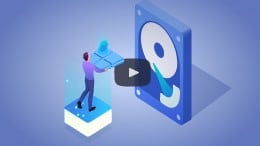 How to Partititon a Hard Drive on Windows 10/8/7
Was This Page Helpful
How Can We Help You
Find answers to common questions below.