Can I find or download a free hard drive format tool?
Is it possible for me to find or download a free hard drive format tool? I'm recently considering to clean one of my hard drives in my computer for using the drive to store all my precious movies and videos. This will be greatly helpful for saving more available space in my computer. For now, the whole hard drive is almost full and I do not how to format it.
I mean I don't know any secure and effective way to format a hard drive in my computer. Some friends suggested me not format the hard drive for the reason that formatting a hard drive may take a long time and it's not a good way to protect computer data. Any false operation may cause worse result by formatting computer hard drive directly. That's why I need to find a free hard drive format tool. If you have any suggestions, please let me know. Thank you.
Ease software offers free hard drive format tool to help format hard drive
You may wonder how to find and download such a free hard drive format tool and use it to format computer hard drive? Ease software knows your worries and provides an effective hard drive format tool - EaseUS Partition Master to assist you solve hard drive format troubles and even more complex troubles such as manage Firmware partition as VMware disk manager. If you just need format hard drive securely, the free partition manager - Ease Partition Master Free can be your best choice. It can be free downloaded. How to use it? Follow next steps to start formatting your hard drive now!
Steps to Use Ease Partition Master and Format Hard Drive
Ease Partition Master Free supports to format hard drive in computers with any technical skills. No obstacles or troubles will happen. This software even supports to migrate OS to HDD/SSD under any Windows OS. Click the download button and install Ease Partition Master Free in your computer and start format hard drive now:
Note: If you have important data in the hard drive, do remember to backup or move data into a safe spot firstly.
1. Launch Ease Partition Master, choose the hard drive you need to format and click "Format".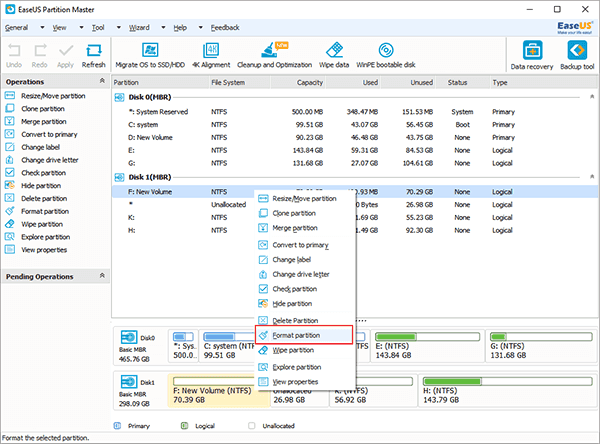 2. Then rename the hard drive, specify size and file system of the hard drive.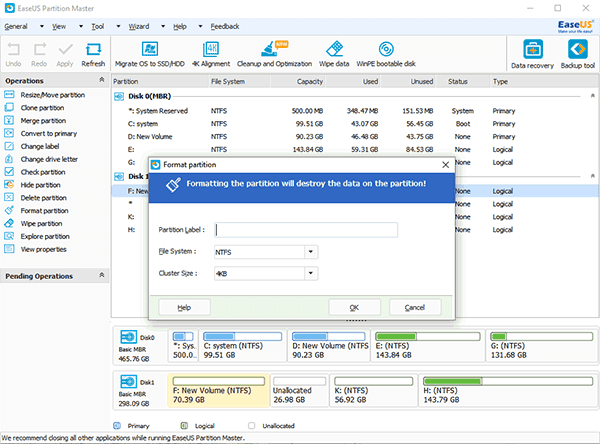 3. Click Apply to finish all jobs.
To format hard drive in a safe way is not really a complex task with the help of Ease Partition Master Free. Do not hesitate anymore and let this tool help solve more partition troubles now.