Almost everyone knows that formatting and partitioning hard drive is not a difficult job and can be easily done with Windows disk management tool in simple clicks. But what if you want to do it without OS, for example, when your Windows system is corrupted and cannot boot after a heavy virus attack? In this case, I think the only solution is to partition and format the hard drive from USB which allows you to boot your PC. It can be a Windows installation disk or a bootable USB drive created by a third-party HDD format tool. Next, we will talk about how to make it in details.
Partition and format hard drive from USB using command prompt
1) Create a Windows installation disk and boot your PC from it.
2) Navigate Repair Your Computer --> Command Prompt.
3) In the Command Prompt window, type diskpart and press enter.
4) Type list disk and press Enter to list all the disk drives.
5) Type select disk + disk number, here you can find the number of the target disk by referring to the listed disk information.
6) Type clean to wipe all files and folders on the selected disk.
7) Type create partition primary and press Enter.
8) After diskpart successfully created the specified partition, type format fs=ntfs (or format fs=exfat) and press Enter. You're telling diskpart to format the drive with a file system, let it be NTFS, exFAT, etc.
9) At last, assign a drive letter to the newly created partition by typing assign.
The above guide shows you all the steps to partition and format a hard drive from USB using the diskpart command prompt. As you can see, It is a little bit tedious and time-consuming. If you want an easier way, a third-party bootable USB format tool will help.
Partition and format hard drive from USB using bootable partition manager
EaseUS partition software is a professional bootable partition manager that you can try. It allows you to create a WinPE bootable USB drive from which you can run the partition tool without Windows operating system and complete the hard drive partitioning and formatting job.
Step 1 - Create a USB bootable partition manager
1) Connect a USB flash drive, pen drive, memory stick, etc to a working PC.
2) Launch EaseUS Partition Master, select "Create WinPE bootable disk" on the main window.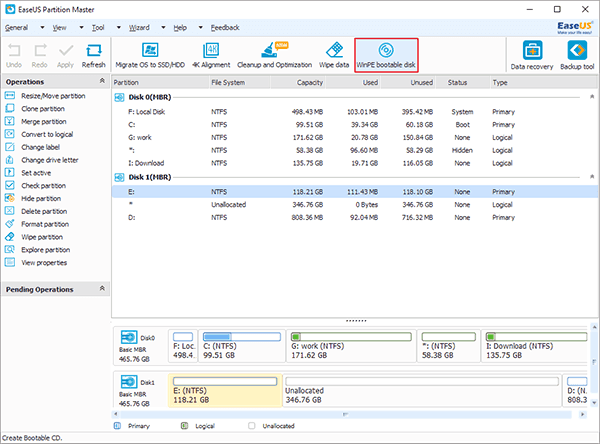 3) Select the external USB device and then start to create a bootable USB disk of EaseUS partition software.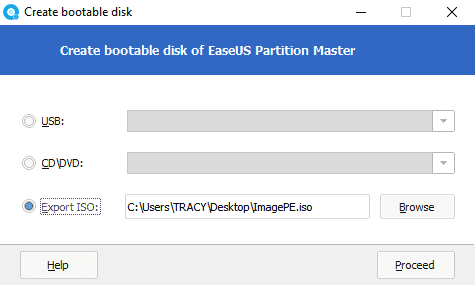 Finishing all the above steps, you can take the following steps to format and partition hard drive from the newly-created bootable USB partition software without running Windows.
Step 2 - Format and partition hard drive from USB bootable partition manager
1) Launch EaseUS partition tool from the USB bootable disk.
2) Right-click the disk that you want to format and choose "Format partition".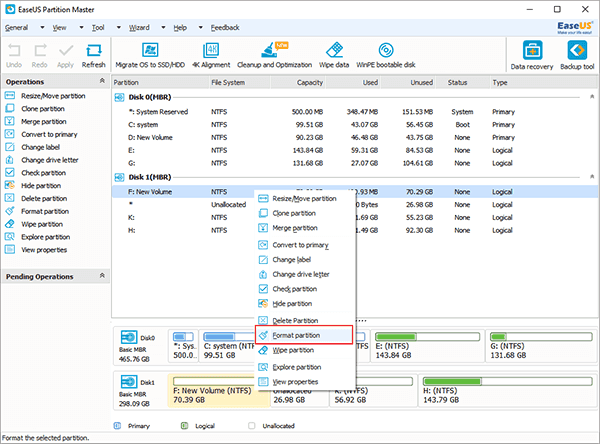 3) In the Format Partition window, edit the partition label and choose a file system. Here you can choose FAT32, NTFS, EXT2 or EXT3 and click "OK".
4) Click "Apply" to format the hard drive you have selected.