
About the Author
Hot Topics in 2022
Guide | How to Format Hard Drive from USB with Bootable Format Tool
What Can You Do with Bootable USB Hard Drive Format Utility?
Almost everyone knows that formatting hard drives is not a difficult job and can be easily done with the built-in Disk Management tool in Windows. However, formatting a hard disk could be complex when your operating system cannot boot properly or your disk fails to work normally. That's when you need to create a bootable USB to format your hard drive. You can format hard drive from USB by using a bootable USB drive created by a third-party HDD format tool or a Windows installation disk. Both are effective bootable USB hard drive format utilities. Read on and carry out the method best suited to your needs.
PAGE CONTENT:
Method 1: Format Hard Drive from USB with Bootable format Tool
The simplest way to format your HDD from USB is to use the professional partition management software - EaseUS Partition Master. With the assistance of this tool, you can create a bootable format tool that enables you to run the software on the problematic computer and then format the hard drive from USB without the operating system. To get things done, you need to create a bootable USB drive with a computer that is fully functional (Part 1), then apply it to format hard drive on the computer without OS (Part 2).
Part 1: Create a Bootable USB Drive
Please refer to this page: create a bootable drive with EaseUS Partition Master.
After creating a bootable USB drive with the format tool, you can format your hard drive on the problematic computer from USB. Connect the USB to your computer and then open EaseUS Partition Master from the USB. Then follow the steps below.
Part 2: Format Hard Drive from USB
 Notice:

If you want to format all the partitions on your hard drive, you can either format the hard drive partitions one by one or choose to delete all the partitions on the HDD (right-click the hard drive and select Delete all partitions), then create new ones.
Step 1. Run EaseUS Partition Master, right-click the hard drive partition you intend to format and choose "Format".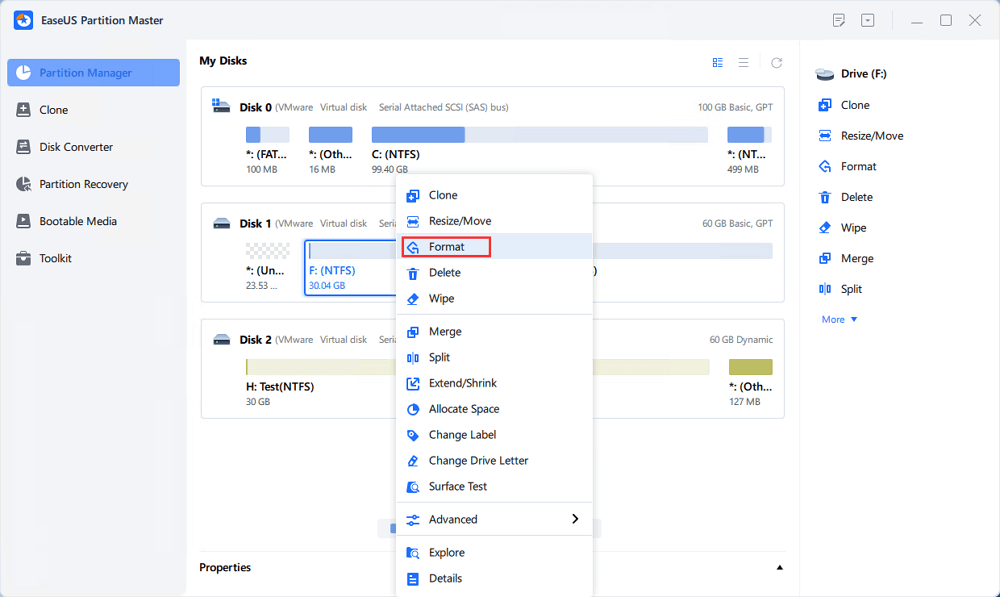 Step 2. In the new window, set the Partition label, File system (NTFS/FAT32/EXT2/EXT3/EXT4/exFAT), and Cluster size for the partition to be formatted, then click "OK".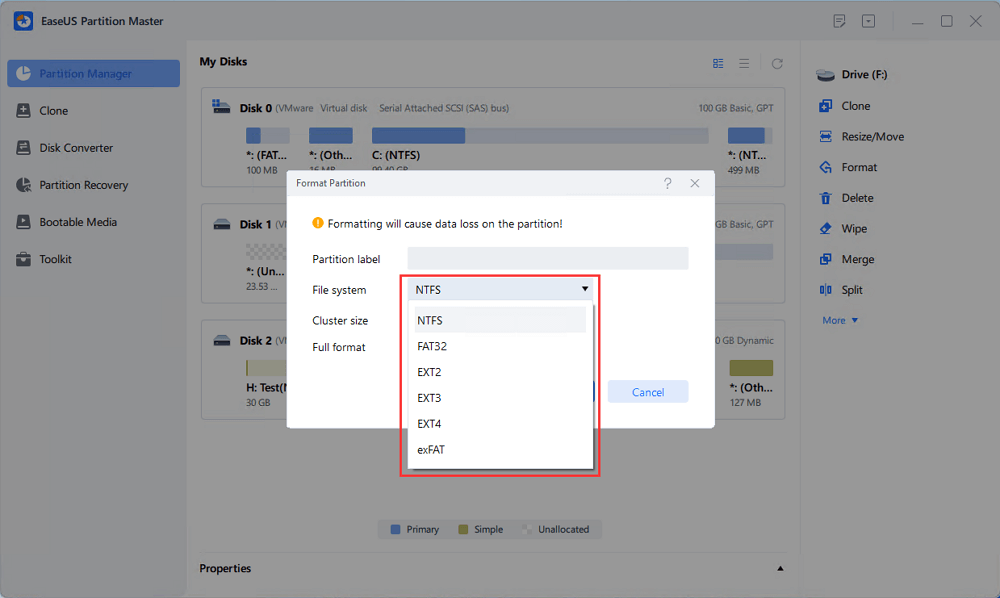 Step 3. Then you will see a warning window, click "OK" in it to continue.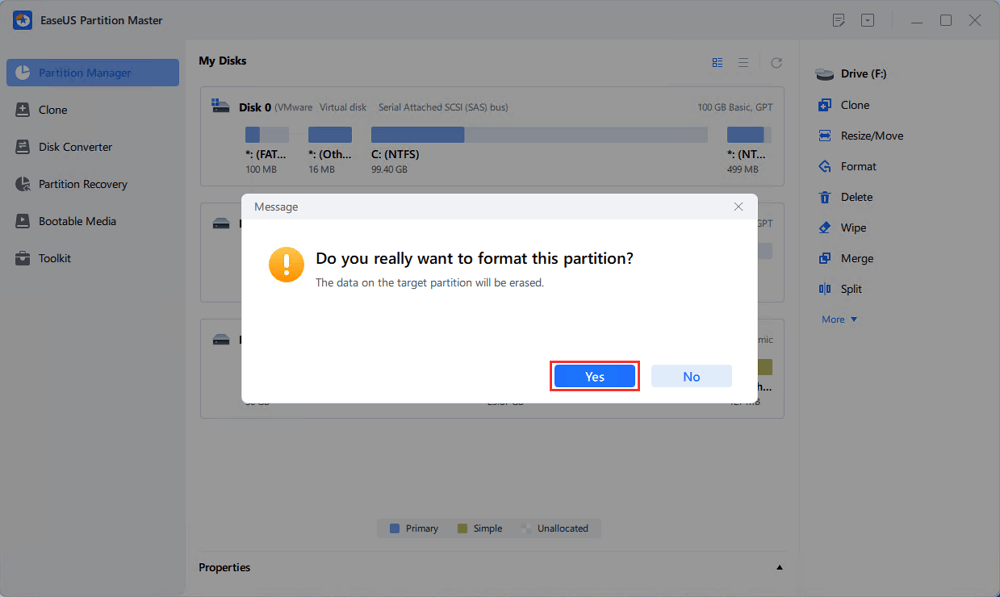 Step 4. Click the "Execute Operation" button in the top-left corner to review the changes, then click "Apply" to start formatting the partition on your hard drive.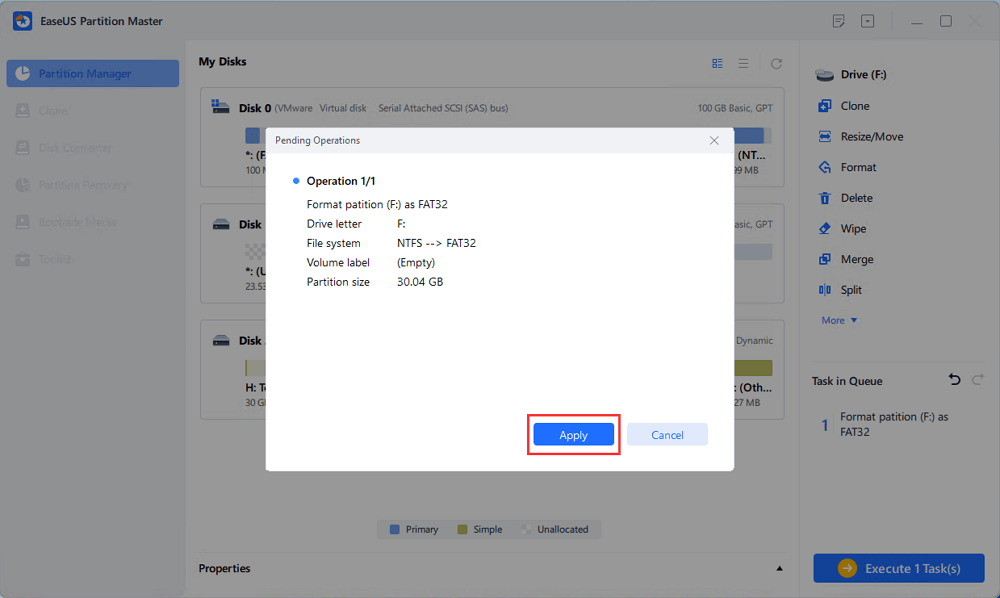 If you follow the guide above, you will use the bootable USB to format your hard drive successfully. Don't miss this partition tool that can perfectly fulfill your needs.
Method 2: Format HDD from USB using Command Prompt
Other than using the third-party tool, you can also format your hard drive from USB with the help of Windows Installation disk, which, as you will know, is relatively more complicated than using a bootable format tool as shown in Method 1.
Step 1: Create a Windows installation disk and boot your PC from it.
Step 2: Navigate Repair Your Computer --> Command Prompt. 
Step 3: In the Command Prompt window,  type diskpart and press "enter".
Step 4: Type list disk and press "Enter" to list all the disk drives.
Step 5: Type select disk + disk number, here you can find the number of the target disk by referring to the listed disk information.
Step 6: Type clean to wipe all files and folders on the selected disk.
Step 7: Type create partition primary and press "Enter".
Step 8: After diskpart successfully created the specified partition, type format fs=ntfs (or format fs=exfat) and press Enter. You're telling diskpart to format the drive with a file system, let it be NTFS, exFAT, etc.
Step 9: At last, assign a drive letter to the newly created partition by typing assign.
The above guide shows you all the steps to partition and format a hard drive from USB using the diskpart command prompt. As you can see, It is a little bit tedious and time-consuming. If you want an easier way, a third-party bootable USB format tool will help.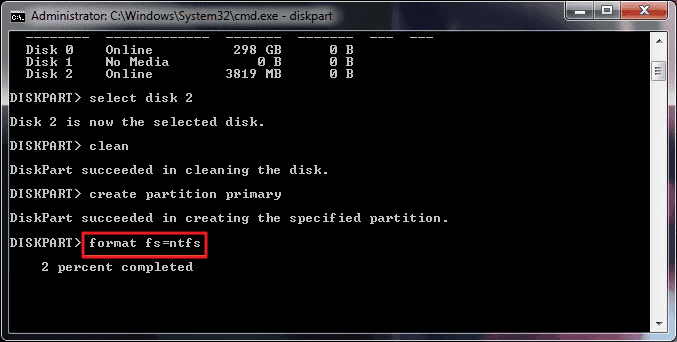 Can You Format Hard Drive from BIOS?
Other than following the bootable USB methods to format a hard drive, you can also try to format a hard drive from BIOS. It works in the same scenarios when something went wrong with the bootable partition or when you want to format C drive in Windows.
To format hard drive from BIOS settings, you got two options.
Option 1. Boot into BIOS and Format in Windows
Step1: While booting up your computer, consecutively press F1, F2, F8 or Del key to enter BIOS settings.
Step2: Select the "Advanced BIOS Features" by pressing the arrow keys on the keyboard of your computer and then set the first boot device as the USB drive or CD, DVD.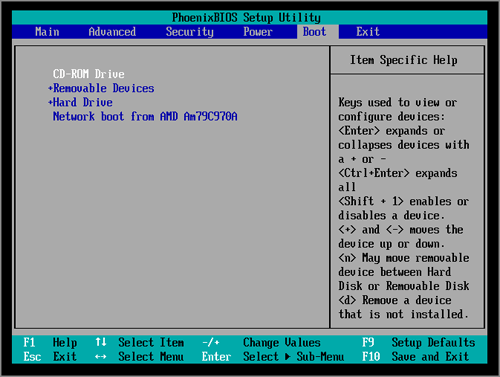 Step3: After changing the BIOS settings, you can exit the screen and reboot your computer. Insert the bootable USB or CD/DVD, and your computer will boot from USB or CD, DVD.
Step4: After booting the computer, you can go ahead to format the hard drive in Windows Explorer or Windows Disk Management.
Option 2. Boot into BIOS and Format Using CMD
Step 1: While booting up your computer, consecutively press F1, F2, F8 or Del key to enter BIOS settings.
Step 2: Change the boot order to boot from USB/CD/DVD.
Step 3: Reboot your computer from the bootable disk. When your disk loaded, click "Use this recovery tools that can help fix problems starting Windows" and navigate to Windows installation > Command Prompt.
Step 4: In the Command Prompt window, type format c: /fs: ntfs and hit Enter.
Which Way Do You Prefer Formatting A Hard Drive?
Based on the situations when you cannot normally start a computer, the boot partition fails to boot, or try to reinstall an operating system, it's necessary to format a hard drive in a bootable environment. Concluding from what we presented in the article, you can start freely to format HDD from USB and format HDD from BIOS settings.
No matter you choose to format hard drive from USB or BIOS settings, you must create a bootable USB or disc to boot into Windows. In comparison, EaseUS USB bootable format software is the easiest to create, and disk formatting is usually done in a few simple clicks. Whereas the Windows recovery disk is rather difficult to get, and format hard drive using CMD is higher-leveled. We don't recommend average computer users to attempt for the first time.
About the Author
Daisy is the Senior editor of the writing team for EaseUS. She has been working in EaseUS for over ten years, starting from a technical writer to a team leader of the content group. As a professional author for over 10 years, she writes a lot to help people overcome their tech troubles.

Brithny is a technology enthusiast, aiming to make readers' tech life easy and enjoyable. She loves exploring new technologies and writing technical how-to tips. On her spare time, she loves sharing things about her favorite singer - Taylor Swift on her Facebook or Twitter.
Product Reviews
I love that the changes you make with EaseUS Partition Master Free aren't immediately applied to the disks. It makes it way easier to play out what will happen after you've made all the changes. I also think the overall look and feel of EaseUS Partition Master Free makes whatever you're doing with your computer's partitions easy.

 Read More

Partition Master Free can Resize, Move, Merge, Migrate, and Copy disks or partitions; convert to local, change label, defragment, check and explore partition; and much more. A premium upgrade adds free tech support and the ability to resize dynamic volumes.

 Read More

It won't hot image your drives or align them, but since it's coupled with a partition manager, it allows you do perform many tasks at once, instead of just cloning drives. You can move partitions around, resize them, defragment, and more, along with the other tools you'd expect from a cloning tool.

 Read More