Windows 10 hard drive partition problem
Hey guys, are you feeling helpless to partition hard drive Windows 10 for free? How many of you guys have recently upgraded Windows OS to Windows 10? And do you know how to partition hard drive in Windows 10? I'm wondering whether it's possible to create and manage partition in Windows 10 hard drive with a free method?
Can it be possible for me to manage or partition my Windows 10 hard drive? And do you know any free methods? Any recommendations or suggestions will be great."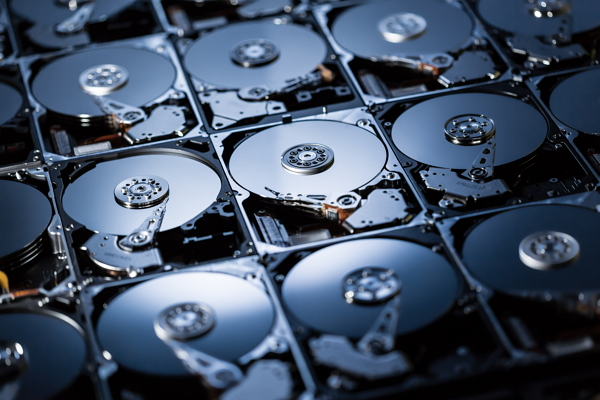 Suggestions to partition hard drive Windows 10 for free
Partitioning or managing hard drive or disk in Windows 10 is an unavoidable operation for all new Windows 10 users especially those who just installed or reinstalled Windows 10. And this is really a big challenge for ordinary inexperienced users. You may feel like to find a solution to such a problem. Here now we'll introduce you two methods to help you partition hard drive in Windows 10. One solution is to try the disk management tool which is offered by Microsoft. The other one is to try professional free partition management software.
Solution 1: partition hard drive Windows 10 for free with Disk Management
The simplest way to partition your new or existing hard drive is to use Windows' built-in Disk Management tool. Disk Management is a Microsoft Windows utility first introduced in Windows XP as a replacement for the fdisk command.
It enables users to do the following things:
See information about your drives and partitions
Create partitions on your drives
Format partitions found on your drives
Resize the partitions found on your drives
Delete partitions from your drives
Change the drive letters of your partitions
Change the drive labels of your partitions
Note:
Although the below steps are specifically for Windows 10 systems, they are also applicable to Windows 7 and 8.1, where the process is much the same.
Detailed steps to partition Windows 10 disk:
1. Enter into the Windows 10 Disk Management interface.
Use the Windows search box to search for "Disk management" and select "Create and format hard disk partitions" from the results box. Alternatively, use the Windows "power user" menu (Win key + X) and click "Disk management".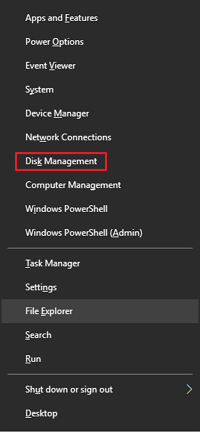 2. Search "hard disk partitions" at the Start Menu or Search tool. Right-click the hard drive and select "Shrink Volume".
3.Right-click on the unallocated space and select "New Simple Volume". Enter New Simple Volume Wizard interface by clicking Next and specify volume size.
4. Assign Drive Letter or Path, then format the partition into default file system NTFS. Click Finish to complete creating a new partition in Windows 10.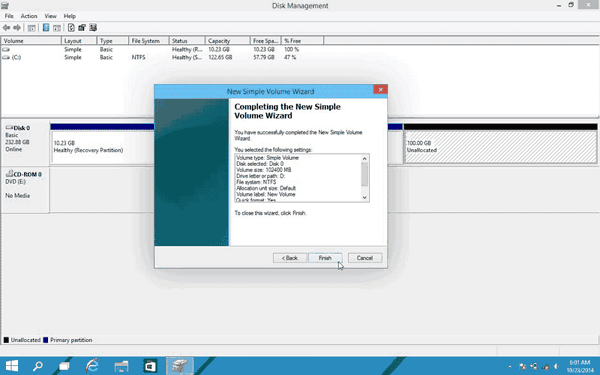 Be careful while you are doing the above operations. Or mistake operation may get all your data lost.
Solution 2: partition hard drive Windows 10 for free with partition management software
If you feel too complex to partition and manage hard drive in Windows 10 with Disk Management, a professional partition management software is what you exactly need. It offers an excellent solution for helping partition hard drive and disk in Windows 10. Here you may try EaseUS Partition Master Free which enables you to solve all partition management issues easily including to free partition external hard drive Windows 10 easily.
Now you can directly download this software and follow next steps to partition hard drive Windows 10:
1. Download EaseUS Partition Master Free and launch it on your computer.
2. Select an unallocated area on your external hard drive in Windows 10 and right click it by choosing "Create partition". If you need to perform other operation, select the relative button on the interface to manage partition.
3. Choose "Apply". Then your partitions are created successfully on Windows 10 free.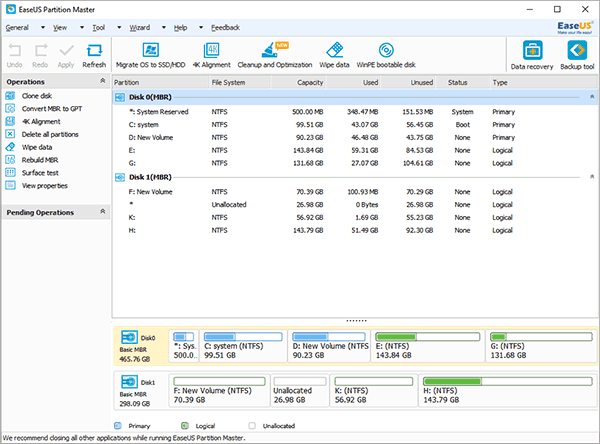 After you've finished the above steps, you can use those partitions to manage your data and store files there. EaseUS Partition Master Free is also an excellent merge partition freeware for doing more partition operations including partition external hard drive etc.