
About the Author
Hot Topics in 2022
Easy Ways to Clean a Disk and Improve Its Performance
| Workable Solutions | Step-by-step Troubleshooting |
| --- | --- |
| #1. Clean a Disk by Formatting | Step 1: Press Windows + E to launch the explorer; Step 2: Head to This PC and click on the drive you wish to format...Full steps |
| #2. Clean a Disk with  EaseUS Partition Master | Step 1: Right-click the partition you want to erase data from and choose "Wipe Data"; Step 2: In the new window...Full steps |
| #3. Clean a Dirty Disk with Brushes/Toothbrushes, Air Bulb | Pull your internal hard disk out of your computer and check both the SATA and power connection, which will...Full steps |
| #4. Clean a Scratch Disc with Toothpaste | Step 1: Pick the scratched disk you wish to use; Step 2: Clean it with a cotton cloth, or use cotton balls and isopropyl...Full steps |
| #5. Clean an Xbox/Xbox 360/PS4 Disc | For Xbox 360 & For PS4...Full steps |
Cleaning a disk has many benefits for the overall performance of a device. So, how should you do it properly?
Cleaning a disk can elevate the performance of your computer. There might be times when you feel like your computer has slowed down, and it does. Because as you continue using your computer, gaming consoles, or other devices, Storage gets bloated with a lot of data.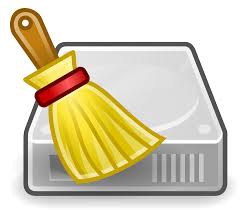 This data could be just junk or duplicate files or the bloatware created by other programs, games, browsing, etc. Therefore, it's imperative to remove such files and ensure the optimal performance of your device. So, let's find out how you can do that.
Introduction
Disk cleaning has a lot of benefits for computers, consoles, and other devices. The bloatware or extra data on any drive can slow it down from servers to household computers. As a result, you experience stutter in games or a lack of 100% performance.
This also bottlenecks the other components, such as the performance of the processor, ram, and graphics card. Therefore, here are a few common reasons you may want to clean your hard-disk drive:
Clean up bloat to increase performance and prevent the bottleneck.
Clean unnecessary data and bloat to make room for gaming.
Clean data to reuse or repurpose the disk.
Improve operating system performance.
Remove duplicate or similar files.
Increase gaming FPS.
These benefits can surely bring a significant performance boost. However, you need to ensure that you conduct a disk cleanup properly.
Easy Ways to Clean Disk with Data/Games, Dust, or Scratches
There are various types of disk cleanups to improve performance. Each one is important to ensure the optimal performance of your device, regardless of its purpose. The common types of clean up include:
Virtual cleanup - cleaning up bloatware or unnecessary files
Physical clean up - removing dust, carbon, etc.
Scratch removal from DVDs/gaming disks to ensure seamless performance
Granted, virtual cleanup is perhaps the easiest way to boost performance. However, sometimes hogged storage isn't the reason behind lack of performance. In many cases, this is caused by a dusty hard drive or a disk with scratches. Therefore, the five most common ways to deal with each are:
These are some of the options that you can employ to improve performance. The first two methods are ideal for those looking to clear data or wipe everything to start anew.
However, it's imperative to back up essential data beforehand - that's when you can use a third-party tool like EaseUS Todo PCTrans to back up and then restore your important files. Furthermore, you can also use it to migrate important applications and games.
Step 1. Take out the disk from the old PC.
Disconnect the power supply. Please take out the battery if it is a laptop.
Open the case to see the hard disk in the old PC.
Disassemble the shell by using a screwdriver to find the hard disk.
Disconnect the hard disk and cable, then take out the hard disk.
Step 2. Connect the hard disk to the new PC.
Multiple connection methods:
USB hard disk drive Enclosure:  Use this special device to connect the old disk and the Enclosure, and then connect to the new PC by USB.
USB hard disk drive Adapter: It is a device like a "Cable". One end is connected to the hard disk, and the other end is connected to the USB port on the new PC.
Desktop Computer: If the new PC is a desktop PC, the old disk can be connected as the second disk.
Step 3. Recover/Migrate the applications, files, accounts from the old disk.
1. Download and launch EaseUS Todo PCTrans. Choose "Data Rescue" mode, and click "Start".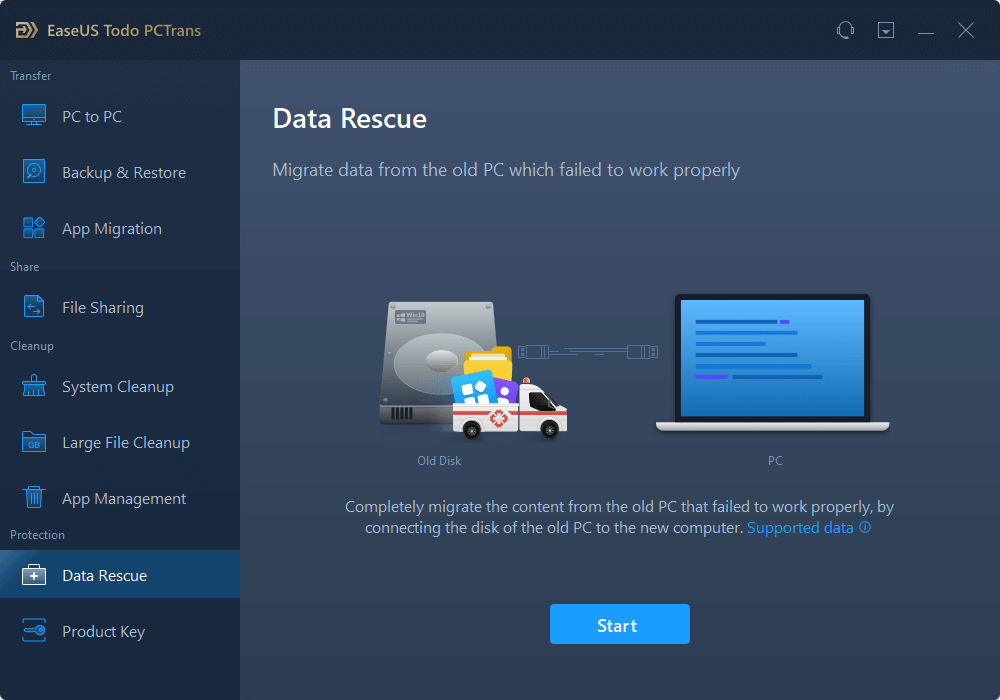 2. Browse the steps and click "Scan".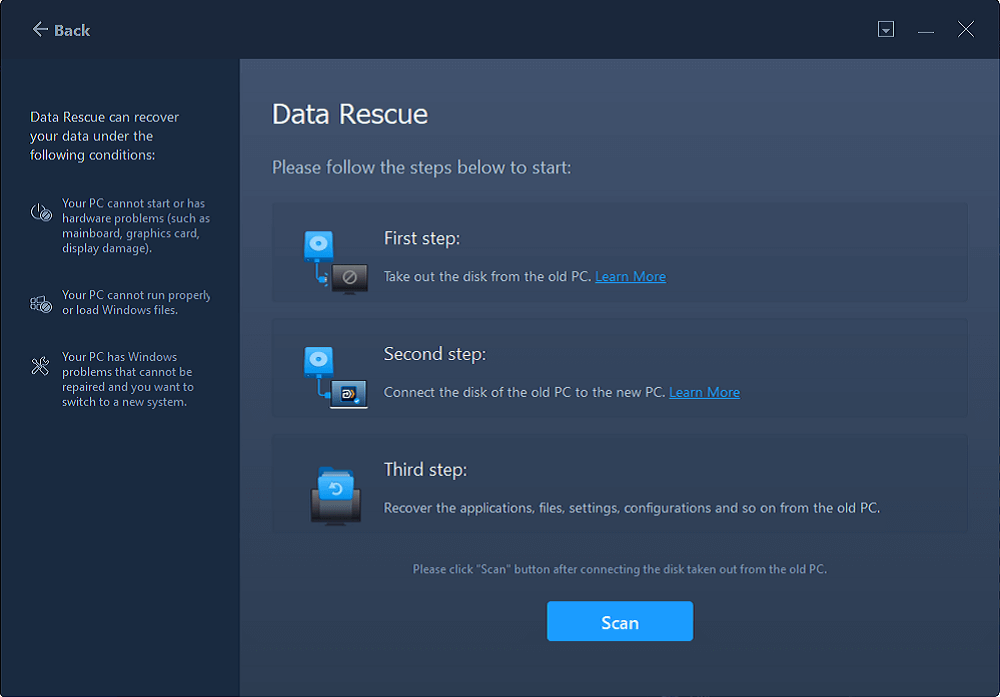 3. Check your disk is connected to the PC. Select the old disk to recover and click "Continue".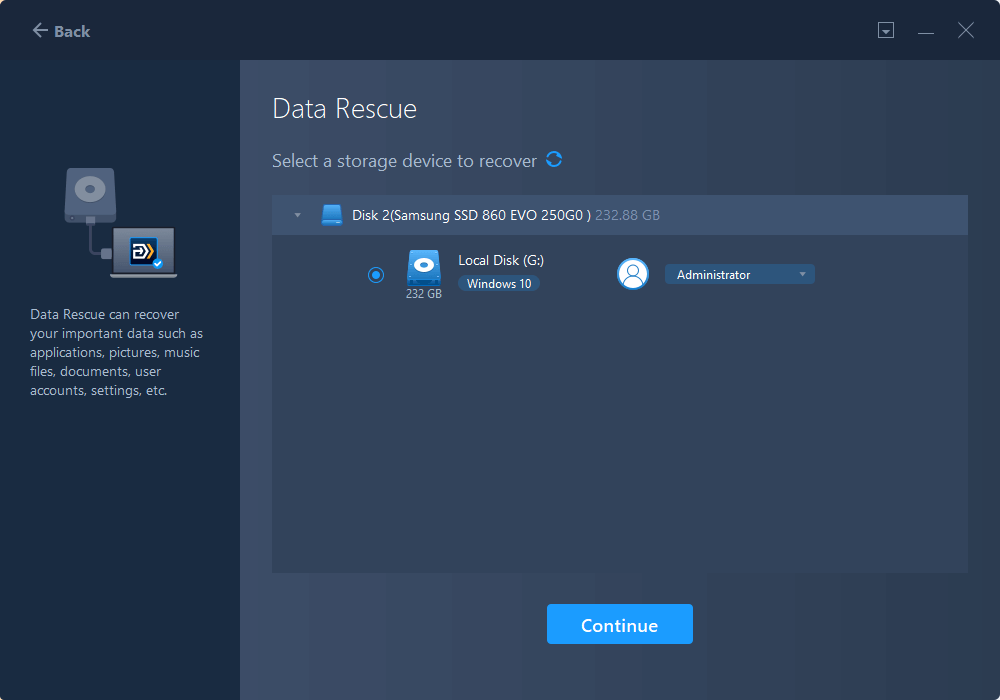 4. Select the desired applications, files, and accounts you want to rescue.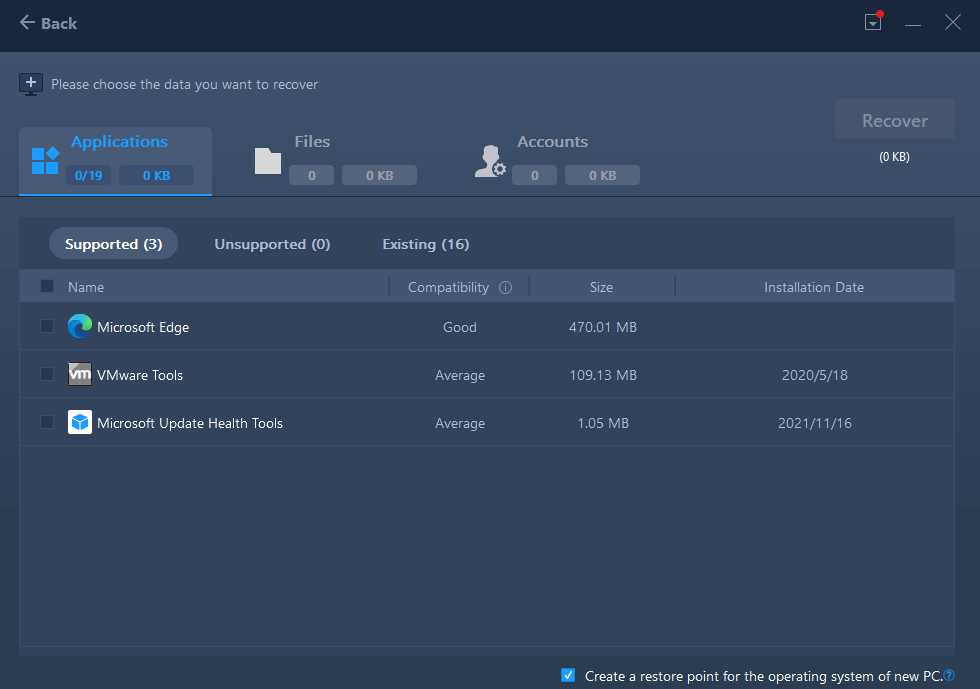 5. Wait for a few seconds to complete data transfer.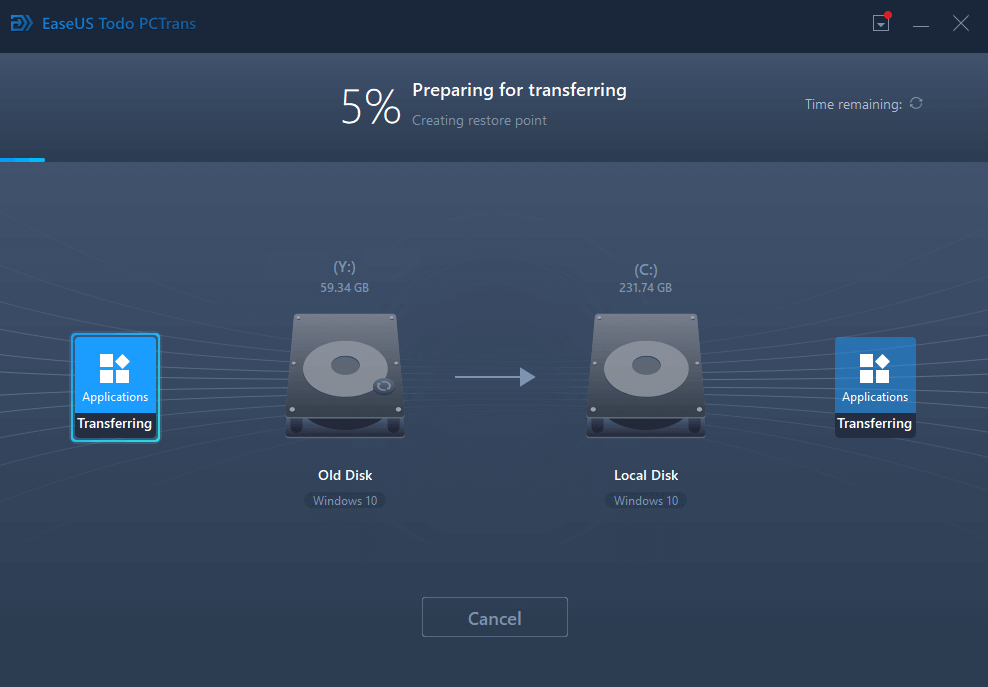 On the other hand, if your troubles are because of physical issues, such as dust, or scratches, then the last three methods are ideal for you. Therefore, let us explore each option to understand just how you should do it.
#1. How to Clean a Disk by Formatting
The easiest way to clean a disk is by formatting it through Windows Explorer or Disk Management. Therefore, you can use either of the options, but let's try the Windows Explorer option first. Here's how:
Step 1: Press Windows + E to launch the explorer.
Step 2: Head to This PC and click on the drive you wish to format.
Step 3: Right Click on the drive and click Format.
Step 4: Once the dialogue box opens, check Quick Format and click Start.
Step 5: Click OK when the format warning pops up, then click OK again when the format is done.
This is how you do it with Windows Explorer. Now, let's find out how to do it with Disk Management:
Step 1: Click on This PC on your desktop.
Step 2: Click on Manage & navigate to Storage, then Disk Management in the sidebar.
Step 3: Right-click on the disk you wish to format.
Step 4: Click on Format.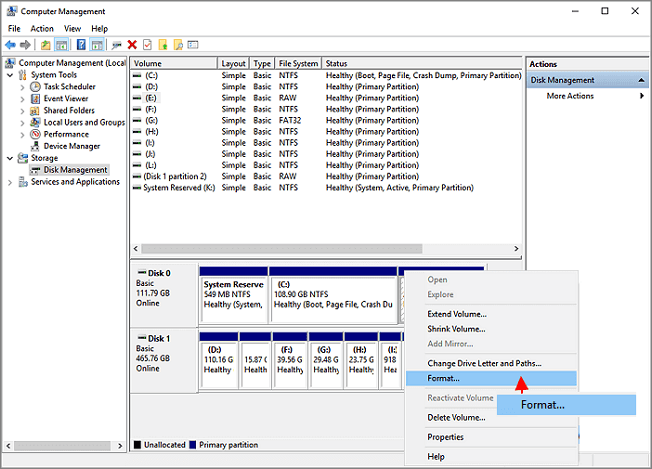 Step 5: Enter the name of your Volume label.
Step 6: Pick a File System.
Step 7: Keep Allocation unit size to Default.
Step 8: Check Perform a quick format.
Step 9: Click OK.
Step 10: Click OK once again when the Format warning prompts.
These are the two ways you can quickly perform a format using Windows Explorer or Disk Management.
#2. How to Clean a Data/Gaming Disk with Wipe and Erase Software
There are times when formatting isn't as easy as in the steps mentioned before. Mainly because hard disk features system volume information that's not easily removed even after formatting. Therefore, if you're looking to repurpose your hard disk, then it may be a problem, such as:
Resize the hard disk for gaming or data.
Sell the hard disk drive to get a larger one.
Suppose these are the cases you're facing. In that case, you can use a professional third-party partition management tool, such as EaseUS Partition Master. As the name suggests, this remarkable tool can help you manage your partitions, remove data, format disks, or clean up junk without any issues.
You can easily remove or format a disk with this tool. All you have to do is Right-click on the partition and look for a remarkable feature called Wipe Data. This feature will remove all the data and wipe your disk drive clean of any issues. It works efficiently and flawlessly for Windows users and saves them from the hassle of using Windows Explorer, Disk Management, or CMD.
We've set two options for you to wipe data. Choose the one you need.
Option 1.  Wipe Partition
Right-click the partition you want to erase data from, and choose "Wipe".
In the new window, set the time for which you want to wipe your partition, then click "OK".
Click the "Execute 1 Task(s)" button in the lower right corner, check the changes, then click "Apply".
Option 2. Wipe Disk
Select the HDD/SSD. And right-click to choose "Wipe Disk".
Set the number of times to wipe data. (You can set to 10 at most.) Then Click "OK".
Click "Execute 1 Task(s)" and then click "Apply".
Furthermore, you can try this tool for other handy features, such as:
Split, resize or move partition
Clone the disk to save data before formatting
Change file system without data loss
Therefore, this tool is indeed a partition master as it doesn't use up a lot of time, nor does it cause you to lose your data.
#3. How to Clean a Dirty Disk with Brushes/Toothbrushes, Air Bulb
If your disk's performance isn't on par with an average or advertised speed, then it might be caused by a dirty or dusty interior of your computer. If your computer is clean, then it's suggested that you remove your hard disk drive or SSD. But, you'll be needing these things:
Soft dusting brush or Toothbrush
Air bulb or dust blower
Once you have these, pull your internal hard disk out of your computer and check both the SATA and power connection, which will look like this: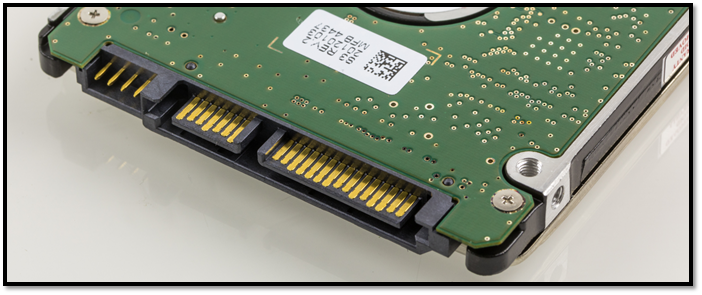 If there's no dust on it, then look for carbon. If there are dark spots on the golden connecting points, then try to use an eraser/rubber to remove the said carbon. Once you use the toothbrush or air bulb to remove dust, you can also try alcohol wipes to remove said carbon.
Once you clean the connectors, then connect them back to your computer and turn it on. If the problem or slow performance persists, then do an internal cleaning like suggested before.
#4. Clean a Disc with Scratch Using Toothpaste
Whether you use PlayStation, Xbox, or any other console, then scratchy disks might be getting between you and a fun time. When a disk develops scratches, the gaming performance can slow down—or worse, it may not work at all.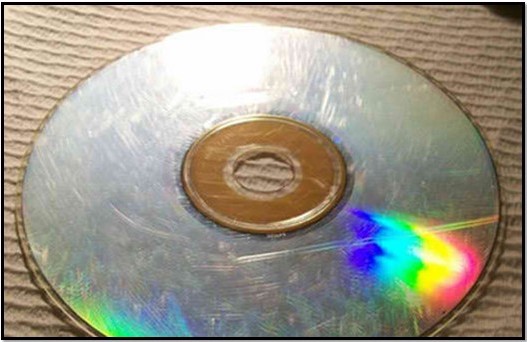 So, you'll need a few clean cotton balls or cotton cloth, isopropyl (optional), and toothpaste. Here's what you will do:
Step 1: Pick the scratched disk you wish to use.
Step 2: Clean it with a cotton cloth, or use cotton balls and isopropyl.
Step 3: Apply toothpaste in small dots all around the disk's face.
Step 4: Smear it evenly and leave it be for 5 minutes.
Step 5: Clean with a cloth first, then once again with isopropyl.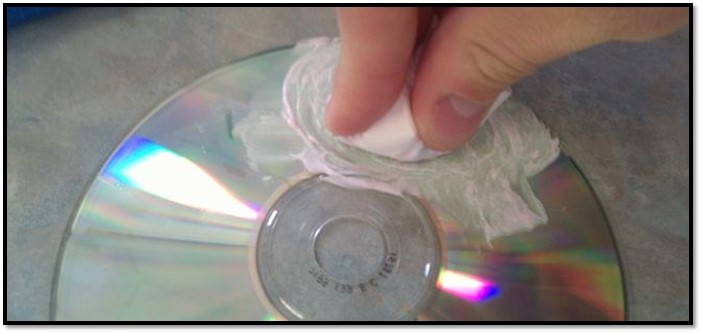 Step 6: Let it dry & try to run it.
This has a lot of chance of working, but do it at your own risk. Because there are times when a DVD or disk is scratched beyond saving. However, this process guarantees to fix minor scratches and ensure the smooth running of the game.
#5. How to Clean an Xbox/Xbox 360/PS4 Disc Clean
Whether you're using an Xbox 360 or PS4, you can benefit a lot from cleaning its disk. If you format it, it can increase the speed by removing bloatware and giving your console a fresh start. Plus, it's recommended that you wipe the data before you sell your console. So, here's how to do it:
For Xbox 360
Step 1: Tap Y on your controller.
Step 2: Navigate to System, then Settings.
Step 3: Find a local drive.

Step 4: Tap Y again once the main drive is selected.
Step 5: Head to Device Options.
Step 6: Tap Y on Format.

Step 7: Verify and restart the console.
For PS4
If you're using a PS4, then follow these steps:
Step 1: Head to Settings.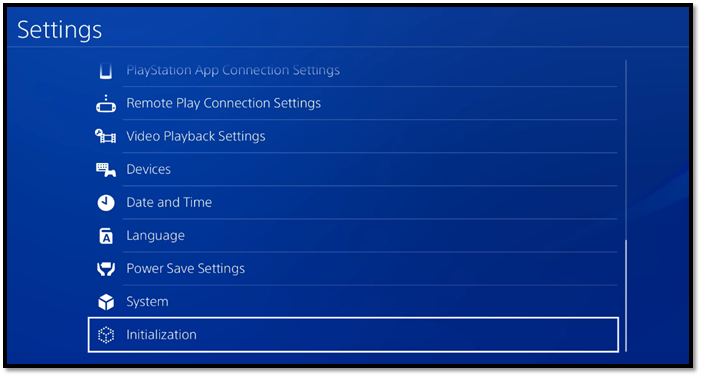 Step 2: Scroll down and find then tap Initialization.
Step 3: Hit Initialize PS4 on the bottom.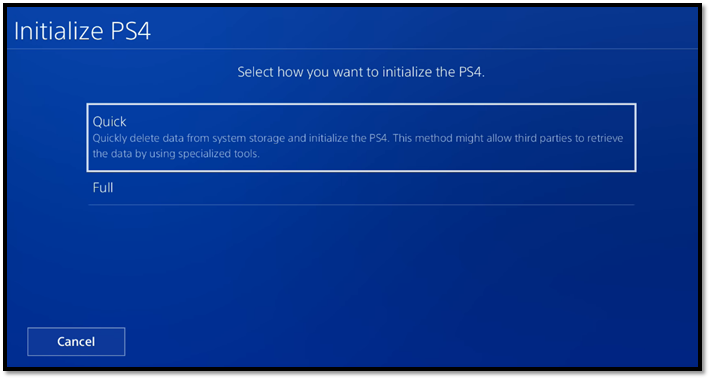 Step 4: From Quick & Full, pick the latter.

Let it initialize your PS4 and wipe all your data.
However, you can avoid all this hassle for both your PS4 and Xbox consoles if you use EaseUS Partition Master.
Once the partition master detects your gaming disk, you can wipe it quicker than you would in in-built options from both PS4 and Xbox.
Conclusion: Clean a Disk Is the Best Way to Get the Most Out Of It
These are some of the methods that you can use to remove bulk, junk, or bloatware from your computers, consoles, and other storage devices.
However, there are easier ways to do things, and there are common ways of doing things. Therefore, we recommend using EaseUS Partition Master wherever possible, as it saves a lot of time and executes said tasks safely.
About the Author

Roxanne is one of the main contributors to EaseUS and has created multiple posts on digital devices like PCs, Mobile phones, tablets, Mac, etc. She loves to share ideas with people of the same interest.
Product Reviews
I love that the changes you make with EaseUS Partition Master Free aren't immediately applied to the disks. It makes it way easier to play out what will happen after you've made all the changes. I also think the overall look and feel of EaseUS Partition Master Free makes whatever you're doing with your computer's partitions easy.

 Read More

Partition Master Free can Resize, Move, Merge, Migrate, and Copy disks or partitions; convert to local, change label, defragment, check and explore partition; and much more. A premium upgrade adds free tech support and the ability to resize dynamic volumes.

 Read More

It won't hot image your drives or align them, but since it's coupled with a partition manager, it allows you do perform many tasks at once, instead of just cloning drives. You can move partitions around, resize them, defragment, and more, along with the other tools you'd expect from a cloning tool.

 Read More