
About the Author
Hot Topics in 2022
5 Ways to Test Hard Drive Speed for Free
Most of us give a lot of weight to the CPU, RAM, and GPU when it comes to discussing performance. You can know the performance of your computer with free hard drive speed testing software. Here, I have listed five free hard drive speed testing software. Follow this guide to test hard drive speed for free.
Method 1. Test Hard Drive/SSD Speed with PassMark PerformaceTest
This free performance test software supports any drive that can be mounted under Windows. Including IDE drives, SCSI, RAID, USB key drives, SATA, networked shared drives, and external drives. PassMark PerformaceTEST measures the data transfer speed when reading or writing data to one or more disks. The speed that data can be transferred between memory and a hard disk drive is one of a system's most important performance aspects.
Features of PassMark PerformaceTest includes:
Compares the performance of your PC to similar computers around the world
Measures the effect of configuration changes and hardware upgrades
Provides a full set of results which include response time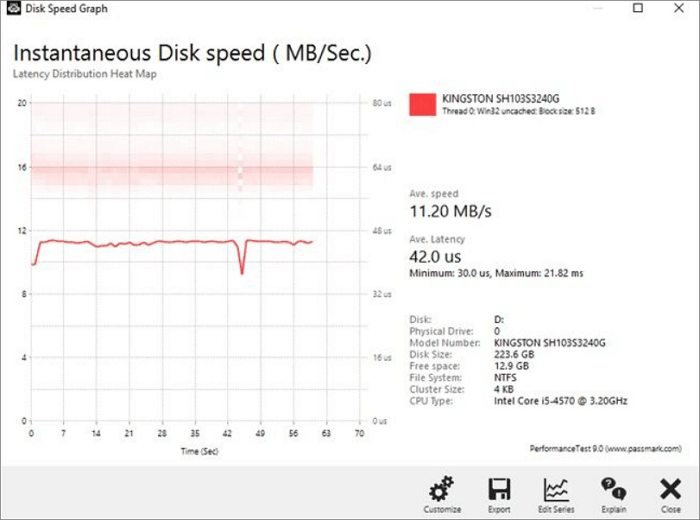 Method 2. Check Hard Drive Performace with ATTO Disk Benchmark
ATTO Disk Benchmark for Windows helps to measure storage system performance. It can check the performance in hard drives, solid-state drives, RAID arrays as well as the host connection to attached storage. Use the tool that top drive manufacturers use to build and test drives.
Features of ATTO Disk Benchmark includes:
It has a custom transfer size
Supports for overlapped I/O
Its time mode provides room for continuous testing
How to test hard drive speed with ATTO Disk Benchmark:
Step 1. Download the hard drive speed tester and install it.
Step 2. Select the drive and click "Start".
Step 3. Wait for the test to complete then check the results.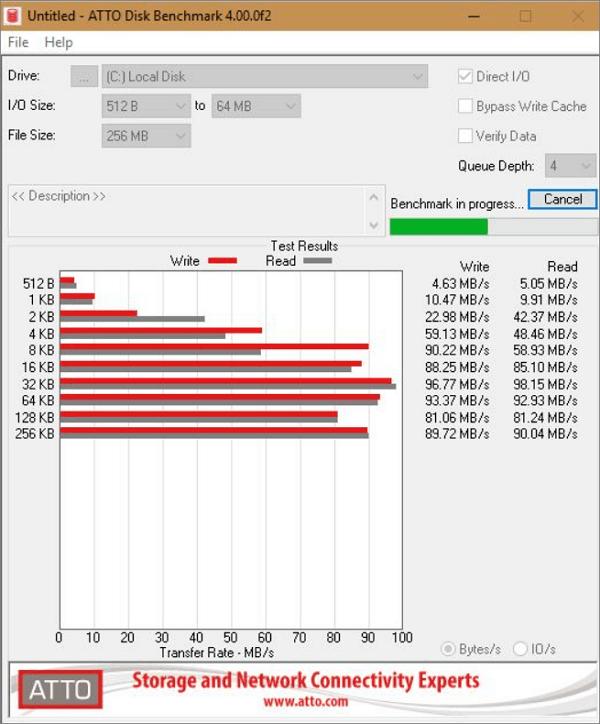 Method 3. Perform HDD Speed Test with CrystalDiskMark
CrystalDiskMark is a simple disk benchmark software that is compatible with Windows 10/8/7. You can use it to test the read and write performance of almost all storage devices, including hard drives, external hard disk drives like Seagate hard drives, SSDs, USB drives, and more.
Features of CrystalDiskMark includes:
Measures Sequential and Random Performance (Read/Write/Mix)
Various measure mode is available (Peak/Real World/Demo)
Supports many languages
To use CrystalDiskMark to test hard drive speed, follow these simple steps:
Step 1. Download CrystalDiskMark and then install it.
Step 2. Select the following features:
Number of runs 1
Size to test 50 MB
The disk you would like to check
Step 3. Click "ALL" to start the test.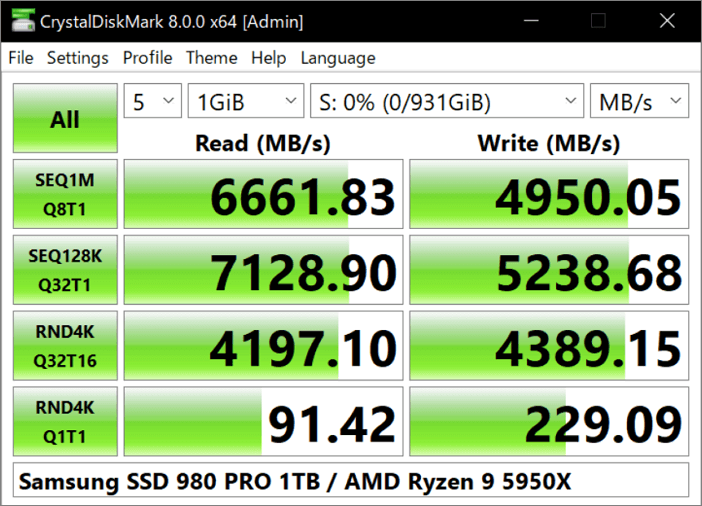 Method 4. Run AS SSD Benchmark to Test Hard Drive Speed
You can determine your SSD drive's performance with AS SSD Benchmark. It uses incompressible data because some of the SSDs show lower score results than if they compress their data. 4KB read and write scores are displayed along with access times and a final general overall score. The overall view can be changed to IOPS according to the user's preference.
Features of AS SSD Benchmark includes:
Supports many languages
It is completely portable
Uses 100% incompressible data
To test hard drive speed with AS SSD Benchmark:
Step 1. Download AS SSD Benchmark and install it.
Step 2. Select the drive and click "Start".
Step 3. Wait for the test to complete then check the results.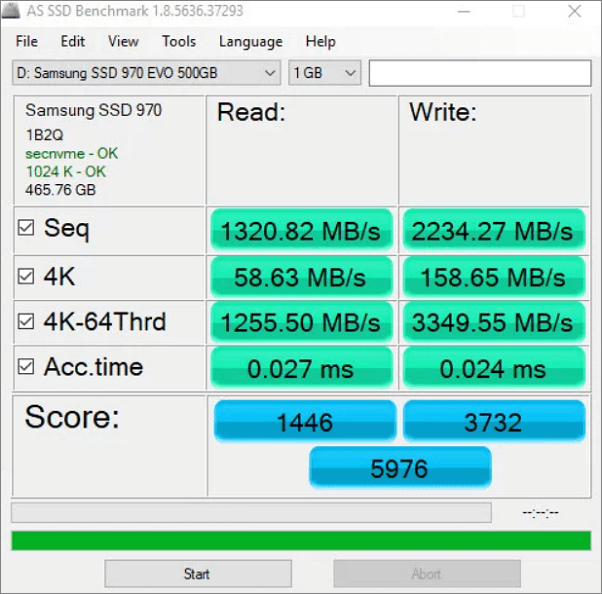 Method 5. Check Windows 10 Hard Drive Speed with HD Tune
HD Tune Pro is a utility with many functions. It can be used to measure the drive's performance, scan for errors, check the health status (S.M.A.R.T.), securely erase all data, and much more.
Features of HD Tune includes:
It logs read speeds to a text file for loading in a spreadsheet
This software Performs sequential as well as random reads
Reads from all areas in the hard drive
How to use HD Tune to test hard drive speed:
Step 1. Download and install HD Tune on your device.
Step 2. Run the application and click "Run Test".
Step 3. When the test completes, check the result.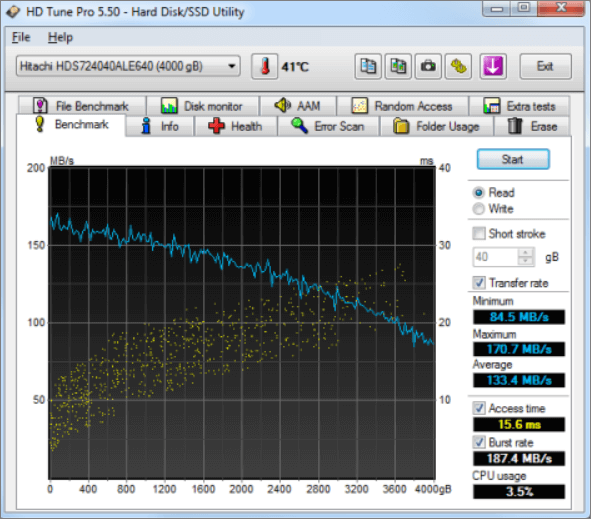 How to Increase Hard Drive Speed in Windows 10
After you have run the hard drive speed test, you may find that your drives run very slow after the hard drive benchmarks. How can you improve the speed of your hard drive? EaseUS Partition Master provides you with fantastic features to speed up your PC.
Tip 1. Scan for Bad Sectors
Your hard drive speed would become slow if there are bad sectors on your hard disk. You can easily check whether your hard drive has bad sectors with EaseUS partition manager. Follow the steps below to check for bad sectors.
Step 1. Open EaseUS Partition Master. Right-click the disk that you want to check, and then click "Surface Test".
Step 2. The operation will be immediately performed and all bad sectors will be marked as red.
If there are bad sectors, you can repair bad sectors and then test the speed again.
Tip 2. Increase C Drive Space
The C drive speed largely influences a computer's performance. You can extend the operating system partition on the hard drive to improve the computer speed. EaseUS disk management tool also has a partition extend feature. You can increase C drive space with ease.
Option 1. Extend System C drive with unallocated space
1. Right-click on the System C: drive and select "Resize/Move".
2. Drag the system partition end into the unallocated space so to add it to the C: drive. And click "OK". 
3. Click "Execute Task" and "Apply" to execute the operations and extend the C drive.
Option 2. Extend System C drive without unallocated space
1. Right-click a big partition with enough free space on the system disk, select "Allocate Space".
2. Select the system drive at the Allocate Space From (*) To section, and drag the end of System C drive into the unallocated space. Click "OK" to confirm.
3. Click "Execute Task", it will list the pending operations, and click "Apply" to save the changes and extend the C drive.
0:00-0:26 Extend System Drive with Unallocated Space; 0:27-0:58 Extend System Drive without Unallocated Space.
Tip 3. Clean Up Useless Files
Your hard drive could be slow if your hard drive is filled up. Useless files take too much space and slow down your device. You can delete unwanted files to make the hard drive faster. Of course, you can manually delete the files, or use a free tool to delete junk files. Here are the steps.
Step 1. Download and install EaseUS Partition Master Suite on your PC. Click to download PC Cleaner on panel.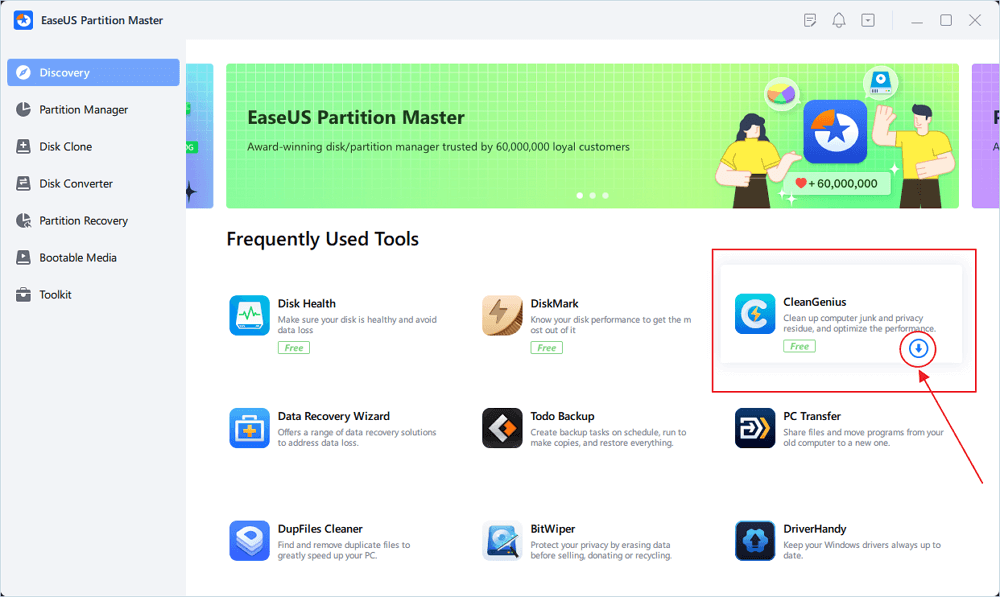 Step 2. Install EaseUS CleanGenius on your PC. To begin with, navigate to "Cleanup" and click "Scan."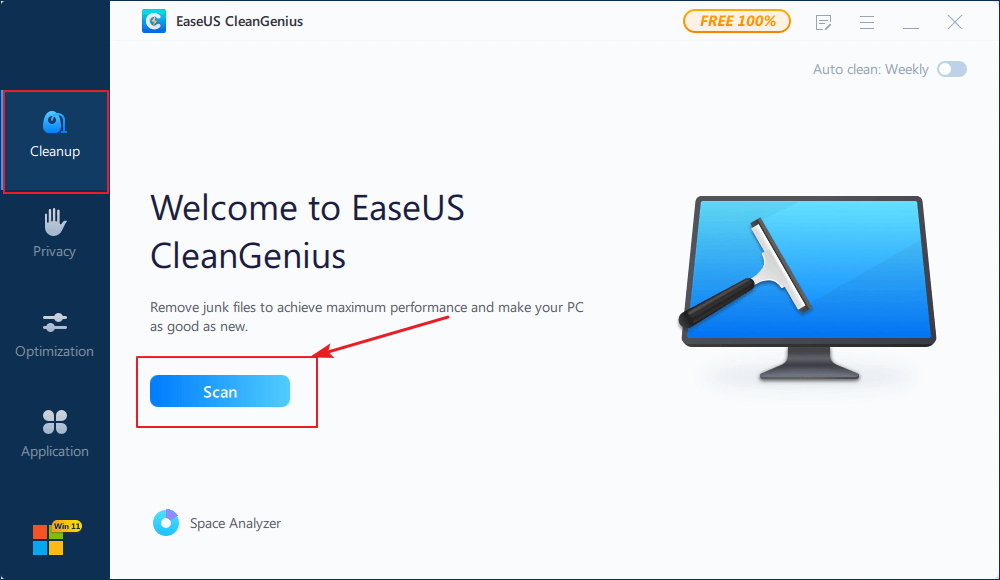 Step 3. EaseUS CleanGenius will start immediately to scan all the useless files, select system junk files and invalid entries, and click "Clean" over all your PC.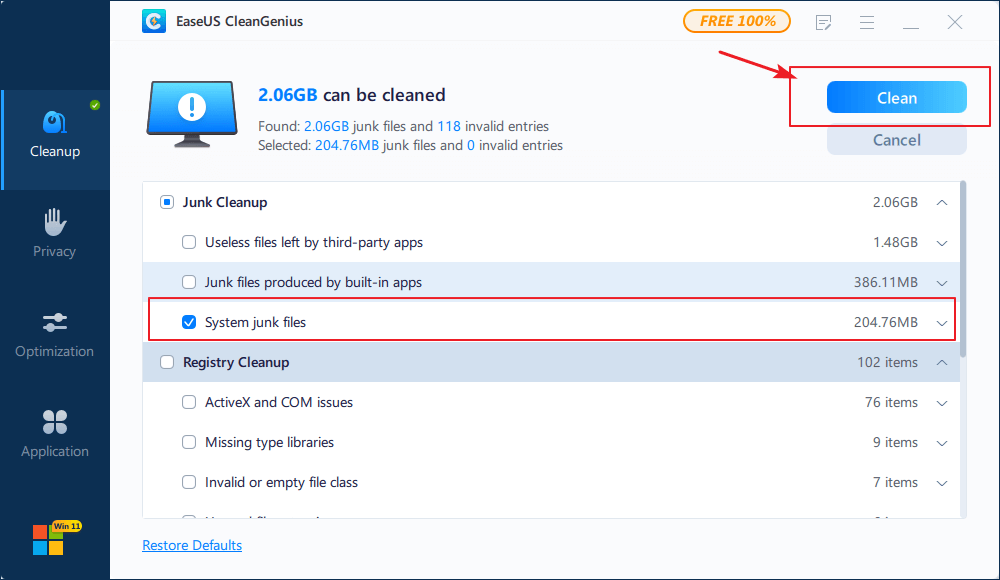 Step 4. Once completed, you can see clearly how many MBs or GBs of data are cleaned. Click "Done" to finish the process.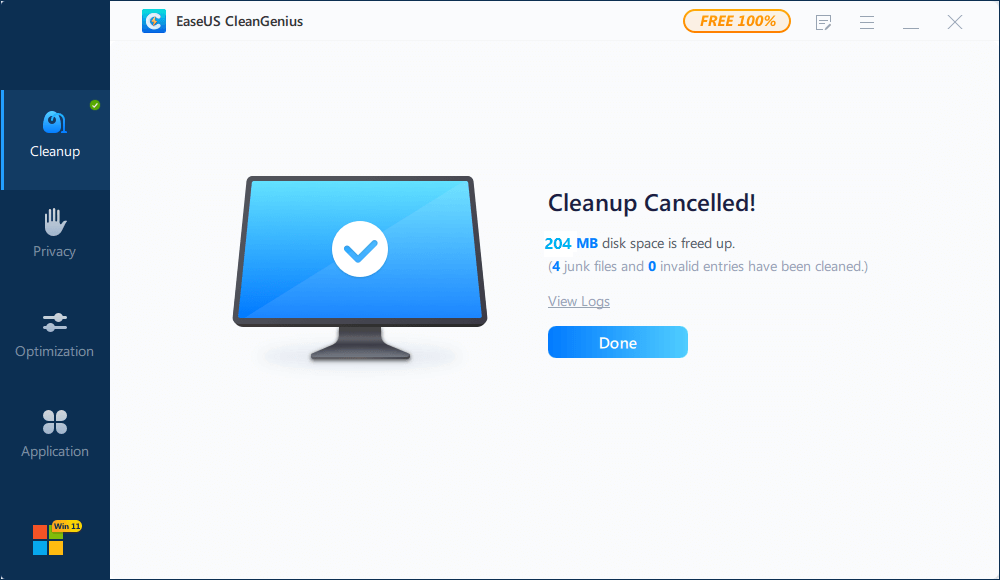 Conclusion
These HDDs and SSDs hold immense importance because they hold the operating system for your computer to run. The speed of your computer depends on your HDD/SSD. If they're slow, your computer will lag whether you have a high-performing CPU and memory. Thus, it's necessary to test your hard drive speed and speed it up with the solutions above.
About the Author

Brithny is a technology enthusiast, aiming to make readers' tech life easy and enjoyable. She loves exploring new technologies and writing technical how-to tips. On her spare time, she loves sharing things about her favorite singer - Taylor Swift on her Facebook or Twitter.
Product Reviews
I love that the changes you make with EaseUS Partition Master Free aren't immediately applied to the disks. It makes it way easier to play out what will happen after you've made all the changes. I also think the overall look and feel of EaseUS Partition Master Free makes whatever you're doing with your computer's partitions easy.

 Read More

Partition Master Free can Resize, Move, Merge, Migrate, and Copy disks or partitions; convert to local, change label, defragment, check and explore partition; and much more. A premium upgrade adds free tech support and the ability to resize dynamic volumes.

 Read More

It won't hot image your drives or align them, but since it's coupled with a partition manager, it allows you do perform many tasks at once, instead of just cloning drives. You can move partitions around, resize them, defragment, and more, along with the other tools you'd expect from a cloning tool.

 Read More