Summary
This tutorial article tells how to fix a hard drive shows 0 bytes, 0 bytes used on HDD/SSD in Windows 10/8/7. The 0-byte drive usually shows 'RAW' or 'No Media' in Disk Management and the solutions towards two states are different. Follow provided solutions and apply EaseUS file recovery software to resolve the 'hard drive shows 0 bytes' error without losing data.
PAGE CONTENT:
Hard drive shows 0 bytes used, how to fix it

[Fixed] 0 Bytes Hard Drive Shows RAW in Disk Management

[Resolved] 0 Bytes Hard Drive Shows No Media in Disk Management
Hard drive shows 0 bytes used, how to fix it
"One of my computer hard drive partitions showed as 0 bytes since last Friday. I didn't take it seriously until this morning when I need to use a very important file saved in that partition.
I thought it was a system error that I can reboot PC to get this issue solved. But it turned out nothing has changed. I still cannot open it. Do you know how to solve this issue without losing my valuable files?"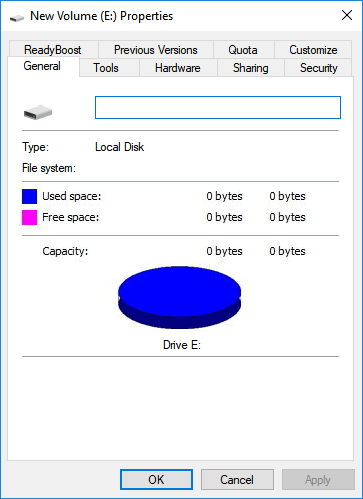 Does your computer hard drive partitions suddenly turn 0 bytes? Can you access any data from the 0 bytes hard drive partition? Don't worry anymore. Follow solutions on this page to fix the hard drive displaying as 0 bytes in Windows 10/8/7.
Note: The major symptoms of 0 bytes hard drive partitions in Disk Management are RAW and No Media. The solutions towards two cases are different and you can read on to find the one to get rid of this error.
 Tip

A quick fix toward this issue is to:
1. Unplug, replug the hard drive and reboot the computer.
2. Change hard drive power line and STATA cable, and reboot the computer.
If this doesn't work, follow on and get the issue resolved.
[Fixed] 0 Bytes Hard Drive Shows RAW in Disk Management
Applies to fix 0 bytes hard drive/SSD partition shows as RAW, online, with healthy state.

Hard drive partition, HDD/SSD with RAW issue may also show up 0 bytes used in device properties. And to resolve this issue without data loss, you can go through steps here for a guide:
# 1. Restore Data
When 0 bytes used device shows RAW in Disk Management, you are unable to access the device. With the help of professional hard drive recovery software, you can restore all precious data. EaseUS Data Recovery Wizard is such a tool which enables you to perform fast and secure data recovery on hard drive partitions, USB drive, SD card or other storage devices with the "0 bytes" issue.
Step 1. Connect your device to PC.
If you lost data on an external hard drive, USB or SD card, connect the device to your PC firstly.
Step 2. Run the data recovery software and scan lost data.
1. Run EaseUS Data Recovery Wizard on your PC.
2. Select the device where you lost data under "Hard Disk Drives", "External Devices" or "Specify a location".
3. Click "Scan" to start scanning the lost data now.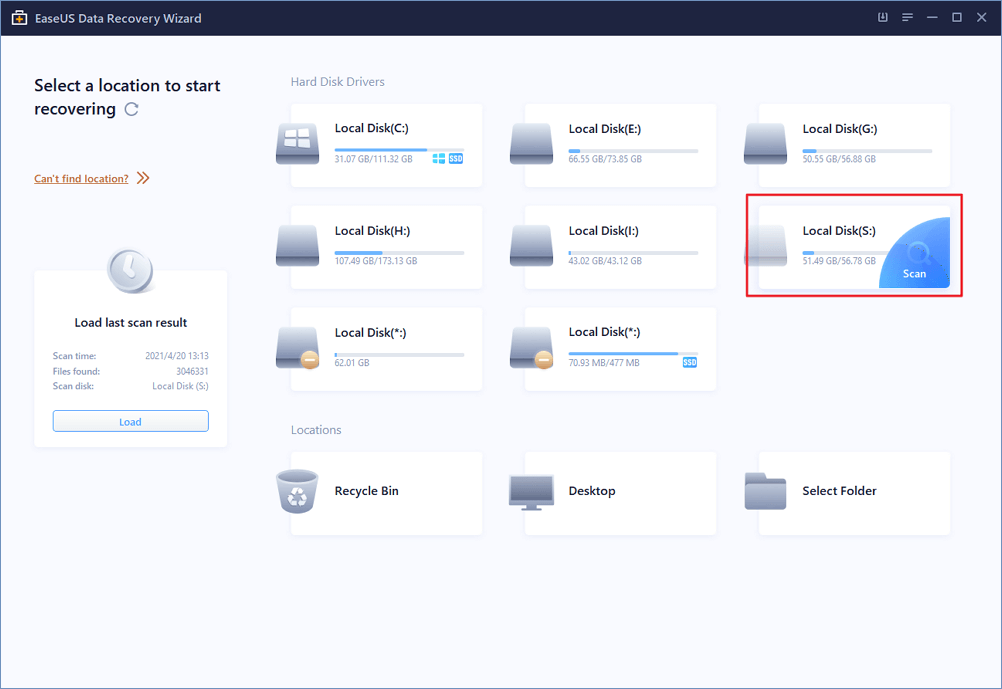 Step 3. Preview and restore data.
1. After the scanning, you can double-click each file to preview them from below tabs:
Delete Files: All your deleted files are listed here.
Drive (with your device name): It loads found files here.
Lost Partition Files: Check first if your hard drive is formatted or partition gets deleted.
Extra Files: All files that lost names or paths on your drive can be found here.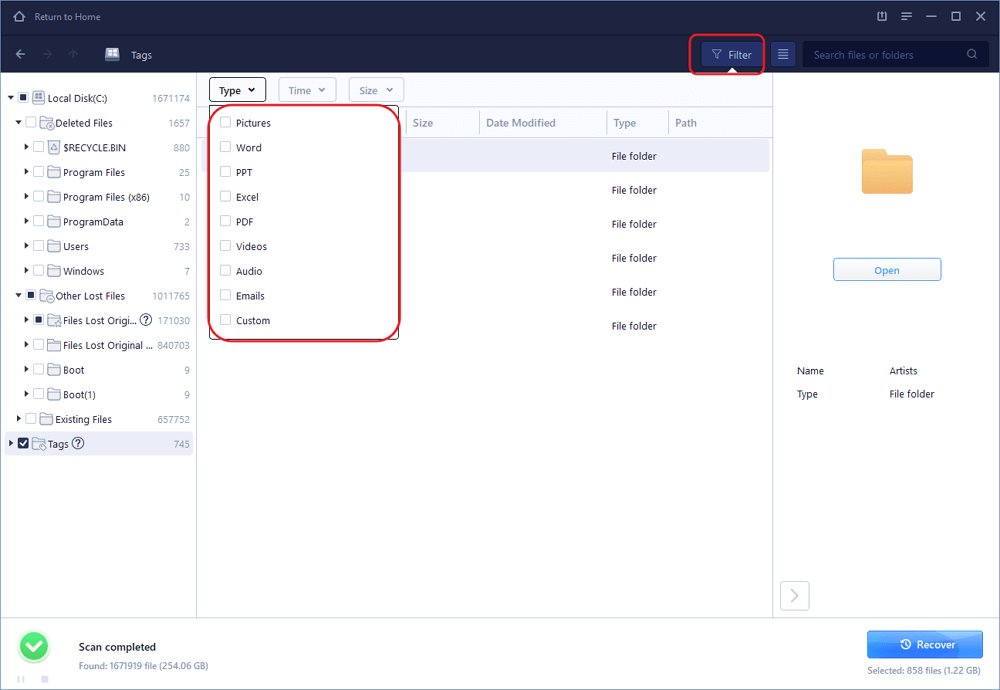 After this, you can even use "Filter" or "Search" to quickly find all your lost data.
2. Finally, you can choose those lost data and specify a safe location on your PC to complete the data recovery process by clicking "Recover" now.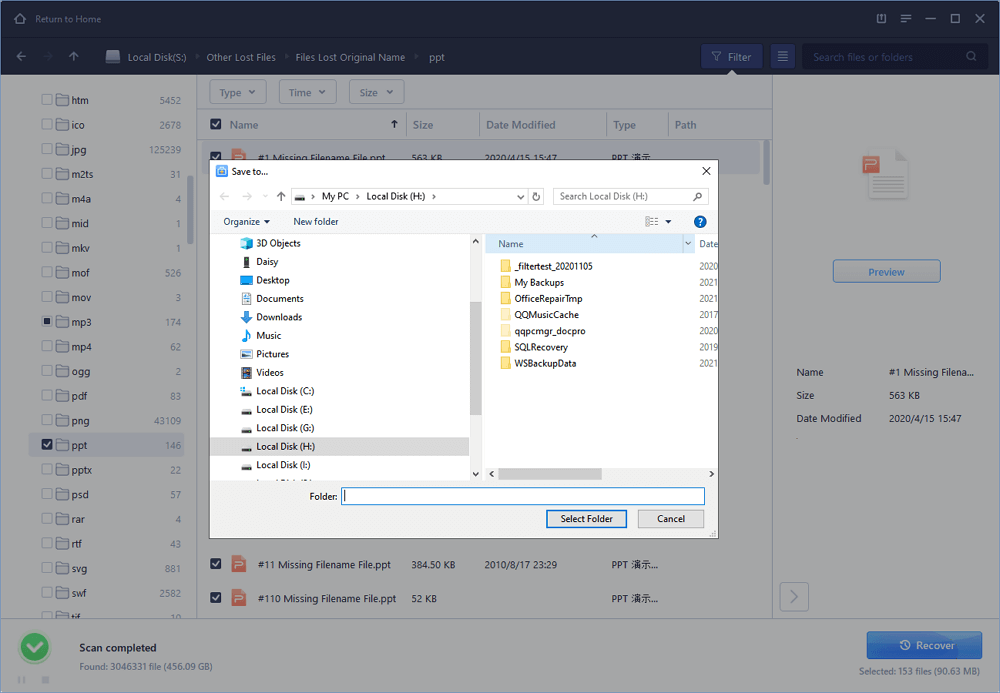 Remember to save the restored data to another secure device until the error is resolved.
Do You Need Specialized Data Recovery Services?
You may need further help for tough data loss situations like reformatting drive, RAW disk, partition loss, repartition failures and system boot error. Consult with EaseUS Data Recovery Experts for cost-efficient one-on-one manual recovery service. They could offer the following services after FREE diagnosis:
1. Unformat the drive

2. Repair the RAID, RAW disk or operating system

3. Recover lost partition (the one that cannot be recovered by software)
# 2. Fix 0 Bytes Error on RAW Hard Drive (3 Methods)
There are 3 methods that can applies to resolve the RAW issue on your 0 bytes hard drive partition.
Method 1. Format 0 Byte RAW SSD/Hard Drive Partition to NTFS
After restoring data, you can use Disk Management to format the 0 bytes RAW hard drive partition to NTFS:
Step 1: Right-click on This PC/My Computer, select "Manage".
Step 2: Click "Disk Management", locate and right-click the 0 bytes hard drive partition, then choose "Format".
Step 3: Select NTFS as the file system for the partition and click "OK" to confirm.
Method 2. Convert RAW Hard Drive to NTFS with CMD
There is another way that can resolve the device RAW issue on 0 bytes used hard drive, which is to convert RAW file system to NTFS using CMD command.
To do so, you can follow the link of convert raw external hard drive to NTFS as a guide. The process is the same.
Method 3. Run Disk Error Checker
Step 1: Open File Explorer and right-click on the 0 bytes HDD/SSD partition, select "Properties" and go to the Tools tab.
Step 2: Click on the Check button under the Error checking section.
Step 3: It will scan the SD card and automatically repair found file system errors.
When the process completes, you can restart the PC if necessary. Then the partition will be available for saving and storage new files and you can copy the restored data back to the partition again.
[Resolved] 0 Bytes Hard Drive Shows No Media in Disk Management
Applies to resolve 0 bytes hard drive which displays no media in Disk Management.

To repair 0 bytes used hard drive or partition which displays No Media in Disk Management, you have two methods to try here below.
# 1. Update Hard Drive Driver
Step 1: Right-click on This PC/My Computer icon, select Manage and go to Device Manager.
Step 2: Expand Disk drivers, find and right-click on the 0 bytes hard drive which displays as no media, choose "Update driver".
Step 3: Select "Search automatically for updated driver software" and wait patiently till the process completes.
Restart the PC if necessary.
If your hard drive or SSD is a customized device, you can contact or go the manufacturers' websites, download and install the hard drive driver.
After updating the device, you can check the hard drive partition to see if you can access the data or not. And check the display state in Disk Management.
If it shows RAW, follow the above solutions and fix it.
If it shows Offline, activate the device to Online and try to open the device again.
If it still shows no media, follow Method 2 below for help.
# 2. Take 0 Bytes No Media Hard Drive to Local Device Repair Center
When the first method fails to work, you'll only have the last solution. It is to take your hard drive to be repaired at the local storage device repair center or its manufacturer support center.
100% of people found this article helpful.
Frequently Asked Questions
1. Why cannot I recover 2GB data for free?

It is recommended to check the version installed is Free or Trial because they are different versions.

Trial has data preview function but cannot save any files, while the Free version enables to recover 2 GB files. The default free space is 500 MB and you may share the product on social media to get another 1.5 GB.
2. Why cannot the recovered files be opened?

A file is saved as 2 parts on the storage device: directory info (which is comprised by file name, time stamp and size info, etc.) and data content.

If the files with original file names and folder structures cannot be opened, one possible reason is the corrupted directory info. There is still a chance to recover the data content with the RAW Recovery method in our software.
3. Why isn't it suggested to recover the files back to the original drive?

The storage structure of the lost files would be altered or damaged by any changes on the drive. If you save the recovered files back to the same drive, the original data structures and data content would be corrupted or overwritten, which causes permanent data loss. So you should prepare another disk to save the files.
4. How can I check whether my data is recoverable or not before purchase?

The Free version helps you save 2GB files to better verify the recovery quality of our product before purchase.
5. How long does it take to scan the drive?

It strongly depends on the capacity of your hard drive and the performance of your computer. As reference,most drive recoveries can be completed in around 10 to 12 hours for a 1-TB healthy hard drive in general conditions.
About Data Recovery Wizard
It's super easy to recover 250+ types of files after deletion, disk formatting and virus infection. Click the links and compare the difference of each version.