
Table of Contents

About the Author

Reviews and Awards

Recover Deleted Files in Windows 10/11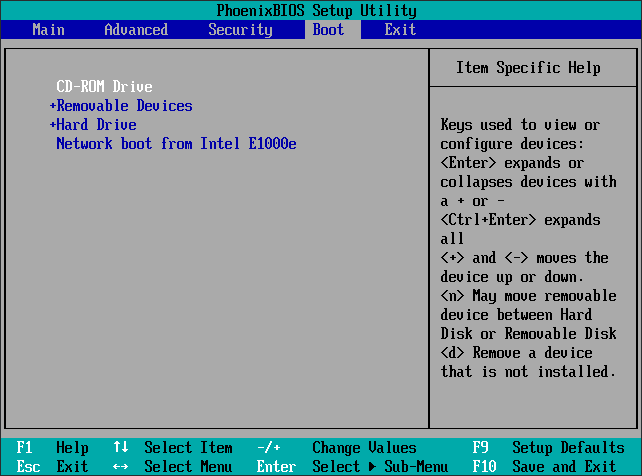 If the "Non system disk or disk error" error message is showing up because your Hard Disk Drive's boot files have become damaged or corrupt, removing all the non-bootable storage devices, checking on your HDD's IDE or SATA cable or setting the right boot priority in BIOS/UEFI should fix the issue.
Don't worry if you are having a "Non-System Disk or Disk" error on HP, Dell, Compaq, Acer, Lenovo, etc. laptops and computers. In the following, you will find 9 fixes for general troubleshooting and advanced troubleshooting this issue. Pick up the best solution to remove this error and make your computer work again.
Workable Solutions
Step-by-step Troubleshooting
4 General Troubleshooting Fixes

Fix 1. Remove non-bootable storage devices...Full steps

Fix 2. Check HDD IDE and SATA cable...Full steps

More Fixes...Full steps

5 Advanced Troubleshooting Fixes

Fix 5. Recover data from hard drive without OS...Full steps

Fix 6. Rebuild MBR to fix non-system disk error...Full steps

More Fixes...Full steps
About non-system disk or disk error
"What does it mean when your computer says non-system disk or disk error? It's an HP Compaq 6000 that runs trouble when I start it, a message comes up displaying as Non-system disk error or disks error, replace and strike any key when ready."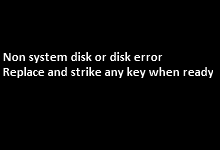 For your information, the non-system disk or disk error message might appear when the computer BIOS cannot find a bootable operating system on any of the storage devices included in its boot path, or it fails to locate the boot disk. Similar error messages include boot device not found, operating system not found or missing operating system...
General troubleshooting for non-system disk or disk error
According to HP's help page, a very detailed guide is offered for HP notebook PCs to work out the "Non-system disk error" as well as "disk error" that appears on a black screen in Windows 10, 7 and Vista. In fact, the given suggestions are also applicable to other desktops and laptops, such as Dell, Compaq, Acer, Lenovo, etc.
In conclusion, you can try at first the four basic approaches, which usually helps fix the setup and stop error during Windows installation or startup.
Fix 1. Remove all the non-bootable storage devices
What storage drives are currently connected to your computer? Check and try to remove all the non-bootable storage devices, namely non-system drives, that make the computer have trouble to boot from, including a floppy disk or CD/DVD disc. After the safe ejection, try to turn off and on the computer and see if the error persists on.
Fix 2. Check on your HDD's IDE or SATA cable
Check on your HDD's IDE or SATA cable and make sure that the cable connecting the HDD to the motherboard is fastened securely and restart your computer.
Fix 3. Set the right boot priority in BIOS/UEFI
Access to your computer's BIOS/UEFI environment and make sure that the hard disk drive you're trying to boot from is in the right boot order settings, which should be at the very top of the boot order list. To change the boot order, you can do it like this:
Press the key required to enter the BIOS or UEFI setup screen (Usually Esc, F2, F8, F10) while computer restarting.
In BIOS, use the arrow keys on the keyboard to select the Boot tab and give the system drive the boot priority, which should be placed on the top.
In UEFI, you can use the mouse pointer to specify the boot sequence.
Save and exit the BIOS/UEFI setup utility. The computer will restart with the changed settings.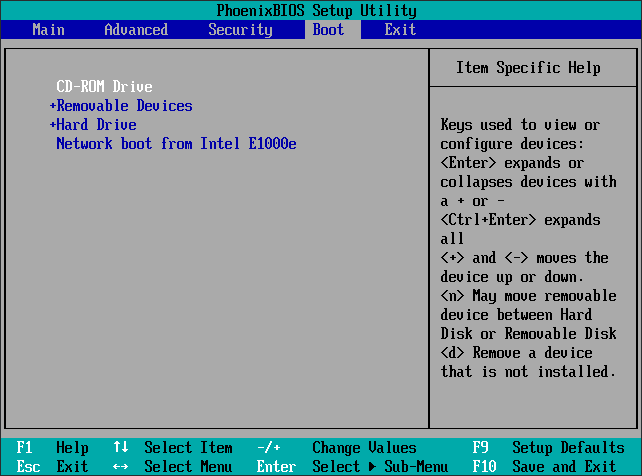 Fix 4. Remove and reinstall the hard drive
A bad connection between the hard drive and the computer would also expose such unbootable issues, and most of the time it's because the hard drive was once dropped or jarred. To fix the connection problem, you must do it in a safe way by following the standard process offered here.
Cut off the power
Take out the battery (For laptops only)
Remove the system disk (HDD or SSD)
Reinstall the system disk
Reinstall the battery (For laptops only)
Power on the computer
Do You Need Specialized Services for System Boot Issues?
EaseUS also provides 1-on-1 remote assistance to fix the boot issue. If the solution above does not work for you, please contact our professionals via
Email
or
LiveChat
in
this page
. To ensure our professional assistance work, you are suggested to connect the unbootable system drive to a healthy computer when getting connected with us.
Advanced troubleshooting for non-system disk or disk error
Excluding the outside factors that caused the non-system disk or disk error, you have to accept the facts that something went wrong with the hard disk drive's boot files, which might become damaged or corrupted, and usually repairing the HDD's boot sector, master boot record (MBR) and boot configuration data (BCD) should take effect.
What's more, to protect data on a non-bootable computer, you're strongly suggested to take the right steps to fix the issue wisely.
First of all, download EaseUS bootable media data recovery software to access and recover hard drive data without OS.
Later, download EaseUS bootable partition manager to rebuild MBR.
 Tip

Another healthy computer without boot problems and a CD/DVD disc/USB drive are required by both bootable software in order to create a bootable storage media. It's necessary to recover data from a computer or hard drive that won't boot, and manage partitions such as partition, format or wipe partition without OS as well as fix hard drive corruption, bad sectors and rebuild MBR.
Fix 5. Access hard drive and recover data from the hard disk without OS
1. Create a WinPE Bootable Disk
First, download and install EaseUS Data Recovery Wizard WinPE Edition on a working computer. Then, create a WinPE bootable disk of EaseUS data recovery software, which will help you access your hard drive data without booting into Windows.
Step 1. Launch EaseUS bootable data recovery software on a working computer.
Step 2. Select CD/DVD or USB drive and click "Proceed" to create a bootable disk.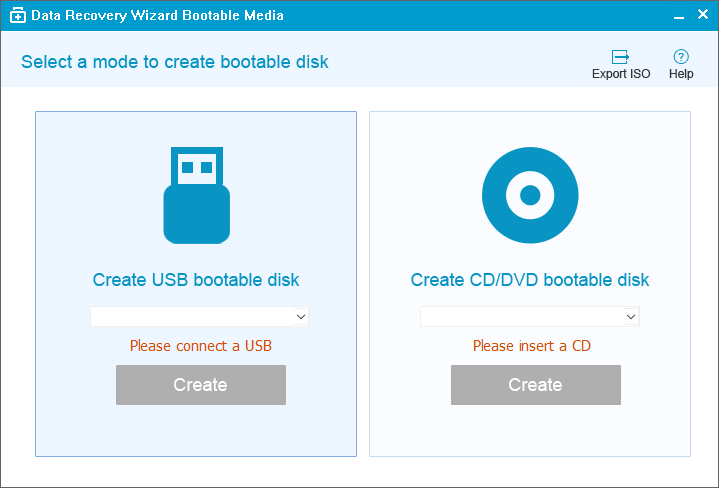 2. Recover data from crashed OS
Connect the WinPE bootable disk you have created to the PC with the corrupted Windows system, then, restart the computer and go to BIOS to change the boot sequence. Press F2 when you start your PC. It will allow you to run EaseUS data recovery software and recover data without Windows.
Step 1. Select the disk where you want to recover data and click the "Scan" button.
Step 2. Let the software scan the selected disk to find all the files and folders.
Step 3. Preview and choose the files you want. Click the "Recover" button to save them to a safe place. You'd better choose a different drive to avoid data overwriting.
Fix 6. Fix non-system disk or disk error by rebuilding MBR
Download and install EaseUS Partition Master Professional on a normal computer.
Step 1. Create a WinPE bootable disk
Launch EaseUS Partition Master, click "WinPE Creator" on the toolbar. Select to create the bootable disk on a USB drive. If your computer has a CD/DVD drive, you can also create the bootable disk to CD/DVD.
Click "Proceed" to finish the process.
Step 2. Boot EaseUS Partition Master Bootable USB
Connect the bootable USB or CD/DVD to your PC. 
Press F2 or Del when you restart the computer to enter the BIOS screen. Set and boot your computer from "Removable Devices" or "CD-ROM Drive". And then EaseUS Partition Master will run automatically.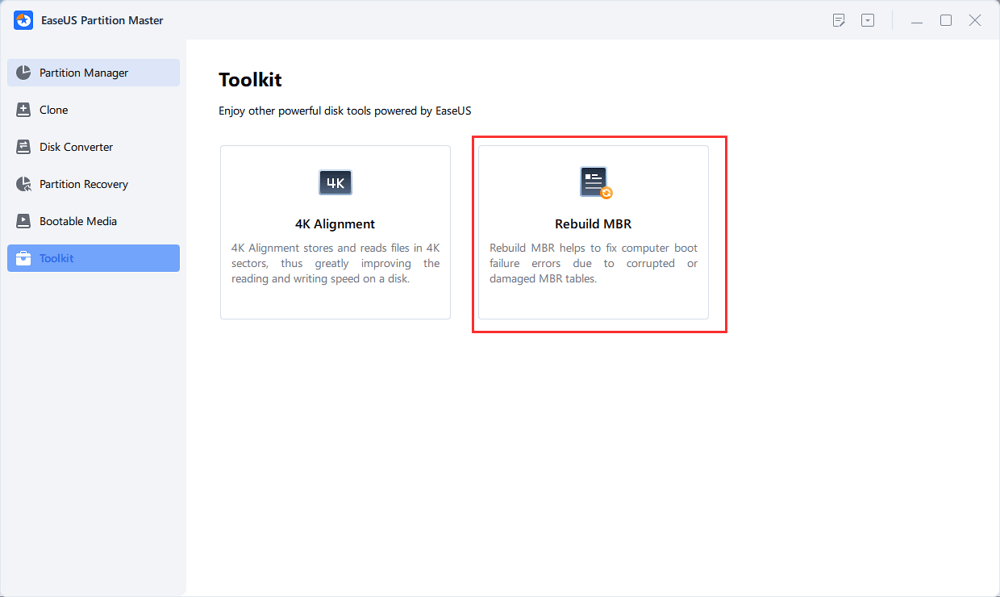 Step 3. Rebuild MBR
Right-click the disk whose MBR is damaged. Choose "Rebuild MBR" to continue.
Select the type of MBR with the current operating system. Then, click "OK".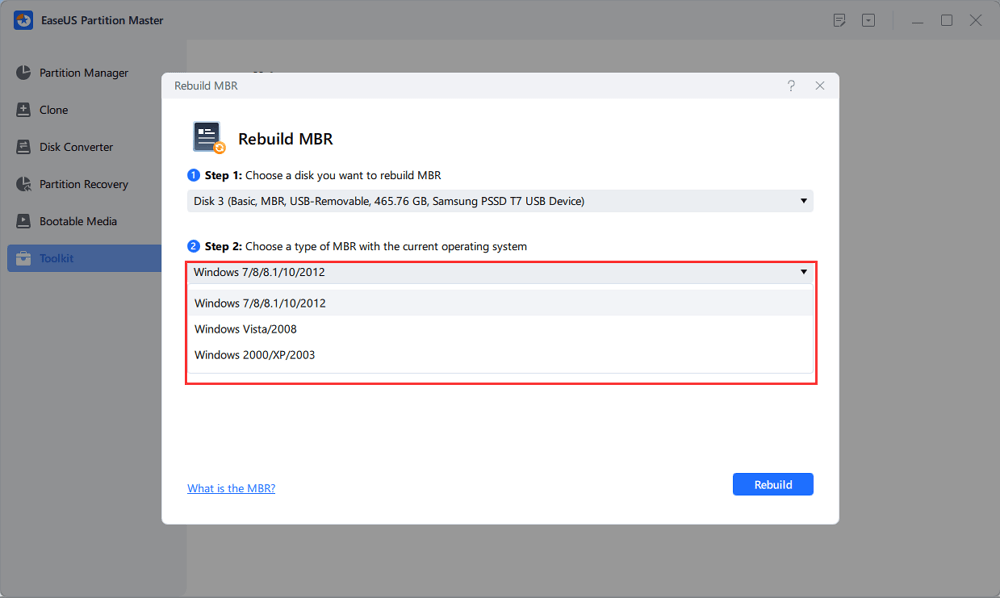 Click the "Execute Operation" button at the top-left corner and click "Apply" to build the MBR. After that, your computer can boot normally again.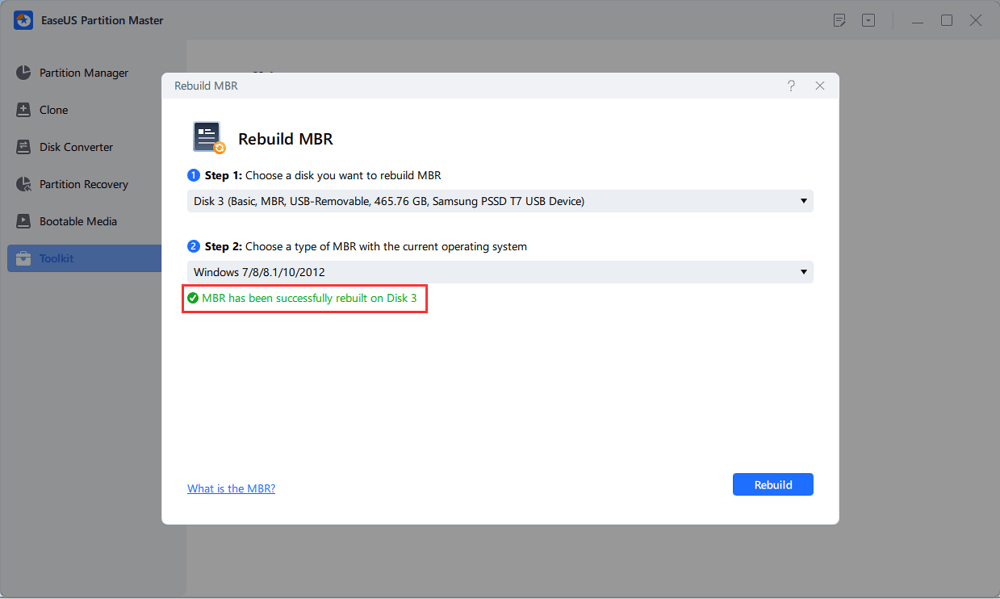 By rebuilding the corrupted or damaged MBR of the system hard drive, if by chance the error still occurs after booting up the computer, continue with the other doable methods to get rid of the error, including running diagnostics on your hard drive, check bad sectors and repair if found any, and replace the hard drive and reinstall Windows.
All those complementary solutions reply on the same essential tool EaseUS Partition Master. A detailed tutorial on how to use the mentioned functions is given on the linked pages.
Gemma is member of EaseUS team and has been committed to creating valuable content in fields about file recovery, partition management, and data backup etc for many years. She loves to help users solve various types of computer related issues.

Author Jean has been writing tech articles since she was graduated from university. She has been part of the EaseUS team for over 5 years. Her special focuses are data recovery, disk partitioning, data space optimization, data backup and Mac OS. By the way, she's an aviation fan!
EaseUS Data Recovery Wizard is a powerful system recovery software, designed to enable you to recover files you've deleted accidentally, potentially lost to malware or an entire hard drive partition.

 Read More

EaseUS Data Recovery Wizard is the best we have seen. It's far from perfect, partly because today's advanced disk technology makes data-recovery more difficult than it was with the simpler technology of the past.

 Read More

EaseUS Data Recovery Wizard Pro has a reputation as one of the best data recovery software programs on the market. It comes with a selection of advanced features, including partition recovery, formatted drive restoration, and corrupted file repair.

 Read More