"What's the best way to access my HP laptop's hard drive to recover data when the OS won't boot?"
"I've got a computer from my friend but the set user password was lost. I'd like to recover some games and other data from the HDD. I assume that there should be a way letting me recover data from hard disk without OS."
Do you know how many ways of getting data off from a hard drive that won't boot without booting into Windows? To copy files, backup data or simply recover data on a non-bootable computer, first of all, you must find approaches to access hard disk without OS.
How to Access A Hard Drive Without OS?
You can take the 4 ways here to easily access hard disk data without OS so as to get all data files off.
No 1. Recover hard drive on another computer
Sometimes it's just Windows OS corruption that makes your hard drive fail to boot. Great, you can just pull out the drive from the dead computer and hook it up to another computer without booting trouble. If you can access the hard drive normally, go ahead to backup hard drive data.
No 2. Put your hard drive in a freezer
What if it's the hard drive problem that disables the boot? Try putting it in a freezer. Many hard drives that stopped working can be brought back to life. It's not a permanent solution to fix a non-bootable hard drive, however, at least somebody says that it worked for about 20 minutes, which gives enough time to them to copy everything on the drive.
NO 3. Copy hard drive files from command prompt
Or, if you had a Windows installation media at hand, try to boot Windows from the bootable disc or USB drive. Invoke Windows Command Prompt so that you can use robocopy to easily copy all folders and files on the selected drive. Enter the following command:
robocopy C:\tools D:\backup\tools /e
The /e modifier tells robocopy to include all subdirectories. This includes empty folders.
robocopy will automatically copy hidden and system files. It will create new directories if they don't exist at the target location.
No 4. Recover data from hard drive with third-party OS
The last resort to access the hard disk and recover data without booting into Windows operating system is to boot your hard drive from a third-party OS. EaseUS Data Recovery Wizard WinPE Edtion is recommended.
EaseUS WinPE bootable data recovery is an ideal choice to recover data from hard drive without booting into Windows, recover data from dead hard drive and computer that won't boot.
Tip - Be sure that you have a CD/DVD-Recorder and a CD/DVD or USB drive which can be written.
Step 1. Download and install EaseUS Data Recovery Wizard WinPE Edition on a normal computer.
Step 2. EaseUS Data Recovery Wizard WinPE Edition will recognize your CD/DVD device or USB drive automatically. You can also export ISO file. Select CD/DVD or USB drive and click "Proceed" to create a bootable disk.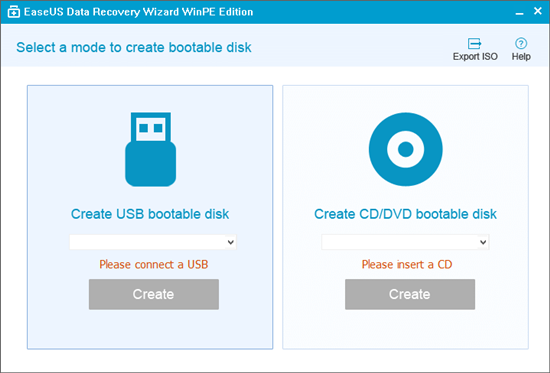 Step 3. Boot your dead computer from the created bootable disc or USB drive and run EaseUS Data Recovery Wizard from WinPE bootable disk.
Step 4. Select the hard drive you're trying to copy files off from it and click Scan.
Step 5. After the scan, choose the files or folders and click Recover.