Error message - "Card cannot be accessed. Reinsert/change the card or format card with camera."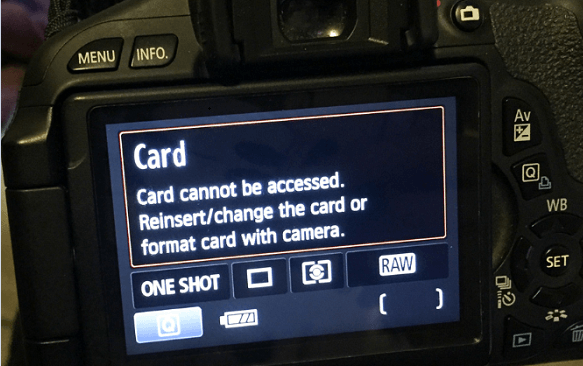 Canon SD Card Error
This is a common error accepted by Canon owners when they insert a card reader in the digital camera/DSLR/camcorder. So far, quite a lot of popular Canon models are infected, including:
Canon 7d, t5i, 80d, 6d, t1i, rebel t5, t3, 500d, 5d mark iii...
The "memory card cannot be accessed" error would prevent you from taking photos or viewing files. As the full error message implies, [1] try to reinsert the card for a couple of times, [2] change the card with a new one, or [3] format the SD card in the camera. Those manners are meant to make the card function well.
Before taking action to troubleshoot with suggestions, you must find a digital camera recovery solution first. Data recovery is prior to SD card repair, as long as you cannot afford to lose the media files in the malfunctioning storage card.
Quick Tip: If it's a brand new memory card that you use it for the first time, make sure that you format the SD card to FAT file system, which digital cameras can recognize it properly.
How to Recover Data from Inaccessible SD Card
Since formatting SD card would wipe data out, do not rush to format the card if tons of pictures and video clips are there. Use EaseUS Data Recovery Wizard to recover files from an inaccessible SD card, and then remove the error with your camera or PC.
What if you've formatted the card before coming to this solution? Don't bother, EaseUS hard drive recovery software is still able to recover formatted SD card data. Try to protect your lost videos and photos from overwriting by taking new photos. This act would help keep the lost data intact and safe for recovery.
Stop using your SD card immediately once you lost files on it. Continuing using the card would hugely increase the chance of data overwriting, which makes data unrecoverable.
Step 1: Connect the SD card to PC
Insert the SD card to a card reader, and connect the card reader with your SD card to a healthy computer.
Step 2: Run SD card recovery software and scan the card.
Launch EaseUS Data Recovery Wizard on your PC and select your SD card under the External Devices column.
Then click Scan to start finding lost data on your SD card now.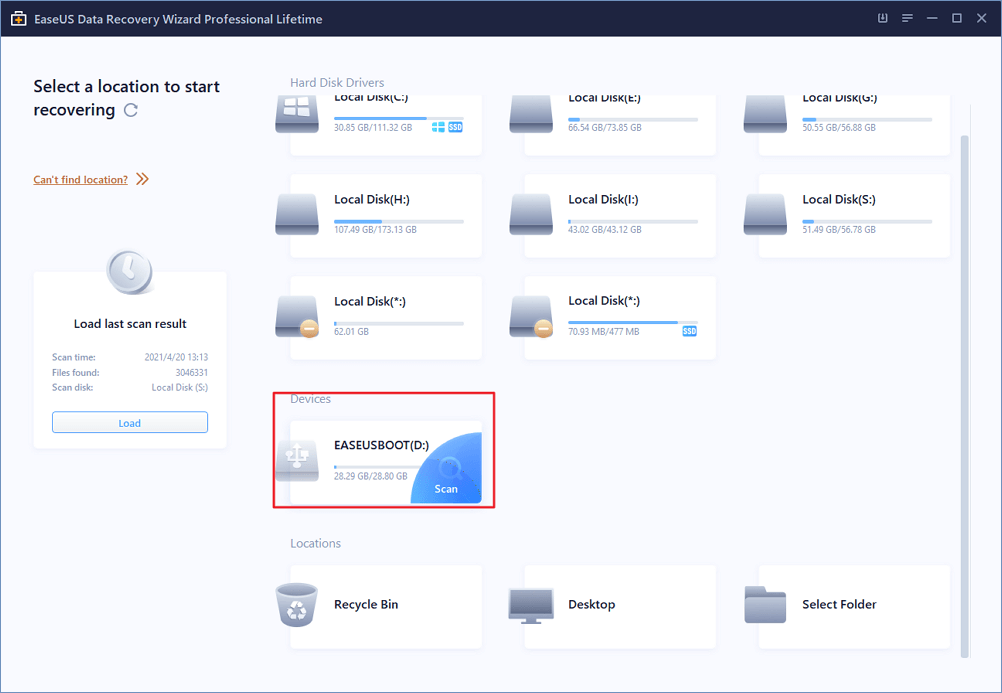 Step 3: Check found SD card data.
After the scanning process, you can preview and find your lost SD card files from below listed tabs:
Deleted Files: List your deleted files there.
Drive X: All lost files can be found here.
Lost Partition Files: Check first if it's for formatted recovery.
Extra Files: Finds files that lost names or paths.
And you can use Filter and Search to quickly find your files.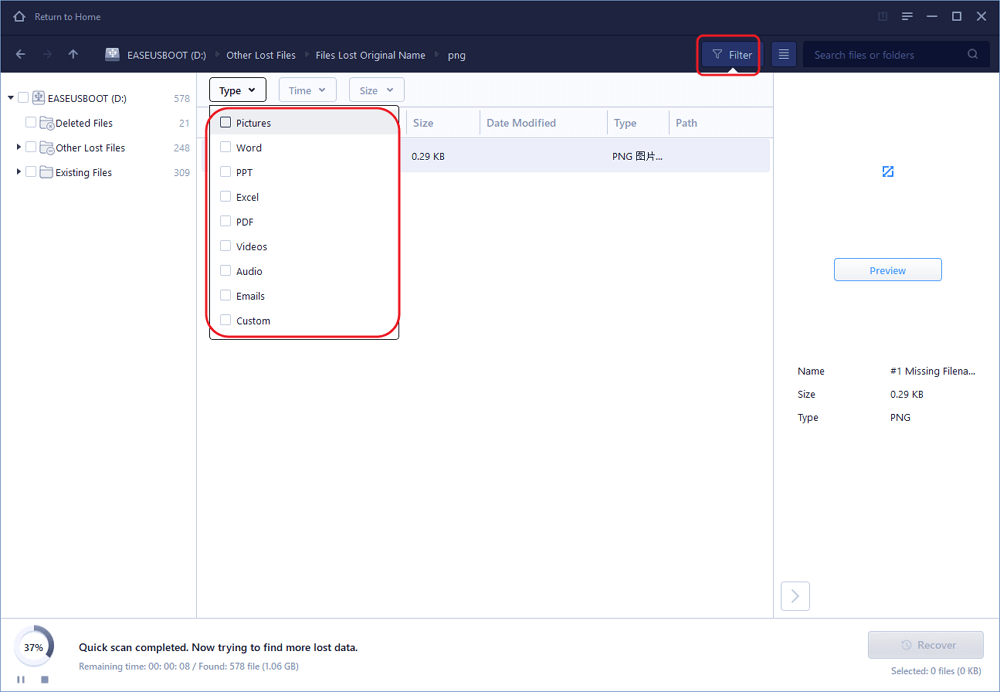 Step 4: Restore SD card data.
You can check and preview found files by double-clicking each one of them.
Then click Recover to save found SD card files to a secure location on your PC or an external storage.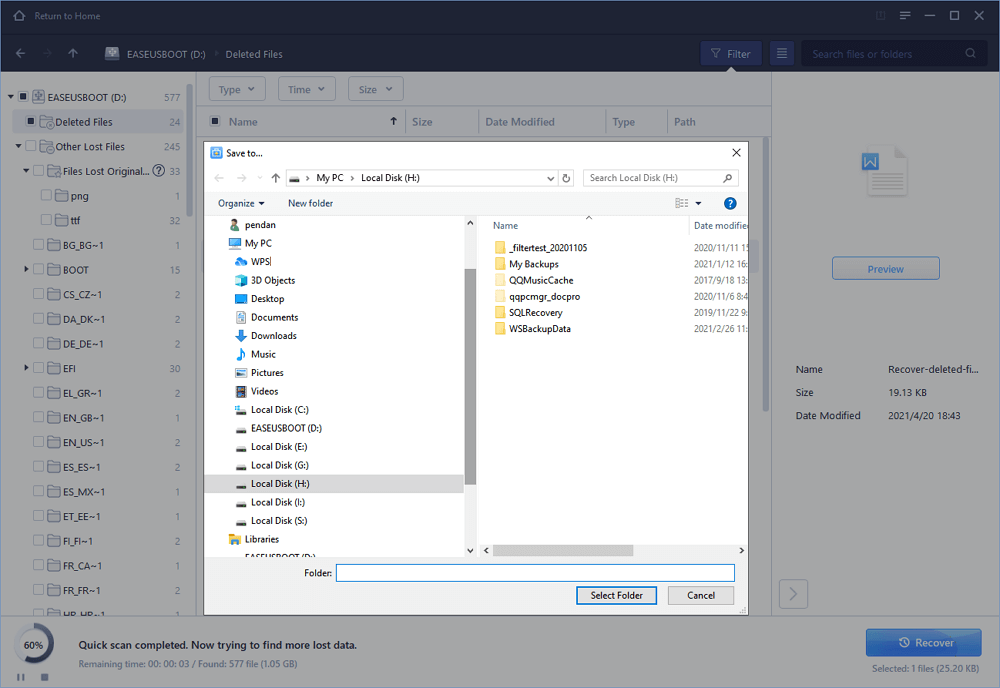 How to Format SD Card in Canon Camera & PC
Make sure the camera battery is charged. Insert the SD card in your camera and turn it on.
Step 1: Hold the Up/Down button and open the menu.
Step 2: Select "Setup" or "Utilities".
Step 3: Choose "Format". You'll receive an alert: "Format card. All data will be lost". Leave the "Low level format" box unchecked because you don't need to do so.
Step 4: Select "OK". Take out the SD card and reinsert it in the camera. No error messages are there again. You'll get a blank card for reuse.
In fact, you have multiple free-to-use options to format SD card on a Windows computer, like using the diskpart command line and a third-party disk format utility.
Step 1: Connect the SD card with a card reader to your PC.
Step 2: In the Windows File Explorer, right-click the removable disk that represents your card, and select "Format."
Step 3: On the popup window, choose FAT under "File System" and Default Allocation Size under "Allocation Size". For other options, leave alone.
Step 4: Click "Start" to format the disk. Safely eject the SD card and insert back to the camera. No error messages are there again. You'll get a blank card for reuse.
How to Fix SD Card Not Formatted Error
What if you failed to format the SD card on both camera and PC? The causes to the Canon "SD card cannot be accessed" error will be a little different from the above part. For example, it might be SD card write protection, file system corruption and virus infection. To troubleshoot the error deeper, refer to the article "Windows was unable to complete the format".