How to Use Unallocated Space in Windows 10
Unallocated space, as the name suggests, it's part of disk space that is not allocated to any partition. A computer describes any physical space on a hard drive that doesn't belong to a partition as unallocated. This means that no programs can write data to this space, nor save data until it's being a part of the real disk partitions. To put the space into normal use, you have two options: [1] create a new partition; [2] extend an existing partition.
Where does unallocated space come from? Generally, to get unallocated space there are two scenarios. One, you deleted a partition; two, you shrank a partition. You won't see unallocated space in Windows Explorer, only find that a hard drive is showing less space than actual, for example, 1TB shows 700GB.
On a Windows 10 computer, The most versatile hard disk management utility is called Disk Management, and it's also where you come across unallocated space. Before getting to know how to use Windows 10 Disk Management to manage the unallocated space, it's good to know what it can do & what it cannot do.
It CAN create a new partition on unallocated space.
It CANNOT change the location of unallocated space, neither add the unallocated space to a non-adjacent partition as well as the right-adjacent partition.
That is to say, for my case, I can only move the unallocated space to G drive. If I want to increase E drive, or if there is another Drive K on the right side, Disk Management cannot help.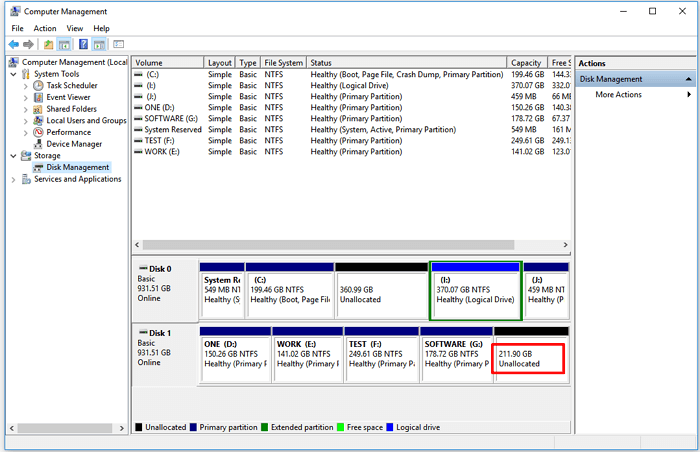 Why not bother? We have a much more intelligent Windows Disk Management alternative - EaseUS Partition Master Free. It can fully meet all demands of making use of unallocated space in Windows 10/8.1/8/7/XP/Vista. At the same time, break the limitations of Disk Management because it allows users to drag and move unallocated space to anywhere they like. First, you need to download and install EaseUS free partition manager on your Windows computer.
Way 1. Create a new partition
Applies to: Creating a new partition applies to people who have less than two chunks on a hard disk, and wish to set up the third partition for special use. It's the most straightforward way to put unallocated space into use.
Step 1: Launch EaseUS Partition Master
On the main window, right-click on the unallocated space on your hard drive or external storage device and select "Create".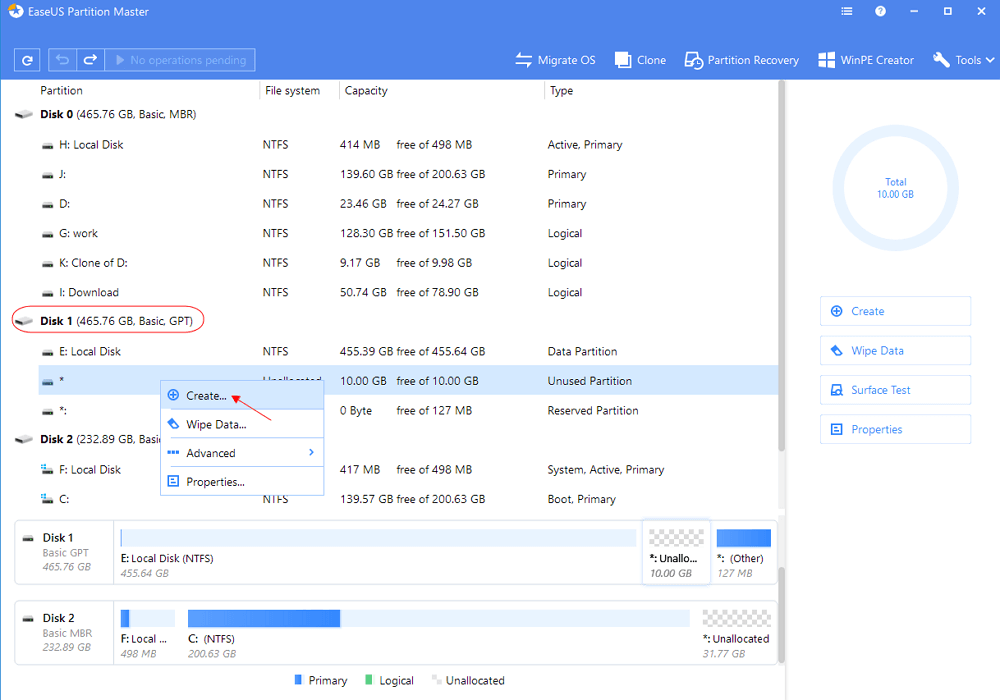 Step 2: Adjust the new partition size, file system, label, etc.
Set the size, partition label, drive letter, file system, etc. for the new partition and click "OK" to continue.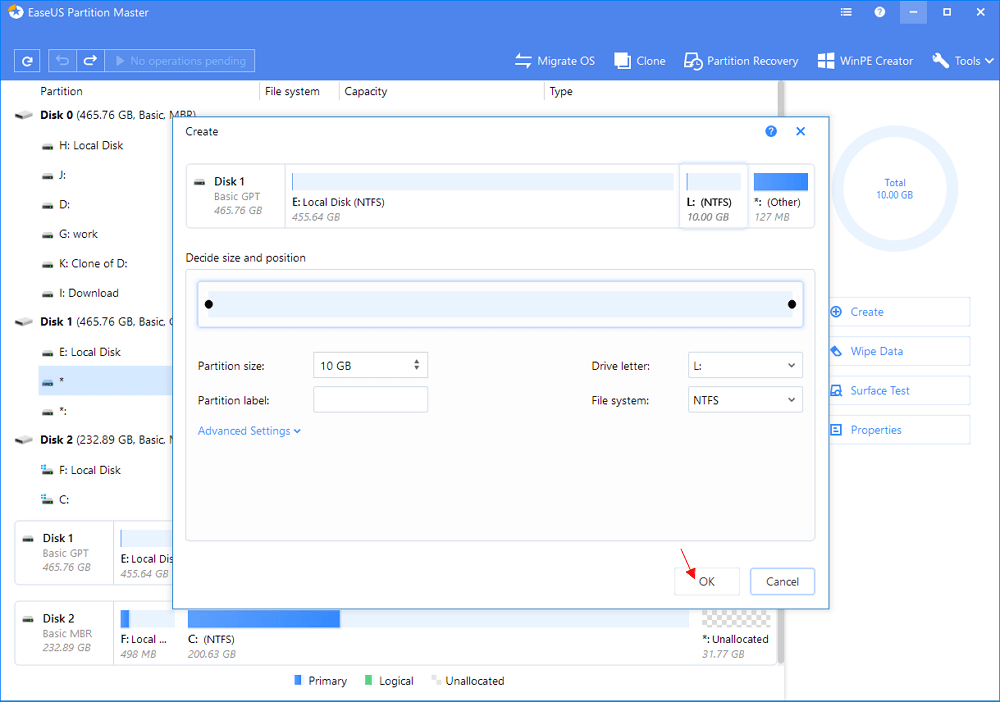 Step 3: Confirm to create a new partition
Way 2. Extend an Existing Partition
Applies to: Adding unallocated space to an existing partition is ideal to fully utilize the free space, meanwhile, solve the low disk space warning on the target partition.
Step 1: Launch EaseUS Partition Master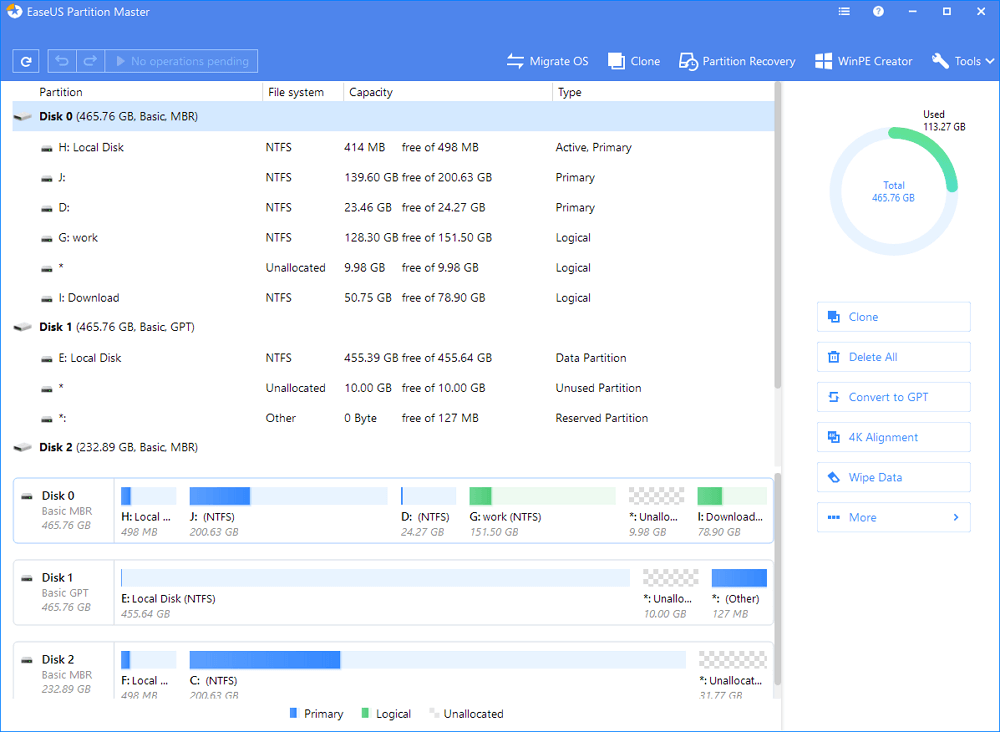 Step 2: Extend partition
1. Right-click on the target partition and select "Resize/Move".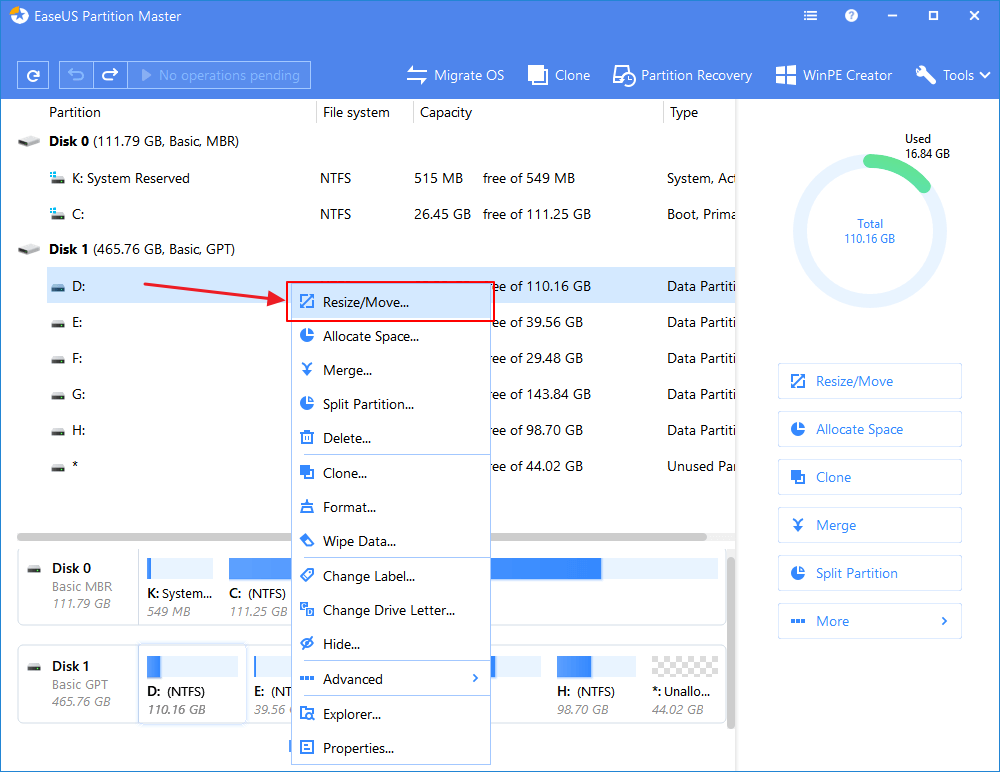 2. Drag the target partition handle into the unallocated space to extend the partition.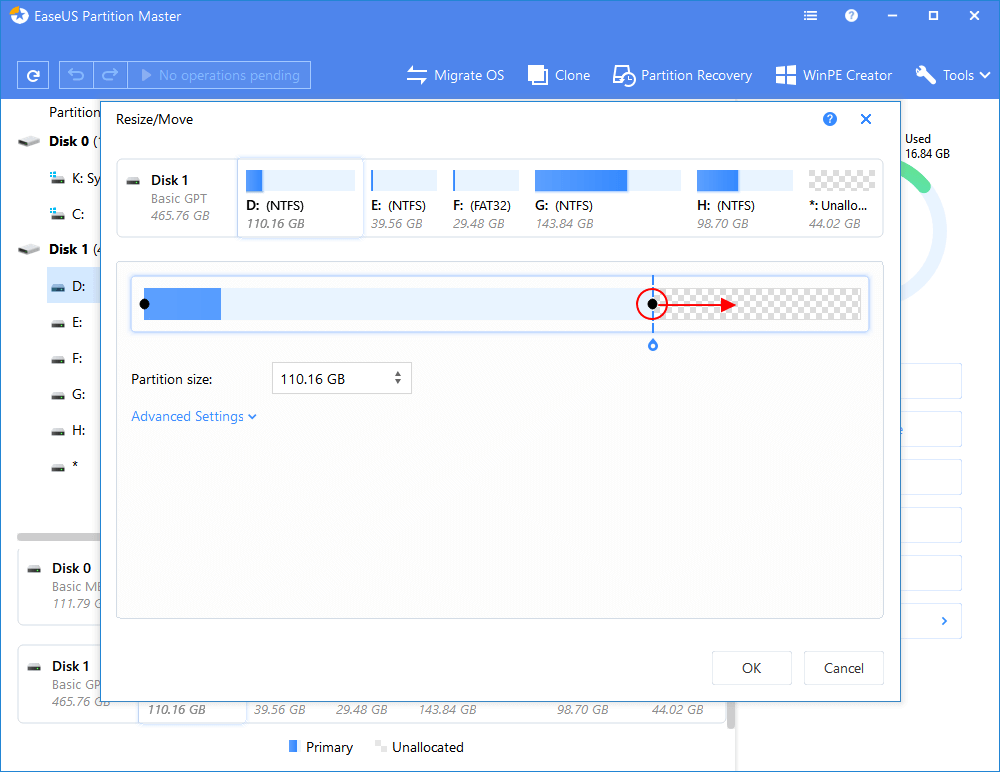 Step 3: Apply all changes
Conclusion
EaseUS Partition Master is exclusively designed for Windows OS and Windows Server users to manage their hard disks and partitions. It's much easier to handle, and most of all, smarter than any native Windows disk management tools.
Do not leave unallocated space behind once there is some. Try either of the suggested ways to make full use of the accessible disk space and value. If you're interested in other disk management operations, visit EaseUS manager software page, and explore more useful features on it. Many of its consumers speak highly of its functions in resize, format, NTFS to FAT32 conversion, GPT to MBR conversion... It deserves a try for every Windows user.
100% of people found this article helpful.
Frequently Asked Questions
Why Choose EaseUS Partition Master?

"I've used Partition Master Professional many times to create, delete, format, move, rename, and resize partitions." —PCWorld

"Partitioning tools have come a very long since the days of complicated command line utilities and EASEUS Partition Master is one of the most advanced programs available." —TECH ADVISOR

"I love that the changes you make with EaseUS Partition Master Free aren't immediately applied to the disks. It makes it way easier to play out what will happen after you've made all the changes." —Lifewire
Will the "Migrate OS" feature transfer the Windows system files only or the whole C drive?

To ensure that the migrated system will boot normally, the Migrate OS feature will transfer all the files in the system and the boot partitions. Generally, the boot partition is the C drive so the transfer will include all the files in C.
Does EaseUS Partition Master license apply to multiple computers?

The license of Partition Master Professional and Server editions can be used on 1 computer only, while that for for the Technician and Unlimited editions can be used on multiple machines.
What is the difference between EaseUS Partition Master Trial version and the Free version?

Free is for home users only, with most basic functions available such as partition resize and clone. While trial can help you understand how this product works and test what a full license can do on a business or server OS machine.
Will it cause any data loss after resizing the partition in EaseUS Partition Master?

Generally, it will not cause any data loss or boot issue by resizing a partition. However, in order to protect your data, we suggest that you backup the partition before resizing, in case of any unexpected situations such as power outages, computer hardware failures, etc. You can use EaseUS Todo Backup to backup the partition and its trial version is fully functioned for 30 days.
What should I prepare before resizing the partition?

On the partition that is going to be operated, there might be some files being occupied by other programs. To ensure a successful operation, we suggest that you close all the unnecessary software before resizing that partition. Otherwise, EaseUS Partition Master will detect the partition being locked by the other software and require a reboot to resize the partition under boot mode.
About EaseUS Partition Master
All-round disk & partition management software for personal and commercial use. Let it manage your storage drive: resize, format, delete, clone, convert, etc.