Backup the Entire Hard Drive: What's Your Purpose?
A computer hard drive (including HDD and SSD) stores your computer's operating system, applications, and data files, such as documents and pictures. Other components in your computer work together to show you the applications and files stored on your hard drive. You might want to backup your entire hard drive for several reasons. Maybe you're upgrading to a new computer and want to move everything over. Or perhaps you're worried about data loss and want to create an extra copy of everything, just in case.
Based on the application of your hard drive, you should create different types of backup.
🎈For example, if the hard drive you want to back up is the system disk, you'd better create a system image backup. Because once the hard drive is damaged, you should restore the whole system, including all files, configurations, disk settings, and even disk layout.
🎈If the hard drive you want to back up is a data disk, you can only back up files and folders.
How to Backup Entire Hard Drive Windows 10 - Tools
Once you have made it clear what kind of hard drive your disk is and what kind of backup you want to create, you should decide what backup tools to use. There are three backup options on Windows 10 computers, File History, Backup and Restore (Windows 7), and OneDrive. Can you back up your entire hard drive with these Windows 10 backup programs? Maybe. Why? Let me walk you through what they can do.
Windows Built-in Backup Programs
File History: "File History regularly backs up versions of your files in the Documents, Music, Pictures, Videos, and Desktop folders and the OneDrive files available offline on your PC. Over time, you'll have a complete history of your files. If the originals are lost, damaged, or deleted, you can restore them."
*Information resource: Microsoft Windows Support.
Backup and Restore (Windows 7): Backup and Restore was first released in Windows 7 and continues to work as the backup utility in Windows 8/8.1/10/11. So in later Windows systems, there is a note saying this function originated from Windows 7. You can access Backup and Restore in Control Panel, back up personal files in Libraries and Desktop, and create a system image with it.
OneDrive Sync: Developed by Microsoft, OneDrive is a cloud drive to which users can sync and upload files. Once set up and log in to the account to OneDrive, you can sync your computer files to OneDrive as a backup copy.
OneDrive User Guide:
In conclusion, File History only backs up personal files in specific folders; Backup and Restore can only create a system image and back up some personal files; OneDrive only syncs files to the cloud. So if you want to back up the system hard drive, you can use Backup and Restore. But if you're going to back up the system hard disk and the regular data hard disk, the backup tool with Windows cannot meet your needs.
Comprehensive Tool to Backup Entire Hard Drive in Windows 10
The criteria for comprehensive backup software is flexibility. Such a tool must give users enough authority to customize the content they want to back up. EaseUS Todo Backup is one such tool. Here are the features of EaseUS Todo Backup:
Supports create a full backup for your PC: you can backup files, systems, disks, and partitions.
Manage backup files: you can set to keep specific numbers of backup files and delete the old backup files to save backup disk space.
Various backup options: you can create an incremental or a differential backup; you can also set up to backup upon a certain event.
Flexible backup destinations: you can choose to save your backup to a local drive, cloud drive, network drive, and EaseUS cloud (AWS-based service).
You can see that with the above features, you can backup the entire hard drive with only one software. EaseUS Todo Backup is the best and the wisest choice for anyone who wants to make a full backup to the computer. By the way, you can create a completely free backup with this software.
No extra payment but more backup options; EaseUS Todo Backup is the best free backup software for Windows users.
How to Backup Entire Hard Drive: Set Up File History in Windows 10
Let's start with personal file protection. According to the introduction of Windows backup tools, File History saves different versions of selected files and folders. If you want to back up your files, follow this guide to set up File History in Windows 10:
Step 1. Access File History via either Control Panel or Windows Settings. You can see how to get the entry from the image below.
Step 2. If you don't set up a backup drive before, you will see the message "File History is turned off". Click the "Turn On" button to enable File History. The available locations can be an external hard drive and a network drive. If you want to change the backup location, click the "Select drive" button.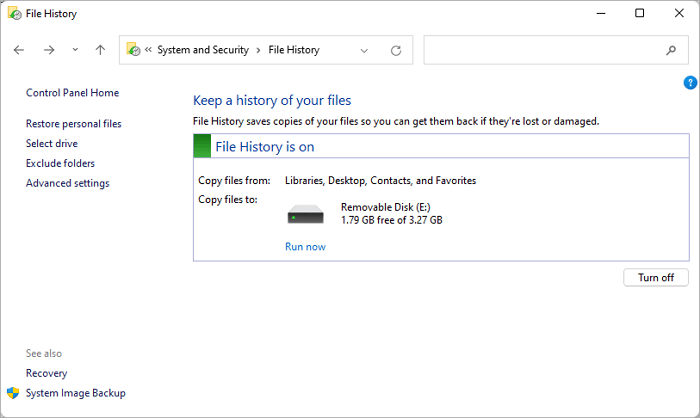 Advanced settings of File History
In Advanced settings, you can change how often to execute a File History backup and how long to keep the backup versions.
By default, File History runs every hour, but the available time interval varies from every 10 minutes to a maximum daily (24 hours). Creating a backup every 6 or 12 hours is recommended to ensure higher backup frequency and less disk space consumption.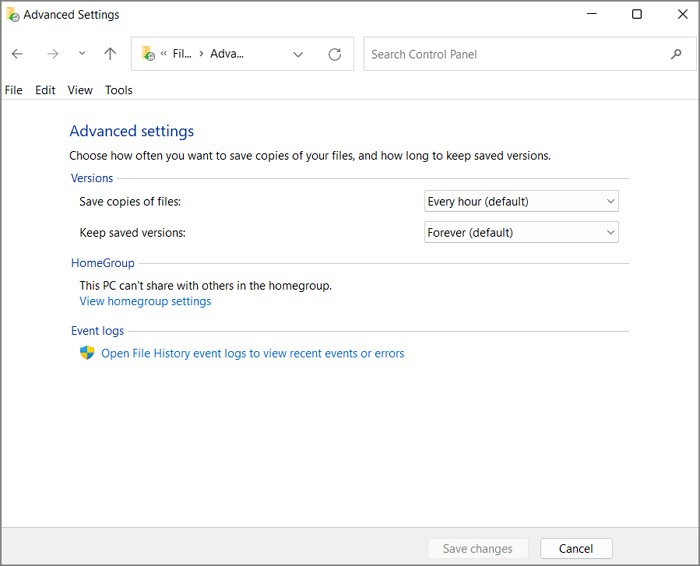 👆How Often You Save Copies of Backup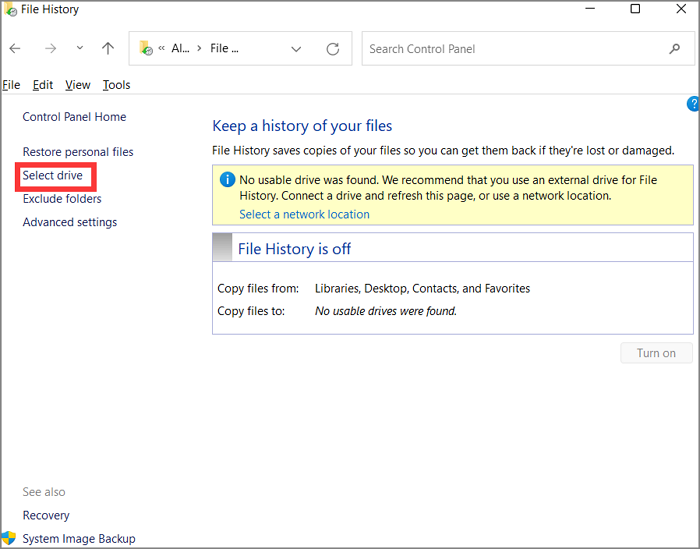 👆How Long to Keep Saved Backup Versions
How to Backup Entire Hard Drive: Create A System Image Backup on Windows 10
As mentioned before, if you have only one hard drive on your computer, the system partition and data partitions are on the same disk. The best way to back up the entire hard drive on Windows 10 is to create a system image. According to the illustration in part - How to Backup Entire Hard Drive Windows 10 - Tools, EaseUS Todo Backup is your best free choice to create such a full backup. Download it from the button below, and follow our guide to create a system image backup for your Windows 10 computer.
*Back up the system to an external hard drive is best. Choose an external storage device to save your backup image.
Step 1. Launch EaseUS Todo Backup and choose "Create Backup" on the home page, click "Select backup contents".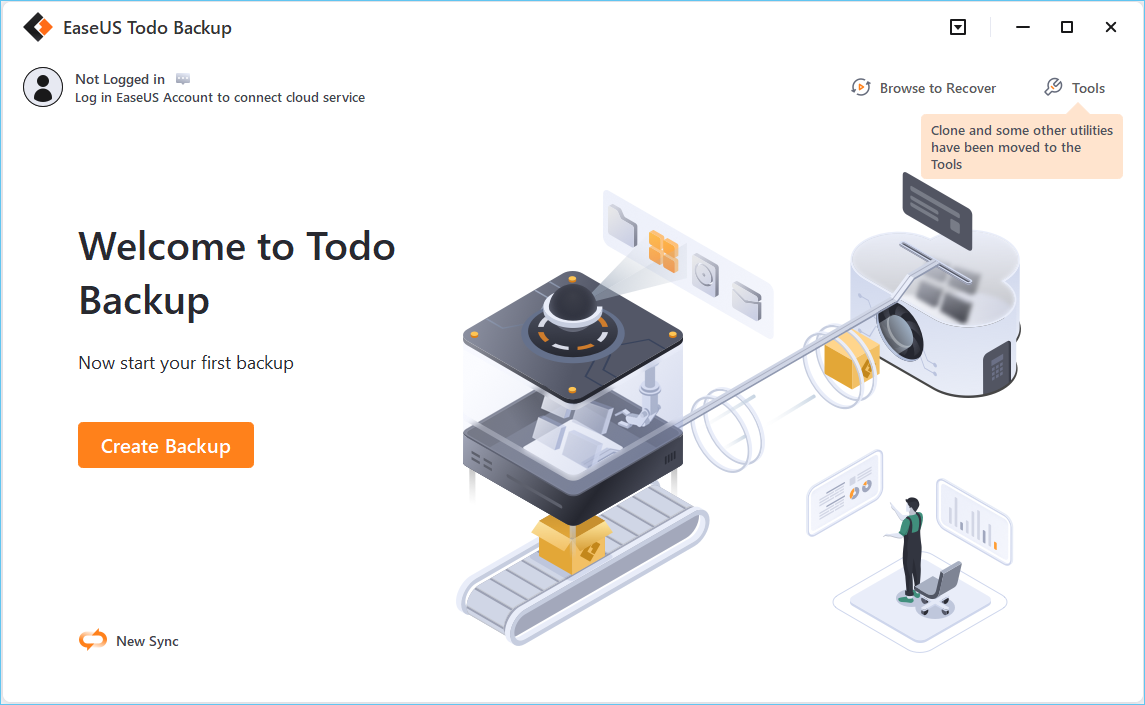 Step 2. Among the four available categories, click "OS" to start back up.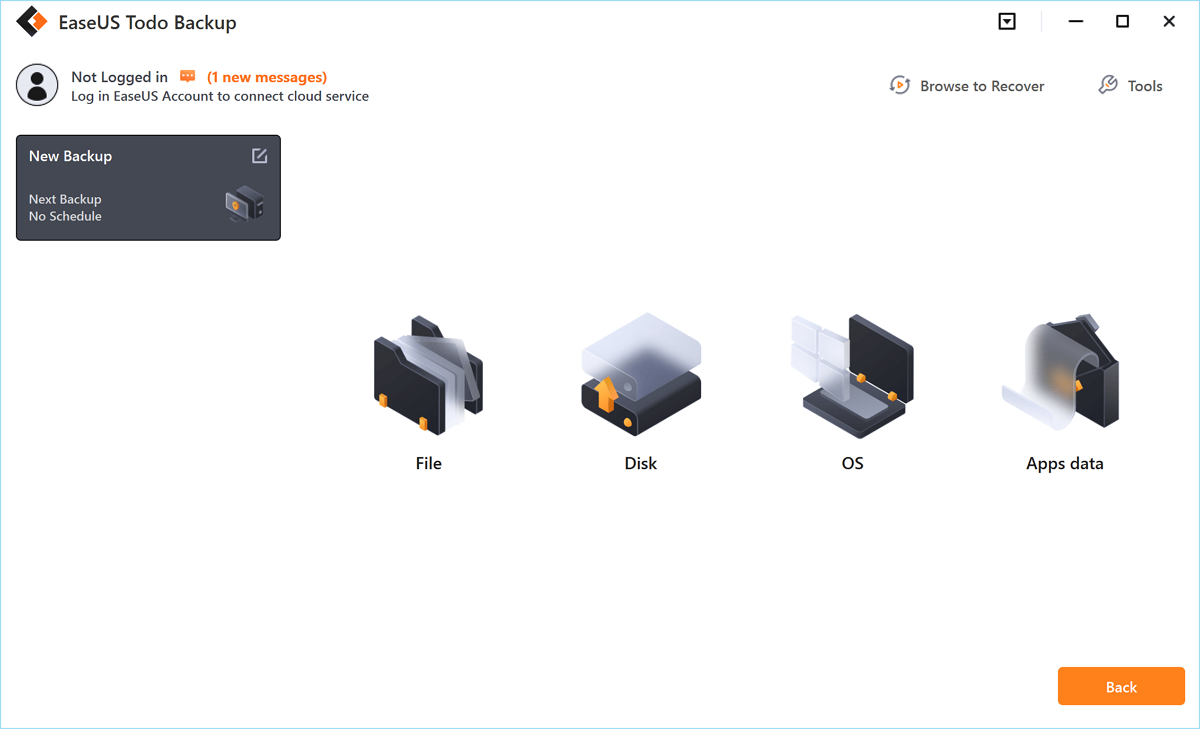 Step 3. The system partition will be automatically selected, you only need to select the location.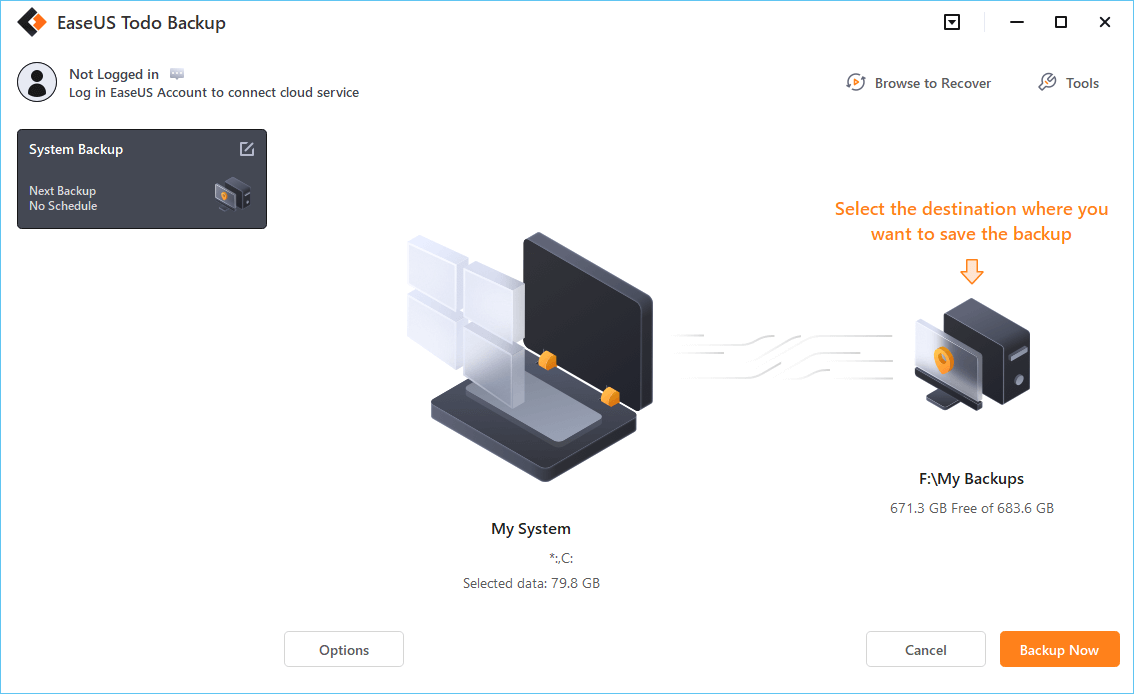 Step 4. Local Drive, Cloud, and NAS are available for you to save the backup file. You can also connect an external hard drive to preserve the system backup files.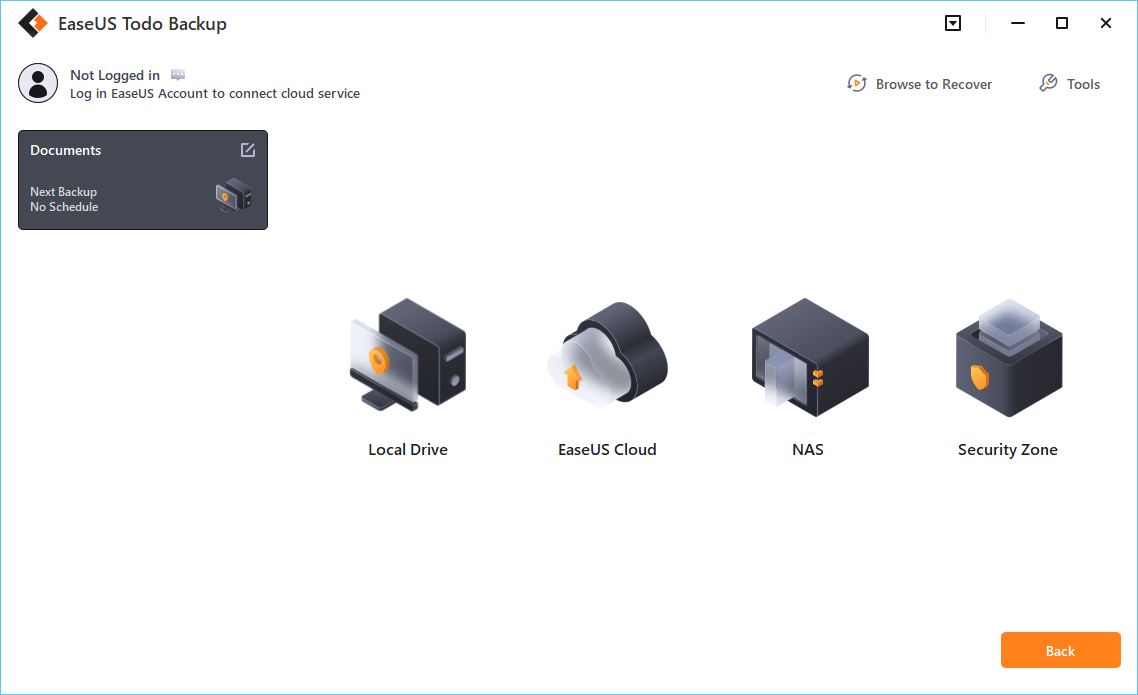 Step 5. You can customize the settings in "Options" at the left bottom. After that, click "Backup Now", and the process will begin.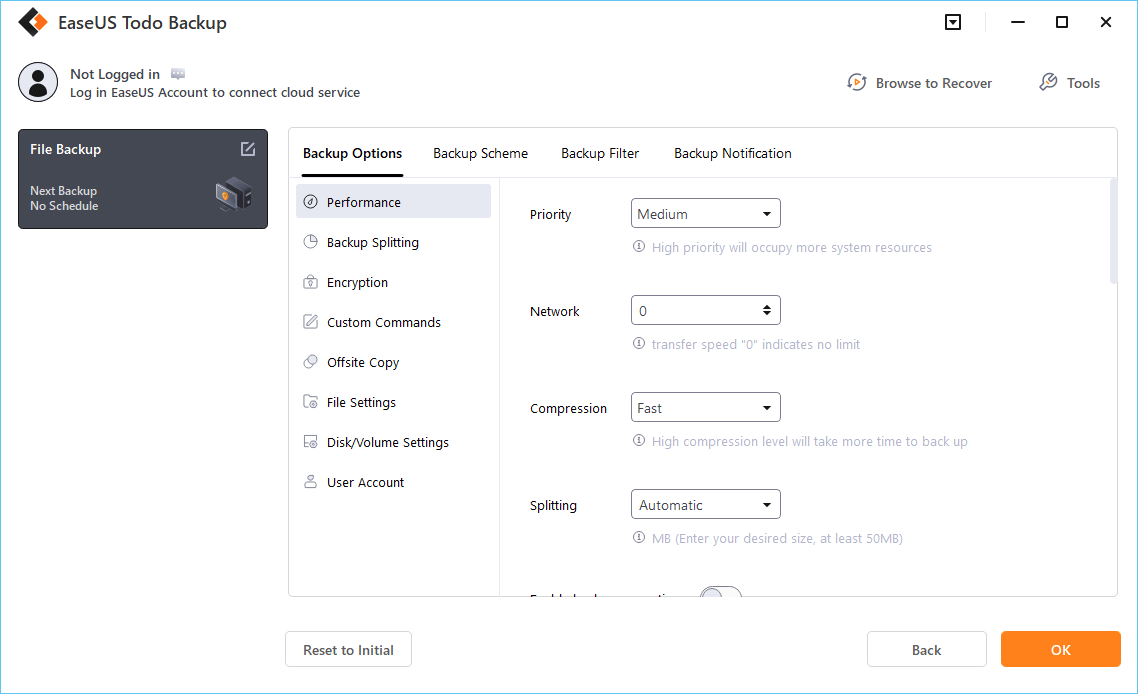 *After finishing the backup process, you can check the backup status, recover, open, or delete the backup by right-clicking the backup task on the left.
🎬Here is a YouTube video showing you how to use the built-in tool to backup Windows 10 PC to an external hard drive.
⏱️Time Stamp:
00:02 Backup your Windows 10 PC to an external hard drive
01:42 Backup your files every hour
03:04 Exclude some folders
FAQs
1. How do I backup my entire hard drive?
There are many ways to backup your hard drive. You can use Windows' built-in backup tool, or you can use a third-party backup tool. For the backup tool that comes with Windows, it is recommended to use Backup and Restore (Windows 7) to create a system image. For the third-party backup tool, we recommend you use EaseUS Todo Backup. You can either make a system backup or back up a whole disk or partition with it.
2. Do I need to backup my entire hard drive?
Backing up your entire hard drive is not required, but it is recommended. By backing up your entire hard drive, you will be able to restore your computer to its original state if something goes wrong.
3. How often should I backup my hard drive?
You must backup your hard drive at least once a week. However, if you are only backing up some of your files, you can backup them less frequently.
4. What happens if I don't backup my hard drive?
If you don't backup your hard drive, you run the risk of losing all your data if something goes wrong. For example, if your hard drive crashes, you will lose all your data unless you have a backup. Therefore, it is very important to regularly backup your hard drive.
Updated by Gemma
Gemma is member of EaseUS team and has been committed to creating valuable content in fields about file recovery, partition management, and data backup etc for many years. She loves to help users solve various types of computer related issues.
Taking everything into consideration, we can say that EaseUS Todo Backup Home can offer you a little extra sense of security with a set of advanced tools. The interface provides quick adaptation, every process guiding you all the way through so you don't get stuck or further damage your system rather than keeping it safe.

 Read More

EaseUS Todo Backup Free lets you create backups of your important files or your entire computer through its streamlined interface. Just choose the backup type you'd like to get started, and let the program do the reset.

 Read More

EaseUS includes all the features I expect from backup software like versioning, incremental backups, and scheduling. For more advanced users, EaseUS allows you to install a pre-boot environment onto your hard drive so you can use it to restore files without burning a CD or putting it on an external USB drive.

 Read More

EaseUS Todo Backup
Smart backup tool for your files and entire computer in Windows 10/8/7.
Install Windows on Multiple Computers at Once? No Problem!
Learn how to install Windows 11/10/7 and special programs/software on a batch of computers. Use 10 minutes to do the 10 hours work without making a single mistake!
Get Free Solution!