How to Automatically Backup to USB Drive When Plugged in
"Would you please recommend me an auto USB backup software that supports to automatically back up computer files to a USB drive when it is plugged in? Each time I want to back up the imported camera photos on my computer to a Toshiba USB flash drive, I have to insert the drive and then copy files down. It's so troublesome."
EaseUS Todo Backup Automatic backup software for backing up files to an external USB flash drive
It's a great idea to develop a piece of backup and recovery software that supports to backup files to not only internal hard drive but also external storage drive such as USB memory stick. Or even greater if the data files can be automatically backed up to a flash drive as soon as Windows detects and recognizes it.
In fact, EaseUS Todo Backup is such a backup program to create backups on your USB drive (including disk & partition, files, games, applications, system data...) in an automatic way. What's more, it's the most user-friendly software ever that makes files to USB drive backup super easy and fast.
How to backup/sync files to a USB drive automatically when plugged in
Next, download and install the Windows backup software on your Windows 10/8.1/8/7/Vista/XP computer. Prepare your USB flash drive (any brand and capacity of USB drive are supported, no matter it's 2/4/8/16/32/128GB SanDisk, Toshiba, Transcend, Lexar, Sony, Kingston or Samsung), and correctly connect it to the computer that has EaseUS Todo Backup installed.
To create backups to your USB drive automatically, follow the below steps:
Preparations:
Connect your USB to your computer
Download EaseUS Todo Backup
Step 1. Launch EaseUS Todo Backup and choose "File".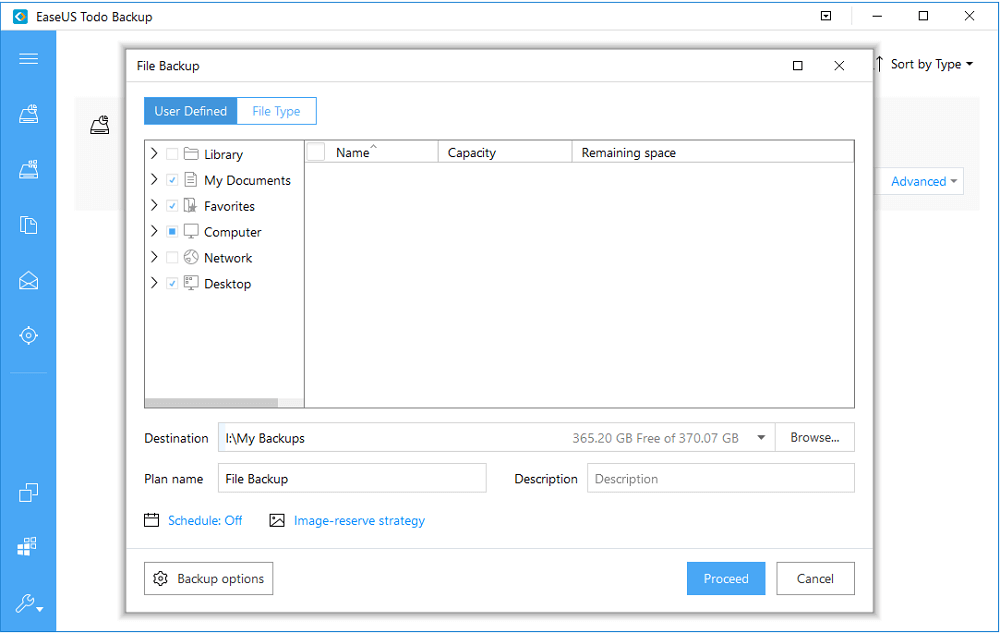 Step 2. Click "Browse" to decide a backup image location to save your files. Be aware of the "Schedule" part, and go to start a scheduled backup plan by setting "Upon event".
 Product News

EaseUS Todo Backup now supports users to back up files to the cloud. All you need to do is sign up with an EaseUS account, then you could enjoy a large cloud storage space. More advantages of backing up to the cloud include accessing backup files anytime and anywhere, saving file copies offsite, so you don't need to worry about virus attacks or computer failures, and easier and faster backup and recovery operations.
Upon event
The backup is to be automatically executed in the event of:
System startup - Backup runs automatically when the system starts up.
System shutdown - Backup runs automatically when the system is shut down.
User logon - Backup runs automatically when Windows logs in.
User logoff - Backup runs automatically when Windows logs off.
USB device plugged in - Backup runs automatically when the USB device is plugged in provided that it is set to be the destination.
Step 3. Choose start at "USB device plugged in..." and click "Save". Note the warning message, the automatic backup or copying will only happen to the exact device on which you created the task.
Step 4. After saving all changes, re-plug or reconnect your USB drive. Then when your computer recognizes the USB drive, the automatic copying and backup process starts.
Note: every new automatic backup plan requires the backup image saved at the last time, or else the backup software won't work as planned even it detects the same USB device.

Brithny is a technology enthusiast, aiming to make readers' tech life easy and enjoyable. She loves exploring new technologies and writing technical how-to tips. On her spare time, she loves sharing things about her favorite singer - Taylor Swift on her Facebook or Twitter.
Taking everything into consideration, we can say that EaseUS Todo Backup Home can offer you a little extra sense of security with a set of advanced tools. The interface provides quick adaptation, every process guiding you all the way through so you don't get stuck or further damage your system rather than keeping it safe.

 Read More

EaseUS Todo Backup Free lets you create backups of your important files or your entire computer through its streamlined interface. Just choose the backup type you'd like to get started, and let the program do the reset.

 Read More

EaseUS includes all the features I expect from backup software like versioning, incremental backups, and scheduling. For more advanced users, EaseUS allows you to install a pre-boot environment onto your hard drive so you can use it to restore files without burning a CD or putting it on an external USB drive.

 Read More

EaseUS Todo Backup
Smart backup tool for your files and entire computer in Windows 10/8/7.