"Would you please recommend me an auto USB backup software that supports to automatically back up computer files to a USB drive when it is plugged in? Each time I want to back up the imported camera photos on my computer to a Toshiba USB flash drive, I have to insert the drive and then copy files down. It's so troublesome."
EaseUS Todo Backup Automatic backup software for backing up files to an external USB flash drive
It's a great idea to develop a piece of backup and recovery software that supports to backup files to not only internal hard drive but also external storage drive such as USB memory stick. Or even greater if the data files can be automatically backed up to a flash drive as soon as Windows detects and recognizes it.
In fact, EaseUS Todo Backup is such a backup program to create backups on your USB drive (including disk & partition, files, games, applications, system data...) in an automatic way. What's more, it's the most user-friendly software ever that makes files to USB drive backup super easy and fast.
How to backup/sync files to a USB drive automatically when plugged in
Next, download and install the Windows backup software on your Windows 10/8.1/8/7/Vista/XP computer. Prepare your USB flash drive (any brand and capacity of USB drive are supported, no matter it's 2/4/8/16/32/128GB SanDisk, Toshiba, Transcend, Lexar, Sony, Kingston or Samsung), and correctly connect it to the computer that has EaseUS Todo Backup installed.
To create backups to your USB drive automatically, follow the below steps:
Preparations:
Connect your USB to your computer
Download EaseUS Todo Backup
Step 1. Launch EaseUS backup software and choose "File Backup" option to make USB auto copy files when plugged in.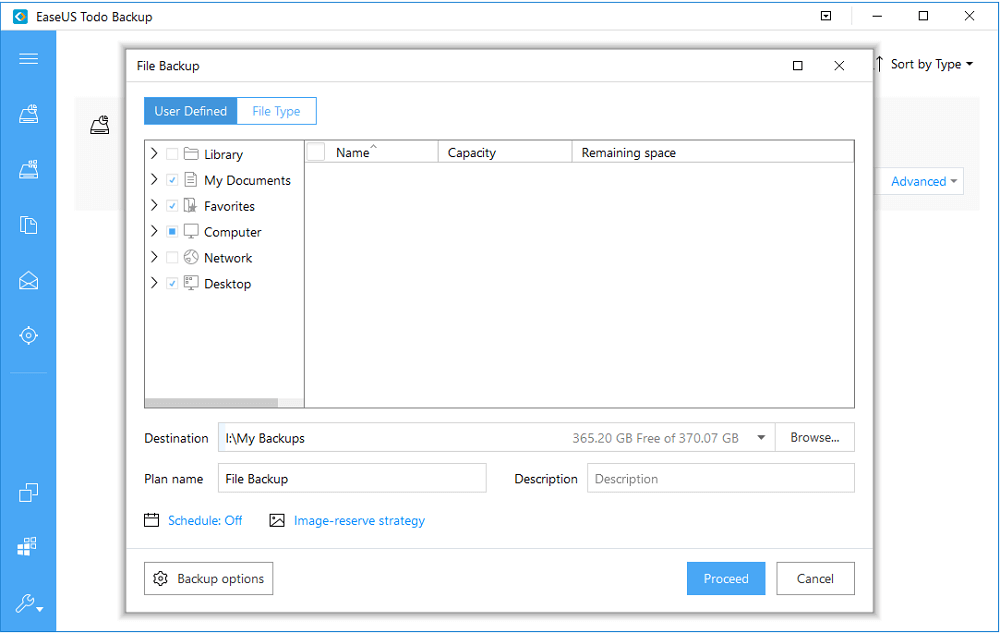 Step 2. Decide a backup image location to save your files. Be aware of the "Schedule" part, and go to start scheduled backup plan by setting "Upon event".
Upon event
The backup is to be automatically executed in the event of:
System startup - Backup runs automatically when the system starts up.
System shutdown - Backup runs automatically when the system is shut down.
User logon - Backup runs automatically when Windows logs in.
User logoff - Backup runs automatically when Windows logs off.
USB device plugged in - Backup runs automatically when the USB device is plugged in provided that it is set to be the destination.
Step 3. Choose start at "USB device plugged in..." and click "Save". Note the warning message, the automatic backup or copying will only happen to the exact device on which you created the task.
Step 4. After saving all changes, re-plug or reconnect your USB drive. Then when your computer recognizes the USB drive, the automatic copying and backup process starts.
Note: every new automatic backup plan requires the backup image saved at the last time, or else the backup software won't work as planned even it detects the same USB device.