Why need to clone Windows 7 hard drive to a new one
Have you just upgraded your operating system from Windows XP or Vista to Windows 7 on your old hard drive? However, after installation, you may find that there is not enough space on your hard drive and you always get an error message "Low disk space" popping up every minute.
This problem may be solved with the free partition manager software by extending the system partition with the free space. However, if your old disk runs out of space and all the files on the hard drive such as your precious photos, favorite films, etc. cannot be deleted, then you need to upgrade to a new and bigger drive.
In this situation, a professional disk clone and backup software working with Windows 7 will help to upgrade the old disk to a new and bigger one with all the content with you.
Best Windows 7 disk cloning software
EaseUS Disk Copy enables you to clone or move Windows 7 to a new drive. Moreover, its latest version has been released such as  Windows 11/10/8/7, etc are all supported.
Besides upgrading to a new hard disk, if you want to buy a new computer to replace your old one, EaseUS Disk Copy with recover to dissimilar hardware function would allow you to migrate your data to the new computer without reinstalling the Windows.
Actually, the way to clone a Windows system disk or other non-system disks to a new one would be much safer and more convenient than reinstalling Windows and loading all applications all over again. Please follow the detailed step-by-step instructions to clone the disk. Before that, you may download and install a full version of this EaseUS software and then start.
How to Clone Windows 7 Disk with Best EaseUS 
Prior Notice:
The "Sector by sector copy" asks the size of your destination disk to be at least equal to or larger than that of the source disk. Leave this feature unchecked if you wish to clone a larger hard disk to a smaller hard disk.
All data on the destination disk will be completely erased, so take care.
Step 1. To start copying/cloning an entire disk to another, choose this disk as the source disk under "Disk Mode" and click "Next".
Step 2. Choose the other disk as the destination disk.
Step 3. Check the disk layout of the two disks. You can manage the disk layout of the destination disk by selecting "Autofit the disk", "Copy as the source" or "Edit disk layout". 
"Autofit the disk" makes some changes by default on the destination disk layout so that it can work at its best status.
"Copy as the source"does not change anything on destination disk and the layout is the same as source disk.
"Edit disk layout" allows you to manually resize/move partition layout on this destination disk.
Tick the "Check the option if the target is SSD" option to put your SSD in its best performance.
A message now appears, warning you that data will be lost. Please confirm this message by clicking "OK" and then click "Next".
Step 4. Click "Proceed" to officially execute the task.
🪁Tips: If you want to boot the computer from the cloned disk, please use the Disk clone function, because only cloning the C partition cannot ensure you can boot the computer from the cloned disk.
Besides disk cloning disk, EaseUS Disk Copy also supports sector-by-sector cloning, and is compatible with various types of HDDs and SSDs.
Bonus Tip: Boot From the Cloned Disk Successfully
After successful disk cloning, you can replace and upgrade the hard drive with the cloned disk:
Scenario 1. If you plan to replace the hard drive with the cloned one:
Shut down your device > unplug the old hard drive > insert the cloned hard drive > restart your computer > boot from the cloned disk automatically.
Scenario 2. If you plan to keep both the old hard drive and the cloned disk:
Restart the PC and press hotkey(F2/F8/F12) to enter the BIOS settings > Choose the cloned disk as the boot drive under the boot tab > save changes > Restart your PC again > Boot from the cloned disk.
Was this page helpful? Your supoport is truly important to us!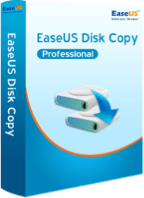 EaseUS Disk Copy
EaseUS Disk Copy is a well designed and very easy-to-use HDD/SSD cloning and migration tool, a tool which should be ideal for anyone wanting to quickly and easily migrate an existing system disk to a new disk (or newly installed SSD drive) with the minimal of configuration required.
Updated by

Larissa has rich experience in writing technical articles. After joining EaseUS, she frantically learned about data recovery, disk partitioning, data backup, and other related knowledge. Now she is able to master the relevant content proficiently and write effective step-by-step guides on computer issues.…

Read full bio

Written by

Brithny is a technology enthusiast, aiming to make readers' tech lives easy and enjoyable. She loves exploring new technologies and writing technical how-to tips. In her spare time, she loves sharing things about her favorite singer - Taylor Swift on her Facebook or Twitter.…

Read full bio