How to Clone Encrypted Hard Drive to SSD/HDD
Which Program Supports Cloning Encrypted Hard Drive
"Does anyone know which disk cloning software fully supports cloning the encrypted hard drive? I got two computers, and the memory of one now needs upgrading to a larger size HDD, while the other I'm thinking to replace it with a Solid State Drive. I use TrueCrypt and BitLocker by the way."
To keep data security and prevent privacy leaks, many businesses are getting used to applying Windows encryption feature or some third-party drive encryption software to encrypt the hard drive, giving anyone else no access to the disk data unless he/she knows the hardware code or encryption password.
When it comes to cloning a hard drive that is encrypted/locked, people encountered many obstacles like the encrypted hard drive is recognized as an unknown hard drive. If they want to clone the encrypted hard drive, without a password, they may use the sector-by-sector clone software to make this work. But it's better to unencrypt your hard drive in advance to make sure that the cloned data can be used.
However, they don't know what software is the best to clone a hard drive to SSD or HDD, and some of whom cloned encrypted hard drive successfully cannot boot from the target drive, which is also encrypted as the source disk. In a word, they failed to clone the encrypted hard drive in various scenarios.
EaseUS Todo Backup Guide: Sector-by-sector Clone Encrypted Hard Drive to HDD/SSD
When you failed to clone the encrypted hard drive, no matter what cloning program you were using, it's time to switch to EaseUS Todo Backup, which allows sector-by-sector clone for any encrypted hard drive to SSD or HDD with a larger capacity.
By using EaseUS Todo Backup to clone an encrypted hard drive, technically, the target disk will also in an encryption state, just the same as the source disk. You can try either clone an encrypted hard drive directly or decrypt/unlock the source disk before cloning, in this case, the target disk won't require an encryption password.
 Tip

You can definitely use EaseUS software to clone an encrypted hard drive, however, if the exact hard drive has OS installed, to ensure a normal boot from the cloned hard drive, please make sure that you decrypted the hard drive before taking the following steps to start the clone.
1. Launch EaseUS disk cloning software and click Clone. And then select the source hard disk you want to clone.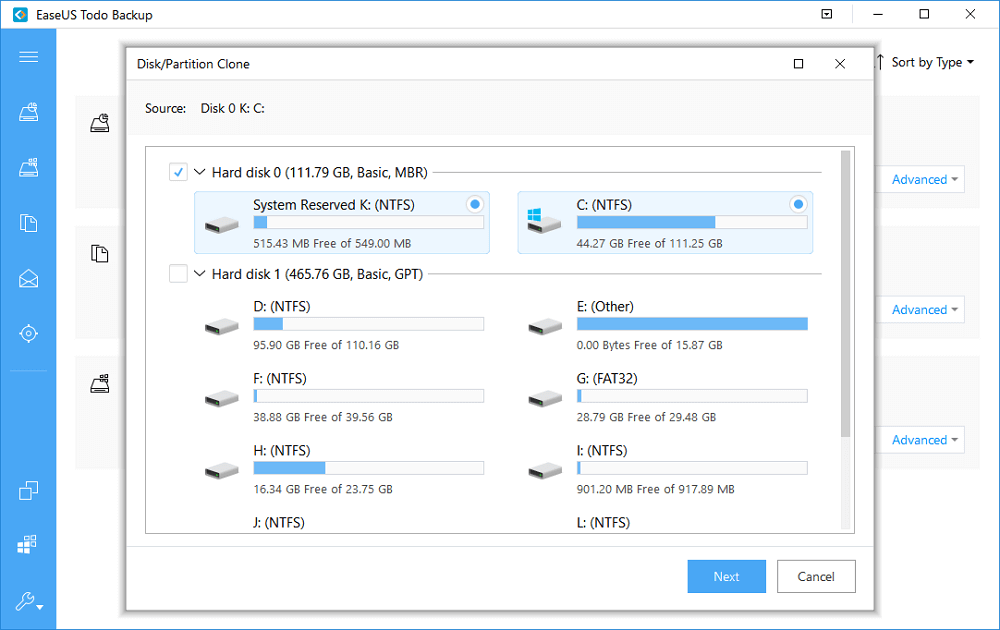 2. Select the destination disk.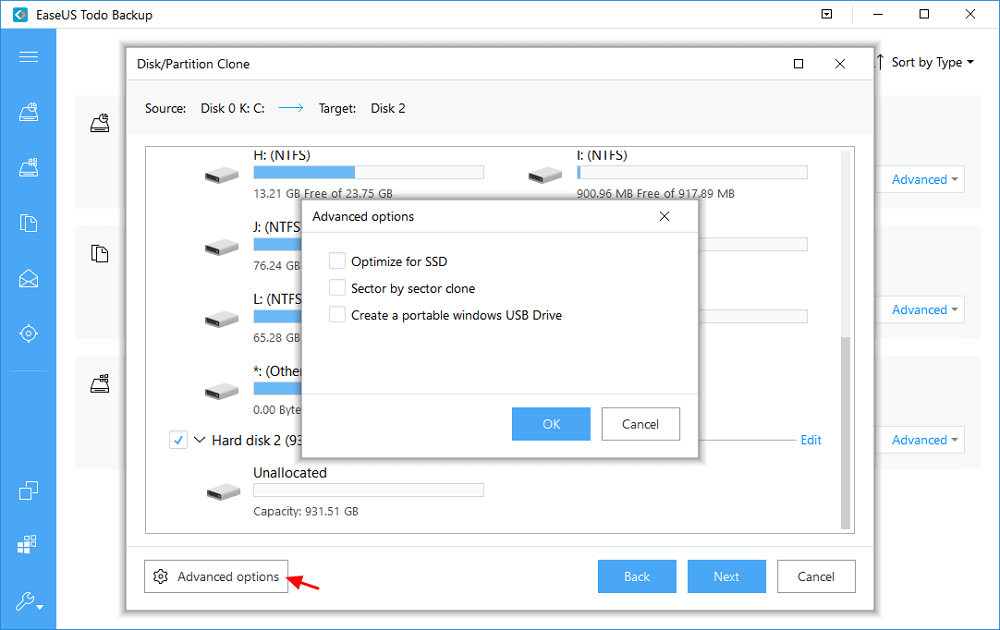 Tips: 
The destination disk could be a hard disk or an SSD. It must have enough space.
Optimize for SSD - If the destination disk is an SSD, checking this option will ensure sector alignment in the process.
Sector by sector clone - A sector by sector clone ensures that the destination hard disk/partition is exactly the same as the source hard disk/partition. It will clone all the sectors if the option is checked, even if the sector is blank.
Create a Portable Windows USB drive - This option ensures that the cloned USB system disk is able to boot normally.
3. Preview the disk layout after cloning. Finally, you can click Proceed to clone one hard drive to another with one click.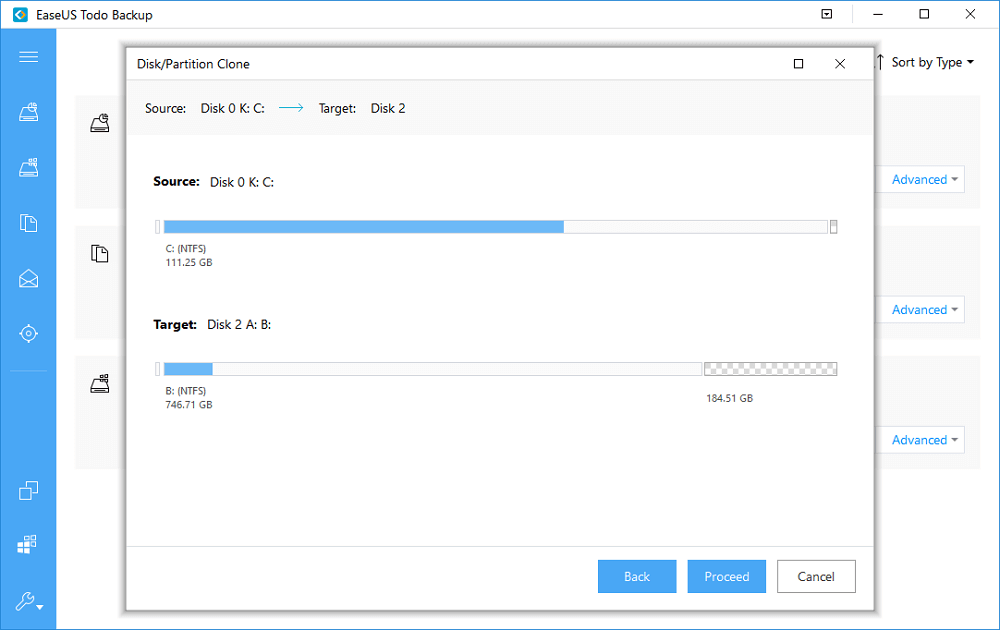 Gemma is member of EaseUS team and has been committed to creating valuable content in fields about file recovery, partition management, and data backup etc for many years. She loves to help users solve various types of computer related issues.
Written by Tracy King 
Tracy joined in EaseUS in 2013 and has been working with EaseUS content team for over 7 years. Being enthusiastic in computing and technology, she writes tech how-to articles and share technical solutions about Windows & Mac data recovery, file/system backup and recovery, partition management and iOS/Android data recovery.
Taking everything into consideration, we can say that EaseUS Todo Backup Home can offer you a little extra sense of security with a set of advanced tools. The interface provides quick adaptation, every process guiding you all the way through so you don't get stuck or further damage your system rather than keeping it safe.

 Read More

EaseUS Todo Backup Free lets you create backups of your important files or your entire computer through its streamlined interface. Just choose the backup type you'd like to get started, and let the program do the reset.

 Read More

EaseUS includes all the features I expect from backup software like versioning, incremental backups, and scheduling. For more advanced users, EaseUS allows you to install a pre-boot environment onto your hard drive so you can use it to restore files without burning a CD or putting it on an external USB drive.

 Read More

EaseUS Todo Backup
Smart backup tool for your files and entire computer in Windows 10/8/7.