Some users welcome reloading Windows 10 but may be tempered by things to backup before reinstalling Windows. This guide walks you through a backup checklist and how to do it with free backup software.
Before reinstalling Windows, it's essential to figure out why you want to do it. Are you having performance issues? Are you trying to get rid of a virus? Or are you simply looking for a fresh start? Once you know your reasons, you can reinstall with confidence. But wait for a while. That said, there are a few potential drawbacks to reinstalling Windows.
If you don't back up your files first, you could lose important data. And if you don't know what software you're using, the process can be time-consuming and frustrating. We recommend taking the time to prepare and do your research. Reinstalling Windows can be a great way to fix problems and breathe new life into your PC.
Preparation: You Must Have!
1. Download a new performance-based software - EaseUS Todo Backup Free.
EaseUS Todo Backup Free is a free backup and restore solution for all data. It offers a simple and convenient way to backup and restore all data with just a few clicks, supporting full, incremental, and differential backups. This software runs on Windows 10/11, but the functions apply to all versions of Windows.
2. Scan your drive with anti-virus software. Surely we don't want to back up some virus-infected files that harm your new OS again.
What to Backup Before Reinstalling Windows?
It seems that almost every time I re-install windows on my PC, I end up forgetting to back up something......it never ceases to amaze me how often I forget to backup something (sometimes important, sometimes trivial) -
superuser.com
Well, it's a question that comes from a long time ago but is keep bothering other people. Follow to see things to do before resetting windows 10.
1. Backup personal data - IDs, login passwords, settings, accounting data file (like Quickbook), Paper.
When reinstalling Windows, it is essential to back up personal data such as IDs, login passwords, settings, and accounting data files. This will ensure that all of the necessary information is preserved and can be easily restored after the reinstallation is complete. Backing up this data beforehand will save time and frustration in the long run.
2. Back up all files (from Microsoft Office or other file processors), Email, video, and audio.
You will need to back up all of your files whenever you reinstall Windows. This includes any files you have created using Microsoft Office or other file processors, as well as any Email, video, or audio files you have. Without backing up your files, you risk losing them forever. 
3. Backup bookmarks/favorites (Chrome, Firefox, Edge, etc.)
Holding the password of each account on the browser is not a once for all approach.
If anything goes wrong with the upgrade, you'll still have access to all your favorite websites.
4. Back up applications and drivers.
The main reason to back up the latest applications and drivers is to prevent data loss in the event of a system crash or other unforeseen problem. It is always a good idea to have a backup in case you need to roll back to a previous version of an application or driver.
5. Back up the database for the Server computer.
Backing up your database ensures that you have a copy of all your data in case something goes wrong during reinstallation.
Video Guide - The Definitive Checklist to Reinstalling Windows 10
00:00:39 - Backup your files
00:02:14 - Sync and save your settings
00:03:20 - Save a list of your applications and product keys
00:05:32 - Extract settings from your apps
00:06:30 - unlink apps / remove PC associations
00:07:21 - Keep drivers / installation files ready
00:08:58 - Write down drive letters and Windows product key
How Do I Backup My Computer Before Reinstalling Windows?
Steps to back up all critical files to an external hard drive:
Step 1. To begin the backup process, click the Select backup contents button.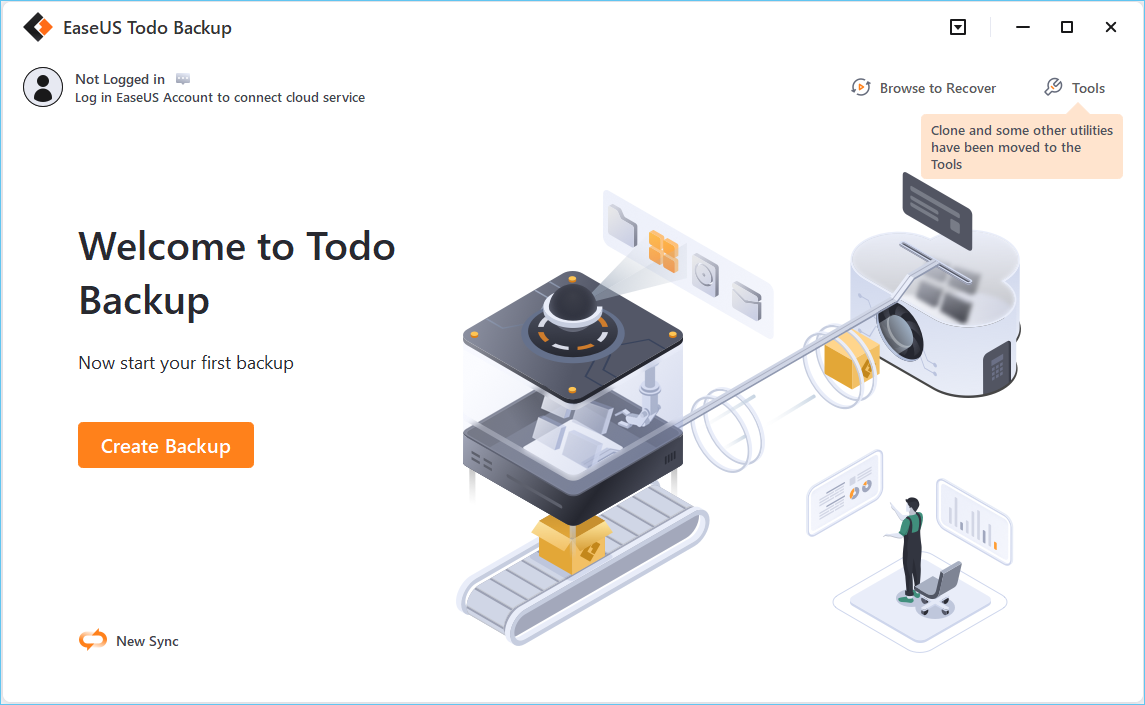 Step 2. Four data backup categories are listed: File, Disk, OS, and Mail.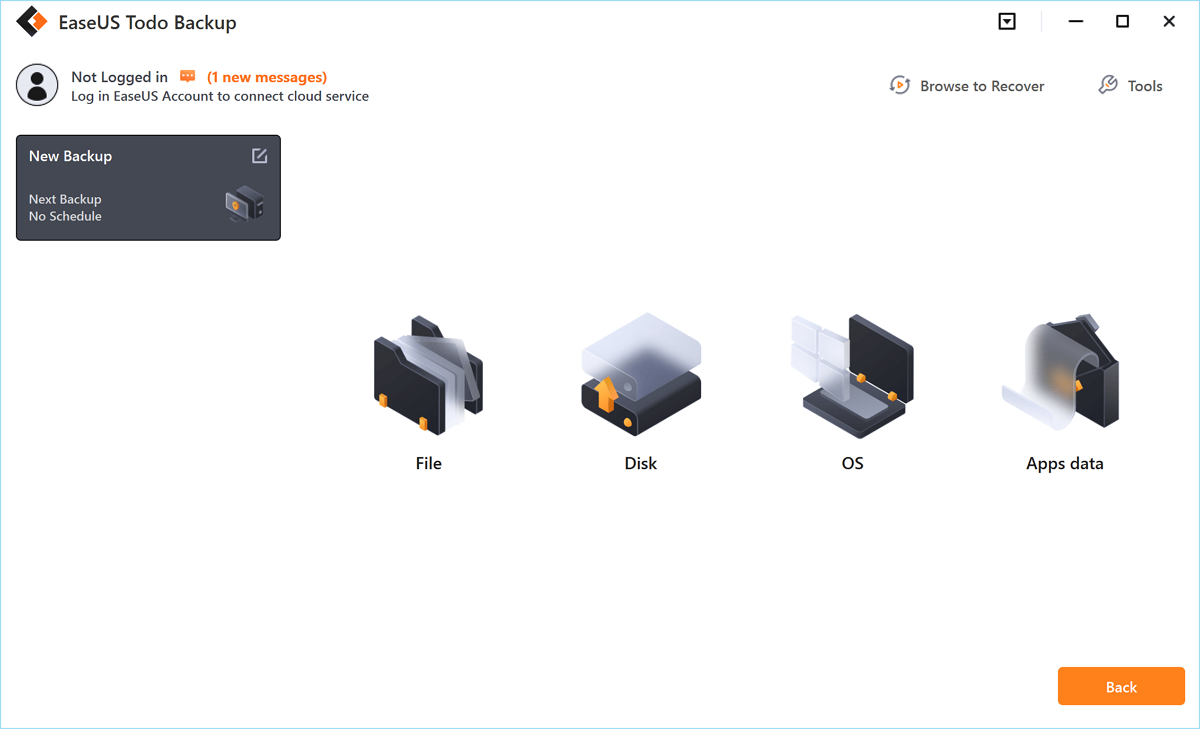 Step 3. Lists of both local and network files are shown on the left-hand side of the screen. Expanding the directory so that you can choose the files to back up.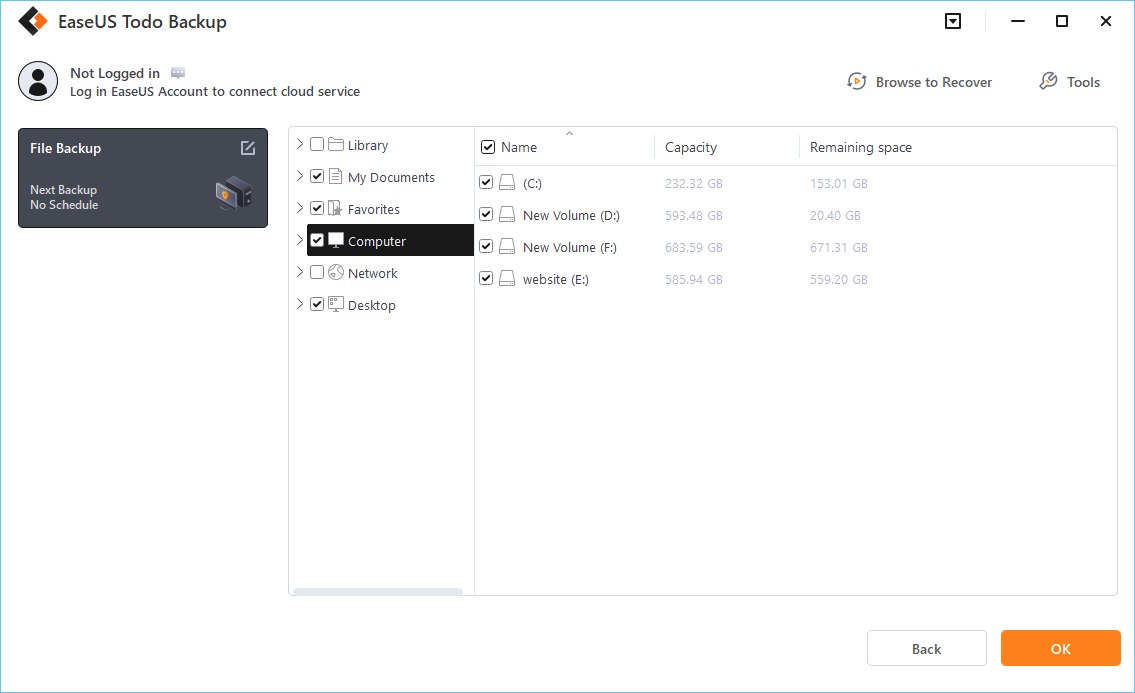 Step 4. Follow the guidance on the screen and choose the place where you want to store the back up.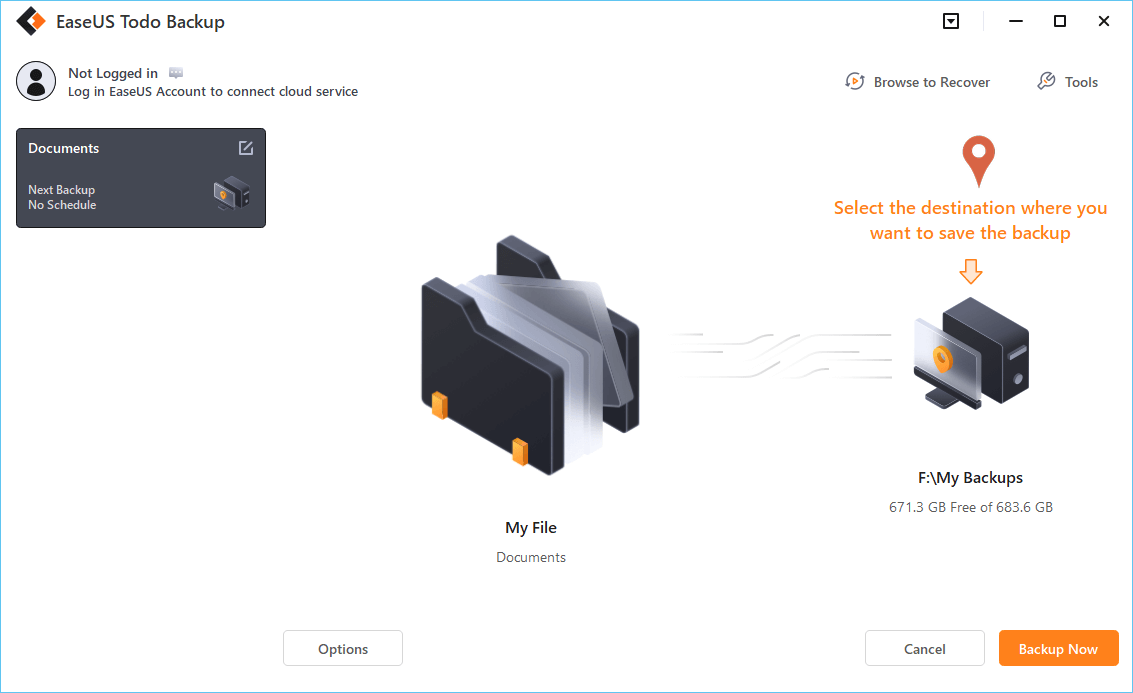 Make sure that the backup is encrypted and set the backup schedule by clicking Options in Backup Options. You can also choose to start the backup at a certain time in Backup Scheme by clicking Options. There are many other customizable options that you can look into.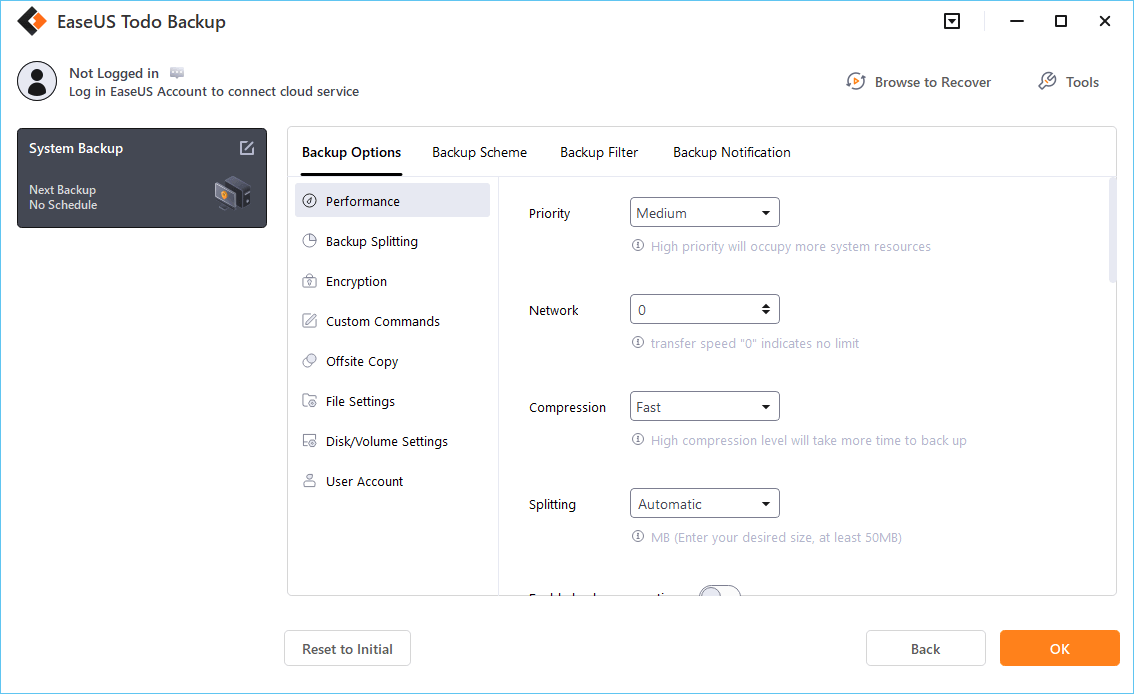 Step 5. You can store the backup file either on your computer, in EaseUS's cloud service, or on a network-attached storage device (NAS).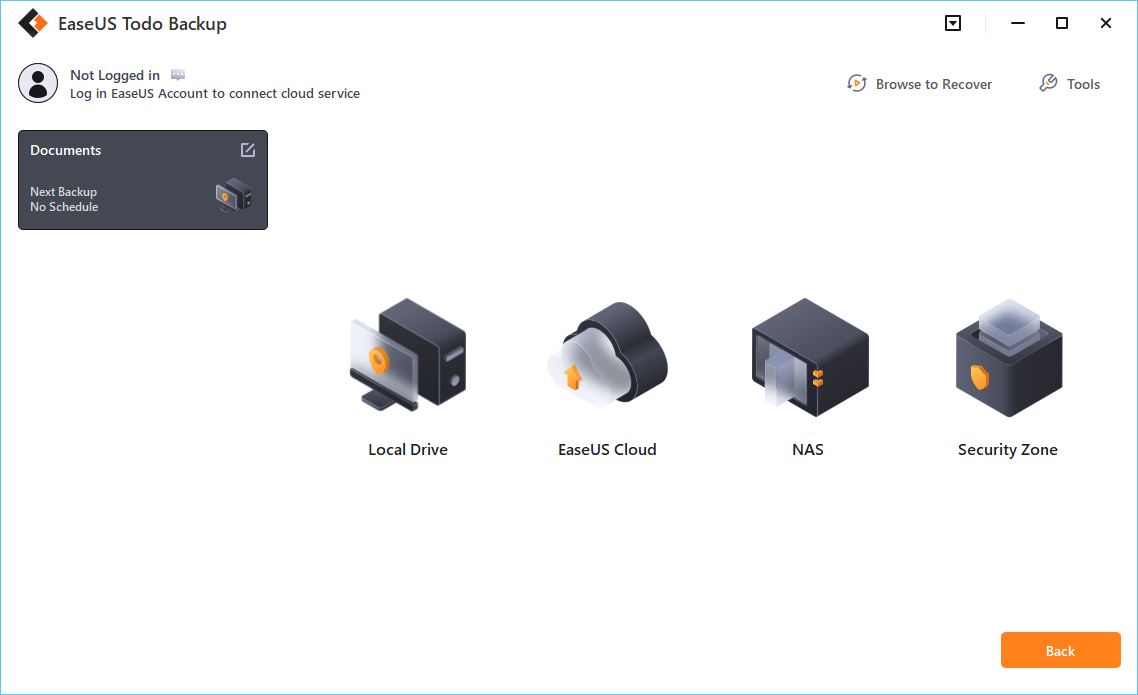 Step 6. EaseUS Todo Backup enables customers store backup copies of their files on a third-party cloud drive or on the company's own cloud storage.
If you want to back up your data on a third-party cloud drive, select Local Drive and scroll down to add Cloud Device. Then fill in your account information.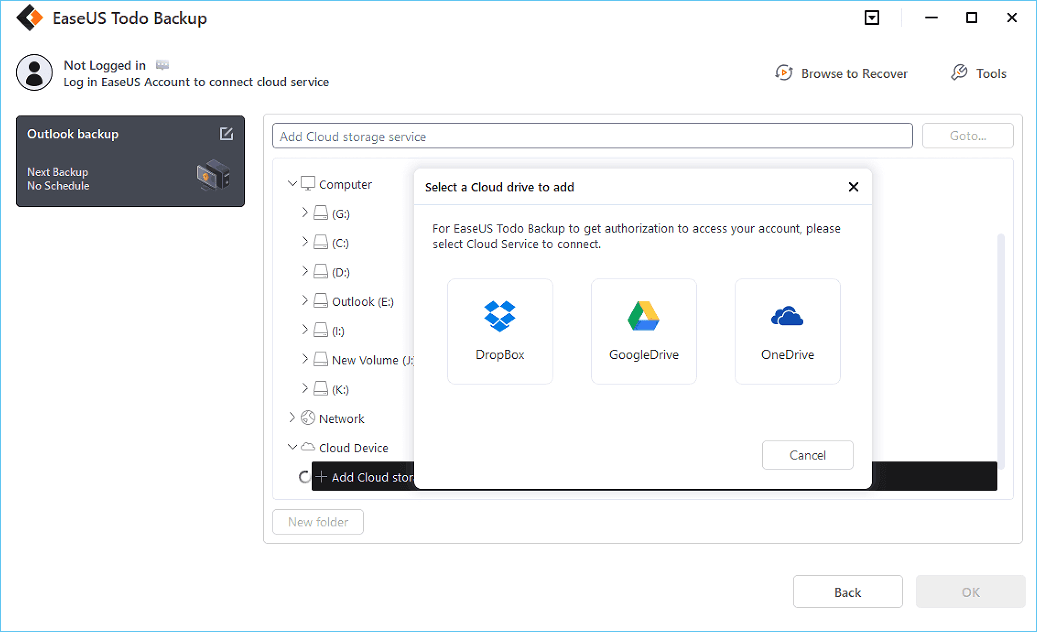 Click EaseUS Cloud, then sign up and log in with your EaseUS account if you wish to store backup files to EaseUS' own cloud storage service.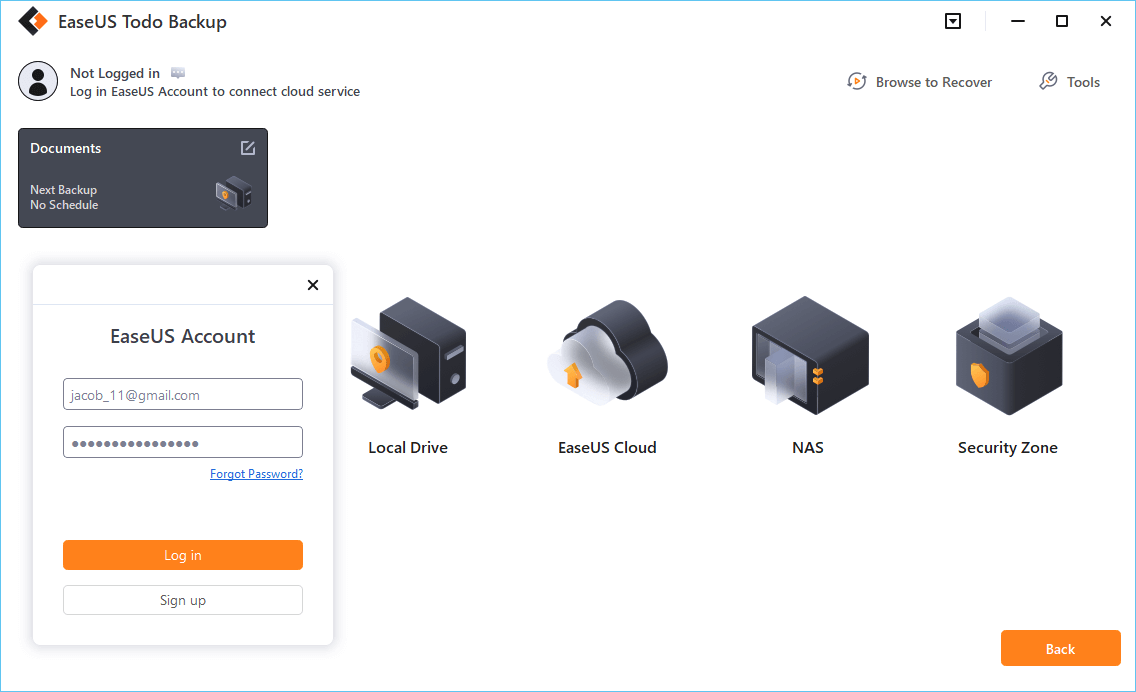 Step 7. Click on Backup Now to start a backup.  When the backup process is done, it will display as a card on the left-hand side of the screen. A right-click will let you see more about how to handle the backup job in more depth.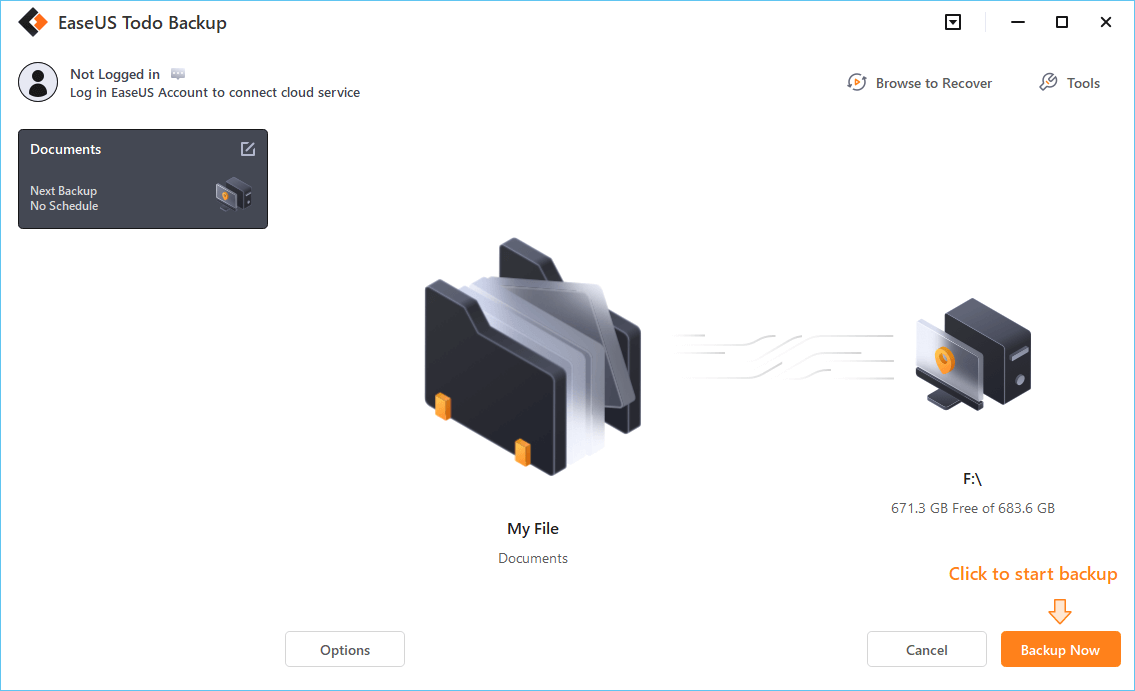 After using the best free backup software for windows 10, you can continue to install windows 10 without losing data. Then go to the next part for restoring data files as the same.
Restore from Backup After Reinstalling Windows
Step 1. Launch EaseUS Todo Backup, click "Browse to Recover".
Step 2. Guide to your backup destination, choose the backup file you want to recover. (The backup file created by EaseUS Todo Backup is a pbd file.)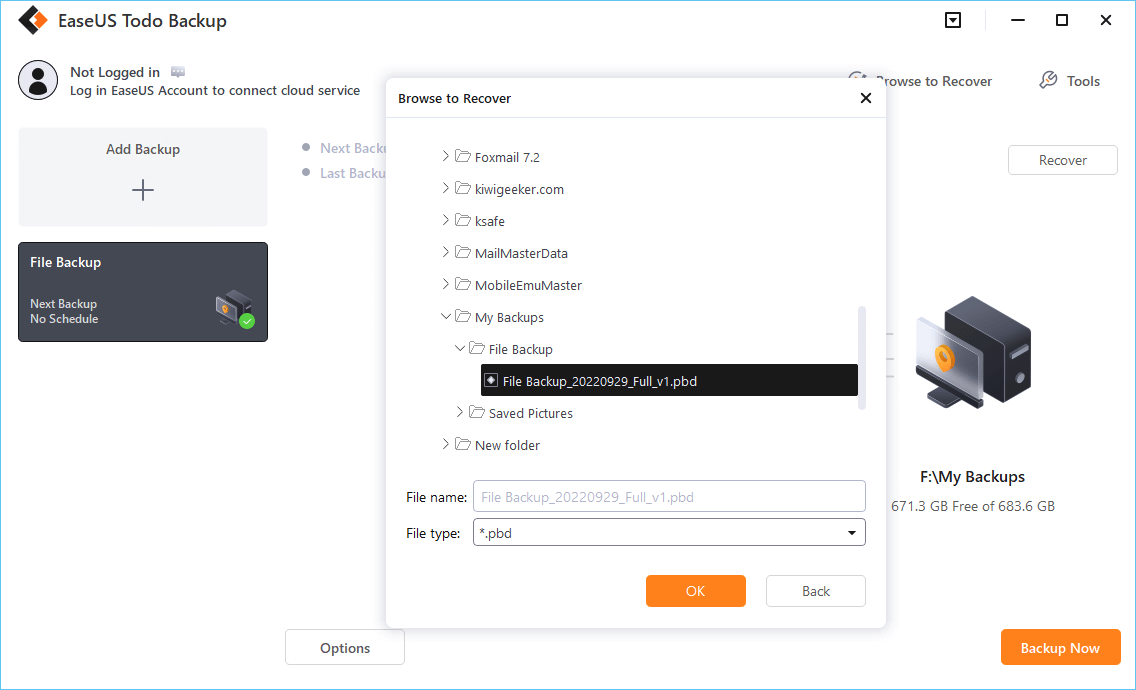 Step 3. Choose the recovery location. You can recover data to a specific location or to original location.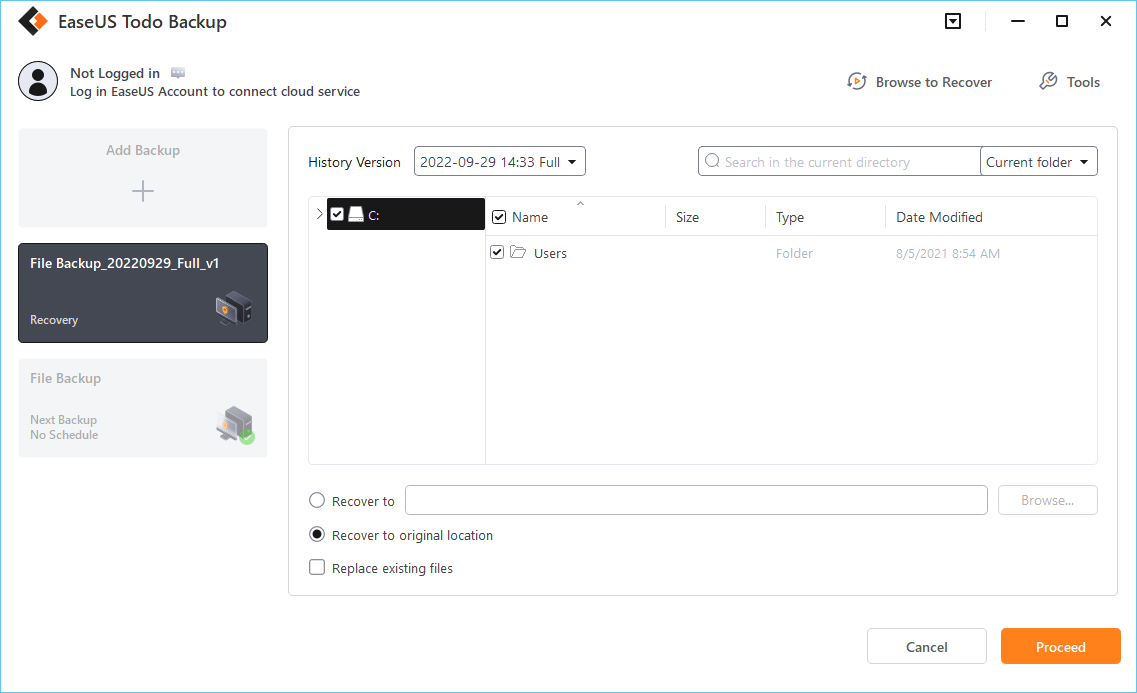 Step 4. Click "Proceed" and the recovery would start.
Backup Before Reinstalling Windows FAQs
1. Do I need to backup my files before reinstalling Windows 10?
You need to backup to prevent reinstalling crashes during a clean install.
2. What folders to backup when reinstalling Windows? -Reddit
It contains all your files, such as photos, music, and documents. Backing up this folder will ensure you do not lose any critical data. 
It contains a lot of information about your installed programs and settings.
It contains shortcuts to your most-used programs and files.
3. Do I really need to back up everything when installing Windows 10 - quora.com
If you keep your files, you will not need to back up everything as Windows 10 will automatically save them. However, if you choose to do a clean install, you must back up any personal files you want to keep before proceeding.
4. How to reinstall Windows 10 without losing any games or app? - quora.com
You can create a backup of all your important files, including any game saves you don't want to lose. Then, uninstall any apps you want to keep using after the reinstall. Reinstall OS and restore apps.
5. Would backing up my files and then performing a clean install prevent Windows 10 from breaking down? - quora.com
While this may prevent Windows 10 from breaking down in the short term, it is not a long-term solution. Over time, as more files are added, and more software is installed, the chances of Windows 10 breaking down again increase.

Roxanne is one of the main contributors to EaseUS and has created multiple posts on digital devices like PCs, Mobile phones, tablets, Mac, etc. She loves to share ideas with people of the same interest.
Taking everything into consideration, we can say that EaseUS Todo Backup Home can offer you a little extra sense of security with a set of advanced tools. The interface provides quick adaptation, every process guiding you all the way through so you don't get stuck or further damage your system rather than keeping it safe.

 Read More

EaseUS Todo Backup Free lets you create backups of your important files or your entire computer through its streamlined interface. Just choose the backup type you'd like to get started, and let the program do the reset.

 Read More

EaseUS includes all the features I expect from backup software like versioning, incremental backups, and scheduling. For more advanced users, EaseUS allows you to install a pre-boot environment onto your hard drive so you can use it to restore files without burning a CD or putting it on an external USB drive.

 Read More

EaseUS Todo Backup
Smart backup tool for your files and entire computer in Windows 10/8/7.
Install Windows on Multiple Computers at Once? No Problem!
Learn how to install Windows 11/10/7 and special programs/software on a batch of computers. Use 10 minutes to do the 10 hours work without making a single mistake!
Get Free Solution!