Can you imagine attaining 100GB of free cloud storage? Yes, it's possible, owing to a wide range of service providers. But before getting started, let's find out how big 100GB of cloud storage is and how many files you can store there. 
For movie lovers, 100GB of cloud storage allows you to store a total of 8 1080p HD movies of 10GB each. If you like capturing moments and storing them on your PC, then the 100GB cloud storage can be your mood booster. 
Here, you can store more than 3000 pictures of 3 to 4MB each. Also, those who are passionate about reading can save around 5000 ebooks! Now, that sounds exciting.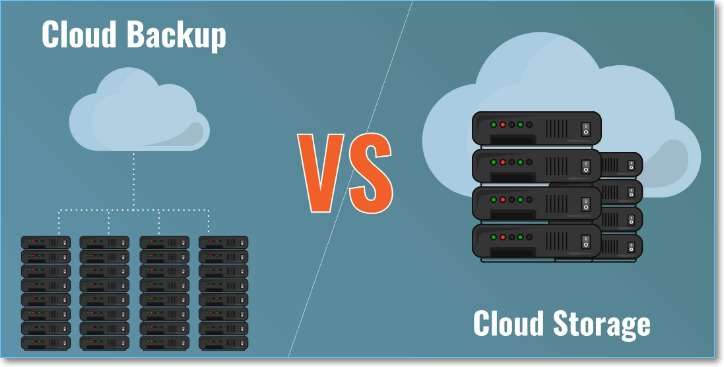 How to Get 100GB of Free Cloud Space
Most cloud storage available in the market provides only a specific limit of storage. It ranges from 2GB to 15GB. But, to unlock the complete storage facility, you need to pay hefty subscription fees. 
However, a few cloud storage providers, including Degoo, Mega, etc., allow you to use as much as 50-100GB. In a few cloud storage options, users can gain extra storage space with some tricks, such as referrals. 
Here is the list of cloud drive products: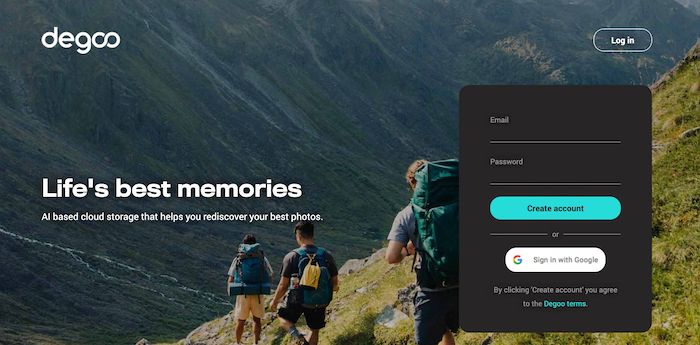 Degoo, one of the top-notch AI-based cloud storage service providers, offers 10TB with subscription fees. However, you can get 100GB of free storage with it. This secure cloud storage allows you to store, access, and share your files, photos, and movies through a web browser, tablet, and smartphone. 
It's not a sync software like OneDrive, Dropbox, and Google drive. Instead, it's a backup system. To be more precise, you can back up your videos, documents, and photos from a hard drive. However, you must pay keen attention to your account's active status, as Degoo might delete your files after 90 days.
There's a fantastic way to get more online storage on this platform! For that, visit your Degoo account after you sign up, then tap on the 'Get Extra Space' option. Then the platform will ask you to watch ads, invite friends or upgrade your account to get some extra free space!
Pricing plan for paid version: 
While the cloud storage offers 100GB space for free, to gain access to its 10TB and 500GB cloud space, you need to pay $9.99 and $2.99 per month.
Key features
256-bit end-to-end encryption
Intuitive and simple interface
Storage maximizer tool
MEGA is the second-most popular cloud storage that offers free 50GB space, which is enough to store your best memories! However, free access to 50GB of storage space is available only for the first month after signing up. When the period is over, you will be restricted to 15GB of storage space.
But you can get extra free space by accomplishing the MEGA Achievement. If you install MEGASync on your device, you can enjoy a 40GB bonus transfer and 20GB bonus storage. Also, upon installing the MEGA mobile app, you can get an extra 30GB bonus transfer and 15GB bonus storage. 
Moreover, just by inviting your friends to join MEGA, you can get a 20GB bonus transfer and 10GB bonus storage! However, the bonus comes for a limited timeline of 180 days.
Pricing plans for the paid version
MEGA allows you to use a total of 16TB storage at  30 USD/month. For 8TB, 2TB, and 400GB storage, the money subscription fee is 20, 10, and 5 USD respectively.
Key features
AES-128 end-to-end encryption
Lucid source code
Compliant with GDRP
Supports 2FA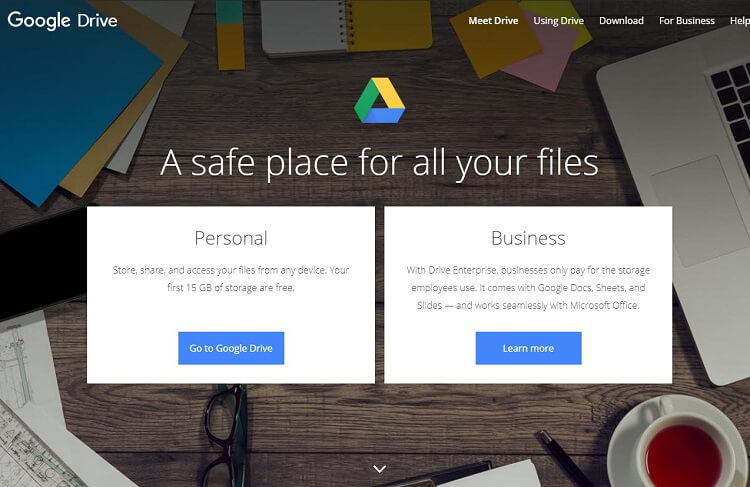 Google Drive is probably the most-talked-about cloud storage that provides 15GB of free space. If you are a new cloud user looking for storage to connect with Google Photos and Gmail, it is undeniably your best bet!
In fact, by completing a certain task, you can unlock an extra 2GB of free space. Additionally, both the free and paid version equips you with some cool features, including Slides, Sheets, Docs, translation, and so on!
The best part about Google Drive is that it can be accessed through Android and iOS devices. With the wide array of exciting features, the popularity of Google Drive makes sense.
Pricing plans for the paid version
Well, the monthly subscription fee for Google Drive is way more affordable than most cloud storage. While the basic plan (100GB) starts from 2 USD/month, the premium plan (2TB) comes at 8 USD.
Key features
Easy team collaboration
Share files with anyone
Automatic conversation of files to docs editor format
Starred files and folders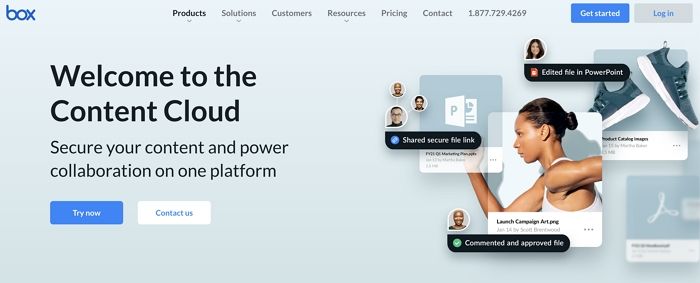 With Box, you can relish free cloud storage of 10GB. The storage drive is well-compatible with more than 1400 storage services, including G Suite, Office 365, Netsuite, Salesforce, Okta, DocuSign, etc. However, the only drawback is there's no such way to increase the free storage.
Pricing Plans for the paid version
The monthly paid membership for Box starts from $25 for a basic business plan and rises to $35 for enterprise-level backup and storage solutions.
Key features
Avert data breaches with Box Shield
Advanced backup policies
Compliant with multiregional data residency needs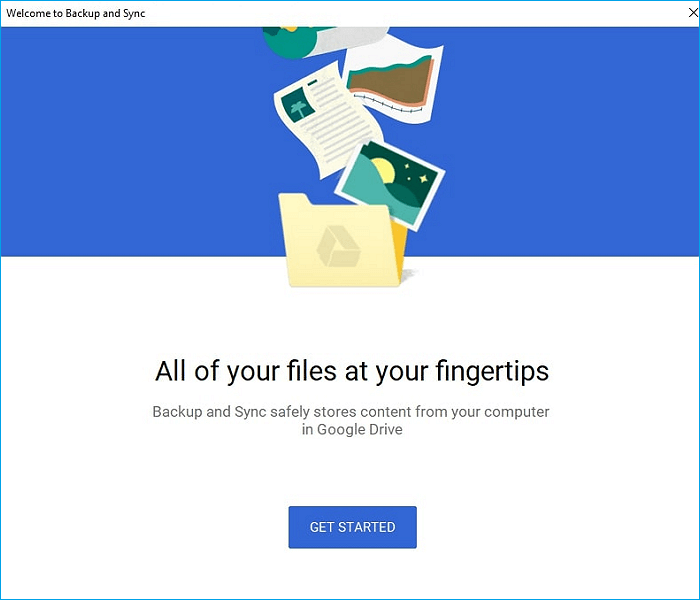 Considering the features and attributes, Sync doesn't look like actual cloud storage. But it does facilitate the users with as much as 5GB of storage. Moreover, there's no expiry date! In fact, you can enjoy all the exciting features with your free Sync account that the paid version offers.
The drive also allows you to get bonus storage by completing five easy and straightforward achievements, such as email verification, app installation, etc. And with each referral, you can get as much as 1GB to 20GB of free storage. Not to mention, Sync cloud storage has two-factor security authentication, 2048-bit encryption, and remote device lockout.
Pricing plans for the paid version
The monthly subscription fee for Sync starts at just $5.
Key features
Retention & Archiving
Collaboration tools
Audit trail
Content management
OneDrive offers its users 5GB of free storage. And the students, as well as the educators, can unlock an extra 1TB with their university or school email address. But, others can not get additional free storage unless they purchase the paid membership. 
With OneDrive, you can back up and protect your data and files saved in the drive even if you lose your device! Also, cloud storage allows you to collaborate with anyone using Office applications.
Pricing plans for the paid version
The annual subscription for OneDrive is available at $75
Key features
Personal vault
Document scanning
Access files without consuming space on the PC
Access, share, and edit files from all devices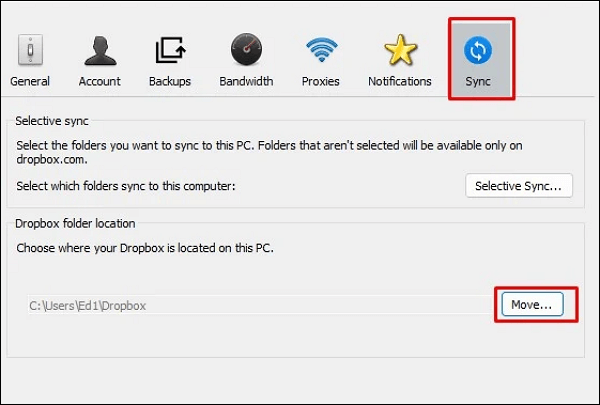 Dropbox offers only 2GB of free storage, which is fair enough to store your Office files, docs, photos, etc. However, by referring the cloud storage to your friends, you can get up to 16GB of free storage space. 
With each signup, Dropbox offers you 500MB of free space. However, the only drawback that Dropbox brings is that syncing lots of files with the app can interrupt its smooth performance. But, you can maintain its performance by syncing only the website or specific folders.
Pricing plans for the paid version
The paid version of Dropbox is available in two choices: Plus (individual) and Family(multi-user), with subscription fees of $11.99 and $19.99 per month, respectively.
Key features
Access and share files from anywhere
Automated backup
Easy collaboration
End-to-end encryption
Integration of scanner, e-signature, Slack, and Zoom
EaseUS Todo Backup offers each user 250GB of free cloud storage so you can access your backups anywhere, anytime. It lets you choose your desired operating system and provides a full C Drive backup. If you want to keep your Backup on a cloud, no worries. EaseUS Todo Backup will automatically connect your account to Google Drive, OneDrive, and Dropbox.
Pricing plans for the paid version
You can update EaseUS Todo Backup Free to EaseUS Todo Backup Home with the price of $39.95 for a year subscription. You can start a < href="https://down.easeus.com/product/tbh_trial" name="tbhome">30-day free trial first.
Key features
Disk/Partition backup and recovery
System image backup and recovery
Cloud backup
Bootable backup
Disaster recovery
The steps of how to use EaseUS Todo Backup are listed below:
Step 1. To initiate a backup, click the Select backup contents option.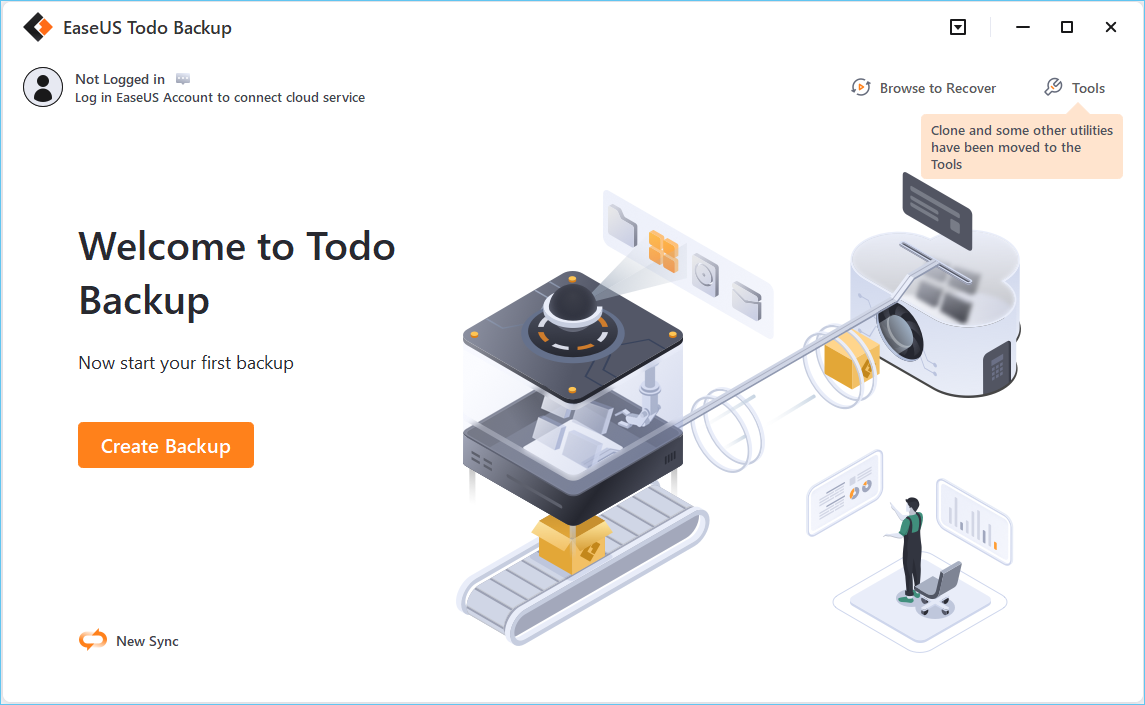 Step 2. There are four data backup categories, File, Disk, OS, and Mail, click File.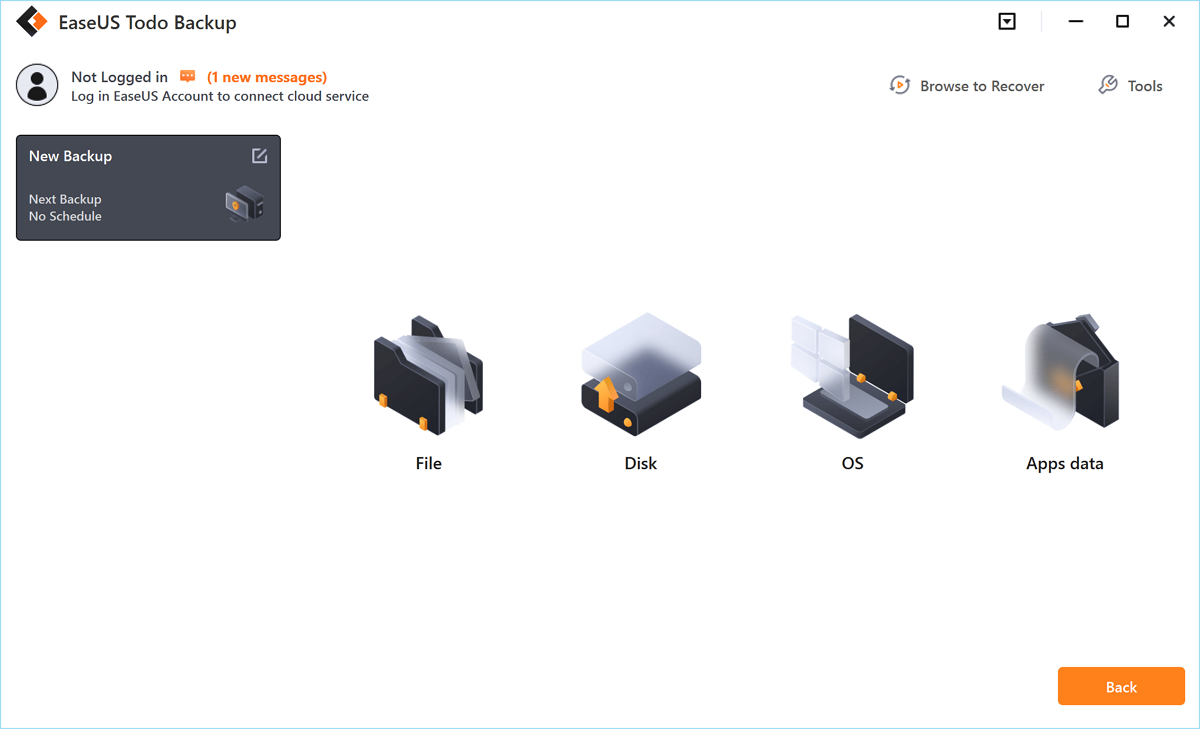 Step 3. On the left, both local and network files will be shown. You may extend the directory to pick the backup files.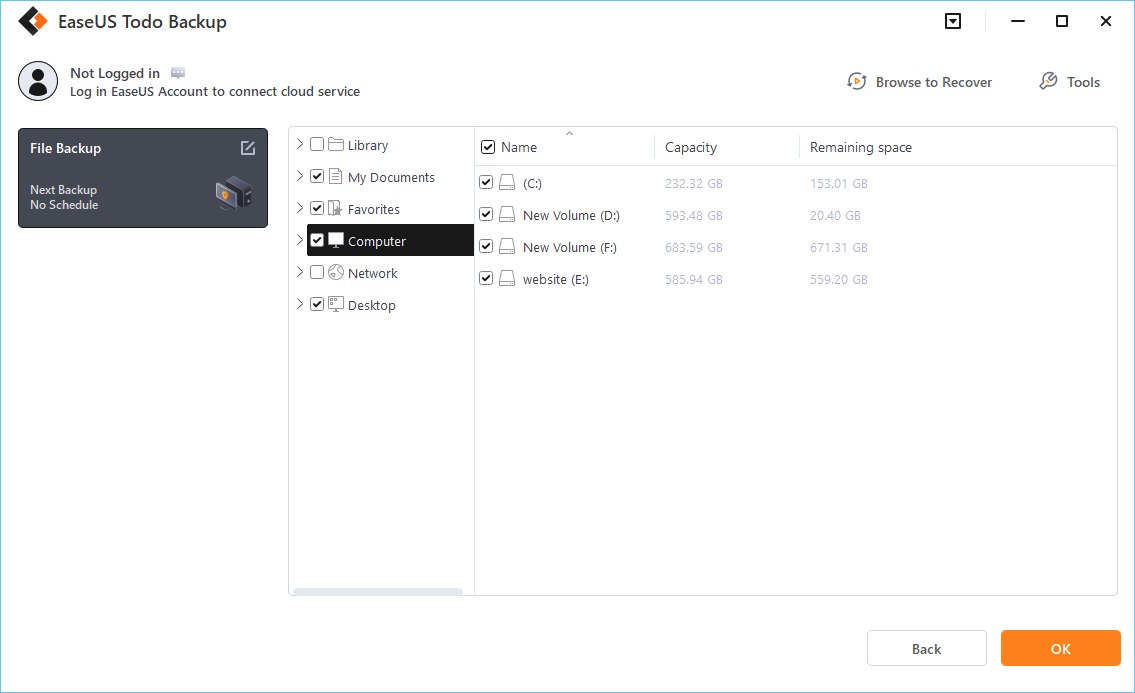 Step 4. Follow the on-screen instructions and choose a location to store the backup.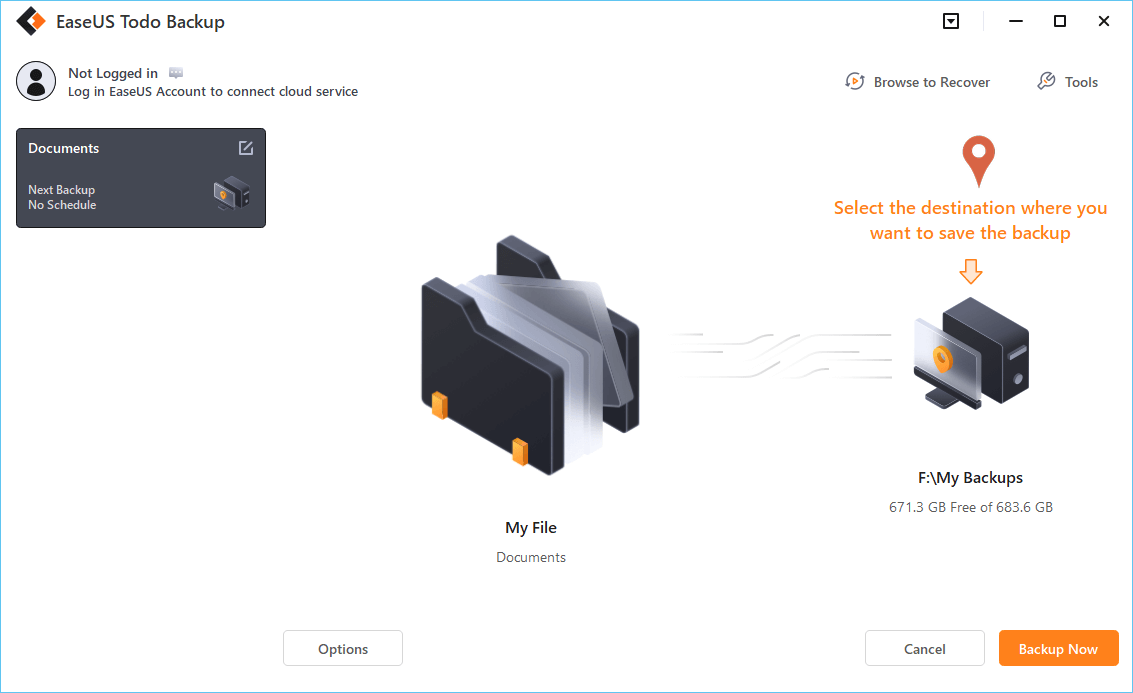 Click Options to encrypt the backup with a password in Backup Options, then click Backup Scheme to specify the backup schedule and start the backup at a certain event. There are also other additional choices you may choose to tailor the backup process to your requirements.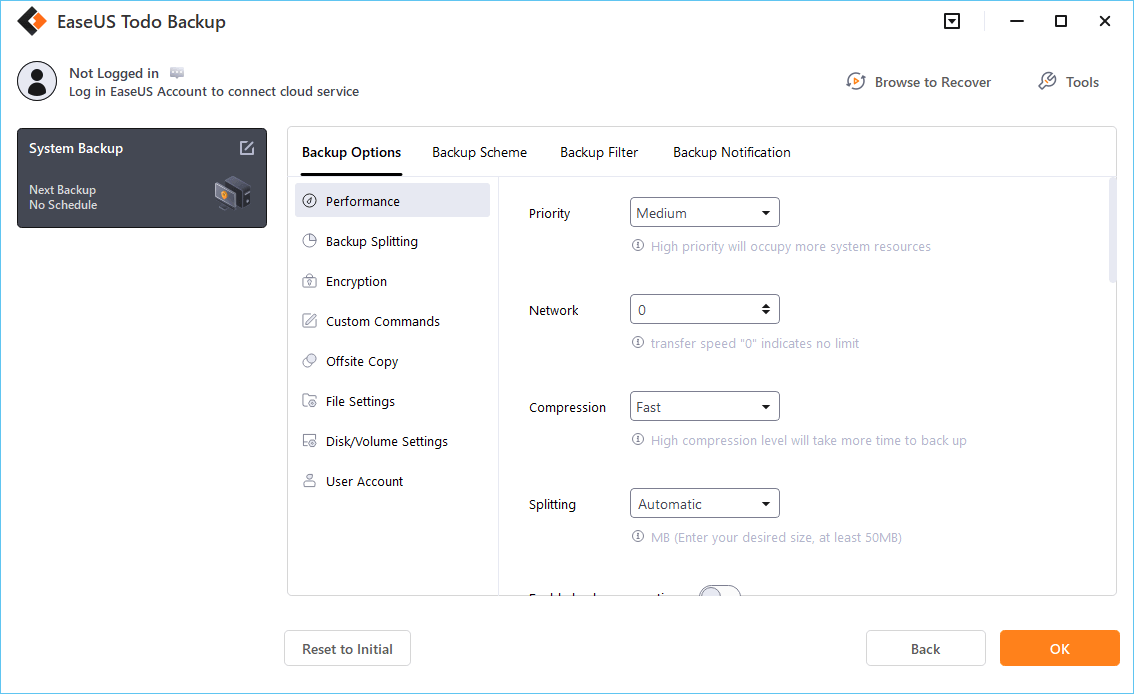 Step 5. The backup may be stored on a local disk, EaseUS' online service, or NAS.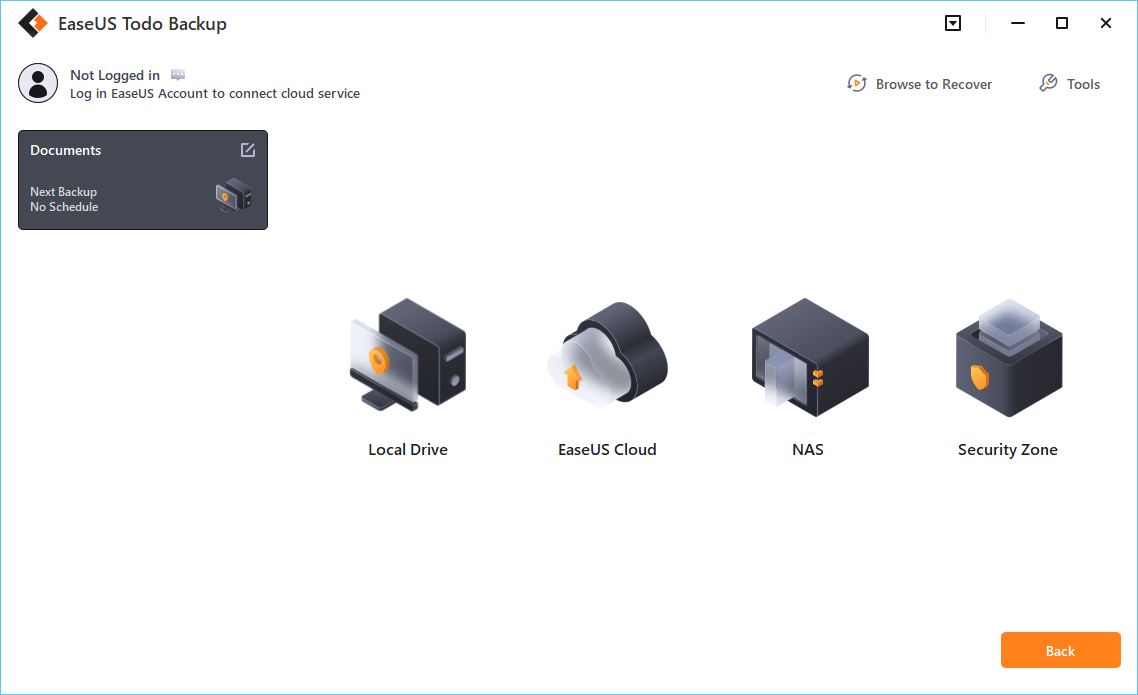 Step 6. EaseUS Todo Backup enables customers to back up data to a third-party cloud drive as well as its own cloud drive.
If you want to back up data to a cloud drive provided by a third party, choose Local Drive, scroll down to add Cloud Device, and then add and log in to your account.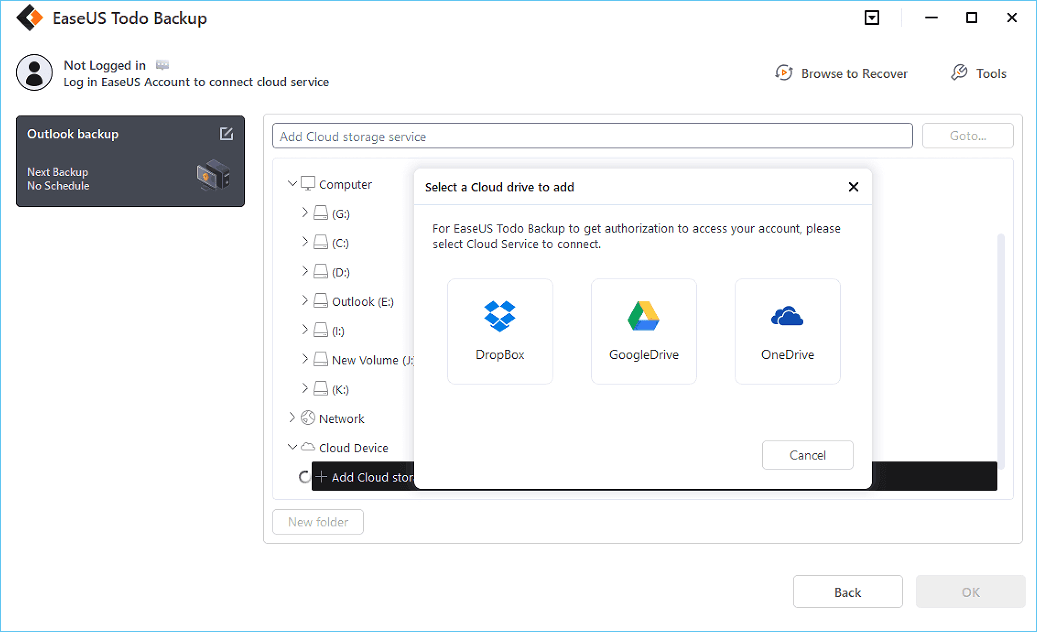 You can also choose the EaseUS cloud drive. Sign up for an EaseUS Account, then click EaseUS Cloud and log in.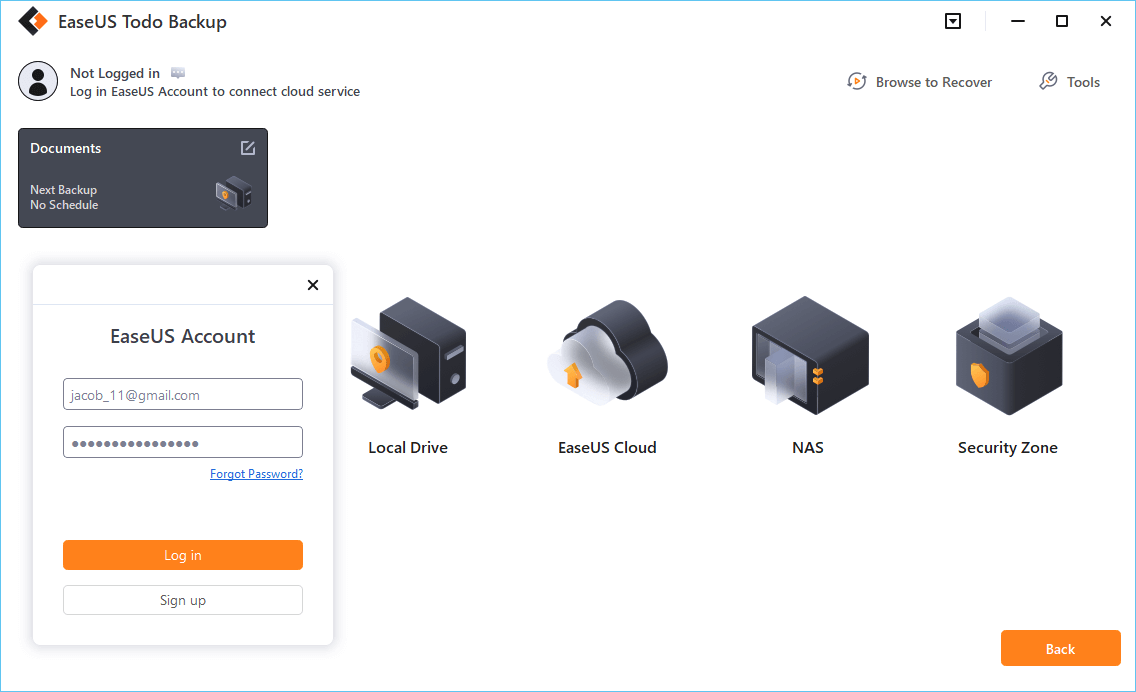 Step 7. Click Backup Now to begin the backup process. The backup job will be presented as a card on the left side of the panel after it has been finished. Right-click the backup job to handle it further.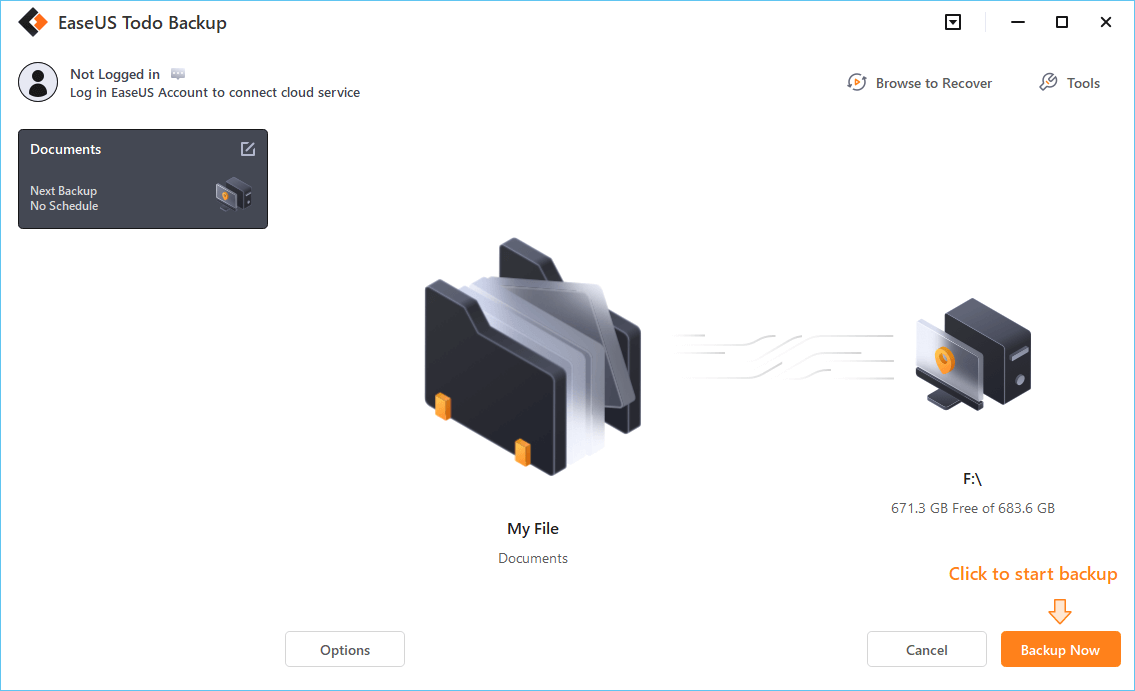 Conclusion 
All the drive mentioned above products offers free storage between 2 to 100GB. Degoo might offer the most storage facility, but it's a backup system. On the other hand, most of the bonus storage of different drive products comes with a limitation and expiry date. So, to get full access to the free cloud storage, you must prioritize using backup. To activate it, you need to collaborate clouds to back up to get a combined 100 GB of free storage to synchronize and back up all your essential files effortlessly! 
FAQ on 100GB Free Cloud Storage
Is Degoo 100 GB for lifetime?
Degoo offers 100 GB of free Cloud storage that allows you to store, access, and share your files, photos, and movies through a web browser, tablet, and smartphone. You can also use Degoo to backup your computer. There is no limit on how much you can store, and you can keep your data for as long as you want. However, you must pay keen attention to your account's active status, as Degoo might delete your files after 90 days.
How much does 1TB of OneDrive cost?
OneDrive plans start at $1.99 per month for 100 GB of storage, with additional storage available for purchase in 50 GB increments up to 1 TB. You can subscribe 1 TB of OneDrive space storage for $69.99 per year.
Was this page helpful? Your supoport is truly important to us!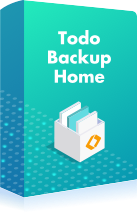 EaseUS Todo Backup
EaseUS Todo Backup is a dependable and professional data backup solution capable of backing up files, folders, drives, APP data and creating a system image. It also makes it easy to clone HDD/SSD, transfer the system to different hardware, and create bootable WinPE bootable disks.
Updated by

Daisy is the Senior editor of the writing team for EaseUS. She has been working in EaseUS for over ten years, starting from a technical writer to a team leader of the content group. As a professional author for over 10 years, she writes a lot to help people overcome their tech troubles.…

Read full bio

Written by

Jean is recognized as one of the most professional writers in EaseUS. She has kept improving her writing skills over the past 10 years and helped millions of her readers solve their tech problems on PC, Mac, and iOS devices. …

Read full bio