Quick Navigation:
If you have been worried about losing access to your information, regardless of whether those files are papers, images, or anything else, the likelihood is that you will want to ensure that they are protected and backed up in a remote place. Finding the appropriate solution might be a hassle because storing data on hard drives is no longer a secure practice. Backing up data to the cloud is your best bet in these circumstances.
However, you need to have cloud backup software to store your data in the cloud, and finding the Best Cloud Backup Software can be a hassle. To ease this out, this article covers the finest clod backup tools available in the market. Let's get going!
Why Should You Choose Cloud Backup
A cloud backup, also referred to as online backup or remote backup, is a method that involves sending a replica of a virtual or physical file to the database of a secondary site away from the primary location to preserve it if the primary location's equipment fails or that a natural disaster occurs. The use of cloud data backup may assist in strengthening the data security policy of a company without adding to the burden of the information technology personnel.
A cloud backup tool makes copies of data. It saves them on separate media or another storage system in a business's data center so that they are simple to retrieve if a recovery crisis arises. Cloud backup is used by many companies as their off-site facility, even though there are several different alternatives and ways to backup business data. If a business maintains its cloud service, the corporation may own the off-site server; nevertheless, the chargeback process would be the same if the enterprise utilizes a service provider to operate the cloud backup environment.
Some of the benefits of cloud backup are:
100% data security
Decrease operating costs
Cost-effective
Synchronization
Accessibility

A Quick Answer: Is Cloud Backup Safe
The issue of cloud backup has been a hot topic in recent years. Since the introduction of "the cloud," many people worldwide have shifted to keeping data backups on this amazing platform.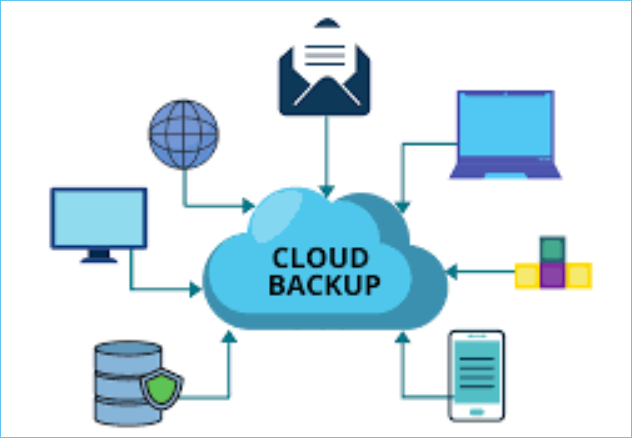 How to Choose the Right Cloud Backup Software
In order to choose a cloud backup tool that suits you the most, it is suggested that you think twice and keep the following factors in mind while choosing the right cloud backup software:
Quality of Service: When evaluating cloud backup services, pay close attention to their capabilities and the service quality they provide.
Ease of Use: Before you opt for the software, you need to understand its interface better. Always go for the easiest ones.
Performance: The most significant service aspect is its overall feel (whether while using a web browser, a specialized client, or a mobile app, depending on the circumstances).
Security: All the security measures, including data or backup encryption and protection against ransomware.
Cost: Lastly, you need to consider the value of the money they provide and whether it's worth paying the money for their services.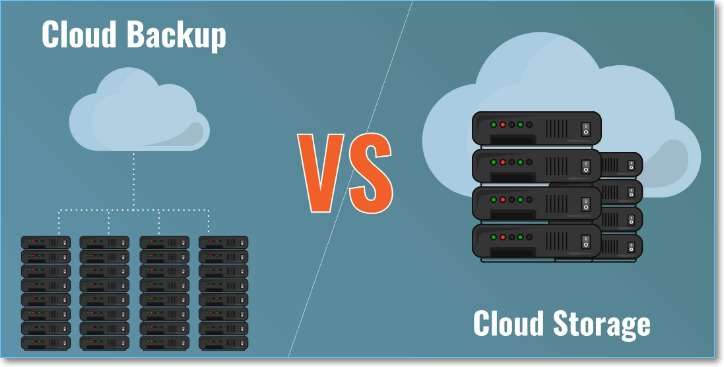 Top 5 Best Cloud Backup Software Recommended
Wondering what the best cloud backup software is? You'll find the answers in this section. Backing up your essential data is necessary to avoid losing it to some viruses, ransomware, and malware. Since hard drives and other storage devices are prone to getting viruses or damage, your data is not safe. So, you need a cloud backup software, and the following are the best tools in the business:
1. EaseUS Todo Backup
Pricing: Starts at $39.95 per year
EaseUS Todo Backup provides the ultimate solution to all the backup problems! You can easily back up the entire computer to the cloud server of EaseUS Todo Backup, where it is stored safely. You may compress your backups to conserve space, but keep in mind that this can slow down the backup. Backups may also be encrypted and password-protected to guarantee that unauthorized parties cannot access them. Moreover, the backups are stored in the EaseUS Todo Backup cloud, ensuring data security.
Key Features
Flexible and schedule backup plans for certain days or events.
Backup and restore the drive, system software, and data files with ease.
Quickly clone a disk/partition and the Windows between an HDD and an SSD.
Create a portable USB device and a WinPE disk for crisis recovery.
Pros
Easy to use
Supports OneDrive
100% data security
Cons
You can follow the steps below to learn how to use this efficient software:
Step 1. For the first time you use EaseUS Todo Backup to back up files, click Create backup on the home screen and then mouse click the big question mark to select backup contents.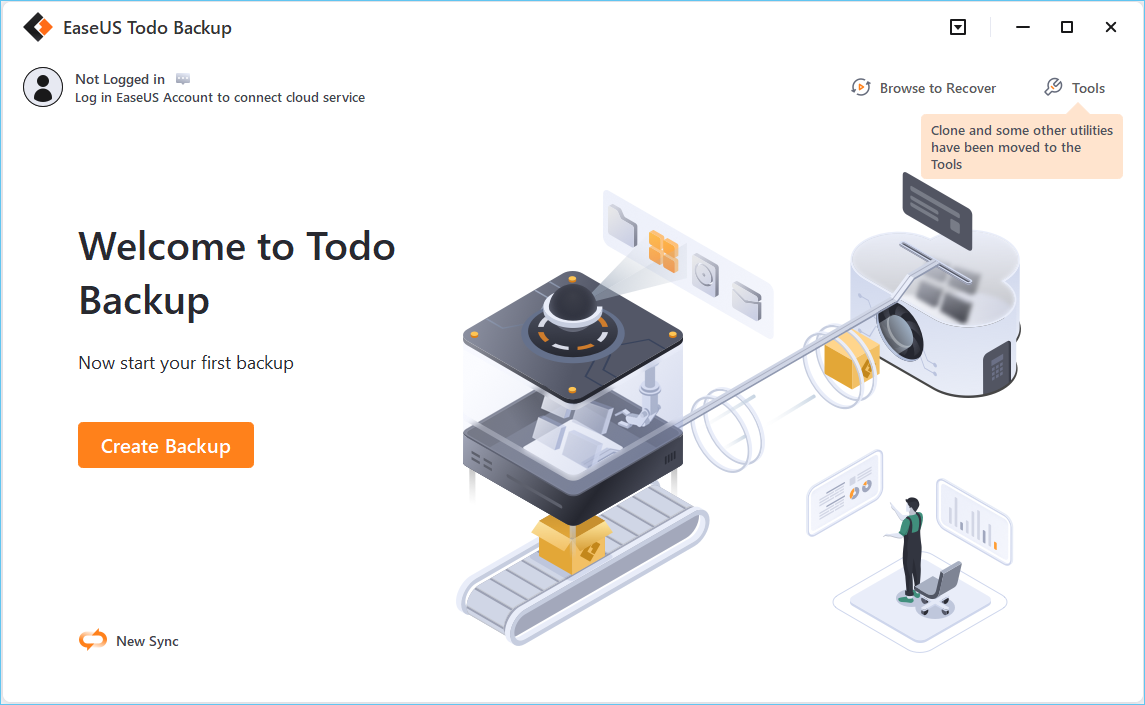 Step 2. Since you're going to back up files and folders on your computer, go on with the "File" backup mode, where you can select pictures, videos, documents and all other types of files to back up.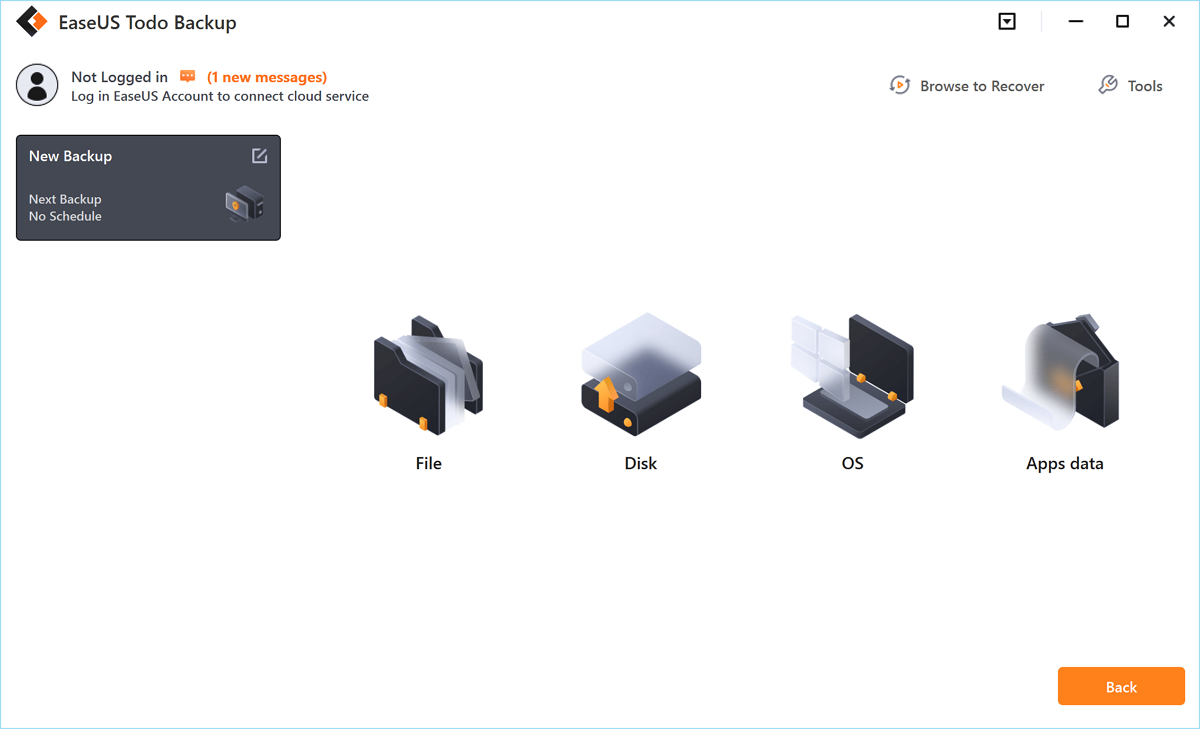 Step 3. Follow the paths to locate the files, folders or directories you want to back up, select them all and click "OK".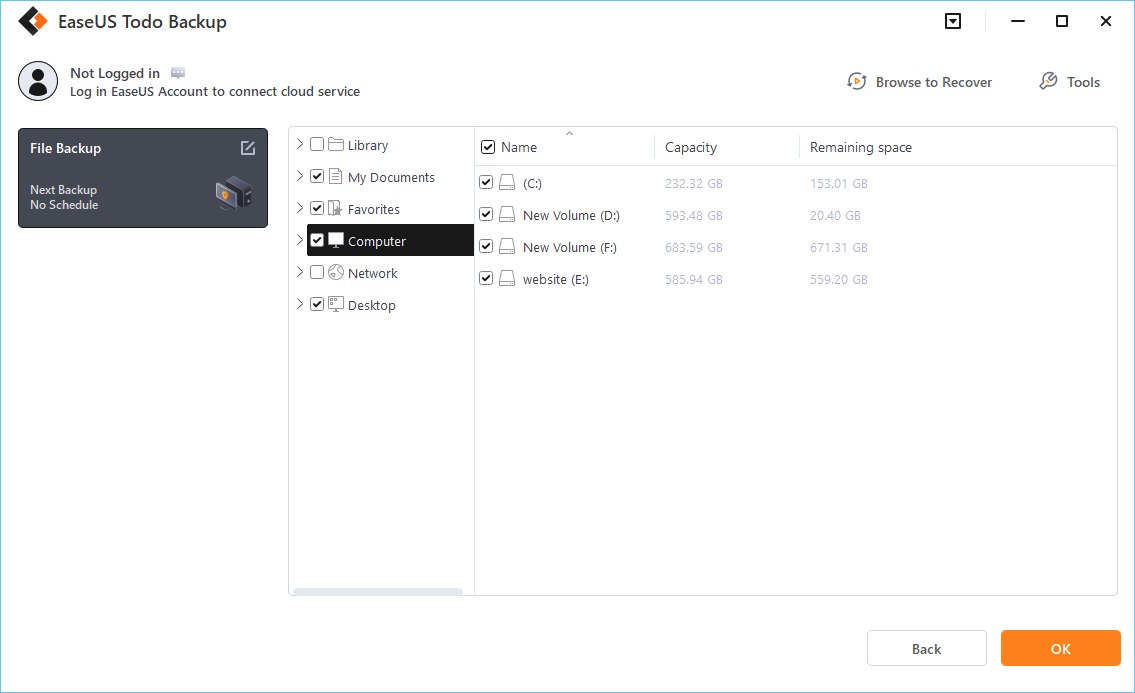 Step 4. Now you need to select a backup location to save and retain the backup.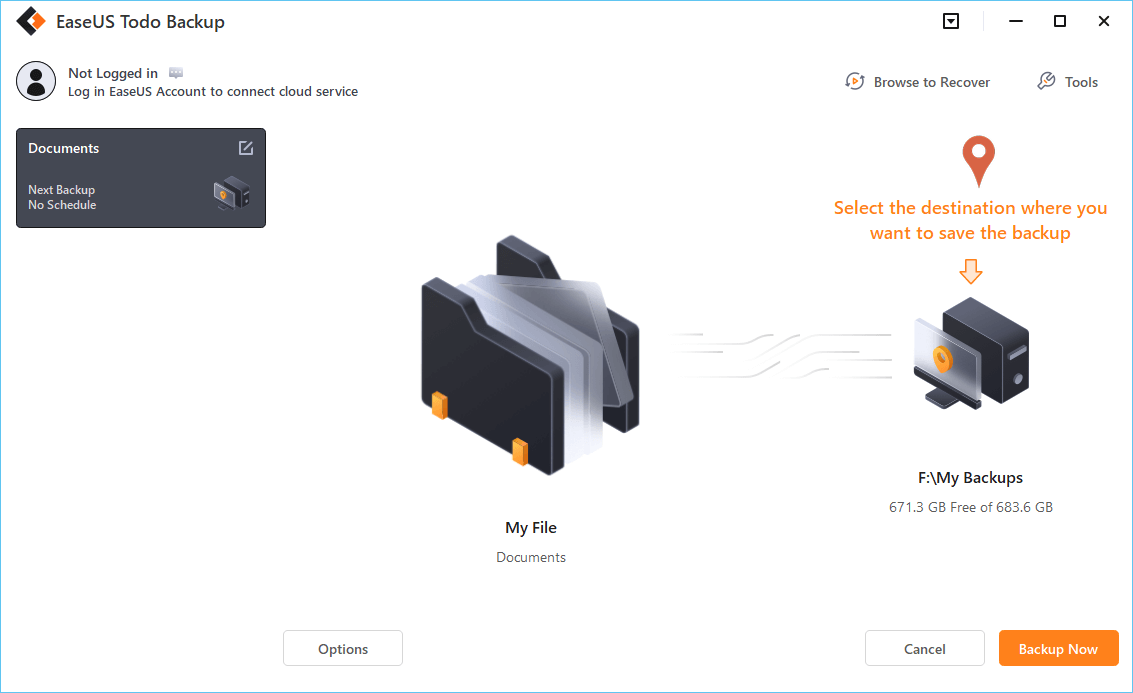 Step 5. EaseUS Todo Backup allows users to save the backup files to every device that is handy for you, like a local hard drive, external USB drive, SD card, network drive, or a NAS drive, plus a cloud drive of the EaseUS brand. We personally recommend users to choose the cloud drive prior to a physical drive to save important backups due to the greater accessibility, flexibility and safety.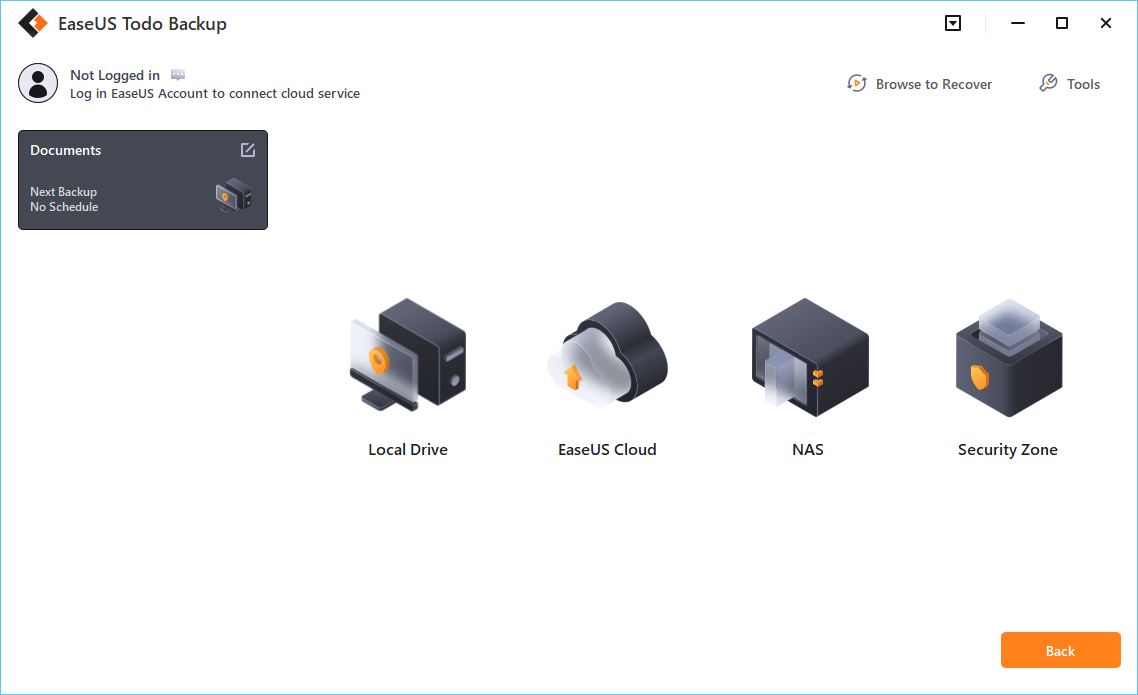 To be able to access to EaseUS cloud, all you need is an email registration and login.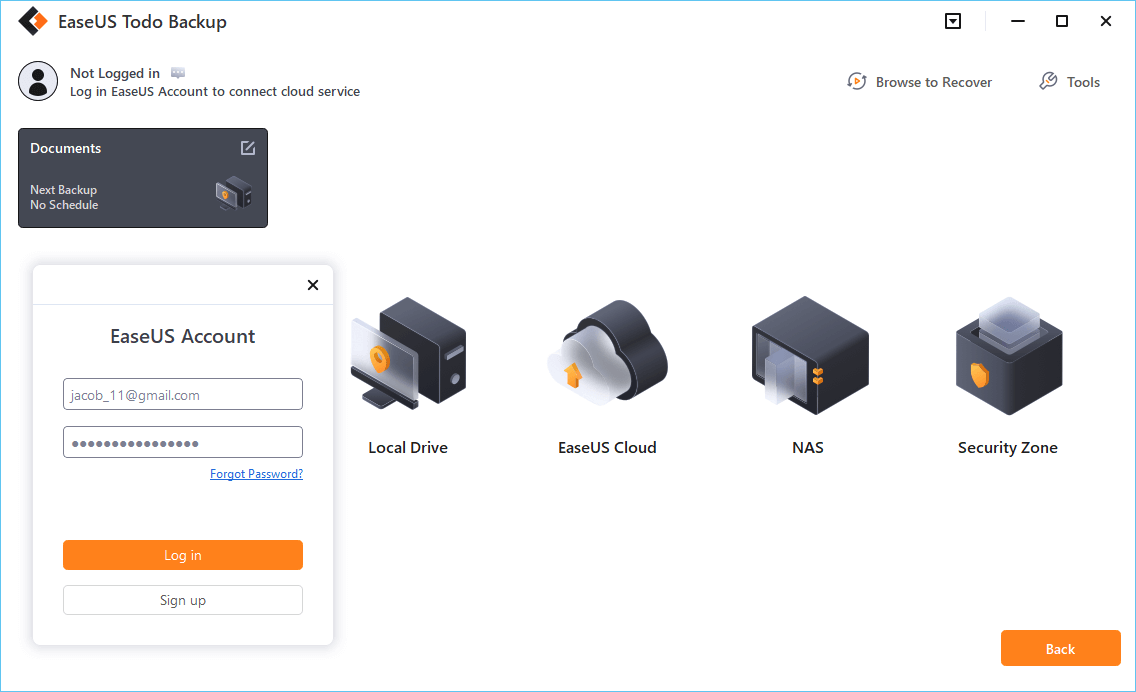 Step 6. If you're interested in an automatic and intelligent backup schedule for the next file backup task, go on with the "Options" setting. There you can encrypt a confidential file backup, compress the backup image size, or customize a backup scheme to tell the software in what time to start the next backup. 
Customize an advanced and automatic backup task here: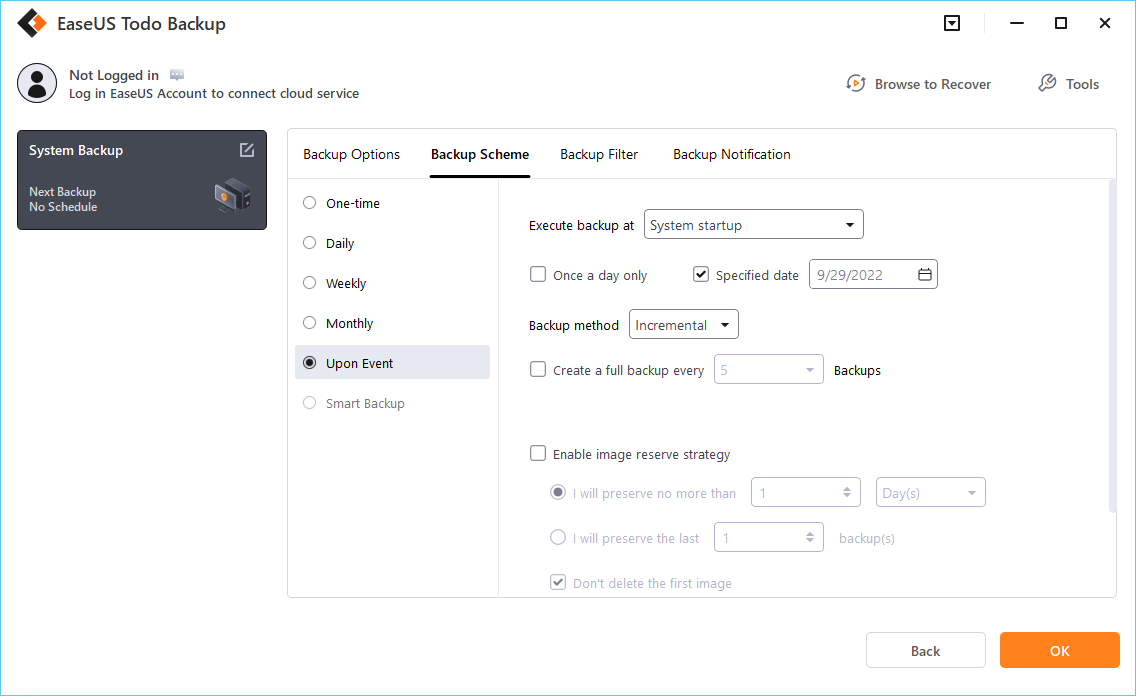 Step 7. Click "Backup Now" to start the file backup process. Your completed backup files are visible on the left area in a card style.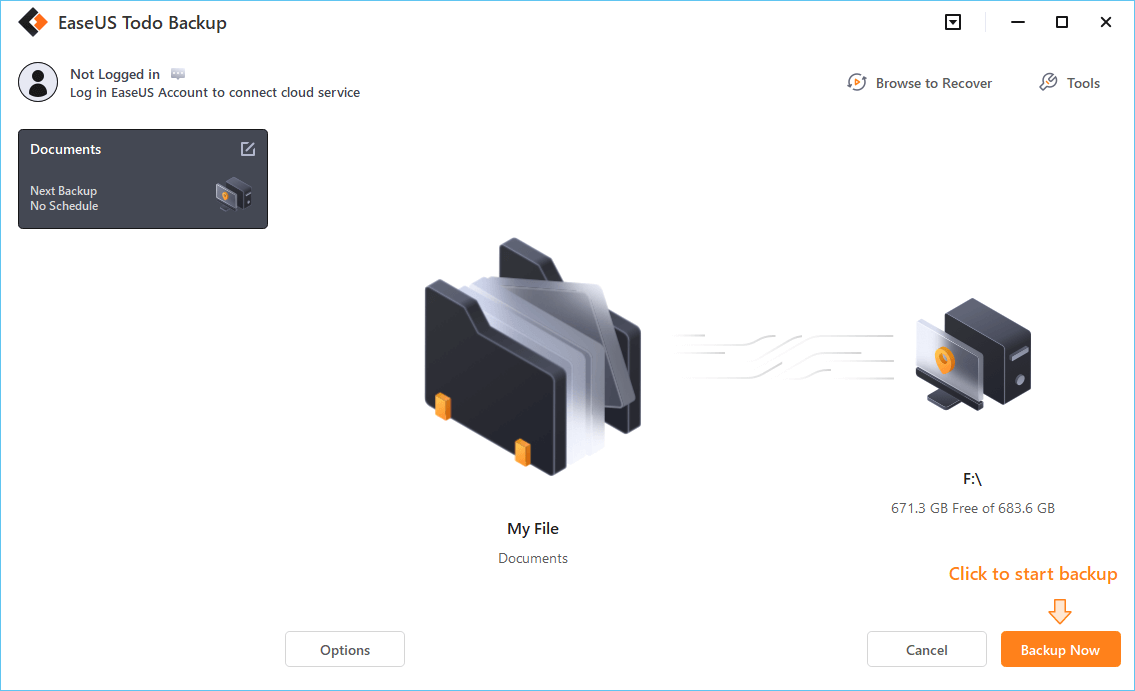 2. Backblaze
Pricing: $7 per month
URL: https://www.backblaze.com/
Despite a recent price increase, Backblaze remains one of the cheapest cloud-backup providers, gigabyte for gigabyte. It's unquestionably the most user-friendly - you set Backblaze and forget it. It has a restore-by-email capability and fast upload rates. Backblaze even allows you to track down a misplaced or stolen pc by geolocating the Wi-Fi network it connects to.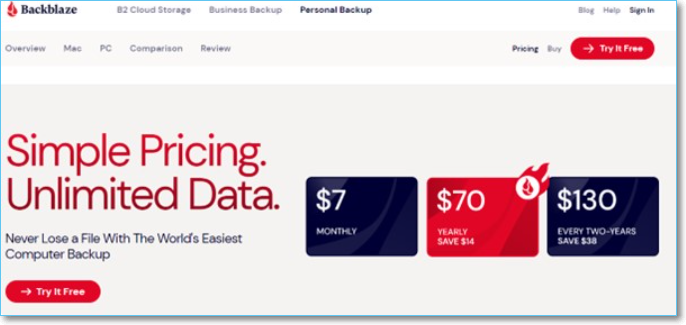 Key Features
Everything is contained between two simple panels.
Strong encryption, fortified data centers, and two-factor authentication are used.
It protects your data from accidental loss or theft.
It has a restore by mail capability that allows you to recover your data by email.
Pros
Quick service
Easily affordable
Unlimited storage
Cons
No multiple computer package
3. iDrive
Pricing: $59.62 for 5TB per year
URL: https://www.idrive.com/
iDrive is an amazing online backup solution that offers a plethora of options at a low cost and good security and privacy. All devices, including data centers, NAS, tablet phones, removable hard drives, and desktop computers, are supported. iDrive has each backup functionality you can assume, and version control is available for 30 days.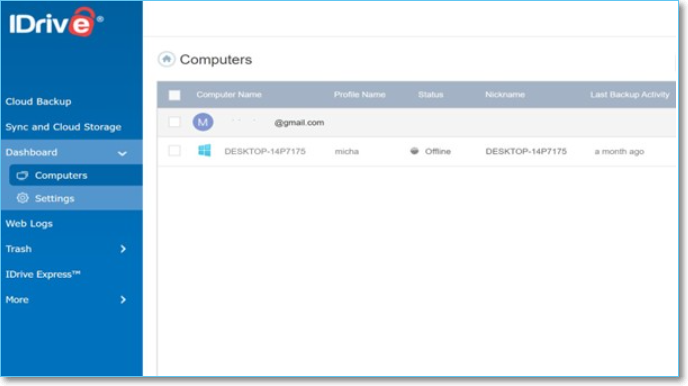 Key Features
It employs a block-level algorithm to ensure that no bandwidth is wasted.
You can back up your mobile devices using Android and iOS applications.
It offers a courier service for the physical delivery of your data.
Pros
Fast and Reliable
Easy to use
5GB free
Cons
4. Dropbox
Pricing: Starts at $9.99 per month
URL: https://www.dropbox.com/
Dropbox is another well-known cloud storage service that offers solutions for both people and companies. Overall, Dropbox provides a wide variety of options and a massive quantity of capacity, making it a viable alternative for any cloud storage need you may have.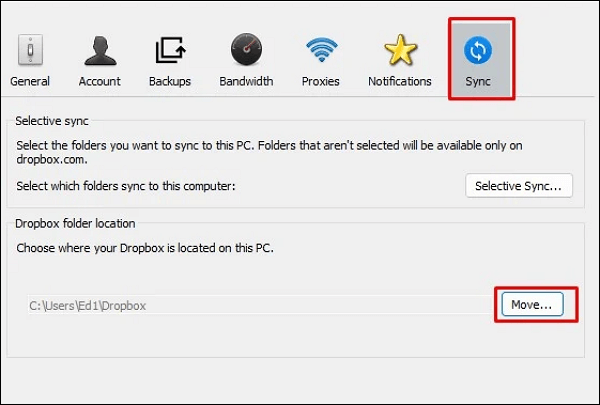 Key Features
It has a wide variety of tools and a large quantity of storage.
It has a single admin login and a data retention period of 180 days.
It supports 256-bit AES encryption, SSL/TLS, and user permissions.
Pros
Free 5GB
Provides 100% data security
Easy to use
Cons
Lack of metadata
Outdated functionalities
5. Carbonite
Pricing: Starts at $6/month billed annually
URL: https://www.carbonite.com/
Carbonite, one of the finest NAS cloud backup options, has many similarities with Backblaze in that they both emphasize a simple and simplified approach with unlimited capacity. Although it lacks functionality, Carbonite excels at what it was designed to do: backup computers.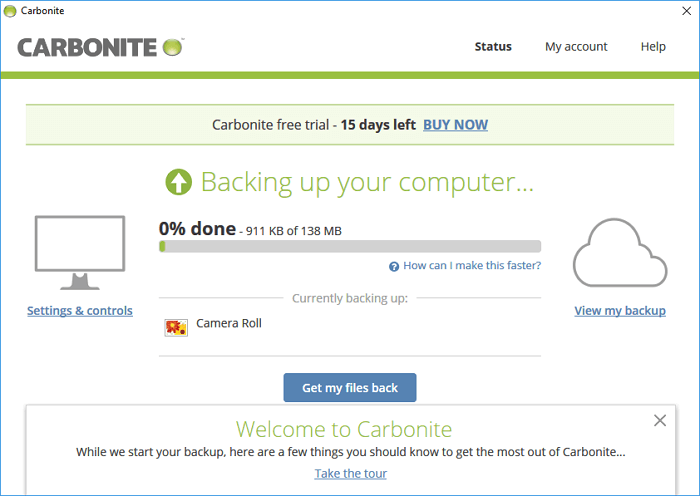 Key Features
It has robust encryption with AES 256-bit and SSL/TLS.
All of your files are accessible through a web interface and iOS and Android applications.
It offers many options for restoring the stored data.
The first backup is mostly automated, and subsequent incremental backups only upload updated data.
Pros
Secure platform
Unlimited storage
Strong encryption
Cons
Limited features
Slow download speed
Conclusion
Since hard drives are prone to losing data or malfunctioning, your data is not safe there. Therefore, you need the Best Cloud Backup Software, which you can pick from the tools discussed in this article. Moreover, we recommend using EaseUS Todo Backup to back up your data to EaseUS Todo servers because it provides maximum data protection. Download EaseUS Todo Backup today to get your data in safe hands!
Daisy is the Senior editor of the writing team for EaseUS. She has been working in EaseUS for over ten years, starting from a technical writer to a team leader of the content group. As a professional author for over 10 years, she writes a lot to help people overcome their tech troubles.

Jean has been writing tech articles since she was graduated from university. She has been part of the EaseUS team for over 5 years. Her special focuses are data recovery, disk partitioning, data space optimization, data backup and Mac OS. By the way, she's an aviation fan!
Taking everything into consideration, we can say that EaseUS Todo Backup Home can offer you a little extra sense of security with a set of advanced tools. The interface provides quick adaptation, every process guiding you all the way through so you don't get stuck or further damage your system rather than keeping it safe.

 Read More

EaseUS Todo Backup Free lets you create backups of your important files or your entire computer through its streamlined interface. Just choose the backup type you'd like to get started, and let the program do the reset.

 Read More

EaseUS includes all the features I expect from backup software like versioning, incremental backups, and scheduling. For more advanced users, EaseUS allows you to install a pre-boot environment onto your hard drive so you can use it to restore files without burning a CD or putting it on an external USB drive.

 Read More

EaseUS Todo Backup
Smart backup tool for your files and entire computer in Windows 10/8/7.
Install Windows on Multiple Computers at Once? No Problem!
Learn how to install Windows 11/10/7 and special programs/software on a batch of computers. Use 10 minutes to do the 10 hours work without making a single mistake!
Get Free Solution!