Why need clone SSD to larger SSD?
Speaking of cloning SSD to larger SSD, how many of you know why? What reasons may cause users want to clone their present SSD to a larger one? Why is that? Since SSD is more durable, faster, lighter, more cost-efficient and silent than HDD, quite a lot computers are all equipped with SSD for installing Windows OS and saving data. When SSD goes out of space, the OS and the computer will slow down the running speed, which will affect users' daily life.
Therefore, to optimize computer's working efficiency or speed up the OS, it's necessary to move or clone the old SSD data including system into a larger SSD. It seems not an easy task for most ordinary Windows users to transfer system and move data from one SSD to another SSD. So do you have solutions for such a problem? The best choice is to turn to professional disk clone software - EaseUS Todo Backup and let it help you out right now.
How to clone SSD to larger SSD in Windows 10/8/7 without losing data?
To avoid data loss while cloning SSD to larger SSD in Windows 10/8/7, EaseUS software provides you a simple and powerful disk clone software here for SSD cloning. This tool allows users to clone disk without losing any data or reinstalling OS. If you need to replace HDD with SSD or even clone SSD to larger SSD under different OS, EaseUS disk clone software - EaseUS Todo Backup will help. It 100% free for you to clone disk and upgrade SSD to larger SSD within 30 days.
You may free download it and follow below video tutorial to clone SSD to larger SSD now. You can also follow to let EaseUS Todo Backup clone your SSD to a larger SSD, the whole process is all the same.
Free clone SSD to a larger or new SSD within 2 steps by EaseUS Todo Backup
EaseUS Todo Backup can do more beyond your imagination under all Windows OS, which means that EaseUS Todo Backup supports to clone SSD to a larger one, upgrade system disk or even clone system in Windows 10/8/7 etc all Windows systems. If you doubt whether software works or not, you can get a trial version here and follow next steps to start free cloning SSD to larger SSD now! The whole process will not last long, depending on the data amount on your disk.
Step 1. Launch EaseUS Todo Backup and click Clone.
Then choose the source disk( the SSD) you want to clone.Click "Next".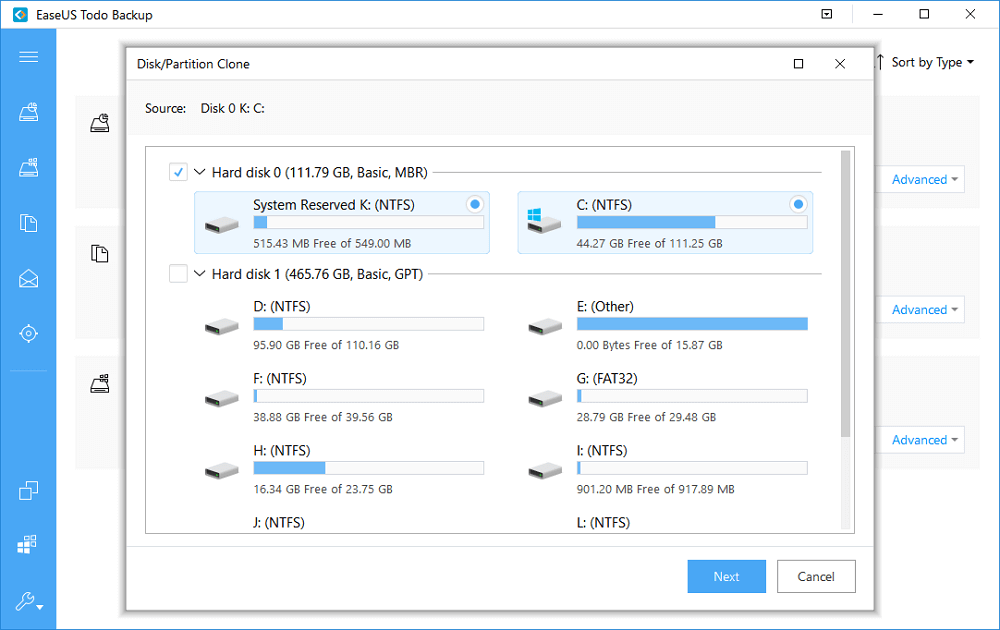 Step 2. Choose the destination disk( the solid state drive).
Tick Sector by sector clone in Advanced options , it will clone all sectors from the source disk to the destination disk including your system data.
Tick Optimize for SSD, it will optimize the new SSD performance. After this, click Proceed to clone.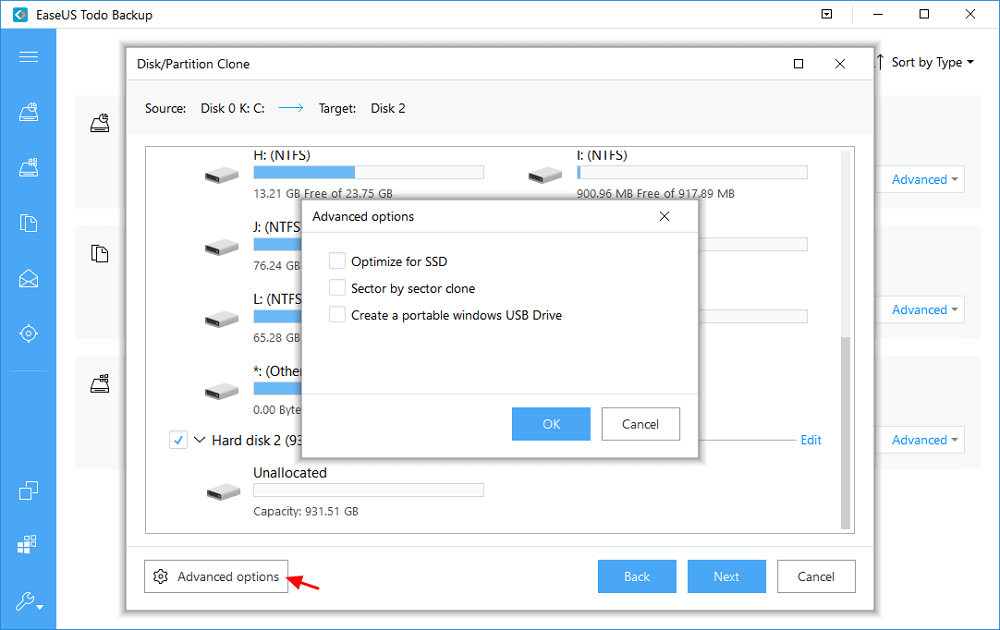 If you are encountering disk cloning case such as to clone SSD to larger SSD, try EaseUS Todo Backup help right now!
Note: If you decide to change the system disk to a larger SSD or HDD, do remember to change the boot order from the old system disk to new SSD or HDD in BIOS settings. Or you may encounter system boot failure error.