Updated by
Larissa
on Nov 01, 2022
Why Need Clone SSD to Larger SSD
Speaking of cloning SSD to larger SSD, how many of you know why? What reasons may cause users to want to clone their present SSD to a larger one? Why is that? Since SSD is more durable, faster, lighter, more cost-efficient and silent than HDD, quite a lot computers are all equipped with SSD for installing Windows OS and saving data. When SSD goes out of space, the OS and the computer will slow down the running speed, which will affect users' daily life.
Therefore, to optimize computer's working efficiency or speed up the OS, it's necessary to move or clone the old SSD data including system into a larger SSD. It seems not an easy task for most ordinary Windows users to transfer system and move data from one SSD to another SSD. So do you have solutions for such a problem? The best choice is to turn to professional disk clone software - EaseUS Todo Backup and let it help you out right now.
How to Clone SSD to Larger SSD in Windows 10/8/7 Without Losing Data
To avoid data loss while cloning SSD to larger SSD in Windows 10/8/7, EaseUS software provides you a simple and powerful disk clone software here for SSD cloning. This tool allows users to clone disk without losing any data or reinstalling OS. If you need to replace HDD with SSD or even clone SSD to larger SSD under a different OS, EaseUS disk clone software - EaseUS Todo Backup will help. 
You may download it and follow below video tutorial to clone SSD to larger SSD now. You can also follow to let EaseUS Todo Backup clone your SSD to a larger SSD, the whole process is all the same.
Clone SSD to a Larger or New SSD Within 2 Steps by EaseUS Todo Backup
EaseUS Todo Backup can do more beyond your imagination under all Windows OS, which means that EaseUS Todo Backup supports to clone SSD to a larger one, upgrade system disk or even clone system in Windows 10/8/7 etc all Windows systems. If you doubt whether software works or not, you can get a trial version here and follow the next steps to start cloning SSD to larger SSD now! The whole process will not last long, depending on the data amount on your disk.
Step 1. On the main page, find and click "Tools". You can see clone and other utilities.
Step 2. Choose the source disk or partition, click "Next".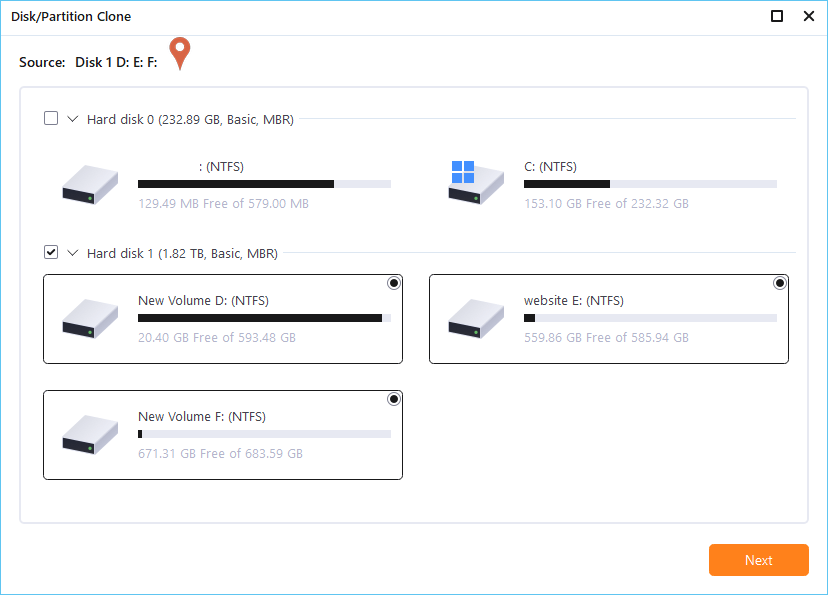 Step 3. Then you need to choose the target disk. Make sure the target disk is larger than the source disk or partition.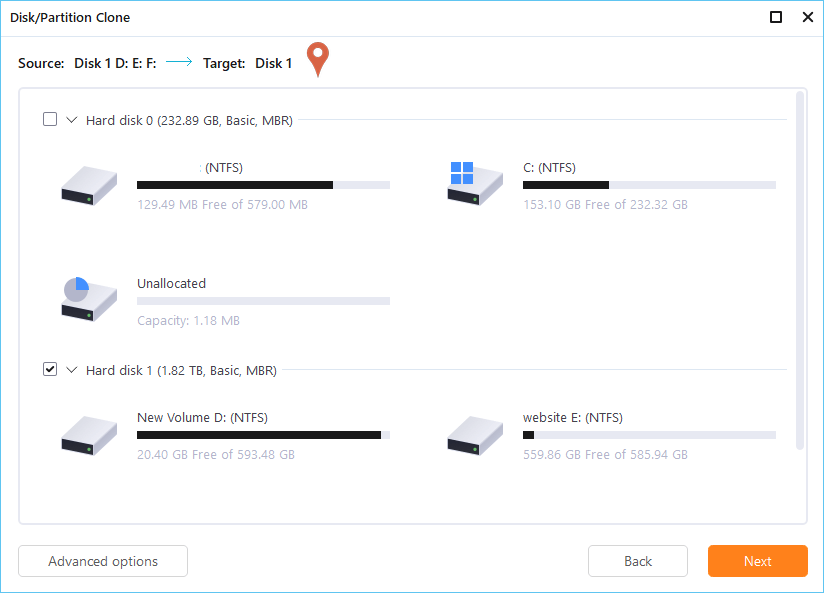 Step 4. A warning window will inform you that clone would permanently wipe out all data on the target disk/partition, if you want to start clone, click "Continue."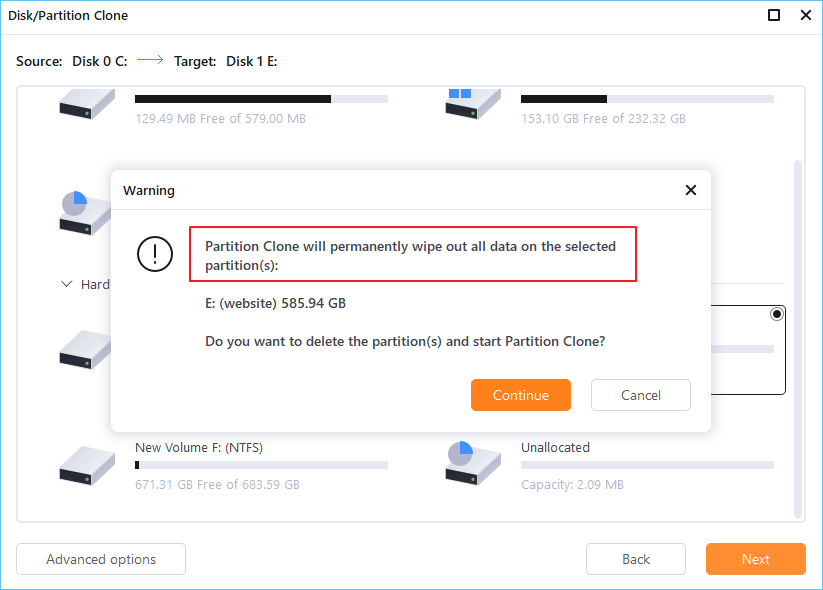 If you are encountering disk cloning case such as to clone SSD to larger SSD, try EaseUS Todo Backup help right now!
Note: If you decide to change the system disk to a larger SSD or HDD, do remember to change the boot order from the old system disk to new SSD or HDD in BIOS settings. Or you may encounter system boot failure error.
FAQ on Clone SSD to Larger SSD
Can I clone 500GB SSD to 1TB SSD?
Yes, you can clone a 500GB SSD to a 1TB SSD without any issues. This can be done using any good cloning software, such as EaseUS Todo Backup. Just make sure that you have enough free space on the 1TB SSD for the clone. Also, keep in mind that the cloned SSD will be bootable and will have the same capacity as the original 500GB SSD. So if you want to use the full capacity of the 1TB SSD, you will need to resize the partitions on the cloned SSD after cloning is complete. 
Can I clone SSD of different sizes?
Yes, you can clone SSDs of different sizes. Ensure that you have enough free space on the destination SSD for the clone. 

Updated by Larissa
Larissa has rich experience in writing technical articles. After joining EaseUS, she frantically learned about data recovery, disk partitioning, data backup, and other related knowledge. Now she is able to master the relevant content proficiently and write effective step-by-step guides on computer issues.
Written by Tracy King 
Tracy joined in EaseUS in 2013 and has been working with EaseUS content team for over 7 years. Being enthusiastic in computing and technology, she writes tech how-to articles and share technical solutions about Windows & Mac data recovery, file/system backup and recovery, partition management and iOS/Android data recovery.
Taking everything into consideration, we can say that EaseUS Todo Backup Home can offer you a little extra sense of security with a set of advanced tools. The interface provides quick adaptation, every process guiding you all the way through so you don't get stuck or further damage your system rather than keeping it safe.

 Read More

EaseUS Todo Backup Free lets you create backups of your important files or your entire computer through its streamlined interface. Just choose the backup type you'd like to get started, and let the program do the reset.

 Read More

EaseUS includes all the features I expect from backup software like versioning, incremental backups, and scheduling. For more advanced users, EaseUS allows you to install a pre-boot environment onto your hard drive so you can use it to restore files without burning a CD or putting it on an external USB drive.

 Read More

EaseUS Todo Backup
Smart backup tool for your files and entire computer in Windows 10/8/7.
Install Windows on Multiple Computers at Once? No Problem!
Learn how to install Windows 11/10/7 and special programs/software on a batch of computers. Use 10 minutes to do the 10 hours work without making a single mistake!
Get Free Solution!