Why do you need a bad sector repair tool or software?
A bad sector is a sector of a computer or external hard drive, SD memory card, USB flash drive or pen drive that is either inaccessible or unwriteable. A large number of unusable bad sectors can cause low disk space issue. And files on bad sectors will be unreadable or inaccessible or even corrupted. To avoid all these issues, you are recommended to find reliable hard drive repair software to check and remove bad sectors from hard disk permanently.
If you have no reliable choice, you can read on to get one. This article introduces you the best hard drive bad sector repair software and teaches you how to detect and repair bad sectors without formatting. Hope it is helpful!
What is the best bad sector repair/removal solution?
The traditional way to remove or repair bad sectors is to overwrite the hard drive with zeros or perform a low-level format. But it is not the recommended way because it will cause data loss disaster. Then, is there any bad sector repair software that allows you to check and repair bad sectors from hard disk? Of course, yes. You need to follow the two steps below. First, detect the hard disk to find out the situation of your disk. Second, repair your bad sector after the detection.
Step 1. Detect the bad sectors and check your disk
To check the bad sectors on your hard disk, you need a free tool to help you. EaseUS free partition software is trusted and recommended by millions of users. It is a nice choice. It is able to check bad sectors for hard disk, USB flash drive, pen drive, SD memory card and other storage devices without formatting. You could know the situation of your disk with the help of this software.
1. Connect your device to PC, launch EaseUS free, right-click the device and click "Check partition".
2. Choose the way that you want to use to check and repair bad sectors: "Check Partition Properties", "Call Windows Chkdsk" or "Surface Test" and Click "OK" to continue.
3. Let EaseUS free bad sector checker automatically check bad sectors. And finally, click "OK" to finish the process.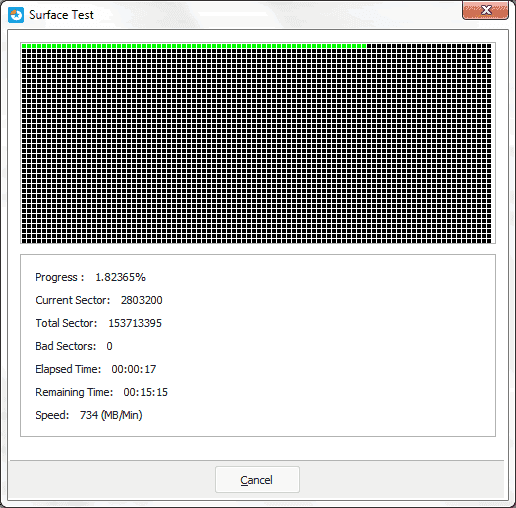 After the process, you could know exactly how many bad sectors are there and now you can manually fix/repair bad sectors.
Notice

Backup your important data before you take actions to remove bad sectors. The following operations may cause data loss more or less.
Step 2. Manually remove bad sectors
For Windows 10/8 users:
Open This PC > Right-click on System drive and choose Properties.
Go to Tools > Click Check.
Under Error-checking, click on Check.
Review the scan result > Click Scan and repair drive.
Choose when to repair the file system.
Wait for Windows 10/8 scan and repair the hard drive bad sectors.
Fix bad sectors in Windows 7:
Open Computer > Right-click the hard drive you want to check for bad sectors and select Properties.
In Properties window, click Tools > Check now in the Error-checking section.
Click Scan for and attempt recovery of bad sectors > Click Start.
Review the check disk report.
How to Restore Data on the Bad Sector Hard Disk as much as Possible
If the disk is badly damaged that it is impossible to repair the bad sectors, your wise choice is to replace the disk and restore as much data as possible. Here we'd like to recommend you try a powerful disk cloning software - EaseUS Disk Copy which is fully compatible with all OS. Here, you can directly click the download button and install it on your Windows PC.
You can just apply this software to help you upgrade and clone the hard drive with bad sectors to the other new hard drive. So you don't need to worry about making efforts to reinstall applications and operating system. Most importantly, you can try to restore data as much as possible on the new drive.
Note: Do remember to connect your good new hard drive to the computer as a storage device before upgrading the disk with bad sectors to the good one.
Prior Notice:
The "Sector by sector copy" asks the size of your destination disk to be at least equal or larger than that of the source disk. Leave this feature unchecked if you wish to clone a larger hard disk to a smaller hard disk.
All data on the destination disk will be completely erased, so take care.
Step 1. To start copying/cloning an entire disk to another, choose this disk as the source disk under "Disk Mode" and click "Next".
Tick the "Sector by sector copy" option if you wish a sector level copy/clone.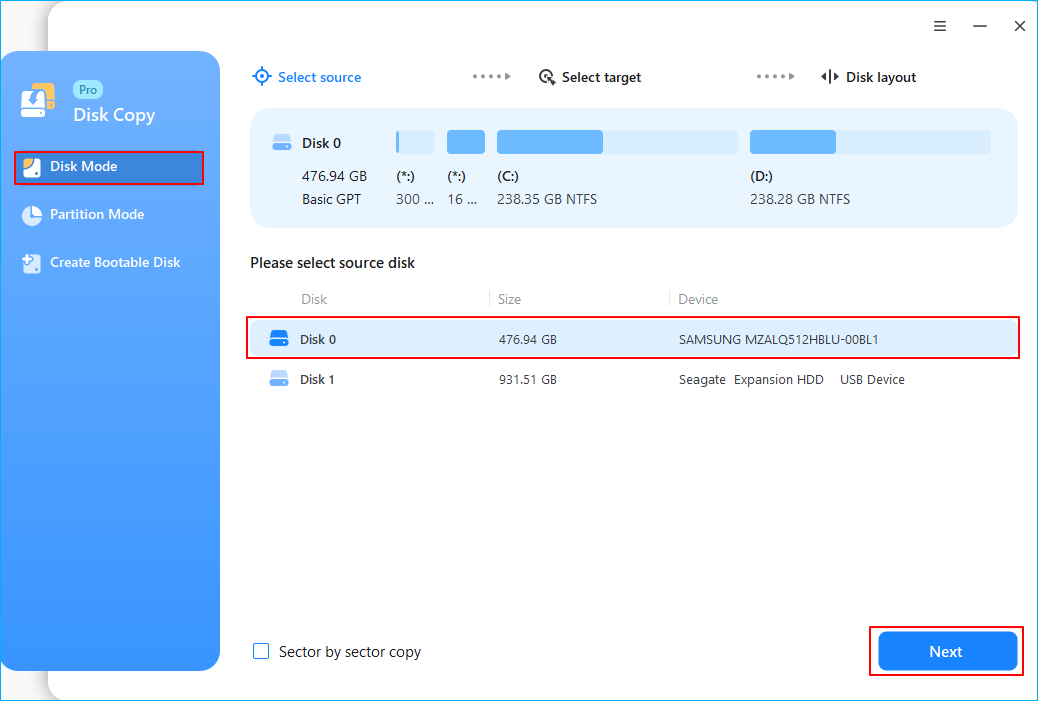 Step 2. Choose the other disk as the destination disk.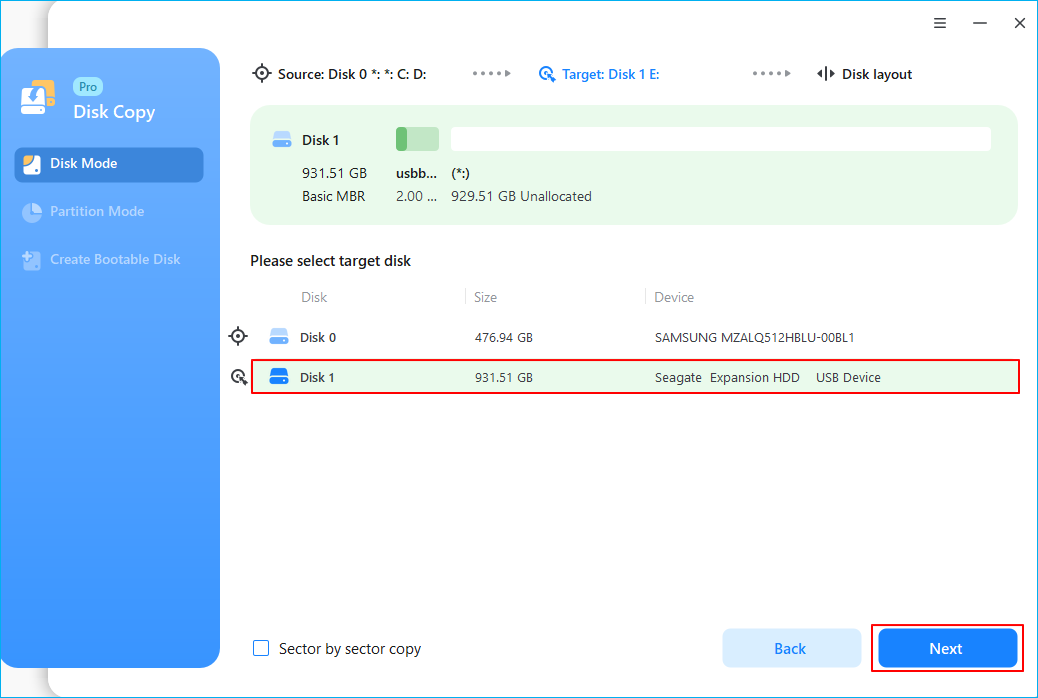 A messsage now appears, warning you that data will be lost. Please confirm this message by clicking "OK" and then click "Next".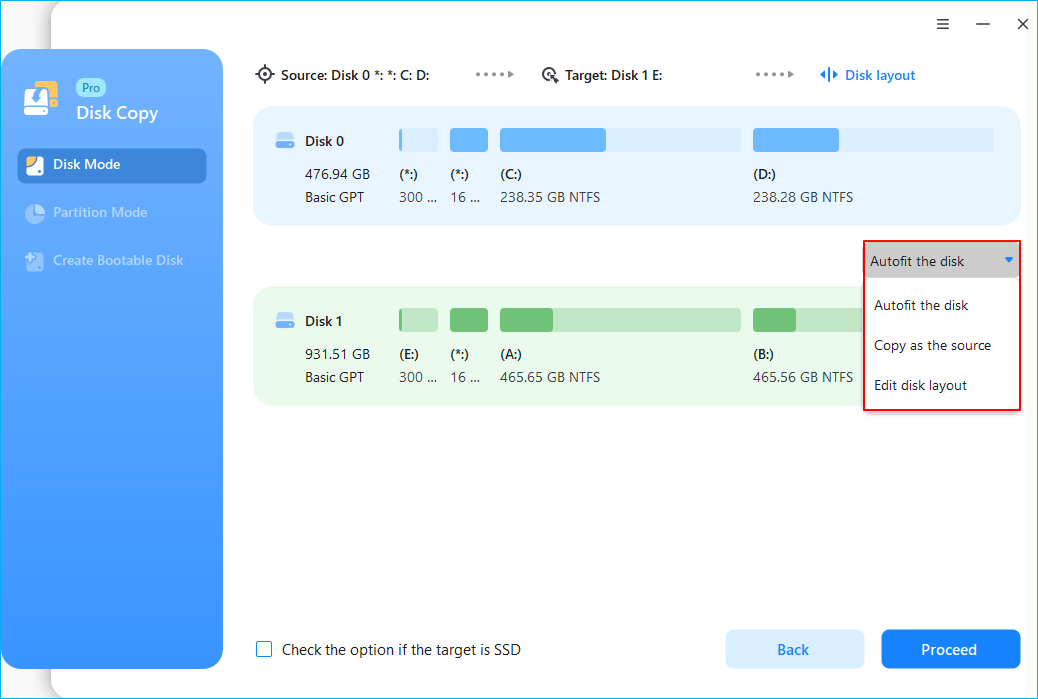 Step 3. Check the disk layout of the two disks. You can manage the disk layout of the destination disk by selecting "Autofit the disk", "Copy as the cource" or "Edit disk layout".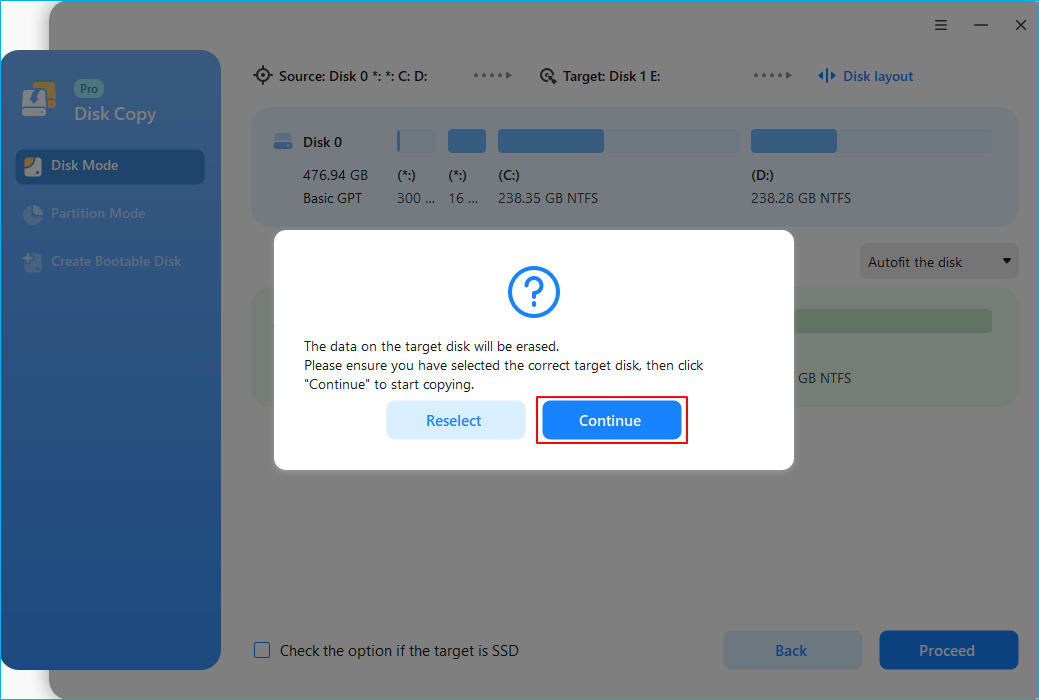 "Autofit the disk" makes some changes by default on the destination disk layout so that it can work at its best status.
"Copy as the source"does not change anything on destination disk and the layout is same as source disk.
"Edit disk layout" allows you to manually resize/move partition layout on this destination disk.
Tick the "Check the option if the target is SSD" option to put your SSD in its best performance.
Step 4. Click "Proceed" to officially execute the task.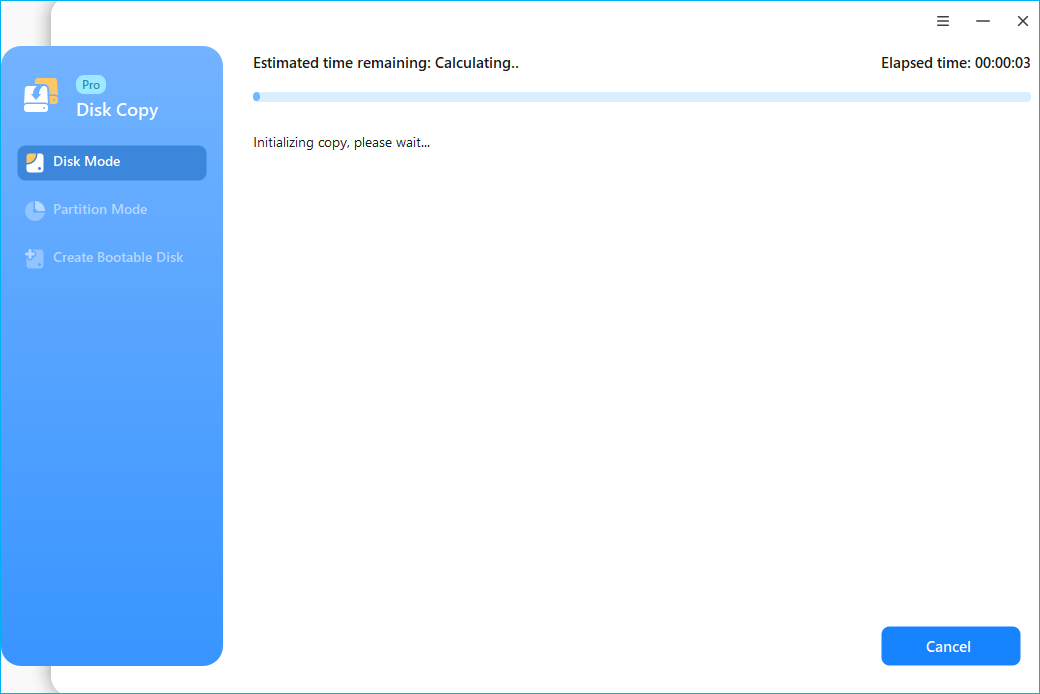 And then shut down your computer, insert the newly upgrade hard drive to your computer and replace the old drive, set the computer to boot from new hard drive instead of the old one in BIOS. Then you can see the precious data you have restored.