How Do I Clone M.2 SSD to Larger M.2 SSD on Laptop/PC [Complete Guide]
Updated by
Gemma
on May 06, 2022
Workable Solutions
Step-by-step Troubleshooting
1. Prepare M.2 SSD
Check the number of SSD slot on your PC...Full steps
2. Clone M.2 SSD to a Larger One

1. M.2 disk cloning software free download...Full steps

2. Tutorial: upgrade & clone M.2 SSD to...Full steps

 

3. What to Do After Cloning

1. Make cloned M.2 SSD bootable - boot PC...Full steps

2. Manage old M.2 SSD...Full steps
Average Time: 3-5 Minutes Reading
Supported OS: Windows 10/8.1/8/7/Visa
Applies to: Clone M.2 to M.2, Clone M.2 to VNMe M.2, Clone NVMe M.2 to M.2, Clone SSD to M.2
M.2 Clone/Upgrade Tools: 1. New M.2 SSD; 2. Disk Cloning Tool; 3. Screwdriver.
"How do I clone my M.2 SSD to another 1TB M.2? The128GB SM.2 SD on my laptop is getting full. So, I bought a new 1TB M.2 SSD to replace the existing M.2 SSD. Can I clone the 128GB M.2 SSD to 1TB M.2 SSD without installing Windows?"
On this page, you will learn what is M.2 SSD, how to upgrade and clone M.2 SSD to a larger M.2 SSD, and what to do after cloning M.2 to M.2 in a complete guide.
Note: If you've already bought the new M.2 SSD, jump to Step 3 in Part 1 to start the M.2 to M.2 cloning process. 
Part 1. Prepare M.2 SSD
Cloning a computer hard drive to SSD can optimize the computer performance without reinstalling Windows nor losing data. Cloning M.2 to a larger M.2 SSD also works the same. 
Before you start, follow the steps here to prepare your new M.2 SSD disk ready:
Step 1. Check the Number of SSD Slot on Your PC
Open the Laptop or Desktop computer case with a screwdriver.
Then check the number of SSD slots on your computer.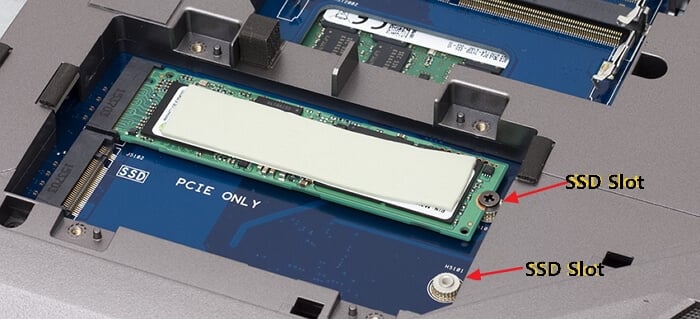 Step 2. Buy a Right M.2 SSD
When you are ready to purchase a new M.2 SSD, remember three things: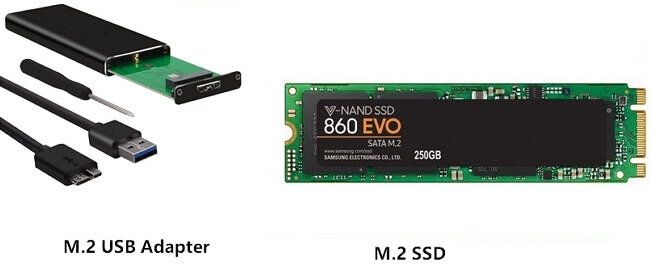 M.2 SSD must share the same length as the SSD slot in your PC.
If your PC has one slot, buy an M.2 SSD and an M.2 SSD USB adapter. 
The capacity of the new M.2 SSD should be twice or three times bigger than the old one. (500GB and 1TB are hot on Amazon.)
Step 3. Install the New M.2 SSD to Laptop/PC
If your PC has one SSD stot, connect the new M.2 SSD to the computer via an SSD USB adapter.
If your laptop or desktop contains two SSD slots, install the SSD:
On a laptop: Open M.2 slot > Slide M.2 SSD inside the slot > Screw the SSD drive in > Finalize and cover.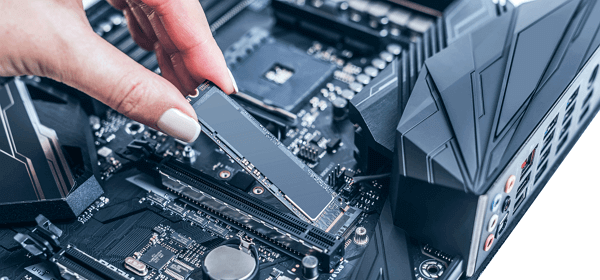 On a desktop computer: Find the M.2 connector, labeled as "PCIe" > Insert M.2 SSD inside the slot > Secure the M.2 SSD with the mounting screw.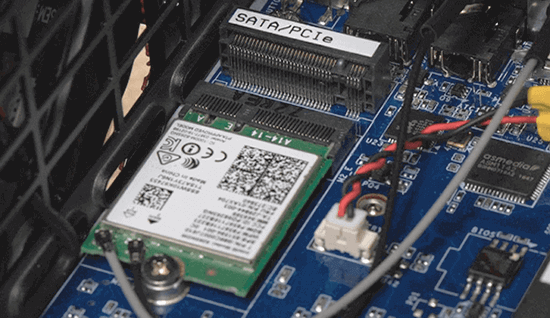 Step 4. Initialize New M.2 SSD
To guarantee a smooth M.2 to M.2 cloning process, you need to initialize the SSD first. 
Open Disk Management, locate and right-click the original M.2 SSD.
Select "Properties" and check the partition style of your source SSD.
Right-click the new M.2 disk and select "Initialize Disk".
Set the partition style the same as the source disk (MBR or GPT) and click "OK" to confirm.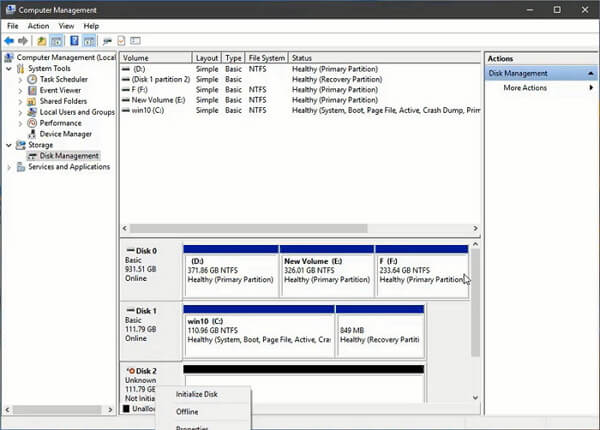 Now, you are good to move to Part 2, starting to clone M.2 to a larger M.2 disk on your own.
Part 2. How-to Tutorial: Clone M.2 SSD to a Larger M.2 SSD
In this part, you'll get the answers to these questions: "How do I clone an NVMe M.2 Hard Drive", "How do I transfer my OS to M.2", etc. Let's start:
#1. Best M.2 Disk Cloning Software Free Download
Here, the reliable SSD cloning software - EaseUS Todo Backup can upgrade and clone M.2 SSD for you.
What EaseUS Todo Backup Can Do?
Flexible and easy to use.
Clone SSD to a larger SSD without reinstalling Windows.
Copy everything on your disk to a new disk, including personal data, Windows OS, system files, installed applications, account settings, etc.
#2. Tutorial: Upgrade & Clone M.2 SSD to Larger M.2
With EaseUS disk cloning software, follow the tutorial here to upgrade an M.2 SSD to a larger M.2 SSD with ease.
Step 1. Launch EaseUS Todo Backup and click "Tools" at the top right corner, you can see clone and other utilities.
Step 2. Choose the source disk or partition as well as the target disk. (Make sure the space of the target disk is larger than that of the source disk or partition.)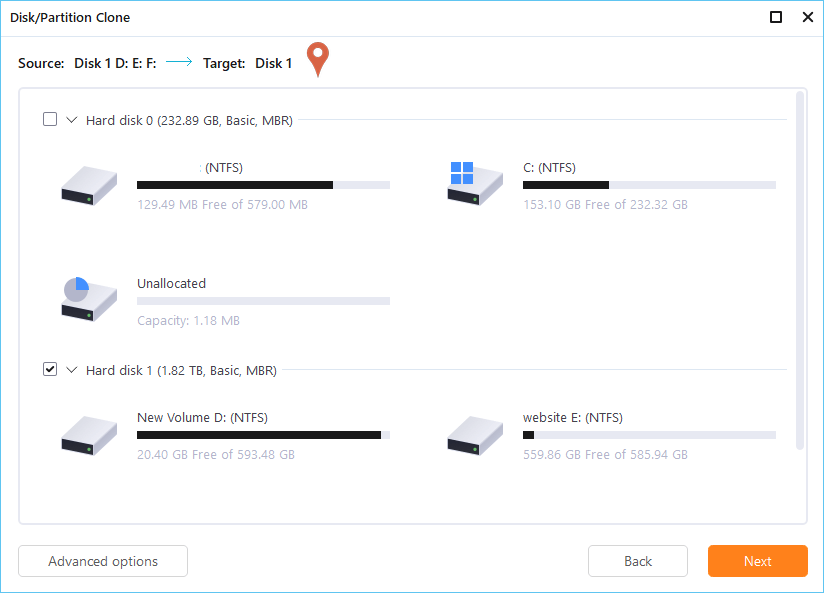 Step 3. The clone would permanently wipe out all data on the target disk/partition. If you have backup your data in advance, just click "Continue."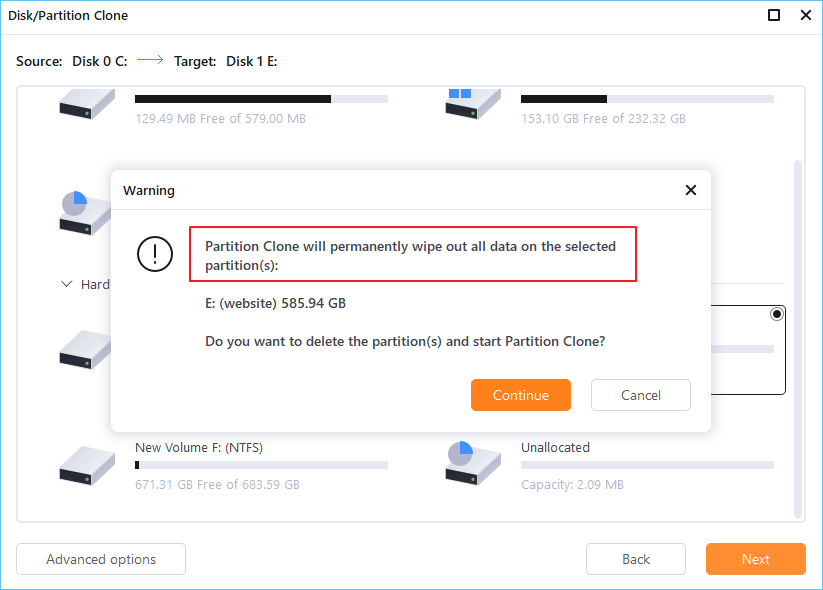 Step 4. Click "Proceed" to start cloning.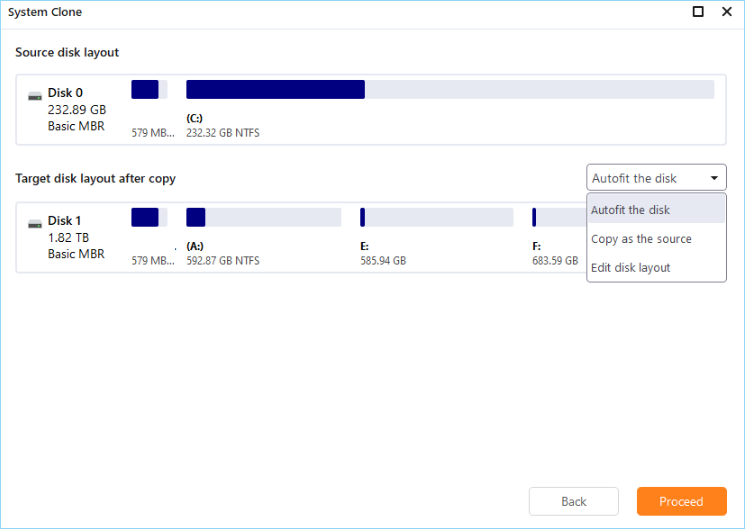 Video Tutorial of Cloning M.2 to Larger M.2 SSD
The steps of cloning M.2 to M.2 are merely the same as this video. You can also follow this video as a guide.
Part 3. What to Do After Cloning M.2 to M.2 SSD
So what to do after cloning M.2 to M.2 disk? Two things that you need to complete: 
2. Manage and make use of old M.2 SSD.
Let's see:
#1. Make Cloned M.2 SSD Bootable - Boot PC from New M.2 SSD
If the M.2 SSD that you cloned is an OS disk and you forgot to set it as a boot drive, you'll encounter with cloned SSD won't boot issue.
Step 1. Install the cloned new M.2 SSD to your PC.
If PC has one slot, replace the old M.2 SSD.
If PC has two slots, insert the new M.2 disk into the empty slot.
Step 2. Restart PC and press F2/F8/F11 or Del to enter BIOS.
Step 3. Go to the Boot menu, change the boot menu, set the new M.2 SSD as the boot drive.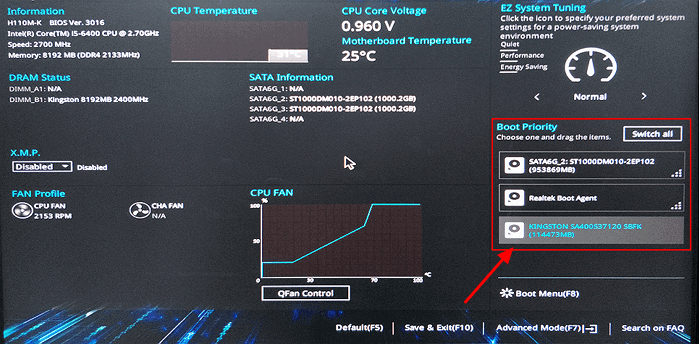 Step 4. Press F10 or save the changes, then restart the computer.
Wait patiently until the computer boots up, log in with your account. And you can use everything on the new M.2 disk now.
#2. Manage Old M.2 SSD
Once the computer boots up, you can now follow the tips here to manage your old M.2 SSD:
If your computer has one slot, you can connect the old M.2 SSD as an external disk, wipe disk data to sell it, or use it as an external data drive.
If your PC has two slots, you can delete all existing data and use it as a second data drive on your computer now.
Read Also: How to Partition SSD.
Conclusion
So, that's it. The whole process of cloning M.2 to a large M.2 SSD is all presented on this page. Three important things that you should remember:
1. Purchase the right SSD and install it correctly to the PC.
2. Clone M.2 to M.2 with the right disk cloning tool (like EaseUS Todo Backup).
3. Set PC boot from Cloned M.2 SSD.
 
People Also Ask about M.2 SSD Clone
If you have more questions about M.2 SSD or disk cloning, follow the questions and answers here. Hope the answers can help you out.
1. M.2 vs U.2, which is faster?
Accordingly, M.2 is a small-sized disk that directly connected to the motherboard. While U.2 can be defined as a high-capacity disk connected to workstations and server motherboards.
U.2 SSD is much faster than M.2 SSD. U.2 used 4 PCle lanes, giving 4GB/s for data read and write while the M.2 SSD only has around 2500MB/s speed.
2. How to Move Windows to SSD?
To move Windows or migrate Windows OS to SSD, you may follow the tips here for a try:
Connect or install SSD to PC
Initialize SSD
Clone Windows OS to SSD via a reliable Disk Cloning Tool
Set SSD as boot drive and restart PC

 If you are looking for a reliable method to completely migrate Windows 10 from HDD to SSD or clone Windows 10 to SSD, EaseUS Todo Backup can be the best choice for you, though it's not the only solution.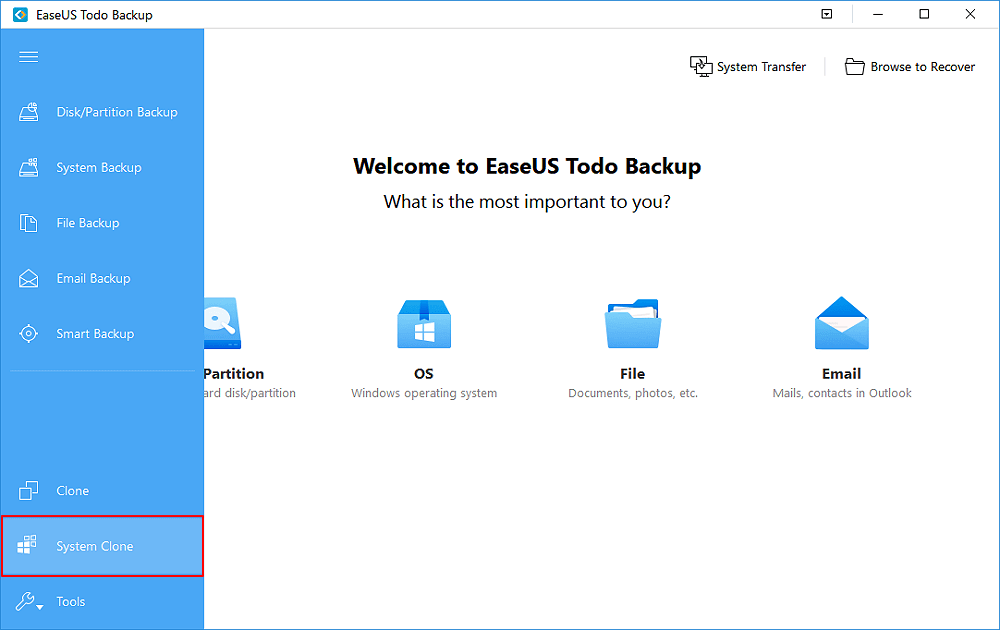 3. How Do I clone an NVMe M.2 hard drive?
The steps to clone an NVMe M.2 hard drive are similar as listed on this page:
1. Connect or install a new disk to PC.
2. Initialize Disk if it's a brand new disk.
3. Clone NVMe M.2 hard drive to the target disk via disk cloning software
4. Set the new disk as a boot drive if the NVMe M.2 was a boot drive.
Gemma is member of EaseUS team and has been committed to creating valuable content in fields about file recovery, partition management, and data backup etc for many years. She loves to help users solve various types of computer related issues.

Author Jean has been writing tech articles since she was graduated from university. She has been part of the EaseUS team for over 5 years. Her special focuses are data recovery, disk partitioning, data space optimization, data backup and Mac OS. By the way, she's an aviation fan!
Taking everything into consideration, we can say that EaseUS Todo Backup Home can offer you a little extra sense of security with a set of advanced tools. The interface provides quick adaptation, every process guiding you all the way through so you don't get stuck or further damage your system rather than keeping it safe.

 Read More

EaseUS Todo Backup Free lets you create backups of your important files or your entire computer through its streamlined interface. Just choose the backup type you'd like to get started, and let the program do the reset.

 Read More

EaseUS includes all the features I expect from backup software like versioning, incremental backups, and scheduling. For more advanced users, EaseUS allows you to install a pre-boot environment onto your hard drive so you can use it to restore files without burning a CD or putting it on an external USB drive.

 Read More

EaseUS Todo Backup
Smart backup tool for your files and entire computer in Windows 10/8/7.
Install Windows on Multiple Computers at Once? No Problem!
Learn how to install Windows 11/10/7 and special programs/software on a batch of computers. Use 10 minutes to do the 10 hours work without making a single mistake!
Get Free Solution!