OneDrive cloud storage of Microsoft is strictly packed into Windows 11/10. It is a built-in choice of subscribers of Microsoft 365. If you are not invested in Microsoft Ecosystem and looking for how to stop OneDrive from Syncing in Windows 11/10, this article is the right place. Here we will discuss the ten easy methods to stop One Drive syncing. These methods are applicable in both Windows 11 and Windows 10. 
What is OneDrive?
A file hosting service run by Microsoft is called OneDrive. Files can be synced and shared by logged-in users. The web-based version of Microsoft also uses OneDrive as its backend storage. OneDrive syncs the folders relatively quickly, so what you see in File Explorer is what is stored on the cloud and vice versa. 
OneDrive offers up to 5 Gb of free cloud storage, and generally, people use it to store work-related data. Some OneDrive users store all their web-based files and folders on their desktops due to a shortage of cloud storage. Sometimes, they may need to disable OneDrive from syncing in their windows computer. 
You must be looking for why would you want to stop OneDrive from Syncing. Now it's time to address your doubts.
Why Would You Want to Stop OneDrive from Syncing?
There are some reasons you would like to stop OneDrive from syncing. Those reasons that might be unpleasant for OneDrive users are listed below:
Although OneDrive is undoubtedly secure, there are still uncertainties around the level of privacy you may expect. 
If an employee departs and his or her M365 license is deactivated, Microsoft is not obliged to keep the employee's data any longer.
Unfortunately, OneDrive has some restrictions on the types of data that it may sync and store.
The number of objects that can be synchronized with OneDrive, based on Microsoft's SharePoint software, is restricted.
OneDrive may automatically be syncing files from your PC that you don't want.
Reasons can be different to stop OneDrive syncing. The following section will help you to do that in 10 different ways. Notice that you have successfully backed up all the essential data before disabling the synchronization of your OneDrive. EaseUS Todo Backup will help you back up your OneDrive data and protect them from getting corrupted.
For data protection, you may need to know:
10 Ways to Stop OneDrive from Syncing
Are you searching for How to stop OneDrive from syncing on your Windows 11/10? There are multiple ways to make it happen. We have come up with the best ten ways How to Stop OneDrive from Syncing in Windows 11/10.
1. Pause OneDrive
In Windows 11 and 10, you can temporarily pause OneDrive whenever you choose, even if it is actively syncing data. It offers three-time intervals of 2 hours, 8 hours, and 24 hours to pause sync.
Step 1. Pick the OneDrive cloud symbol next to the notification area.
Step 2. Choose "Help & Settings" < "Pause syncing" to pause OneDrive.
Step 3. Decide on a time frame: "2 hours, 8 hours, or 24 hours."
Step 4. Select the "Show hidden" icons arrow on the taskbar to reveal the OneDrive icon if you can't see it.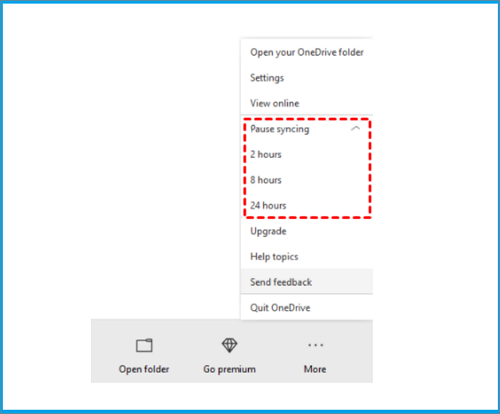 2. Quit the OneDrive application
Additionally, closing OneDrive will stop it from synchronizing indefinitely.
Step 1. Select "Help & Settings" > "Close OneDrive" from the Microsoft OneDrive menu to perform this.
Step 2. Select "Quit OneDrive" once more to confirm.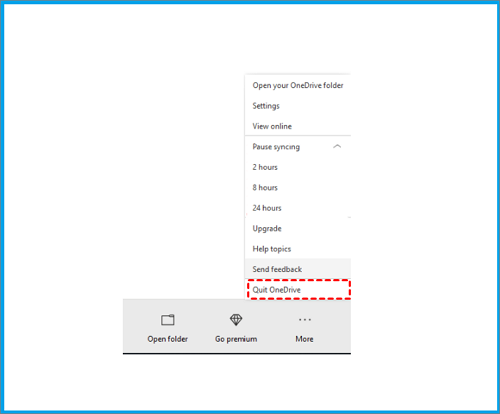 3. Unlink PC from the OneDrive
You can also disable OneDrive sync by separating your computer from your OneDrive account.
Step 1. As above, click "Settings" in the pop-up menu.
Step 2. Click "Unlink this PC" on the pop-up window's Account tab to separate the account from the computer.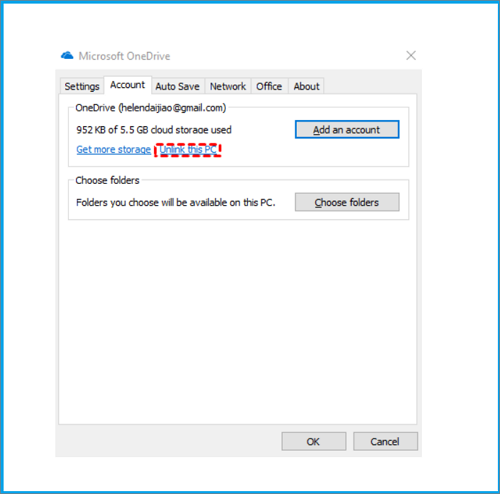 4. Turn off the network connection
An indirect method of stopping syncing is to turn off the network connection. You can turn off the network supply for your PC, and for your smartphone, you can turn off the cellular data and Wi-Fi connections. Switching the phone to "Airplane Mode" will disconnect the network connection. Hence, the OneDrive will unable to sync your current files. 
5. Alter the settings for automatic syncing
Your files may sync automatically if you have certain settings in OneDrive. As a result, you can turn off several OneDrive automatic sync settings. To stop auto-sync, open OneDrive and go to Auto Save, then typically uncheck "Automatically save photographs and videos to OneDrive whenever I connect a camera, phone, or other devices to my PC" and "Automatically save screenshots I capture to OneDrive".
6. Delete the source files from the OneDrive folder
Selecting no source folder prevents OneDrive from accessing files, effectively ending the sync process. OneDrive will sync the local folder's data with the cloud. To do so, follow the given steps: 
Step 1. Click the "OneDrive" icon in the system tray.
Step 2. Select "Open folder" to the OneDrive local folder, and then clear the data.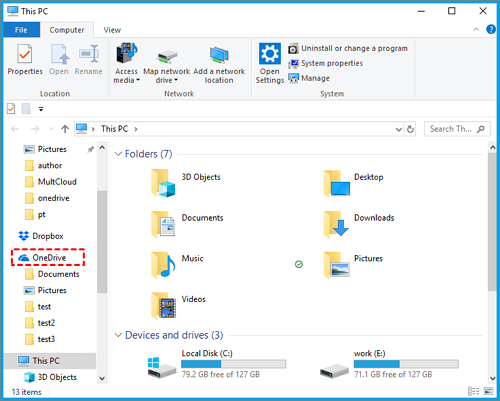 7. Uninstall OneDrive on Computer
If none of the above solutions works for you and OneDrive doesn't stop syncing, you can uninstall the OneDrive. If you uninstall OneDrive, it will not delete the existing files.
Step 1. Launch the Control Panel from the Start menu of your Windows PC.
Step 2. Now, select "Uninstall a program" to remove OneDrive.
You can also open Windows Settings from the start menu or press "Win + I" shortcuts. Select "Apps" > "Apps & features", find Microsoft OneDrive, and click the Uninstall button. 
8. Hide OneDrive on Computer
In different versions of Windows PC, OneDrive comes in-built and you cannot uninstall it. If OneDrive cannot uninstall, you can hide it to prevent it from synchronizing.
Step 1. Click OneDrive in the "Windows file explorer" and choose "Properties" from the context menu.
Step 2. Check "Hidden" in the "General" tab of the OneDrive "Properties" box that appears.
Step 3. To save and leave, click "OK".
Step 4. Finally, to stop OneDrive from synchronizing, close it from its system tray icon.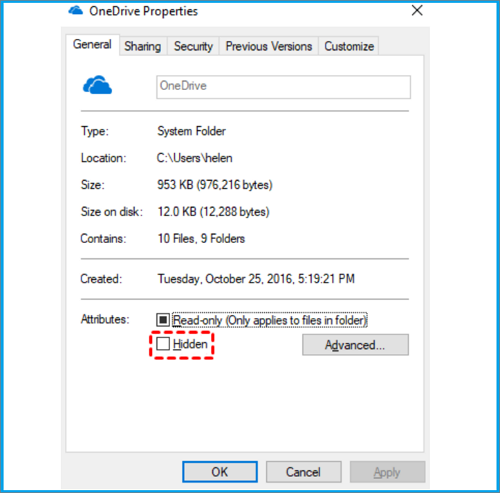 9. Turn off OneDrive's automatic launch
OneDrive can't sync your files automatically if you disable automatic startup.
Step 1. Select the "Settings" tab.
Step 2. Uncheck the box next to "Start OneDrive automatically when I sign in to Windows".
10. Stop Office Apps From Syncing to OneDrive
You can stop Microsoft Office apps from synchronizing files to OneDrive by opening OneDrive's Settings. Now open the Office tab and uncheck the box next to Use Office applications to sync files that I open and select "OK".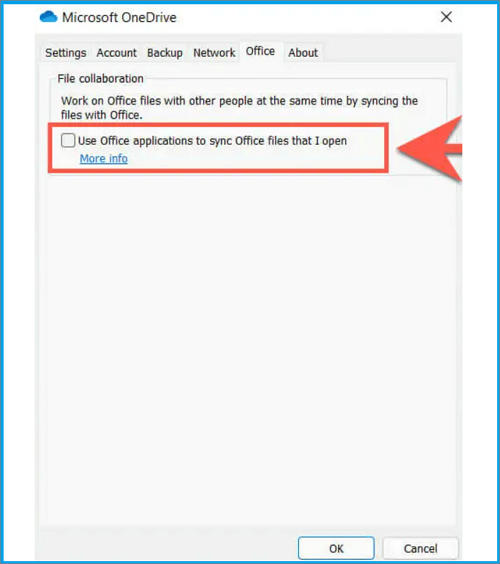 Conclusion
OneDrive is helpful to some people because it can support them in protecting and storing their files. One drive is suitable for professional use under Microsoft 365 subscription. It makes the workflow smooth by enabling colleagues to store and share the files through the cloud.
Some users, however, think that OneDrive is not required on their computer because they can use other, more dependable services or choose a different data security method. Consequently, confident voices are critical of it. We have mentioned the best ways How to Stop OneDrive from Syncing in Windows 11/10. 
Make sure that you have successfully backed up all the essential data before disabling the synchronization of your OneDrive. You can use a free data backup tool EaseUS Todo Backup to avoid losing your files. This tool helps you back up your OneDrive data and protect them from getting corrupted.
Your data and your future are protected with EaseUs Todo free backup software! It has a straightforward user interface but robust functionality for backing up the disc, partitions, OS, and data, and it can save backups to local discs, NAS, networks, and the cloud.
Later if you want to use OneDrive, you can always download OneDrive from the Microsoft website and continue your work right where you left off.
If you are not clear about how to back up your OneDrive data before stopping Onedrive from syncing, here is a step-by-step guide for you to operate this tool.
Step 1. To begin the backup process, click the Select backup contents button.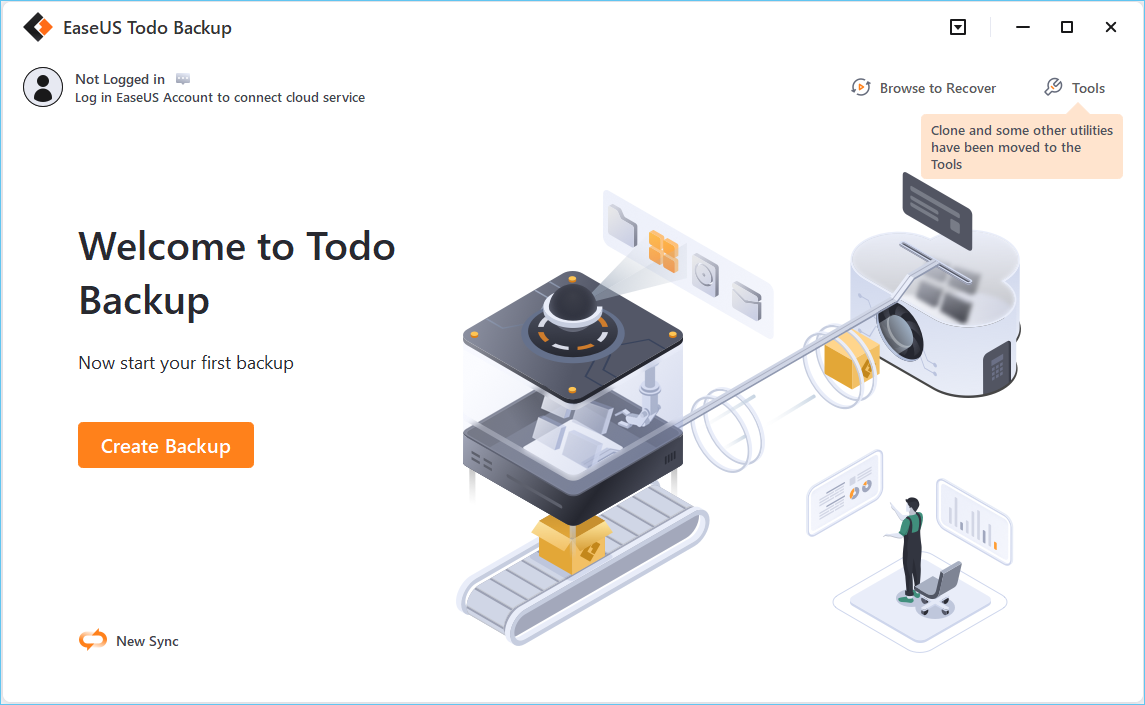 Step 2. Four data backup categories are listed: File, Disk, OS, and Mail.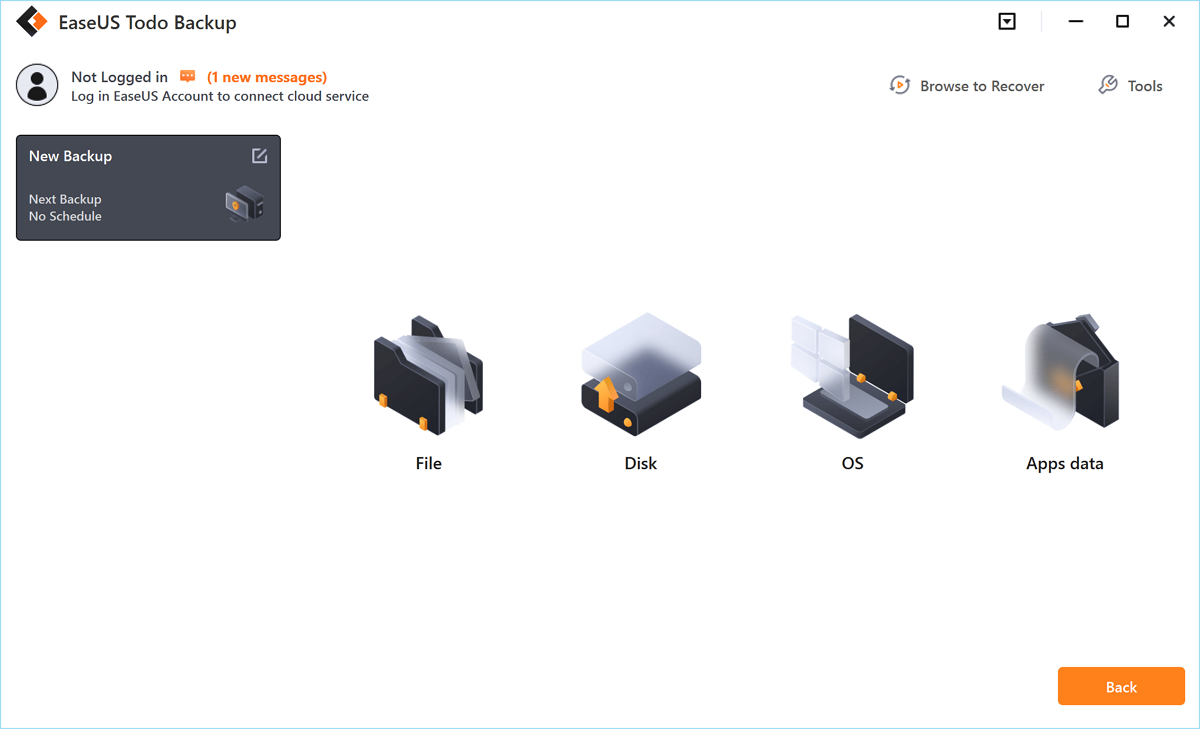 Step 3. Lists of both local and network files are shown on the left-hand side of the screen. Expanding the directory so that you can choose the files to back up.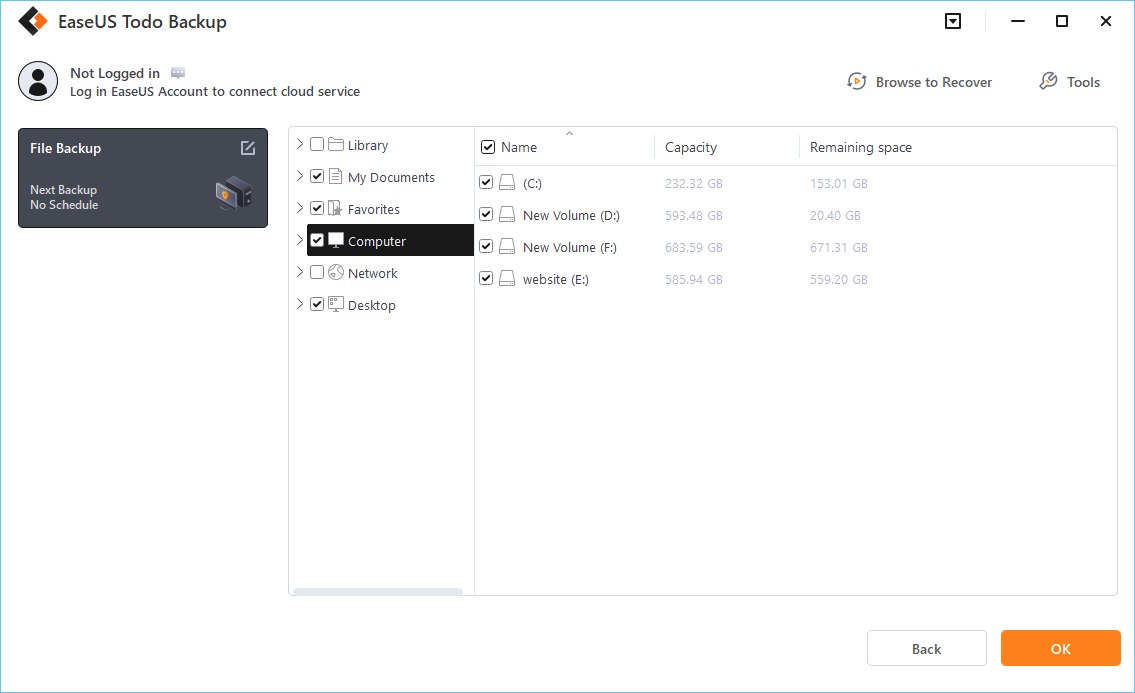 Step 4. Follow the guidance on the screen and choose the place where you want to store the back up.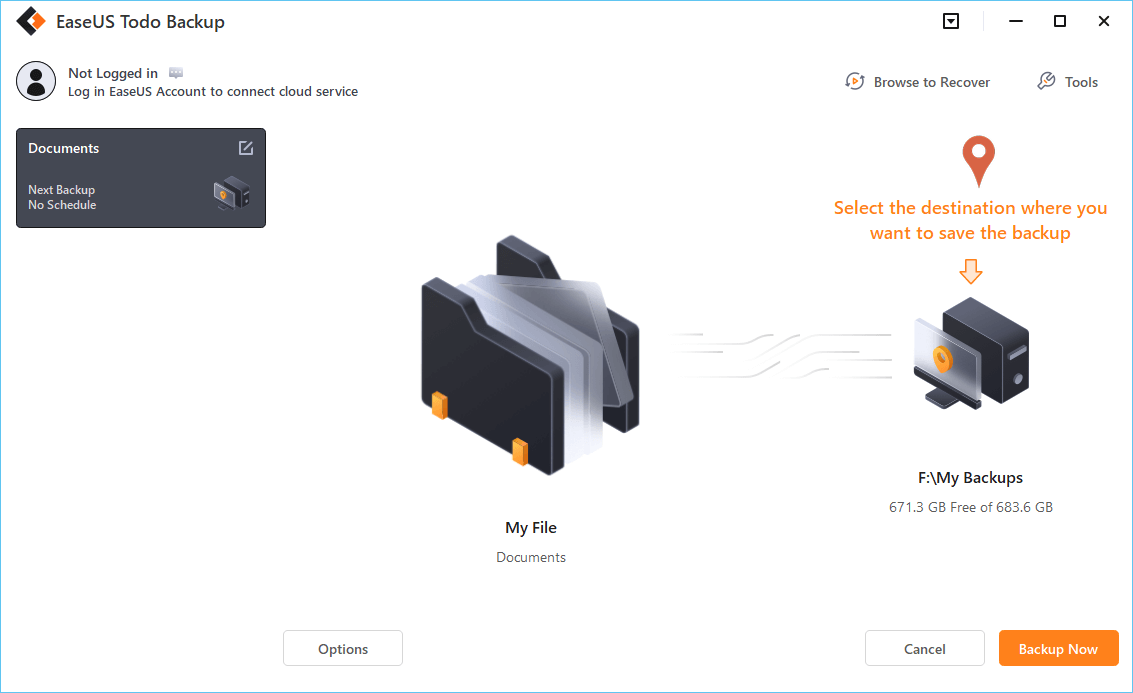 Make sure that the backup is encrypted and set the backup schedule by clicking Options in Backup Options. You can also choose to start the backup at a certain time in Backup Scheme by clicking Options. There are many other customizable options that you can look into.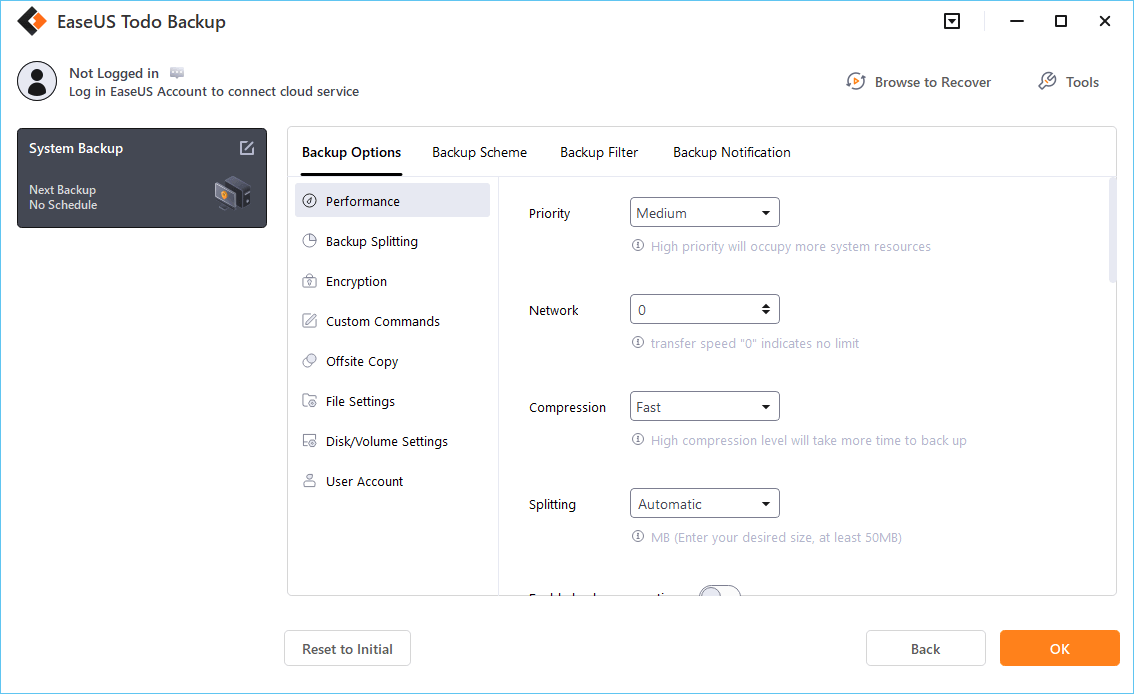 Step 5. You can store the backup file either on your computer, in EaseUS's cloud service, or on a network-attached storage device (NAS).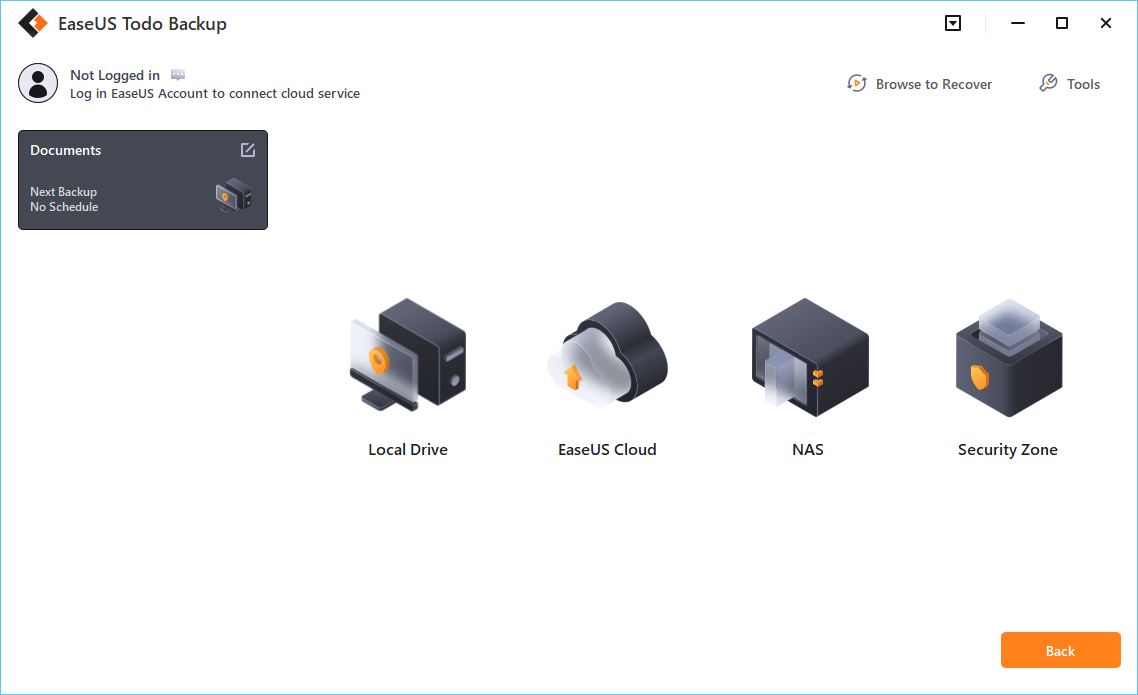 Step 6. EaseUS Todo Backup enables customers store backup copies of their files on a third-party cloud drive or on the company's own cloud storage.
If you want to back up your data on a third-party cloud drive, select Local Drive and scroll down to add Cloud Device. Then fill in your account information.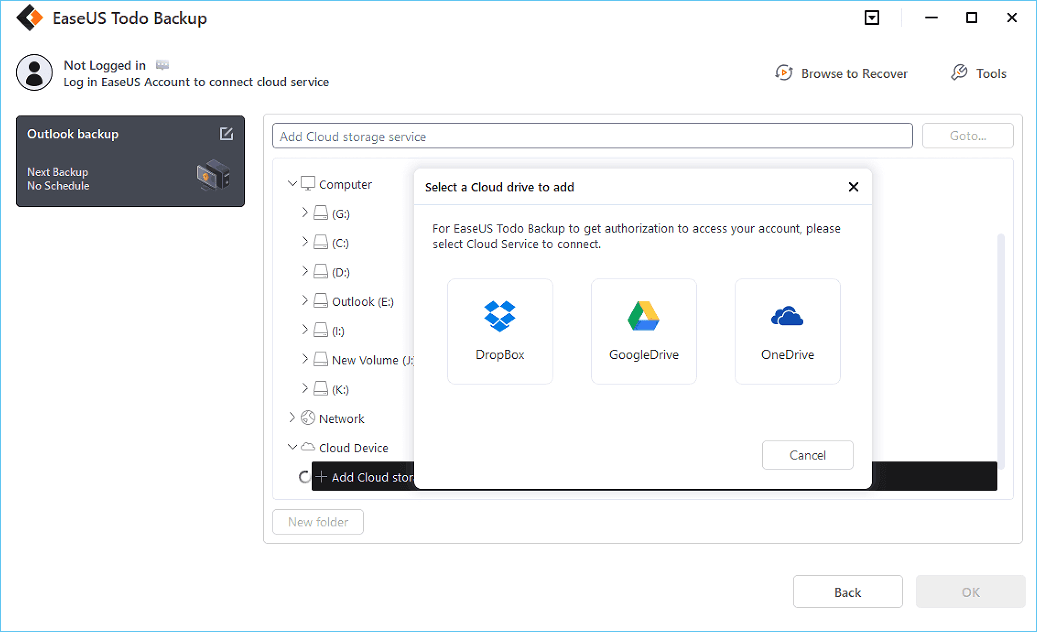 Click EaseUS Cloud, then sign up and log in with your EaseUS account if you wish to store backup files to EaseUS' own cloud storage service.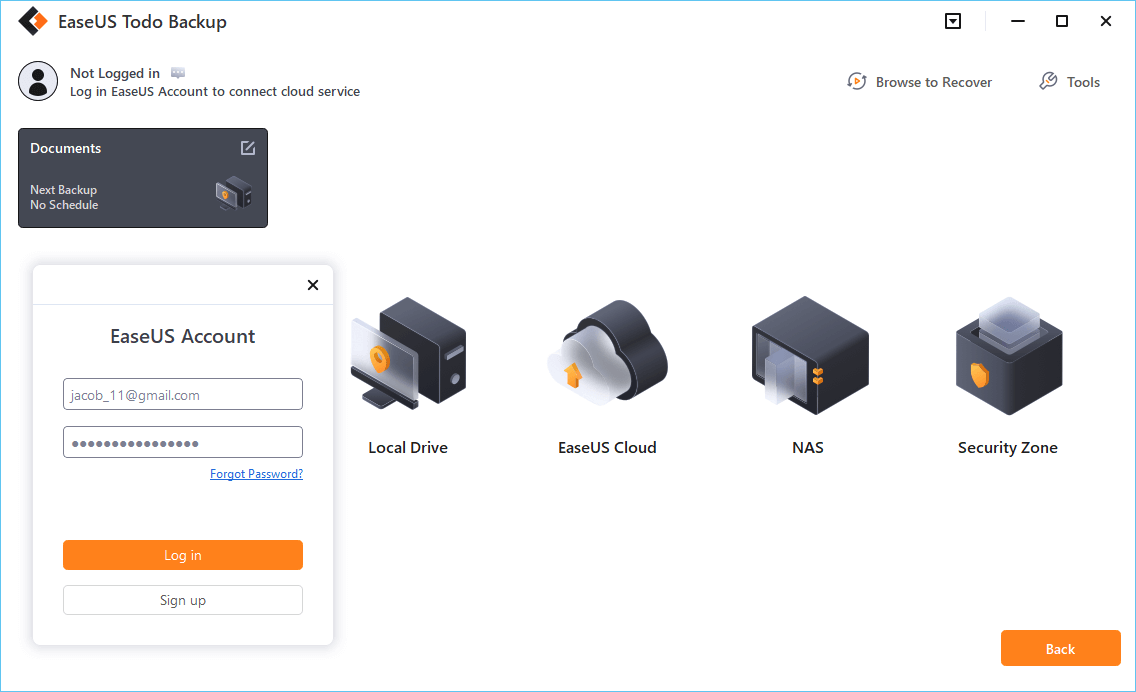 Step 7. Click on Backup Now to start a backup.  When the backup process is done, it will display as a card on the left-hand side of the screen. A right-click will let you see more about how to handle the backup job in more depth.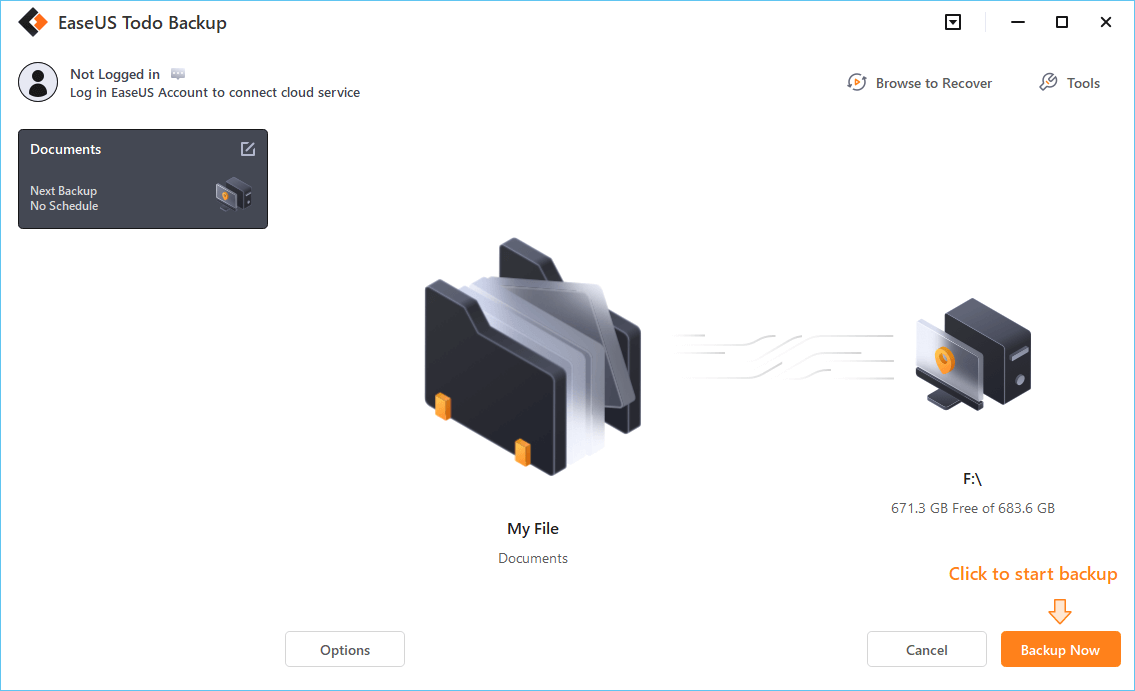 FAQ about OneDrive
Other problems of disabling the synchronization of your OneDrive you may need to address:
1. How to stop OneDrive syncing folders without deleting files?
Firstly, open File Explorer. Then select your OneDrive folder on the device and open the folder where you want the files to remain after sync. Next, Select all the files. Finally, right-click and press "Always keep on this device".
2. How do I disable OneDrive?
If you want to disable OneDrive, you can choose to disable it on startup.
Step 1. Right-click on the Taskbar and choose Task Manager.
Step 2. In the pop-up window, go to the Startup tab.
Step 3. Then select Microsoft OneDrive and choose Disable.
Step 4. After that, restart your computer and the OneDrive will no longer start with Windows.
3. Do I really need OneDrive on my computer?
You may already have the answers. OneDrive only allows you to sync some files, photos, Windows settings, or the files but you can't use it to back up the operating system. And the free storage space is limited. In other words, OneDrive is not necessary on your computer.
Daisy is the Senior editor of the writing team for EaseUS. She has been working in EaseUS for over ten years, starting from a technical writer to a team leader of the content group. As a professional author for over 10 years, she writes a lot to help people overcome their tech troubles.

Jean has been writing tech articles since she was graduated from university. She has been part of the EaseUS team for over 5 years. Her special focuses are data recovery, disk partitioning, data space optimization, data backup and Mac OS. By the way, she's an aviation fan!
Taking everything into consideration, we can say that EaseUS Todo Backup Home can offer you a little extra sense of security with a set of advanced tools. The interface provides quick adaptation, every process guiding you all the way through so you don't get stuck or further damage your system rather than keeping it safe.

 Read More

EaseUS Todo Backup Free lets you create backups of your important files or your entire computer through its streamlined interface. Just choose the backup type you'd like to get started, and let the program do the reset.

 Read More

EaseUS includes all the features I expect from backup software like versioning, incremental backups, and scheduling. For more advanced users, EaseUS allows you to install a pre-boot environment onto your hard drive so you can use it to restore files without burning a CD or putting it on an external USB drive.

 Read More

EaseUS Todo Backup
Smart backup tool for your files and entire computer in Windows 10/8/7.
Install Windows on Multiple Computers at Once? No Problem!
Learn how to install Windows 11/10/7 and special programs/software on a batch of computers. Use 10 minutes to do the 10 hours work without making a single mistake!
Get Free Solution!