"What kind of safe and secure cloud storage service is available to back up my data?"
-Asked a user.
Without cloud storage, data storage wasn't always as simple as it is today. Cloud storage has caused a storm in the digital age because of its incredible data storing and automatic backup features. This online data storage service isn't free, though. 
To help you find your perfect free cloud storage for backup, we've got together a detailed guide that gives you a walkthrough of the best cloud storage services available for free. Also, we will discuss EaseUS Todo Backup. It's a professional backup tool that makes your backup process simple and convenient. 
Continue reading to know more about it!
Where Can I Get Free Cloud Storage? 
Many services are providing free cloud storage in the market, but if you want to truly secure your privacy, you should only choose the top ones. To assist you in moving forward, we have compiled a list of the top free cloud storage providers for this post.
However, before discussing how to get free cloud storage, it's essential to understand what cloud storage is and why you might need it. Let's look at it now.
What is Cloud Storage?
Cloud storage is the most useful service that allows you to store data online rather than locally on a computer. An internet connection is required for uploading, editing, and sharing documents, spreadsheets, presentations, music, images, video, and other items with others. Online storage service providers do not save any data on the hard drive of your computer. 
Best Free Cloud Storage for Backup
The top free cloud storage programs and services, along with the most recent download links, are listed below. You can learn how to get free cloud storage from this list of backup choices for open-source (free) cloud storage. Check it out and pick the option that best suits your requirements.
1. MEGA
Due to its extremely generous free plan, MEGA is the first provider to appear on our list of the top cloud storage services. It provides 20GB of unrestricted free storage, which is more than any other good service on this list (emphasis on quality). You can increase your limit even more by completing what MEGA refers to as "achievements."
Features:
It provides 20 GB of free storage.
Chats and files are encrypted using keys.
Mega supports file and folder sync.
After every 6 hours, 1 GB of data is available to download.
Pros
There's a lot of storage space.
Provide shared public folders.
Apps are accessible on both mobile and desktop.
A modern and clean appearance.
Cons
It takes a long time to prepare files for download.
Bandwidth constraints.
If you do not complete achievements, your storage capacity may be reduced.
Price 
MEGA offers three basic and one professional plan.
Basic plans
Pro lite: the plan is available for new users for €4.99 per month with 400 GB storage and 1TB transfer.
Pro I: It's available for €9.99 per month and provides great value to users with its 2TB storage and  2TB transfer.
Pro II: It provides you a whopping 8TB storage and 8TB transfer for just €19.99 per month.
Professional
Pro III: It's an enthralling plan with 26TB storage and 16TB transfer with premium cloud storage features. You can get this amazing plan just for €29.99 per month.
2. WorkDrive
For modern teams, small businesses, and major corporations, Zoho WorkDrive is the best  online service  for file storage, synchronization, and communication. It offers Team Folders, allowing teams of any size to collaborate securely as if they were sitting next to you. 
Additionally, you receive the Zoho Office Suite Editors as well as full access statistics at the team and team folder levels. Your mobile demands are completely met by WorkDrive thanks to its desktop sync software, Android and iOS mobile apps, and web-based mobile apps.
Features
Enables real-time collaboration with your team.
Accessible from both tablets and smartphones.
It is a top choice for cloud storage for businesses because it offers customizable reports.
File management and storage are simple.
Pros
Reasonable pricing.
Responsive customer service.
User-friendly interface.
Advanced functions.
Cons
Limited ability to integrate with other systems.
Slight delay in the content in Sheet synchronizing while working with the team in real-time.
Price
It offers a 15-day free trial, and its pricing plan is divided into three parts. 
Starter pack includes 1 GB file upload limit and 1TB storage per team for just $2 per month. 
Team plan provides 5GB of upload limit and 3TB storage per team for $4 per month.
Business plan of Zoho work drive is really popular for  its 50GB upload limit and 5TB storage per team that's available only for $9 per month. 
3. Google Drive
It would be insane not to include Google Drive in a list of the best free online cloud storage services. It's one of the best free cloud services available, thanks to its easy connection with Google Docs and a large 15GB storage limit for free users.
Features:
You can make free sheets, slides, and documents.
Real-time synchronization is possible.
You can create forms to help you carry out a survey.
Integrates with tens of thousands of third-party applications, including diagram tools, Gantt charts, and mind maps.
Compatible with Android, iOS, macOS, and Windows.
Pros
The webpage is exceptionally user-friendly.
File sharing and collaboration.
There is plenty of free storage.
Apps for desktop and mobile.
Cons
Storage that is shared with other Google services.
A simple desktop sync client.
Price
It's free for the first 15 GB. It has several plans and the price is shown in the table below. With its commercial version of Google Drive for Work, it offers limitless storage.
| Storage | Price |
| --- | --- |
| 100GB | $1.99 per month |
| 200GB | $2.99 per month |
| 2TB | $9.99 per month |
| 10TB | $99.99 per month |
| 20TB | $199.99 per month |
| 30TB | $299.99 per month |
4. Koofr
Koofr is a small Slovenian cloud storage company that just enhanced its free storage offering. You now get 10GB of storage for free, but there is no achievement or referral scheme to increase this. Because Koofr is based in the European Union, all of its customers are protected by the GDPR, and the service ranks highly in terms of security and privacy.
Features:
This free internet storage solution provides automated backup from phones.
Data synchronization with computers.
There are no file type or size restrictions. Upload whatever you want to keep secure.
It is one of the most incredible free cloud services for backing up photographs and movies from mobile phones.
Pros:
Simple to use.
Web, desktop, and mobile apps that are secure and GDPR-compliant.
It works with Google Drive, OneDrive, and Dropbox.
Excellent sharing features and interaction with Microsoft Office 365.
Cons:
There is no block-level synchronization.
There is no zero-knowledge encryption.
Price: 
Koofr fosters 10 GB of free data and has three pricing plans described below,
The briefcase plan is divided into two parts: smaller and medium. Smaller is available for 0.5€ per month with 10 GB cloud storage and medium for  1€ per month with 25 GB cloud storage. 
The suitcase is divided into three further plans: Large with 100 GB of storage for 2€ per month, XL with 2590 GB of storage for 4 € per month, and XXL with 1TB of storage for 19 € per month. 
Crate is available with three plans, XXXL with 2.5 GB of storage for 20€ per month, 10XXL with 10 TB of storage for 60€ per month, and 20XXL with 20TB of storage for 120€ per month. 
5. Icedrive
Icedrive, a newcomer to the cloud storage industry, is already a top provider and offers new customers 10GB of free space. As we covered in our review of Icedrive, it also offers superb security and privacy, a beautiful and simple user interface, and lifetime storage plans. It's also one of the fastest cloud storage solutions on the market.
Features:
It is the only service that supports Twofish Encryption in cloud storage. The client-side encryption ensures that no one may access your data.
You can use it to store files for free up to 10 GB.
Syncing doesn't take long. Not necessary because IceDrive can be mounted with just one click.
Icedrive offers a simple and intuitive interface for managing your files.
Stream media and effortlessly share it with others using cloud storage.
Pros
Has a practical mobile application for computers.
Allows you to preview PDFs and other documents while streaming audio and video.
Previous versions of your files are kept here.
Cons
Advanced link sharing and encryption aren't free.
Limits daily bandwidth to 3 GB.
Price
Icedrive has a variety of plans to meet your requirements of Up to 10GB of free storage.
Monthly plans: Lite ($1.67 per month for 150 GB of storage) and Pro ($1.67 per month for unlimited storage). Pro ($4.17 monthly for 1TB storage). Pro+ ($15 monthly for 5TB storage).
Annual plans: This plan includes Lite ($19.99 per year for 150 GB of storage). Pro ($49.99 per year for 1TB storage). Pro+ ($179.99 per year for 5TB storage).
Lifetime plans are available in two varieties: Lite (£49 one-time payment for 150GB of storage) and Pro (£99 one-time fee for unlimited storage). Pro (£119 upfront for 1TB of storage). Pro+ (a one-time payment of £399 for 5TB of storage).
6. Sync
If Icedrive doesn't interest you, you should consider our seventh-best option, Sync.com. Up to 5GB of cloud storage is available from Sync.com. That ought to be plenty to give it a try, but once you do, you might struggle to resist the impulse to upgrade to 200GB or 2TB of storage. It is also one of the best cloud storage options for massive data because there is no file size restriction.
Features
When you join Sync, you receive 5 GB of free cloud storage.
It can upload several files at once using the website interface and the mobile and desktop apps, similar to some of the other services on this list.
You can create shared folders that other users may access and share any folder or file with anyone, regardless of whether they utilize Sync.
You can store files in the Vault folder to prevent device syncing on other devices. If you want to archive some things online and don't need them elsewhere, this is helpful.
Pros 
Complete tasks to earn more free space.
Upload folders through the web.
Use team folders to collaborate.
Share the password with protection.
Cons
Not ideal for large files like videos.
Can't pause the web uploads.
A minimal but functional website.
Price
Sync has three price options for teams
Team Standard ($5 per user per month).
Team Unlimited ($15 per user per month).
 Enterprise price tiers (Get a quote). 
These rates are all for yearly billing. Plans for individuals are also available from Sync.com, starting at $8 per month. It provides a free beginning plan with the essential features. It is always free.
7. OneDrive
We've discussed Google Drive and Microsoft's cloud storage option above, and OneDive is comparable with them. It combines cloud storage with Microsoft's Office and Outlook services and the Windows operating system. Yet OneDrive is a standalone service and its features need to be highlighted.
Features:
Scan business cards, receipts, whiteboard notes, and other paper documents with your phone to store them in OneDrive.
For security reasons, you can specify an expiration date for shared files, images, and URLs.
Allows files up to 15 GB in size to be uploaded.
One of the top commercial cloud storage options, it provides powerful enterprise capabilities.
Pros
Use Microsoft Office Online.
Many options for file uploading.
Control the sharing of files.
Gain unrestricted access to more excellent storage.
Cons
Price
The basic account on OneDrive comes with 5GB of storage space and is completely free to use. One rung higher, its Standalone plan includes 100GB for $1.99 per month.
 OneDrive has two premium options for personal users: Microsoft 365 Personal (1TB, $5.99 per month) and Microsoft 365 Family (6TB, $7.99 per month). 
Both plans include Microsoft 365 tools such as Excel, Outlook, PowerPoint, and Word.
We've included all of our favorite free cloud storage options for backup. Still, MEGA is the most effective option because it offers a massive 20 GB storage space without any restrictions. However, there are still some features missing that you might need for cloud storage.
But don't worry, we'll disclose one of the finest cloud backup tools in the next part, which can provide you with a massive 250 GB of free cloud space and other benefits. Let's get a peek at it!
Bonus Tip: A Good Cloud Backup Tool - EaseUS Todo Backup
Here it is, EaseUS Todo Backup, the renowned cloud backup software. This incredible tool has a unique and extra set of functions that would be the ideal solution to all your backup and recovery issues. This tool nurtures a range of valuable features, from a massive 250 GB of free cloud storage to an alluring backup system. The key features of EaseUS Todo Backup are shown below.
Features of EaseUS Todo Backup 
Here are some of the main features of this incredible tool. 
Immense file recovery and backup: Highly efficient instant recovery and one-click backup feature to help you recover and backup all of your files.
Multi-path Backup Storage: It helps users with the 3-2-1 backup rule. Backup files can be saved on an external hard drive, a cloud drive, or a network drive.
Ample cloud storage: EaseUS Todo Backup provides its users with a massive 250 GB of cloud storage.
Bootable Backup and Recovery: The backup and recovery feature allows you to create a WinPE bootable disc in three simple steps.
Basic Backup Scheduling: Create a backup plan that runs on a daily, weekly, or monthly basis. An auto backup plan can substantially reduce the stress of forgetting to do something.
Secured Password-protect Backups: Encrypting backup files doubles their security. EaseUS Todo Backup respects your privacy and understands the importance of data confidentiality.
You can follow these steps to do backup work with this intelligent tool:
Step 1. For the first time you use EaseUS Todo Backup to back up files, click Create backup on the home screen and then mouse click the big question mark to select backup contents.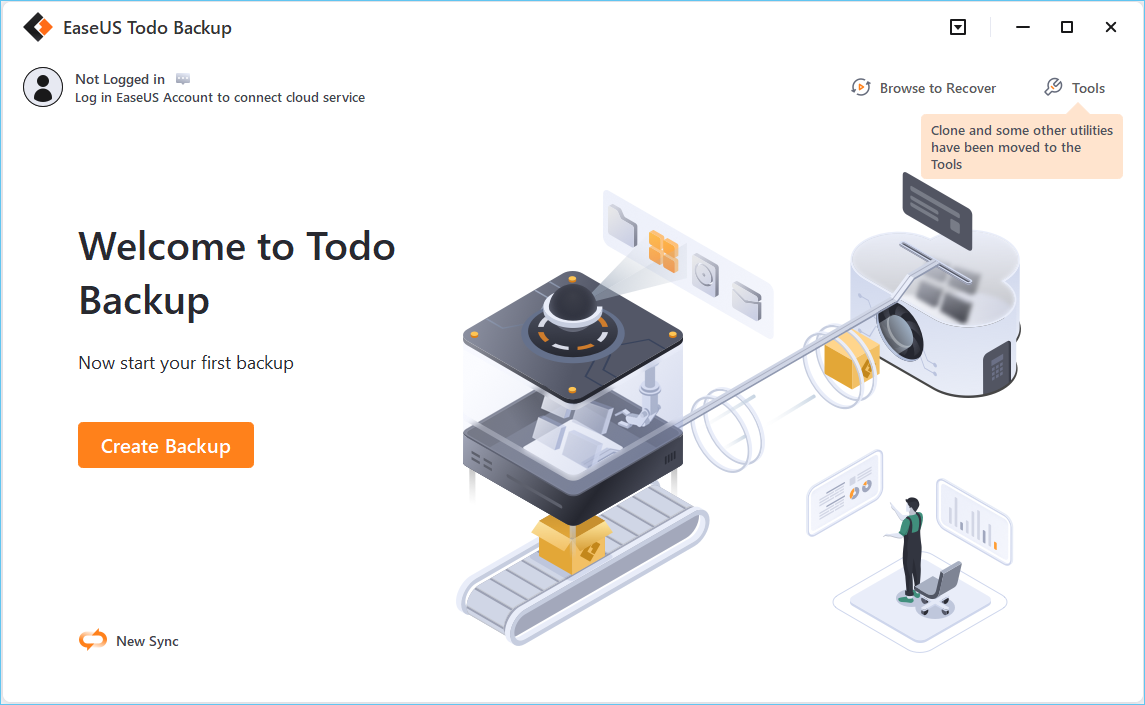 Step 2. Since you're going to back up files and folders on your computer, go on with the "File" backup mode, where you can select pictures, videos, documents and all other types of files to back up.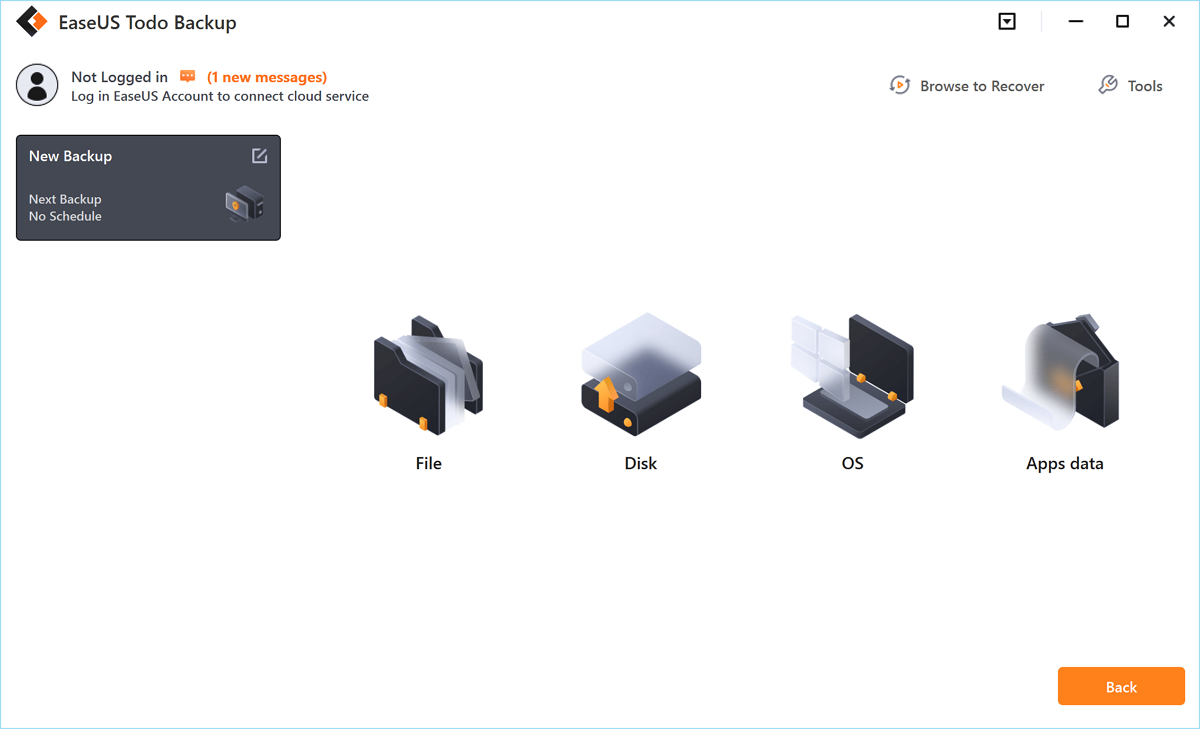 Step 3. Follow the paths to locate the files, folders or directories you want to back up, select them all and click "OK".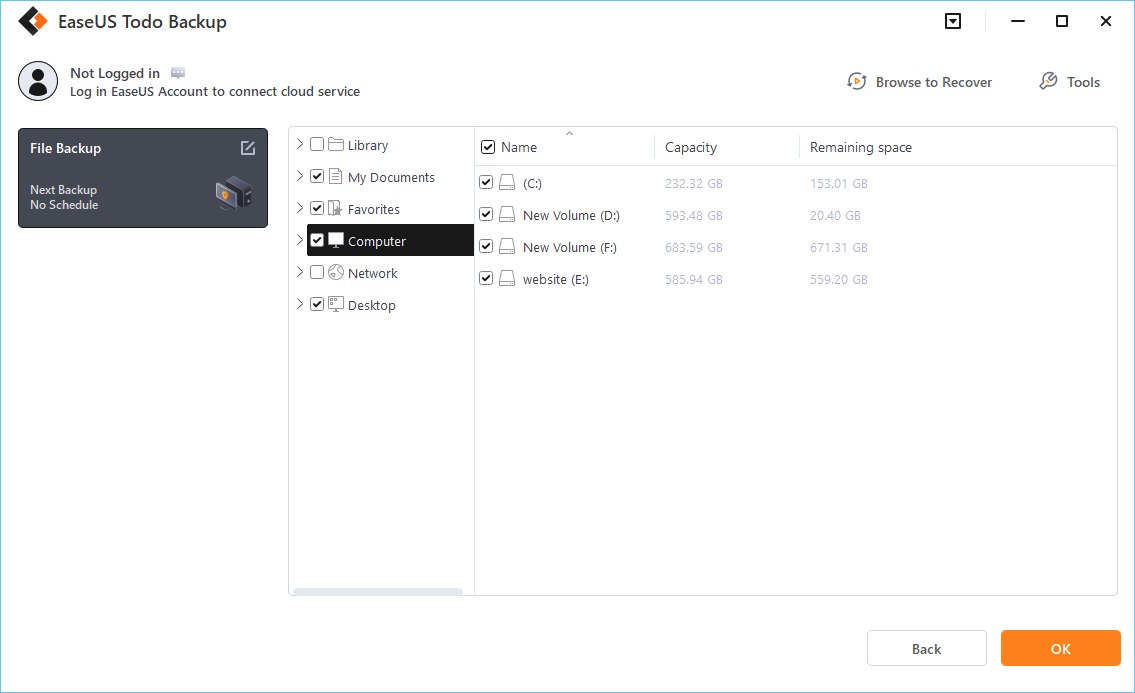 Step 4. Now you need to select a backup location to save and retain the backup.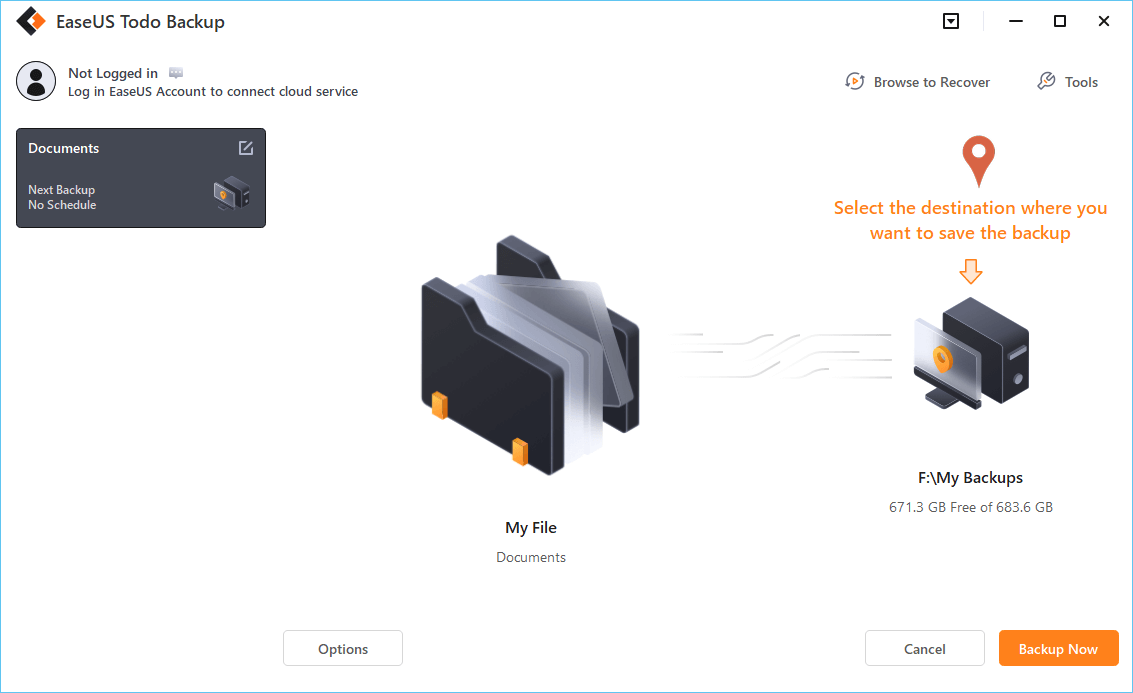 Step 5. EaseUS Todo Backup allows users to save the backup files to every device that is handy for you, like a local hard drive, external USB drive, SD card, network drive, or a NAS drive, plus a cloud drive of the EaseUS brand. We personally recommend users to choose the cloud drive prior to a physical drive to save important backups due to the greater accessibility, flexibility and safety.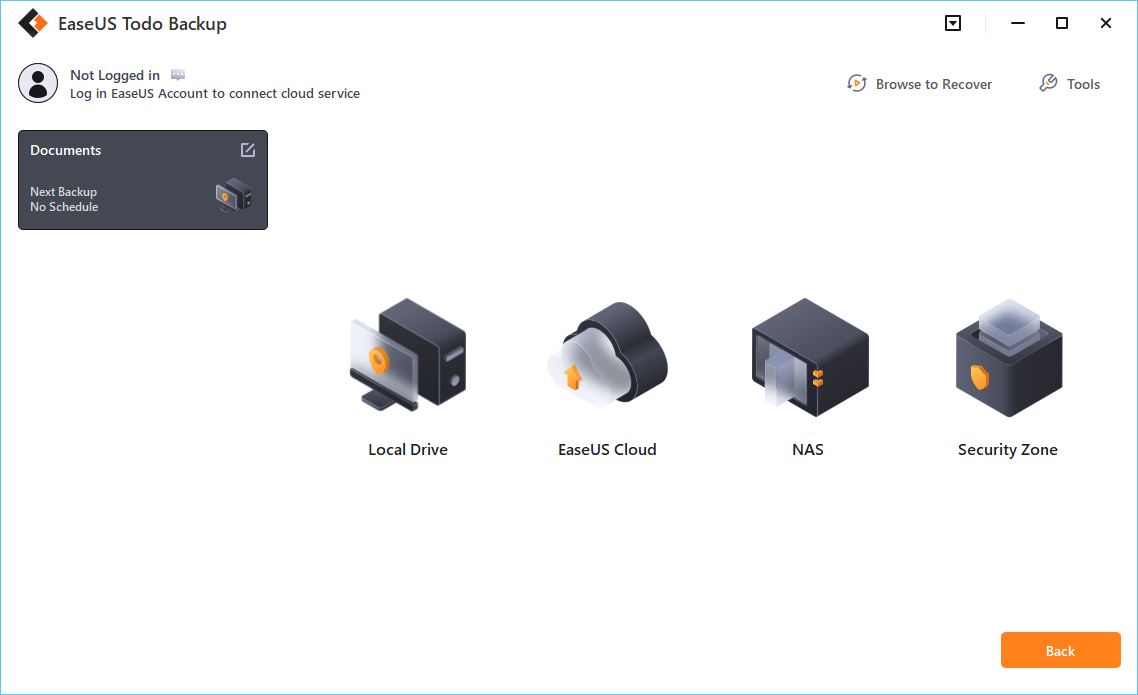 To be able to access to EaseUS cloud, all you need is an email registration and login.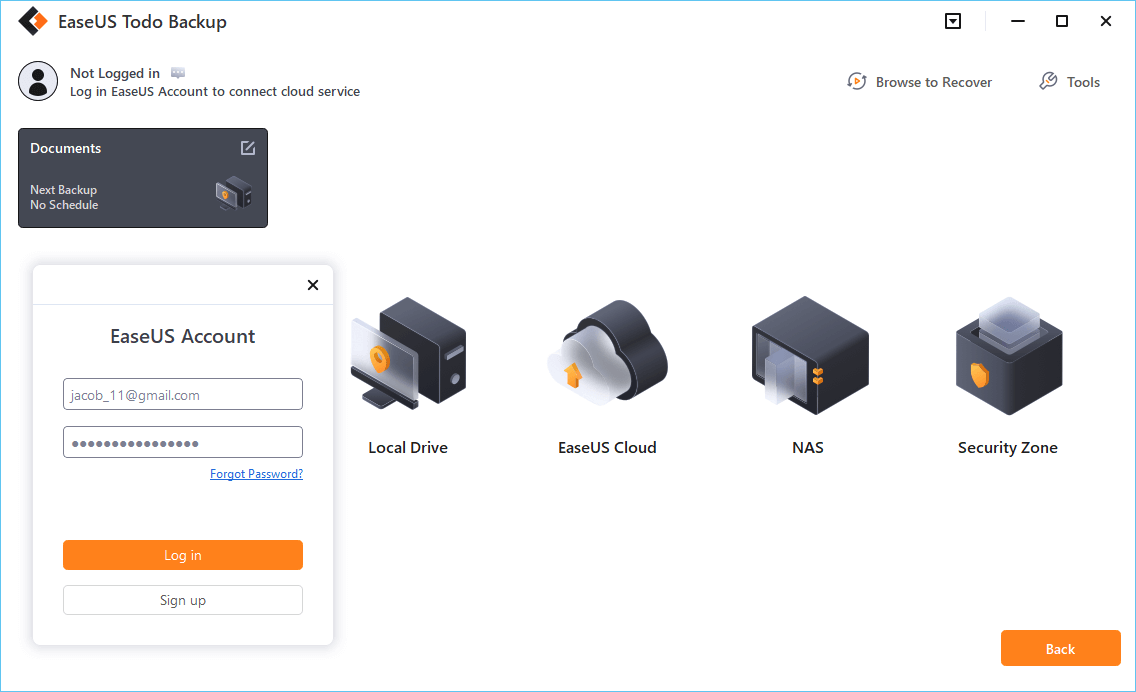 Step 6. If you're interested in an automatic and intelligent backup schedule for the next file backup task, go on with the "Options" setting. There you can encrypt a confidential file backup, compress the backup image size, or customize a backup scheme to tell the software in what time to start the next backup. 
Customize an advanced and automatic backup task here: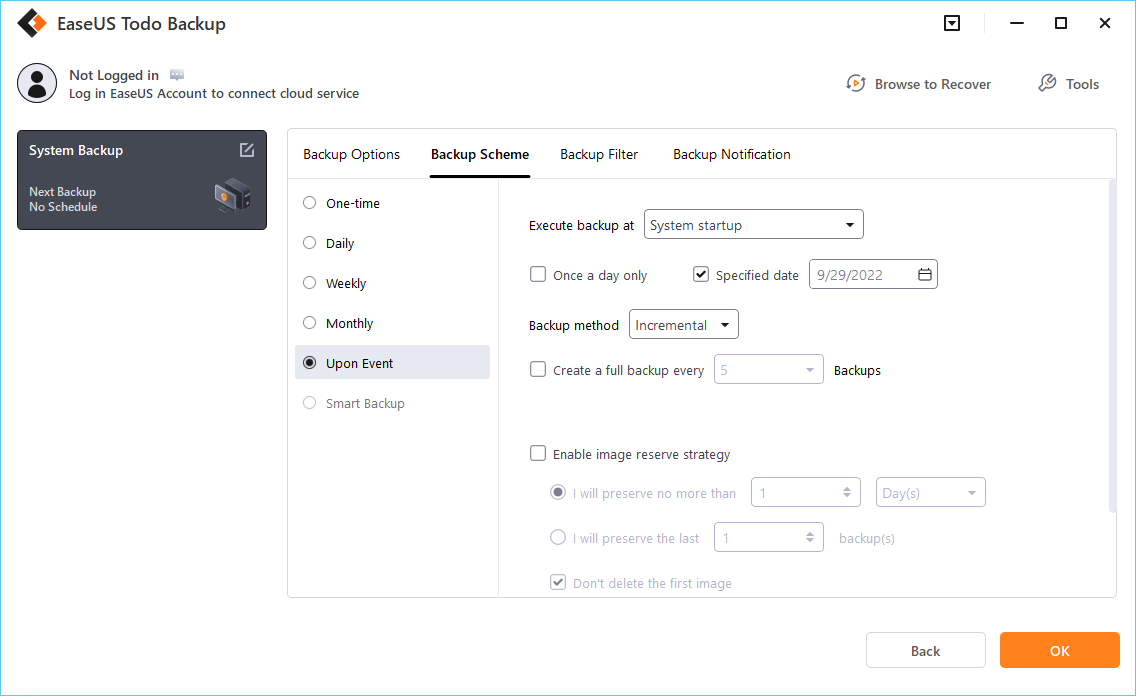 Step 7. Click "Backup Now" to start the file backup process. Your completed backup files are visible on the left area in a card style.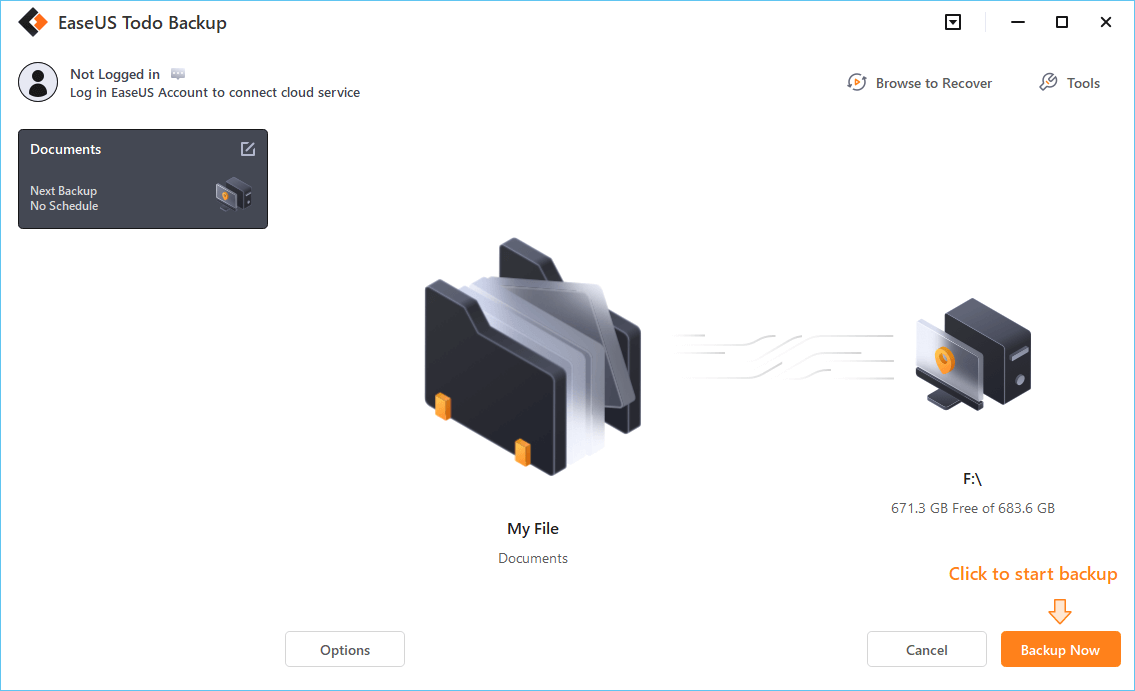 Final Verdict 
By now, you've probably decided which free cloud storage service you want to use and how to get free cloud storage since you've reached the end of the article. The benefit of the pricing is that, even if you don't like Mega (our top choice), you can instantly switch to one of the other solutions, like Sync.com. 
But if you'd like a massive 250 GB cloud storage for nothing, we recommend using EaseUS Todo Backup. This tool can provide much more than just storage. We've already discussed its additional features above. So, without further ado, download it now!
Daisy is the Senior editor of the writing team for EaseUS. She has been working in EaseUS for over ten years, starting from a technical writer to a team leader of the content group. As a professional author for over 10 years, she writes a lot to help people overcome their tech troubles.
Written by Gemma
Gemma is member of EaseUS team and has been committed to creating valuable content in fields about file recovery, partition management, and data backup etc for many years. She loves to help users solve various types of computer related issues.
Taking everything into consideration, we can say that EaseUS Todo Backup Home can offer you a little extra sense of security with a set of advanced tools. The interface provides quick adaptation, every process guiding you all the way through so you don't get stuck or further damage your system rather than keeping it safe.

 Read More

EaseUS Todo Backup Free lets you create backups of your important files or your entire computer through its streamlined interface. Just choose the backup type you'd like to get started, and let the program do the reset.

 Read More

EaseUS includes all the features I expect from backup software like versioning, incremental backups, and scheduling. For more advanced users, EaseUS allows you to install a pre-boot environment onto your hard drive so you can use it to restore files without burning a CD or putting it on an external USB drive.

 Read More

EaseUS Todo Backup
Smart backup tool for your files and entire computer in Windows 10/8/7.
Install Windows on Multiple Computers at Once? No Problem!
Learn how to install Windows 11/10/7 and special programs/software on a batch of computers. Use 10 minutes to do the 10 hours work without making a single mistake!
Get Free Solution!