EaseUS Todo Backup Free defends the entire PC/laptop from potential risks and restores everything from backup images when a disaster occurs. It has many gorgeous features.
Download EaseUS Todo Backup Crack 13.0 (Free Version)
This free backup and recovery software backs up your data regularly to protect files from crises and restores files, photos, music, video, audio, and more directly from backups soon. Here are the details of its features.
The Most Secure Backup Plan
Various backup types, including file backup and disk/partition backup, can meet your needs easily.
Fast and Reliable Recovery Process
You can restore them to the desired place as soon as you have backup images. This software minimizes costly downtime to get your system up and running in mere seconds.
Superior Data Protection
EaseUS Todo Backup Free reduces any potential data loss by backing up as often as you want without impacting system performance or productivity.
What's New in EaseUS Todo Backup Version 13.0
The newest version of EaseUS Todo Backup has many highlights, and here are the details:
Solved the problem that the wrong mirror deletion was caused by the mirror retention policy in certain scenarios.
Fixed the blue screen error when the system starts after restoring or cloning the system in certain environments.
Adopt a new method of excluding files during backup, which improves backup performance and reduces backup file space occupation.

EaseUS Todo Backup Free 13.0 VS EaseUS Todo Backup Home
Backup and recovery software ensures that all of the data your company makes remains in your hands and available when you need it. EaseUS Todo Backup manages the transfer of information from your computer to secure locations in the cloud or local disks in multiple time zones and locations. The free version can satisfy your needs if you want to make a backup and recovery plan for yourself. If you want to migrate Windows to another drive or clone your system, you need to upgrade to the paid version.
Here is a comparison table to learn about the differences between EaseUS Todo Backup Free and the paid ones.
| Comparison | EaseUS Todo Backup Free | EaseUS Todo Backup Home |
| --- | --- | --- |
| Latest version | 13.0 | 13.0 |
| Price | Free | $29.95/year |
| User rating | ★★★★☆ | ★★★★☆ |
| Supported System | Windows 10/8.1/8/7/Vista/XP | Windows 10 - Windows XP |
| System, file, disk, partition backup | √ | √ |
| Full/incremental backup | √ | √ |
| Smart backup | × | √ |
| Email backup | × | √ |
| System clone/transfer | × | √ |
| Wipe disk partition | × | √ |
It can be upgraded to Home edition - EaseUS Todo Backup Home for free tech support and advanced backup capacities. No matter who you are or what you need to backup and restore, EaseUS Todo Backup Free can easily fix all your problems.
How to Back Up Files for Free with EaseUS Todo Backup
Now that you have got  EaseUS Todo Backup with license code, you can run this software to make a backup in Windows 10/8.1/8/7/XP.
Step 1. To begin the backup process, click the Select backup contents button.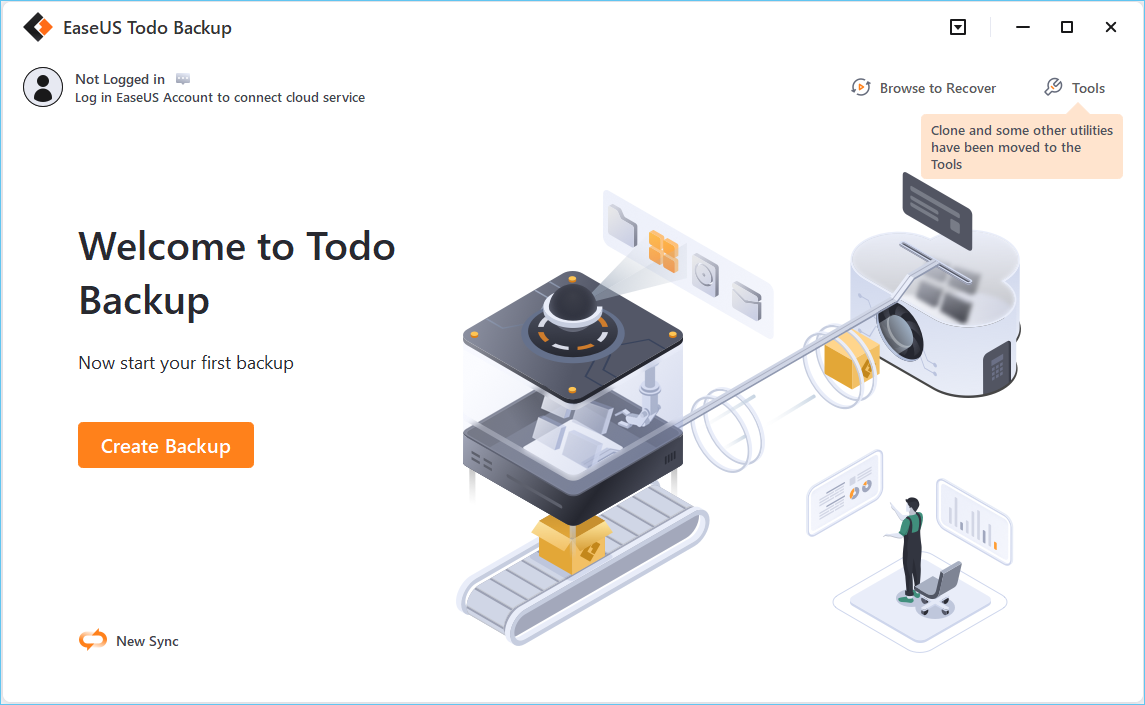 Step 2. Four data backup categories are listed: File, Disk, OS, and Mail.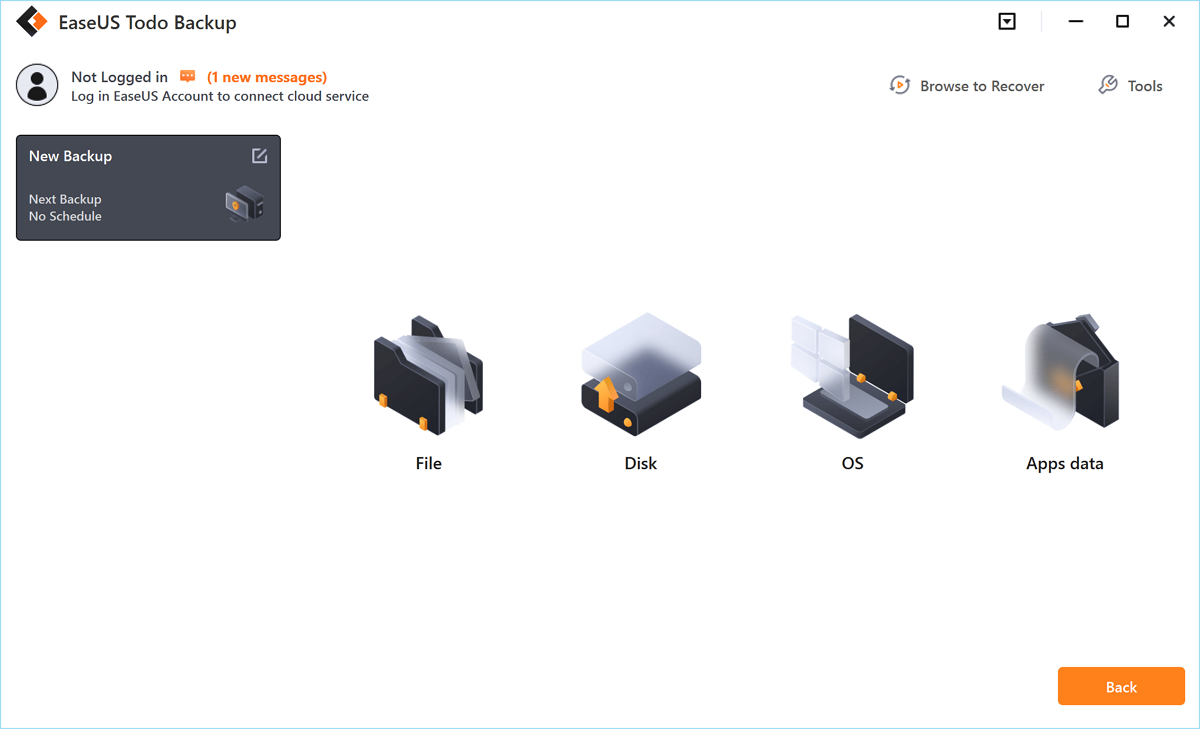 Step 3. Lists of both local and network files are shown on the left-hand side of the screen. Expanding the directory so that you can choose the files to back up.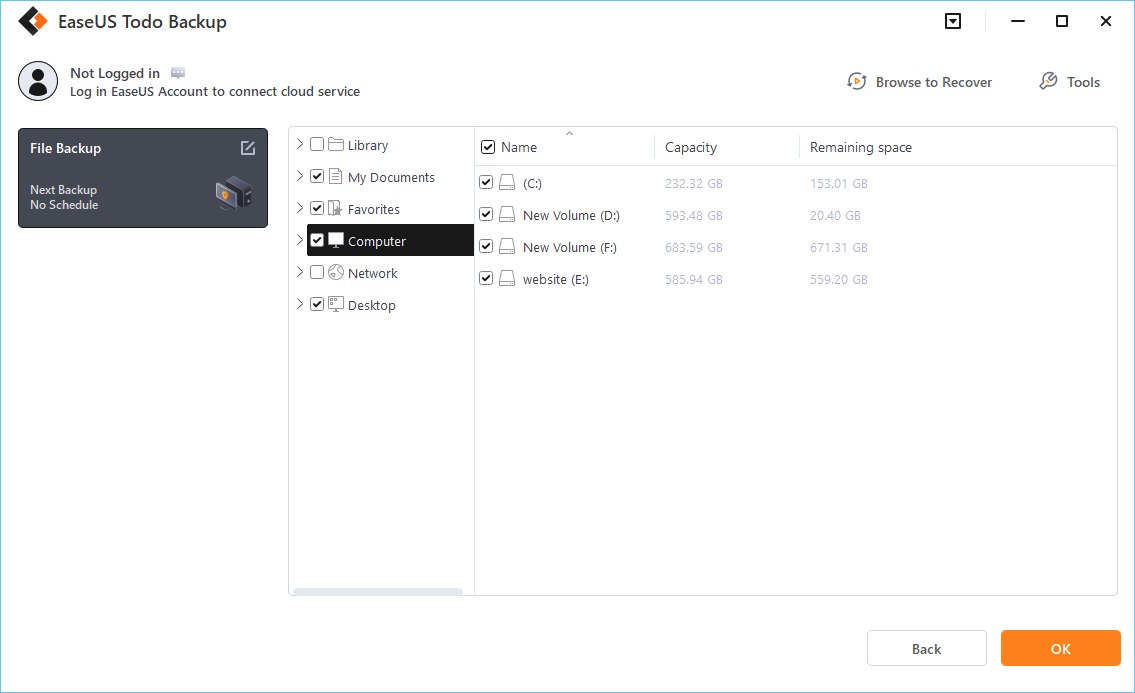 Step 4. Follow the guidance on the screen and choose the place where you want to store the back up.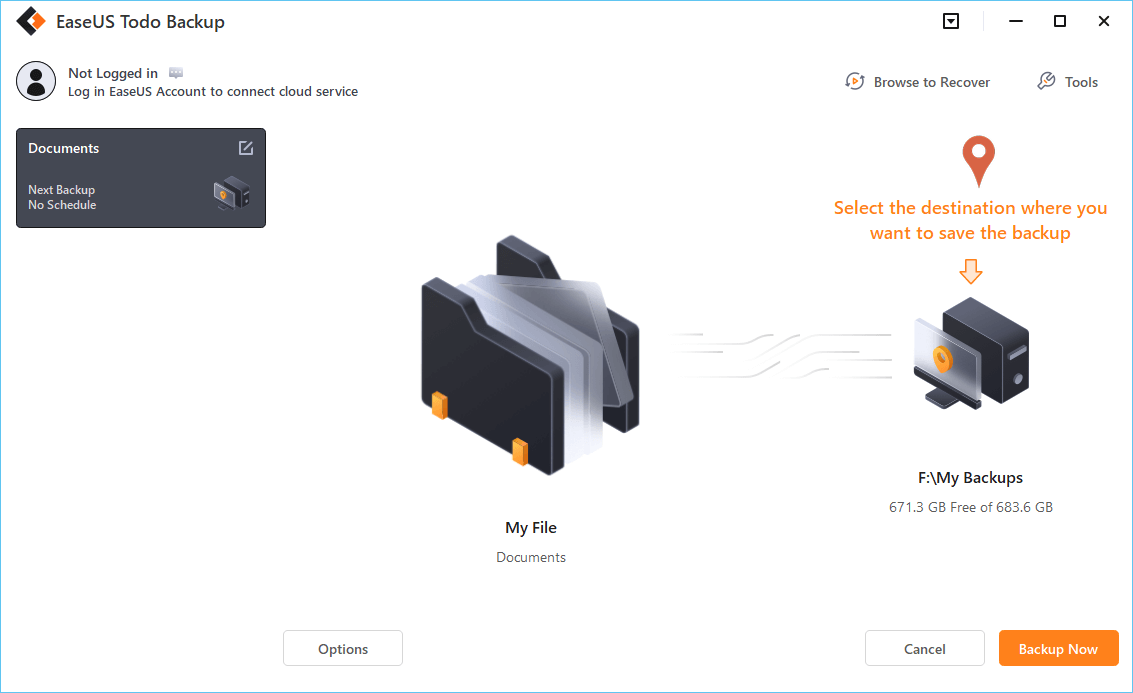 Make sure that the backup is encrypted and set the backup schedule by clicking Options in Backup Options. You can also choose to start the backup at a certain time in Backup Scheme by clicking Options. There are many other customizable options that you can look into.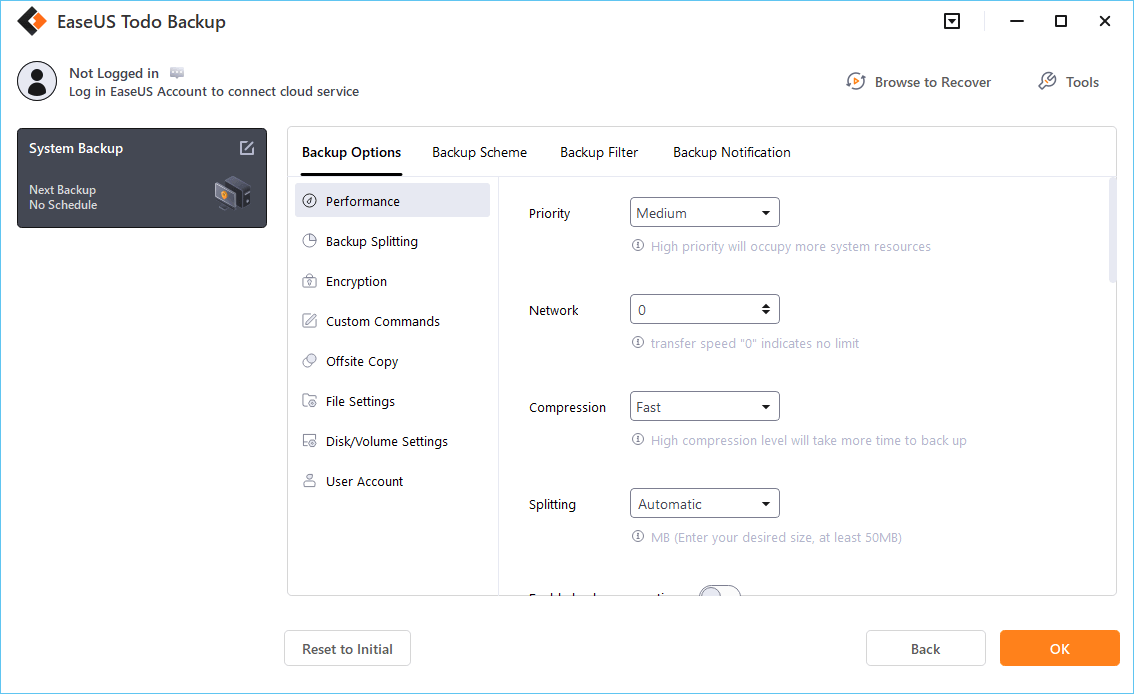 Step 5. You can store the backup file either on your computer, in EaseUS's cloud service, or on a network-attached storage device (NAS).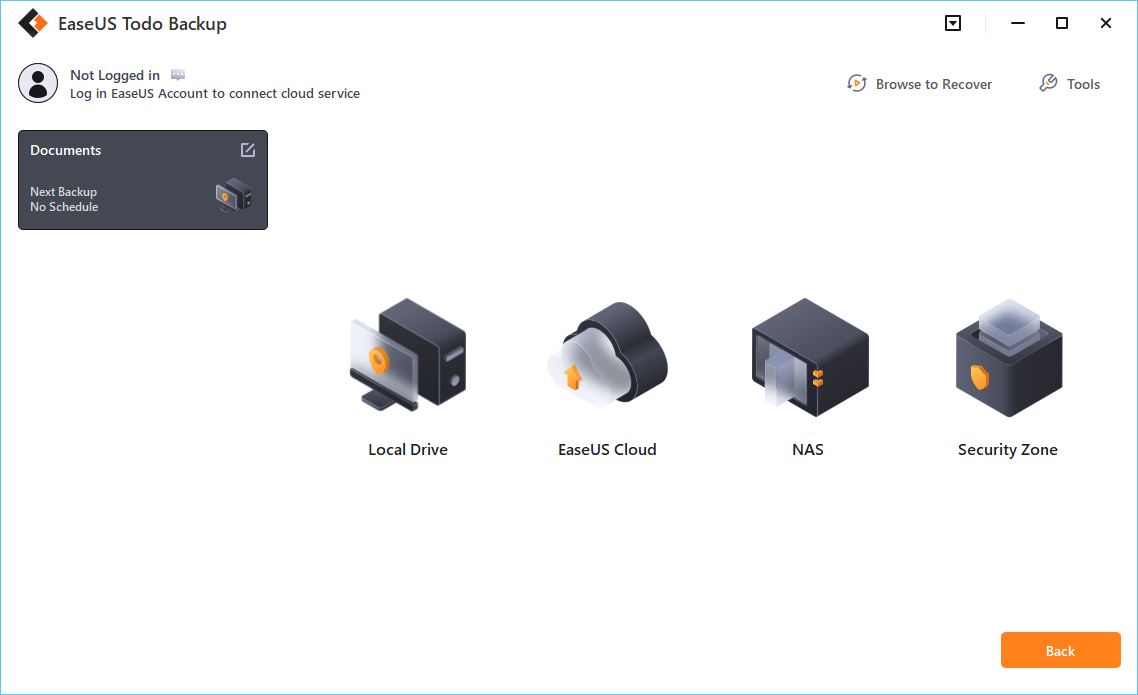 Step 6. EaseUS Todo Backup enables customers store backup copies of their files on a third-party cloud drive or on the company's own cloud storage.
If you want to back up your data on a third-party cloud drive, select Local Drive and scroll down to add Cloud Device. Then fill in your account information.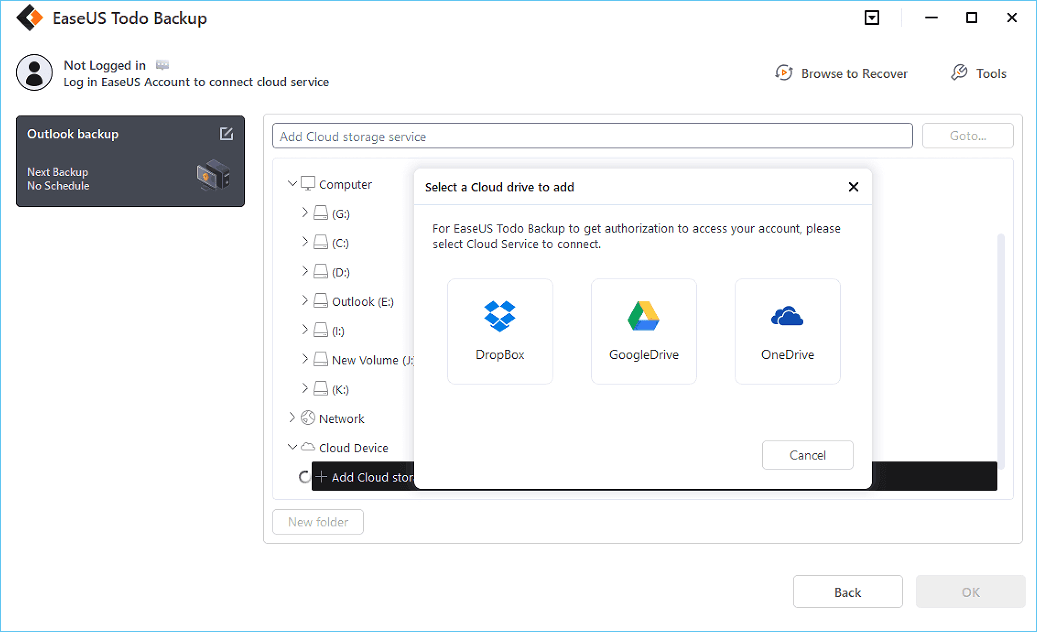 Click EaseUS Cloud, then sign up and log in with your EaseUS account if you wish to store backup files to EaseUS' own cloud storage service.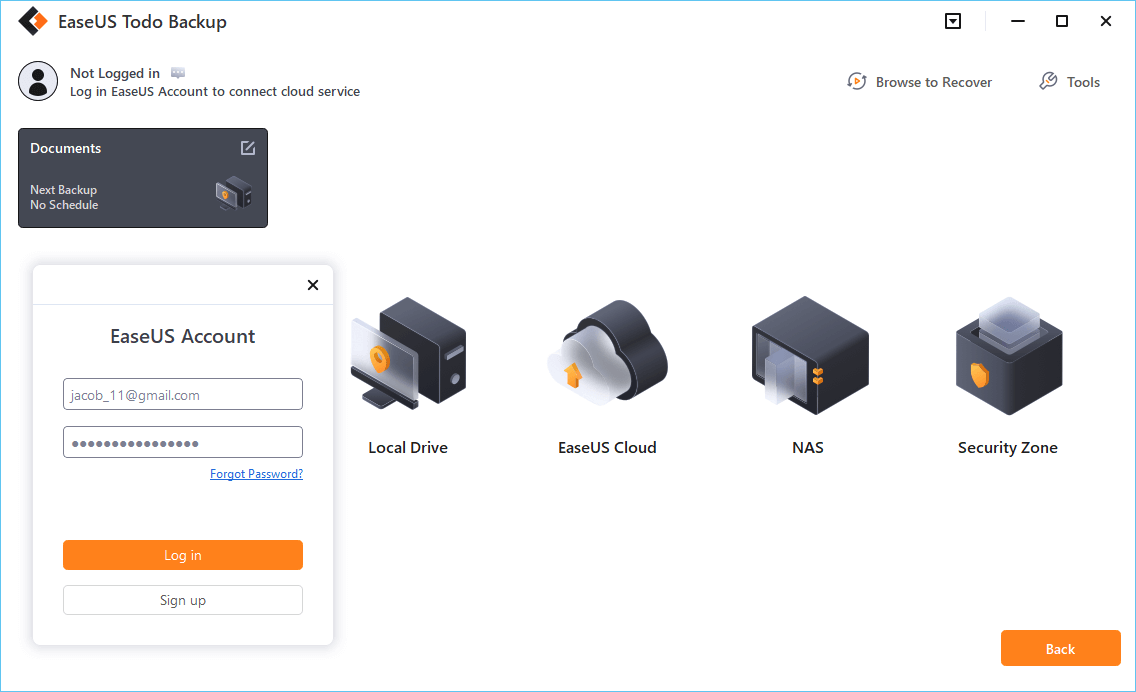 Step 7. Click on Backup Now to start a backup.  When the backup process is done, it will display as a card on the left-hand side of the screen. A right-click will let you see more about how to handle the backup job in more depth.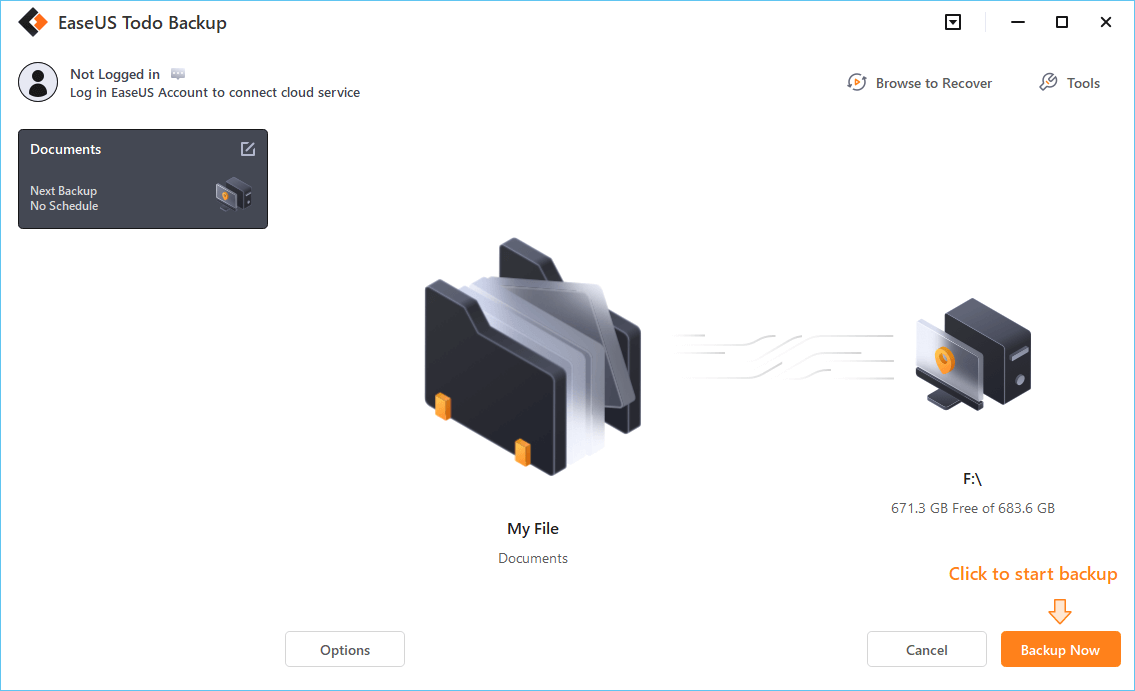 Stop Using Unauthorized EaseUS Todo Backup 13.0 with Serial Key
You cannot stand the loss! Although the cracks claimed that cracked software would do no damage or harm to your computer, you can let those free cracked serial keys help you activate the software. Do be fooled by this rumor. It is not true. When unexpected problems happen, you cannot stand the loss. Here the following, we'll list some problems and losses that you may face if you choose pirated EaseUS Todo Backup 10.6 or use cracked EaseUS Todo Backup Free 13.0 to backup your files, business data, or create SQL Server backup image:
1. Program stop working or get stuck
Although cracked software is booted based on the original files and algorithm, it is activated with unauthorized code, serial or key. The software may stop working while backing up data or get stuck.
2. Virus attack by unknown malware or spyware in cracked software
Unknown malware or spyware may boot together with the cracked software offered by hackers or anonymous providers. Then your computer and data may be hacked or attacked by a virus. A system crash may also happen.
3. Serious data loss
You may face serious data loss trouble on your computer or Server when cracked software stops working or crashes.
Other problems such as confidential information or privacy leaking can also bring you big trouble. If you are serious about data backup for your own sake or business good, copyrighted software should always be your first and last choice.
Conclusion
Why not get the official version of the EaseUS Todo Backup Free version? You can enjoy the fantastic feature and get these benefits:
30-day money-back guarantee
Free tech support
100% secure promise
Privacy Protecting and more
Was this page helpful? Your supoport is truly important to us!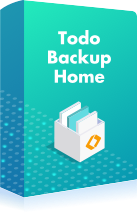 EaseUS Todo Backup
EaseUS Todo Backup is a dependable and professional data backup solution capable of backing up files, folders, drives, APP data and creating a system image. It also makes it easy to clone HDD/SSD, transfer the system to different hardware, and create bootable WinPE bootable disks.
Updated by

Tracy became a member of the EaseUS content team in 2013. Being a technical writer for over 10 years, she is enthusiastic about sharing tips to assist readers in resolving complex issues in disk management, file transfer, PC & Mac performance optimization, etc., like an expert.…

Read full bio