Migrate OS from SSD to M.2 SSD with M.2 SSD Clone Software
Updated by
Gemma
on May 07, 2022
Apply to: Clone OS from old SSD to M.2 SSD, Clone SSD to M.2 SSD
"I need to migrate Windows 10 OS from SSD to M.2 SSD which I newly bought. But I've never done this, need some suggestion about how to quickly migrate OS to M.2 SSD. Any idea I'd love to hear."
Cloning the old SATA SSD to the new M.2 SSD is a bit difficult for common users. And there will always have various kinds of problems during the process. In this post, we will introduce the detailed procedures of how to clone SSD to M.2 SSD from beginning to end as well as several third-party tools which could help you ease the process.
 Notice:

For some users who had tried to transfer OS from SSD to M.2 SSD but failed before, one possible reason is that your SSD was formatted with MBR instead of GPT. Converting the old SSD from MBR to GPT would perfectly solve the problem. We will tell you how to do it in the next parts.
#1. Preparation: Backup Files and Remove Other Disks
First of all, make a backup of all your important files and data. You can back up the data to a cloud drive, or to an external drive with backup software. It's really important! No one can ensure data safety during the cloning process.
Then if there are any other drives on your computer, please unplug them in case you format these drives by accident.
#2. Convert the Old SSD from MBR to GPT
As we've mentioned before, if your old OS SSD is an MBR, then it is highly possible that you would fail when you reboot your computer and get the Inaccessible Boot Device errors. So here we'd like to recommend a handy tool - EaseUS Partition Master, for you to convert your SSD from MBR to GPT in simple steps. For detailed steps, please refer to How to Convert MBR to GPT.
#3. Change the Boot Mode from Legacy BIOS to UEFI
After you've converted the old SSD to GPT, you need to change your computer's boot mode to UEFI. Here are the detailed steps:
Step 1. Restart your computer, press the corresponding key when you see this message: Press [key] to enter setup. It could be F2, F12, or DEL. The message might vary from your computer brand.
Step 2. In the BIOS Setup Utility, select Boot from the top menu bar.
Step 3. Select the UEFI Boot Mode field and use the +/- keys to change the setting to UEFI.
Step 4. Press F10 to save the change and exit.
#4. Clone SSD to M.2 SSD
Now it comes to the steps of cloning SSD to M.2 SSD. You can clone it by yourself, but there are many third-party tools that can ease the mission. Here we recommend the clone feature of EaseUS Todo Backup. The cloning feature in EaseUS backup software makes it easy for you to migrate the system to a new disk and upgrade your current system.
Download EaseUS Todo Backup now and follow the guide below to start cloning.
Step 1. Connect the New Second Hard Drive to the PC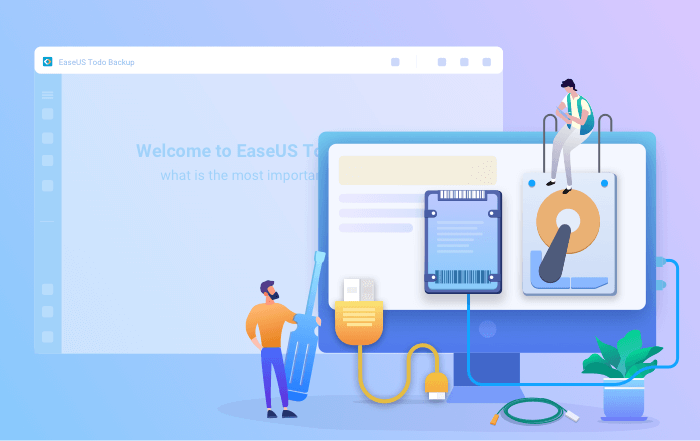 Preparations before cloning start:
1. To connect the target disk to your PC, you may need a screwdriver, a Power Splitter Adapter Cable, a SATA cable, or a USB to SATA adapter. 
2. Make sure the target HDD/SSD has an equal or bigger capacity than the used space of the old drive.
3. Check whether the style of the new disk is the same as that of the old disk. If not, Initialize a new HDD/SSD to MBR or GPT.
3. Download a Disk Cloning Tool – EaseUS Disk Copy
EaseUS Todo Backup is the cloning software that integrates multiple functions, including , etc. In the disk clone field, this tool stands out due to the following aspects:
Support system/disk clone, backup, restoring , and system transfer.
Covers as many as disk cloning demands, such as update hard drive to a larger one, clone OS, etc.
Disk cloning has the highest success rate among all similar products on the market.
Supports all kinds of disk types, including IDE, EIDE, SATA, ESATA, ATA, SCSI, iSCSI, USB 1.0/2.0/3.0.
Supports cloning of basic/dynamic disks and MBR/GPT disks.
Step 2. Step by Step Guide
System Clone: Choose System Clone > choose the destination disk > click Next to start. In Advanced options, you can choose the option of Create a portable Windows USB drive to clone the system to a USB drive.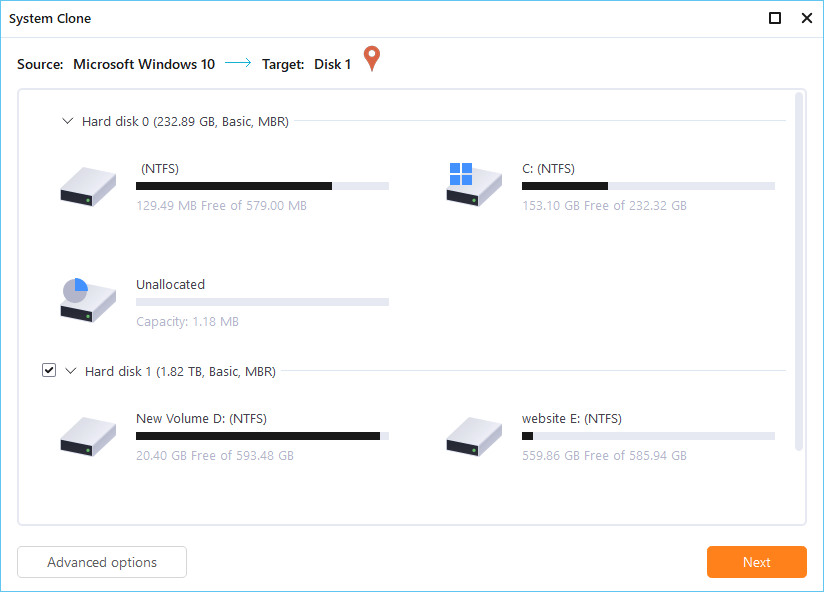 Disk/Partition Clone: Choose Clone > Select the resource disk or partition > Select the target disk > Click Next to start.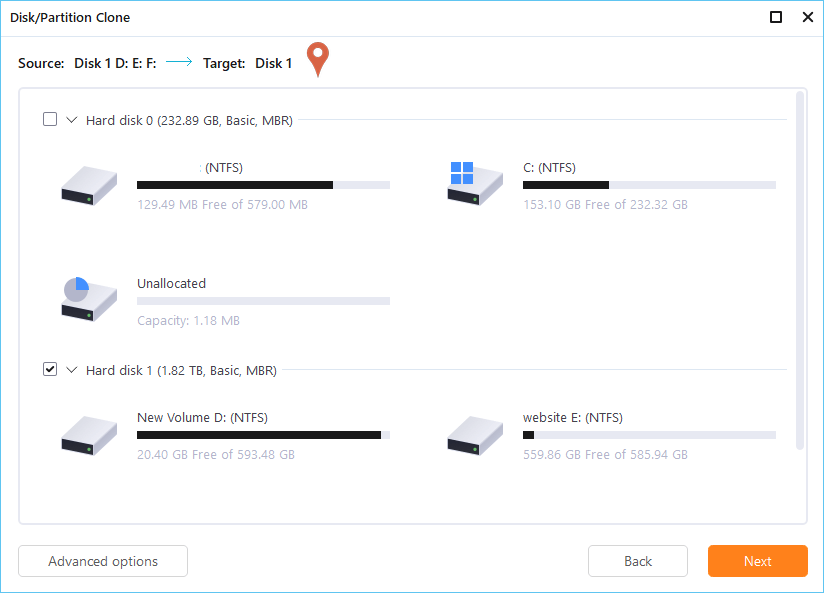 Step 3. Boot from the Clone Hard Drive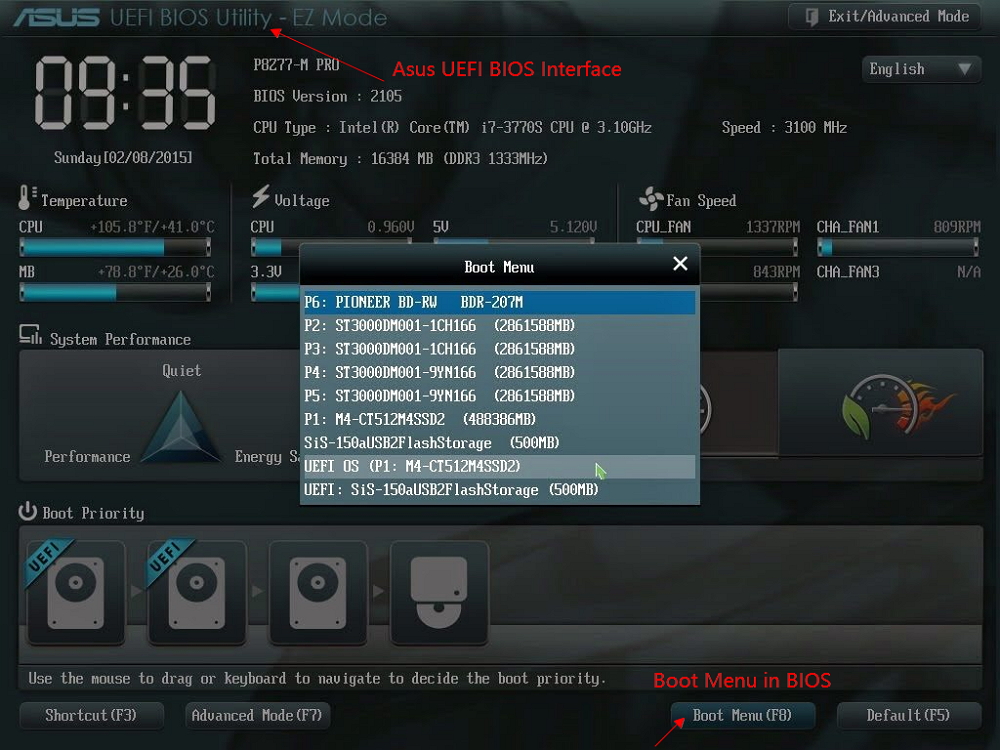 Case 1. If you want to keep both the old disk and the new disk
Restart PC and press F2 (F8,F10, DEL...) to enter BIOS settings.
In the Boot option, select new HDD/SSD as the new boot drive.
Exit BIOS and restart the computer.
Case 2. If you want to only keep the new disk
Unplug the old disk and make sure the new disk is well connected.
Connect the new disk and make sure it can be detected by the computer
Restart your computer.
You can also watch this video to see how to clone SATA SSD to M.2 SSD.
#5. What to Do After Finishing the Clone
With EaseUS Todo Backup, it will resize the partition on your new M.2 SSD during the cloning process. So you don't need to manually resize it. After the cloning process is done, you have two ways to start the computer.
Way 1. Turn off your computer, unplug the old SATA SSD and replace it with the new M.2 SSD, then turn on your computer again.
Way 2. If your computer can have two hard drives, you can keep both the two SSDs on your computer. Restart the computer, enter BIOS Setup Utility, change the BIOS settings to boot from the new M.2 SSD. 
Additional Help - How to Replace the Old Disk with M.2 SSD
After you have cloned your Windows 10/8/7 to M.2 SSD, you can replace your old disk with the cloned M.2 SSD. Here are the steps to replace the old HDD. Here is an example of replacing the OS disk with an M.2 SSD.
Step 1. Turn your laptop off and then disconnect both the power cable and any other connected cables. Then unscrew the back panel and remove it to get access to your OS disk.
Step 2. Use your tools to secure your drive to the laptop. You'll need to unscrew those before you can remove the drive.
Step 3. Lift the old drive up about 30 or 45 degrees and pull it out. In its place, install the SSD and put the back panel on.
Step 4. Boot up from the M.2 SSD. Turn your laptop on. If your laptop boots as normal and you see all of your programs and settings just the way they were before (except much faster), all went well.
If you want to continue using the old disk for saving data and protecting the Windows system, you can format the old hard drive for free. 
Conclusion
You can clone OS to M.2 SSD easily with the help of EaseUS backup and recovery software. In order to clone your Windows OS successfully to an M.2 SSD, you need to check that the new drive is compatible with your PC's motherboard and carefully install the drive correctly.
How to Clone SSD to M.2 FAQs
You may have extra questions after cloning Windows operating system to SSD. Read these questions and answers below to get additional help.
1. Do M.2 SSDs need drivers?
No, both SATA and PCIe M.2 SSDs will use the standard AHCI drivers built into the OS. However, you may need to enable the M.2 SSD in the system BIOS before being able to use it.
2. What is M.2 SSD?
M.2 was developed by the PCI-SIG and SATA-IO standards organizations and is defined in the PCI-SIG M.2 and the SATA Rev. 3.2 specifications. It was originally called the Next Generation Form Factor (NGFF), and then formally renamed to M.2 in 2013. Many people still refer to M.2 as NGFF.
3. What screw do I need for M.2 SSD?
The correct screw size is 2.0 x 3mm (CM2x3-3.3). If you are in the USA, then you can usually find the screws at Ace Hardware stores. Make sure you check the length. Some of the screws at hardware stores are too long
4. How do I transfer data from SSD to NVMe?
Connect your NVMe SSD to your PCI-SIG
Download EaseUS disk cloning software and select Clone.
Select the source disk and choose NVMe disk as your destination disk.
Click Proceed to start cloning SSD to NVMe.
Gemma is member of EaseUS team and has been committed to creating valuable content in fields about file recovery, partition management, and data backup etc for many years. She loves to help users solve various types of computer related issues.

Author Jean has been writing tech articles since she was graduated from university. She has been part of the EaseUS team for over 5 years. Her special focuses are data recovery, disk partitioning, data space optimization, data backup and Mac OS. By the way, she's an aviation fan!
Taking everything into consideration, we can say that EaseUS Todo Backup Home can offer you a little extra sense of security with a set of advanced tools. The interface provides quick adaptation, every process guiding you all the way through so you don't get stuck or further damage your system rather than keeping it safe.

 Read More

EaseUS Todo Backup Free lets you create backups of your important files or your entire computer through its streamlined interface. Just choose the backup type you'd like to get started, and let the program do the reset.

 Read More

EaseUS includes all the features I expect from backup software like versioning, incremental backups, and scheduling. For more advanced users, EaseUS allows you to install a pre-boot environment onto your hard drive so you can use it to restore files without burning a CD or putting it on an external USB drive.

 Read More

EaseUS Todo Backup
Smart backup tool for your files and entire computer in Windows 10/8/7.
Install Windows on Multiple Computers at Once? No Problem!
Learn how to install Windows 11/10/7 and special programs/software on a batch of computers. Use 10 minutes to do the 10 hours work without making a single mistake!
Get Free Solution!