Securing the data is one of the top most priority for everyone. But how to do that? One can easily opt for any of the reliable backup services or can pick up a storage device for doing the same. 
If you are using Windows 7 operating system, don't worry, you have an inbuilt backup solution for securing your data. This built-in backup solution helps users create a complete system image backup that makes it easier to restore data and to get your system back to the state when you complete the system image in it. Users of Windows 7 can securely save this backup to the network location or can even make use of internal hard drives or external drives as well.
A secure backup solution is an ultimate way to keep your data safe during data corruption, hard disk failure, malware infection, etc. The guide will provide complete information about how to back up Windows 7 differently. 
Windows 7 Backup Software Overview
Yet Windows 7 features an inbuilt backup solution named Backup and Restore; still, if you want to improve your user access, you can opt for beautiful backup software, i.e., EaseUS Todo Backup Home. It is one of the leading backup solutions available in the market that allow different backup solutions for the users to enjoy, such as full backup, incremental backup and differential backup, etc.
It is a feature-loaded option that offers users the freedom of selecting their preferable type of backup as per their preferences. Users here can easily schedule a backup plan for their Windows system. They can back up the data daily, weekly, monthly, or yearly. EaseUS Todo Backup Home helps you to create a Windows 7 image to USB, external hard drives, or cloud drives. Using this solution, you can easily backup files, disks, and partitions on Windows 7, 8, Windows 10, and Windows 11 using this solution. 
It is a one-click backup and instant recovery solution that ensures users have higher efficiency. It is one of the most trusted backup solutions in the segment, accessed by more than 20,000,000 users globally. Users here can enjoy about 250GB of cloud storage for free.
How to Make a Backup of Windows 7 Using System Backup Software
EaseUS Todo Backup Home is an absolute name in the backup field that brings up a lot of reliability. The tool is famous for providing incremental backup without risking your data security. Using a tool that doesn't consume much space on your device is safe.
The tool interface is kept accessible to go so that everyone there can easily use it effortlessly. Suppose you are also willing to enjoy the extreme experience of working with this tool at this moment. In that case, we are here to provide you with a detailed process and steps that you must follow carefully:
Step 1. Click the "Select backup contents" button to start backup.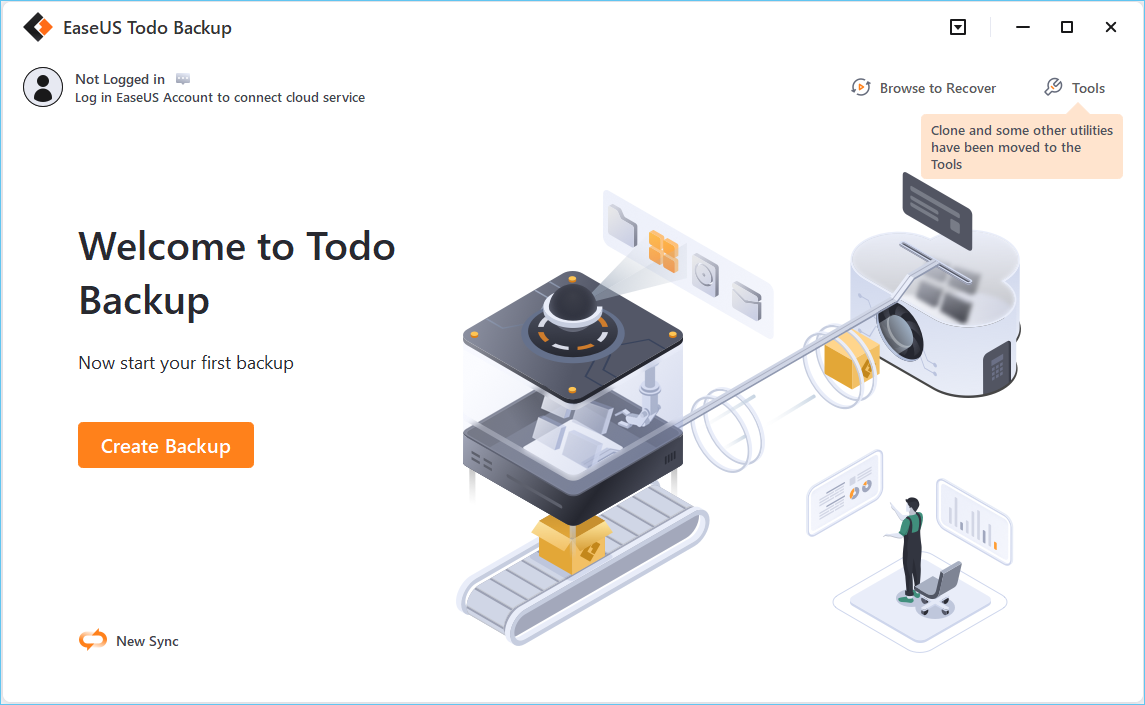 Step 2. There are four data backup categories, File, Disk, OS, and Mail, click File.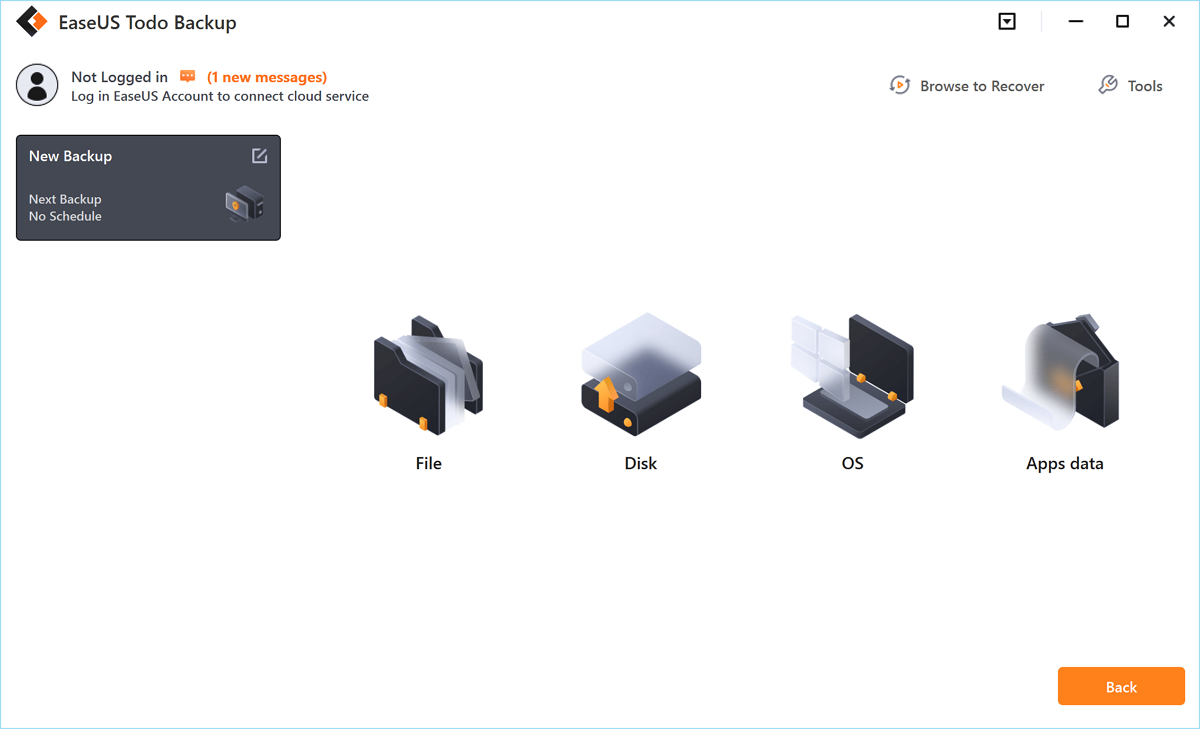 Step 3. Both local and network files will be listed on the left. You can expand the directory to select the files to be backed up.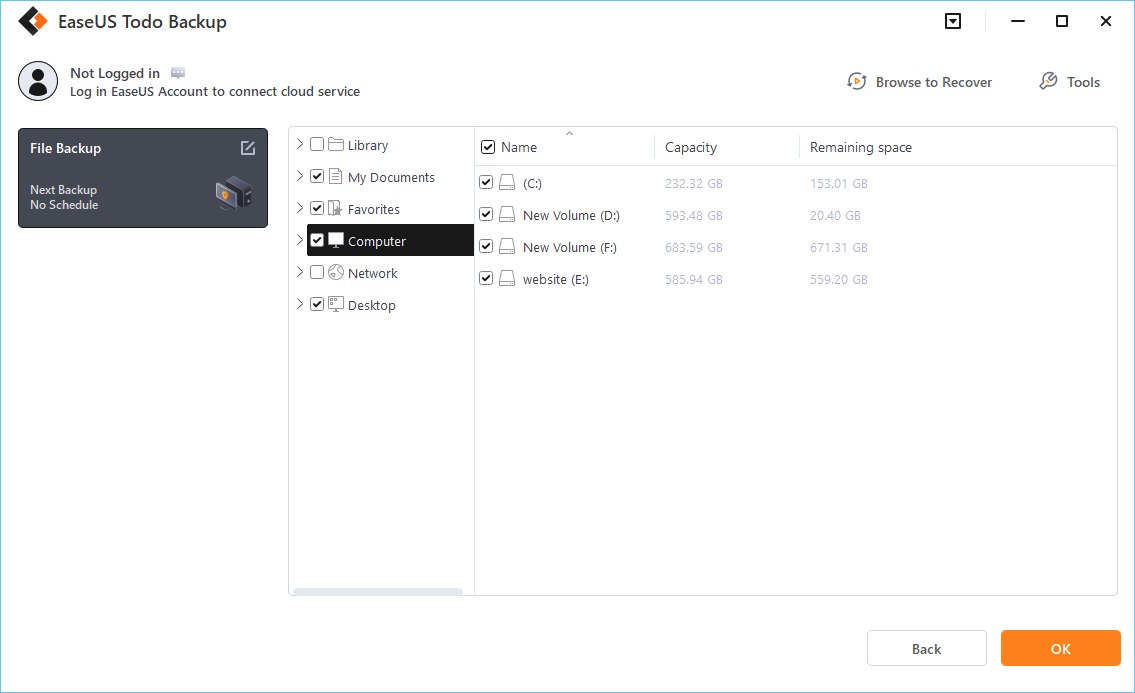 Step 4. Follow the on-screen guide, select the destination where you want to save the backup.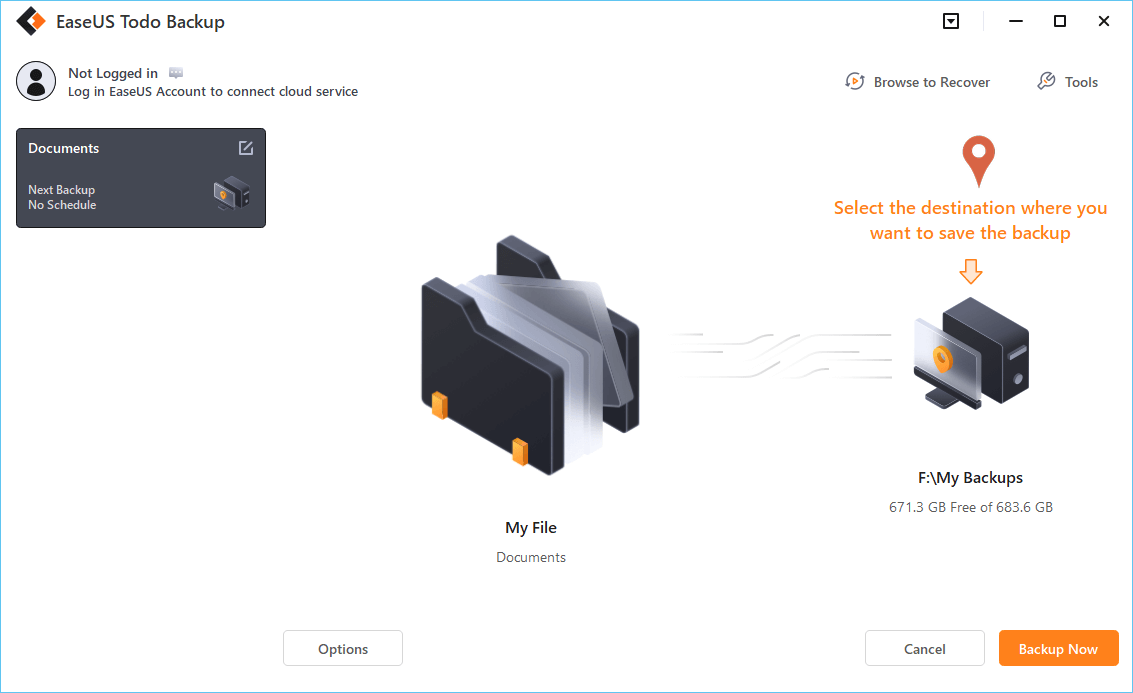 Click "Options" to encrypt the backup with password in "Backup Options", set the backup schedule and choose to start back up at certain event in "Backup Scheme". There are also many other options you can explore, customize the backup task according to your need.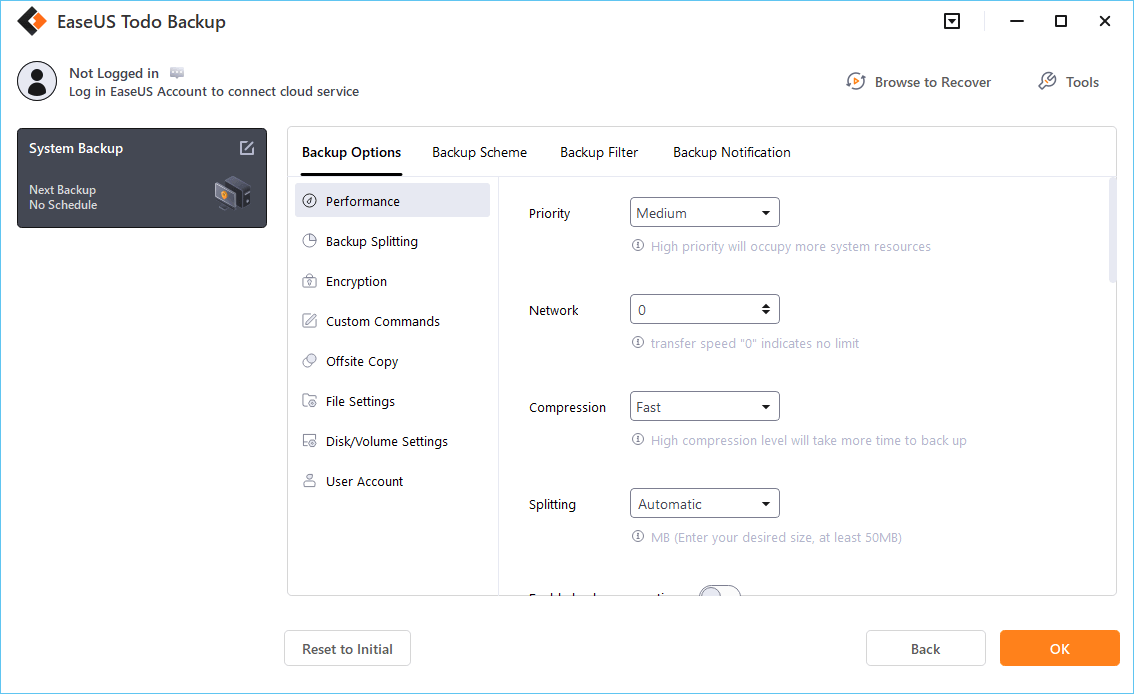 Step 5. You can store the backup to local drive, EaseUS's cloud service, and NAS.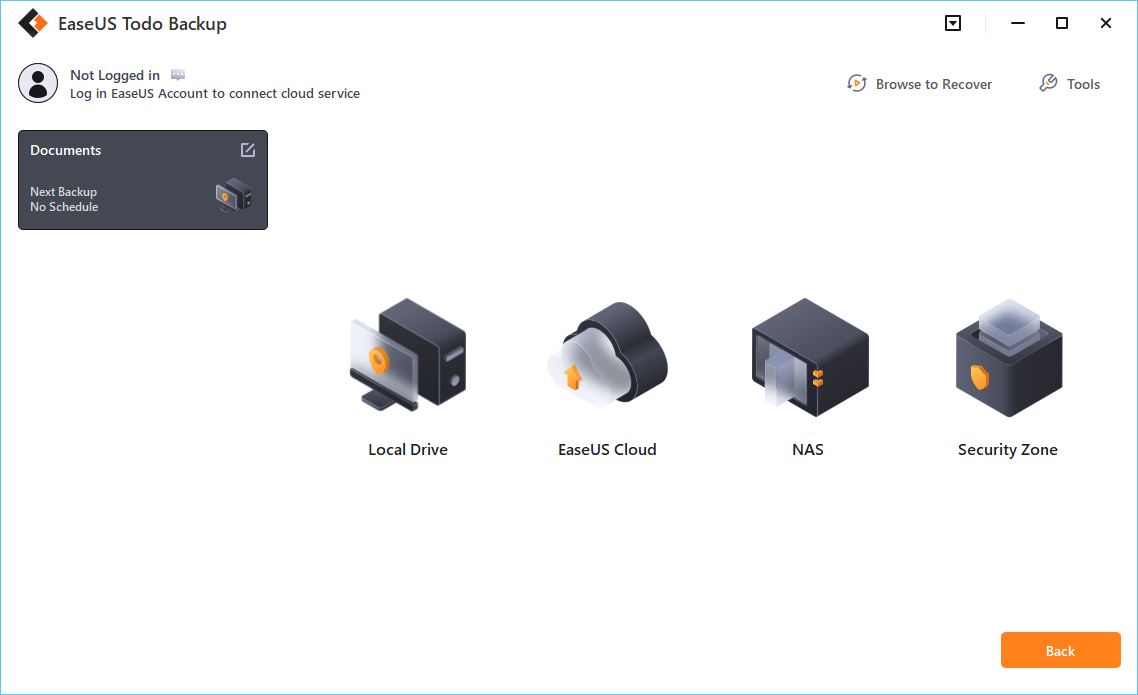 Step 6. EaseUS Todo Backup enables users to back up data to both third-party cloud drive and its own cloud drive.
If you want to back up data to third-party cloud drive, choose Local Drive, scroll down to add Cloud Device, add and login your account.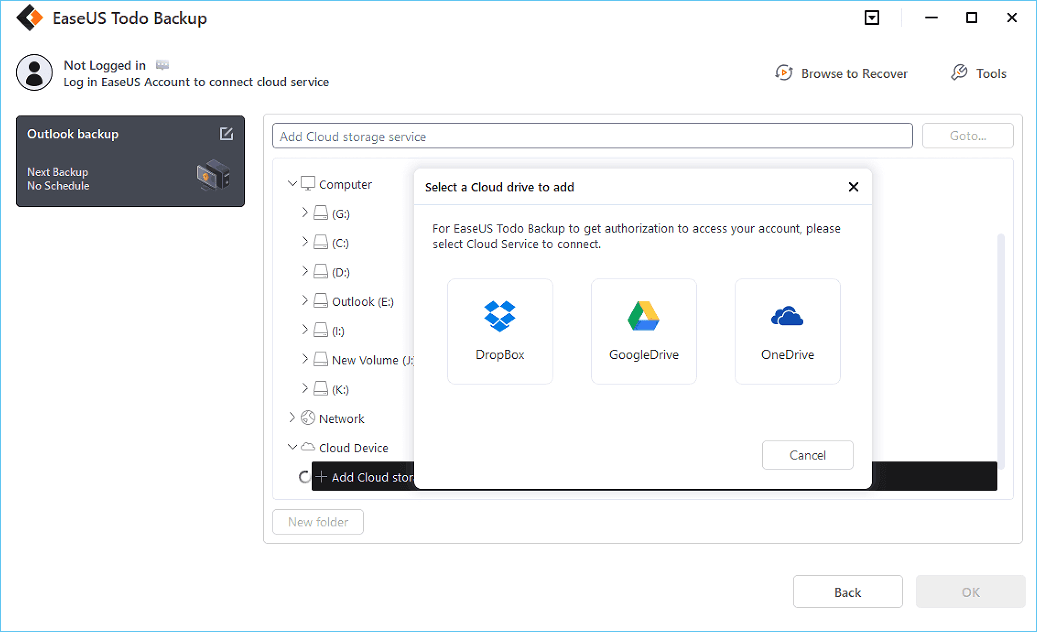 You can also choose EaseUS's own cloud drive. Click EaseUS Cloud, sign up with your EaseUS Account and log in.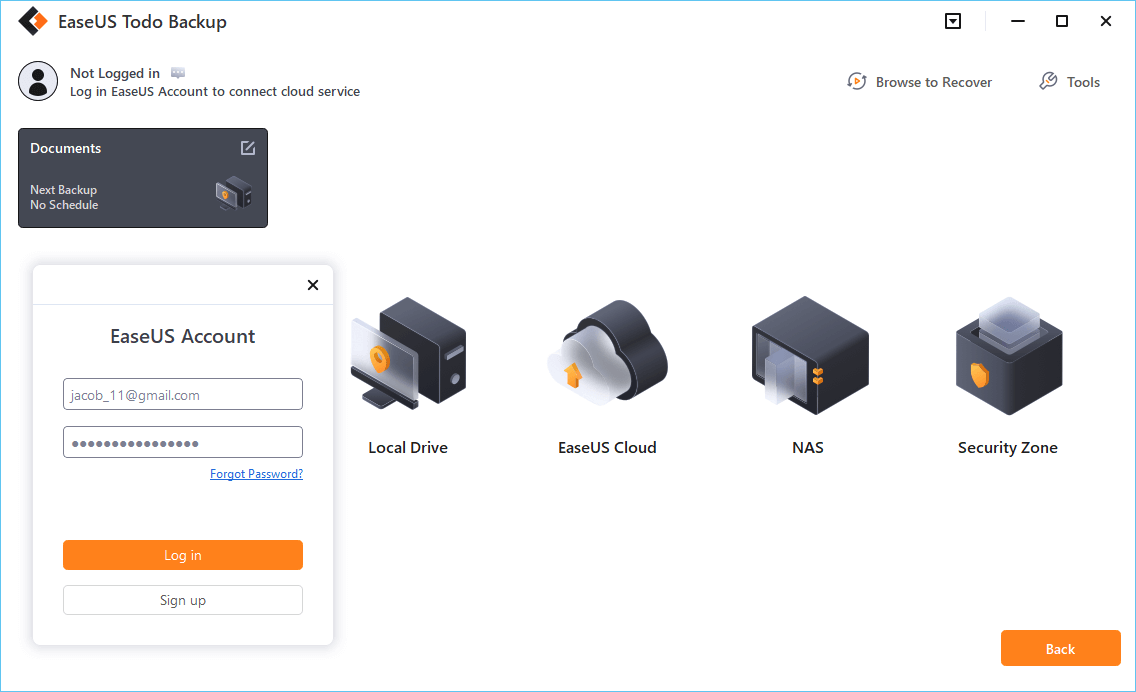 Step 7. Click "Backup Now" to start backup. After the backup task is completed, it will be displayed in the form of a card on the left side of the panel. Right-click the backup task to further manage it.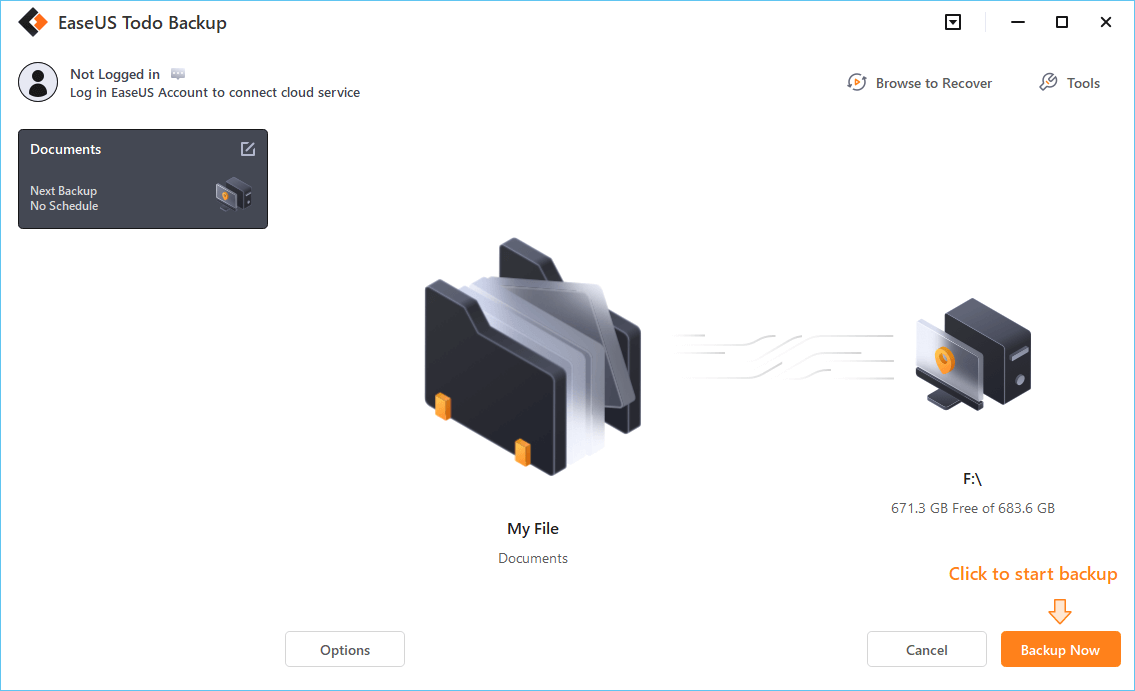 How to Back Up Windows 7 Using Backup and Restore Utility
Backup and Restore are built-in backup tools in Windows 7. The tool perfectly creates a secure backup on Windows. Also, it assists you in getting complete recovery without any hassle. 
The tool is designed easy to go and doesn't require hardcore efforts. The only things you need to do here are:
Step 1. Select the "Start" button on your PC and then select the "Control Panel". Now move ahead with the System and Security option and click on "Backup & Restore".
Step 2. Once it's done, you have to proceed with the backup chance to move further with the process. It will prompt you to add an external drive. Connect your external storage device to your Windows 7 PC.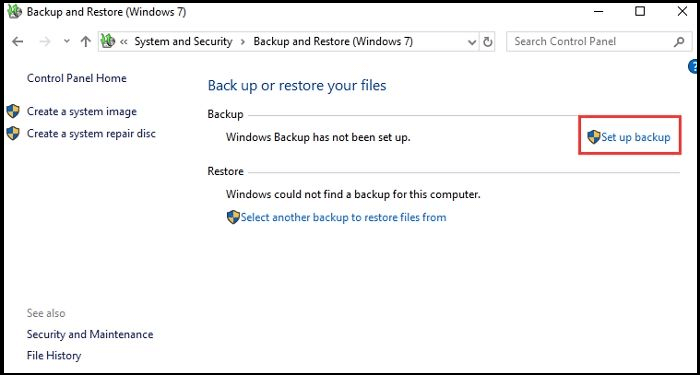 Step 3. On the backup screen, click the "Refresh" button to enable things to work smoothly. Once done, move to the Backup Destination option and select your external storage device from the given options. Now select "Next" to move further with the process.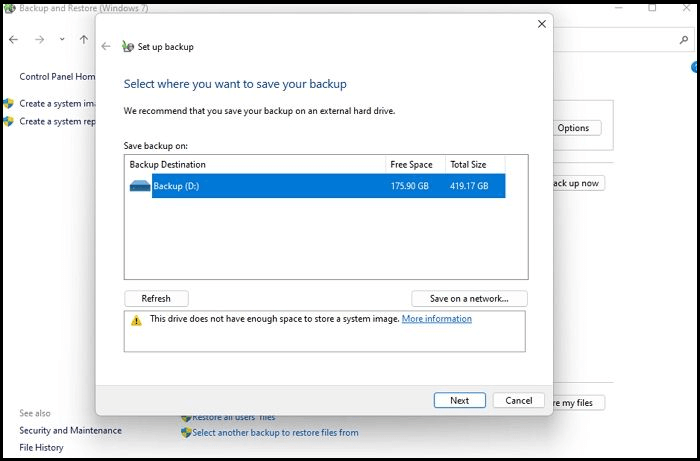 Step 4. Windows inbuilt Backup and Restore tool ensures the backing up of all files under the Documents, Music, Pictures, and Videos section. If you are willing to back up some more folders, you can easily add them to the Computer section.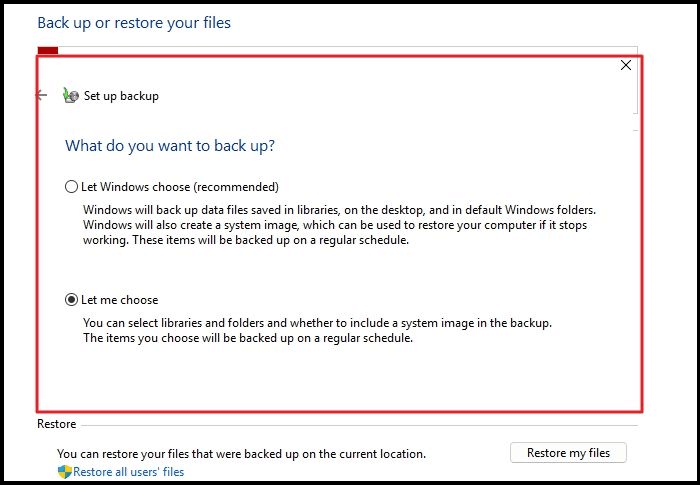 Step 5. On completing the above process, you must unselect a checkbox mentioning Include a system image of drives. Once it's done, tap on the "Next" button to proceed with the process.
Step 6. The next thing you have to do is to select the "Change Schedule" option. Now unselect the checkbox mentioning Run backup on a schedule option, followed by tapping on the "OK" button.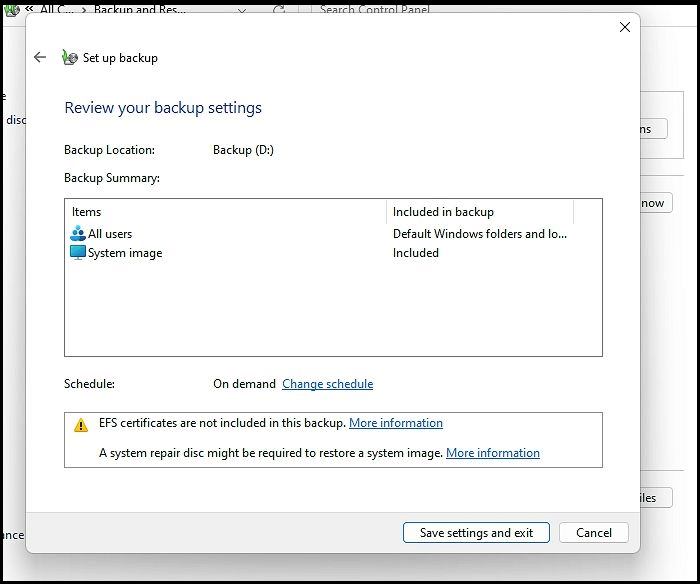 Step 7. Once you do it, select "Save settings" and run the backup option from the given one, which will further start backing up your files to the external storage device.
Finally, you can remove the drive safely to keep all the data files safe. You can use the Eject option before disconnecting the drive from your PC.
Bingo! You have successfully backed up your preferable files on Windows 7 using the Backup and Restore utility.
More FAQs on How to Make a Full Backup of Windows 7
Creating a backup is the best way to keep your data safe from unwanted situations. It is the process that not only stores your data from other platforms but offers you easy accessibility over the same as well. Getting answers for all your queries is pretty evident before you start accessing any option. We are here adding up one of the most asked queries that will help you know more about the full backup of Windows 7.
1. Does Windows 7 have a Backup and Restore?
Yes, Windows 7 has an inbuilt backup solution known as Backup and Restore. The tool makes it easier for the users to keep their data safe from unwanted situations and offers them easy accessibility.
2. How do I set up a Windows 7 backup?
Setting up a Windows 7 backup is quite an easy process. You need to make a few clicks, and things will be done perfectly. We have provided you with the detailed procedure for setting up a Windows 7 backup above. You can follow up on the detailed instructions given above to get absolute assistance for the same.
3. How do I back up my entire Windows 7 computer?
Windows 7, by default, provides backup to the files stored under the Documents, Music, Pictures, and Videos section. If you want to back up your entire Windows 7 computer, you can select all of the files and folders for backing up.
4. How to back up a computer to external hard drive Windows 10?
One can easily use the File History section to back up to an external drive conveniently. For backing up the computer to the external hard drive, Windows 10, the things you have to do are:
Select the "Start" button from your device and then move to the "Settings" option.
Tap on the "Update & Security" segment to proceed further with the process, and once done, go to the "Backup" option.
Once done with the above process, you must tap on the Add a drive option and select an external drive for your backups.
There are more information about how to backup computer to external hard drive windows 11, If you are interested in it, you can read this article below: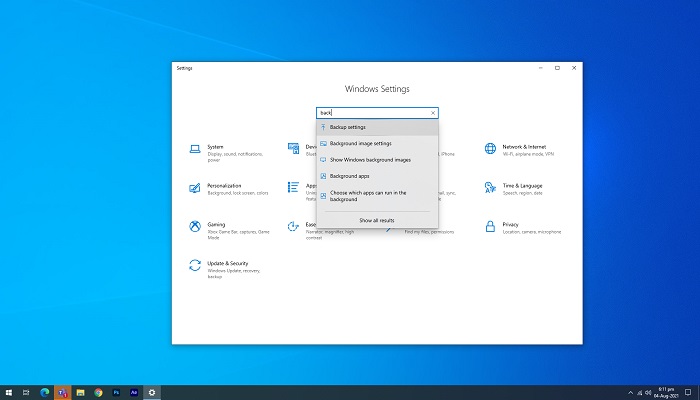 Final Thoughts
It is all about how to back up Windows 7 in different ways. Backup is not a term but a necessity that makes it easier for you to keep your precious data safe under other circumstances. The ability offers users easy access to the data without making much effort.
Yet Windows 7 comes up with an inbuilt data backup tool, i.e., Backup and Restore still EaseUS Todo Backup is a recommended option to extend your user experience. It is a beautiful tool that helps users back up the different files, folders, clones, disks, or OS. 
Was this page helpful? Your supoport is truly important to us!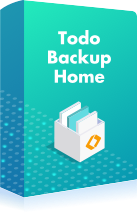 EaseUS Todo Backup
EaseUS Todo Backup is a dependable and professional data backup solution capable of backing up files, folders, drives, APP data and creating a system image. It also makes it easy to clone HDD/SSD, transfer the system to different hardware, and create bootable WinPE bootable disks.
Updated by

Jean is recognized as one of the most professional writers in EaseUS. She has kept improving her writing skills over the past 10 years and helped millions of her readers solve their tech problems on PC, Mac, and iOS devices. …

Read full bio

Written by

Cedric Grantham is a senior editor and data recovery specialist of EaseUS. He mainly writes articles and how-to tips about data recovery on PC and Mac. He has handled 10,000+ data recovery cases and is good at data recovery of NTFS, FAT (FAT32 and ExFAT) file systems, and RAID structure reorganization. …

Read full bio