Introduction
It is necessary to create backups of your data. If your computer experiences a malfunction or is infected with a virus, having a backup copy of your data can ensure that the data you lose is limited and that you can resume normal operations in a short amount of time. What helpful applications and functions are at your disposal, given that you use Windows?
To keep your files and Windows 10 installation safe, you should always create a comprehensive backup. This guide will walk you through the necessary and the best way to backup Windows 10 using the relevant procedures.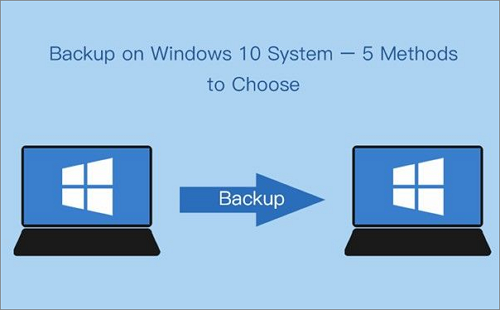 About Windows 10 Backup: What Data Matters
Backup and synchronization tools can be used to create a copy of your data in your chosen location. This lets you backup only important files. Where can we find essential files? You should backup the files you made. System files, Windows OS folder, installed programs, and temporary files are not backed up. Here's a collection of often backed-up data files.
Your User folder (C:\User\Username\)
Most of your files are at C: UsersUSERNAME on a modern Windows PC. This is your user account's default data directory. Documents, Pictures, Downloads, Desktop, Music, and Video. Other significant subfolders include OneDrive, Dropbox, and Google Drive folders.
The placement of your bookmarks (or favorites) varies with every Internet browser.
You probably won't need to back up your emails if you're using a desktop email client utilizing the IMAP protocol. If your machine fails, you only need to reinstall Windows, the email client, and your email configuration.
Backup application and tasks
If your computer breaks, reinstall the backup program and import the backup task to conduct a Restore operation. Keep a copy of the backup software and backup tasks files.
What're Backup Ways Available for Personal Use
Windows 10 offers various methods to backup data for personal use. All these methods vary slightly according to their purpose of use. However, their ultimate goal is to backup users' data to external drives. Following are some common ways to backup.
Method 1. Manual copy to external hard drive     
Follow these procedures on a Windows 10 machine to manually copy files to a network location or removable media:
Step 1. Double-click the drive where Windows 10 is installed.
Step 2. Open Users, then the user folder containing the files to back up.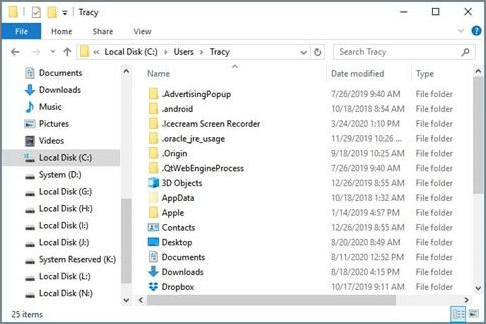 Step 3. Manually copy user folder folders to a network or removable media.
Method 2. Automatically backup data to an external hard drive
Automatically backup data to an external hard drive is easy to operate, please follow the steps to entail an automatic backup to external hard drive.
Step 1. Connect and detect your external drive. Then, search backup settings and pick it. Under Looking for an older backup, select "Go to Backup and Restore" (Windows 10).
Step 2. In Backup and Restore (Windows 10), choose "Set up backup" > "external hard drive" > "what to backup". Windows or me? The second is more flexible; you can backup files, folders, and the system.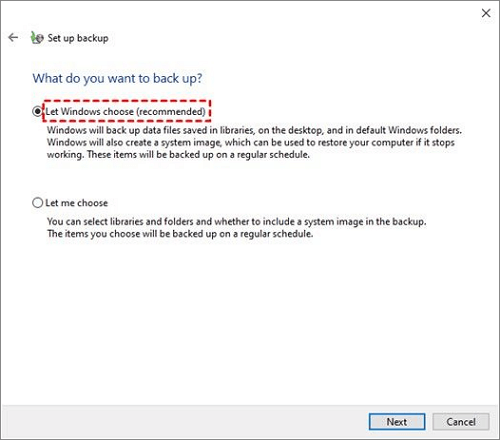 Step 3. Confirm your selections. The default backup time is 7:00 PM every Sunday. Click "Change schedule". "Save settings", then "quit".
 Notice:

 Recover my data lets you restore files from backup when something unexpected happens. Choose another backup if yours is on a different computer.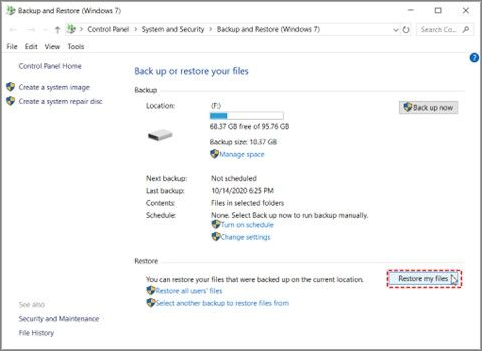 Method 3. Syn to cloud backup
Using OneDrive, you can create a copy of your desktop, documents, and pictures from your PC and store them safely in the cloud, where they can be accessed from any device.
 Notice:

 Check out Files save to OneDrive by default in Windows 10 if you're wondering why your documents are being stored in the cloud.
Step 1. To manage your backups, click the blue cloud symbol in the Windows system tray, then click "Help & Settings" > "Settings" > "Backup".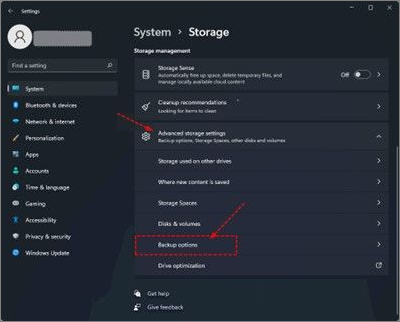 Step 2. Choose the files that need to be saved in a backup. 
Step 3. Begin backup.
Ways to backup onedrive to external drive are also provided in this article:
Method 4. Backup To an Image File Using Ease Todo Backup
In case of a system crash or hardware malfunction, a free backup software named EaseUS Todo Backup can image your hard drive. It backs up and restores disk or partition after viruses, hard drive failure, etc. EaseUS Todo Backup provides partition backup, easeus restore system backup, disk backup, and files that can be carried either manually or automatically by the program according to a predetermined schedule. Follow the steps below to easily back up Windows 10.
Step 1. Launch EaseUS Todo Backup on your computer, and click Create Backup on the home screen and then hit the big question mark to select backup contents.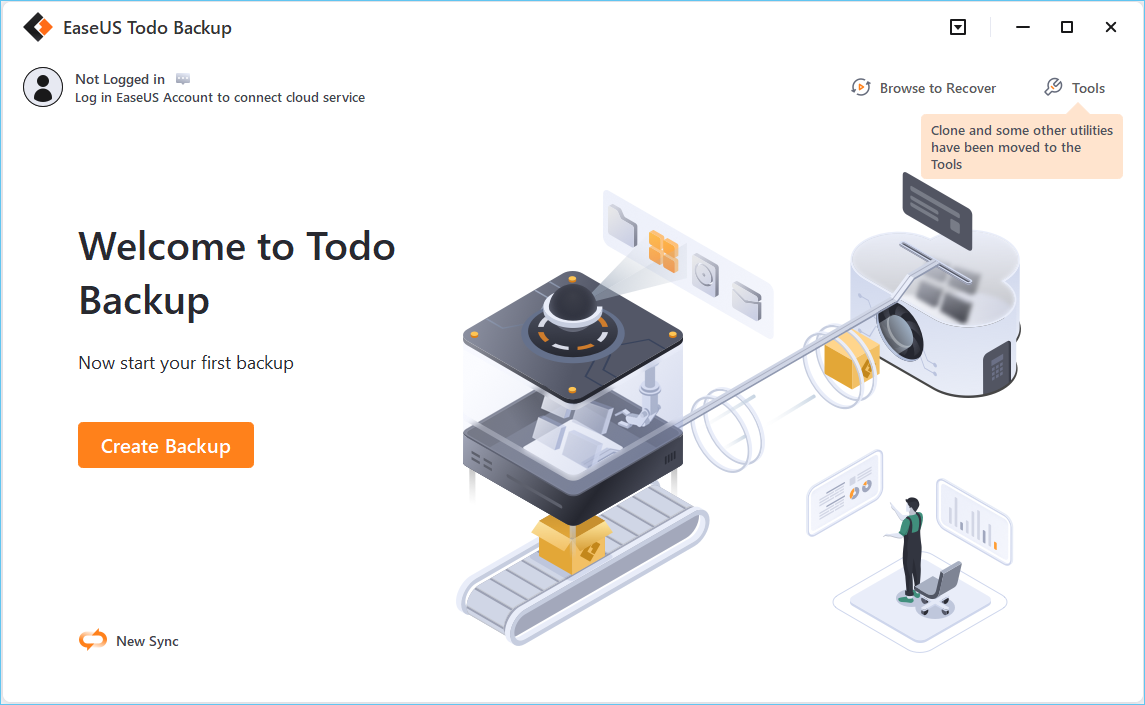 Step 2. To back up your Windows operating system, click "OS" to begin the backup task.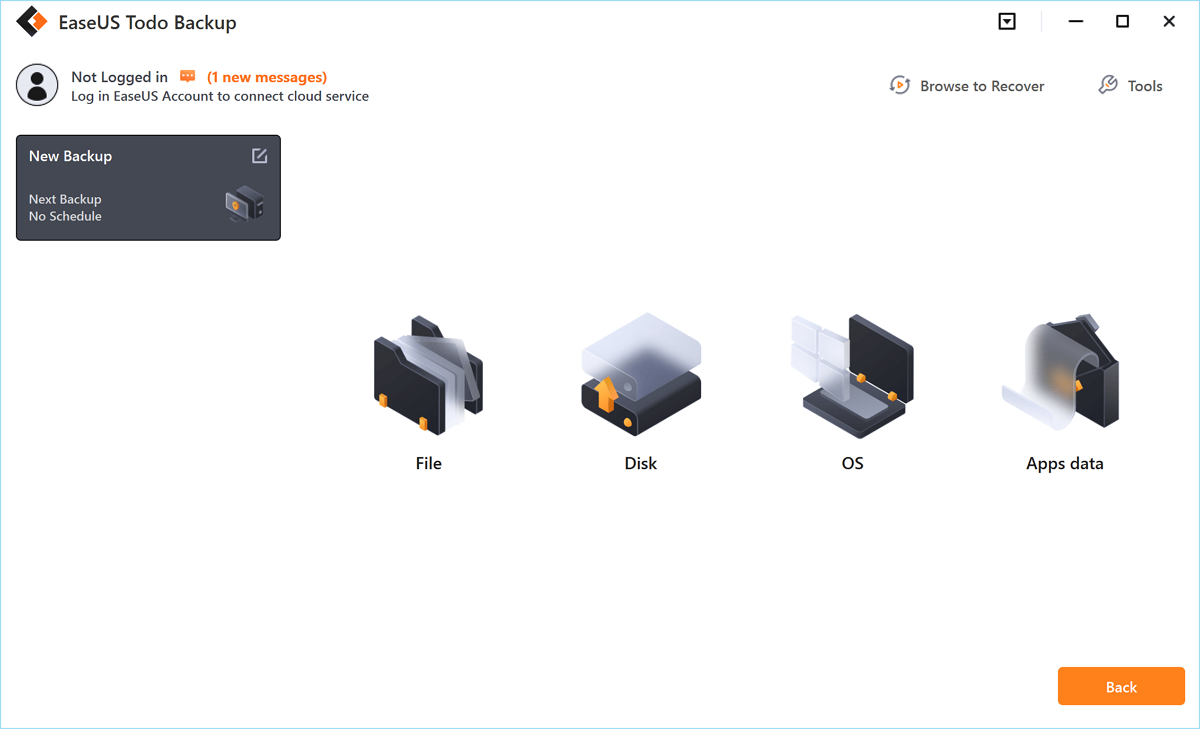 Step 3. Your Windows operating system information and all system related files and partitions will be automatically selected so you don't need to do any manual selection at this step. Next, you'll need to choose a location to save the system image backup by clicking the illustrated area.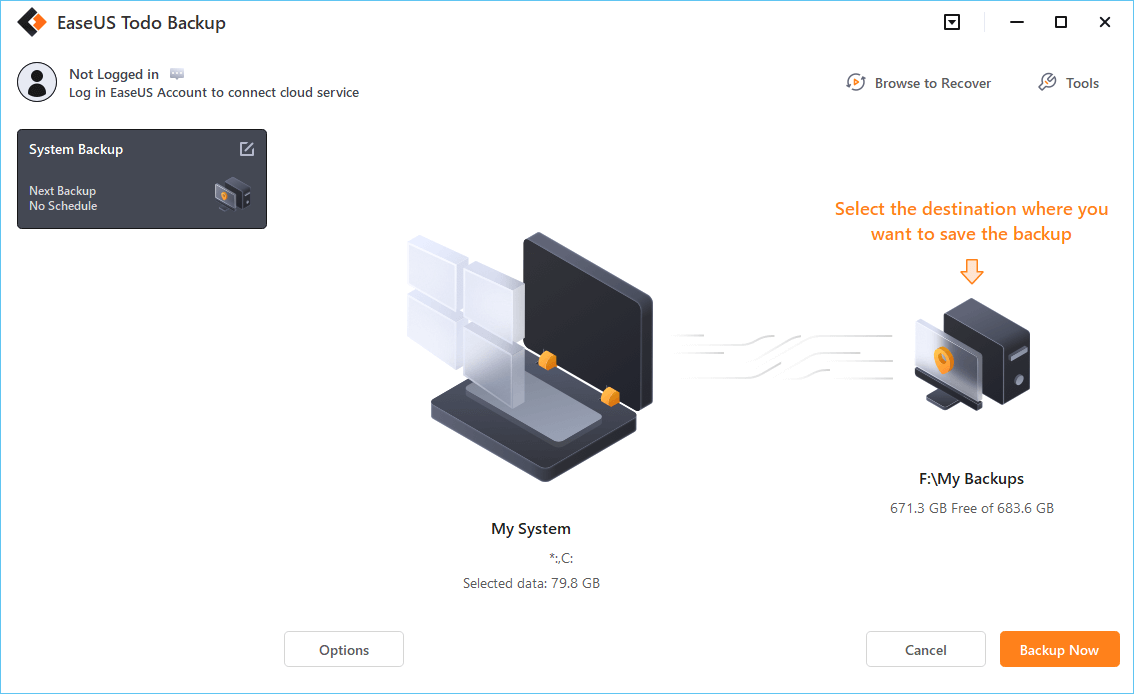 Step 4. The backup location can be another local drive on your computer, an external hard drive, network, cloud or NAS. Generally, we recommend you use an external physical drive or cloud to preserve the system backup files.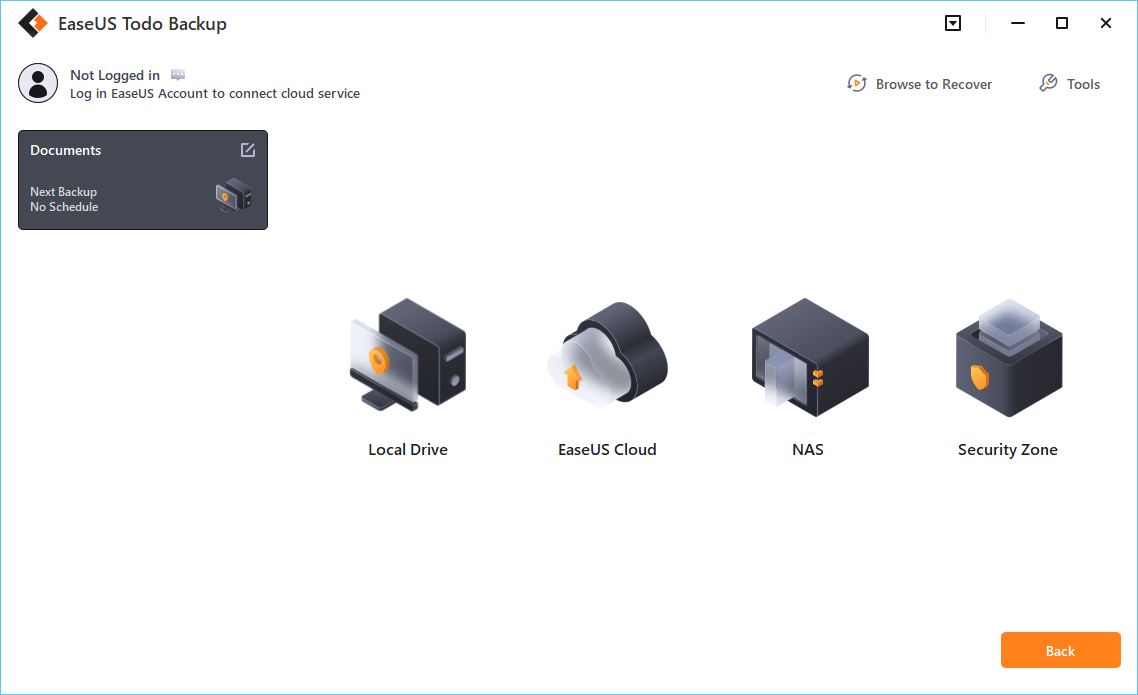 Step 5. Customiztion settings like enabling an automatic backup schedule in daily, weekly, monthly, or upon an event, and making a differential and incremental backup are available in the Options button if you're interested. Click "Backup Now", and the Windows system backup process will begin. The completed backup task will display on the left side in a card style.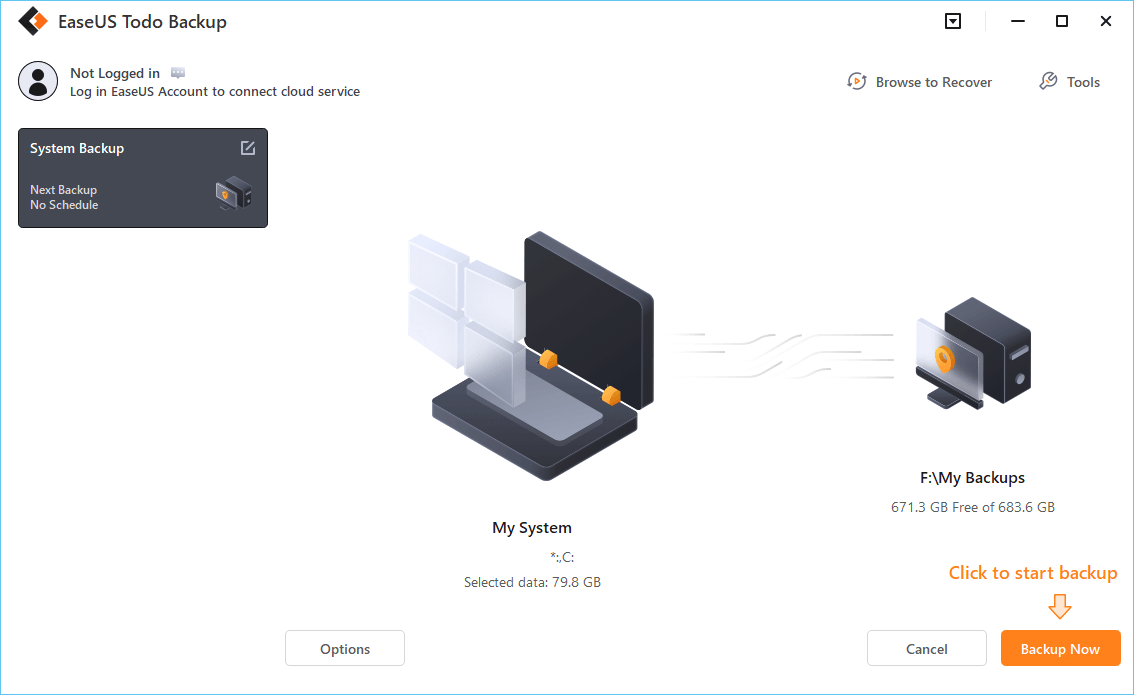 To learn more about backing up important data, you need to check the articles below:
What're Backup Ways Available for Business Use?
IT techs and Big companies use the methods mentioned below to back up their data in large quantities securely and conveniently.
Method 1. NAS backup
The above-mentioned techniques may be sufficient for some people. Still, it's also possible that they won't be adequate to prevent further problems, in which case the tried-and-true Backup and Restore method would be necessary. The correct way to employ it is as follows: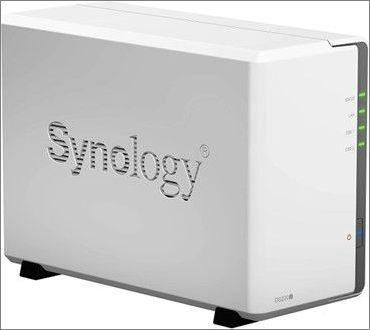 Step 1. Select "System image backup" in the left-most section of the File History window.
Step 2. Select "backup setup" when prompted.
Step 3. Choose "Store Network Copy".
Step 4. Choose a folder on the NAS by clicking the "Browse" button.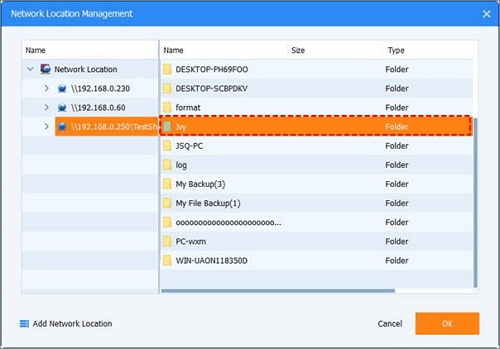 Step 5. Provide your login information here.
Step 6. Click on "Next"
Step 7. Determine whether you want Windows to take care of everything or not.
Step 8. Select the "Next" button.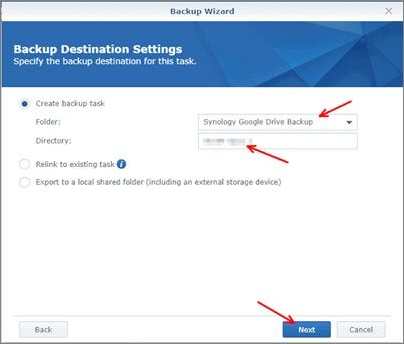 Step 9. Select "Save" settings and execute backup once you are sure.
Windows 10 should now backup to Synology NAS. This is where you may restore system backups. Third-party backup tools support Synology NAS and other devices. Always backup your PC.
Method 2. Tape backup
Tape is a dinosaur in the age of optical disks, detachable hard drives, and other random-access media, but it's perfect for backup. There isn't many cheap, high-capacity storage medium like this. Backup instructions are below.
Step 1. Insert the tape and backup overnight.
Step 2. If your server crashes, you've stored the previous day's files.
Step 3. End-of-day file backups are common. Insert the tap and run the backup overnight.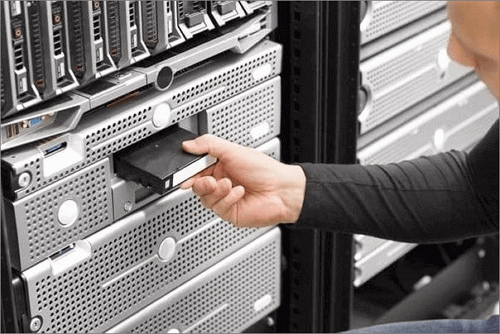 Conclusion: Ideas to Help Choose the Best Way to Backup Computer Data in Windows 10
There are various ways to create a full backup using external backup or cloud backup; all these methods have several advantages in terms of cost, ease of use, and performance. From the above-mentioned methods, automatic and cloud data backup is more convenient for individual users since they are cheaper and more convenient. Whereas for large businesses, tape backup is a more convenient option as it has a large space capacity and is extremely cheap.
Another alternative is using the EaseUS Todo Backup to backup and restores your files on Windows 10. It is the best solution to overcome data issues and quickly back your PC to the cloud. If nothing else works, you can apply the 3-2-1 rule for backup to prepare yourself for any data loss situation. 
Backup Windows 10 FAQs
You may also ask questions about backing up windows 10:
1. Is Windows 10 backup any good?
If you wish to back up your copy of Windows 10 to a local or external hard drive, you can use the Backup and Restore tool that comes standard with Windows 10 Premium, Professional, Enterprise, and Ultimate.
2. How do I backup my Windows 10 computer to an external hard drive?
File History can create backups on an external hard drive or a shared network folder. To create a backup, go to the following path: Start > Settings > Update & Security > Backup> To begin making backups choose "Add a disk" and then "Browse" to select a network or external device.
3. What's the best way to backup your computer?
Following are the best ways to backup your computer:
External HDD Traditional backup techniques include an external hard drive or USB flash drive.
Image disk. Creating a disk image backs up everything on your computer, not just files and folders.
Cloud storage.
4. How do I backup my entire computer to an external hard drive?
Step 1. Connect your external hard drive through USB.
Step 2. Open Control Panel. In the search bar, type Control Panel. Find System and Security.
Step 3. Save files with File History, then select System Image Backup.
Step 4. When prompted, generate a system image.
Step 5. Select your new hard disk, then click Next.
Step 6. Your computer will then backup your entire system. Includes system files, OS settings, and media files. This backup mirrors your entire hard drive.
Step 7. Now, Wait!

Updated by Larissa
Larissa has rich experience in writing technical articles. After joining EaseUS, she frantically learned about data recovery, disk partitioning, data backup, and other related knowledge. Now she is able to master the relevant content proficiently and write effective step-by-step guides on computer issues.

Jean has been writing tech articles since she was graduated from university. She has been part of the EaseUS team for over 5 years. Her special focuses are data recovery, disk partitioning, data space optimization, data backup and Mac OS. By the way, she's an aviation fan!
Taking everything into consideration, we can say that EaseUS Todo Backup Home can offer you a little extra sense of security with a set of advanced tools. The interface provides quick adaptation, every process guiding you all the way through so you don't get stuck or further damage your system rather than keeping it safe.

 Read More

EaseUS Todo Backup Free lets you create backups of your important files or your entire computer through its streamlined interface. Just choose the backup type you'd like to get started, and let the program do the reset.

 Read More

EaseUS includes all the features I expect from backup software like versioning, incremental backups, and scheduling. For more advanced users, EaseUS allows you to install a pre-boot environment onto your hard drive so you can use it to restore files without burning a CD or putting it on an external USB drive.

 Read More

EaseUS Todo Backup
Smart backup tool for your files and entire computer in Windows 10/8/7.
Install Windows on Multiple Computers at Once? No Problem!
Learn how to install Windows 11/10/7 and special programs/software on a batch of computers. Use 10 minutes to do the 10 hours work without making a single mistake!
Get Free Solution!