2022 Five Best Solutions to Backup Files in Windows 11
Updated by
Jean
on May 07, 2022
Key Takeaways:
Having a backup of all your important files is imperative. No one wants to lose their data. Your data contains valuable information that needs to have a record.
Backing up your data is the best way to keep it safe. As Windows 11 is here, everyone is looking for Windows 11 file backup tools.
We are here with 5 different ways you can back up files on Windows 11.  As always, we are going to fully equip you to back up your files in Windows 11 effortlessly. Scroll down to know these methods now. 
Recommend reading: How do I backup PC Automatically in Windows 11?
| Workable Solutions | Step-by-step Troubleshooting |
| --- | --- |
| 1. EaseUS Todo Backup | Click the "Select backup contents" button to...Full steps |
| 2. Windows Backup and Restore | To restore your files, type restore files in the...Full steps |
| 3. Windows File History | In Windows 11, go to Settings > System >...Full steps |
| 4. Cloud Drive | In Windows 11, go to Settings > System >...Full steps |
| 5. Manually Copy and Paste |  Attach an external drive to your computer...Full steps |
5 Best Solutions for Windows 11 Backup in 2022
We have brought to you five efficient ways for Windows 11 file backup. All these ways are foolproof. We will go through each method step by step and will also tell you the best method of these five methods. No more talking, let's dive right into it. Here are the five brilliant methods to back up files Windows 11.
You can back up your files through any of the above-mentioned five ways but our pick is the EaseUS Todo Backup windows backup and recovery tool because of the ease it brings us. It makes backing up data painless. It is a time-saving and convenient tool to use. It is the easiest solution to Windows 11 file backup.
Backup Windows 11 Files With EaseUS Todo Backup
The EaseUS Todo Backup tool comes with numerous useful features. It does not only enable you to effortlessly back up your files but also allows you to perform a hundred other tasks. This tool makes backing up as trouble-free as it can get.  Let's have a look at its features:
It is true. This tool offers all of these incredible features. Simply download the EaseUS Todo Backup tool. Launch the program on your PC/laptop and select the desired feature. If you want Windows 11 file backup, select the file option. You can back up your entire disk or your required files using this tool. Just click on your desired backup option and let the EaseUS Todo tool work its magic.
You do not need to carry out any extra or tedious steps when using this tool to back up files Windows 11. Follow the below guide to backup files in Windows 11 now.
Step 1. To start backup, click the Select backup contents.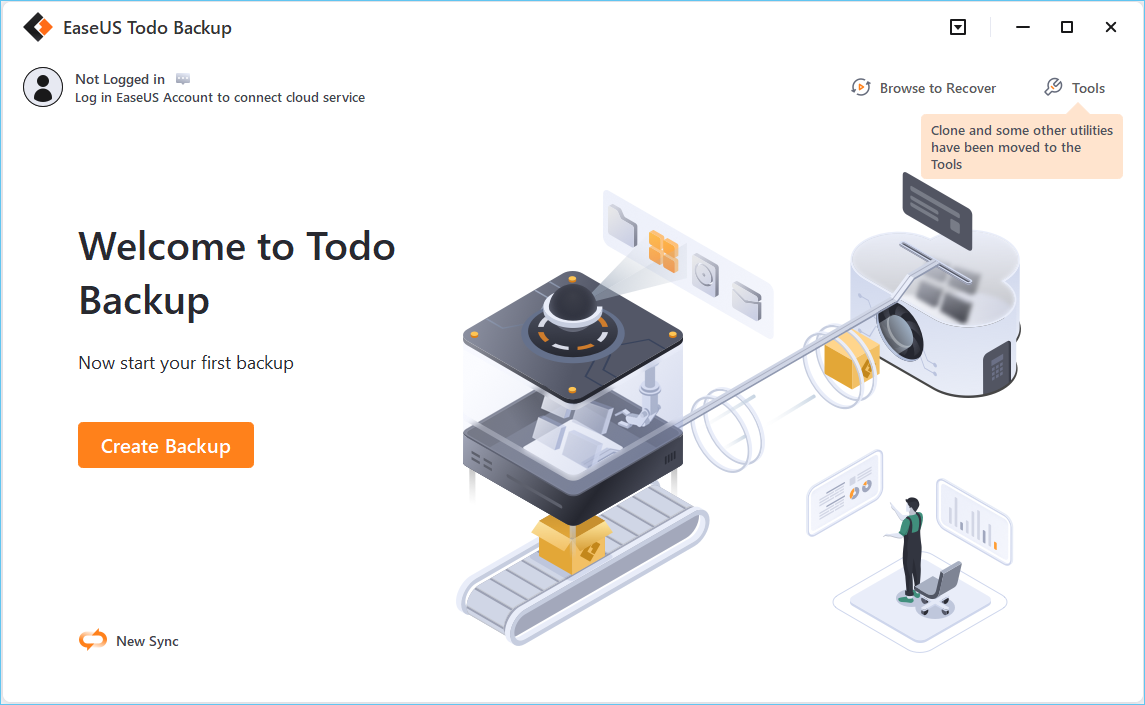 Step 2. There are four data backup categories: File, Disk, OS, and Mail.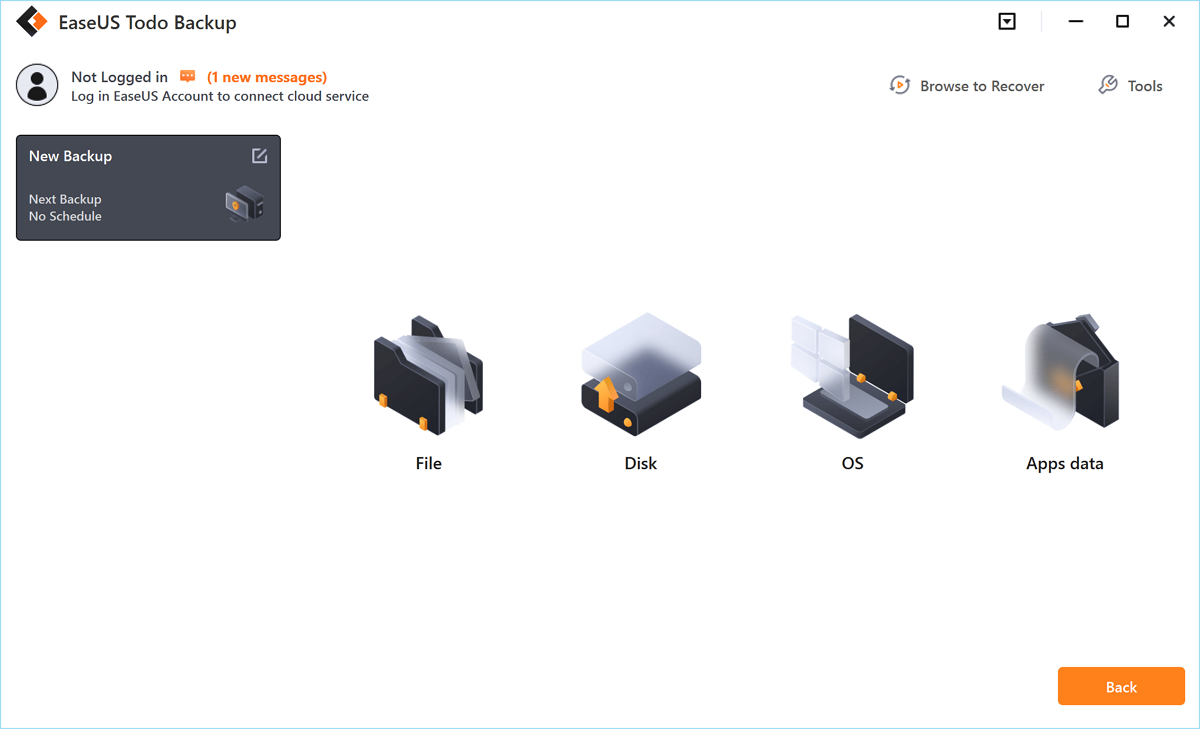 Step 3. On the left-hand side, you'll see a list of local and network files. Selecting the files to be backed up by expanding the directory.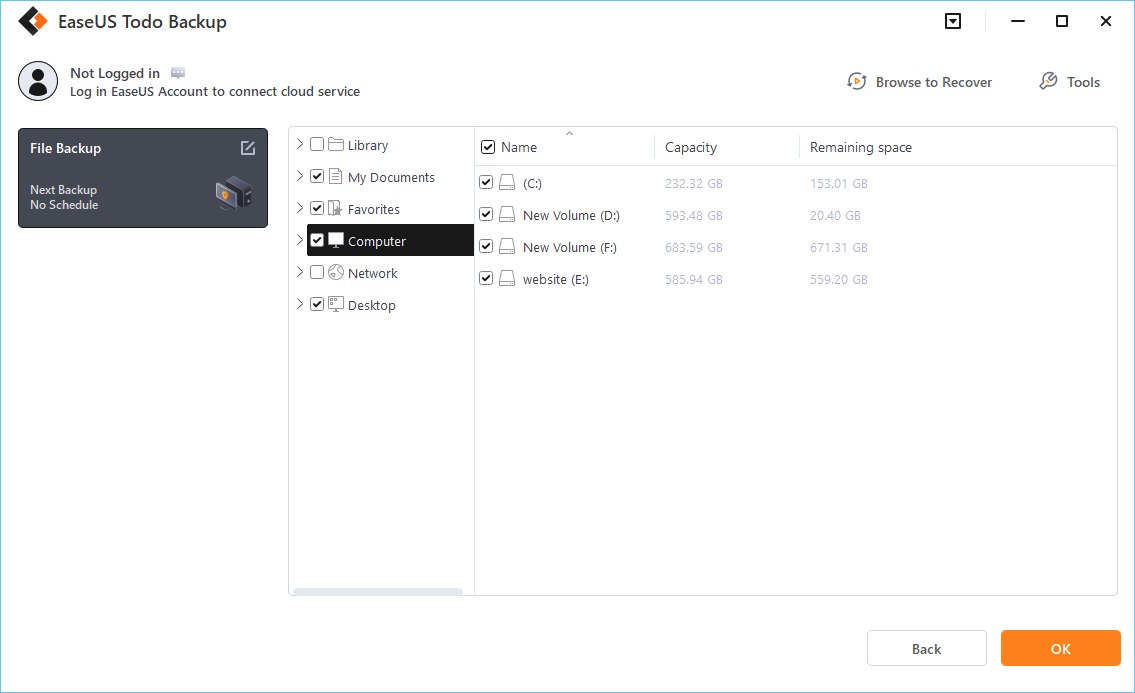 Step 4. Follow the instructions on the screen and pick the location where you wish to store the backup.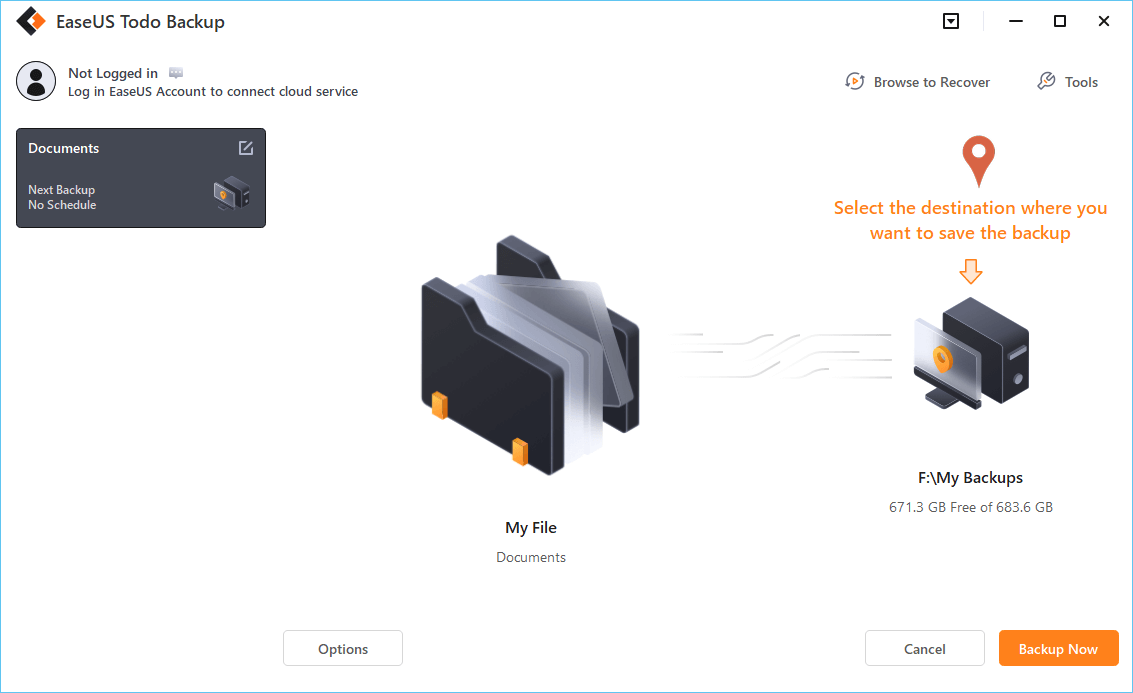 In Backup Options, click Options to encrypt the backup with a password, specify the backup schedule, and choose whether or not to start the backup at a certain event in Backup Scheme. There are a variety of customizable features available for you to explore, and you may tailor the backup operation to meet your specific requirements.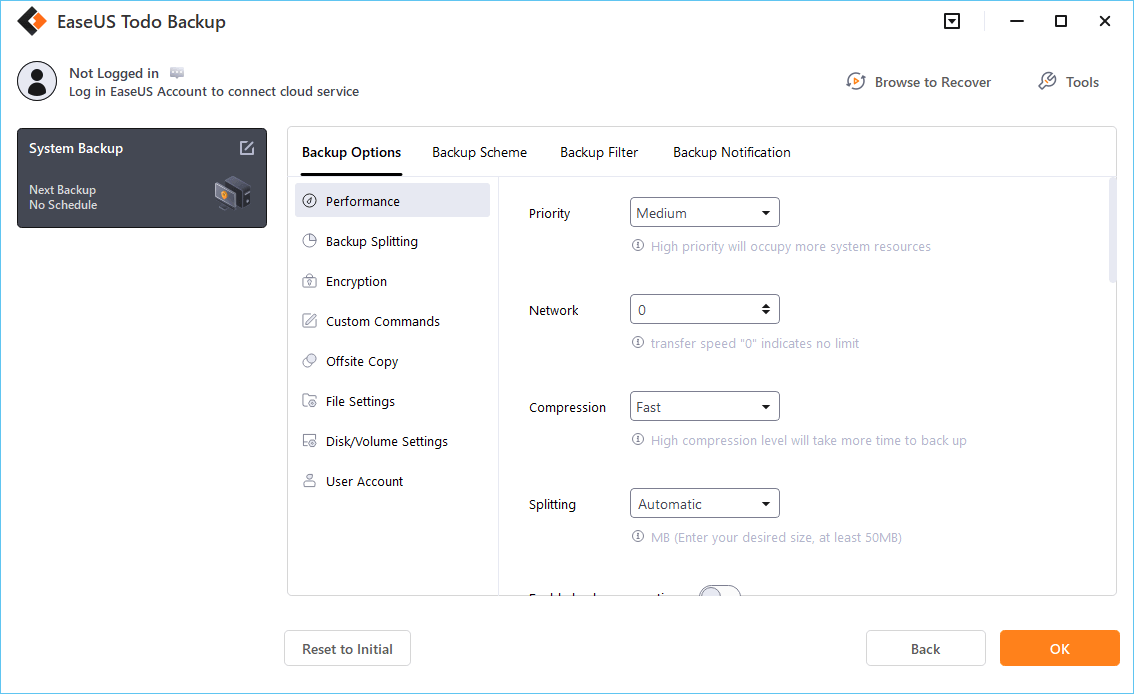 Step 5. Backups can be stored on a local disk, in EaseUS's cloud service, or on a network attached storage device (NAS).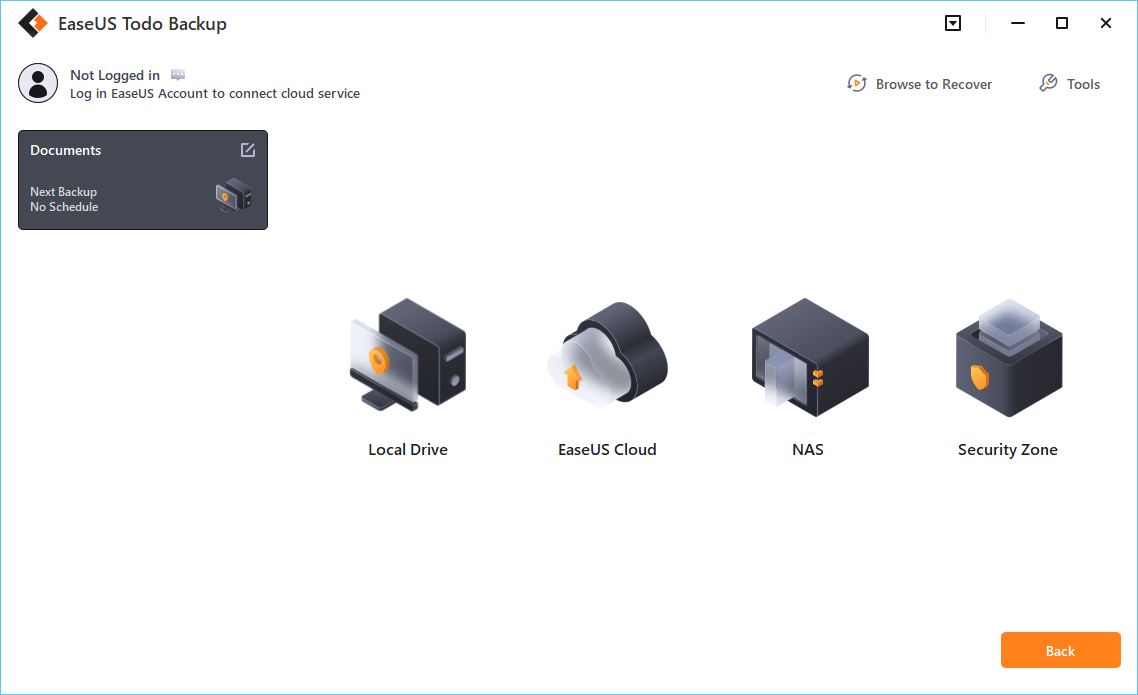 Step 6. EaseUS Todo Backup allows customers to back up data to a third-party cloud drive or the company's own cloud storage.
If you wish to back up your data to a third-party cloud drive, select Local Drive, scroll down to add Cloud Device and enter your account information.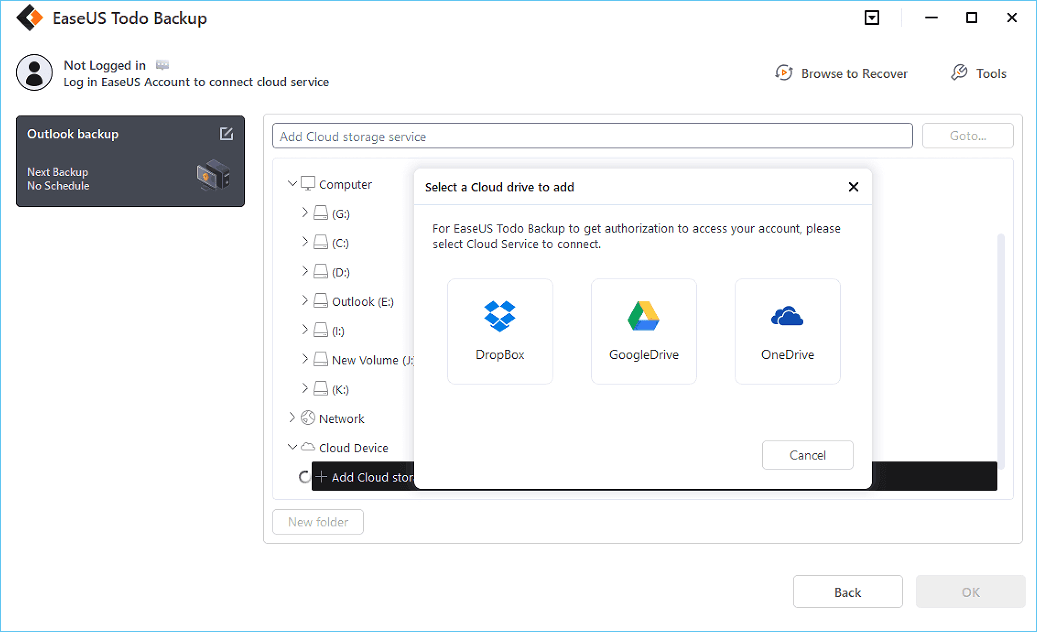 You may also use EaseUS's own cloud storage service. Click EaseUS Cloud, create an account using your EaseUS Account, then log in to your account.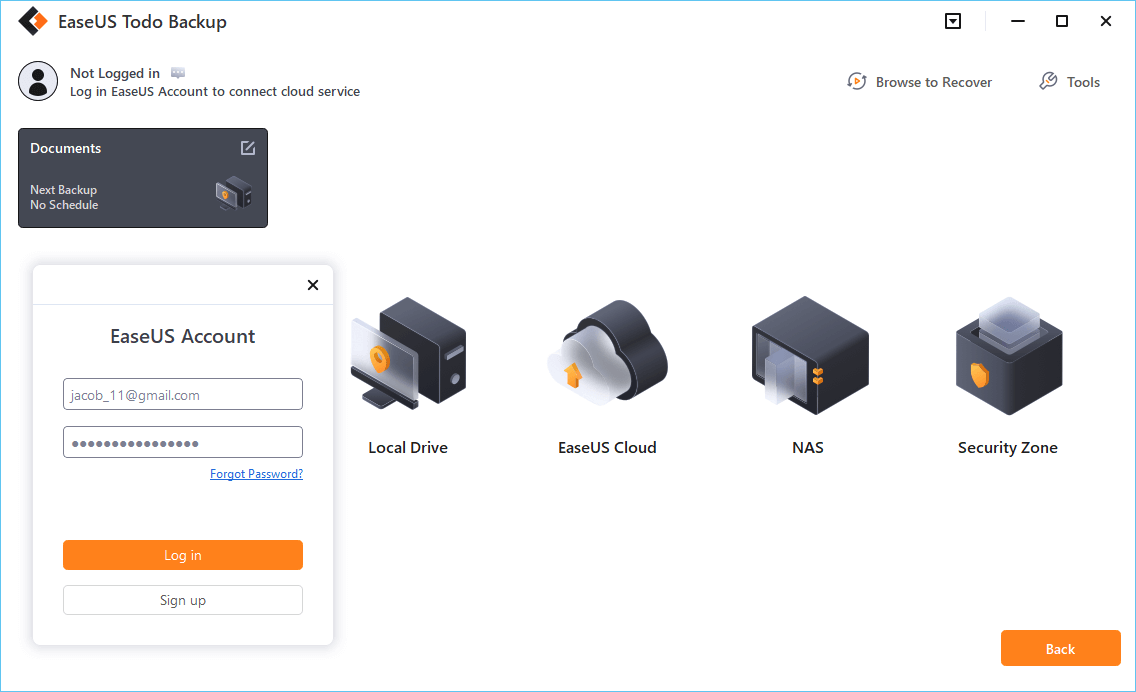 Step 7. To begin a backup, choose Backup Now. It will appear in the shape of a card on the left-hand panel when the backup process has been successfully finished. To handle the backup job in more detail, right-click on it.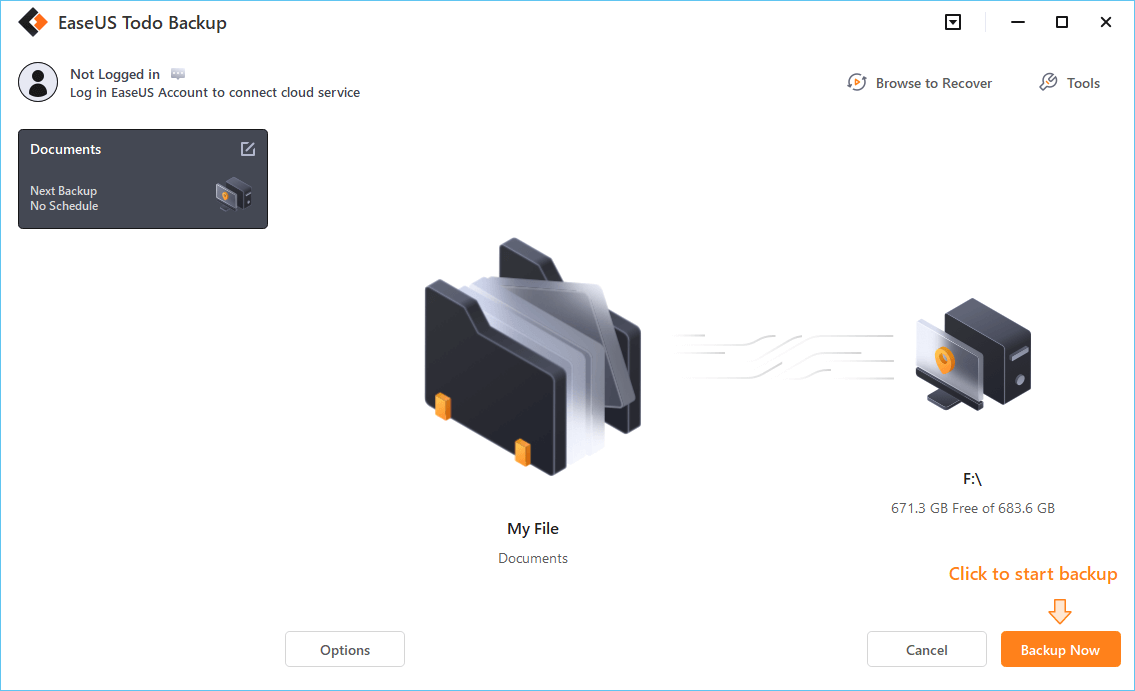 Back Up Windows 11 Files With Backup and Restore
You can simply backup files by going to the backup options. Select the suitable option and back up files Windows 11. 
To restore your files, type restore files in the search box and click Restore your files with File History.
Look for the file you want to restore and see its all versions by using the arrows. 
Click on the version you want to restore and select restore to save it. You can right-click on restore to choose the location to save it. 
Back Up Windows 11 Files Using File History
In Windows 11, go to Settings > System > Storage > Advanced Backup options. You will see the Backup using file history option there.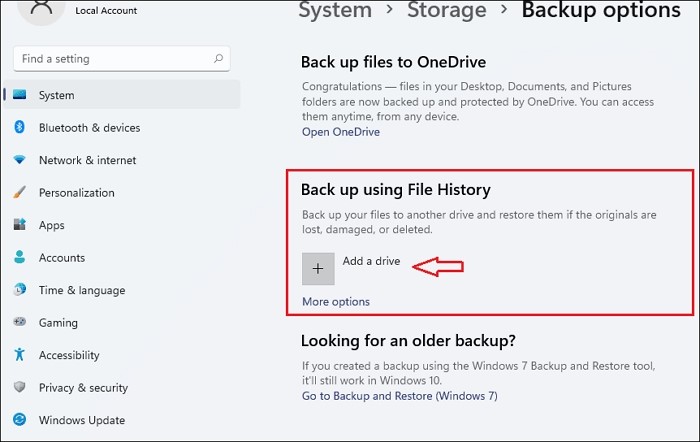 After you select a drive, your windows will back up your data every hour in your user folder (C:\Users\username).
Click on the add a drive option and you will be directed to choose the external drive you have connected to the windows.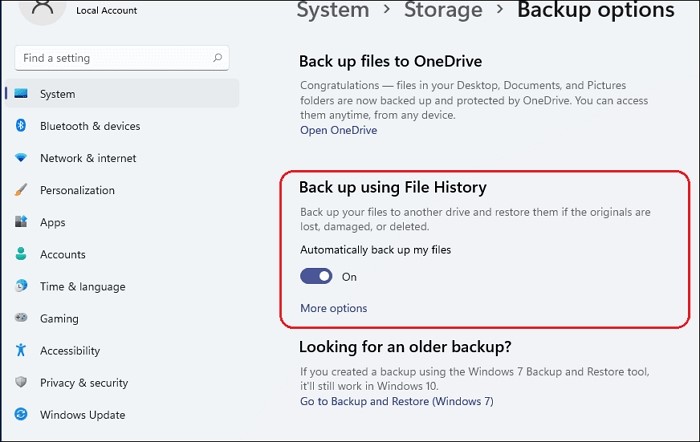 To customize your backup needs, click on more options. They allow you to customize when and how files are backed up.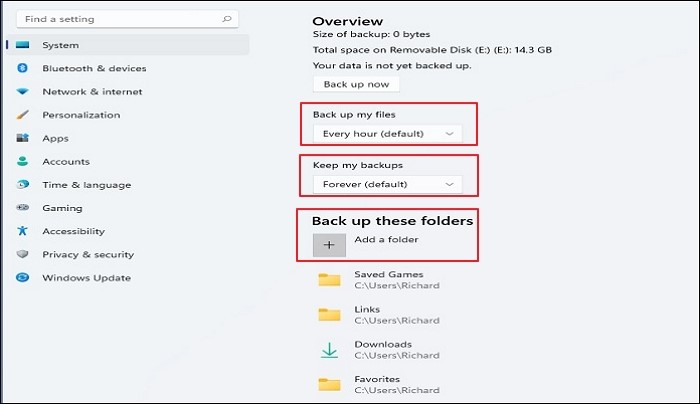 Windows 11 Backup with Cloud Drive
You can use OneDrive, google drive, and Dropbox to backup files. We will use OneDrive as an example to show you how you can backup data using it. Let's see what they have to offer.
Google Drive is a storage service offered by Google. It offers up to 15GB of free space. 
Dropbox only offers you 2GB of free storage but the advantage it offers is you can share your files or even entire folders with other people. 
OneDrive is the storage service offered by Microsoft. It offers 5GB of free storage and also gives you access to the free version of Microsoft office. Follow the guide and learn how to use OneDrive to Backup files in Windows 11.
In Windows 11, go to Settings > System > Storage > Advanced Backup options just like we have mentioned for the method above.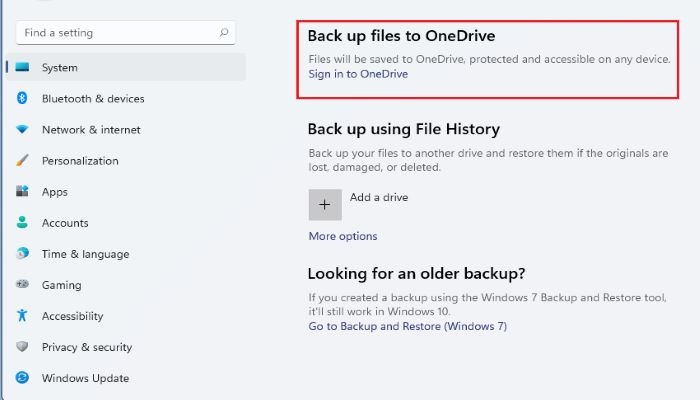 There, you will find the option Back up files to OneDrive. Click where it asks you to Sign in to OneDrive.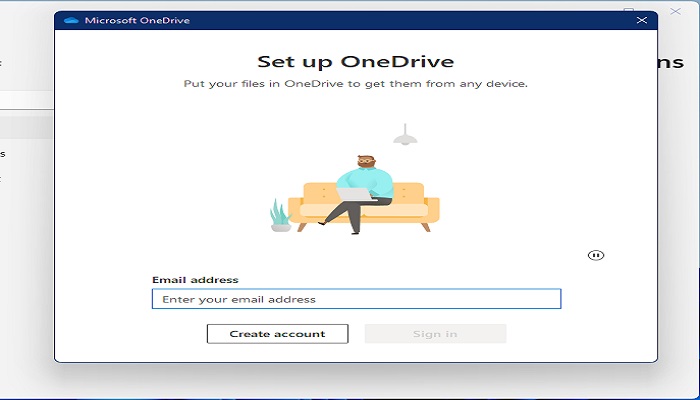 Enter your account and password to log in and continue with the step up wizard.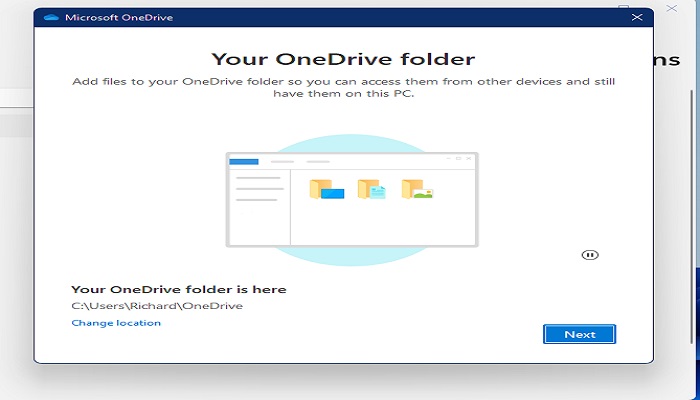 Once you are done with the step up wizard, your OneDrive will be ready to use. 
Manually Create a Copy of Windows 11 Files as Backup
 Attach an external drive to your computer. 
 Go to the file that you want to transfer and right-click on it.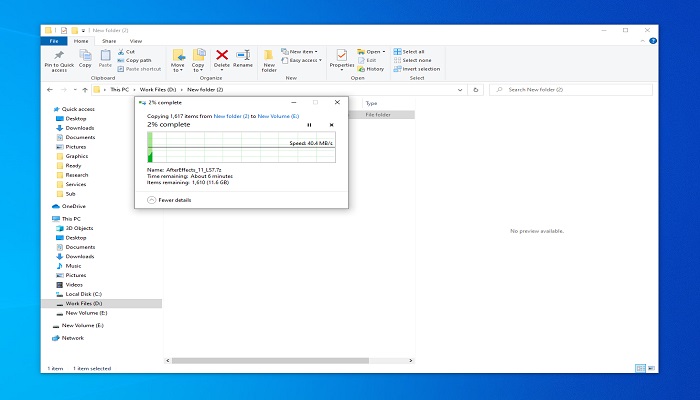 Put your cursor on the send to option and select your external drive.
Select the drive and your file will successfully start transferring to the external drive.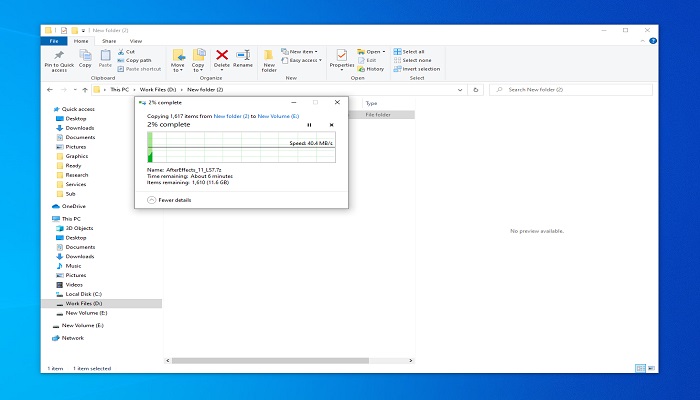 Conclusion: Start Backing Up Your Essential Files in Windows 11 Now
Windows 11 file backup is not a problem with these 5 tools. They are all good options but some are easier and better than the others. These 5 ways will make it possible for you to conveniently backup your data in windows 11.
Want to know the method we use? Well, our choice is always the EaseUS Todo tool as it offers a variety of features. It is also the most reliable method of all five. You can perform a multitude of tasks using this single tool. It backs up your data in no time and makes backing up hassle-free.
Try it and thank us later. 

Author Jean has been writing tech articles since she was graduated from university. She has been part of the EaseUS team for over 5 years. Her special focuses are data recovery, disk partitioning, data space optimization, data backup and Mac OS. By the way, she's an aviation fan!
Taking everything into consideration, we can say that EaseUS Todo Backup Home can offer you a little extra sense of security with a set of advanced tools. The interface provides quick adaptation, every process guiding you all the way through so you don't get stuck or further damage your system rather than keeping it safe.

 Read More

EaseUS Todo Backup Free lets you create backups of your important files or your entire computer through its streamlined interface. Just choose the backup type you'd like to get started, and let the program do the reset.

 Read More

EaseUS includes all the features I expect from backup software like versioning, incremental backups, and scheduling. For more advanced users, EaseUS allows you to install a pre-boot environment onto your hard drive so you can use it to restore files without burning a CD or putting it on an external USB drive.

 Read More

EaseUS Todo Backup
Smart backup tool for your files and entire computer in Windows 10/8/7.
Install Windows on Multiple Computers at Once? No Problem!
Learn how to install Windows 11/10/7 and special programs/software on a batch of computers. Use 10 minutes to do the 10 hours work without making a single mistake!
Get Free Solution!