Updated by
Gemma
on Sep 22, 2022
Downloading and installing software on the PC is really an easy job for personal users. But for business users, things will become complicated.
Usually, as a business owner, you might need to install the same software on dozens or hundreds of new computers. It can take you hours or even days. Then you may ask if there is an easy way to manage the job, for example, to install software on multiple computers at the same time. Of course, yes.
Workable Solutions
Step-by-step Troubleshooting
Preparation Jobs

1. Download EaseUS Deploy Manager for help...Full steps

2. Install the software on system C drive and...Full steps

Install/Deploy Software on Computers

Create computer/machine groups; Or you can...Full steps
Preparation Jobs
Third-party deployment tool allows you to deploy software together with Windows OS on multiple computers. Compared to manually install software on multiple computers one by one, deploying software on multiple workstations in an enterprise is a time and effort saving process. 
Download EaseUS Deploy Manager for help
You can find a large number of deployment tools if you search on Google. And, all of them are advertised to be able to install software on multiple computers at the same time.
Here we would like to recommend EaseUS Deploy Manager to you. It's an automated deployment tool that can be used to automatically initiating software with Windows OS images on targeted computers.  
You can directly download and install this tool on the source computer now: Download EaseUS Deploy Manager.
Install the software on system C drive and create a backup image
As a matter of fact that no one can directly copy installed software and programs to other computers. However, EaseUS Deploy Manager can do this job. It can directly deploy the whole system with all installed software on the C drive to universal computers with ease.
Step 1. Install the software on the system C drive
Why would we suggest you install useful software on the system C drive? Here are the reasons:
1. Most software still needs to boot from system drive even if they are installed on other hard drive partitions.
2. EaseUS Deploy Manager will install the system C drive installed software to those PCs together with Windows OS.
Step 2. Create a backup image of Windows OS and installed software
Before deploying, you should first create a backup image of your Windows OS and those software that you want to install on multiple computers by using EaseUS Todo Backup:
It's 100% working to create backup images of Windows OS and target software by using this software.
Step 1. On the main page, click "Select backup contents".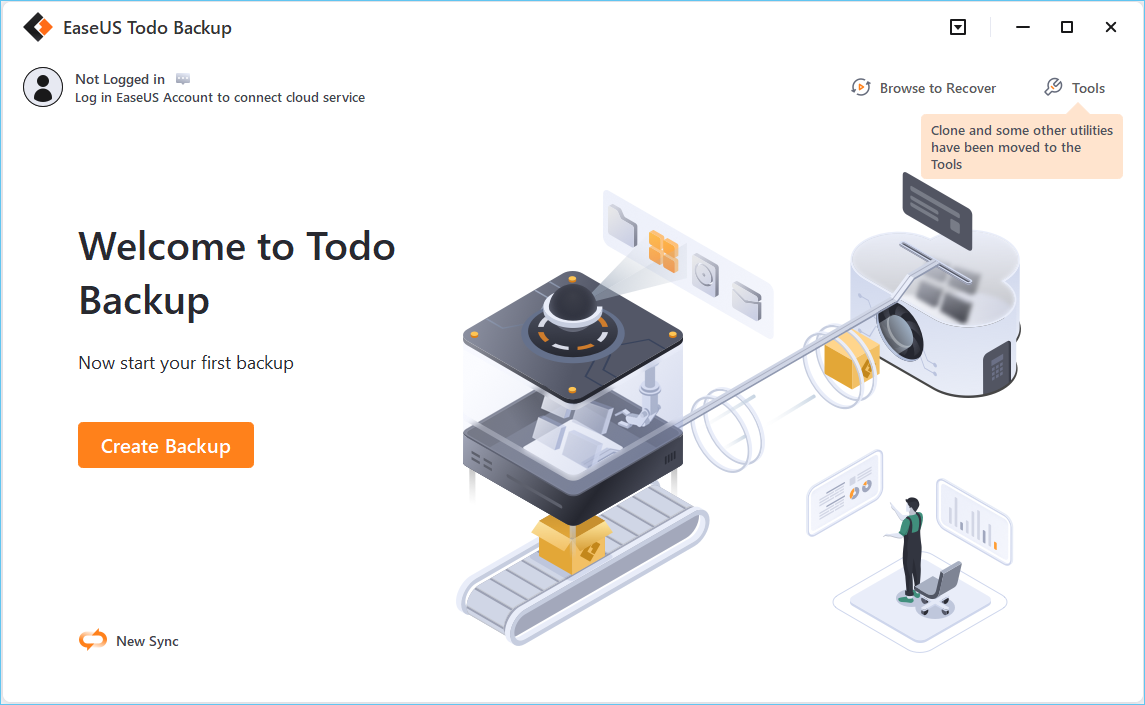 Step 2. Among the four available categories, click OS.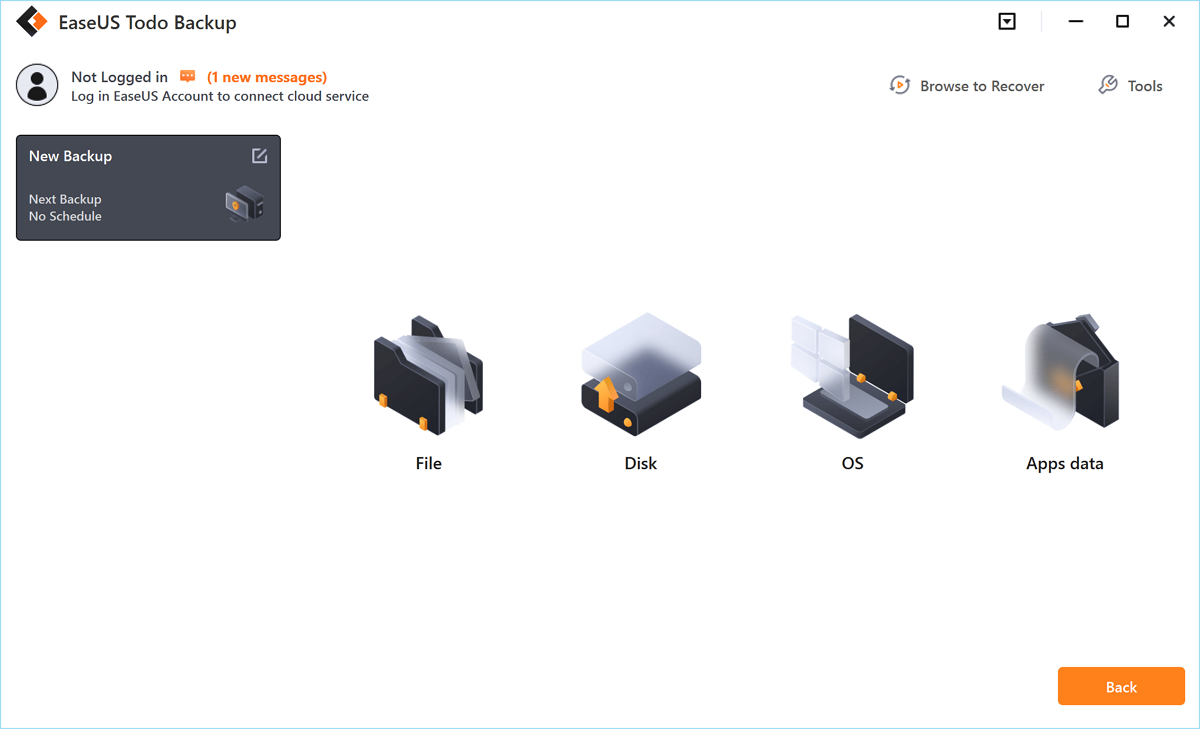 Step 3. EaseUS Todo Backup will automatically select your system partition, you only need to select the backup destination.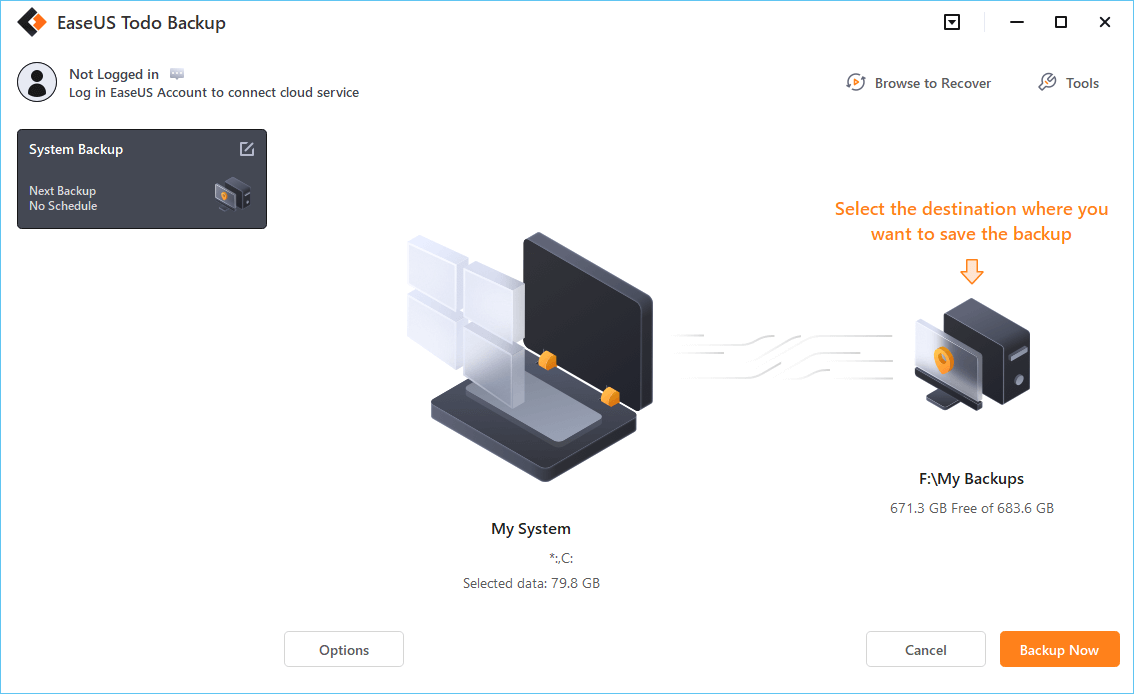 Step 4. Both Local Drive and NAS are available for you to save the backup file.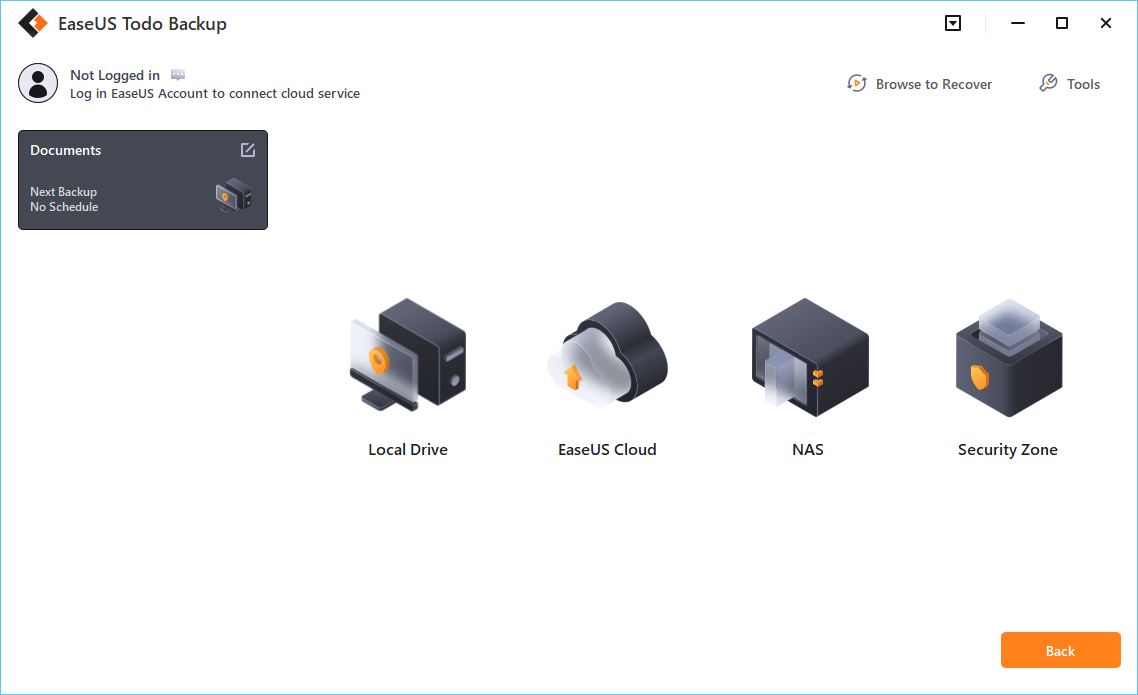 Step 5. After finishing the backup process, you can check the backup status, recover, open, or delete the backup by right-clicking the backup task on the left.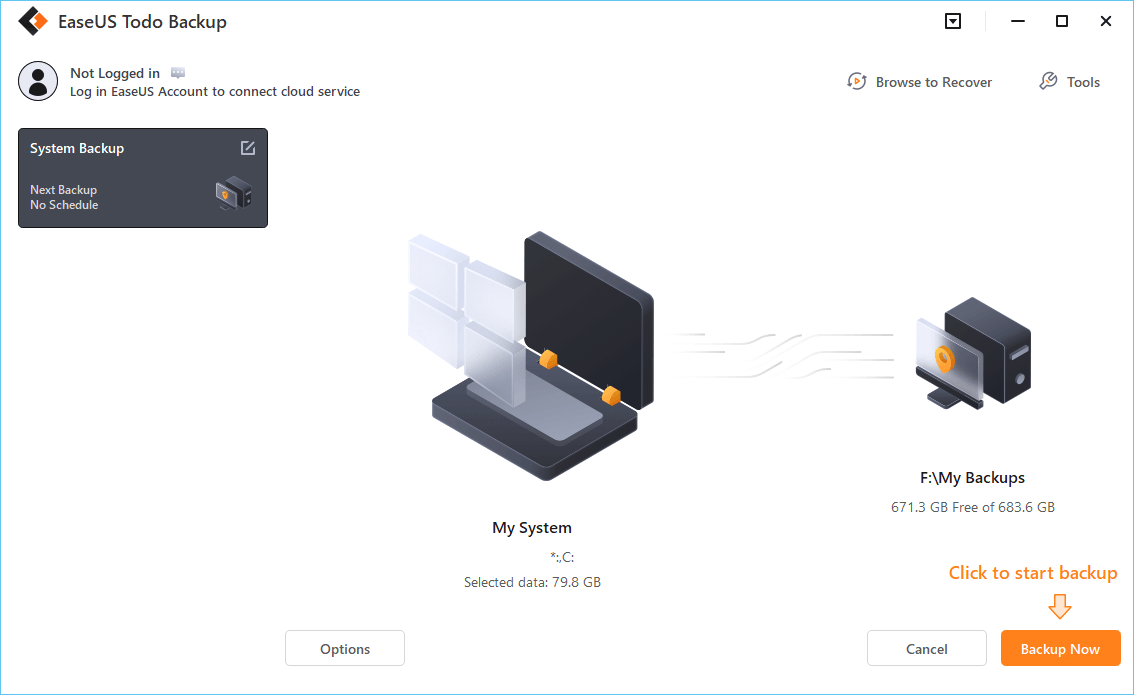 Notice: Please save the backup image of your Windows OS and useful software to a network shared location or drive. 
Step 3. Set up the network connection and enable PXE server
Before you start the real deploying process, you still have some jobs to do:
1. Setup or gain a Microsoft DHCP (Dynamic Host Configuration Protocol) server on your network.
2. Ensure all the computers which you want to deploy software to are under the same LAN.
3. Run EaseUS Deploy Manager on the source computer, click the "Enable PXE server" to enable PXE at the left corner.
Tutorial: Full guide to install/deploy software on multiple computers at the same time
You may want to know how to install Windows 10 on multiple computers, right? If you have completed the preparation jobs as listed above, you can refer to the tutorial steps here to start the deployment task on multiple computers now:
Step 1. Create computer/machine groups 
This will help you add all the computers together to deploy and install software at the same time.
1. Launch EaseUS Deploy Manager and choose "Create group" and name the new group.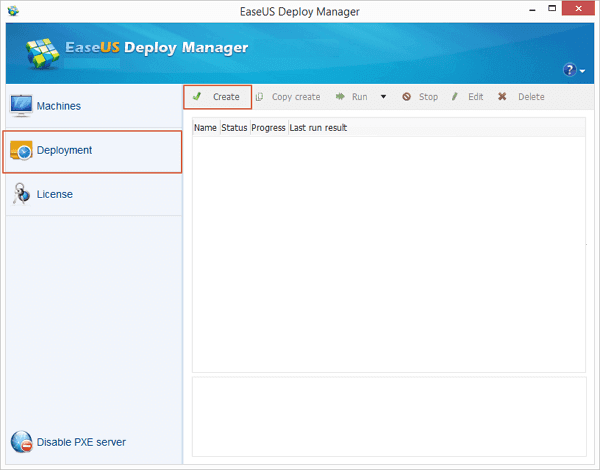 2. Or you can directly add computers by clicking Add machines > choose to add computers By file or By Mac address. 
By Mac address: you can directly input the computer's Mac address, Alias name into the group so to add machine for system deploying/installing.
From file: this allows you directly import a file into the software to add computers. The TXT file contains the computers' information including Mac address and Alias with Space or Tab. 
Step 2. Create deployment task for installing software and Windows OS on multiple PCs 
1. Click "Create" and then enter a task name and select the machines that you've added in step 1. And click "Next".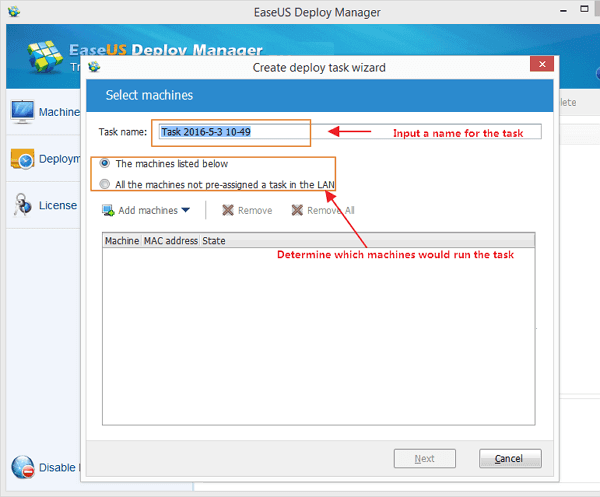 2. Click Browse and select the location where you saved the software installation backup image, enter your username and password if necessary. 
Choose the image and then click Save.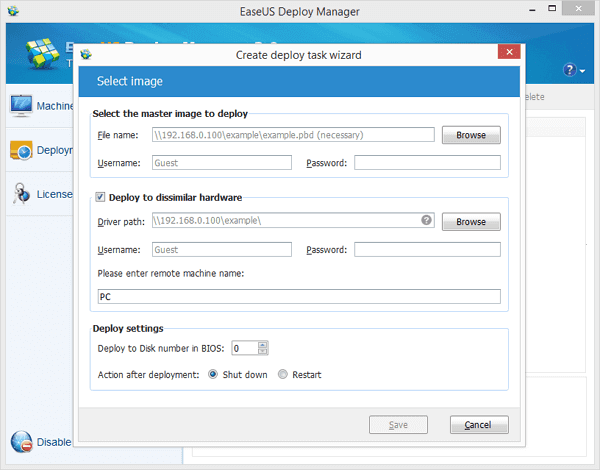 Step 3. Deploy Windows OS and install software to computers at the same time
1. Choose the created task and click "Run" to execute the deployment task.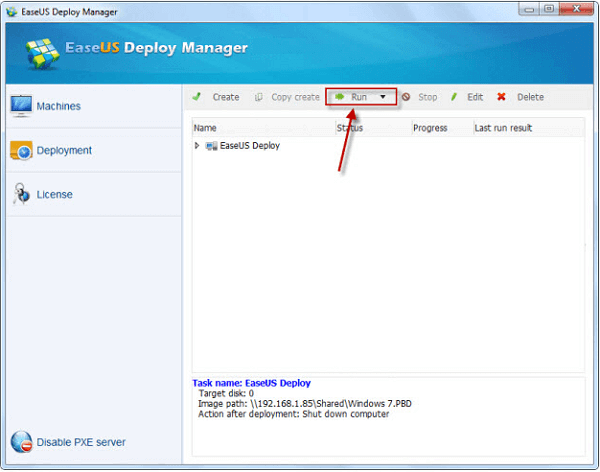 2. When the task is complete, you'll successfully deploy software package on several computers then. All you need is to be patient while the software is executing the task.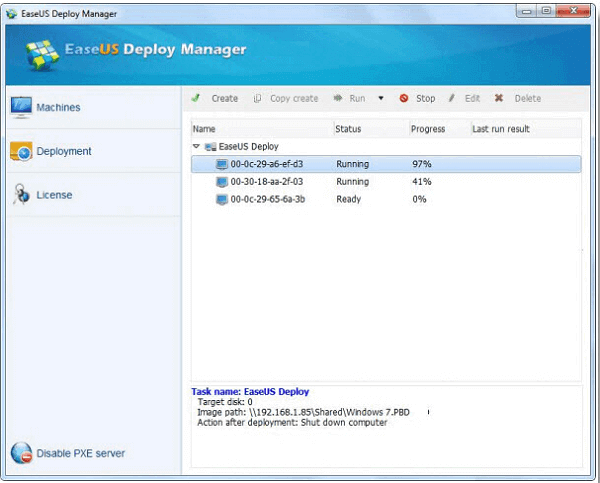 PLUS Information - Make the deployed Windows OS and software run on computers
After the deployment, each staff of your company can follow below tips to make those software and Windows OS running on their computers without any problems:
1. Restart PC and press "F2" or "F8" to enter BIOS.
2. Check out if your BIOS support PEX boot mode. Mostly, recent Windows OS all support this mode.
3. Set computer to boot from PEX in BIOS and then Windows OS and software image will be automatically restored to these computers.
After the restore, you can just restart the computers, all favorable software will run smoothly on your PCs.
Updated by Gemma
Gemma is member of EaseUS team and has been committed to creating valuable content in fields about file recovery, partition management, and data backup etc for many years. She loves to help users solve various types of computer related issues.
Written by Tracy King 
Tracy joined in EaseUS in 2013 and has been working with EaseUS content team for over 7 years. Being enthusiastic in computing and technology, she writes tech how-to articles and share technical solutions about Windows & Mac data recovery, file/system backup and recovery, partition management and iOS/Android data recovery.
Taking everything into consideration, we can say that EaseUS Todo Backup Home can offer you a little extra sense of security with a set of advanced tools. The interface provides quick adaptation, every process guiding you all the way through so you don't get stuck or further damage your system rather than keeping it safe.

 Read More

EaseUS Todo Backup Free lets you create backups of your important files or your entire computer through its streamlined interface. Just choose the backup type you'd like to get started, and let the program do the reset.

 Read More

EaseUS includes all the features I expect from backup software like versioning, incremental backups, and scheduling. For more advanced users, EaseUS allows you to install a pre-boot environment onto your hard drive so you can use it to restore files without burning a CD or putting it on an external USB drive.

 Read More

EaseUS Todo Backup
Smart backup tool for your files and entire computer in Windows 10/8/7.
Install Windows on Multiple Computers at Once? No Problem!
Learn how to install Windows 11/10/7 and special programs/software on a batch of computers. Use 10 minutes to do the 10 hours work without making a single mistake!
Get Free Solution!