Download ing and installing software on PC is really an easy job for personal users. But for business users, things will become complicated. Usually, you might be required to install the same install software on dozens or hundreds of computers. It can take you hours or even days. Then you may ask if there is any easy way to manage the job, for example, install software on multiple computers at the same time. Of course, yes. Third-party deployment tool that allows you to install Windows on multiple computers at the same time and deploy software on multiple computers is just designed to help! Compared to manually install software on multiple computers, one by one, deploying software on multiple workstations in an enterprise is a time and effort consuming process.
Install software on multiple computers with EaseUS Deploy Manager
You can find a large number of deployment tools if you search on Google. And, all of them are advertised to be able to install software on multiple computers at the same time. But usually, few of them works as well as they have advocated. So, here we would like to recommend you EaseUS Deploy Manager, a popular automated deployment tools can be used to save time by automatically initiating install on targeted computers.
Step 1. Create a backup image to install software on multiple computers simultaneously
Before software deploying, you should first create a backup image of the software that you want to deploy using EaseUS Todo Backup:
1. Launch EaseUS Todo Backup and then choose the "File Backup".
2. Choose the apps that you want to backup, and then select a destination to store the backup file.
3. Click "Proceed" to execute your operations for Windows 10 apps data backup.
Step 2. Prepare works for installing software on multiple computers at the same time
1. Setup or gain a Microsoft DHCP (Dynamic Host Configuration Protocol) server on your network;
2. Ensure all the computers which you want to deploy System to are under same LAN.
3. Click the "Enable PXE server" to enable PXE.
Step 3. Deploy software on multiple computers at the same time
1. Create computer/machine groups for deploying/installing software to other computers
Launch EaseUS Deploy Manager and choose Create group and name the new group.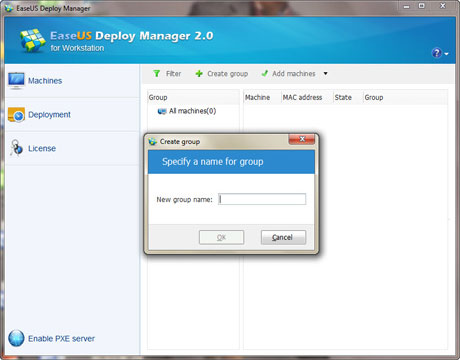 Or you can directly add computers by clicking Add machines > choose to add computers By file or By Mac address.
By Mac address: you can directly input the computer's Mac address, Alias name into the group so to add machine for system deploying/installing.
From file: this allows you directly import a file into the software to add computers. The TXT file contains the computers' information including Mac address and Alias with Space or Tab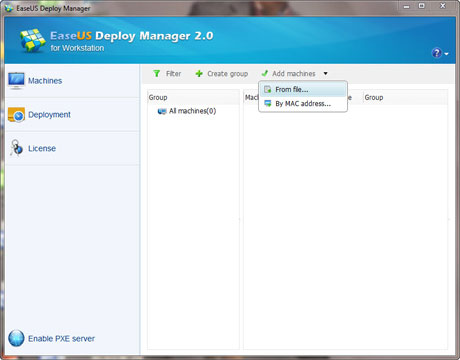 2. Create deployment task for installing software on multiple PCs
Click Create and then enter a task name and select the machines that you've added in step 1. And click Next.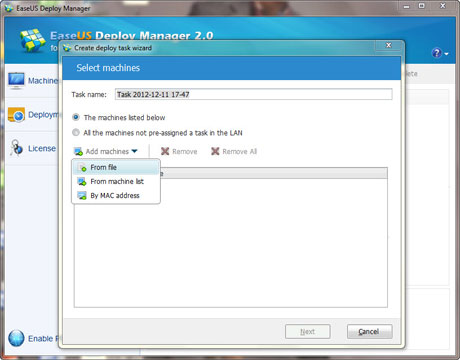 3. Execute to deploy/install software to target computers
Choose the created task and click Run to execute the deployment task. When the task is complete, you'll successfully install software on several computers then. All you need is to be patient while the software is executing the task.