This is a step-by-step tutorial about Windows 10 backup. In this depth guide, you'll learn how to backup Windows 10 to DVD. So if you decide to do the system image backup on Windows 10, this guide is for you.
Need to Backup Windows 10 to DVD?
How do I create a Windows 10 CD/DVD as a backup? How do I create a DVD/CD of Windows 10 to use as a backup in case my system crashes. I don't want to know how to make a backup drive or use a USB. I am looking on how to make a DVD/CD. - 
answer.microsoft.com
Different from backing up to a drive or USB, those users choose to create a Windows 10 backup on DVD/CD. Why?
DVDs are a more permanent storage solution than other options like USB drives, which can hold much more data. 
Backup copies of Windows 10 can be helpful if you ever need to reinstall the operating system or if you want to create a separate backup in case something goes wrong with the primary copy. 
Some people feel more comfortable having a physical backup than relying solely on the cloud. 
Now that you know why so many people are ready to back up the operating system to DVD, we'll walk you through how to complete this task with the free system image backup tools.
Reliable Way to Do the System Image Backup on Windows 10
#1. Download and Use the Free System Image Backup Software (Automatic)
#2. Use Windows 10 Backup and Restore (Manual)
#3. Burn CD/DVD (Manual)
Whichever method you choose, backing up your operating system is an excellent way to protect your data and ensure that you can always restore your computer to a working state.
#1. How to Backup Windows 10 to DVD with Windows 10 Backup Software
EaseUS Todo Backup Free is an automatic backup and recovery software offering high efficiency, a system, file, disk, partition, and 250GB free cloud backup. Now you can enjoy the free system backup and recovery in safe conditions without any hassle.
A perfect balance of automatic protection and manual control. - 
Techradar.com
Step 1. Launch EaseUS Todo Backup on your computer, and click Create Backup on the home screen and then hit the big question mark to select backup contents.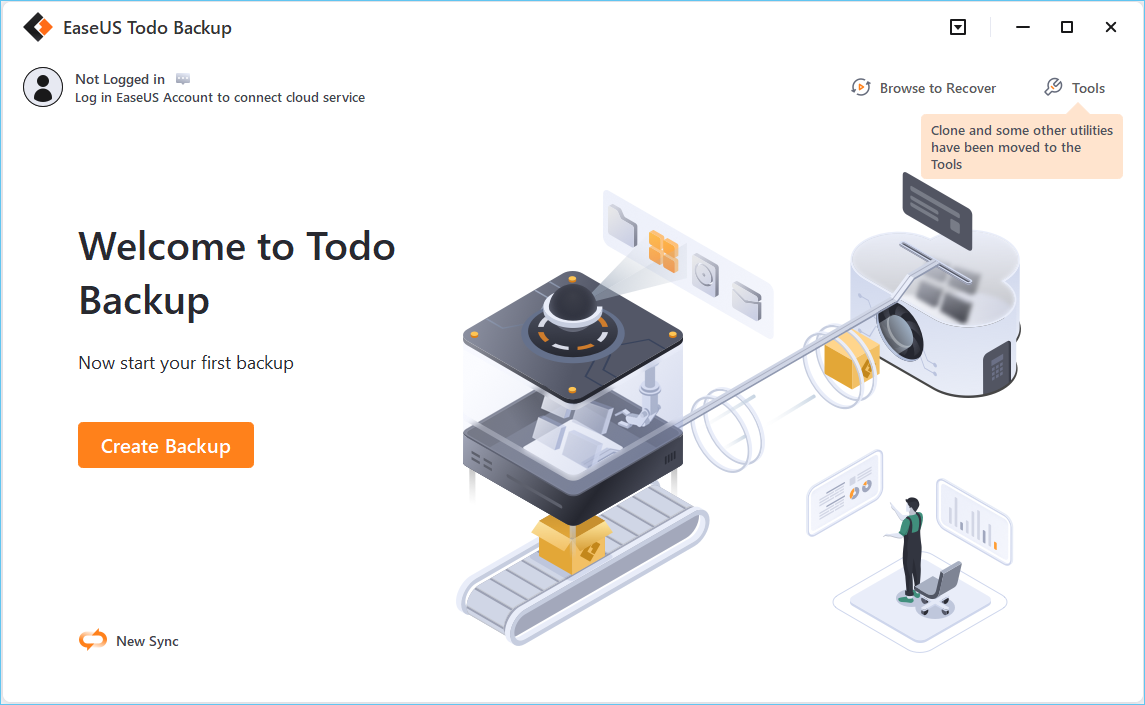 Step 2. To back up your Windows operating system, click "OS" to begin the backup task.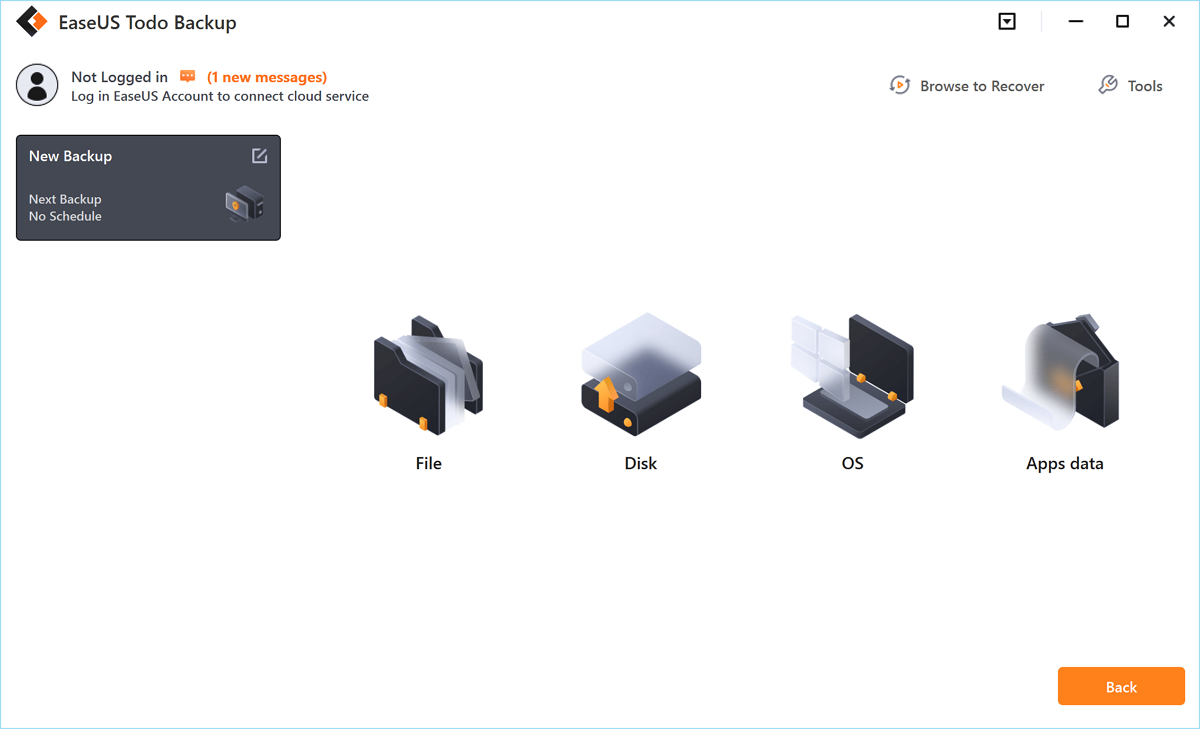 Step 3. Your Windows operating system information and all system related files and partitions will be automatically selected so you don't need to do any manual selection at this step. Next, you'll need to choose a location to save the system image backup by clicking the illustrated area.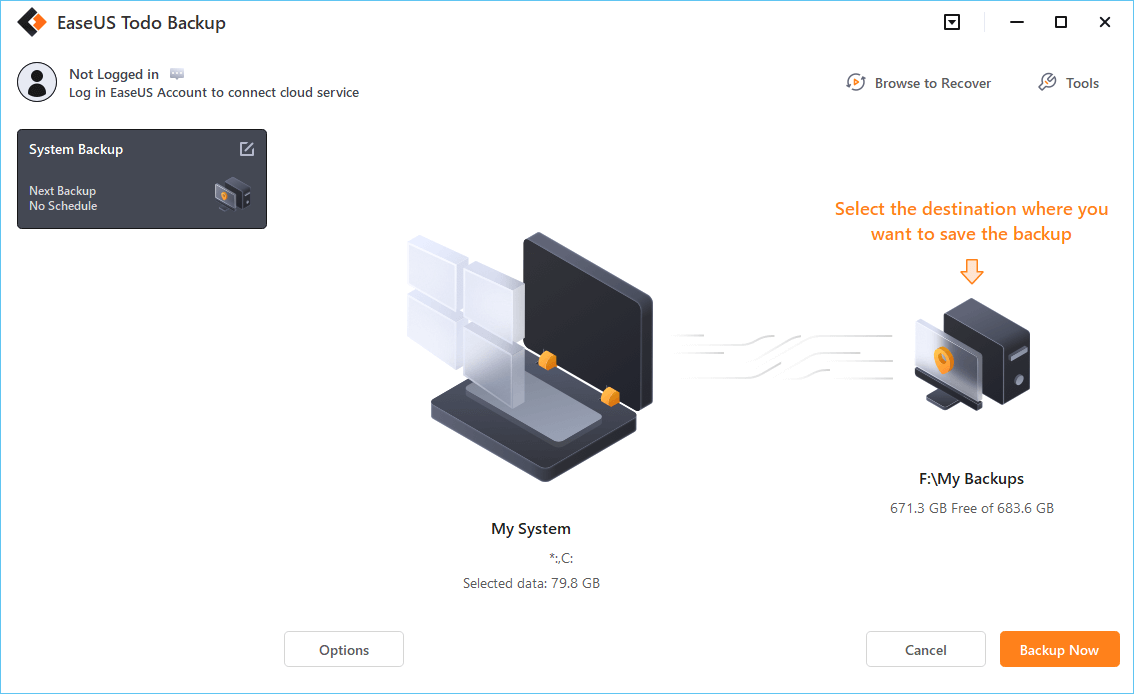 Step 4. The backup location can be another local drive on your computer, an external hard drive, network, cloud or NAS. Generally, we recommend you use an external physical drive or cloud to preserve the system backup files.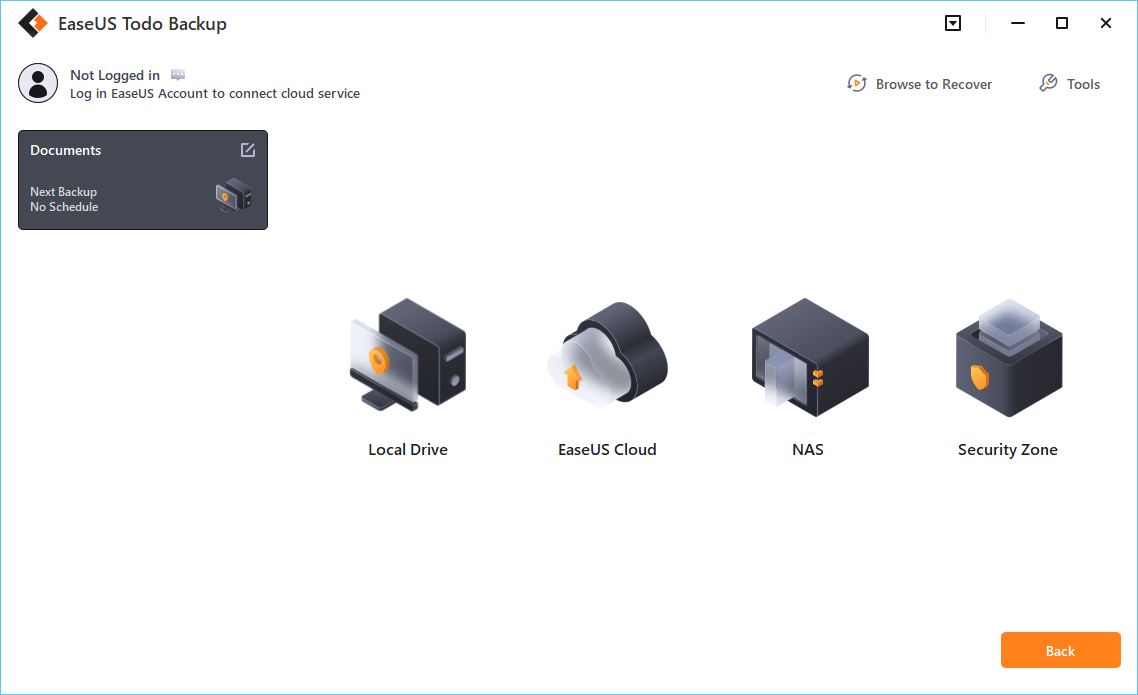 Step 5. Customiztion settings like enabling an automatic backup schedule in daily, weekly, monthly, or upon an event, and making a differential and incremental backup are available in the Options button if you're interested. Click "Backup Now", and the Windows system backup process will begin. The completed backup task will display on the left side in a card style.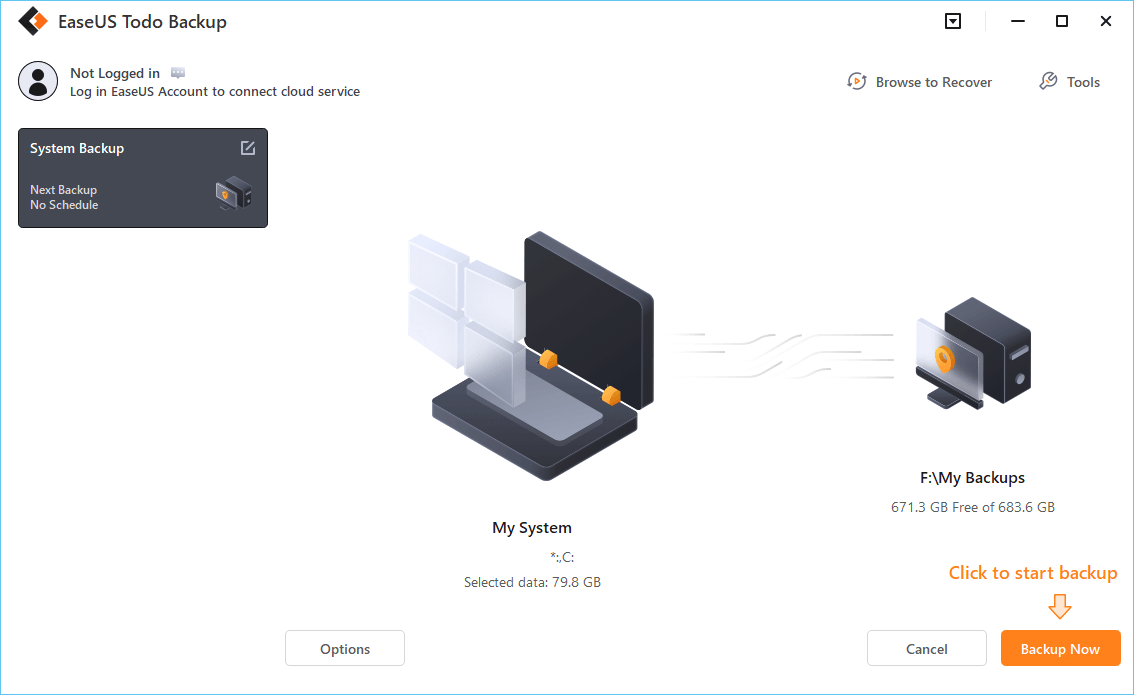 Note: For users who need to do the regular backup, like me, to copy my articles for a week or month, I recommend upgrading to EaseUS Todo Backup Home edition. As I tested, its "Smart Backup" feature is flexible in making a schedule plan.
#2. Use Windows 10 Backup and Restore
Another way to backup Windows 10 to DVD is to use Windows 10 backup and restore.
Windows 10 Backup and Restore (Windows 7) is a utility that allows users to create backups of their Windows 10 system and their files. It can be helpful in case of a system crash or if you need to reinstall Windows 10. The utility can create full backups, which include everything on your system, or incremental backups, which only back up files that have changed since the last backup was created. Windows 10 Backup and Restore (Windows 7) also allows you to create a system image, which is a complete backup of your Windows 10 installation, including your files, settings, and applications. 
The utility has several highlights, including the ability to schedule backups and create system images. However, there are also some limitations to consider. For example, Windows 10 Backup and Restore (Windows 7) can only restore backups created with the same utility. Additionally, while the utility can back up personal files, it cannot back up application data or user profiles. As a result, you may need to use another backup solution for these types of data.
Need to backup the app data or use profiles? Navigate to free backup and recovery software.
Preparation - Insert your DVD drive into the computer and follow the steps below to create a system image backup.
Step 1. Type and open Control Panel on the search box. And click Backup and Restore (Windows 7) under the System and Security tab.
Step 2. Navigate to the Backup and Restore window and click Create a system image from the left side.
Step 3. In the Create a system image window, click On one or more DVDs and choose the DVD you want to backup your Windows 10 system.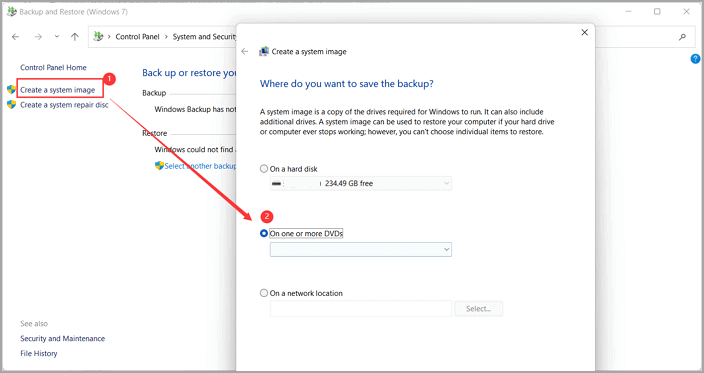 Step 4. Click Next and select your C drive with the system files you want to copy.
Step 5. Click the Start Backup button.
#3. Burn CD/DVD Windows 10
Step 1. Download Windows 10 ISO file.
Step 2. Insert a blank DVD into your PC.
Step 3. Follow the burn disc wizard.
Type the disc title in the Burn a Disc window and select Like a USB flash drive.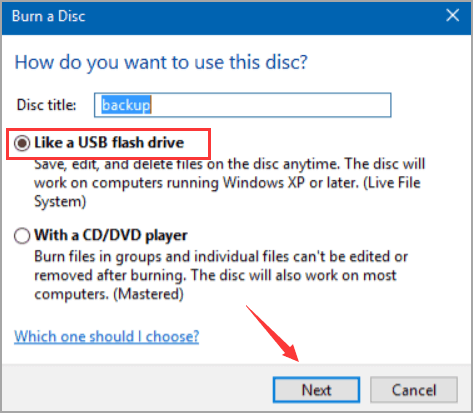 Click Next and wait for the disc is being formatting.
Step 4. Open File Explorer, and click This PC. You can see the DVD drive.
Step 5. Drag and drop your Windows 10 ISO file to CD/DVD window.
Helpful? Let Us Know!
You can backup Windows 10 to DVD in a few different ways. One way is to use a third-party backup program. Another way to backup Windows 10 is to use the built-in backup feature in Windows 10. There are many different programs available, so be sure to do some research to find one that suits your needs. Whatever method you choose, you must ensure that you have a recent system backup in case something goes wrong.
Windows 10 Backup Tips! Get It!
1. Can I Copy Windows 10 to DVD?
Yes, you can. Insert a blank DVD in the drive and copy the system files from the desktop folder to the disc.
2. How Do I Backup My Entire Computer on Windows 10?
To make a full backup in a safe condition, we highly recommend EaseUS Todo Backup Free. Start to enjoy one-click backup and recovery.
Or you can complete backup on Settings: Click Start > Settings > Update & Security > Backup > Use File History.
3. Can I Backup My Computer to A CD?
Yes, you can. Insert a blank CD into the computer and follow the burn disc wizard. Then go to File Explorer to entire backup files to a CD. Be patient. The process may be slower than other automatic programs.
Daisy is the Senior editor of the writing team for EaseUS. She has been working in EaseUS for over ten years, starting from a technical writer to a team leader of the content group. As a professional author for over 10 years, she writes a lot to help people overcome their tech troubles.

Roxanne is one of the main contributors to EaseUS and has created multiple posts on digital devices like PCs, Mobile phones, tablets, Mac, etc. She loves to share ideas with people of the same interest.
Taking everything into consideration, we can say that EaseUS Todo Backup Home can offer you a little extra sense of security with a set of advanced tools. The interface provides quick adaptation, every process guiding you all the way through so you don't get stuck or further damage your system rather than keeping it safe.

 Read More

EaseUS Todo Backup Free lets you create backups of your important files or your entire computer through its streamlined interface. Just choose the backup type you'd like to get started, and let the program do the reset.

 Read More

EaseUS includes all the features I expect from backup software like versioning, incremental backups, and scheduling. For more advanced users, EaseUS allows you to install a pre-boot environment onto your hard drive so you can use it to restore files without burning a CD or putting it on an external USB drive.

 Read More

EaseUS Todo Backup
Smart backup tool for your files and entire computer in Windows 10/8/7.
Install Windows on Multiple Computers at Once? No Problem!
Learn how to install Windows 11/10/7 and special programs/software on a batch of computers. Use 10 minutes to do the 10 hours work without making a single mistake!
Get Free Solution!