[Definition You Need to Know] What is NAS?
NAS, short for "Network Attached Storage", is a data storage device that can be connected to a network. It allows users to store and share data over the network, making it an ideal choice for backing up data. NAS devices have been around for many years, but they have only recently become popular as a backup solution. This is due to the fact that NAS devices offer a number of advantages over other storage solutions. NAS devices are typically much cheaper than other storage solutions, such as SANs or DASs. They are also much easier to set up and use, making them ideal for small businesses or home users. In addition, NAS devices offer a number of features that make them ideal for backing up data. For example, most NAS devices come with built-in RAID support, which can protect against data loss in the event of a drive failure.
📖More Definitions Reading >>
Backup Locations | NAS vs. Local Drive: What's the Advantage?
If you want to create a Windows 11 backup, you have two options: either back up your data to a local drive or back up your data to a NAS (Network Attached Storage) device. There are advantages and disadvantages to both methods. Here's a quick overview of the pros and cons of each method:

#1. Backup to Local Drive
Advantages
Disadvantages

Cheaper than backing up to a NAS
Faster than backing up to a NAS
No need to set up network access
Can use existing hard drives

Data is at risk if the local drive fails
May not have enough storage space
Requires manual backup process
#2. Backup to NAS
Advantages
Disadvantages

More secure than backing up to a local drive
RAID support protects against data loss
Easy to set up and use
Can be used with multiple computers

More expensive than backing up to a local drive
Slower than backing up to a local drive
Requires network access
How to Backup Windows 11 to NAS - Files & OS
Now that you know the pros and cons of backing up data to NAS, it's time to apply it to store your backup files. More and more Windows users have now upgraded to Windows 11. This new system brings a lot of features and refreshes the operation experience. But in the aspect of backing up data, Windows 11 is a little bit disappointed.
Generally speaking, Windows 11 only strengthens the OneDrive sync feature, which most users think is useless. However, users can still make a basic data protection move thanks to the other built-in backup utilities. There are two methods to back up Windows 11 to NAS: backing up files only or backing up the entire system. Apart from Windows built-in backup tools, you might need a third-party helper. Let's take a look at each method.
Method 1. Back up Windows 11 Files Only to NAS
This method is suitable for users who only want to back up specific files or folders. If you want to back up the entire system, please skip to Method 2. To back up files only, you can either copy and paste the files and folders to the NAS drive or use Windows 11 File History to save different versions. In this part, we only introduce how to use File History to backup data to NAS on Windows 11. Here are the detailed steps:
Step 1. Search Control Panel, enter System and Security, and then go to File History.
Step 2. Connect your NAS device to your computer and make sure it is turned on.
Step 3. On the left side is an option - "Select drive". Click and choose "Add a network location" to set your NAS drive as the backup location.
Step 4. Then turn on your File History, and it will start to make the first backup to your NAS drive.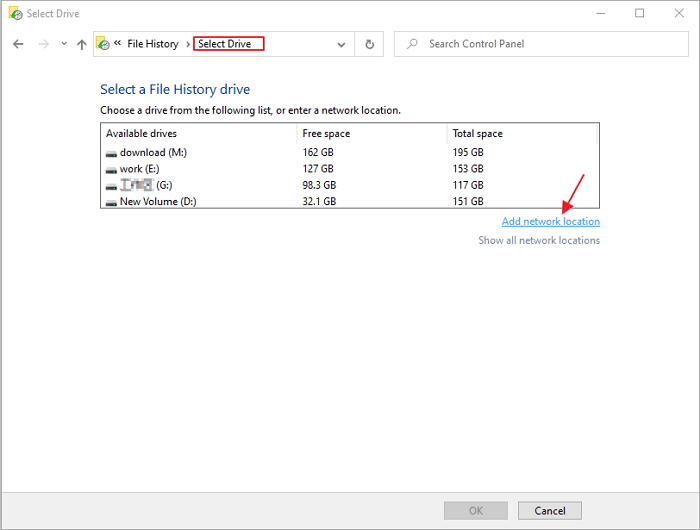 What Should You Know About File History on Windows 11?
1. Users can't customize File History backup content anymore in Windows 11
2. Now, Windows users can only access File History from Control Panel in Windows 11
What's New: Windows 11 File History
The detailed guide above is about backing up Windows 11 files to NAS with File History. Method 2 will tell you how to back up the system to NAS.
Method 2. Backup Windows 11 System to NAS
Back up Windows 11 system is not simply making a copy of all the system files. It is to create an image file that contains files, configurations, and even disk structure to a backup location. In Windows 11, users can use the built-in Backup and Restore to create a disk image. They can also rely on a free third-party backup tool - EaseUS Todo Backup, to simplify the process.
EaseUS Todo Backup
Completely free backup tool for Windows users to backup files, system, disks/partitions, and mails.
One-click backup saves time and learning costs to the greatest extent
Always committed to data security, verified by over 20,000,000 users
Support users to store backup anywhere: local drives, NAS, and cloud
EaseUS Todo Backup is a professional backup software that can back up systems, hard drives, files, and applications with simple steps. Now let's see how to use EaseUS Todo Backup to backup Windows 11 to NAS. Before starting, please free download and install EaseUS Todo Backup on your computer first. Then follow the steps below:
Step 1. Launch EaseUS Todo Backup and choose "Create Backup" on the home page, click "Select backup contents".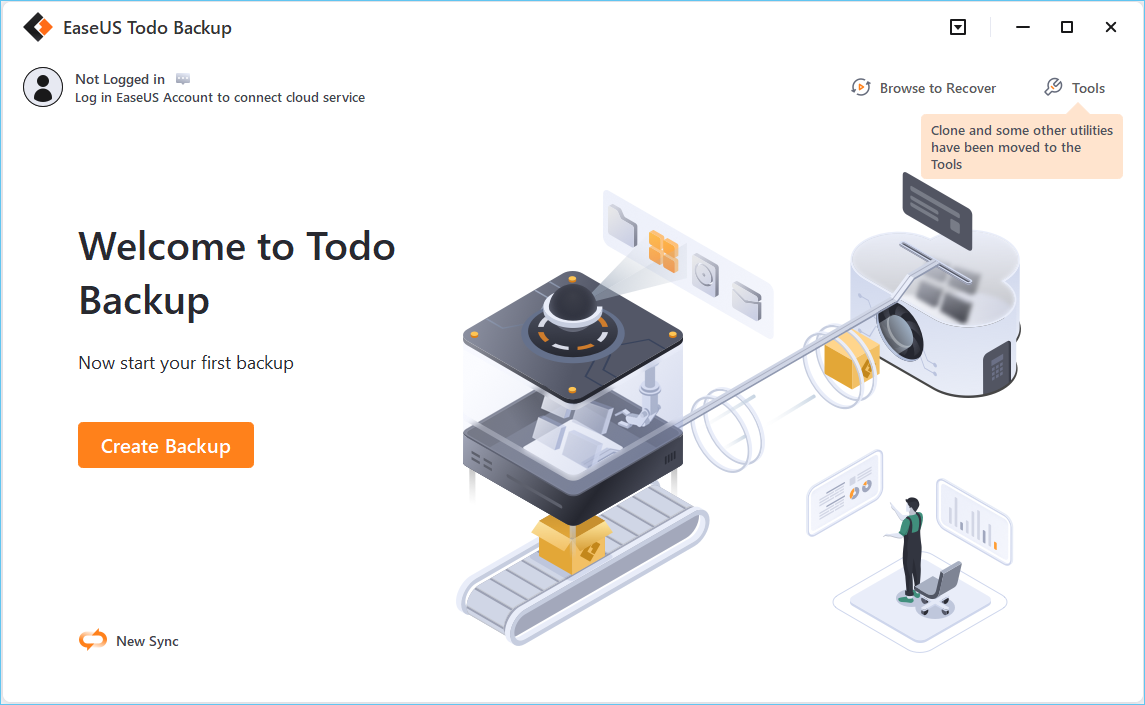 Step 2. Among the four available categories, click "OS" to start back up.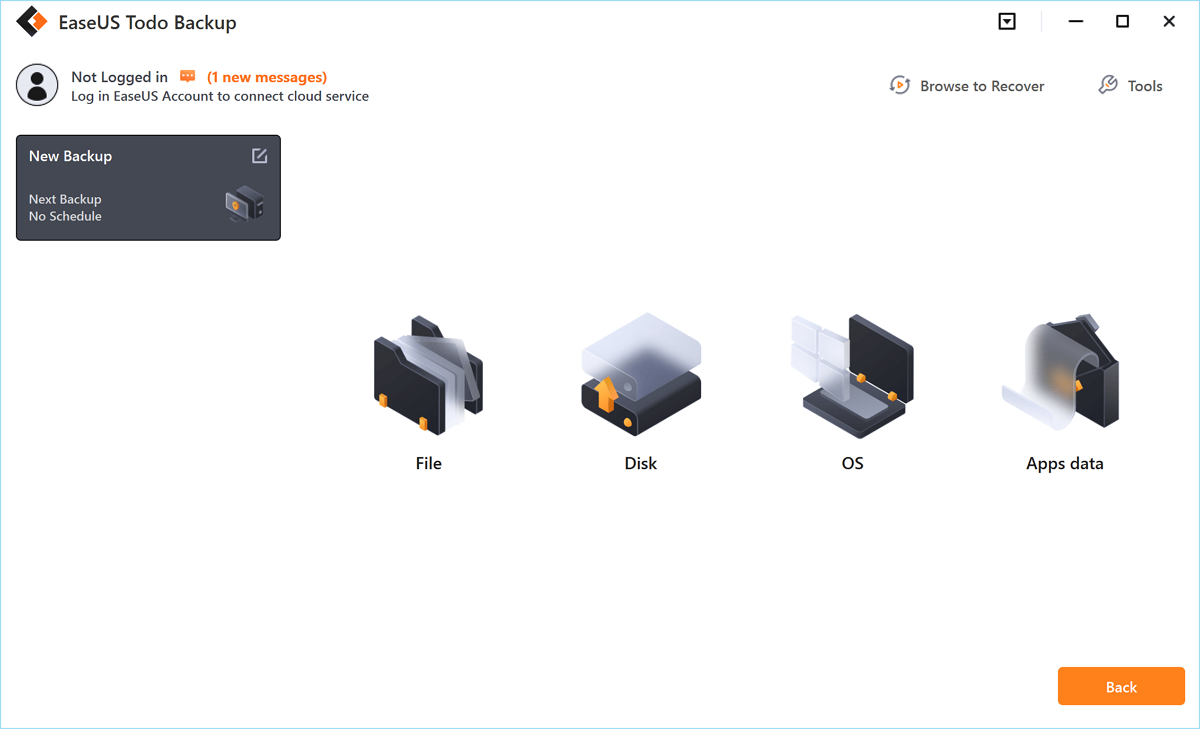 Step 3. The system partition will be automatically selected, you only need to select the location.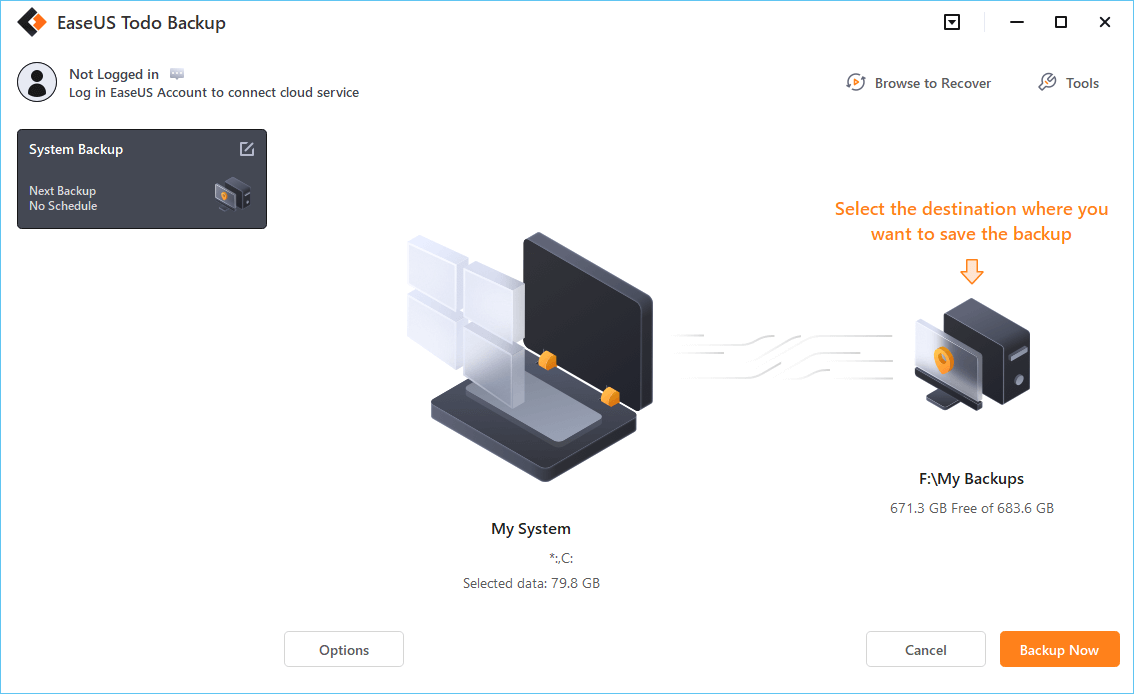 Step 4. Local Drive, Cloud, and NAS are available for you to save the backup file. You can also connect an external hard drive to preserve the system backup files.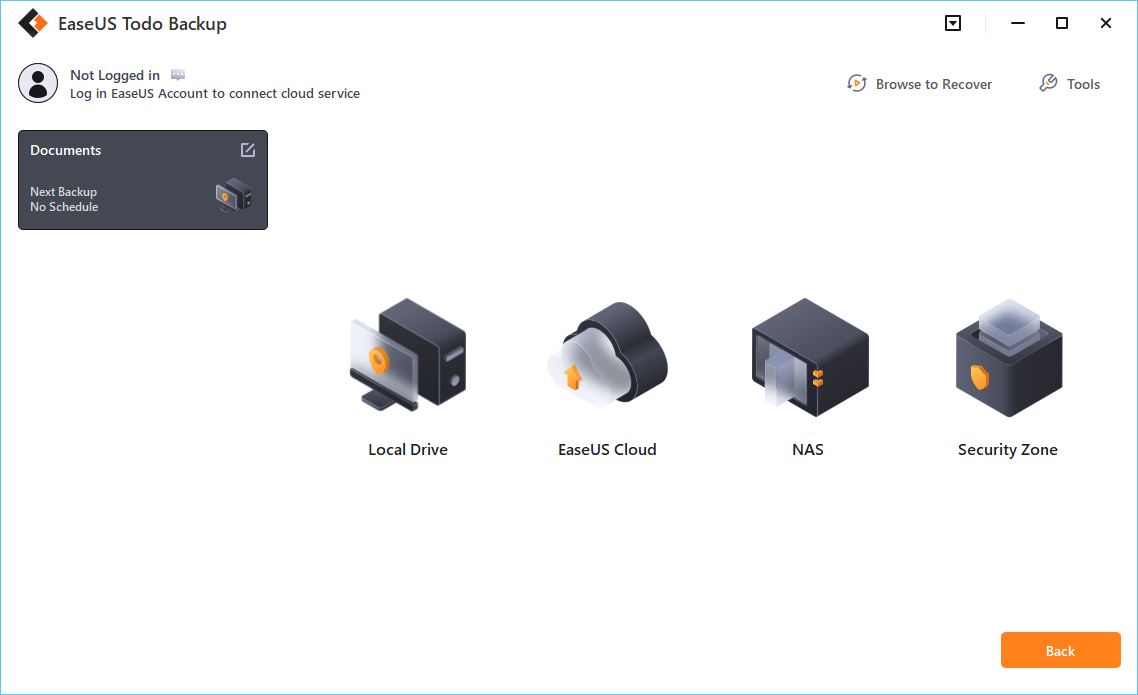 Step 5. You can customize the settings in "Options" at the left bottom. After that, click "Backup Now", and the process will begin.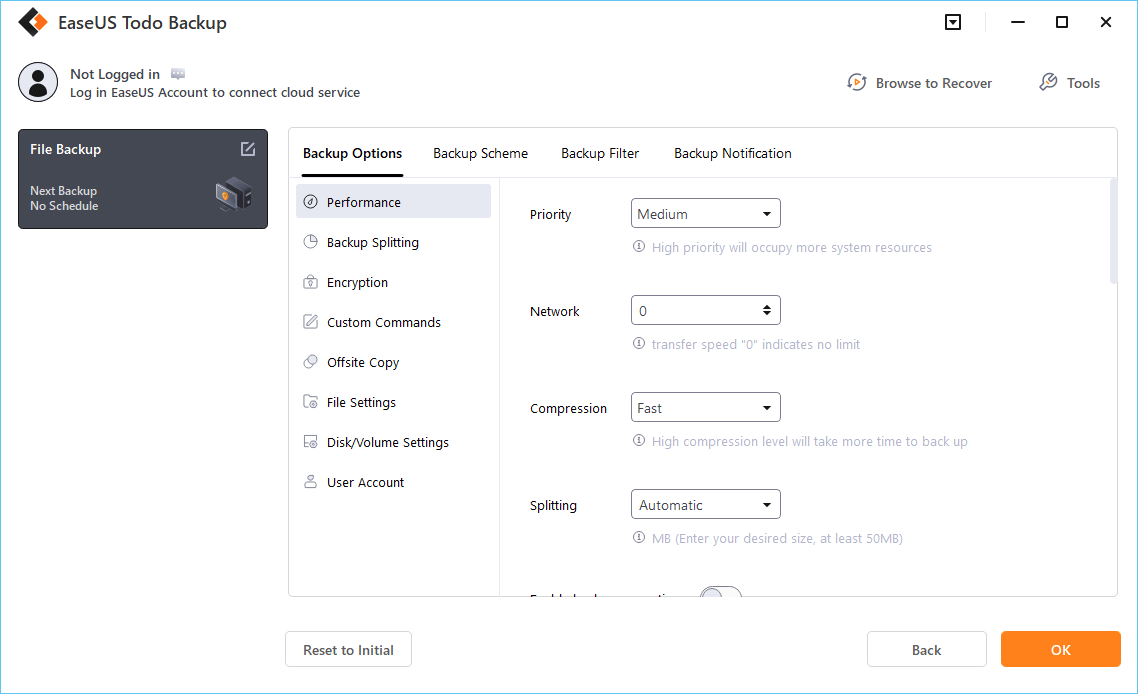 *After finishing the backup process, you can check the backup status, recover, open, or delete the backup by right-clicking the backup task on the left.
FAQs
1. How do I backup to a network drive in Windows 11?
There are two methods to backup data to NAS on Windows 11: backing up files only or backing up the entire system. Both Windows built-in tools and third-party backup software can help you backup Windows 11 files to a network drive. Connect the Network drive to your computer, and select it as the backup location when setting up the backup.
Windows built-in tools: File History and Backup and Restore
Third-party backup software: EaseUS Todo Backup, Acronis Cyber Protect, Paragon Backup and Recovery, etc.
2. Does Windows 11 have a backup program?
Windows 11 has two built-in backup programs: File History and Backup and Restore. File History can only backup specific files, while Backup and Restore can create a system image file containing all your computer's data. You can choose either of them according to your needs.
Final Thought
With the above guide, you should know how to backup Windows 11 files and the system to NAS. If you have any questions or suggestions when using EaseUS Todo Backup, please feel free to contact us. We're always here to help you out.
Updated by Gemma
Gemma is member of EaseUS team and has been committed to creating valuable content in fields about file recovery, partition management, and data backup etc for many years. She loves to help users solve various types of computer related issues.
Taking everything into consideration, we can say that EaseUS Todo Backup Home can offer you a little extra sense of security with a set of advanced tools. The interface provides quick adaptation, every process guiding you all the way through so you don't get stuck or further damage your system rather than keeping it safe.

 Read More

EaseUS Todo Backup Free lets you create backups of your important files or your entire computer through its streamlined interface. Just choose the backup type you'd like to get started, and let the program do the reset.

 Read More

EaseUS includes all the features I expect from backup software like versioning, incremental backups, and scheduling. For more advanced users, EaseUS allows you to install a pre-boot environment onto your hard drive so you can use it to restore files without burning a CD or putting it on an external USB drive.

 Read More

EaseUS Todo Backup
Smart backup tool for your files and entire computer in Windows 10/8/7.
Install Windows on Multiple Computers at Once? No Problem!
Learn how to install Windows 11/10/7 and special programs/software on a batch of computers. Use 10 minutes to do the 10 hours work without making a single mistake!
Get Free Solution!