Updated by
Larissa
on Oct 09, 2022
"I will be leaving my job and have a lot of personal e-mails (arranged in folders), contacts and notes. I would like to move them to my spouses computer until I start my new job in a month and get a new PC. 2 questions: 1. How do I do that - for each - contacts, personal folders, notes. 2. How do I store them in my sposes outlook under separate headings etc. so it does not mix with my spouses outlook stuff. For example, my notes stored separate from spouses notes, so it can be re-imported easily to my new machine. Many thanks for your response"
This is a common question that people have: How to save Outlook emails when leaving job? If you have important emails, contacts, or notes that you want to keep, you'll need to know how to save them before you go.
Outlook is widely used in workplaces, and it can be challenging to switch to new email service. If you've been using Outlook for a while, you probably have a lot of essential data stored in your account.
Luckily, a few different options are available to save your Outlook data before you leave your job. You can either back up these emails with a backup tool or export your emails to a PST file. We'll show you how to do both so you can choose the best method for you.
Preparations You Need to Do Before Saving Outlook Emails
Before you take any action to save your Outlook emails when quitting your job, there are some preparations that you need to do in advance:
Make sure it is legal to save these Outlook emails. If you are working on a job related to the company's privacy, such as research and development, or if you are handling clients' personal information, make sure that you have the authorization to move these emails out of the company network.
Decide where you'll store everything. If you're planning on backing up your emails, you'll need a place to keep them. Get a USB or an external hard drive with enough storage space for your Outlook emails. 
If you're backing up your emails with a tool, find one that is compatible with Outlook and has good reviews. Many backup tools are available, but not all work well with Outlook. EaseUS Todo Backup is one of the best that you can try. It is widely used and receives lots of good comments.  
2 Available Methods to Save Outlook Emails When Leaving Job
We'll demonstrate two methods in detail with a step-by-step guide.  You can follow the one you prefer to save your emails before quitting your job.
Method 1. Save Outlook Emails with Backup Software
Method 2. Create A New PST File & Copy Files to It
Method 1. Save Outlook Emails with Backup Software
The first method is to use a backup tool to back up your Outlook emails. This is probably the easiest method, as you don't need to export your emails to a file. All you need to do is install the backup tool and let it do its job.
EaseUS Todo Backup is one of the best Outlook backup software that you can use. It's compatible with Outlook and can back up your emails quickly. It also supports full backup, differential backup, and incremental backup. 
You can use it to save Outlook data to an internal or external drive, Cloud service, or Network locations(NAS). 
Moreover, it allows for automatic backup, meaning that you can set it up to run backups at regular intervals. This is helpful if you want to keep your backup data up-to-date.
Now, let's see how to use EaseUS Todo Backup to save Outlook emails before quitting your job:
Step 1. Launch EaseUS Todo Backup on your computer, and click Create Backup on the home screen and then hit the big question mark to select backup contents.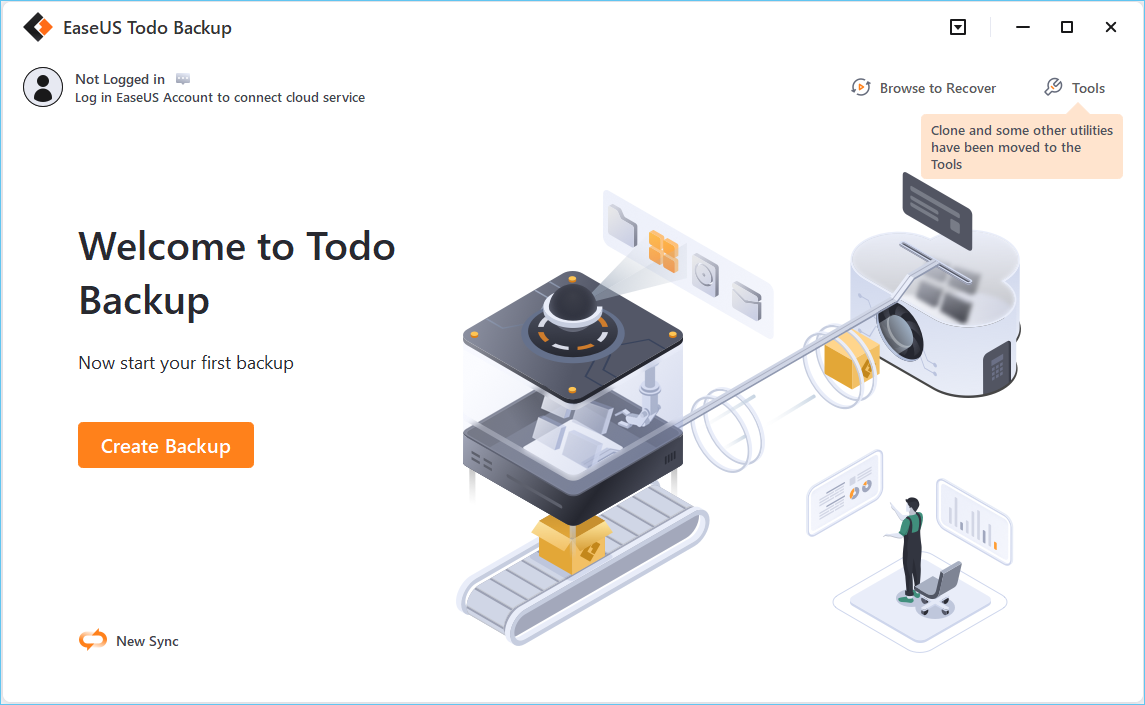 Step 2. To back up Outlook mailbox, click "Mail" to begin the backup task.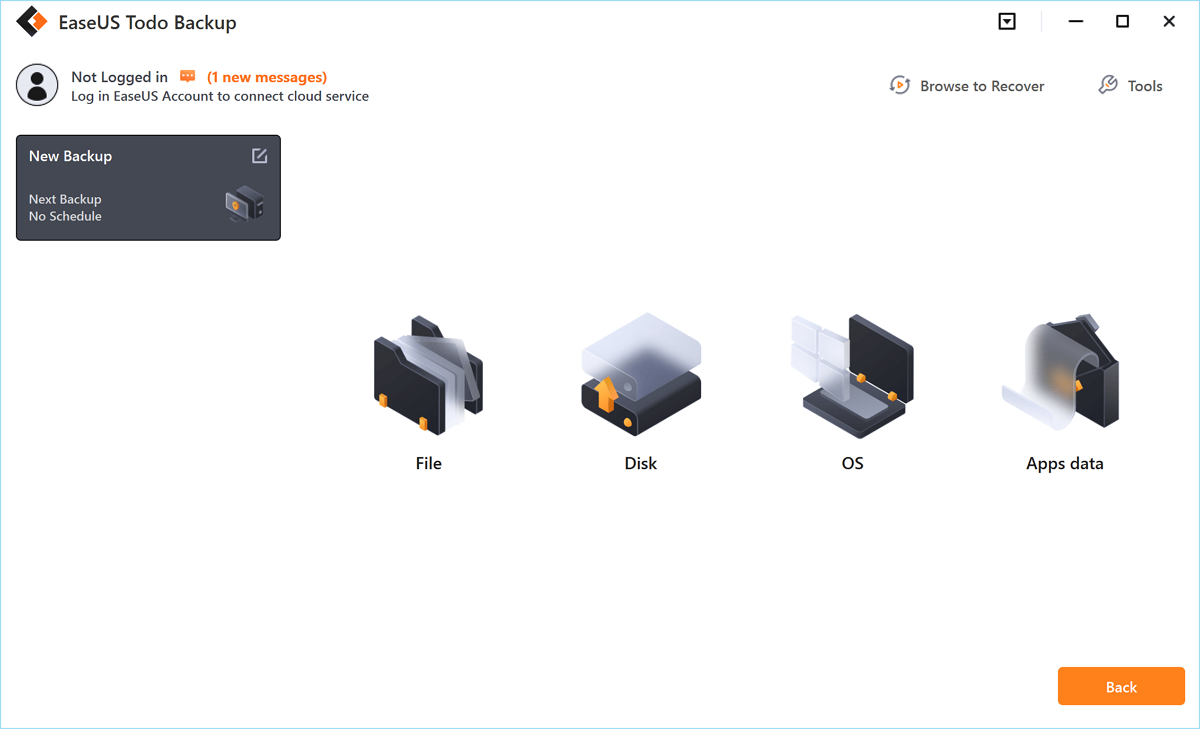 Step 3. Your Microsoft Outlook database folder will appear. Select the mailbox addresses you want to make a backup of the mails, contacts or calendars and click "OK".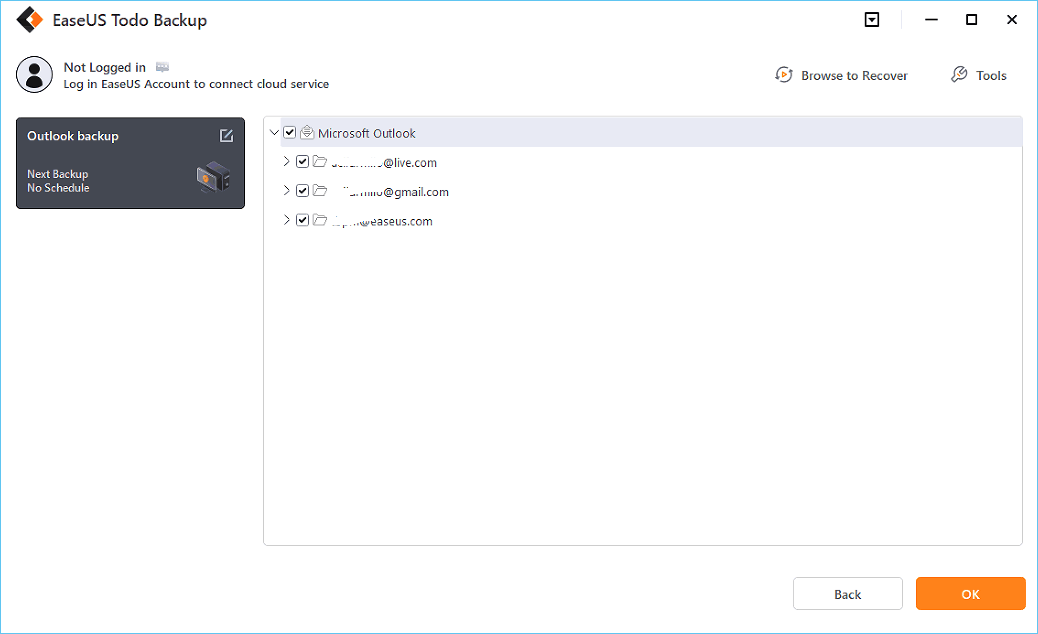 Step 4. Next, you'll need to choose a location to save the Outlook backup by clicking the illustrated area.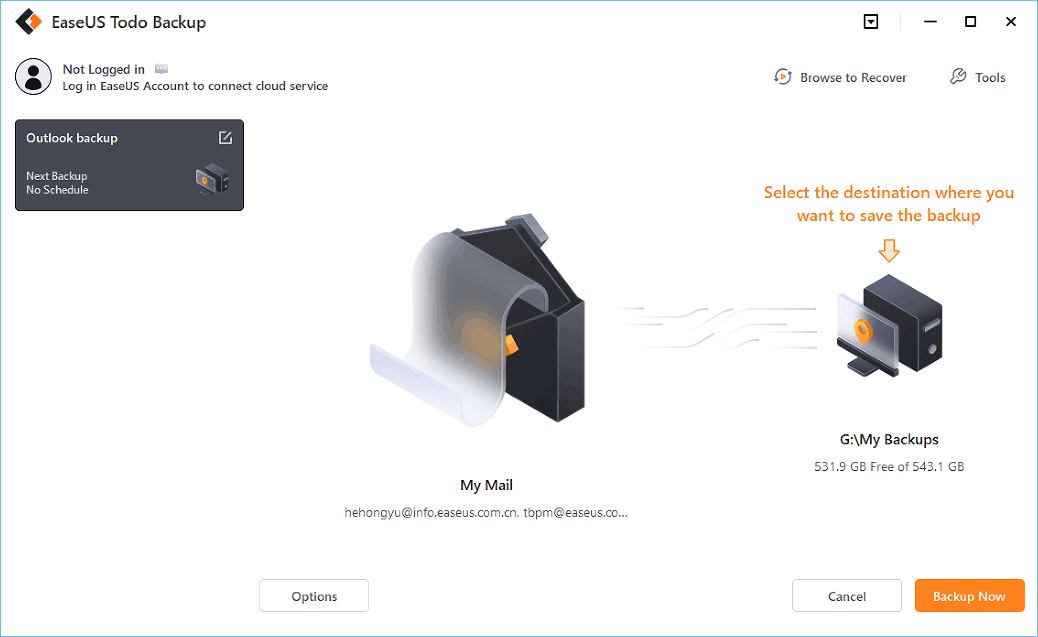 Step 5. The backup location can be another local drive on your computer, an external hard drive, network, cloud or NAS. Generally, we recommend you use an external physical drive or cloud to preserve the backup files.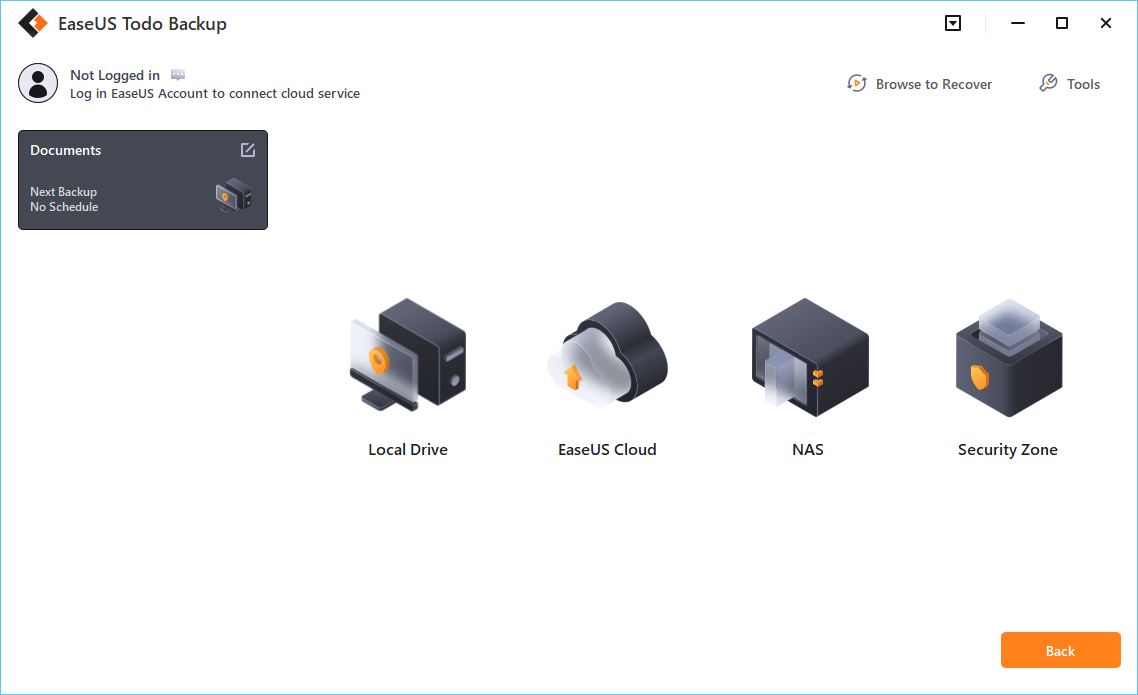 Step 6. Cusomiztion settings like setting an automatic backup schedule in daily, weekly, monthly, or upon an event, and making a differential and incremental backup are available in the Options button if you're interested. Click "Backup Now", and the Outlook backup process will begin. The completed backup task will display on the left side in a card style.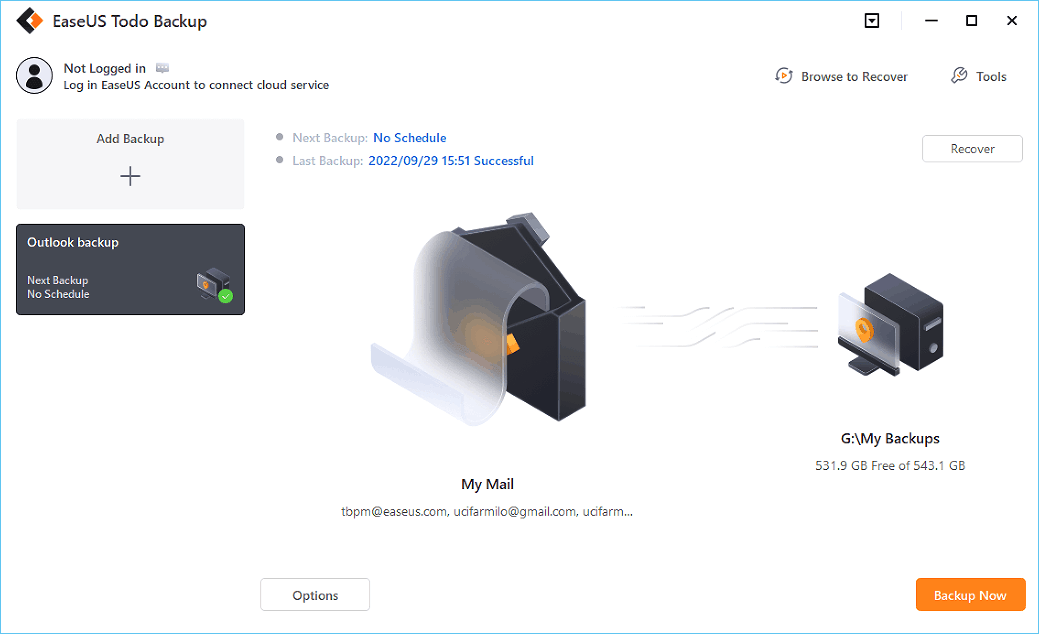 Method 2. Create A New PST File & Copy Files to It
The second method is to use the Outlook built-in feature to create a new PST file and copy the emails you want to save to the PST. When needed, move the PST file to your new computer. Now you can get the emails you saved before. 
Using this way, you can copy the PST file to another hard drive, to a CD or external drive, to an entirely new computer.
Compared with the Outlook Backup software - EaseUS Todo Backup, This solution is a little bit complicated. 
You need to export your emails from Outlook and then import them to the new PST file. 
Here's a detailed guide on how to create a PST file. Follow the steps:
Step 1. Open your Outlook account and enter the inbox. 
Step 2. Then click "New Items" > "More Items" > "Outlook Data File".
Step 3. Choose the Outlook data file(.pst) in the Types of storage area, and then give a name to the file.
Step 4. Select a place where you want to save the file.
Step 5. Finally, click OK to finish creating the file. 
Now the newly created PST file is already added to the list of available mailboxes in your inbox. You can put any items to this new file.
Final Words
Saving Outlook emails before quitting your job is important if you want to keep your work-related emails. 
The two methods above can help you save Outlook emails in a safe place. If you don't want to export the emails one by one, we recommend using the first method - using backup software. It's much easier and faster. EaseUS Todo Backup is a good choice. 
Moreover, the backup software also has other features that can help you protect your data, like disk clone, system backup, and file sync. You can try it for free. 
FAQ on How to Save Outlook Emails When Leaving Job
1. How do you save your emails when you leave a company?
As the article mentioned, you can use Outlook backup software, like EaseUS Todo Backup, to store these essential emails. Or, save them in the PST file format and then transfer them to the new computer.
2. Is it legal to take emails from a previous job?
It depends on your job position and the country you work in. We suggest you check with an HR or IT professional in your company before saving these emails.
3. What to do with emails when leaving a job?
If these emails contain personal information, like your home address or phone number, you may want to delete them. If they're work-related, you can save them with backup software or create a new PST file and save them under legal circumstances.
4. What should I back up when I quit my job?
When quitting a job, you are supposed to back up everything related to your work, including documents, photos, and emails. If you have important files stored on the company's server, check with your IT department before leaving to see how you can access them after quitting.

Updated by Larissa
Larissa has rich experience in writing technical articles. After joining EaseUS, she frantically learned about data recovery, disk partitioning, data backup, and other related knowledge. Now she is able to master the relevant content proficiently and write effective step-by-step guides on computer issues.
Taking everything into consideration, we can say that EaseUS Todo Backup Home can offer you a little extra sense of security with a set of advanced tools. The interface provides quick adaptation, every process guiding you all the way through so you don't get stuck or further damage your system rather than keeping it safe.

 Read More

EaseUS Todo Backup Free lets you create backups of your important files or your entire computer through its streamlined interface. Just choose the backup type you'd like to get started, and let the program do the reset.

 Read More

EaseUS includes all the features I expect from backup software like versioning, incremental backups, and scheduling. For more advanced users, EaseUS allows you to install a pre-boot environment onto your hard drive so you can use it to restore files without burning a CD or putting it on an external USB drive.

 Read More

EaseUS Todo Backup
Smart backup tool for your files and entire computer in Windows 10/8/7.
Install Windows on Multiple Computers at Once? No Problem!
Learn how to install Windows 11/10/7 and special programs/software on a batch of computers. Use 10 minutes to do the 10 hours work without making a single mistake!
Get Free Solution!