Outlook is a Microsoft-developed information manager software that can be used to send and receive messages, manage contacts, calendar, note-taking, journal logging, and web browser. It has been used widely in both home and business life. 
Most people rely on Outlook as their main source of communication. Their email account probably contains lots of important data; it isn't just mail you could lose. You could lose your contacts, essential email attachments, and even calendar dates if something goes wrong. 
So, it's essential and necessary to back up Outlook regularly in case something happens to your computer, such as a hard drive crash, failure, system corruption, etc. 
In the earlier version of Outlook, a Personal Folders Backup Add-in can enable you to backup Outlook manually. But it only works with the 32-bit version of Outlook 2010. It isn't available for the later Outlook versions, including 2013, 2016, and 2019. 
So, how do you back up Outlook 2013, 2016, and 2019? The answer is using Outlook backup software. Outlook backup software eliminates the hassle of manual operation, which will backup your Outlook account automatically and regularly. 
Advantages of professional backup software:
Support having complete control of your backups
Antivirus protection & encrypted backup
Available Cloud storage
Full backup, differential backup and incremental backup
Scheduling backup & automatic backup
Easy data recovery
On top of all that, Outlook backup software takes advantage of its advanced features to provide us with various backup options. You don't need to manually back up your Outlook mail because it can 100% protect the security of your backup data. This article will provide the top 5 most commonly used Outlook backup software.
Top 5 best Outlook Backup Software
1. EaseUS Todo Backup
Compatibility: Windows 11/10/8/7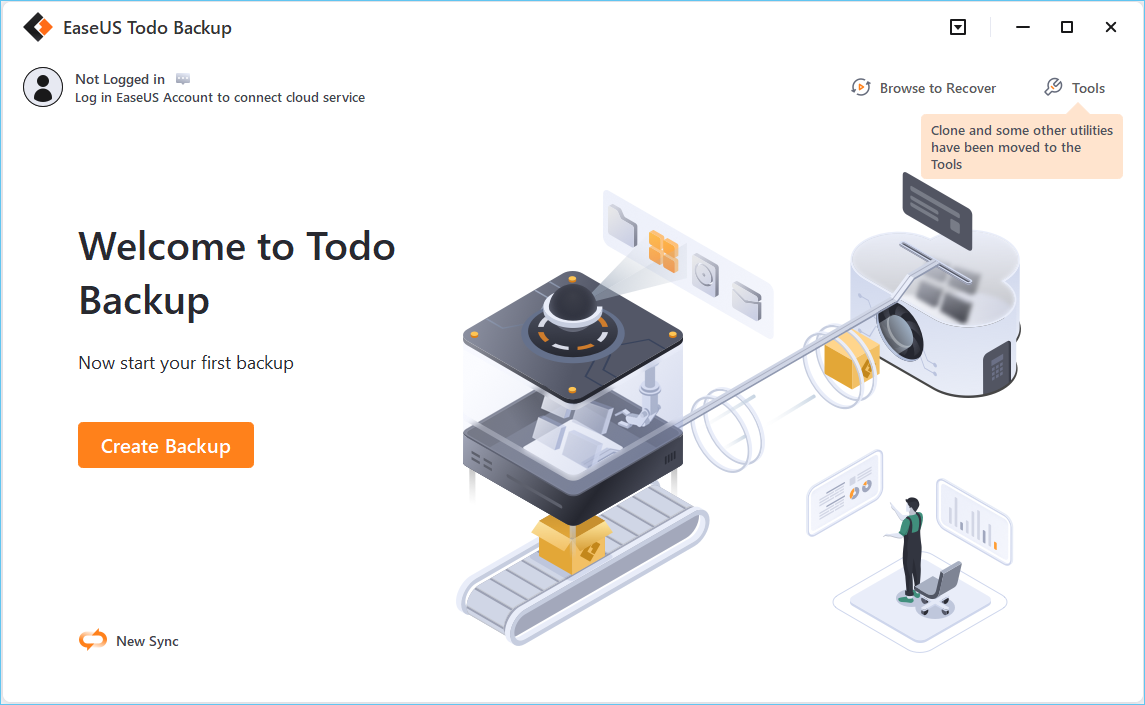 EaseUS Todo Backup is one of the best backup software that can be used to backup emails, files, disks, and even the operating system with compressed files. It can be applied to backup all data for Outlook 2010, 2013, 2016, and 2019, also Outlook Express. You can use EaseUS Todo Backup to create a partition backup or set a scheduling backup plane of your Outlook with simple clicks. Even you have little knowledge about backup. It ensures to back up whatever you want, whether for all PST data or just only emails, calendars, contacts, etc. 
(PST files refer to the Outlook data files that include all the Outlook accounts, emails, archives, contacts, calendars, inboxes, etc. If you back up a PST, you back up everything within an Outlook account.)
Main Features:
Full backup, incremental backup and differential backup
Scheduling backup
Ready-to-use backup files
Encrypted backup process
250 GB free Cloud storage
Easy Recovery
Back up data to a local folder, external hard drive, Cloud, NAS
Price: Start from $39.95/year
2. Mailstore Home
Compatibility: Windows 7 SP1 or later
MailStore Home(secured URL: https://www.mailstore.com/en/products/mailstore-server/) can archive messages stored in local mail clients such as Microsoft Outlook, Windows Mail, Windows Live Mail, Mozilla Thunderbird, and Mozilla. It is another widely used mail backup software with a fast speed and intuitive interface, and it can work with POP3, IMAP, and all primary webmail services. All the backed-up data are saved to the local hard drive, and you can search, read and recover them at any time. It also protects your backups well by encrypting the database. 
Main Features:
Easy to set up and use
Compatible with multiple webmail services
Encrypted protection
Ready-to-read backups
Search for messages by archive date
Price: Free for 30 days trial, Free for 30 days trial. The subscription starts from $229
3. Handy Backup Standard
Compatibility: Windows 11/10/8.1/8/7/Vista
Handy Backup Standard(secure URL: https://www.handybackup.net/handybackup-standard.shtml) is an easy-to-use backup software that allows to back up everything. With a wee-designed interface, you can use it to backup files, folders, apps, photos, videos, music, documents, emails, even websites, and various plug-ins and databases. It ensures complete safety and availability of your saved data using any combination of modern storage media.
Main Features: 
Simple interface
Backup everything on Windows PC
Save backups to local and external hard drives, NAS, Cloud
Scheduling backup plan
Backup with timestamps
Synchronizing and mirroring data
Price: Starts from $39
4. Safe PST Backup
Compatibility: Windows 10/8.1/8/7/Vista/XP
Safe PST Backup(secured URL: https://www.safepstbackup.com/) is a free utility to automatically back up Outlook PST files. It covers all versions of Outlook, including 2002, 2003, 2007, 2010, 2013, 2016, and 2019. One of the main features of this program is that it allows backing up PST files even if Outlook isn't running. Set a backup schedule; it will back up files in PST format to your local and external hard drive, network, or memory devices.
Main Features: 
Manual or automatic scheduled PST files backup mode
Full backup and incremental backup
Password-protect backup PTS file
Compatible with the latest Windows and Outlook version
Move, import or migrate PST/OST backup to Office 365
Recover native PST backup files to any versions of Outlook 
Price: Free to use
5. ABF Outlook Backup
Compatibility: Windows 7/8/8.1/10/Vista/XP
ABF Outlook Backup(secured URL: https://www.abf-soft.com/outlook-backup.shtml) is a convenient Outlook backup program compatible with Outlook 97/98/2000/2002/2003/2007/2010/2013/2016 versions. It allows you to backup emails, settings, contacts, accounts, messages, and tasks in your Outlook account. Not only for backup, but it also supports restoring and synchronizing with ease. 
Main Features: 
Backup Outlook files including email messages, address book, settings, accounts, signatures
Move MS Outlook files from one computer to another
Backup, restore, and synchronize with ease
Price: Free trial for 30 days, charge from $49.95
Sum Up: Which Outlook Software Is Suitable for You
Among all the Outlook backup software, EaseUS Todo Backup is the best one that wins the competition for various backup types and multiple backup destinations. It also provides encrypted backup and free Cloud storage. It works as a reliable utility to protect the safety of your Outlook account. It only needs $39.95 for a year. Download and try it.
FAQ about Outlook Backup Software
1. Can I back up my Outlook emails to an external drive?
Backing up Outlook emails to an external drive is available if you use backup software. Connect the external hard drive to your computer, and choose it as the backup destination. You will get a backup stored in an external hard drive.
2. Do I need to back up my Outlook?
Backing up Outlook is necessary because it contains many important data like contacts, emails, calendars, notes, tasks, etc. It would be very inconvenient if you lost these files and couldn't find them back. So you'd better back up Outlook regularly with a reliable Outlook backup software.
3. How do I transfer Microsoft Outlook to a new computer?
To transfer Outlook to a new computer, you need to convert Outlook as PST files, then transfer PST to the new computer. Create a new Outlook profile on the new computer, and import the PST files.
4. How do I backup my entire Outlook?
It is very easy to backup the entire Outlook account. Outlook contains many contents, including emails, contacts, notes, and calendars. Back up all data as the PST files to an external or internal hard drive, or NAS, Cloud. When needed, restore them to a new storage place.
Daisy is the Senior editor of the writing team for EaseUS. She has been working in EaseUS for over ten years, starting from a technical writer to a team leader of the content group. As a professional author for over 10 years, she writes a lot to help people overcome their tech troubles.

Written by Larissa
Larissa has rich experience in writing technical articles. After joining EaseUS, she frantically learned about data recovery, disk partitioning, data backup, and other related knowledge. Now she is able to master the relevant content proficiently and write effective step-by-step guides on computer issues.
Taking everything into consideration, we can say that EaseUS Todo Backup Home can offer you a little extra sense of security with a set of advanced tools. The interface provides quick adaptation, every process guiding you all the way through so you don't get stuck or further damage your system rather than keeping it safe.

 Read More

EaseUS Todo Backup Free lets you create backups of your important files or your entire computer through its streamlined interface. Just choose the backup type you'd like to get started, and let the program do the reset.

 Read More

EaseUS includes all the features I expect from backup software like versioning, incremental backups, and scheduling. For more advanced users, EaseUS allows you to install a pre-boot environment onto your hard drive so you can use it to restore files without burning a CD or putting it on an external USB drive.

 Read More

EaseUS Todo Backup
Smart backup tool for your files and entire computer in Windows 10/8/7.
Install Windows on Multiple Computers at Once? No Problem!
Learn how to install Windows 11/10/7 and special programs/software on a batch of computers. Use 10 minutes to do the 10 hours work without making a single mistake!
Get Free Solution!