Creating Windows 10 backups is a common need. While switching to a new computer or experiencing hardware issues with your existing one, creating data backups can avoid data risks. This article offered by EaseUS mentions how to restore Windows 10 backup to another computer. Whether you're upgrading your system or simply need to store your data, the instructions will help you ensure a smooth transition.
Can I Restore Windows 10 Backup to New Computer
Yes, you can restore a Windows 10 backup to another computer. Windows provides features to allow users to create and restore backups. You can transfer your system, data, and settings to another computer. 
One of the methods for restoring a Windows backup to another computer is using "universal restore" with the help of professional universal restore software. The universal restore is a powerful feature using backup and recovery software, such as EaseUS Todo Backup.
It enables users to create a system image on a USB drive and restore it to a different computer or hardware configuration. This is particularly helpful when migrating your operating system, applications, and data to dissimilar hardware components. 
The key aspects of universal restore include:
Hardware Agnostic: Universal restore technology ensures that the restored system image is compatible with the new computer's hardware. It automatically detects and installs the drivers to make the system functional on different hardware.
Seamless Migration: You can easily transfer your existing Windows environment to a new computer without reinstalling or reconfiguring everything.
Time-Saving: Instead of spending hours reinstalling and setting up software and drivers on the new machine,  universal restore streamlines the process. It reduces downtime and minimizes the risk of errors during manual setups.
Data Preservation: It allows you to keep all your important data intact during migration.  
EaseUS Todo Backup - Best Universal Restore Software Free Download
When it comes to the universal restore, EaseUS Todo Backup Home is a comprehensive and user-friendly backup and recovery software solution. It allows users to safeguard their data and simplifies the backup process while offering powerful features. Unlike the built-in Windows backup app, users can create selective file and folder backups or duplicate disks with the disk cloning feature.
One of its standout functionalities is the universal restore, allowing users to restore system images to computers with dissimilar hardware. By creating scheduled backups and cloud backup integration, EaseUS Todo Backup ensures that data remains secure and easily recoverable. Its intuitive user interface enhances its accessibility, making it a reliable choice for robust data protection.   
System Backup: With EaseUS Todo Backup, you can create complete system backups, including the operating system, applications, and settings. This ensures that your entire system can be restored in case of data loss.
File and Folder Backup: You can choose specific files and settings to safeguard and focus on critical data without creating a complete system backup.
Disk and Partition Backup: Back up entire disks or individual partitions, providing flexibility when protecting your data. This feature is especially useful when maintaining separate backups of various partitions.
Incremental and Differential Backups: EaseUS Todo Backup offers both incremental and differential backup options, reducing backup time and storage space. It captures only changes since the last backup.
Disk Cloning: Streamline system migration and upgrades with the disk cloning feature. It allows you to clone a hard disk to a new one, ensuring a seamless transition to a different drive.
Download EaseUS Todo Backup now to secure your data and ensure your files are protected for a long time!
Share this post to help more people get rid of their problems.
How to Restore Windows Image Backup to Another Computer  
By creating a Windows image backup to your computer, you can restore it on another app to transfer data. Restoring a Windows image backup to a different computer enables you to seamlessly transfer your system, applications, and data.
Follow these steps to restore a Windows image backup to another computer:
Part 1. Create Windows image backup
Step 1. Launch EaseUS Todo Backup on your computer, and click Create Backup on the home screen and then hit the big question mark to select backup contents.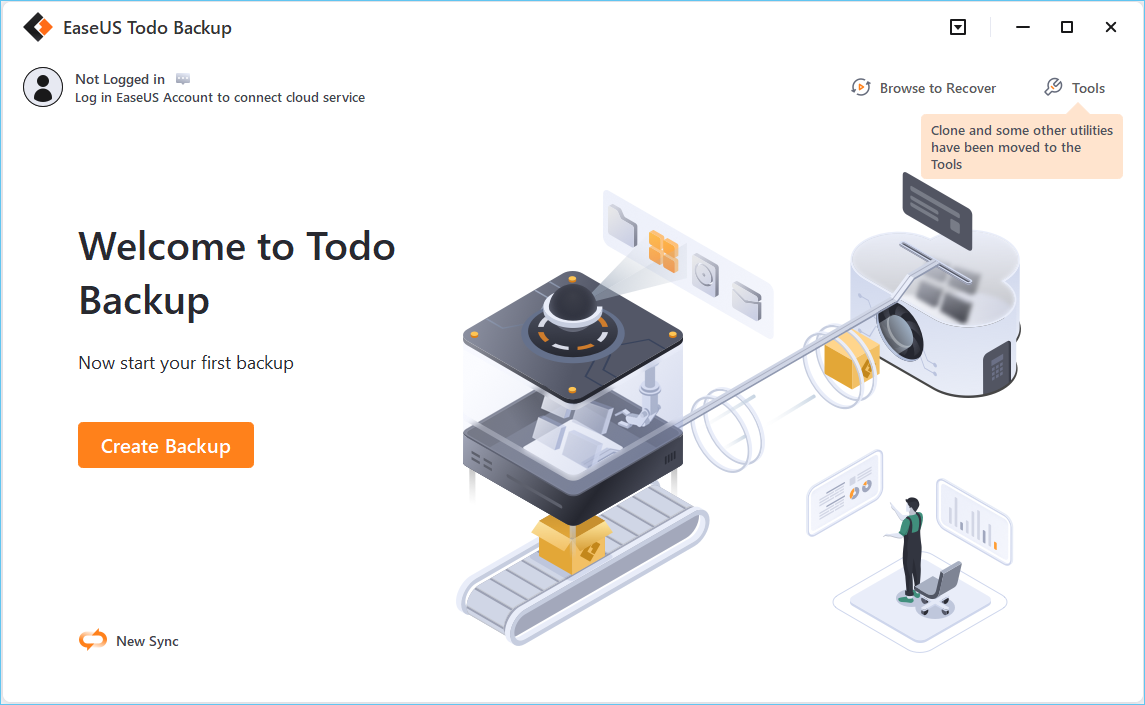 Step 2. To back up your Windows operating system, click "OS" to begin the backup task.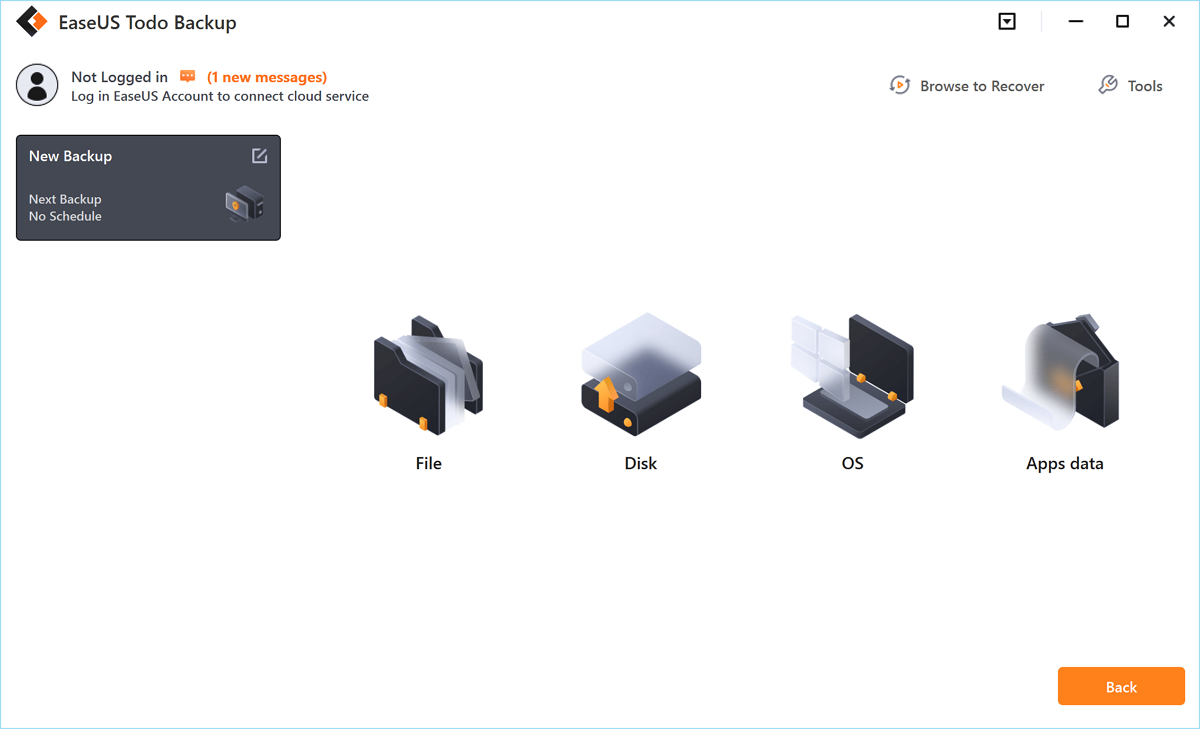 Step 3. Your Windows operating system information and all system related files and partitions will be automatically selected so you don't need to do any manual selection at this step. Next, you'll need to choose a location to save the system image backup by clicking the illustrated area.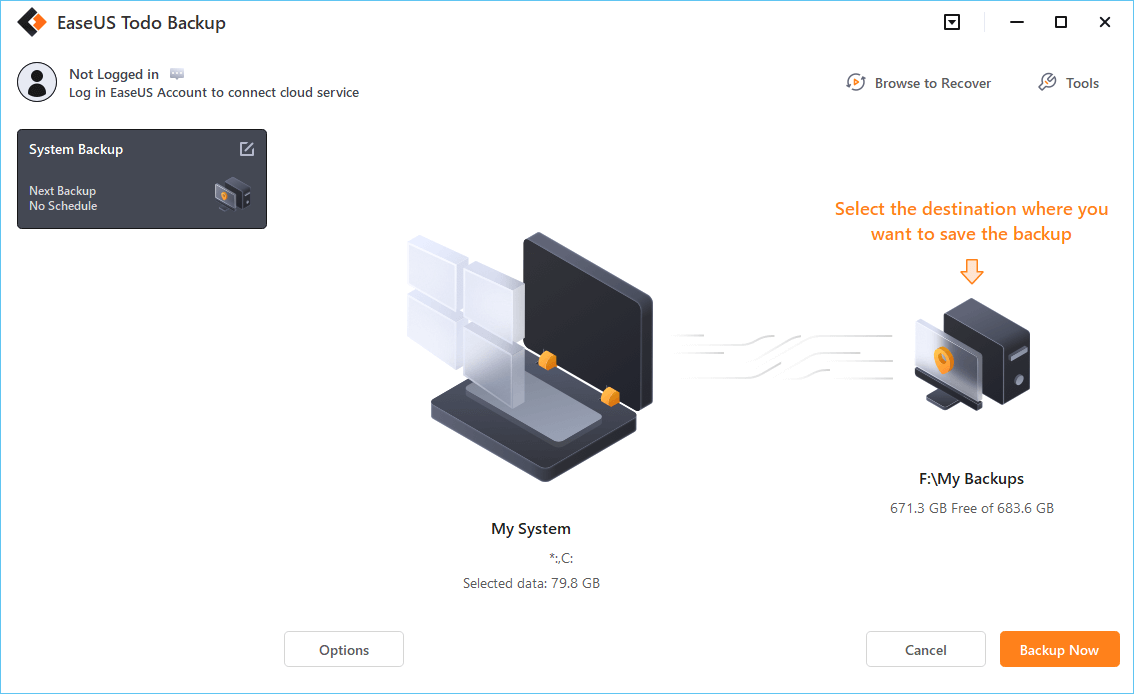 Step 4. The backup location can be another local drive on your computer, an external hard drive, network, cloud or NAS. Generally, we recommend you use an external physical drive or cloud to preserve the system backup files.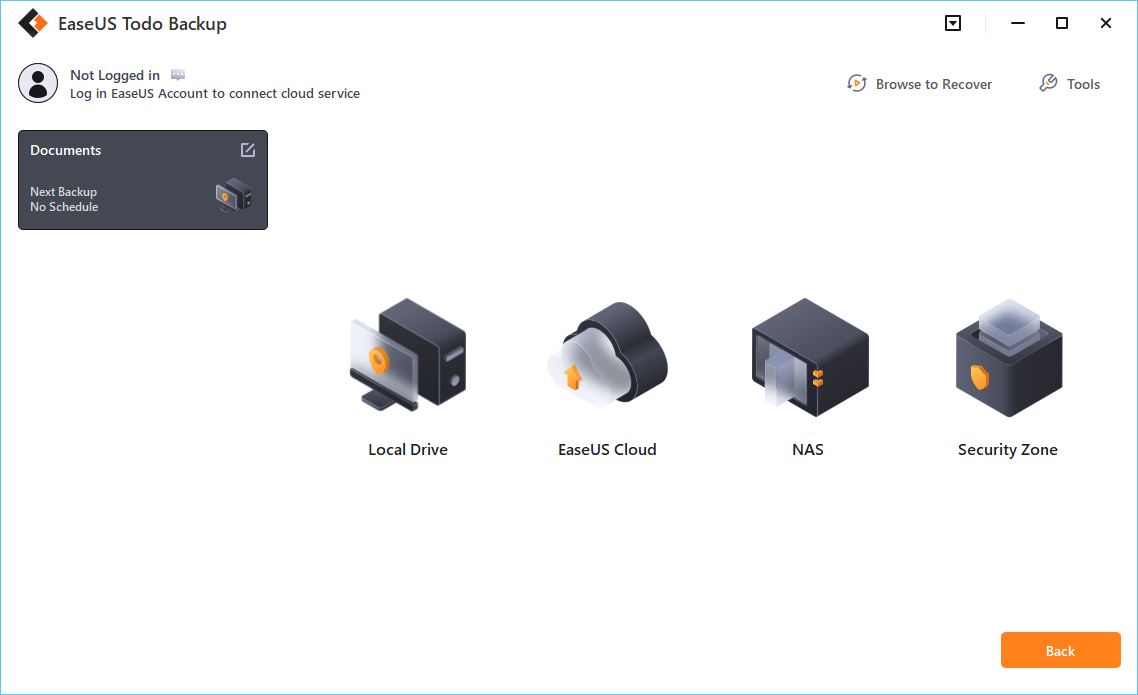 Step 5. Customiztion settings like enabling an automatic backup schedule in daily, weekly, monthly, or upon an event, and making a differential and incremental backup are available in the Options button if you're interested. Click "Backup Now", and the Windows system backup process will begin. The completed backup task will display on the left side in a card style.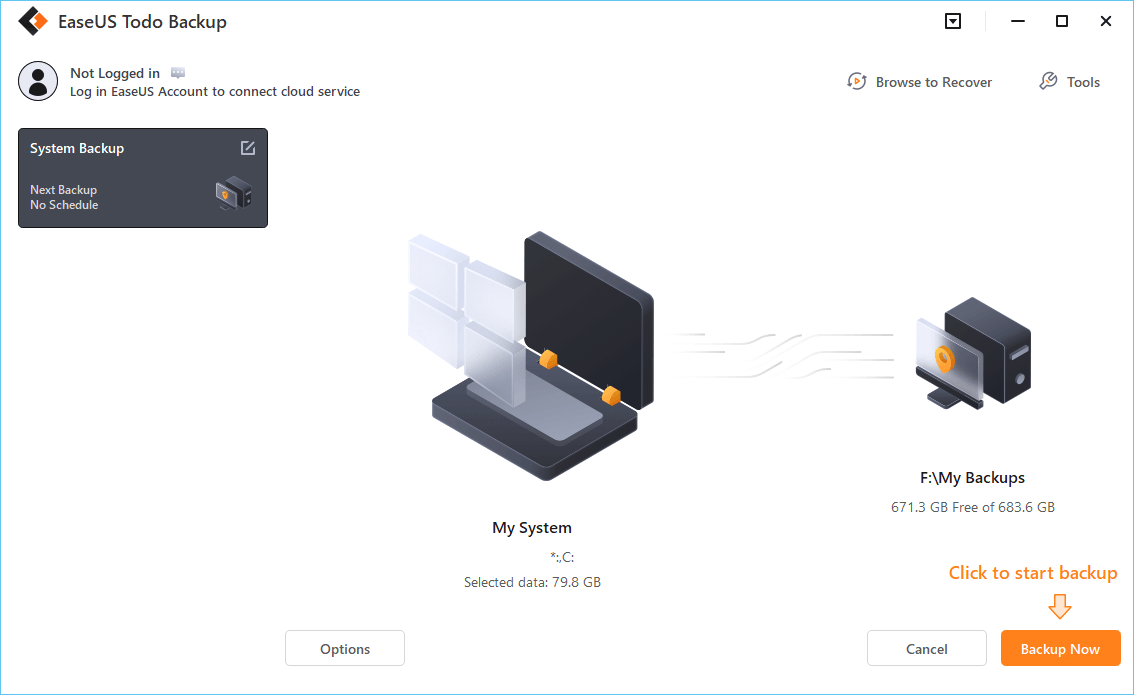 Part 2. Restore the image backup to another/new PC
* To perform system recovery on a none-bootable machine, try to boot the computer through the EaseUS Todo Backup emergency disk.
Step 1. Launch EaseUS Todo Backup, click "Browse to Recover".
Step 2. Guide to your backup destination, choose the system backup file you need. (The backup file created by EaseUS Todo Backup is a pbd file.)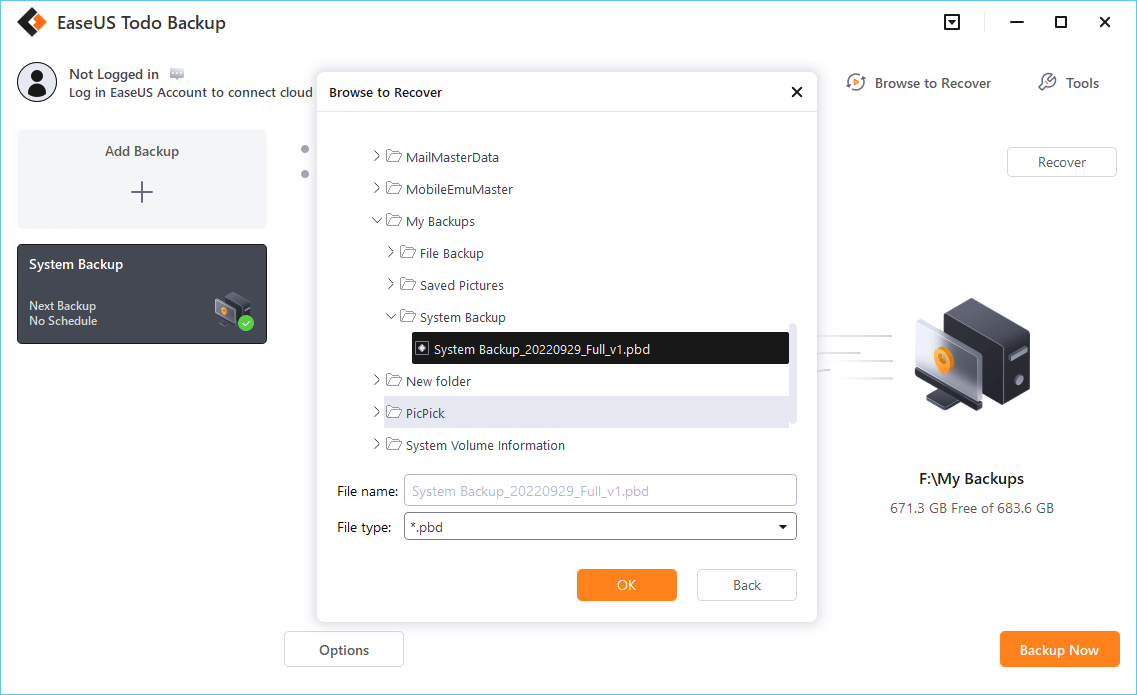 Step 3. Choose the recovery disk. Make sure that the partition style of the source disk and the recovery disk are the same.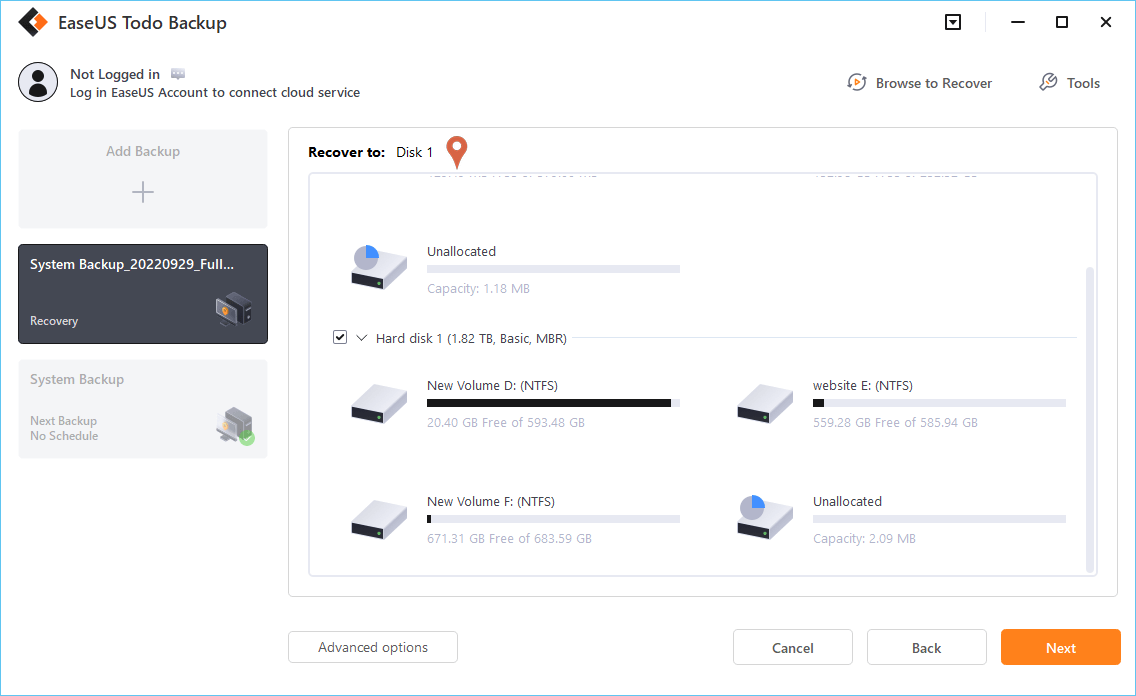 Step 4. You can customize the disk layout according to your needs. Then click "Proceed" to start system backup recovery.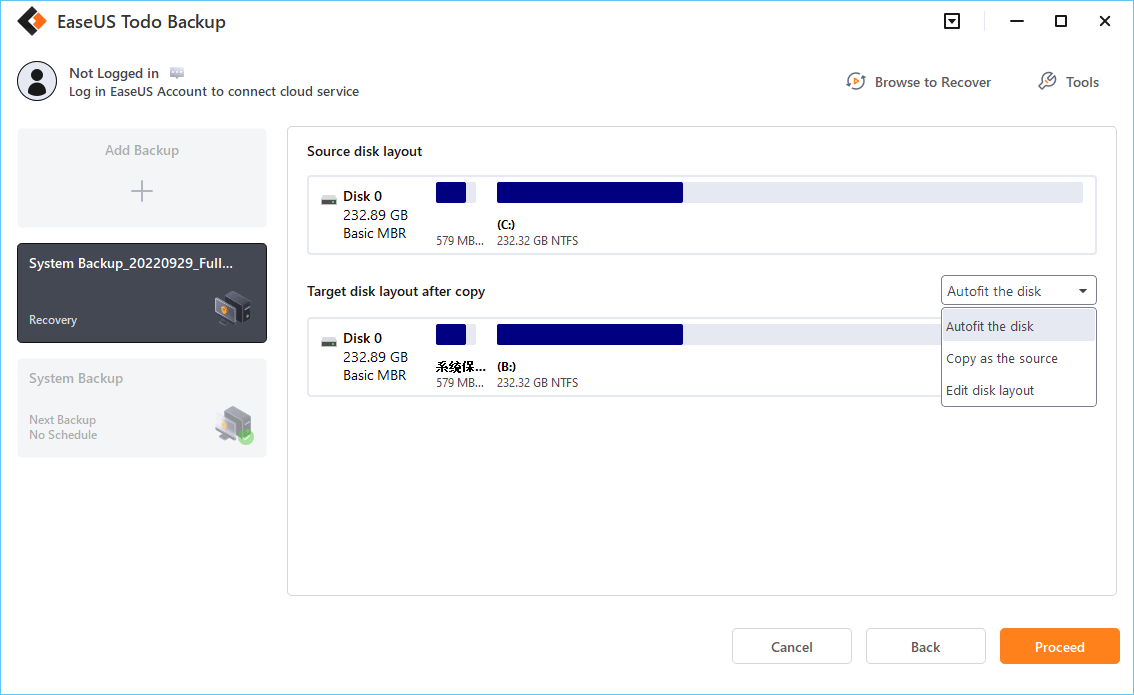 Why You Need to Restore Windows Backup to Another Computer
Restoring a Windows backup to a different computer can be necessary for various reasons. Here are some compelling scenarios where you might need to restore a Windows backup: 
Hardware Failure: If your computer experiences hardware issues, I.e., a malfunctioning hard drive or a damaged motherboard, you may lose your data. With data backed up, you can restore backup to another computer and regain access.
Upgrading to a New Computer: If you're buying a new computer, you can transfer your Windows environment, including settings, apps, and files, to the new system. Restoring a backup can help in this transition. 
Data Recovery: In situations where you've lost access to your original computer, whether due to theft or damage, restoring backup can help.   
Backup Redundancy: Maintaining backup redundancy by restoring backups to multiple computers ensures your data is available from different locations. It reduces the data loss risks due to computer-specific issues.
Data Retrieval: Sometimes, you need to access specific files, settings, or applications from a previous version of Windows. You can retrieve the information by restoring it to another computer. 
Storage management: If the memory of your computer is full. You can create backups, transfer data to another computer, and free up space. 
To Wrap Things Up
In this digital world of technology, restoring Windows 10 backup to another computer is a common need. It offers data transfer data and the flexibility to adapt to ever-evolving hardware needs. The article listed the steps on how to restore Windows 10 backup to another computer.
Whether you're switching your computer or want to manage data, EaseUS Todo Backup is a robust data transfer process. Its user-friendly interface and universal restore capability provide an unparalleled solution for transferring your digital world easily. It can also help you to transfer a disk image to a new hard drive. Just try it!
FAQs on How to Restore Windows 10 Backup to Another Computer
Whether you're upgrading to a new machine or having specific compatibility concerns, this section can help.
1. How do I transfer a Windows 10 backup to another computer?
Restoring a Windows 10 backup to a different computer using EaseUS Todo Backup is a straightforward process:
Step 1. Install EaseUS Todo Backup on both computers.
Step 2. Create a System Image Backup on the source computer. Store this backup on an external hard drive or storage device.
Step 3. Connect an external drive to the new computer and select "System Transfer."  
Step 4. Follow the instructions to complete the process.  
2. Can you restore a Windows 10 backup to a Windows 11 computer?
Yes! You can restore a Windows 10 backup to a Windows 11 computer using a third-party app such as EaseUS Todo Backup. It has features that make the data transfer between dissimilar platforms simpler and easier. EaseUS Todo Backup involves one-step data transfer, and its high transfer speed makes it a suitable choice for all users.  
3. Can you transfer Windows 10 to another computer?
Windows Universal Restore allows users to transfer Windows 10 data to another computer without any third-party app. Users can migrate their system apps and data to a new computer, even if the hardware is different. Windows Universal Restore ensures that the system image is compatible with the new computer's hardware. It simplifies the process of setting up a new PC while keeping your existing Windows 10 environment intact.
Was this page helpful? Your supoport is truly important to us!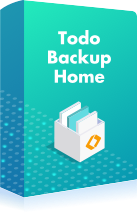 EaseUS Todo Backup
EaseUS Todo Backup is a dependable and professional data backup solution capable of backing up files, folders, drives, APP data and creating a system image. It also makes it easy to clone HDD/SSD, transfer the system to different hardware, and create bootable WinPE bootable disks.
Updated by

"I hope my articles can help solve your technical problems. If you are interested in other articles, you can check the articles at the bottom of this page, and you can also check my Facebook to get additional help."…

Read full bio