What Is Universal Restore Software?
Universal Restore can recover a system image to new hardware. Moreover, it enables you to restore the operating system (OS) to a computer with dissimilar hardware. Therefore, you can restore your OS in case of a hardware failure and deploy the same OS to different computers. 
Universal Restore software is a tool that allows you to restore the system image to different computers. It helps boot OS on a new physical or virtual machine. Besides, it lets you make the old system bootable on new hardware and helps you conduct system image recovery in a different hardware environment.
Why Do You Need Restore System to Dissimilar Hardware?
Why is it necessary to restore the Windows system image to a new computer? Here we list some reasons.
Moving to another system. It usually happens when computer users want to migrate to another system while still keeping applications and data safe.
Avoiding the risk of motherboard failure. Computer users should prevent the motherboard from an unexpected failure. Users can avoid such an unwanted scenario after restoring to dissimilar hardware.
Deploying the same system to different computers. If you want to have several computers with the same configuration, then you should back up the system and then restore it to dissimilar hardware.
Making instant recovery in case of a system hardware failure. If the system suffers a software or hardware failure, it is essential to minimize the loss. In that case, you can conduct a bare metal restore to different hardware.
5 Best Universal Restore Software for Restoring System Image to Dissimilar Hardware
Here, I have enumerated the five universal restore software for you. The following is the list of the universal restore software.
Top 1. EaseUS Todo Backup Home
The EaseUS Todo Backup is a multi-purpose and easy-to-use backup utility. The backup software has much to offer. It is capable of making file-level and full system image backups to several sources. It allows you to create file backup, system backup, disk backup, etc. It enables you to create a system backup and recover the backup. Furthermore, you can also use this backup tool to back up different file types and create various types of backups.
Available platforms: Windows 11, 10, 8.1, 8, 7, XP, and Vista
Highlighted Features: 
Ease to use. You can perform backup and recovery of a system image on your computer with just a few simple clicks.
More storage options. You can save the backups in more than one location, including local drives, NAS devices, security zone, and the cloud.
Different backup modes. It enables you to make different types of backups, such as full, incremental and differential backups.
Guide: How to restore a system image to a new disk with a backup tool
The detailed steps to make a system backup are as follows.
Step 1. Launch EaseUS Todo Backup on your computer, and click Create Backup on the home screen and then hit the big question mark to select backup contents.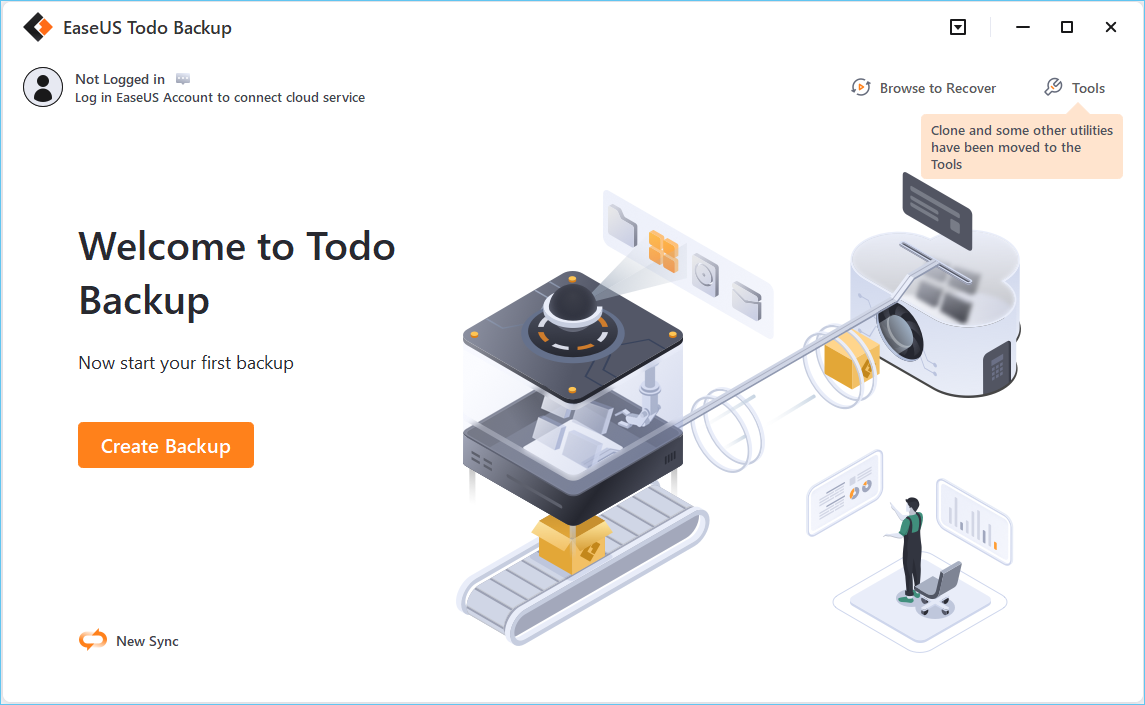 Step 2. To back up your Windows operating system, click "OS" to begin the backup task.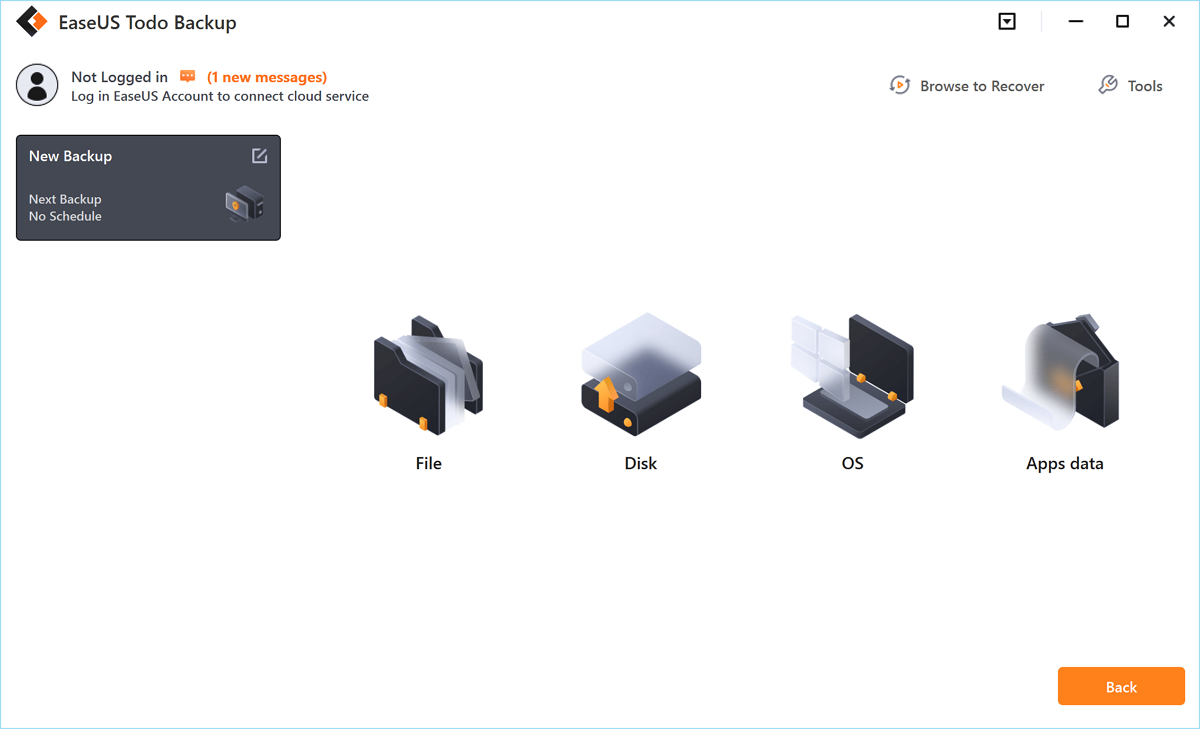 Step 3. Your Windows operating system information and all system related files and partitions will be automatically selected so you don't need to do any manual selection at this step. Next, you'll need to choose a location to save the system image backup by clicking the illustrated area.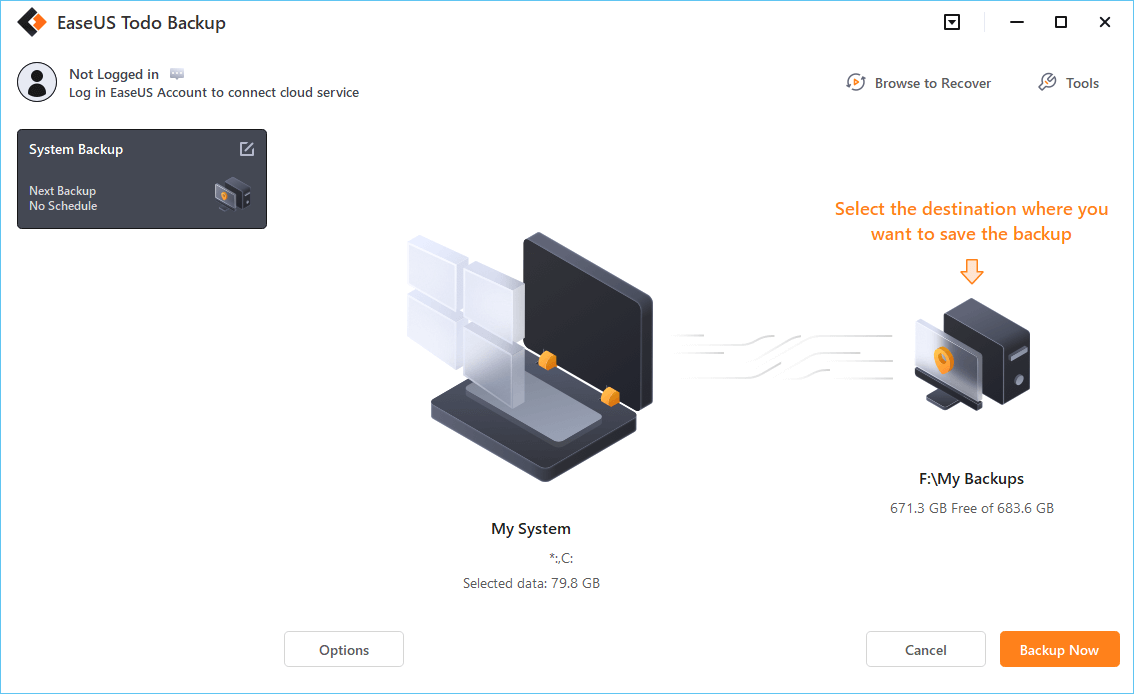 Step 4. The backup location can be another local drive on your computer, an external hard drive, network, cloud or NAS. Generally, we recommend you use an external physical drive or cloud to preserve the system backup files.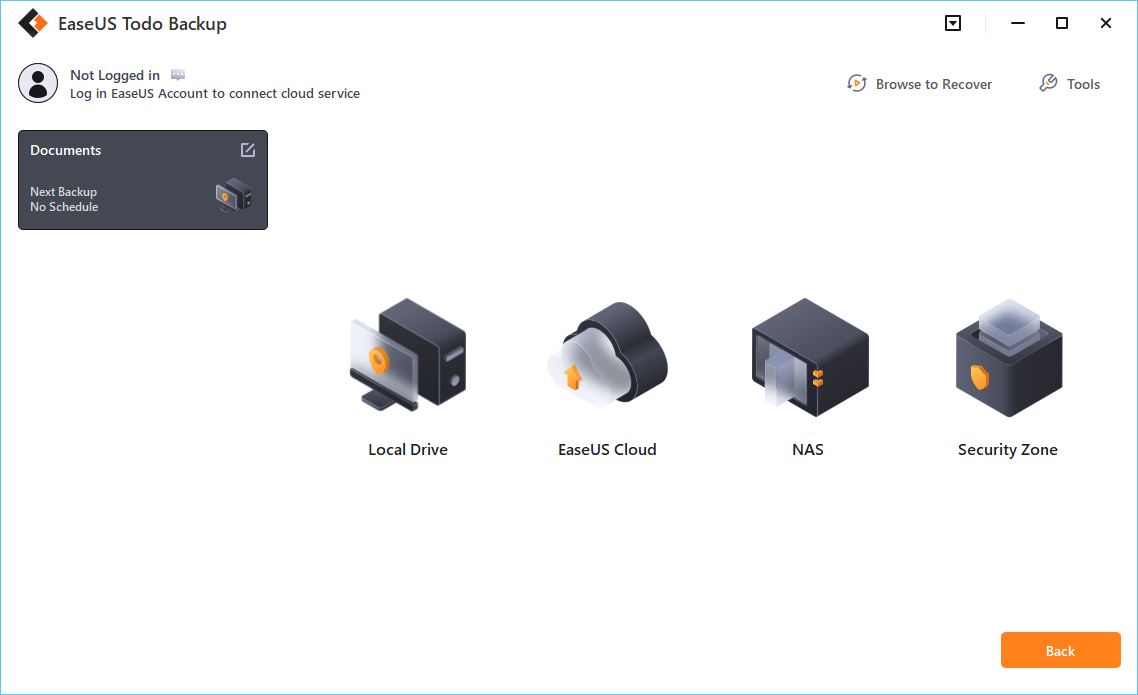 Step 5. Customiztion settings like enabling an automatic backup schedule in daily, weekly, monthly, or upon an event, and making a differential and incremental backup are available in the Options button if you're interested. Click "Backup Now", and the Windows system backup process will begin. The completed backup task will display on the left side in a card style.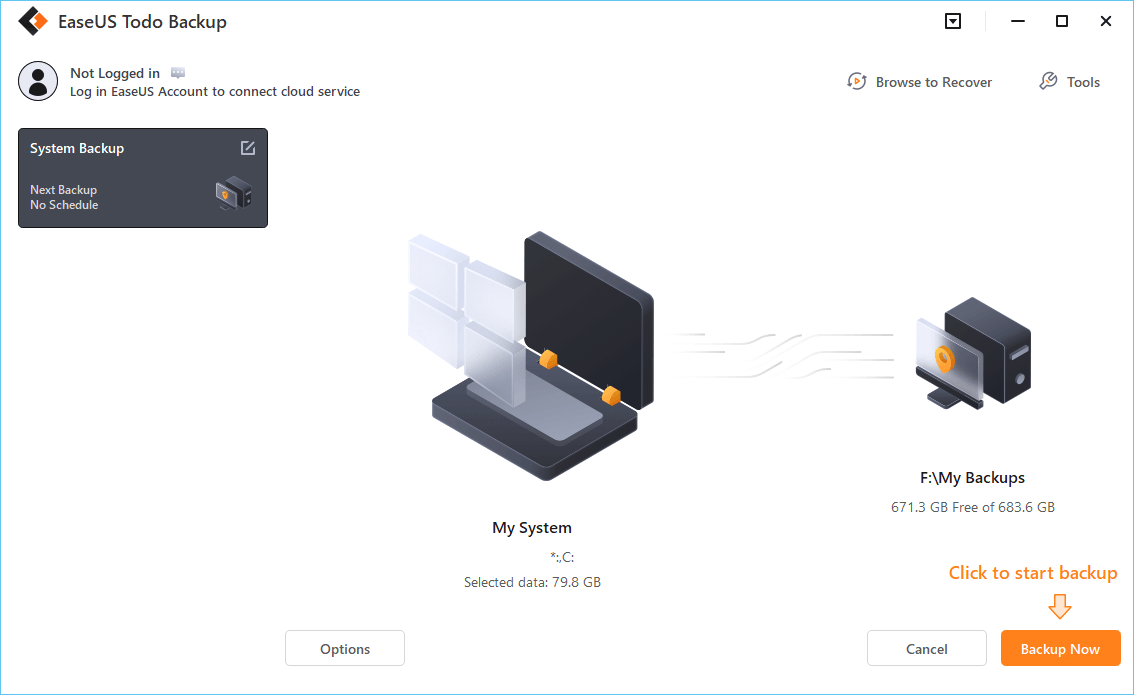 The following are the steps for restoring the system image to dissimilar hardware.
* To perform system recovery on a none-bootable machine, try to boot the computer through the EaseUS Todo Backup emergency disk.
Step 1. Launch EaseUS Todo Backup, click "Browse to Recover".
Step 2. Guide to your backup destination, choose the system backup file you need. (The backup file created by EaseUS Todo Backup is a pbd file.)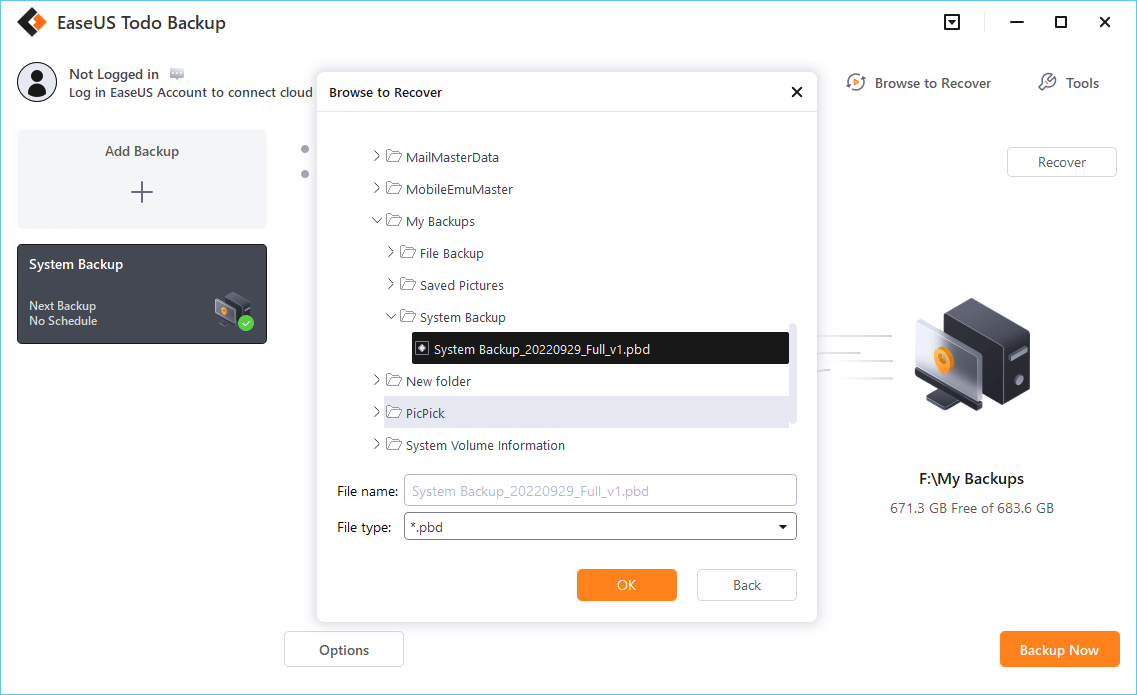 Step 3. Choose the recovery disk. Make sure that the partition style of the source disk and the recovery disk are the same.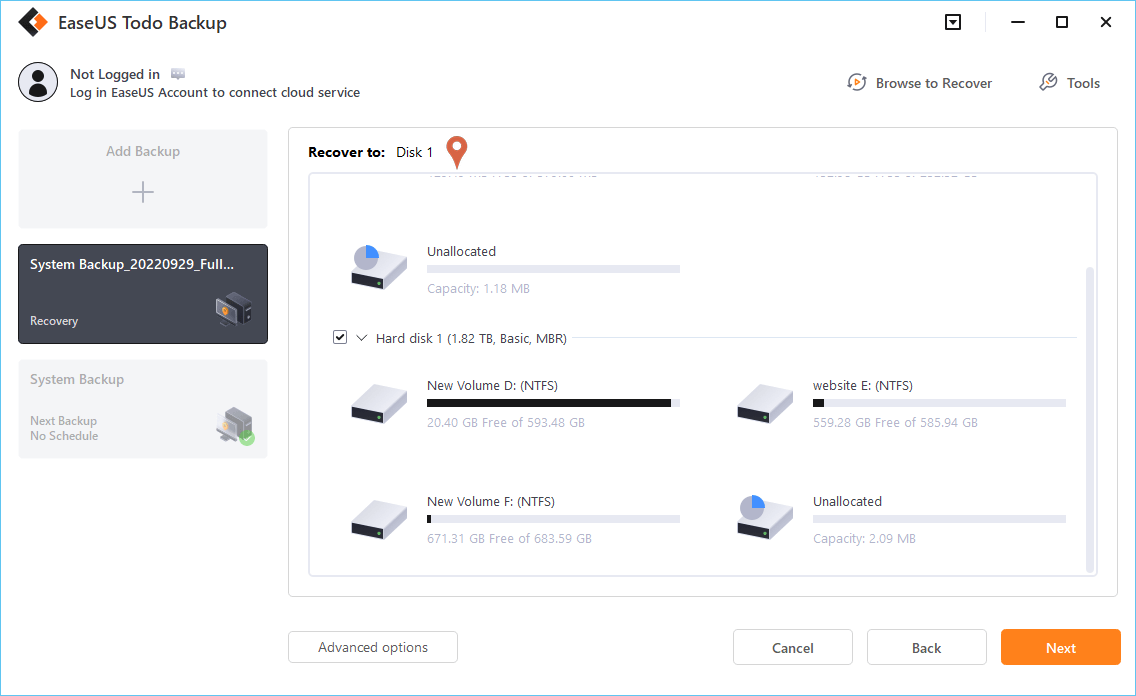 Step 4. You can customize the disk layout according to your needs. Then click "Proceed" to start system backup recovery.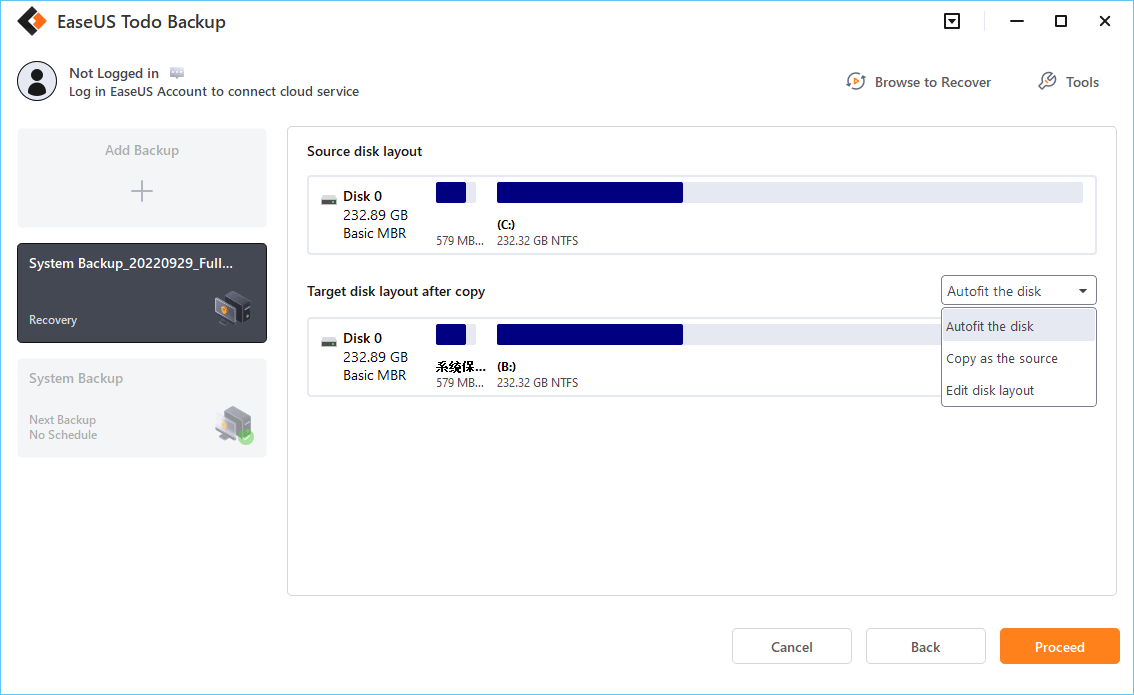 Top 2. Acronis Cyber Protect Home Office
Acronis Universal Restore is a tool of Acronis Cyber Protect Home Office (previously known as Acronis True Image). Cyber Protect Home Office is a practical and powerful backup solution. It can create disk image and file level backups, make full use of shared network drives and make use of locally attached external disks or the Acronis cloud to save the backed-up data safely. There are three editions: Essentials, Advanced, and Premium. You can have a 30-day free trial of this software from the official website.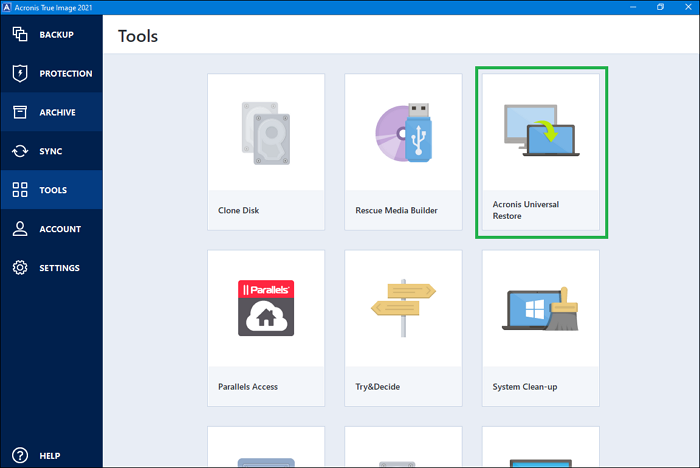 Available platforms: Windows 10/8.1/8/7
Highlighted Features:
Encrypted storage and Acronis cloud storage.
Perform incremental, full, and differential backup.
Back up full disk images and individual files.
Top 3. O&O DiskImage 17
DiskImage 17 is the latest computer backup and disk imaging solution from O&O Software. It offers a wide range of options for backing up systems. It is a backup tool that stands out thanks to its ease of use, high degree of disk imaging, and backup functionality. It offers a 30-day free trial.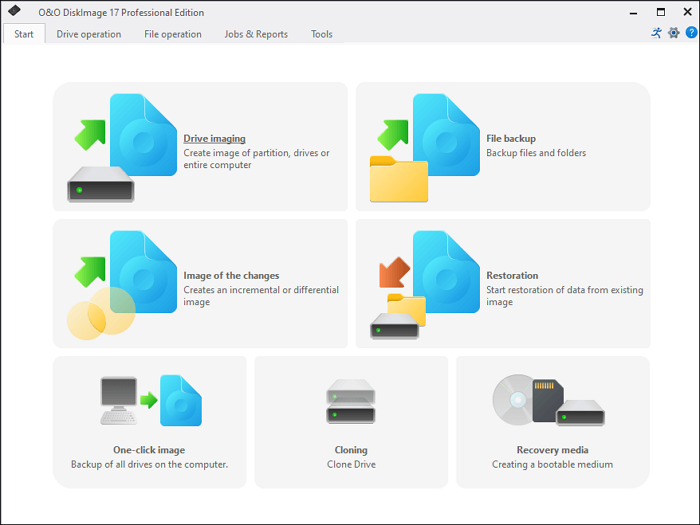 Available platforms: Windows 8.1 or later, including Windows 11.
Highlighted Features: 
Support for VHD/VHDX format virtual hard drives
Nicely designed and easy-to-use interface.
The wizard interface makes backup and imaging quick and easy.
Top 4. Paragon Backup & Recovery
Paragon Backup & Recovery is an image-based backup tool supporting system recovery to dissimilar hardware. It is now available as a part of the Paragon Hard Disk Manager! It is available in the free version with limited functionality or as a full version in the Paragon Hard Disk Manager, priced at $79.95.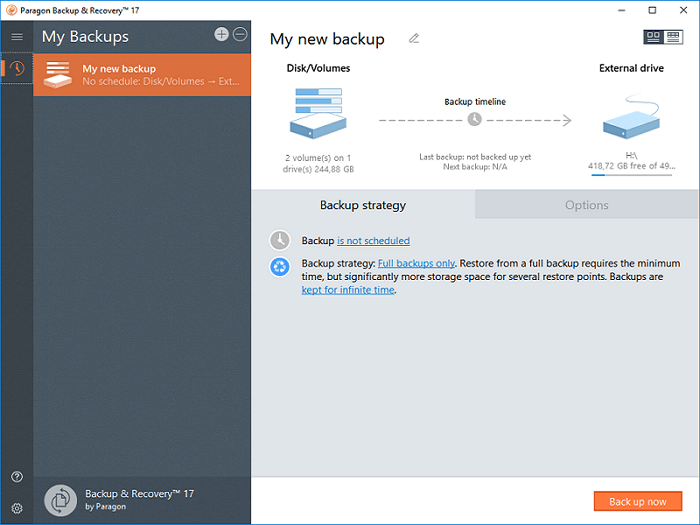 Available platforms: from Windows 10 to Windows 7
Highlighted Features:
Have Advanced formatting and partition management tool.
Support for VHD and VHDX file formats.
Create image-level and file-level backups with options for encryption and automatic scheduling.
Top 5. Macrium Reflect 8 Home
Macrium is a well-known name in disk imaging technology. One of the most important functions within Macrium Reflect is Macrium ReDeploy which allows for restoring image-based backups to dissimilar hardware. It supports advanced disk image-based backup and disk-to-disk cloning functions! Besides, it enables computer users to have speedy data imaging processes and offers users synthetic backup support.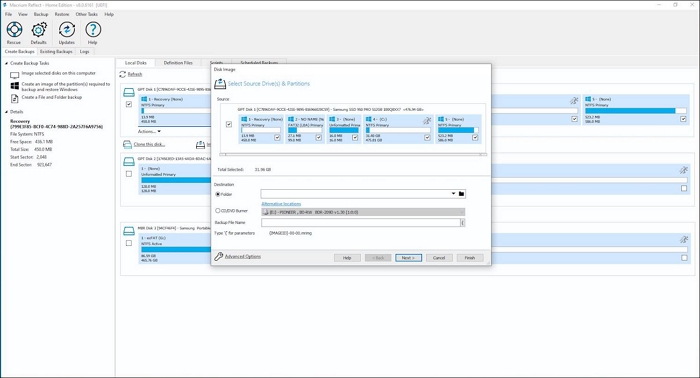 Available platforms: Windows 11/10/8/7/Vista/XP
Highlighted Features: 
Mount image files in Windows and good support for cloning disks.
Prevent your backups from ransomware.
Recover entire disks or individual partitions.
The Best Universal Restore Software for Windows
As the proverb goes, "Nobody's perfect." Therefore, universal restore applications inevitably have certain limitations. Acronis Universal Restore is not available when a system image being recovered is located in the Acronis Secure Zone or when using Acronis Active Restore. O&O DiskImage 17 is only for Windows computer users and has slow backup and restore. Paragon Backup & Recovery doesn't support cloud storage. Macrium Reflect 8 Home is mainly for technical users and not ideal for those new to backup software.
Therefore, compared with the above 4 mentioned universal restore software, EaseUS Todo Backup Home stands out.
It is easy to use because you can finish your backup and restore process in a few clicks;
it is suitable for Windows users and Mac users; it offers 250G of free cloud storage
it is available as a free version or in premium versions aimed at home and business users. Therefore, it can meet the demand of free, home, or business users. 
Overall, EaseUS Todo Backup is undoubtedly a good choice for you to restore the system image to a new disk. You can also use it for other purposes, such as to back up files in safe mode and back up SSD to image.
FAQs
1. What is dissimilar hardware?
Restoring a system image to dissimilar hardware means an image backup of an existing device can be recovered onto new hardware with the differences in the new device.
2. Can you use a USB cable to transfer data from one computer to another?
You can, of course, use the USB cable to transfer data or files from one computer to another computer. If you have to transfer large files from one computer to another, use a memory card. A smarter and quicker way to transfer files or data between two computers is to use a USB cable.
3. How do I restore my Windows 10 computer to an earlier date?
Click on System Tools and then open System Restore. After that, a window will appear with two buttons at the bottom. You should make sure Restore my computer to an earlier time is selected and click on Next. The next screen will suggest a recent restore point and your last critical update.

Jean has been writing tech articles since she was graduated from university. She has been part of the EaseUS team for over 5 years. Her special focuses are data recovery, disk partitioning, data space optimization, data backup and Mac OS. By the way, she's an aviation fan!
"I hope my articles can help solve your technical problems. If you are interested in other articles, you can check the articles at the bottom of this page, and you can also check my Facebook to get additional help."
Taking everything into consideration, we can say that EaseUS Todo Backup Home can offer you a little extra sense of security with a set of advanced tools. The interface provides quick adaptation, every process guiding you all the way through so you don't get stuck or further damage your system rather than keeping it safe.

 Read More

EaseUS Todo Backup Free lets you create backups of your important files or your entire computer through its streamlined interface. Just choose the backup type you'd like to get started, and let the program do the reset.

 Read More

EaseUS includes all the features I expect from backup software like versioning, incremental backups, and scheduling. For more advanced users, EaseUS allows you to install a pre-boot environment onto your hard drive so you can use it to restore files without burning a CD or putting it on an external USB drive.

 Read More

EaseUS Todo Backup
Smart backup tool for your files and entire computer in Windows 10/8/7.
Install Windows on Multiple Computers at Once? No Problem!
Learn how to install Windows 11/10/7 and special programs/software on a batch of computers. Use 10 minutes to do the 10 hours work without making a single mistake!
Get Free Solution!