Updated by
Daisy
on Nov 03, 2022
All of your data can be lost at any time due to a system failure, data corruption, or irreversible deletion due to an error. 
The only way to deal with data loss is by implementing a reliable backup plan. Most businesses routinely backup their data; however, one-third have issues restoring data from backups. The conflict arises from how a "backup strategy" is viewed. At the same time, there is a related article about how to backup data you can learn it: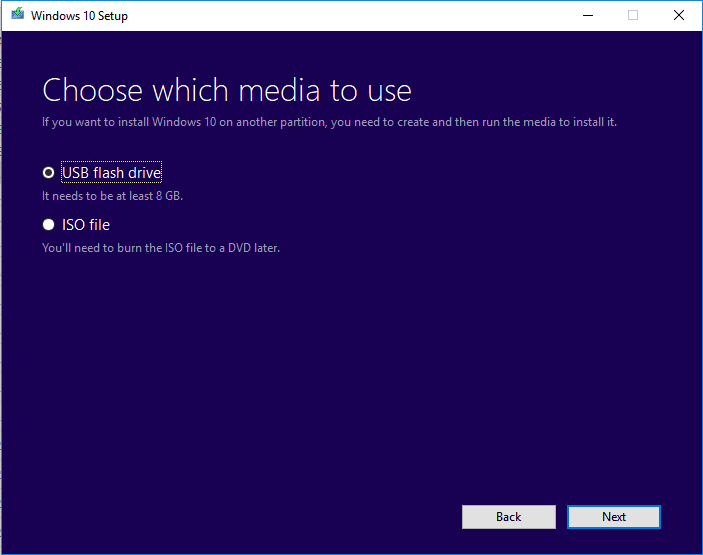 A backup strategy often begins and ends with what needs to be backed up. The rest concerns how to implement backups and what kind to use.
The best backup plan differs depending on the requirements of each firm. The three types of backup—full, incremental, and differential—and their benefits and drawbacks will be covered in this article to assist you in making the right decision for you and your company.
A big organization might opt for any backup like an incremental or differential backup approach, while a small business might decide to back up everything every day. Incremental backups are typically more suitable for cloud backup because they utilize fewer resources. Beginning with a full backup on the cloud, you may later switch to incremental backups. 
You can know more about cloud backup:
What Is Backup?
According to Russ Fellows and Paul Crocetti from TechTarget, the term "backup" has come to mean data protection and can be carried out in several ways. Backup software solutions reduce the complexity of carrying out backup and recovery activities. Data backup is simply one component of a disaster protection strategy, and without thorough design and testing, it might not offer the desired level of data and disaster recovery capabilities.
Numerous different backup operations have long been available through backup software. The three types of backups most frequently used are full, incremental, and differential, and synthetic full backups and mirroring are other backup formats.
Data management is vitally important, and making backups of acquired data is essential. Backups shield information against human error, hardware malfunction, virus assaults, power outages, and natural disasters. If these errors occur, backups can help you save time and money. Different methods offer solutions to create backups, as follows:
2. Manual backup
3. Backup devices
Manually you can access the Control Panel. Then click System and Maintenance and press Backup and Restore. Select Set up backup, then follow the wizard's instructions if you've never used Windows Backup before or if you recently upgraded your version of Windows.
How Many Types of Backup - 3 Types: Full, Incremental, and Differential
Video Guide: Differences in Full, Incremental, and Differential Backup Types
Here is a video about the differences between full, incremental, and differential backup, you can watch it to learn more about it.
0:06 Full Backup
0:30 Differential Backup
0:50 Incremental Backup
Full Backup
According to Crocetti, a full backup is the most fundamental and comprehensive kind of backup process. As the name suggests, this backup copies all data to a disc or tape for storage. Every procedure should include a full backup to have a complete copy of all data on one media set. This is the main benefit. As a result, the time needed to restore data is kept to a minimum, or what is known as a recovery time objective. 
As a result, full backups usually are only performed occasionally. Small data centers (especially those with vital applications) may decide to execute a full backup every day or even more frequently in specific circumstances. In backup operations, a complete backup is commonly used in conjunction with incremental or differential backups.
Incremental Backup
As per Crocetti, only the data that has changed since the last backup operation of any kind will be copied due to an incremental backup procedure. An organization often uses the updated time stamp on files to compare it to the timestamp of the most recent backup. To track file changes since backup operations, backup software tracks and records the date and time that backup activities occur.
An organization may execute incremental backups as frequently as desired, storing only the most recent changes because they only replicate data that has changed since the last backup. The advantage of an incremental backup is that it replicates less data than a complete backup. As a result, these activities will quickly backup data and use less storage space.
Differential Backup
According to Crocetti, when a differential backup operation is run for the first time, it works similarly to an incremental backup in that it copies all the data that has changed since the last backup. But each time it is performed after that, it will keep copying all the data that has changed since the last complete backup. As a result, it will often save much less than a full backup but more data than an incremental backup on successive operations. Differential backups take longer and use more space than incremental backups, although they still take up less space than full backups.
Every backup method functions differently. A full backup must be performed at least once by an organization. You can do a further full backup, an incremental backup, or a differential backup for subsequent backups. The first partial backup, incremental or differential, will backup the identical information. By the third backup procedure, only the changes made since the previous total are included in the data backed up with an incremental. Comparatively, "Backup 1" was the initial full backup, while "Backup 3" with a differential will backup all alterations since "Backup 1".
Running a weekly full backup with daily incremental or differential backups is preferable for larger organizations or those with more data or server storage. For most circumstances, using differentials results in a higher data protection level with a minor storage space increase and faster recovery times. Because of this, we advise a strategy combining weekly full backups with daily differential backups is a wise choice for many businesses.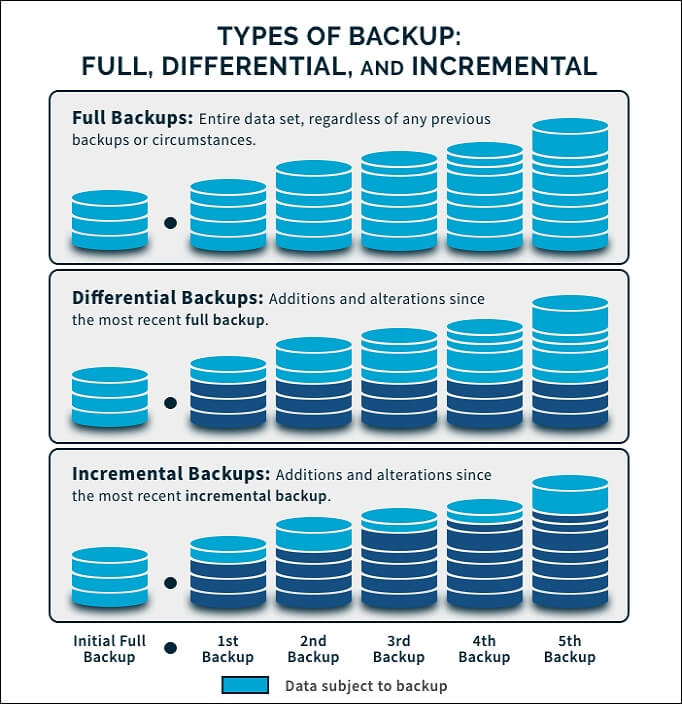 Full vs. Incremental vs. Differential, Which Backup Is Best?
| Features | Full Backup | Incremental Backup | Differential Backup |
| --- | --- | --- | --- |
| Backup Speed | Slowest | Fastest | Fast |
| Restore Speed | Fastest | Slowest | Fast |
| Duplication | Stores a lot of duplicate files | No duplicate files | Stores duplicate files |
Pros and Cons of Full Backup
Pros 
Quick restoration
Offers full copy of data set
It offers arguably the best protection
It uses a lot of bandwidth
Cons 
Requires most storage
It can be stolen if your backup is not encrypted
Pros and Cons of Incremental Backup
Pros 
Less time consuming
It takes the least amount of space
It uses relatively little network bandwidth
Availability of data
Cons 
A full restoration cannot be performed if one incremental backup is missing or destroyed.
Needs all the backups in the backup chain to restore
Pros and Cons of Differential Backup
Pros 
It takes less space than full backups
Faster restoration than incremental backups
Shorter restore time
Cons 
It uses much more network bandwidth than incremental backups but less than full backups.
Requires large space
Therefore, incremental backups are generally better in the cloud because they often require fewer resources. Also smaller than differential backups are incremental backups. The smaller the backup, the better because storage space on the cloud is a significant cost component.
How to Create Backups of Data with Full, Incremental, and Differential Strategy?
Which backup procedure would you pick? We must create a complete backup of Windows 10 to prevent data loss on Windows 10. Backups aid in preventing irreparable loss or damage to your system and contents.
Your data and your future are protected with EaseUS Todo Backup! It has a friendly user interface but strong functionality for backing up the disc, partitions, OS, and data, and it can save backups to local discs, NAS, networks, and the cloud.
Free backup software does not imply necessary features. Free users get access to advanced backup features like incremental and differential backups, scheduled backups, encrypted backups, frequency settings, and image reserve strategies, among others. The system, disk/partition, and file backups can all be carried out by the application manually or automatically through scheduled backups. You can create incremental, differential, and full backups. Start by downloading the free Windows backup program and creating a full backup if you want control over your backups.
Then If you are interested in creating backups of their data using the EaseUS Todo Backup, you can follow the next steps:
Step 1. For the first time you use EaseUS Todo Backup to back up files, click Create backup on the home screen and then mouse click the big question mark to select backup contents.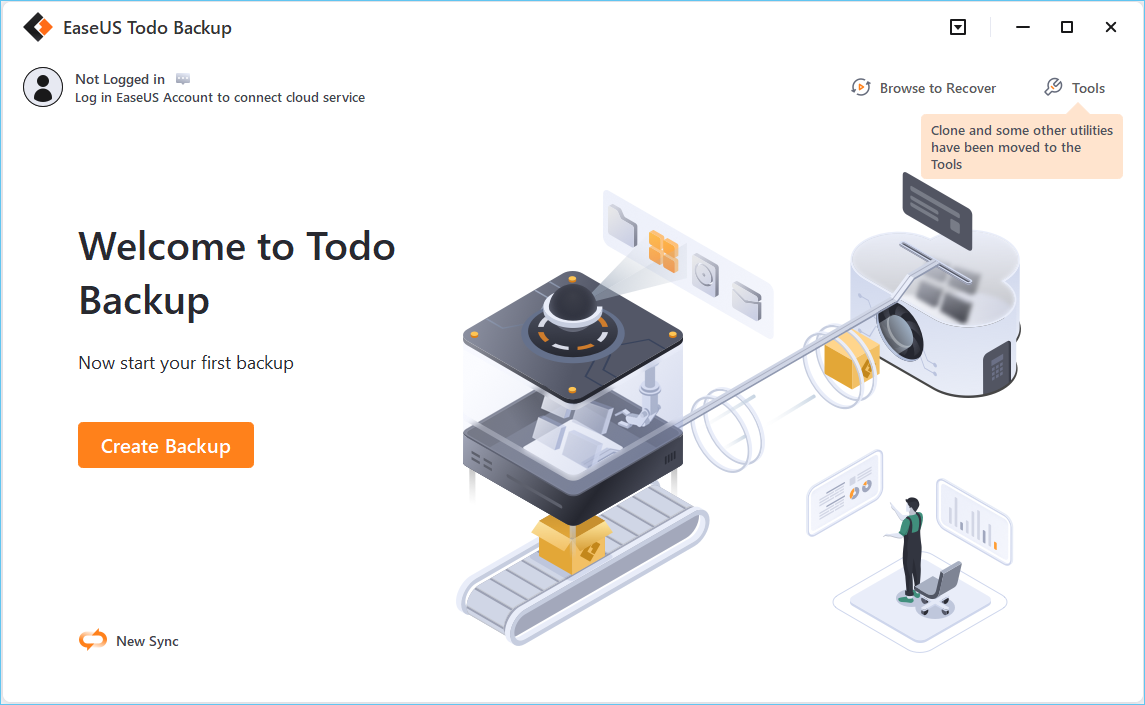 Step 2. Since you're going to back up files and folders on your computer, go on with the "File" backup mode, where you can select pictures, videos, documents and all other types of files to back up.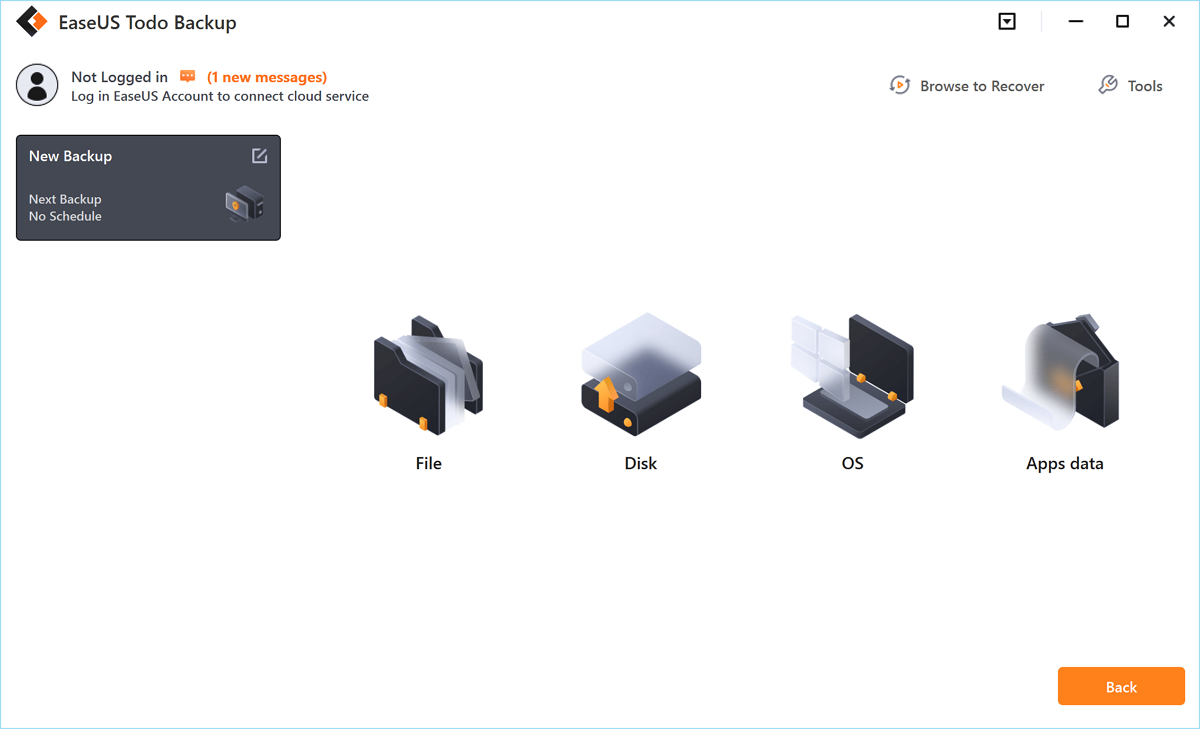 Step 3. Follow the paths to locate the files, folders or directories you want to back up, select them all and click "OK".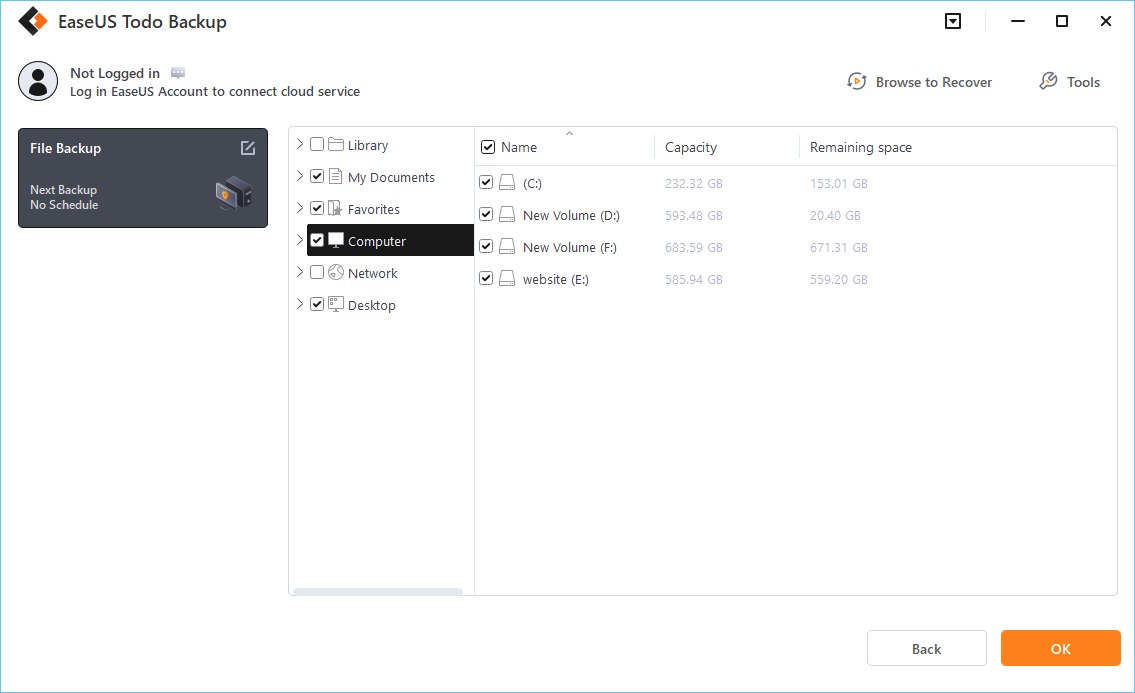 Step 4. Now you need to select a backup location to save and retain the backup.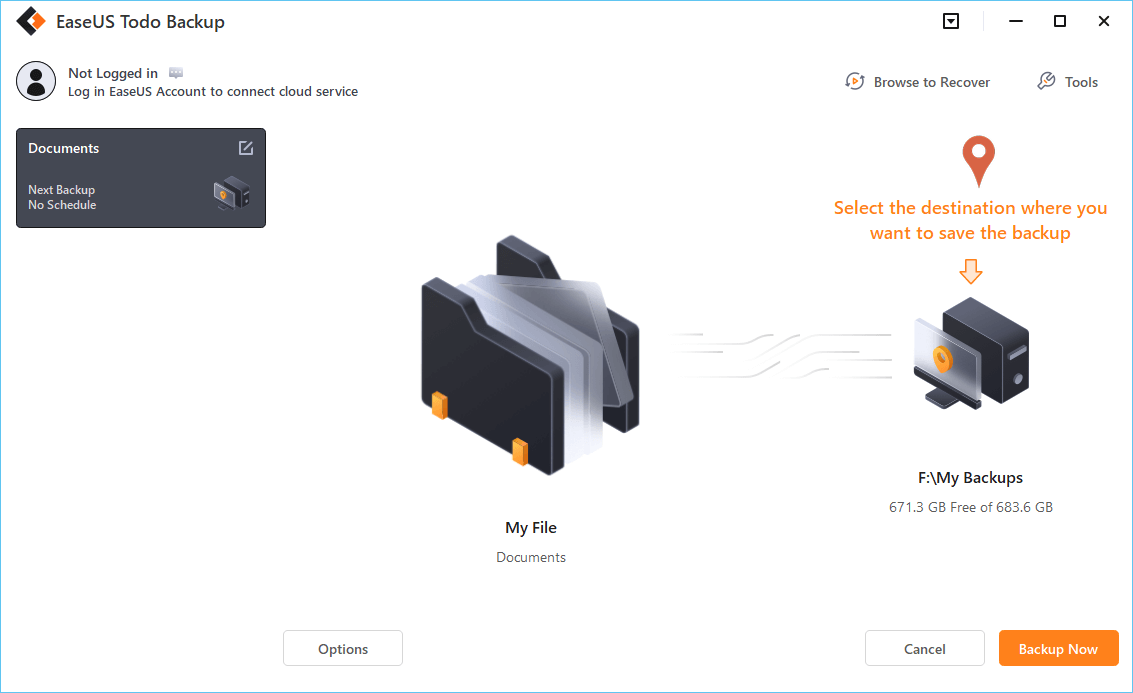 Step 5. EaseUS Todo Backup allows users to save the backup files to every device that is handy for you, like a local hard drive, external USB drive, SD card, network drive, or a NAS drive, plus a cloud drive of the EaseUS brand. We personally recommend users to choose the cloud drive prior to a physical drive to save important backups due to the greater accessibility, flexibility and safety.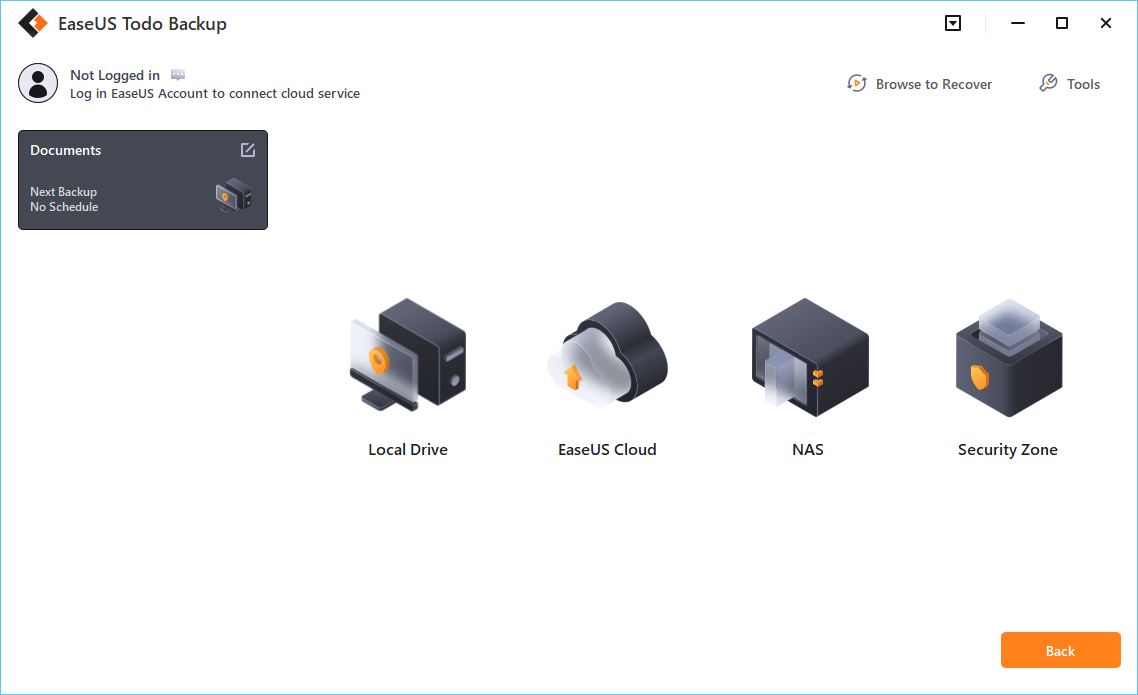 To be able to access to EaseUS cloud, all you need is an email registration and login.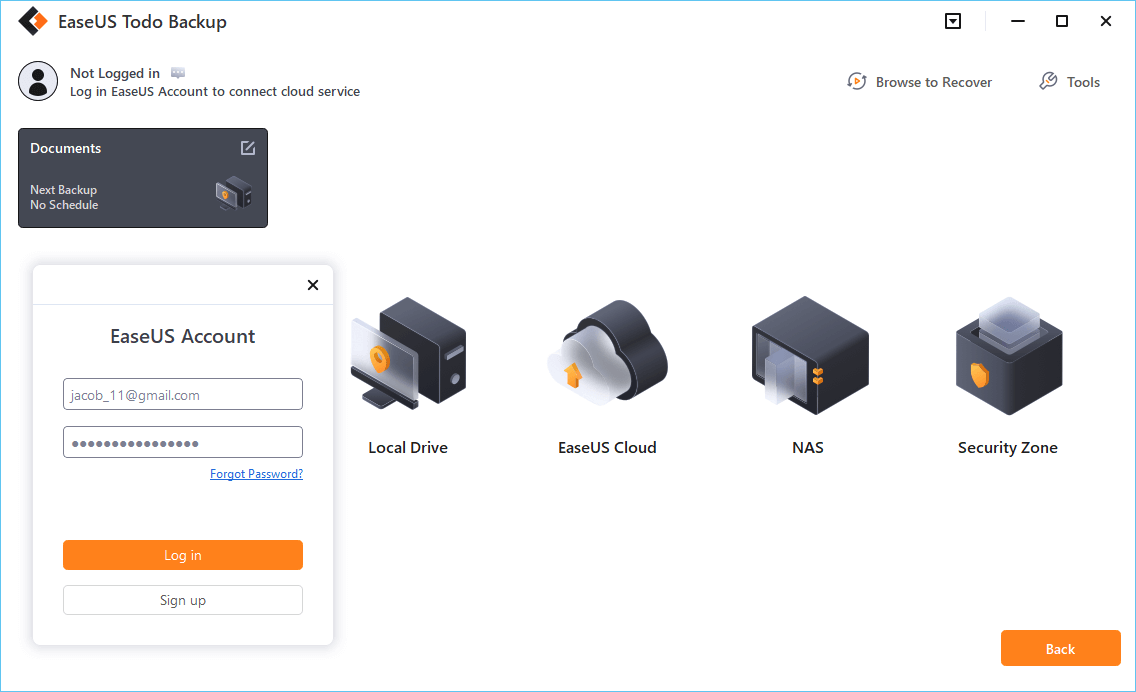 Step 6. If you're interested in an automatic and intelligent backup schedule for the next file backup task, go on with the "Options" setting. There you can encrypt a confidential file backup, compress the backup image size, or customize a backup scheme to tell the software in what time to start the next backup. 
Customize an advanced and automatic backup task here: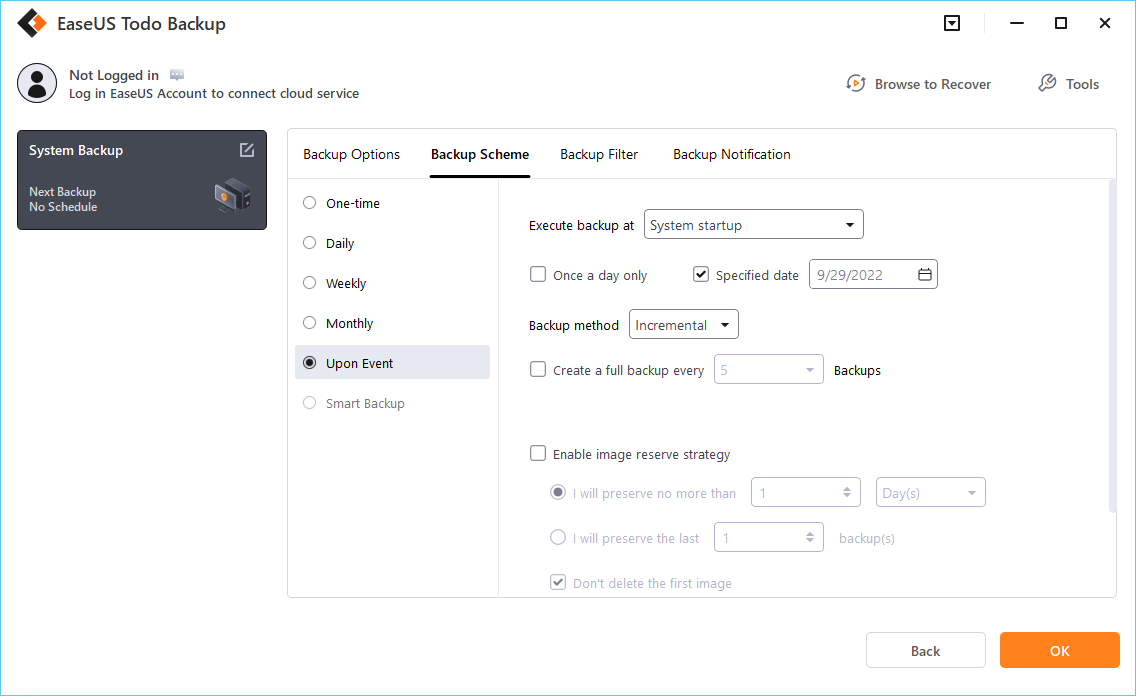 Step 7. Click "Backup Now" to start the file backup process. Your completed backup files are visible on the left area in a card style.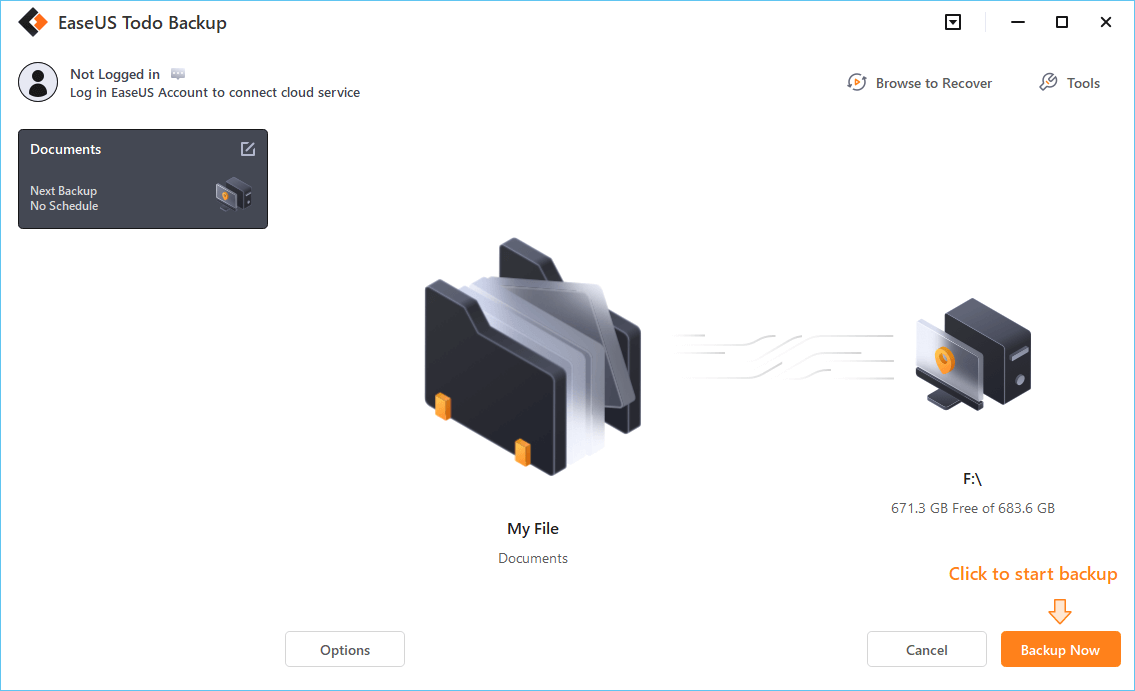 To Wrap Up
As there are 3 types of backup, and you can use any one, keep in mind the pros and cons mentioned above.
Use Full Backup if:
You need the safest, most dependable way to copy data.
Due to the constant availability of comprehensive data, restoration and recovery times are reduced. 
It is simple to manage version control because all data is backed up simultaneously.
Use Incremental backup if:
You need quick backup and an easier time restoring operations in emergencies. 
You have low storage space needs and fewer network demands.
Use Differential backups if:
You need to reduce storage requirements and restoration times. The backup will take less time to complete than a full backup because there are frequently fewer changes to data than the number of files in a data repository.
Whereas EaseUS Todo Backup is an easy and straightforward tool. For personal use, it provides more than enough capabilities. The system, disk/partition, and file backups can all be carried out by the application manually or automatically through scheduled backups. You can create incremental, differential, and full backups. Start by downloading the Windows backup program and create a full backup if you want control over your backups.
FAQ about Types of Backup
1. Which Are the Best Types of Backup Software?
EaseUS Todo Backup is one of the best types of backup software with an easy and simple interface. You can create a complete backup of your PC using this tool. It supports three types of backup strategies; full, incremental, and differential. 
2. Which Backup Is Best?
Incremental backups are the best as they work better for cloud backup and utilize fewer resources. You might begin with a full backup on the cloud before switching to incremental backups. 
3. How Many Types of Backup in SQL Server?
Microsoft SQL Server allows three basic types of SQL Server backup:
Full backup.
Differential backup.
Transaction log backup.
Daisy is the Senior editor of the writing team for EaseUS. She has been working in EaseUS for over ten years, starting from a technical writer to a team leader of the content group. As a professional author for over 10 years, she writes a lot to help people overcome their tech troubles.
Written by Tracy King 
Tracy joined in EaseUS in 2013 and has been working with EaseUS content team for over 7 years. Being enthusiastic in computing and technology, she writes tech how-to articles and share technical solutions about Windows & Mac data recovery, file/system backup and recovery, partition management and iOS/Android data recovery.
Taking everything into consideration, we can say that EaseUS Todo Backup Home can offer you a little extra sense of security with a set of advanced tools. The interface provides quick adaptation, every process guiding you all the way through so you don't get stuck or further damage your system rather than keeping it safe.

 Read More

EaseUS Todo Backup Free lets you create backups of your important files or your entire computer through its streamlined interface. Just choose the backup type you'd like to get started, and let the program do the reset.

 Read More

EaseUS includes all the features I expect from backup software like versioning, incremental backups, and scheduling. For more advanced users, EaseUS allows you to install a pre-boot environment onto your hard drive so you can use it to restore files without burning a CD or putting it on an external USB drive.

 Read More

EaseUS Todo Backup
Smart backup tool for your files and entire computer in Windows 10/8/7.
Install Windows on Multiple Computers at Once? No Problem!
Learn how to install Windows 11/10/7 and special programs/software on a batch of computers. Use 10 minutes to do the 10 hours work without making a single mistake!
Get Free Solution!