A backup can allow you to recover your files and software without any data loss if any problem occurs. However, these documents can quickly fill up your hard disk drive, especially on smaller drives. Windows will continue to fill your disk with useless backup files through automatic system backups. The backup comprises older Windows update files that you may remove from time to time. What you need to know is how to turn off the Windows backup. So, here, you will get the easy process to disable Windows Backup on Windows 10.
Overview of Windows Backup
Window users may use Windows backup to generate data backups and retrieve data that has been lost, corrupted, or erased from earlier backups. Even though this function was discontinued in Windows 8 and eliminated in Windows 8.1, it is reinstated in Windows 10. It allows users to copy their data and build an operating system image.
When Windows backup is installed on your PC, it will maintain newly updated files and folders and store them. Some customers have reported that Windows shows "backup in process". In reality, there isn't even a backup going on. Meanwhile, the PC is so slow that you cannot complete any tasks. This problem can be caused by several things, including software conflicts, scheduled backups, and some unique components that cannot be replicated.
How to Turn Off Windows Backup?
The best option for turning off Windows backup is to use "Services". It is the most common approach to disable Windows 10 backup. You may do it in this manner if you follow the guidelines below.
Step 1. At first, you need to open your Control Panel. Then, click on the "View by" option located at the top right corner. Afterward, change the "View by" option from category to large or small icons, whichever you prefer.
Step 2. Locate the Administrative Tools category and choose it to open the window.
Step 3. To continue, you need to navigate to the Name column and then double-click on the "Services" option.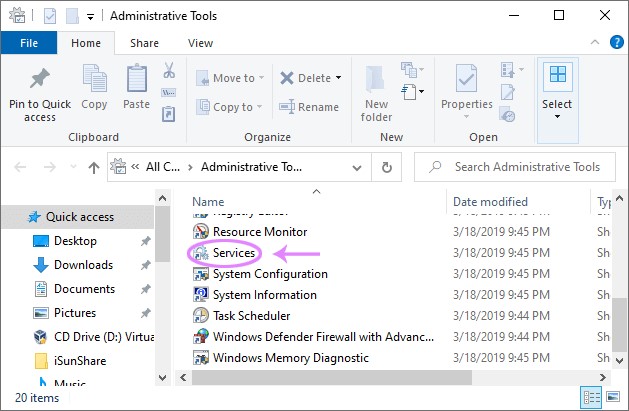 Step 4. Now, you will have to locate the "Windows Backup" option from the "Services" window. Right-click on it. Next, you need to click on the "Properties" option from the drop-down menu.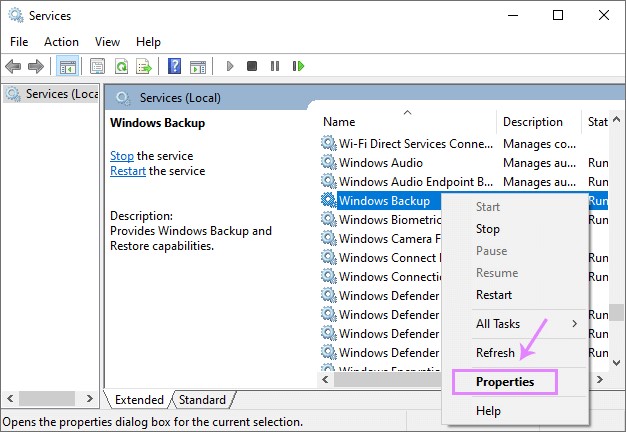 Step 5. If you see that the service status is displaying "running," then you need to hit the Stop option.
Step 6. Following this, you need to click on the "Startup type" to expand the drop-down menu. Now, you need to select the "Disabled" option. Lastly, you will have to click on the "OK" option to save the changes you have made.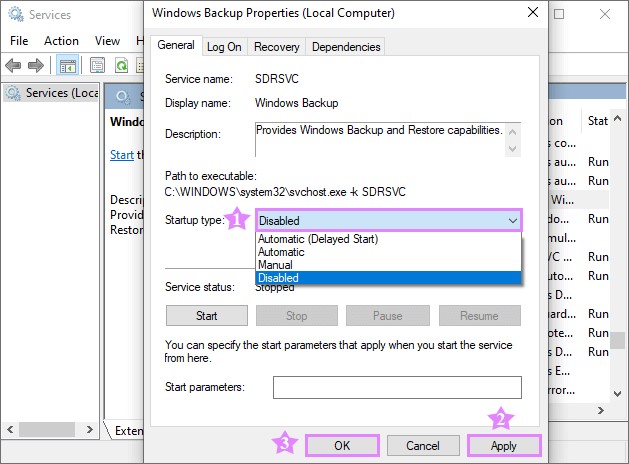 How to Backup Windows 10 OS in 2 Ways?
Our article presents two easy ways that show how to backup Windows 10 OS. So, if Windows 10 OS backup is your goal, you have come to the right article.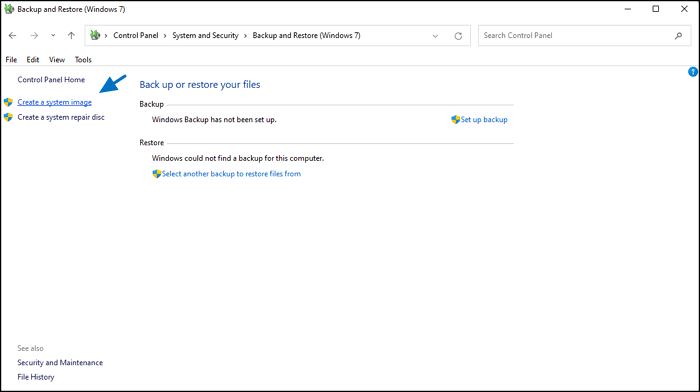 Customize Your Backup Plan
Maintaining a backup plan might help you avoid the terrible situations you might encounter. A backup is a convenient option for malware attacks and lost files. In disk corruption or system malfunctions, they also allow speedy and complete recovery. When situations become unmanageable, such as building fires, offsite backups are essential.
EaseUS Todo Backup is a freeware backup program that can back up the system disk, specific files, folders, and entire hard drives. Select the type of backup you want to generate with the program to get started. The rest will be taken care of by this efficient data backup tool. Some of the best advantages that will encourage you to install this program are as follows:
1. It can produce a variety of backups, and you may choose from the following:
A complete backup
Incremental backups: Changes based on previous backups
Differential backups: Changes based on the initial full backup
2. These backups restore and back up individual files, folders, the hard disk, the Windows operating system, email, a different partition, or the entire computer.
3. This program allows you to shrink backup images and consolidate several images into a single smaller file to save space on your hard drive.
4. EaseUS Todo Backup will attempt to store your incremental backups to a network drive, NAS disc, OneDrive, GoogleDrive, Dropbox, or the EaseUS cloud.
5. It now provides users with an online backup service that allows them to access their backups from anywhere using only their account.
6. EaseUS Todo Backup may set up a smart schedule to detect certain files or folders every half-hour and produce a fresh backup image if any changes have been made within that time frame. It supports the following backups:
To back up regularly changing database files
To create a backup of shared files constantly modified by several users.
To generate numerous restoration points for recovery or a rollback.
Step 1. To start backup, click the Select backup contents.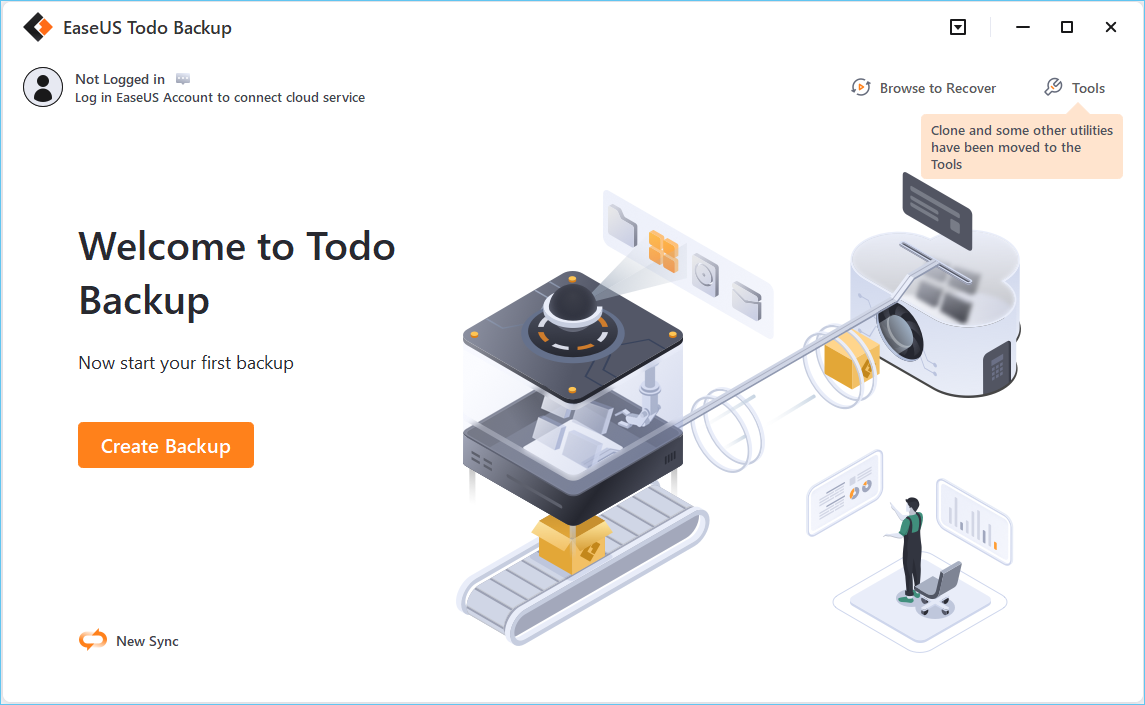 Step 2. There are four data backup categories: File, Disk, OS, and Mail.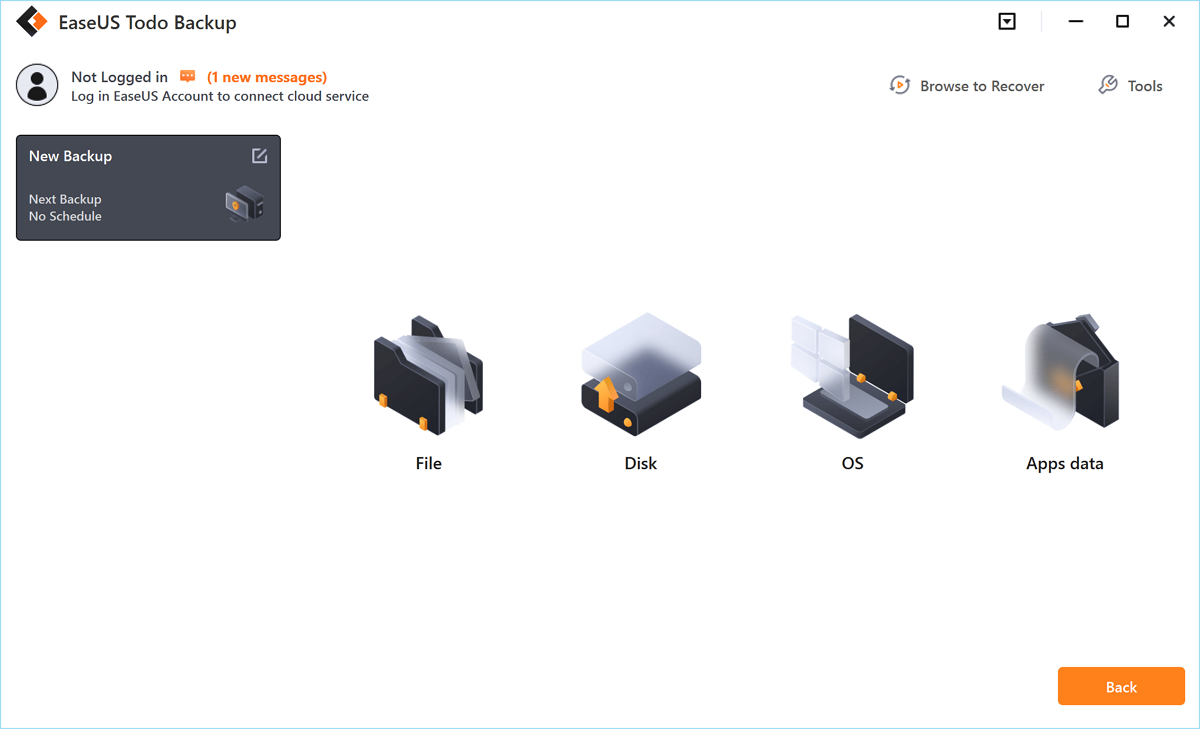 Step 3. On the left-hand side, you'll see a list of local and network files. Selecting the files to be backed up by expanding the directory.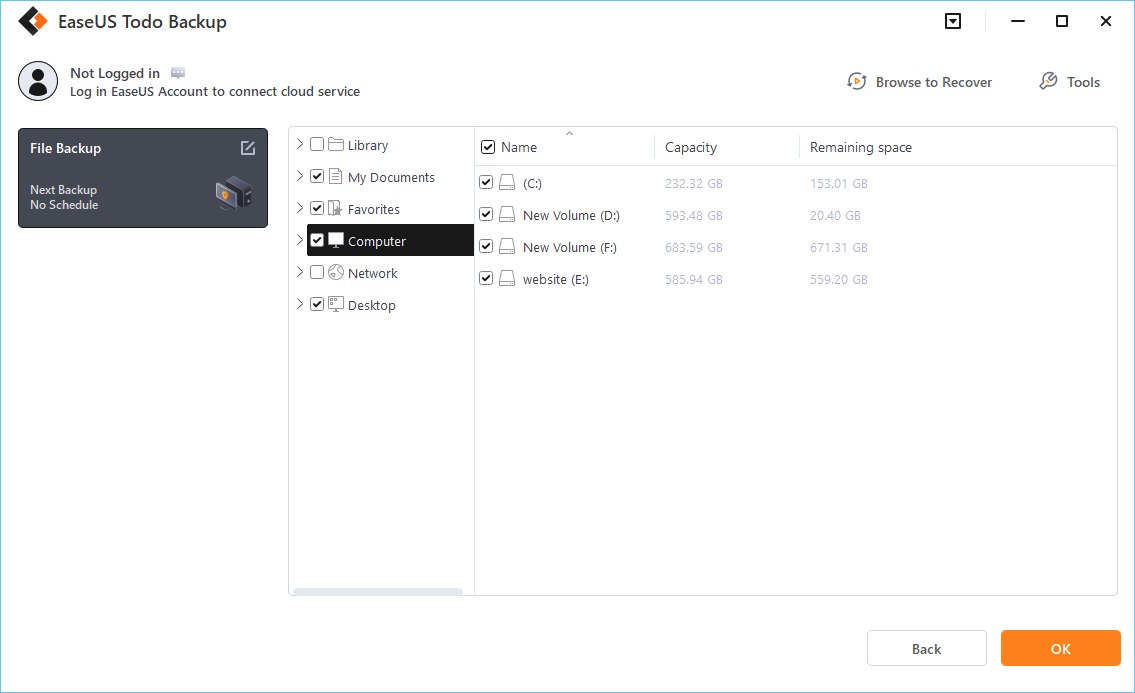 Step 4. Follow the instructions on the screen and pick the location where you wish to store the backup.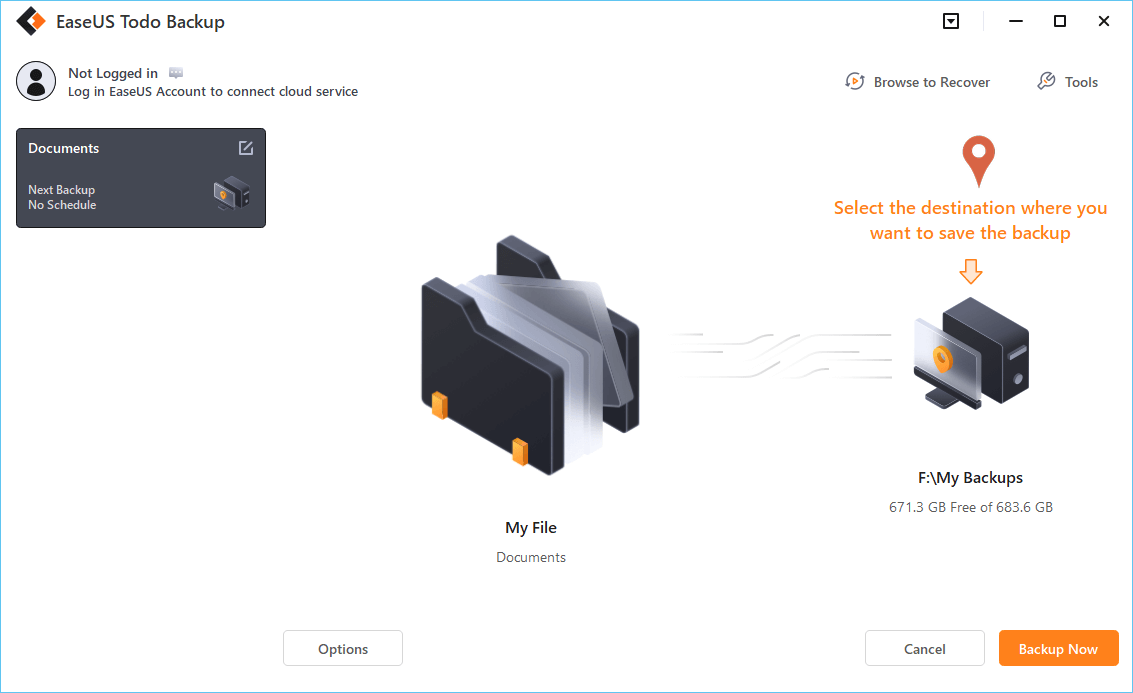 In Backup Options, click Options to encrypt the backup with a password, specify the backup schedule, and choose whether or not to start the backup at a certain event in Backup Scheme. There are a variety of customizable features available for you to explore, and you may tailor the backup operation to meet your specific requirements.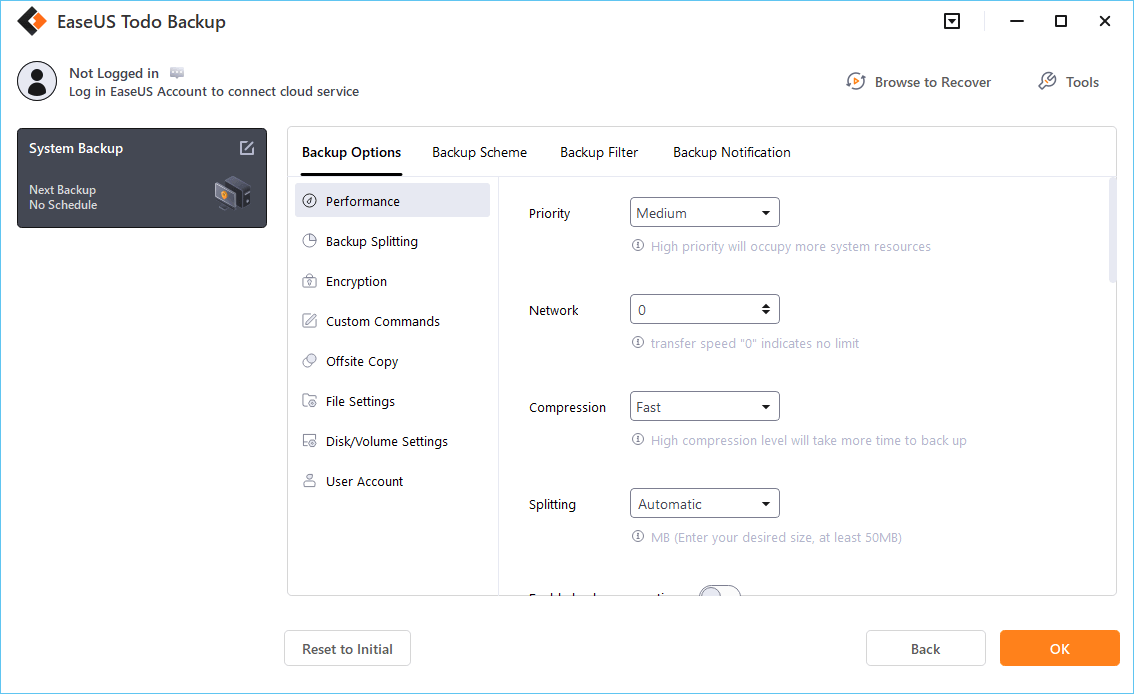 Step 5. Backups can be stored on a local disk, in EaseUS's cloud service, or on a network attached storage device (NAS).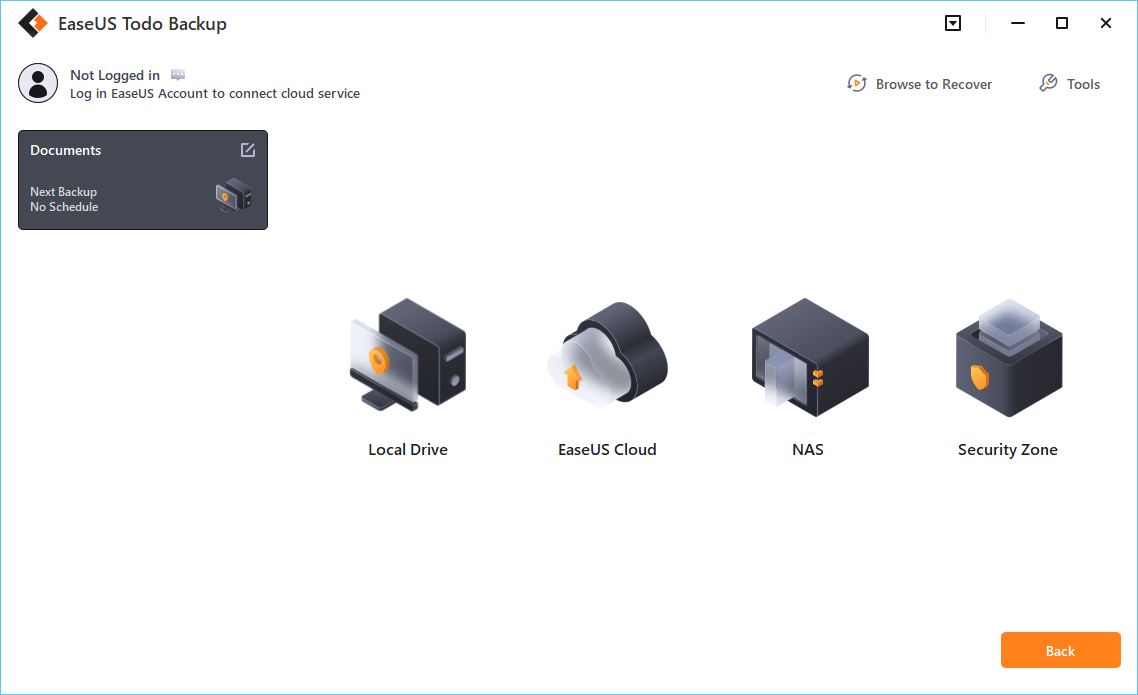 Step 6. EaseUS Todo Backup allows customers to back up data to a third-party cloud drive or the company's own cloud storage.
If you wish to back up your data to a third-party cloud drive, select Local Drive, scroll down to add Cloud Device and enter your account information.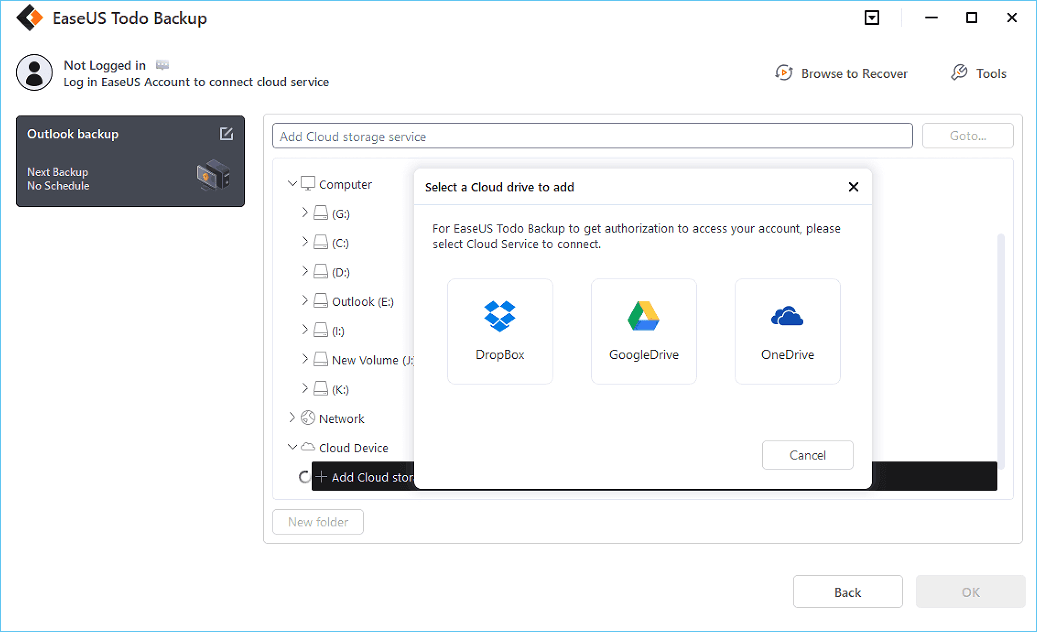 You may also use EaseUS's own cloud storage service. Click EaseUS Cloud, create an account using your EaseUS Account, then log in to your account.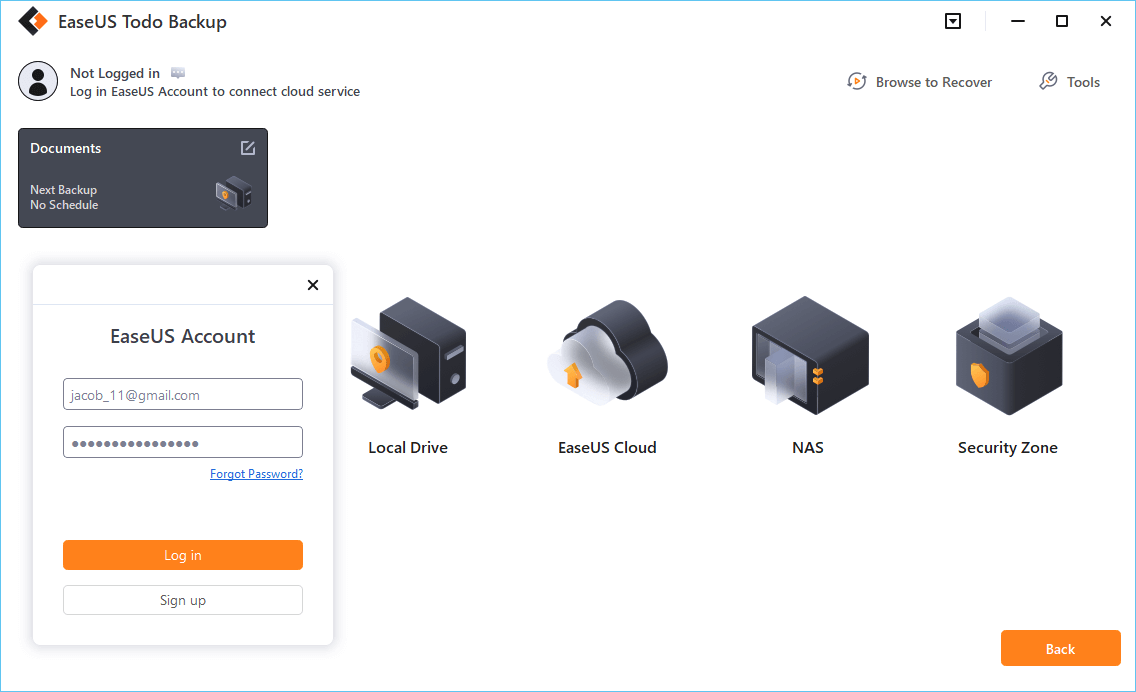 Step 7. To begin a backup, choose Backup Now. It will appear in the shape of a card on the left-hand panel when the backup process has been successfully finished. To handle the backup job in more detail, right-click on it.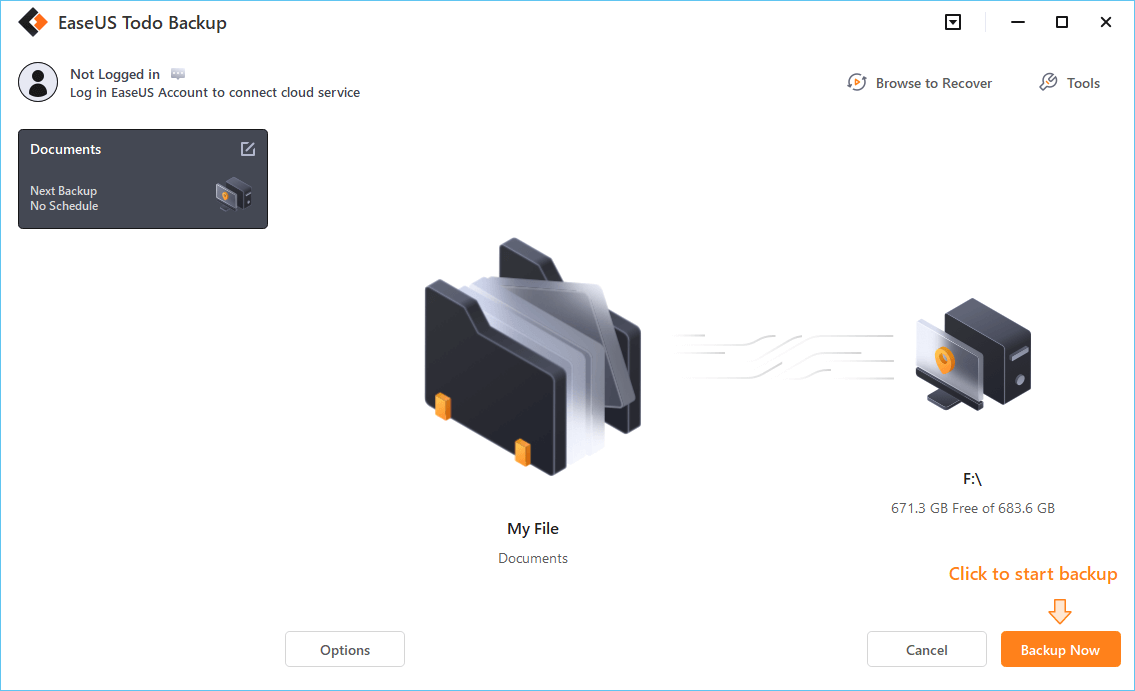 Conclusion
Windows Backup offers many benefits, but it also has some drawbacks. It might slow down your Windows device and obstruct your work. The backup procedure must be disabled if you want your machine to function correctly.
In this post, we'll show you how to deactivate Windows 10's backup process in the most efficient way possible. We've also included a link to the greatest backup solution, EaseUS Todo Backup. It can assist you in backing up and restoring your important files and data without interfering with your working procedures. The best part of this software is that it allows several backup features to its users.
Daisy is the Senior editor of the writing team for EaseUS. She has been working in EaseUS for over ten years, starting from a technical writer to a team leader of the content group. As a professional author for over 10 years, she writes a lot to help people overcome their tech troubles.
Written by Gemma
Gemma is member of EaseUS team and has been committed to creating valuable content in fields about file recovery, partition management, and data backup etc for many years. She loves to help users solve various types of computer related issues.
Taking everything into consideration, we can say that EaseUS Todo Backup Home can offer you a little extra sense of security with a set of advanced tools. The interface provides quick adaptation, every process guiding you all the way through so you don't get stuck or further damage your system rather than keeping it safe.

 Read More

EaseUS Todo Backup Free lets you create backups of your important files or your entire computer through its streamlined interface. Just choose the backup type you'd like to get started, and let the program do the reset.

 Read More

EaseUS includes all the features I expect from backup software like versioning, incremental backups, and scheduling. For more advanced users, EaseUS allows you to install a pre-boot environment onto your hard drive so you can use it to restore files without burning a CD or putting it on an external USB drive.

 Read More

EaseUS Todo Backup
Smart backup tool for your files and entire computer in Windows 10/8/7.
Install Windows on Multiple Computers at Once? No Problem!
Learn how to install Windows 11/10/7 and special programs/software on a batch of computers. Use 10 minutes to do the 10 hours work without making a single mistake!
Get Free Solution!