Updated by
Larissa
on Oct 31, 2022
EaseUS Todo Backup for Windows 11 - Key Takeaways
Having a backup of all your important files is imperative. No one wants to lose their data. Your data contains valuable information that needs to have a record. Backing up your data is the best way to keep it safe. As Windows 11 is here, everyone is looking for Windows 11 system and data security solutions. EaseUS Todo Backup (website) comes with multiple features catering to the needs of a variety of Windows 11 users, including:
Disk/partition/OS clone
Windows 11 migration to HDD/SSD
Windows 11 transfer to a different computer
Disk/partition/file/OS/email backup and recovery
Transfer Windows 11 OS and programs to a portable USB drive
Quick Steps: How to Clone Disk Windows 10 (Clone the Whole Disk)
1. Launch and run EaseUS Todo Backup on your PC and select "Clone" on the left pane.
2. Select the disk or partition that you want to clone.
3. If you prefer to allocate the target disk with the same layout as the source disk, just enable a sector level clone by clicking "Advanced options" -> "Sector by sector clone". Click "Proceed" to start cloning your disk or partition now...Read More>>
Applies To: Clone Disk in Windows 10, Clone Windows 10 Operating System
Steps Needed: 3 Steps
Tool Needed: Disk Cloning Software - EaseUS Todo Backup
Why Do You Need to Clone Disk in Windows 10 or Clone Windows 10
Disk clone in Windows 10 does great help to optimize your computer. There are two main reasons for you to clone disk in Windows 10:
Clone Hard Drive (Data Drive) to Upgrade Computer Disk
Windows disk clone is the most useful and straightforward method for you to upgrade their computer hard drive to a bigger one. By doing so, you can enlarge your computer storage and get a faster running speed simultaneously. 
Clone Windows 10 to Improve Computer Performance
With the passage of time, the free space on your system disk will become less and less and you will feel your computer in Windows 10 run slower and slower. To effectively improve your system performance and speed up Windows 10, you will need to transfer all your present hard disk data including the Operating System into a bigger HDD or SSD so to optimize your computer. Or to make Windows 10 boot faster, you can choose to clone the whole hard disk drive with OS to an SSD which works faster and more efficiently than ordinary hard drives.
The Tool Needed: Disk Cloning Software for Windows 10
Since manually copying data from one hard drive to another is time-consuming and you won't be able to clone Windows 10 without the help of third-party software, you'd better clone disk in Windows 10 or clone Windows 10 with the Windows backup software - EaseUS Todo Backup. This professional disk cloning software makes it easy for you to upgrade and clone Windows 10 disk (whether it contains the operating system or not) and will free you from system reinstallation and data copying issues. Here are the main features of this tool:
Disk/Partition Clone: Selectively clone one disk/partition to another. For example, you can clone HDD to SSD in Windows 10 using this function. If the disk contains the system, you can successfully clone Windows 10 disk without reinstalling the system.
System Clone: Exclusively clone your Windows 10 operating system to another disk. It's a good choice when you want to migrate OS to SSD.
Disk/Partition/System/File Backup: Unlike the cloning features, the backup feature creates an image file of the object and you need to perform recovery to re-access the files.
Before you start using the disk cloning software, there are the things you need to know. Whether you want to perform a disk clone or system clone, to ensure you can clone your disk or OS smoothly, there are the requirements for the target hard drive:
Total capacity exceeds the used space on the source disk (or system and boot partitions on the source disk if you want to clone Windows 10 only).
Displays as unallocated in Disk Management. If not, delete all partitions. Thus, make sure you have backed up your important files in advance.
Is the same partition style as the source disk (by initializing or converting). You may want to know how to convert between GPT and MBR.
Make sure your target disk meets the requirements above and now choose what would you like to use the disk cloning software for.
 Tip

The difference between the "Clone" feature and the "System Clone" feature is that, if you use the "Clone" feature to clone Windows 10, you will copy all the content on the disk where Windows 10 is in. While if you use "System Clone" to clone Windows 10, you will only copy the system and boot partition(s) on the disk only.
Part 1. How to Clone Disk in Windows 10
EaseUS Todo Backup allows you to perform Windows 10 disk clone with simple clicks and it's a sector by sector clone feature allows you to clone every file to a new hard disk with the same disk layout. Free download this software and connect the new HDD/SSD with your PC and follow the next tutorial steps to clone disk (whether it contains Windows 10 OS or not) without reinstalling Windows 10 now:
Step 1. On the main page, find and click "Tools". You can see clone and other utilities.
Step 2. Choose the source disk or partition, click "Next".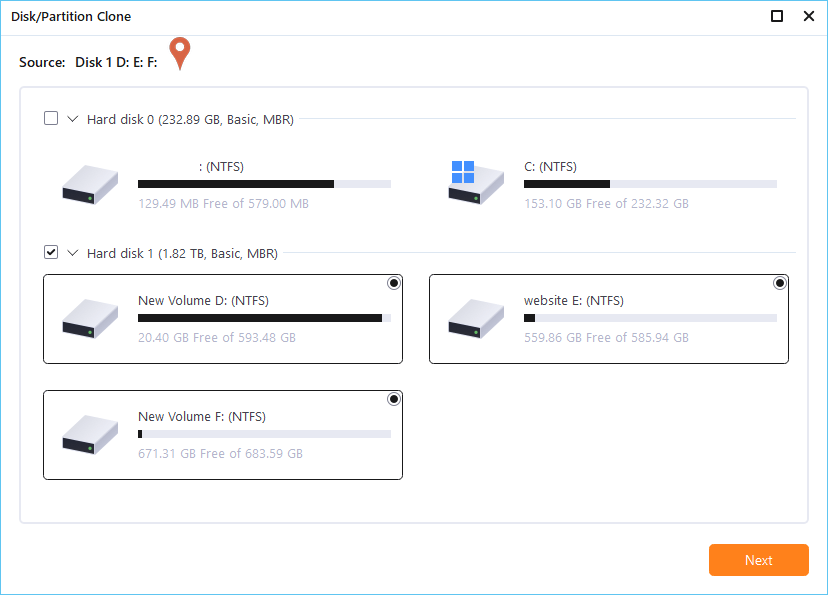 Step 3. Then you need to choose the target disk. Make sure the target disk is larger than the source disk or partition.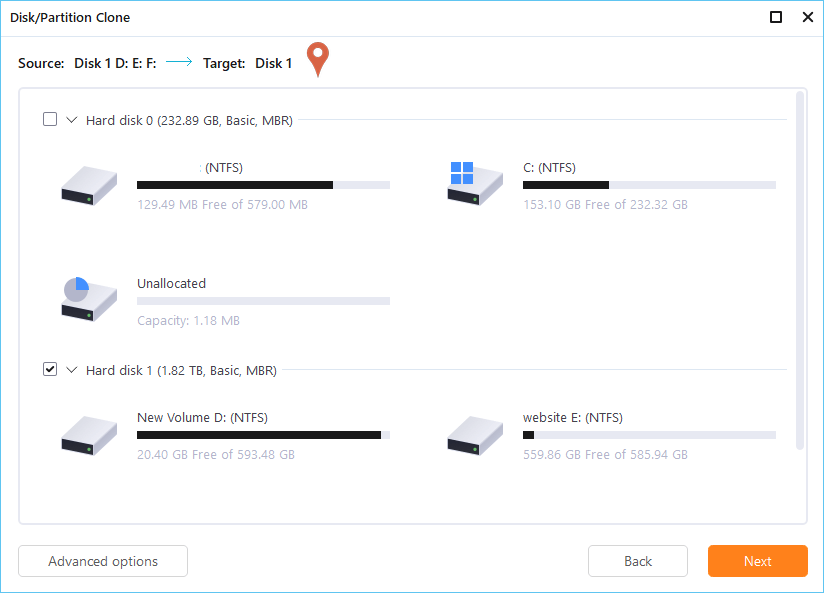 Step 4. A warning window will inform you that clone would permanently wipe out all data on the target disk/partition, if you want to start clone, click "Continue."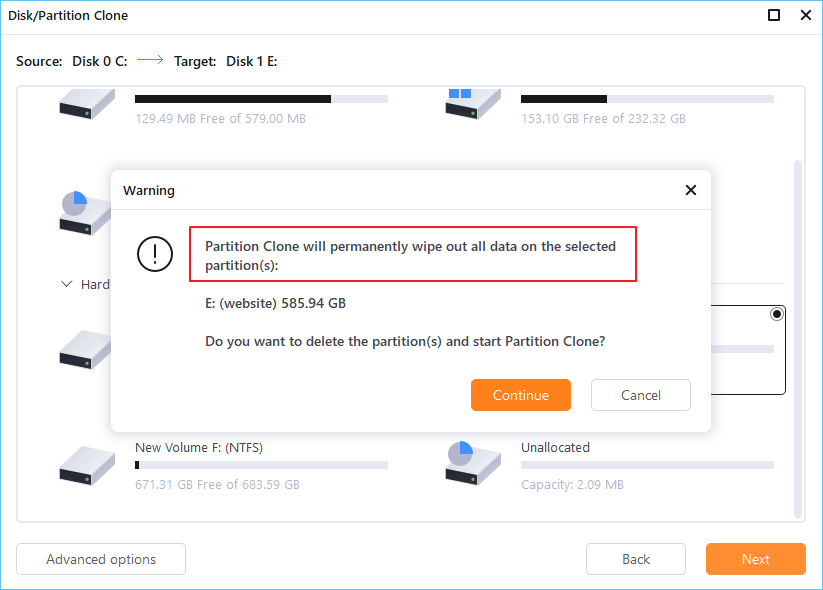 Also read: How to Clone Mac Hard Drive to SSD
Part 2. How to Clone Windows 10 OS with System Clone Software
If you want to clone Windows only instead of cloning the system disk, you are recommended to use the "System Clone" feature. Follow these steps to clone Windows 10
Step 1. On the main page, find and click "Tools", system clone and other utilities are here.
Step 2. EaseUS Todo Backup will automatically select the boot and system partition, choose the target disk and click "Next."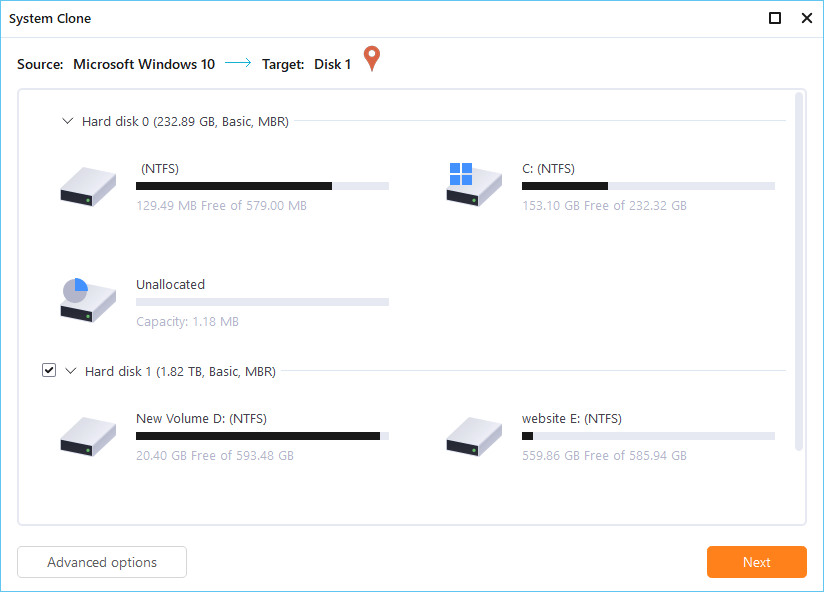 *System clone will wipe out all data and does not support cloning MBR disk to GPT or vice versa. Make sure that the partition style of the source disk and the target disk are the same.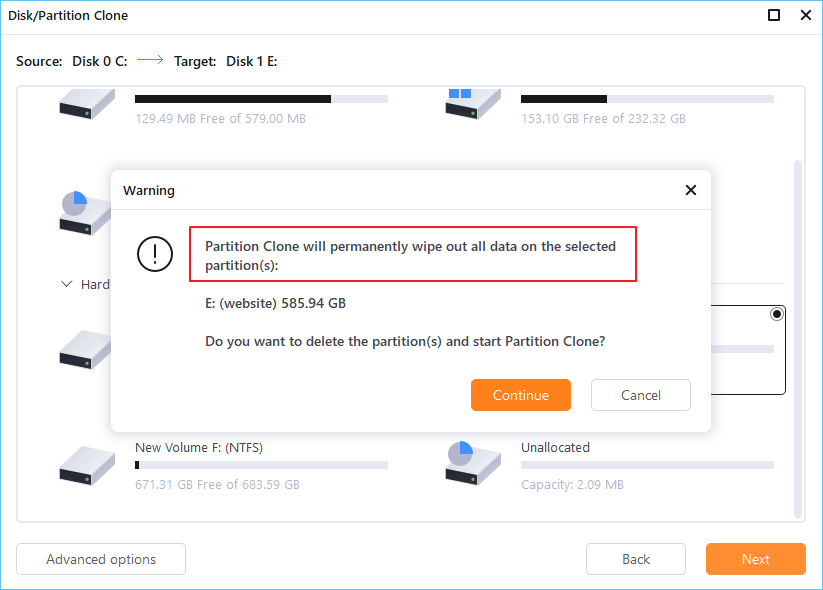 Step 3. If the target disk is a SSD, choose optimize for SSD in the advanced options.
Step 4. Click "Proceed" to start cloning.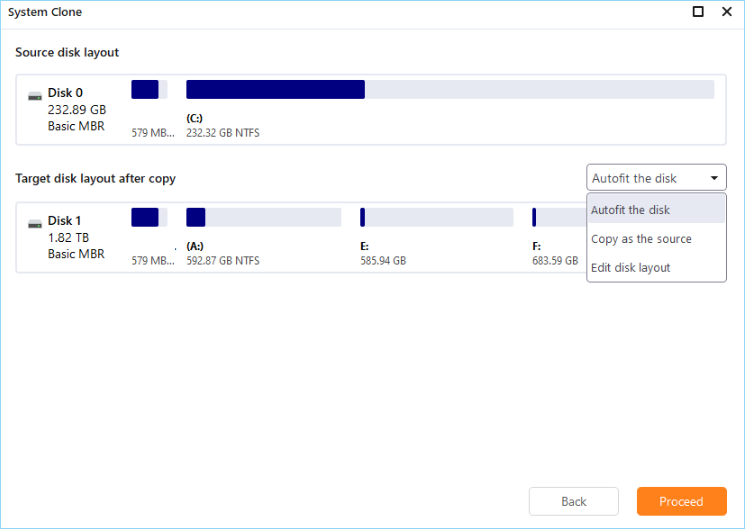 After this, you can reboot PC and continue to use Windows 10 on your new hard disk or SSD without reinstallation. Then you can choose to remove the source disk or use it for data storage on your computer.
Part 3. Top 3 Disk Cloning Software Windows 10 (Our Pick)
You have learned about the way to clone Windows 10 or Windows 10 disk with EaseUS Todo Backup. If you still want to find and download the best disk cloning software. Here, I'll show you the top three best cloning software in 2022 for HDD or SDD clone.
Top 1. EaseUS Todo Backup
As I have mentioned before, EaseUS Todo Backup is professional disk cloning software. It enables you to clone disk, partition, and system. What's more, it has a backup and recovery feature, which can help you protect your data.
Pros:
It has a user-friendly interface
It can satisfy your disk/partition/system clone needs with ease
It has many other highlights (file backup, system backup, disk partition backup, and more)
Cons:
The system clone feature is paid only
Top 2. EaseUS Disk Copy
EaseUS has released a reliable and professional-grade cloning utility for home and business. With it, you can clone the whole disk or only wanted partition with ease. It is EaseUS Disk Copy.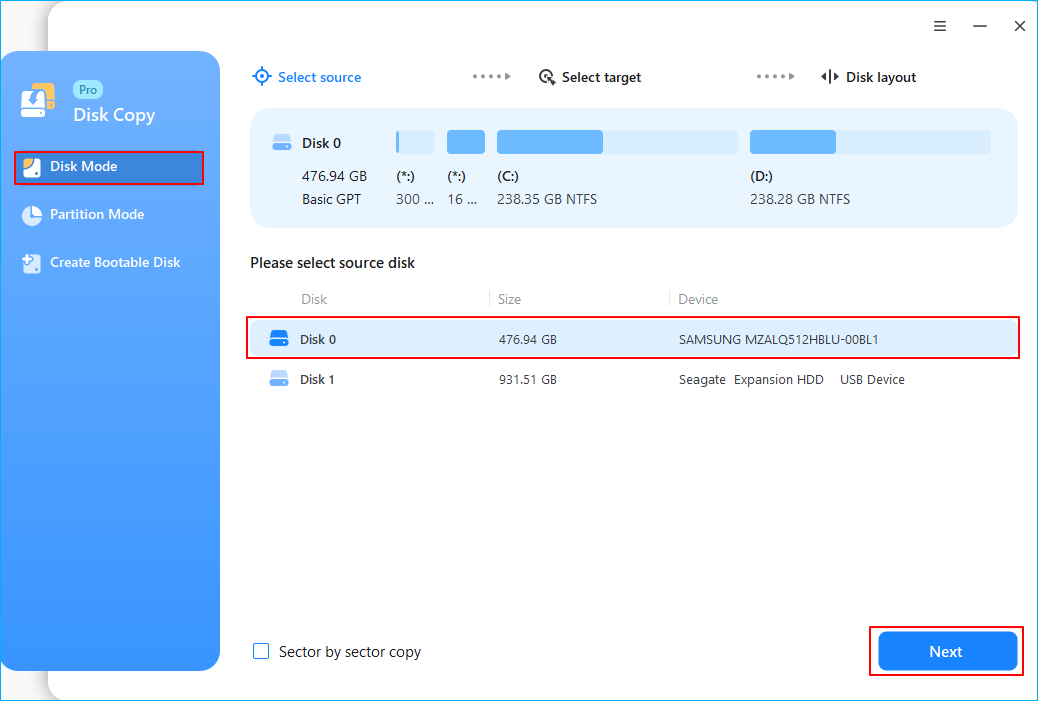 Pros:
It has a user-friendly interface
It has small installation files
Very simple features - Disk clone and partition clone
Cons:
It doesn't have a separate system clone option
Top 3. Macrium Reflect
Macrium Reflect is developed by Paramount Software UK Ltd. It is mainly designed for business clients or enterprises with huge data to protect. This software also provides you with disk cloning feature.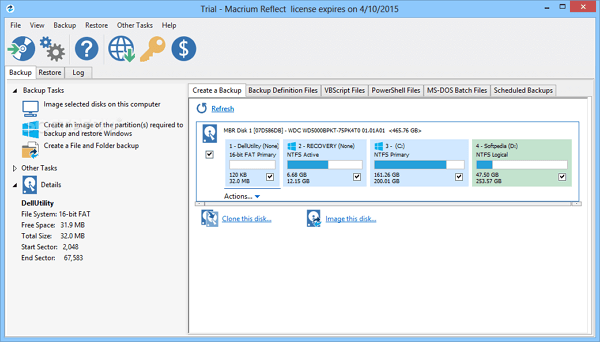 Pros:
Clone an entire hard drive or specific partitions on a disk
This tool also has backup and recovery features to protect data
Cons:
The interface is a little bit old
Only free for 30 days and the price is $69.95
Conclusion
EaseUS disk cloning software is frequently used to upgrade computer disks. If your computer runs slower with Windows 10 since the disk is almost full or you want to transfer all your present hard disk data into a bigger HDD or SSD so to optimize your computer, this tool fits your needs exactly. Whether you want to clone disk, clone Windows 10, or make a backup of your files elsewhere, this software will be helpful to you.
Clone Drive Windows 10 Frequently Asked Questions
You can read these questions and answers to get additional help if you have difficulty in disk cloning Windows 10.
How do I clone a bootable hard drive Windows 10?
To clone bootable hard drive for Windows 10/8/7
1. Launch EaseUS Todo Backup and click "System Clone". The current system (Windows 10) partition and boot partition will be automatically selected.
2. Choose the target drive - It could be a hard drive or an SSD.
3. Click "Proceed" to start cloning Windows 10.
Does Windows 10 have cloning software?
Windows 10 itself doesn't have cloning software. But you can use EaseUS Todo Backup. It is a backup tool that is perfect for cloning a hard drive. The software is neat, clean, and very straight forward and free to download as well. Using this tool, you can clone Windows 10 OS to a new hard drive within few minutes.
Why can't I clone my old hard drive to my new hard drive?
Make sure the capacity of the drive that you are cloning is equal to or larger than the capacity of the drive you are cloning from. If there are bad sectors or errors on the old hard drive, it may not be able to be cloned.
How do I transfer Windows 10 to my SSD?
To migrate OS to SSD:
1. Connect the new HDD/SSD to your PC.
2. Run EaseUS Todo Backup for Windows 10 Clone.
3. Choose the destination disk - HDD/SSD to save Windows 10 system. Then, click "Proceed".

Updated by Larissa
Larissa has rich experience in writing technical articles. After joining EaseUS, she frantically learned about data recovery, disk partitioning, data backup, and other related knowledge. Now she is able to master the relevant content proficiently and write effective step-by-step guides on computer issues.
Written by Tracy King 
Tracy joined in EaseUS in 2013 and has been working with EaseUS content team for over 7 years. Being enthusiastic in computing and technology, she writes tech how-to articles and share technical solutions about Windows & Mac data recovery, file/system backup and recovery, partition management and iOS/Android data recovery.
Taking everything into consideration, we can say that EaseUS Todo Backup Home can offer you a little extra sense of security with a set of advanced tools. The interface provides quick adaptation, every process guiding you all the way through so you don't get stuck or further damage your system rather than keeping it safe.

 Read More

EaseUS Todo Backup Free lets you create backups of your important files or your entire computer through its streamlined interface. Just choose the backup type you'd like to get started, and let the program do the reset.

 Read More

EaseUS includes all the features I expect from backup software like versioning, incremental backups, and scheduling. For more advanced users, EaseUS allows you to install a pre-boot environment onto your hard drive so you can use it to restore files without burning a CD or putting it on an external USB drive.

 Read More

EaseUS Todo Backup
Smart backup tool for your files and entire computer in Windows 10/8/7.
Install Windows on Multiple Computers at Once? No Problem!
Learn how to install Windows 11/10/7 and special programs/software on a batch of computers. Use 10 minutes to do the 10 hours work without making a single mistake!
Get Free Solution!