Page Overview:
Learn how to convert a GPT disk to MBR disk using [1] Disk Management, [2] Diskpart Command Prompt, or [3] EaseUS convert GPT to MBR. The EaseUS GPT to MBR converter, a third-party partition manager software, can automatically convert GPT to MBR without data loss.
GPT to MBR: Can A GPT Disk Be Converted to MBR?
Read the full post: GPT vs. MBR
While setting up a new disk on Windows 10 or 8.1 and you'll be asked whether you want to use MBR or GPT. As we know, MBR and GPT are two different ways of storing partitioning information, and each has its advantages and disadvantages.
In general, GPT is seen as the future which is meant to improve upon the limitations of MBR including the storage limitations. However, many users still prefer MBR over GPT because it is still the most compatible and is still necessary in some cases as listed here:
Choose MBR as a system disk if you have a 32-bit Windows to install.
Choose MBR for system disk if you're still using the very old Windows OS.
If you are running Windows XP or older systems, MBR is the only choice for system disk even if it is a 64-bit system.
Receive the error message "Windows cannot be installed to this disk. The selected disk is of the GPT partition style" during Windows installation.
Technically, there is no answer to "Is GPT or MBR better" because the right partition style is always the best. And if you currently use GPT, and you'll need to change GPT to MBR by choosing one of the three solutions in the next part.
To ensure that you convert GPT to MBR without affecting data inside, EaseUS Partition Master is known as the top-choice GPT to MBR converter that you can't miss.
- EaseUS Partition Master -
Your Smart Windows 11 Update Disk Manager
MBR to GPT Converter,

Make Disk Ready for Windows 11

.

Migrate Windows 11 to New SSD in 1-Click.

Handy to Extend or

Combine Partitions

in Windows 11

.

Clone and Upgrade Disks without Data Loss.
Solution 1. Convert GPT to MBR with EaseUS GPT to MBR Converter (No Data Loss)
EaseUS Partition Master can directly convert GPT disk to MBR disk without any data loss (hard disk with the system installed is also supported). This partition magic software takes the risk and difficulty out of converting GPT to MBR, converting MBR to GPT, creating new partitions, or resizing partitions on hard disks.
It enables all Windows 10/8/7/XP/Vista as well as Windows server users to convert GPT disk to MBR without an operating system, meanwhile, keeping the data intact.
Follow the simple steps to convert GPT to MBR:
Step 1. Install and launch EaseUS Partition Master on your computer, go to the Disk Converter section.
Step 2. Select "Convert GPT to MBR" and click "Next" to continue.
Step 3. Select the target GPT disk that you want to convert to MBR, and click "Convert" to start the conversion.
When you cannot boot into the operating system at the moment, you can still use the bootable EaseUS Partition Master to convert GPT to MBR without operating system. The operation is all the same as the above steps.
As a comprehensive disk & partition conversion program, it supports conversion between GPT and MBR as you'll learn soon, it also supports the conversion of the following:
Compared with Disk Management and Command Prompt, it won't require a volume deletion thus no data loss would occur during the operation. Therefore, it is the safest and most reliable way that should come to the first place.
Solution 2. Convert GPT to MBR with Windows Disk Management
Before you convert a disk, back up important data to an external hard drive and close any programs that are accessing the disk. Also, you must have an administrator privilege to do this in Windows. Disk Management is installed by default and it's available on your Windows 10/8.1/8/7/XP/Vista computer.
Step 1. Open Disk Management as an admin by navigating to Control Panel > System and Security > Administrative Tools. Click Computer Management to open a new window.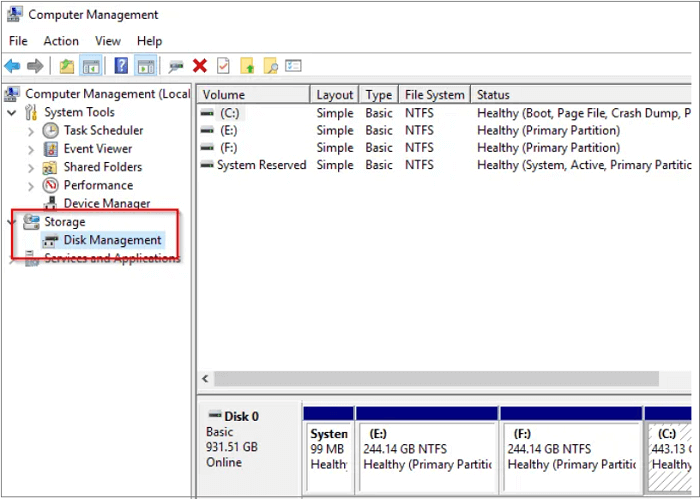 Step 2. Under Storage, select Disk Management.
Step 3. To convert a disk from GPT to MBR here, you need to delete every volume. Right-click on a volume and select Delete Volume. Do this for all partitions.
Step 4. After deleting all partitions on the GPT disk, right-click on the disk and select Convert to MBR Disk.
After you convert GPT disk to MBR disk, you can create partitions on the now MBR disk if you like.
Solution 3. Convert GPT to MBR Using Command Prompt
Again, this Diskpart command method is based on deleting volumes and data. Back up your important data before proceeding.
Step 1. Open Command Prompt as an administrator and type diskpart.
Step 2. Type list disk and press Enter. Note the disk number that represents the GPT disk.
Step 3. Type select disk 1 if 1 is the GPT disk. Press Enter.
Step 4. Type clean and press Enter. This action will remove all the contents of the disk.
Step 5. Type convert MBR and press Enter. 
Step 6. Type exit to close Command Prompt after it's done.
Conclusion
After convert GPT to MBR disk you need to reboot the system, so don't worry if the computer is shutting down. To ensure the system bootable, you need to enter the BIOS. EaseUS Partition Master can help you convert disk between GPT and MBR easier and simpler. It can help you finish the job even you are a non-technician. Regardless, if you prefer using the command line, the Diskpart could be a good choice but you need to delete all the GPT volumes to start.
FAQs about GPT to MBR Conversion 
Here we also listed some hot topics about GPT to MBR conversion, if you are interested, follow and find answers here:
1. Can I change GPT to MBR?
Yes, you can change GPT to MBR with 3 methods:
Change GPT to MBR using Disk Management
Change GPT to MBR using Diskpart commands
Change GPT to MBR using disk conversion software - EaseUS Partition Master.
2. How to convert GPT to MBR without operating system?
Launch EaseUS Partition Master and go to Disk Conversion section.
Select "Convert to MBR Disk" and click "Next".
Select the target disk which is MBR without the OS and select "Convert".
Click "Execute Task".
3. Can you convert GPT to MBR without erasing data?
Yes, you can convert GPT to MBR without erasing data on the disk by turning to reliable disk conversion software like EaseUS Partititon Master for help.
Updated by Tracy King 
Tracy joined in EaseUS in 2013 and has been working with EaseUS content team for over 9 years. Being enthusiastic in computing and technology, she writes tech how-to articles and share technical solutions about Windows & Mac data recovery, file/system backup and recovery, partition management, data transfer, Windows update issues, etc.