GPT VS MBR - What's the Difference
GPT(or GUID Partition Table) is a standard for the layout of the partition table on a physical hard disk. It is available on computers with UEFI/EFI installed (not BIOS). GPT disks have these features:
It can have 128 partitions on a GPT disk.
A single partition can have 256TB space.
MBR( or Master Boot Record) is the 512-byte boot sector that is the first sector of a partitioned data storage device. MBR disks use the standard BIOS partition table. MBR disks have these features:
No more than 4 primary partitions on an MBR disk
2TB maximum allowed space on an MBR disk
The MBR partition method is not recommended for disks larger than 2TB. But why do some people want to convert to MBR? Here's the reason. You can boot Windows from GPT only if your computer has UEFI/EFI installed. MBR disks are supported by all Windows versions. How to convert GPT to MBR without data loss?
We provide you with three solutions to convert a GPT disk to an MBR disk. Solution 1: use EaseUS Partition Master. Solution 2: use Windows Disk Management. Solution 3: use the DiskPart command.
 Tip

① Before you convert to MBR, make sure that your motherboard is supported to boot from BIOS mode.
② You don't have to delete or clean the volumes if you using solution 1. If you try solution 2 or 3, you must make sure that the GPT disk is empty and contains no volumes.
Solution 1: Convert GPT Disk to MBR Disk with EaseUS Partition Master
EaseUS Partition Master can directly convert GPT disk to MBR disk without any data loss (hard disk with the system installed is also supported). This partition magic software takes the risk and difficulty out of converting GPT to MBR, converting MBR to GPT, and resizing partitions on hard disks. It can be used without any special training. It can do many things:
Wipe Partition
SSD 4K Alignment
Format/Delete a Partition
Disk/Partition Conversion
...
Compared with Disk Management and Command Prompt, it won't require volume deletion. Therefore, it is the safest and the most reliable way. Follow the details below and convert GPT to MBR.
Step 1: Install and open EaseUS Partition Master on your Windows computer.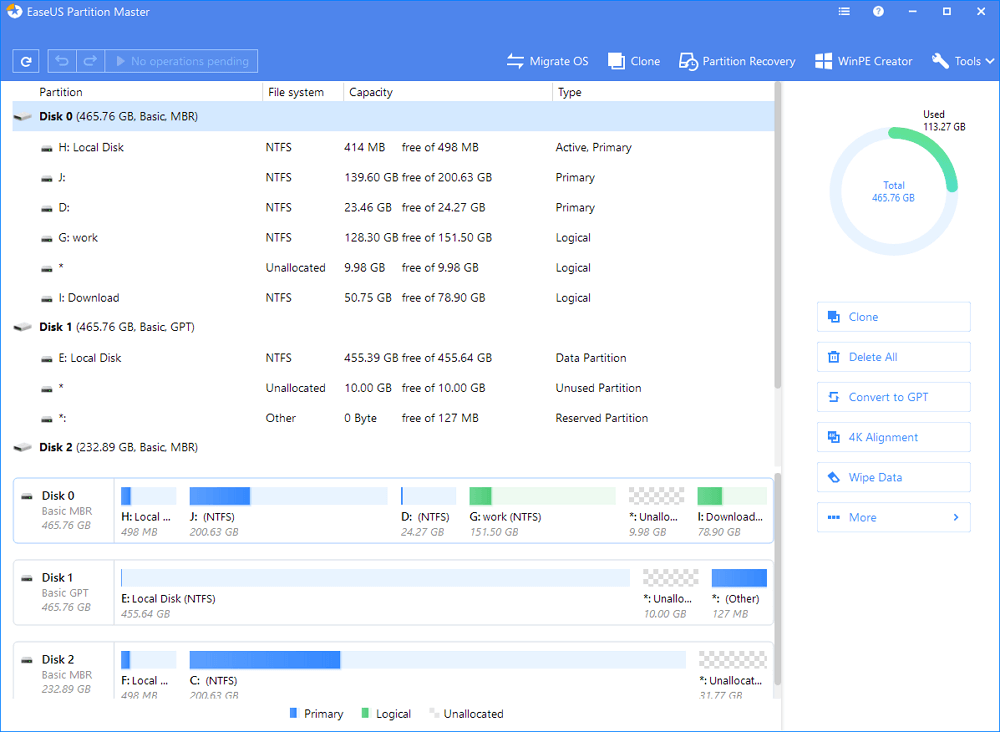 Step 2: Right-click the GPT disk that you want to convert and select "Convert to MBR". Then, you will add a pending operation.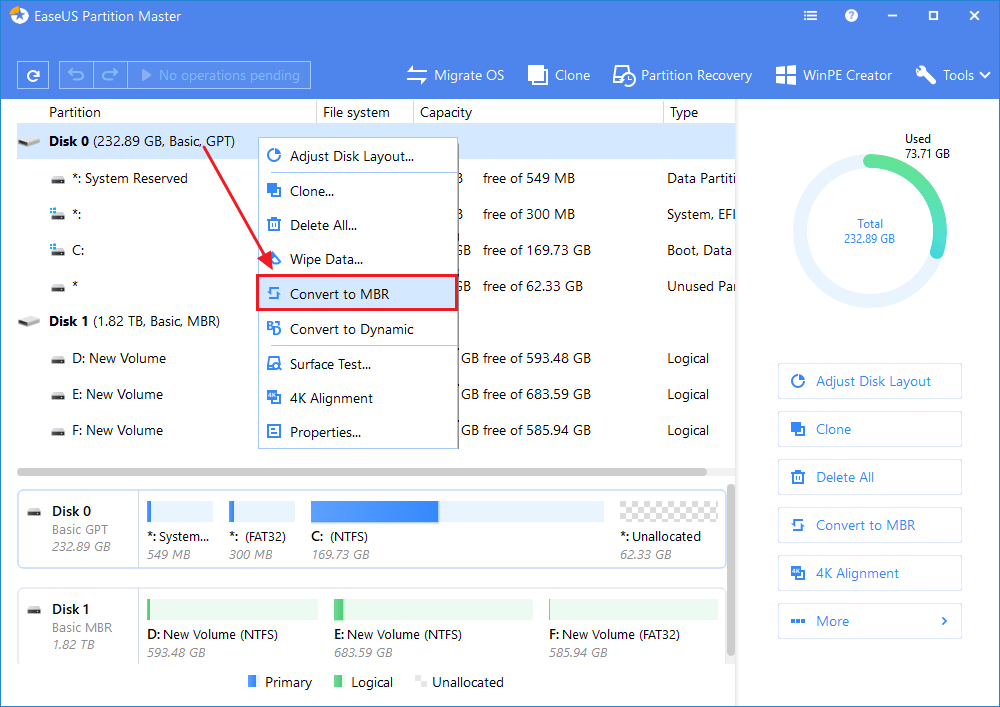 Step 3: Click the "Execute Operation" button at the top-left corner. Next, click "Apply" and begin to convert GPT disk to MBR. All data is safe with EaseUS partition manager software.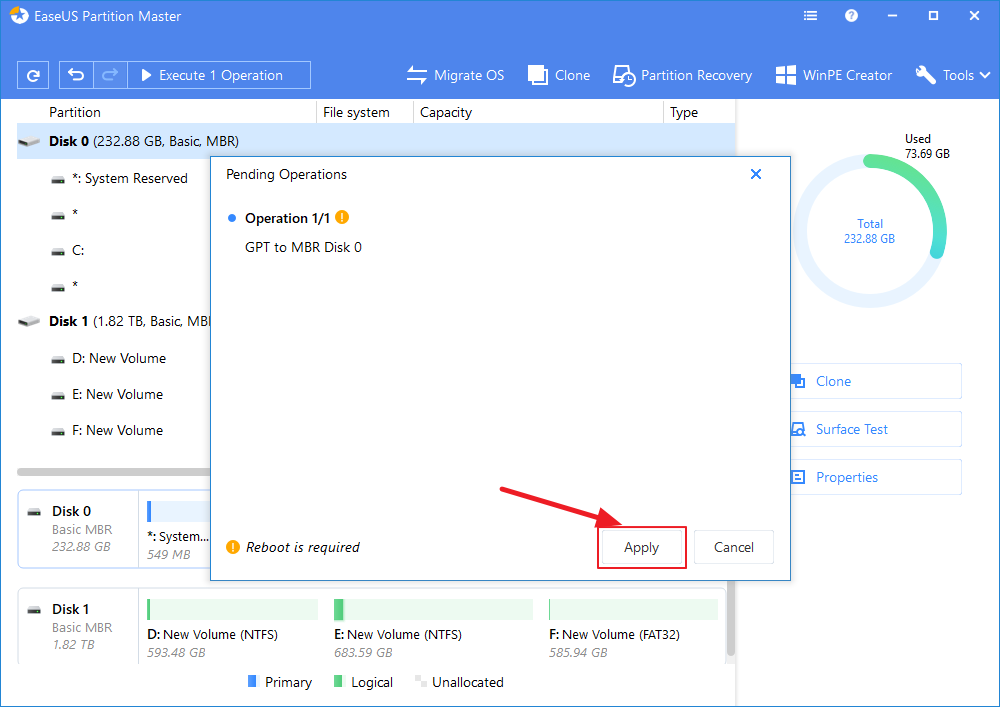 Solution 2: Convert GPT to MBR with Windows Disk Management
Before you convert a disk, back up important data to an external hard drive and close any programs that are accessing the disk. Also, you must have administrator privilege to do this in Windows. Disk Management is installed by default and it's available on your Windows computer.
Step 1: Right-click "My Computer" and choose "Manage" -> "Storage" -> "Disk Management".
Step 2: Right-click the GPT hard disk which you want to convert to MBR disk and choose "Delete volume".
Step 3: Right-click on the GPT disk (which becomes new volume after deleting all volumes on it) and choose "Convert to MBR Disk".
After you convert GPT disk to MBR disk, you can create partitions on the now MBR disk if you like.
Solution 3: Convert GPT Disk to MBR Disk via Diskpart Command
Back up or move all volumes on the basic GPT disk you want to convert into an MBR disk.
Step 1: Input: DiskPart at the search bar. Right-click it and then choose "Run as Administrator".
If the disk contains no partitions or volumes, skip to step 5.
Step 2: Type this command below and press "Enter". Note the disk number that you want to delete.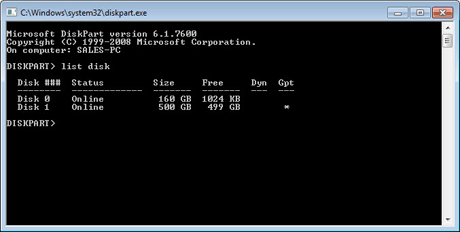 Step 3: Type this command and press "Enter".
You can also type detail disk and press "Enter". This will give you a list of all the volumes on the selected disk.
Step 4: Type this command and press "Enter".
Running the delete command will delete the partitions or volumes on the disk. Repeat steps 4 for each volume listed in step 3 until you have deleted all the volumes. You can also run clean command to delete all partitions.
Step 5: Type this command and press "Enter".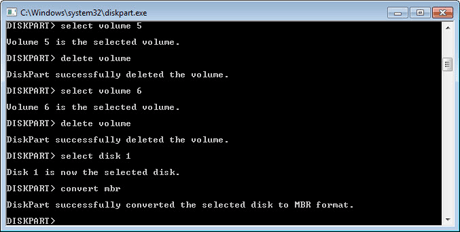 Command Note:
Displays a list of disks and information about them, such as their size, the amount of available free space, whether the disk is a Basic or Dynamic disk, and whether the disk uses the MBR or GPT partition style. The disk marked with an asterisk (*) has focus.
Selects the specified disk, where disknumber is the disk number and gives it focus.
Converts an empty basic disk with the GPT partition style to a basic disk with the MBR partition style.
Conclusion
After convert GPT to MBR disk you need to reboot the system, so don't worry if the computer is shutting down. To ensure the system bootable, you need to enter the BIOS. EaseUS Partition Master can help you convert disk between GPT and MBR easier and simpler. It can help you finish the job even you are non-technician. But if you prefer to use the command line, the Diskpart could be a good choice. But you need to delete the GPT volumes first.