Read Only
"This Word document is read-only" indicates that you're unable to make a modification you want to make to it;
"The pen drive comes with read-only status" suggests that you can't change what is on it. i.e. once the data is written on it, you can read it but can't do any other operation on it.
In conclusion, if data is truly read-only, you can read it with a device, but you can't modify it, erase it, append to it, concatenate it, copy it, or move it. The main purpose of read-only is to control how you use the data.
Remove Read-only Mode by DiskPart Partitioning Utility
Devices and media are often characterized as read-only mode, which actually can be changed to read-write by the user for further usage. When a drive has become locked in a read-only state, try to fix read-only error with the following simple instruction.
1. Click on your Start Menu and type cmd in the Search for programs and files field. Hit Enter key.
2. Type in the command diskpart and hit Enter. A new command line window will open.
3. Type list disk and hit Enter. (make sure your devices has been listed out, for example, it is listed as disk 0)
4. Type the command select disk 0 and hit Enter.
Now you've removed the read-only attribute from the storage devices. Type exit and hit Enter to leave he DiskPart utility.
Correct Read-only Disk Error by Reformatting
What if the given suggestion does not work for your case? Then try this alternative. Format a Read-only USB Drive, SD Card, Pen Drive, Floppy Disk, etc. to a proper filing system by using EaseUS free partition manager.
Many storage devices such as USB drives, pen drive, floppy disk, sd card and external hard disks come preformatted with a certain file system, which is not compatible with a Windows computer or a Mac, so you can only read it other than writing new data on it. So in this case, try to reformat it to the desired file system like NTFS, FAT, EXT2, EXT3 and so on.
How to use EaseUS Partition Master to do a format?
Note that backup important information on your disk before doing the format, because formatting a disk will erase all data on it.
Step 1. Right-click the media you want to format and choose "Format partition".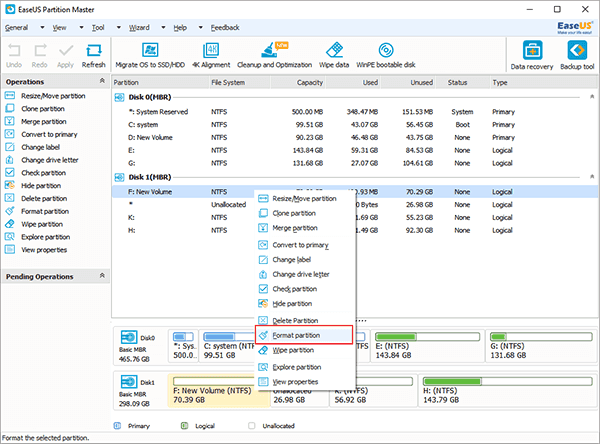 Step 2. Add a label in the Partition Label box (optional) and select the file system type to be created from the "File System" drop-down list. (FAT/FAT32, NTFS, EXT2/EXT3). If the partition is larger than 4GB, you can only choose FAT32, NTFS or EXT2/EXT3; and if the partition is smaller than 4GB, you can choose FAT, FAT32, NTFS or EXT2/EXT3.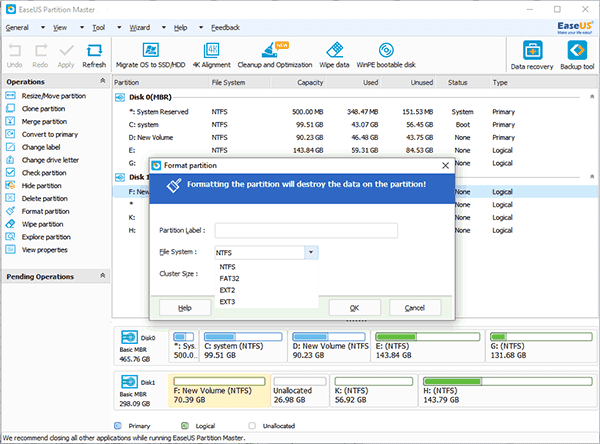 Step 3. Choose the Cluster Size (512 bytes, 1, 2, 4...64KB) from drop-down list and click "OK" to apply the format operation.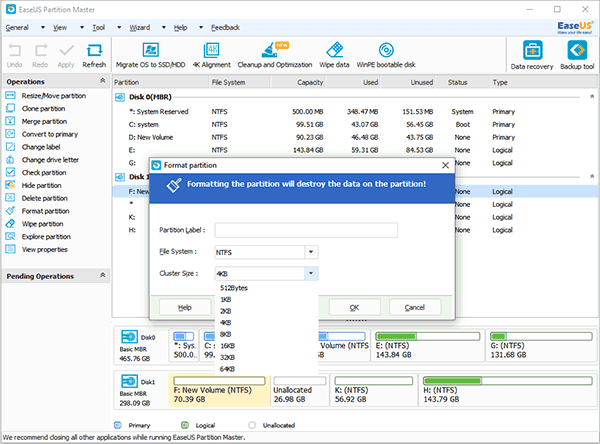 Note: Smaller cluster size makes less wasting of disk space. The smaller cluster size is, the bigger file allocation table (FAT) will be. The bigger the FAT is, the slower the operation system works with the disk.
Step 4. Click "Apply" to confirm all pending operations.