Diskpart fails to clean disk or USB drive, help!
"Hi there, do you know how to clean up a whole disk or USB drive when diskpart won't work with its 'clean' command in Windows 10? I was planning to use Diskpart command to erase my external hard drive and wipe out all data on it so to use it save new files and documents.
But it won't work to clean up the drive with the diskpart clean command. Do you know any other new ways or repair solutions to clean up a storage device and repair diskpart to work again?"
Diskpart is a Windows built-in tool for users to clean up disk, format drive or convert disk for free. But when it stops working or won't work for formatting or cleaning disk, what will you do to get problems fixed and complete cleaning up disk or formatting drive? Here in this article, you'll find 2 reliable methods to clean up disk, USB or SD card etc storage devices for free and repair diskpart to work again. How? Continue reading and find the answers now:
Method 1. Clean disk/USB/SD with Diskpart alternative freeware
When Diskpart stops working, don't worry. And you can directly try diskpart alternative freeware to simply clean up target storage devices first.
Here we'd like to recommend you try EaseUS Partition Master Free which works as equivalently as diskpart for formatting devices, cleaning up and erasing data or changing file systems on your USB, SD or hard drive. EaseUS diskpart alternative freeware also supports you to resize partition, create a new partition, delete or even command partitions for free in Windows systems. You may free download this software and follow to cleanup your disk, USB or SD card now:
Step 1: Launch EaseUS Partition Master, right-click the partition you want to erase data from, and choose "Wipe Data".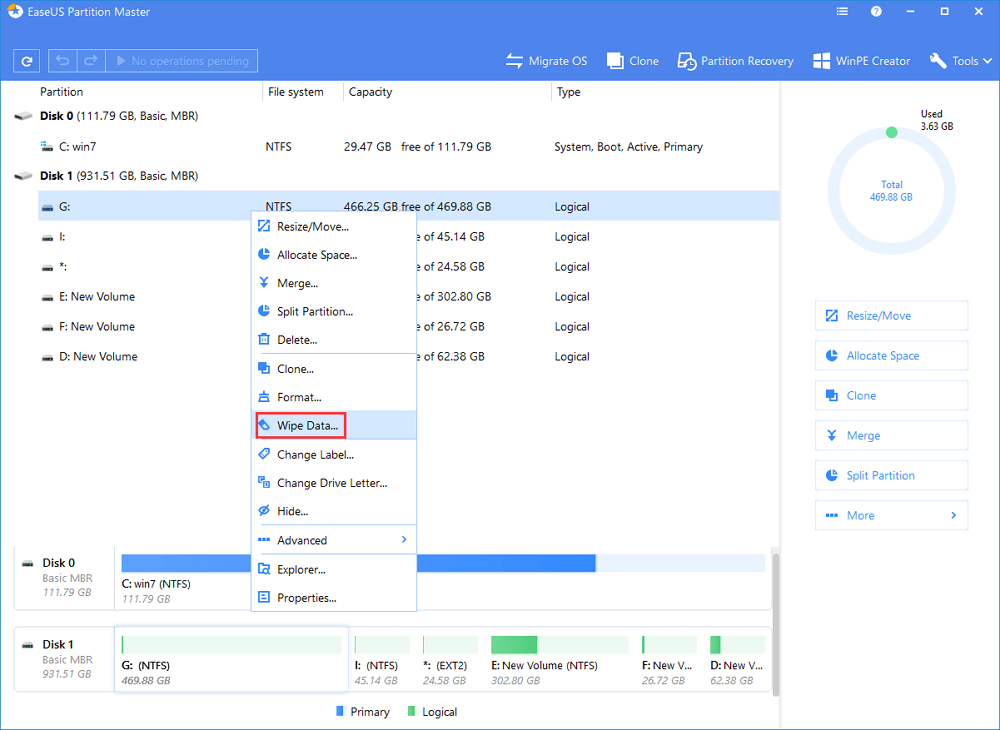 Step 2: In the new window, set the time for which you want to wipe your partition, then click "OK".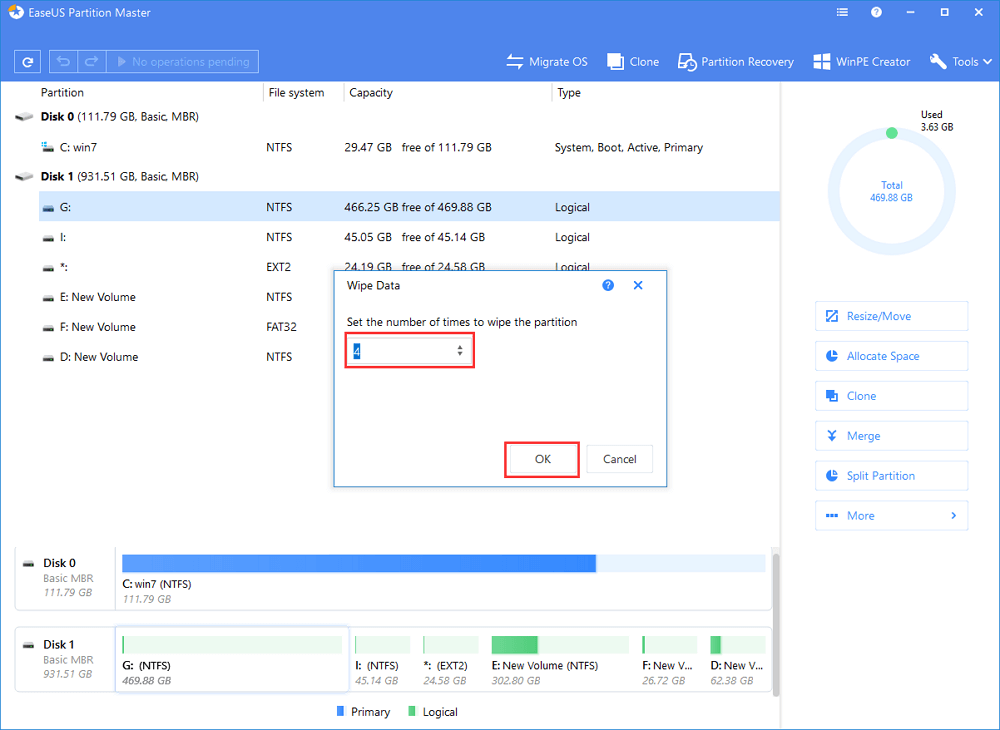 Step 3: Click the "Execute Operation" button in the top-right corner, check the changes, then click "Apply" to wipe the data on your partition.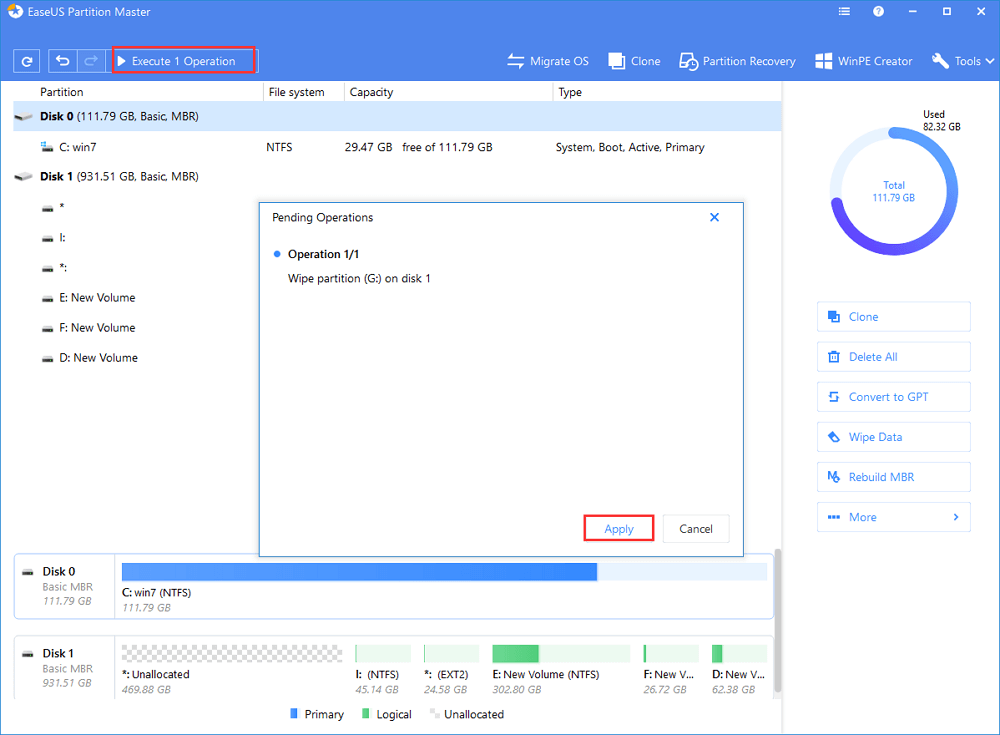 After this, you can use your cleaned up disk or USB etc storage devices for storing new data again.
If you are trying to find a method or solution to repair diskpart fail to clean disk error, you can follow Method 2 to get the problem solved immediately.
Method 2. Fix and repair Diskpart to work again
To repair Diskpart and make it work again, you can simply follow 3 steps below to get jobs done now:
Step 1. Run Command Prompt as administrator
If you are not an administrator or don't sign in with your administrator account, you would not be able to use Diskpart to clean disk or format drive then.
Therefore, your first move is to run diskpart as administrator:
1. Click "Start" > "All Programs" > "Accessories".
2. Right-click "Command Prompt" > "Run as Administrator".
3. Sign in your Administrator account if it asks you to log in.
4. If the User Account Control dialog appears, click "Continue" to confirm the action is what you want;
5. Run diskpart again to see if the problem fixed or not.
If not, continue with Step 2 and Step 3.
Step 2. Remove device write-protection that stops diskpart cleaning data
If a device is write-protected, diskpart may not be able to clean up data saved inside the devices. Therefore, removing write-protection is also necessary to make diskpart workable.
1. Click "Start" > Open "Run" dialog and type: regedit to bring up registry editor by hitting Enter;
2. Navigate to: HKEY_LOCAL_MACHINE\SYSTEM\CurrentControlSet\Control\StorageDevicePolicies;
3. Double click "WriteProtect" key and change the value to 0;
After this, move to Step 3 to finally repair diskpart and make it work again for cleaning up disk.
Step 3. Run CHKDSK to repair bad sectors and perform System Restore to make diskpart work again
Finally, you shall repair and fix all bad sectors which stop diskpart working in system disk and then you can even perform a System Restore to make diskpart 100% working again:
1. Open Command Prompt > Type: diskpart and hit Enter;
2. Type:chkdsk h: /f (replace h with a drive letter of your hard drive or removable device) in diskpart and hit Enter.
3. Type: chkdsk h: /r (replace h with a drive letter of your hard drive or removable device) and hit Enter.
4. Type: exit and hit Enter to finish the process.
5. Click "Start" > "All Programs" > "Accessories".
6. Click "System Tools" > "System Restore".
7. Sign in your administrator password to confirm the system restore process;
8. Follow on-screen lines to finish the system restore process > reboot PC after the system restore process finishes.
Now that you can apply diskpart to format disk, clean up data in hard drive partition or change file system of USB/SD etc storage devices in your PC again.