Symptom
"Try to format an 8GB USB flash drive using command prompt and diskpart, but failed midway clean the disk due to the error message.
Diskpart has encountered an error: Access is denied.
See the System Event Log for more information."
Cause
Diskpart clean or format commands cannot be properly completed with access denied error because the device is considered to be blocked (or write-protected), and has to be authorized.
Solutions
1. You need to run the command prompt as Admin
To start a command prompt as an administrator
1) Click Start, click All Programs, and then click Accessories.
2) Right-click Command prompt, and then click Run as administrator.
3) If the User Account Control dialog box appears, confirm that the action it displays is what you want, and then click Continue.
Run diskpart again. See if the access is denied error disappears.
2. In case you need to remove write protection on the hard disk, USB flash drive or memory card
In order to use diskpart to fix the disk is write protected error without access denied error
1) Open up your start menu and click "Run"
2) Type "regedit" into the box.
3) Navigate to HKEY_LOCAL_MACHINE\SYSTEM\CurrentControlSet\Control\StorageDevicePolicies
4) Now double click the "WriteProtect" key and change the value to 0.
Have nowhere to find the specified the regedit path? Move on to the final resort.
3. Download third-party format software to get rid of diskpart access denied problem
Why were you insisting on formatting a disk storage drive or removable storage media in command prompt with diskpart utility? It's tricky, and definitely not a perfect solution for ordinary Windows users.
Reasons are apparent to see. As soon as diskpart encountered errors, besides access is denied, there are many other similar errors that only make users go nut. For example, diskpart has encountered an error, the parameter is incorrect, incorrect function, etc.
Therefore, finding a diskpart alternative should be the best way to tackle the diskpart problem that prevents you from formatting a disk, performing a clean or creating a partition. And, EaseUS Partition Master is such an ideal alternative tool that provides all diskpart features for home & office users.
1) Download EaseUS free partition manager and follow the instruction to install it on your Windows computer. (Windows 10, 8.1, 8, 7, XP and Vista are all supported)
2) Launch EaseUS Partition Master. Right-click on the drive partition you're going to make a change. Now, multiple choices appear, including format partition, wipe partition, delete a partition and so on.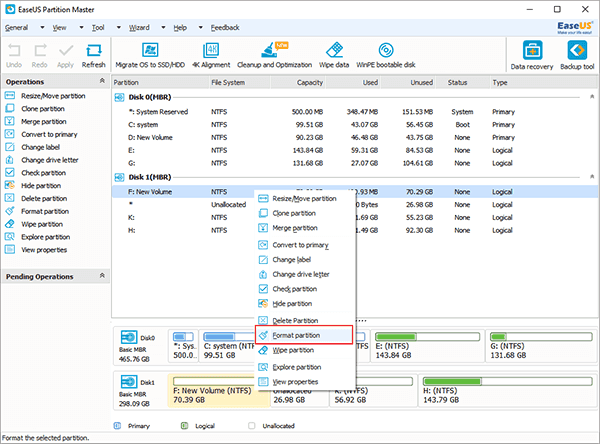 3) Visit the text link we gave so you can learn in details about how to use the software to operate on the partition, and fix the issue that diskpart has encountered an error: access is denied.