
About the Author
Hot Topics in 2022
2023 EaseUS Partition Master Crack + Serial Key Free Download [New]
Updated by
Cici
on Dec 07, 2022
On this page, you'll learn the fact of EaseUS Partition Master crack, features and new updates in the latest version of EaseUS Partition Master, system requirements, official ways to get license code, and how to use the key to activate it for managing your computer hard drives:
EaseUS Partition Master:
Filesize: 44.7MB
System: Windows 10/8.1/8/7/Vista/XP
File System: NTFS/EXT3/EXT2/FAT32/FAT16/ReFS
Hardware Requirements: CPU - X86 or 500 MHZ CPU, RAM - 512MB or larger, Disk Space - 100MB
Overview of EaseUS Partition Master Crack
In this part, you'll know the good and the bad of using a cracked EaseUS Partition Master. And why we don't recommend you to use cracked software.
When you Google "EaseUS Partition Master crack", you could find many pages that offer download links to the cracked version software. It claims that you only need to download a crack file from a given link, and you can use the EaseUS Partition Master for free.
This sounds pretty good, right? But once you downloaded the crack file, you put your data and device in danger. Why? Keep reading.
The Good and Bad using EaseUS Partition Master Crack
As a matter of fact, you can benefit nothing from using cracked software. Check out the Good and Bad using EaseUS Partition Master Crack, and you'll get what you should do:
The Good: Temporarily & Partially Free
The Bad: 
Confidential Information Leak: Your privacy, like personal data, won't be secured by the cracked software;
Virus Infection: Cracked programs contain viruses or bundled malware, which may cause serious problems on your devices;
Inability to Update Software: Cracked software is an inability to receive new updates, no new features available;
Instability: Invalid keys may stop working and unstable software may crash anytime;
No Support: Technical support is absent in the cracked EaseUS Partition Master;
No matter how you cracked EaseUS Partition Master, you'll have to face the potential risks on your computer. Being a wise user, you should resist any potential actions that may danger your data security and personal privacy. Once again, we sincerely suggest you use genuine software and authorized license codes.
Download Genuine EaseUS Partition Master
As a wise and rational user, your best choice is to download a hard disk partition tool provided by the responsible software manufacturer. Click the follow button to download the latest genuine EaseUS Partition Master on your Windows computers:
(When a new version is published, the installed version of EaseUS Partition Master will automatically check the update and remind you to install the new version.)
Get EaseUS Partition Master License Code [3 Ways]
So how to get a license code to activate EaseUS Partition Master? Here is a list of all possible ways that you can use:
# 1. Legal Access - Get Genuine License Code from EaseUS with 20% OFF 
Pros:
100% Activation Success Rate
100% Working with All Features in Activated EaseUS Partition Master
24*7 Tech Support via Email & Live Chat
​Cons: Not 100% free but trustworthy.
For a business owner or a service provider who is searching for keys for higher versions of EaseUS Partition Master, click the button to get the huge discount now:
# 2. Free & Official Access - Get Activation Keys from EaseUS Sales Page or Business Partners
Pros:
100% Activation Success Rate
100% Working with All Features in Activated EaseUS Partition Master
24*7 Tech Support via Email & Live Chat
Cons: Not 100% free but trustworthy.
Sometimes, EaseUS software will add big events or holiday sales, offering huge discounts for different EaseUS products. And some business partners may also invite EaseUS to do some discount sales on their websites.
If you prefer free but official access to get an activation key for EaseUS Partition Master, you may visit the EaseUS website (https://www.easeus.com) to grab a chance to get a free license code on Valentines' Day, Mothers' Day, Fathers' Day, Thanksgiving, Halloween, Black Friday, Christmas, etc.
Note: Don't trust the sales or retailers on Amazon, eBay, or other non-business partners of EaseUS software.
# 3. 100% Free - Get Valid EaseUS Partition Master 
If you prefer to use 100% free software to manage partitions, EaseUS Partition Master Free Editions is able to help. It enables you to create, resize, move, copy, merge, delete partitions, clone disk partitions, convert MBR to GPT, or GPT to MBR for free. 
All these basic features are free and functional.
Activate EaseUS Partition Master with Serial Key + How to Use
After getting the genuine license code, you can use it to activate EaseUS Partition Master and apply it for disk partitioning flexibly. In the following, you will learn how to activate EaseUS Partition Master and how to partition hard drives, optimizing disk performance on your own.
Activate EaseUS Partition Master with Official License Code
#1. Activate EaseUS Partition Master Free/Pro to Full Version 
Step 1. Launch the Free/Trial Version of EaseUS Partition Master, then click the "Activate" - key icon at the right top corner.
Step 2. Then type the serial number that you have received in the email after purchasing. 
Step 3. Then click "Activate" to upgrade it to the full version.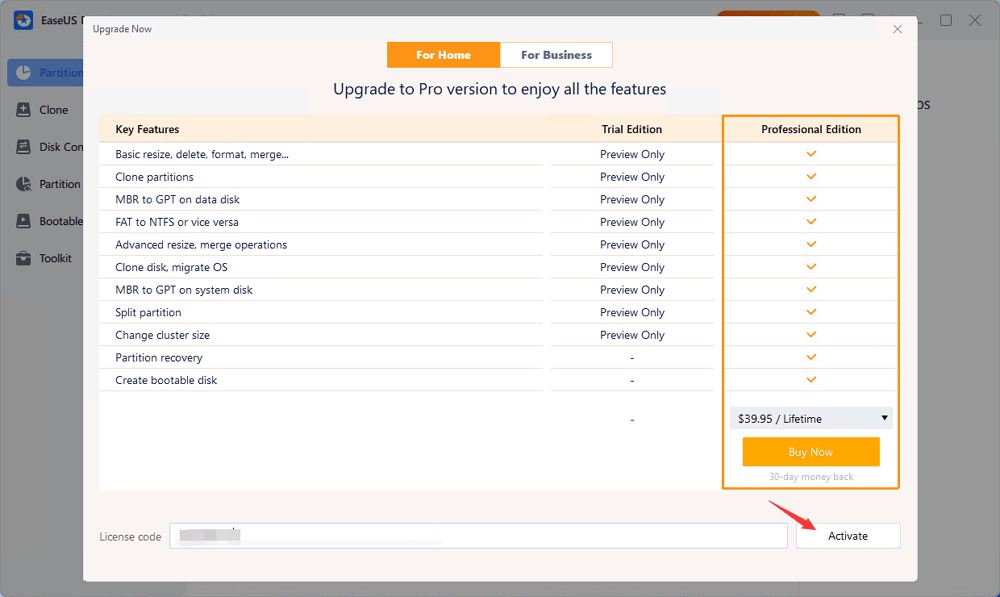 Tutorial: How to Use EaseUS Partition Master - Manage & Partition Hard Drive
After activation, you can apply this software and follow the tutorial guide here to manage and partition your hard drive with ease:
[1] "Resize/Move" enables you to adjust space of a selected disk partition as wish. Right-lick "Resize/Move", you can shrink a volume, extend the other one, or create unallocated space for special use.
[2] "Clone" aims to make two identical hard disks or partitions with the same layout and content. You can use the "Clone" feature to upgrade a hard disk, replace a failing one, backup the drive data and so on.
[3] "Delete" is a common method to remove an unwanted disk partition, turning it into unallocated space.
[4] "Format" is frequently used in many situations. By formatting a drive partition, you can alter the file system, fix some corruption issues, and sometimes remove viruses and malware.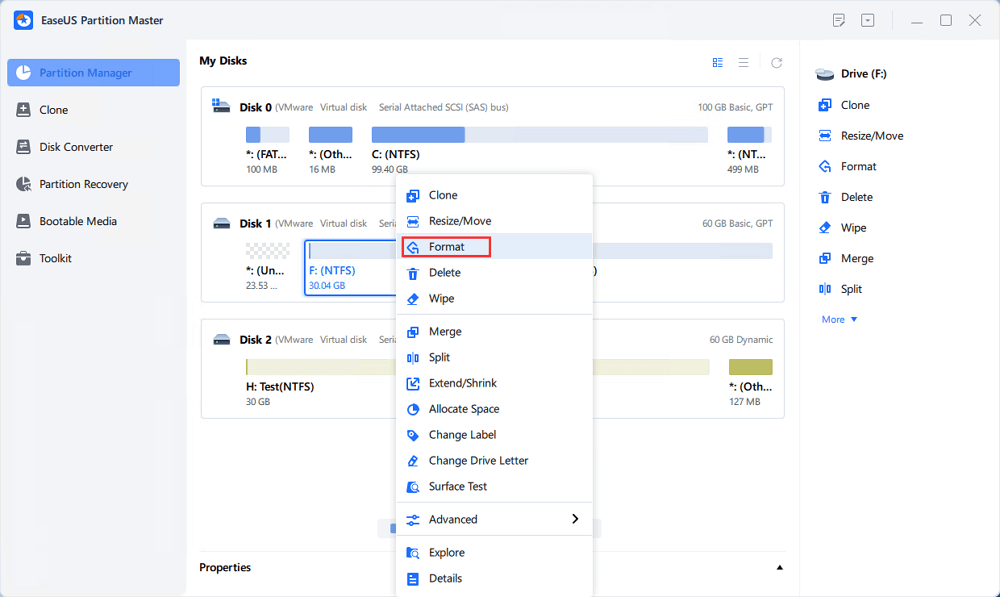 [5] "Allocate space" is very useful when one drive partition space is too much while the other is inadequate. 
[6] "Migrate OS" makes it easy to transfer a Windows installation drive to the other without reinstalling.
[7] Conversion between GPT and MBR, NTFS and FAT32, and Basic to Dynamic is getting more and more popular among EaseUS Partition Master customers. Besides all the listed benefits, there are so many functional yet practical features are waiting you to explore.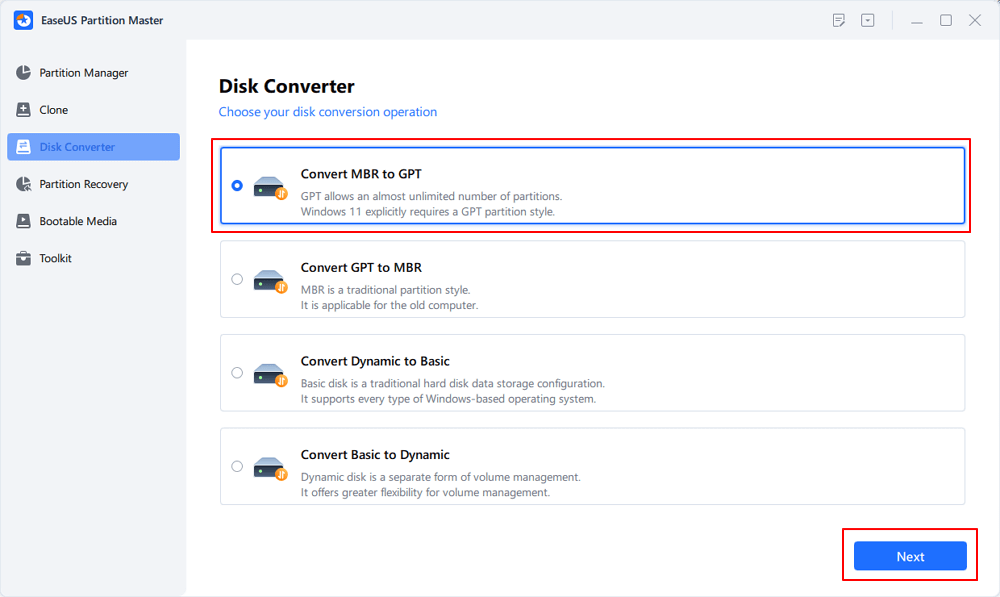 Besides hard drive partitioning in Windows 10/8/7, you also may follow the links below to resolving these issues on your computer hard drive or external storage device:
What's New in EaseUS Partition Master 15.0
Lately, EaseUS Partition Master is upgraded into version 15.0 with 3 major new features, which makes it more flexible and efficient in partitioning partition and disks. Let's see the new features:
#1. Supported all partitions of the same disk can be adjusted at the same time 
#2. Supported "Smart Space Balance" on the partitions
#3. Fixed Bugs
Besides cloning a disk to the new disk, migrating OS to a new disk, you can use EaseUS Partition Master to extend partition or allocating free space from one drive to another without deleting or shrinking partitions anymore. These new features enable users to manage their HDD or SSD more flexibly. 
What Else Can EaseUS Partition Master Do for You
Besides shrinking, extending, or moving partitions, EaseUS Partition Master also contains some magnificent features to help you in managing partitions and disks on your own:
Here are some key features that any computer users may need while partitioning hard drive or managing disks:
Create partitions
Delete partitions
Delete all partitions (on one disk)
Format Partitions
Convert primary partition to logical, or vice versa
Convert MBR to GPT, or GPT to MBR
Convert Basic to Dynamic, or Dynamic to Basic
Migrate OS to HDD/SSD
...
Conclusion and EaseUS Partition Master Crack FAQs
If you have furthermore questions on Windows partitioning or disk management, you can follow Partition Master or Partition Manager Software to find your answers and solutions.
Or, you can also refer to the FAQs related to EaseUS Partition Master Crack. Hope the answers can help you out:
1. Is EaseUS Partition Master Crack Free?
No! Don't trust any crack software even it's claimed to be free. Let's take EaseUS Partition Master Crack for example.
Even some crackers claim to offer free cracking serial keys for EaseUS Partition Master, but, why did they do this for? 
According to EaseUS D&R teams and Support team, EaseUS Partition Master cracked software all contain a virus or bundled malware, that may infect your hard drives, hijack the computer, and even delete files; 
2. Can You Trust EaseUS Partition Master Crack Providers?
Don't trust them all. Any crackers who claim to provide free services to help you get cracked EaseUS Partition Master are trying to dig your privacy, hijacking your devices for illegal purposes.
To protect your own rights and keep your privacy, using a genuine version of EaseUS Partition Master.
3. How to Fight Against EaseUS Partition Master Crack 2022?
To keep your device secure, protect your personal information, and offer a better service in disk management. Here is a list of tips that we would like to recommend you to follow and fight against EaseUS Partition Master crack in 2022:
#1. Give up EaseUS Partition Master Crack, download, and use a genuine version.
#2. Run virus cleaner or anti-virus software to scan your device regularly.
#3. Tell your friends, families, colleagues, and classmate to use a legal key for activation.
About the Author

Updated by Cici
Cici has accepted the systematic training on computers at EaseUS. Now she has a detailed understanding of common computer issues, as well as computer backups and disk formatting management solutions.
Written by Tracy King 
Tracy joined in EaseUS in 2013 and has been working with EaseUS content team for over 7 years. Being enthusiastic in computing and technology, she writes tech how-to articles and share technical solutions about Windows & Mac data recovery, file/system backup and recovery, partition management and iOS/Android data recovery.
Product Reviews
I love that the changes you make with EaseUS Partition Master Free aren't immediately applied to the disks. It makes it way easier to play out what will happen after you've made all the changes. I also think the overall look and feel of EaseUS Partition Master Free makes whatever you're doing with your computer's partitions easy.

 Read More

Partition Master Free can Resize, Move, Merge, Migrate, and Copy disks or partitions; convert to local, change label, defragment, check and explore partition; and much more. A premium upgrade adds free tech support and the ability to resize dynamic volumes.

 Read More

It won't hot image your drives or align them, but since it's coupled with a partition manager, it allows you do perform many tasks at once, instead of just cloning drives. You can move partitions around, resize them, defragment, and more, along with the other tools you'd expect from a cloning tool.

 Read More