
About the Author
Hot Topics in 2022
[New] Get 2022 Official EaseUS Partiton Master License Code, Serial Key Here!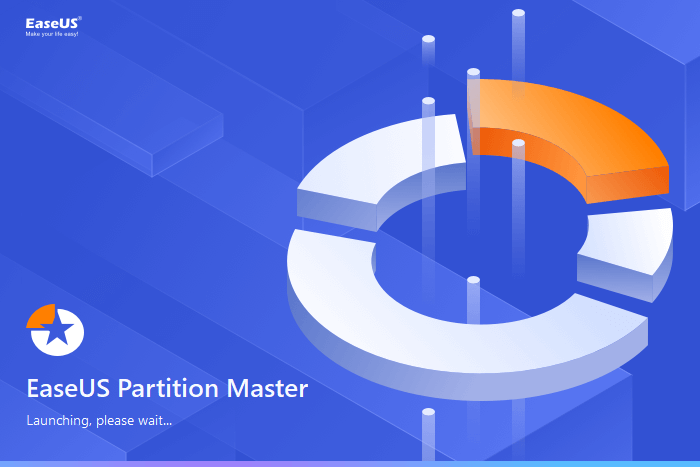 IMPORTANT: Don't trust EaseUS Partition Master Crack. It's not a wise choice for anyone of you as it violates your user rights and damages EaseUS software's company image. This page covers everything that you want to know about EaseUS Partition Master license code.
On this page, you'll get a complete guide to get the official license code of the latest EaseUS Partition Master and activate it to manage your hard disk partition with ease:
What's New in The Latest EaseUS Partition Master v15.0
Highlight: Good News! Professional partition manager software from EaseUS software gets promoted again with new features and a new version - EaseUS Partition Master 15.0 in December 2020. 
Based on all the version editions, EaseUS Partition Master gets two major updates and one quality update in version 15.0.
Let's see what's new in EaseUS Partition Master:
Supports adjusting multiple (2-5) partitions at the same time on one disk. Allocating the same space to each partition.
#2. Smart Space Adjustment
When your C drive is out of space, this feature will mark your C drive as red and offer a smart space adjustment feature to help you get more free space from another drive in just one click.
Download and Install The Newest EaseUS Partition Master 15.0
How to get this newly upgraded partition manager software to resize partition, migrate OS to HDD/SSD, upgrade and optimize computer disk? 
If you looking for an official way to download and install EaseUS Partition Master 15.0 on your PC, it's available here.
Click the download button and install it on your computers for free now:
So what's to do after installing this software on your PC? Yes, it is to get an activation code to upgrade EaseUS Partition Parter to its full version.
With an official license code, you can unlock all advanced features, like one-click to resolve the C drive red bar, allocate space from D drive to C drive, etc., on your PC.
In the next part, you'll get a satisfying offer to purchase an official license code with a reasonable price for activating this tool.
Get official EaseUS Partition Master License Code
At the beginning of this page, as recommended, we suggest you stop cracking this software and taking action to protect your own rights now.
The best way to protect your own privacy and rights is to get an official license code for this software. In this part, we, EaseUS software, will offer you reliable paths of getting EaseUS Partition Master full license code:
Official Access 1: Purchase Genuine EaseUS Partition Master License Code, Serial Key
If you want to enjoy a full-featured partition management process, with all basic and advanced features like partition hard drive in EaseUS Partition Master, click the upgrade link here:
What Will You Get By Upgrading to the Full Edition:
Privacy protection
30 days refund policy
24*7 online tech support
100% secure disk management circumstance
Full features in basic and advanced disk management
Official Access 2: Download EaseUS Partition Master Free Edition
Another official way that you can try is to download the free version - EaseUS Partition Master Free. Though it lacks some advanced features that are only available in the Trial edition, it owns the same basic features as the pro edition.
If you only need a free disk management tool to perform some basic partition management jobs, don't try the cracked one. EaseUS Partition Master Free Edition will do.
Activate EaseUS Partition Master with Serial Key to Its Full Version
After you get the serial key, you can now follow the steps here to activate EaseUS Partition Master to unlock all basic, advanced, and new features with ease:
#1. Activate EaseUS Partition Master Free/Pro to Full Version 
Step 1. Launch the Free/Trial Version of EaseUS Partition Master, then click the "Activate" - key icon at the right top corner.
Step 2. Then type the serial number that you have received in the email after purchasing. 
Step 3. Then click "Activate" to upgrade it to the full version.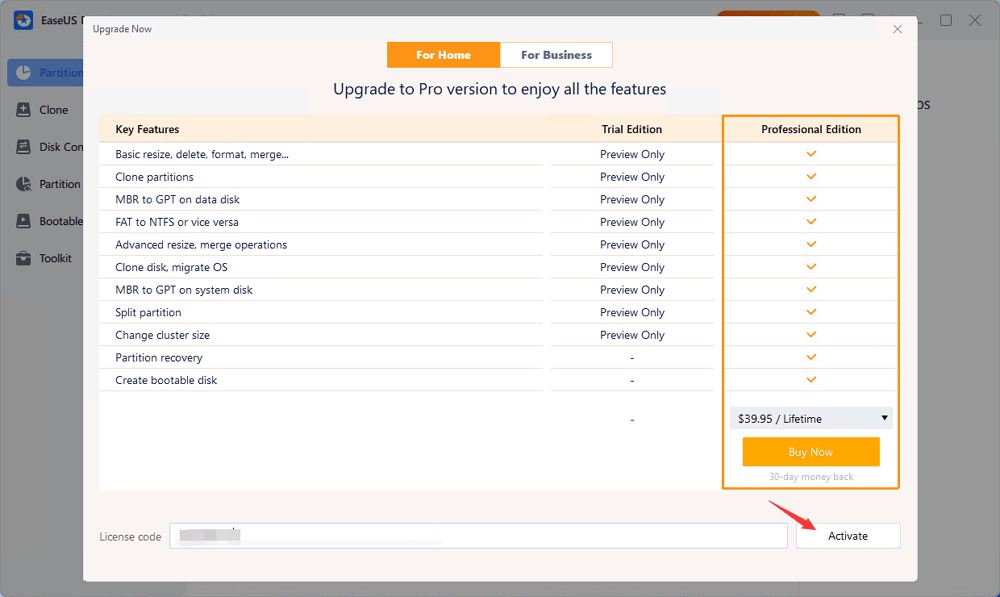 If you are an advanced Server service provider and need a powerful Windows Server partition manager software, go and get a license code for EaseUS Partition Master Server with powerful partition management capacities.
Manage and Partition Disk with Licensed EaseUS Partition Master
After activating EaseUS Partition Master with the official license code, you may now follow the tutorials below to enjoy a smart partition management process on your computer or external storage devices:
1. Manage Hard Drive Partition
Step 1. Check for free space
To divide a disk partition into multiple ones, you must ensure that there has adequate free space to be allotted.
Step 2. Shrink a disk partition to create unallocated space
By doing so, start with the "Resize/Move" feature. Right-click on a partition with a lot free space and select "Resize/Move".
Drag either end of the partition rightwards or leftwards so you can shrink its size as the red arrow does, in order to get ample unallocated space. You can visually know how much space you've decreased in the "Partition size" area. Click "OK".
At last, you need to click the "Execute xx Operation" on the top menu and then "Apply" to save all the changes. Go back on the main window, there should be unallocated space appearing under the same disk of the shrinked one.
Step 3. Create a new partition on unallocated space
The last step is to turn the unallocated space into a usable partition drive with a recognized file system. Right-click on the unallocated space and choose "Create...".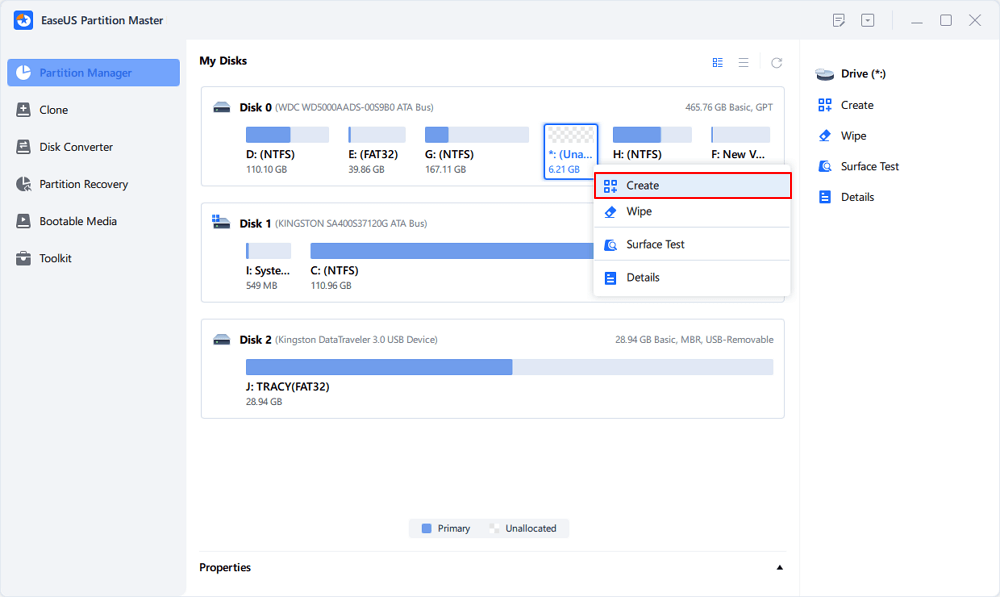 Customize the partition information by choosing a drive letter, partition label, file system (NTFS, FAT32, EXT2/3/4, exFAT) and many more settings in the Advanced Settings. Click "OK".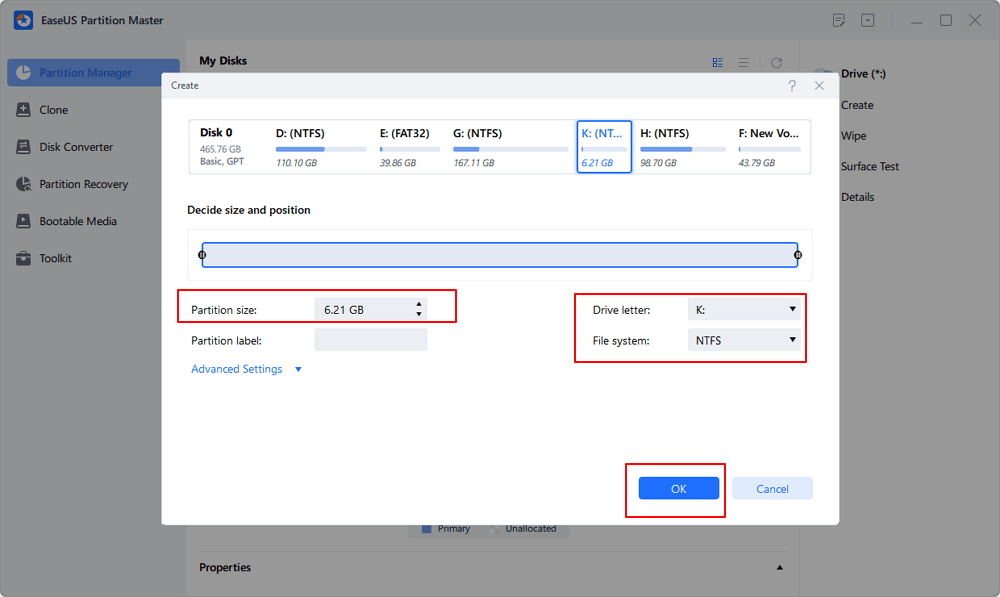 Finally, click "Apply" to confirm that you want to create a partition on the unallocated space. Repeat the whole steps to partition a hard drive in many more partitions.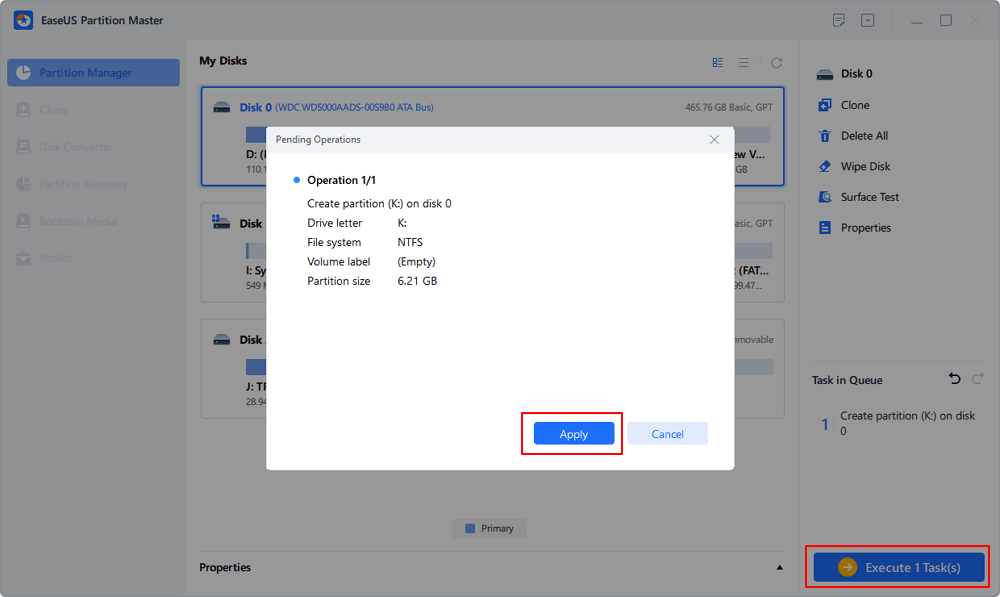 2. Adjust Disk Space - One Click to Resolve Low Disk Space Error
Step 1. Click "Adjust with 1-Click" on the right panel.
When your partition is out of space, EaseUS Partition Master will pop up low disk space warning and offer "Adjust with 1-click" option.
Step 2. Click "OK" to automatically extend partition. 
EaseUS Partition Master will extend the partition to solve the low space issue intelligently after clicking "Adjust with 1-click", and you only need to click "OK" to continue.  
You can also click "Manual Adjustment" to extend the partition size manually if the Smart Space Adjustment cannot satisfy your needs. Then, click "OK" to continue.
Step 3. Execute operations to extend low disk space partition.
Click the "Execute Operation" button at the top corner and keep all changes by clicking "Apply".
Enjoy Main Features in EaseUS Partition Master
What else can EaseUS Partition Master do for you? Here are the main features that you can enjoy in disk management using EaseUS partition manager software:
Basic & Main Features
Advanced Features

Partition Recovery
Convert Disk Partition Style: MBR to GPT, GPT to MBR
Convert Disk to Basic or Dynamic
Convert Primary to Logical or Logical to Primary
Migrate OS to HDD/SSD, e.g: transfer OS to SSD
Disk Copy, Partition Copy
4K Alignment
Create a bootable disk for disk management 
Support manage dynamic volumes: create, delete, extend, shrink
All these partition management features are available in EaseUS Partition Master 15.0 and its older versions.
Take Your Time, EaseUS Partition Master License Code Is Available to Help
Don't worry if you don't know how to manage and partition your hard drive or storage devices. Reliable disk management tool  - EaseUS Partition Master is ready here to help.
Click to download this software, activate EaseUS Partition Master with an official license code:
Then, follow the tutorials above to unlock EaseUS Partition Master's full features and apply it to manage your disk partitions with ease now.
About the Author
Updated by Tracy King 
Tracy joined in EaseUS in 2013 and has been working with EaseUS content team for over 7 years. Being enthusiastic in computing and technology, she writes tech how-to articles and share technical solutions about Windows & Mac data recovery, file/system backup and recovery, partition management and iOS/Android data recovery.
Product Reviews
I love that the changes you make with EaseUS Partition Master Free aren't immediately applied to the disks. It makes it way easier to play out what will happen after you've made all the changes. I also think the overall look and feel of EaseUS Partition Master Free makes whatever you're doing with your computer's partitions easy.

 Read More

Partition Master Free can Resize, Move, Merge, Migrate, and Copy disks or partitions; convert to local, change label, defragment, check and explore partition; and much more. A premium upgrade adds free tech support and the ability to resize dynamic volumes.

 Read More

It won't hot image your drives or align them, but since it's coupled with a partition manager, it allows you do perform many tasks at once, instead of just cloning drives. You can move partitions around, resize them, defragment, and more, along with the other tools you'd expect from a cloning tool.

 Read More