When building a brand new computer, we tend to partition a usually capacious HDD into more than two partitions, for distinct data classification. E.g., C drive is for system-oriented files, D drive is for personal archives, games, and downloads. Or, perhaps there is one more E or F drive.
It's acknowledged that computer owners can benefit from having several chunks for storing diversified types of data. Nevertheless, some occasions would push us to start over, to redefine the number of partitions, particularly after some time the C drive is running out space.
Are you thinking of a way to combine an almost full partition with an idle one? Or simply want to cut some useless partitions off? No problem, try to move partitions and merge into one.
Why you can't merge non-adjacent partitions in Windows 10
Windows Disk Management is an exclusive hard drive & partition management program. It features with the common manners of formatting, creating a new simple volume, extending/shrinking a volume, deleting a volume and changing a drive letter and paths.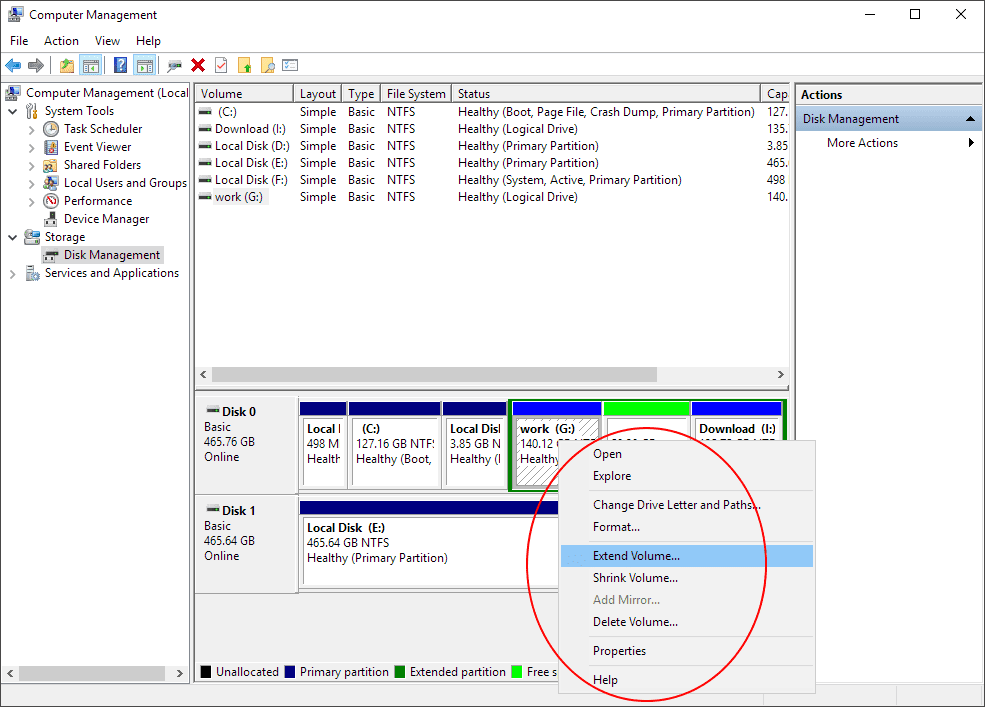 Whenever there is unallocated space on the right side of the drive partition you want to expand, you can easily use the "Extend Volume" option to get it done. But the truth is, the real-life situation is far more complicated. In most cases, we don't have any unallocated space, nor the involved partitions are next to each other. As a result, the "Extend Volume" grayed out and totally disabled.
In a word, it is available on condition that there is unallocated space between the two non-adjacent partitions. According to the drawing, for example, you can merge C drive and the neighboring unallocated space. However, you can't directly merge C drive with either D or E drive because they're not adjacent.

How would you react to such limitations and drawbacks of the native Windows tool being unable to add non-adjacent partitions to the C drive? In fact, there is a solution.
1. To get the result of C+D, you must delete the D drive and turn it to unallocated space.
2. While for C+E, you need to delete both D and E to form one massive unallocated partition, and then extend the C drive.
I recorded a gif picture to illustrate the process for your reference, but they're with different drive letters.
Let's draw a conclusion of what you're going to miss by using the inbuilt disk management software to handle two hard drive partitions that are not adjoining relationship.
A total data loss while deleting a volume.
A fixed region for the unallocated space. It has to be placed on the right side of the target partition you're going to modify its storage size.
Merge non-adjacent partitions in Windows 10 with EaseUS partition software
What's the difference? You might ask. Third-party partition manager software - EaseUS Partition Master is designed to make up for some shortcomings of the Disk Management. It goes 100% compatible with all Windows platforms, including Windows 10, and it provides customers with additional disk management features. You may explore its abilities by yourself after a minute install. The interesting highlights that make it a must-in-demand product mainly include "Migrate OS", "resize/move", "Wipe", "Hide", "Convert between MBR/GPT or Basic/Dynamic", and too many to present here.
The point is, instead of deleting all associated partitions and allocating the empty pace into one, you can directly use the "Merge" feature to gather two partitions into one. Since many of you would be interested in the difference between the two programs I cited on this page, here is a comparison table for you.
Comparison
EaseUS Partition Master
Windows Disk Management
Data Safety

Merge contiguous partitions: data retains
Merge non-contiguous partitions: partial data loss

Merge contiguous/non-contiguous partitions: either case would cause a total data loss
Unallocated Space Location
No requirements
Placing on the right side of the target partition
If you are one of those users who is attempting to extend partition with a non-adjacent or non-contiguous unallocated disk space rather than using the Windows management tool, carefully read the detailed steps.
Tip:
If two partitions are separated by unallocated space, right-click on one partition (you want to keep) and select "Merge" > Select another partition and click "OK" > Keep all changes by clicking the "Execute Operation" button and "Apply".
Whereas the partitions are disconnected by one or more data partitions, you can choose to delete either target partition and directly use the "Resize/Move" feature to combine the two together. See the detailed guide below.
For your notice, deleting partitions is supposed to remove its data, back up the exact partition data before proceeding.
Step 1. Delete a partition.
Launch EaseUS Partition Master. On the main window, right-click on the partition that you want to merge with and select "Delete". Make sure that you want to delete the partition and click "OK".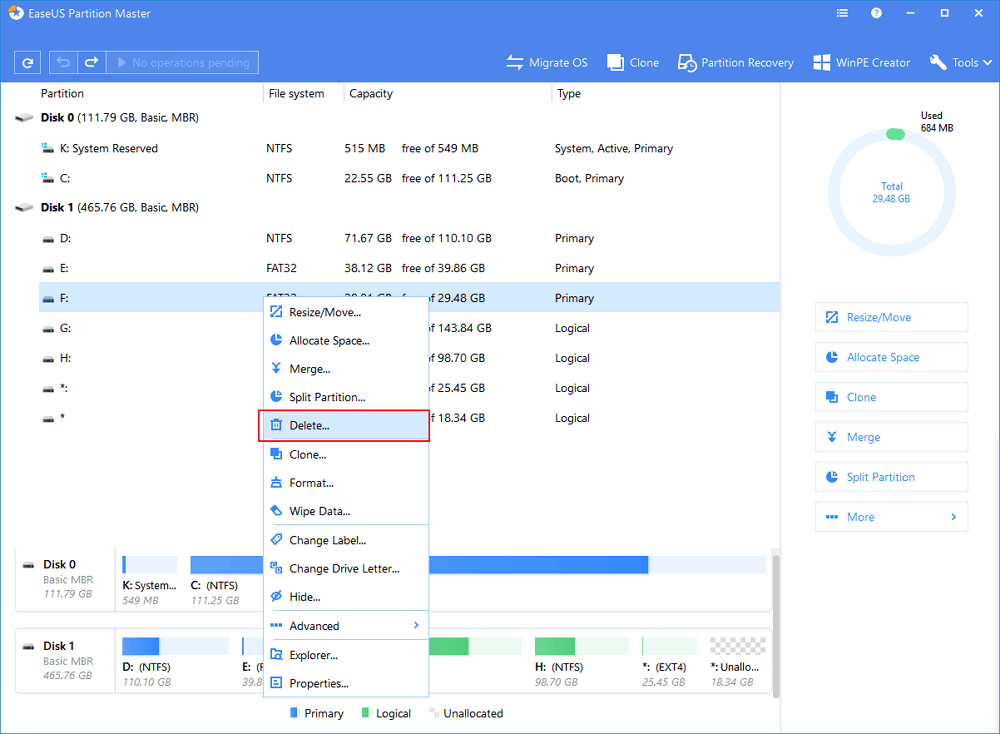 Step 2. Resize the target partition.
Right-click on the target partition that you need to add space to, select "Resize/Move".
Step 3. Extend the selected partition.
Drag the target partition handle into the unallocated space and click "OK".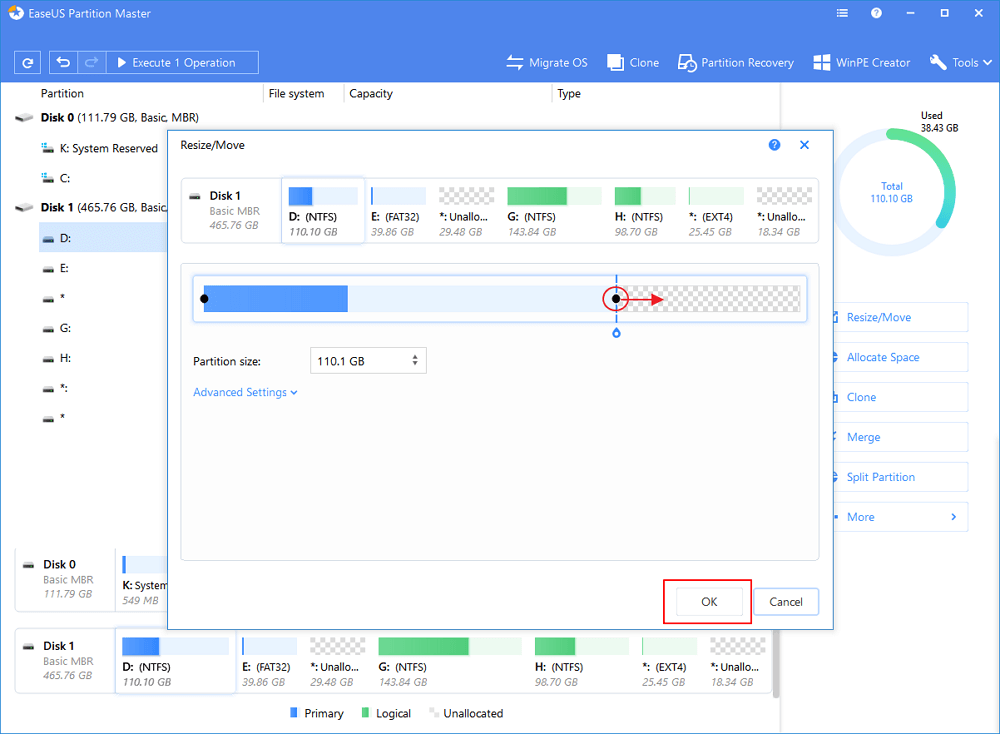 Step 4. Preview the result.
Click the "Execute Operation" button and click "Apply" to keep all changes.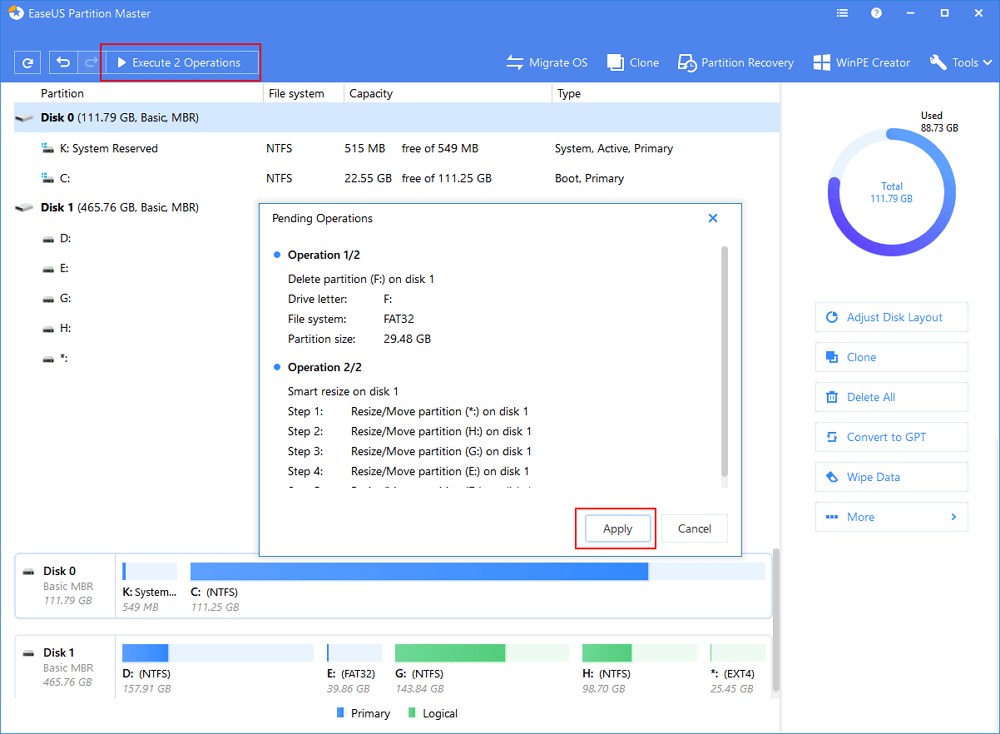 What else can EaseUS Partition Master do for you?
After a long scroll of this tutorial, you may find that EaseUS Partition Master tends to take care of data more tenderly, as well tries to simplify the complete process more intelligently. Other than merging non ajacent partitions in Windows 10 as instructed, it seems that people still concern the following questions. How is EaseUS going to solve those questions?
How do I merge unallocated partitions to C drive?
To merge unallocated space to C drive, you should place the unallocated space next to the C drive. Then, you can right-click on the C drive and choose "Resize/Move", drag the mouse pointer towards the unallocated space until all space being merged into the C drive. Click "OK" and then "Execute operation".
Can I combine two unallocated spaces?
For EaseUS Partition Master, it's quite easy to combine two unallocated spaces together to form a big one. You can directly use the feature of "merge partitions" or "Resize/Move". Either depends on how the unallocated spaces are aligned, continuous or not.
How to merge partitions on two hard disks
Is that all you can do to join two or three drives as one? As a matter of fact, there is another group of advanced users who demand to merge a drive on disk 0 to a drive on disk 1. It's a combination of across disks. The detailed guide is on the linked page, and here's a standard operation for you to follow:
Convert to Dynamic disk if the current hard drive status is Basic. (The information is visible in the software interface)
Locate the drive on one disk and merge it with the other.
100% of people found this article helpful.
Frequently Asked Questions
Why Choose EaseUS Partition Master?

"I've used Partition Master Professional many times to create, delete, format, move, rename, and resize partitions." —PCWorld

"Partitioning tools have come a very long since the days of complicated command line utilities and EASEUS Partition Master is one of the most advanced programs available." —TECH ADVISOR

"I love that the changes you make with EaseUS Partition Master Free aren't immediately applied to the disks. It makes it way easier to play out what will happen after you've made all the changes." —Lifewire
Will the "Migrate OS" feature transfer the Windows system files only or the whole C drive?

To ensure that the migrated system will boot normally, the Migrate OS feature will transfer all the files in the system and the boot partitions. Generally, the boot partition is the C drive so the transfer will include all the files in C.
Does EaseUS Partition Master license apply to multiple computers?

The license of Partition Master Professional and Server editions can be used on 1 computer only, while that for for the Technician and Unlimited editions can be used on multiple machines.
What is the difference between EaseUS Partition Master Trial version and the Free version?

Free is for home users only, with most basic functions available such as partition resize and clone. While trial can help you understand how this product works and test what a full license can do on a business or server OS machine.
Will it cause any data loss after resizing the partition in EaseUS Partition Master?

Generally, it will not cause any data loss or boot issue by resizing a partition. However, in order to protect your data, we suggest that you backup the partition before resizing, in case of any unexpected situations such as power outages, computer hardware failures, etc. You can use EaseUS Todo Backup to backup the partition and its trial version is fully functioned for 30 days.
What should I prepare before resizing the partition?

On the partition that is going to be operated, there might be some files being occupied by other programs. To ensure a successful operation, we suggest that you close all the unnecessary software before resizing that partition. Otherwise, EaseUS Partition Master will detect the partition being locked by the other software and require a reboot to resize the partition under boot mode.
About EaseUS Partition Master
All-round disk & partition management software for personal and commercial use. Let it manage your storage drive: resize, format, delete, clone, convert, etc.